February 13 , 2022 .
Hawaii , Kilauea :
19°25'16 » N 155°17'13 » W,
Summit Elevation 4091 ft (1247 m)
Current Volcano Alert Level: WATCH
Current Aviation Color Code: ORANGE
Activity Summary:
Eruption of lava from the west vent within Halemaʻumaʻu crater, at the summit of Kīlauea, resumed at approximately 10:50 pm HST yesterday, February 11. This followed a brief pause in volcanic activity that began on February 11 between 9 and 10 am HST. All recent lava activity has been confined to the crater, and there are no indications of activity migrating elsewhere on Kīlauea.
Halemaʻumaʻu Lava Lake Observations:
Yesterday, between 9 and 10 am HST, the eruption of lava from the west vent within Halemaʻumaʻu crater, at the summit of Kīlauea, entered a pause. This cessation of activity was preceded by a 15-hour period of deflation at the summit. Over the same period, the active lava lake surface at Halemaʻumaʻu crater fell 10m (33 feet). Yesterday, at 3pm HST, the summit entered a period of inflation and, approximately 7 hours later, eruptive activity resumed. By 1:30am HST, this morning, the lava lake surface had risen 15m (49 feet).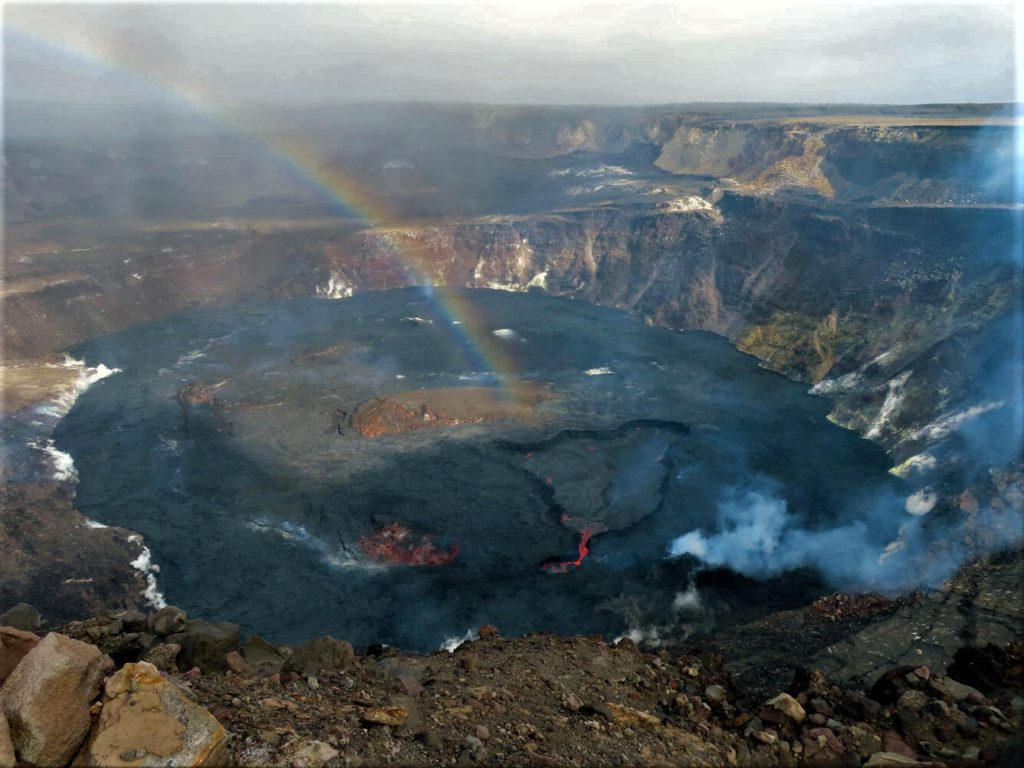 Since that time, the lava lake surface has remained relatively stable, fluctuating a meter (several feet) in level. As of 8:30 am HST this morning, the lava lake surface is 837m (2746 feet) above sea level, or approximately 96 meters (315 feet) deep relative to when lava emerged on September 29, 2021. Measurements on January 25, 2022, indicated that the total lava volume effused since the beginning of the eruption was approximately 45 million cubic meters (12.0 billion gallons) at that time
Summit Observations:
Summit tiltmeters indicated a lack of deformation at Kīlauea summit when the eruption entered a pause yesterday between 9 and 10 am HST. Seismic data showed that the volcanic tremor signal during this time was present, but signal strength was weak. The summit began to inflate yesterday at approximately 3pm HST, as inferred from summit tiltmeters. Five hours later, seismic data showed that the strength of the volcanic tremor signal increased. At 10:50pm HST, yesterday, the eruption resumed. Since that time, the volcanic tremor signal persists and summit tiltmeters indicate no further deformation at the summit. Earthquake activity at the summit remains below background level. A sulfur dioxide (SO2) emission rate of approximately ~330 tonnes per day (t/d) was measured February 8, during an eruptive pause.
Source : HVO
Photo : USGS / K. Lynn
Alaska , Davidof :
51°57'15 » N 178°19'34 » E,
Summit Elevation 1076 ft (328 m)
Current Volcano Alert Level: ADVISORY
Current Aviation Color Code: YELLOW
The earthquake swarm near Davidof volcano that began Monday, January 24, continues with small earthquakes detected over the past 24 hours. A shallow, magnitude 2.9 earthquake, located about 5 km (3 mi) north of Davidof volcano, occurred yesterday afternoon. No anomalous activity was detected in cloudy satellite data over the past day. The earthquake swarm may be associated with volcanic unrest, or could be due to regional tectonic activity.
.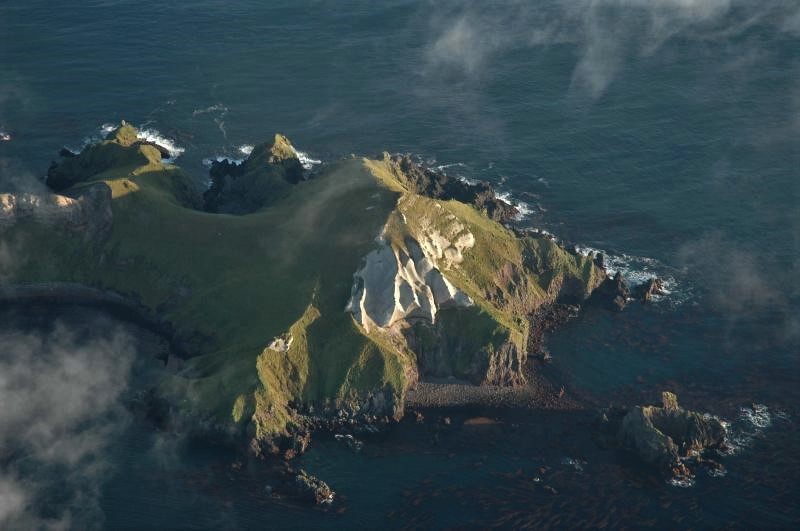 There is no real-time seismic monitoring network at Davidof volcano. The closest seismometers are approximately 9 miles (15 km) to the east of the volcano on Little Sitkin Island. Davidof is also monitored by satellite data and remote infrasound and lightning networks.
Source : AVO.
Photo : Neal, C. A.; Larsen, J. F. Alaska Volcano Observatory / U.S. Geological Survey / University of Alaska Fairbanks Geophysical Institute
Indonesia , Ili Lewotolok :
VOLCANO OBSERVATORY NOTICE FOR AVIATION – VONA
Issued : February 12 , 2022
Volcano : Ili Lewotolok (264230)
Current Aviation Colour Code : ORANGE
Previous Aviation Colour Code : orange
Source : Ili Lewotolok Volcano Observatory
Notice Number : 2022LEW05
Volcano Location : S 08 deg 16 min 19 sec E 123 deg 30 min 18 sec
Area : East Nusa Tenggara, Indonesia
Summit Elevation : 4554 FT (1423 M)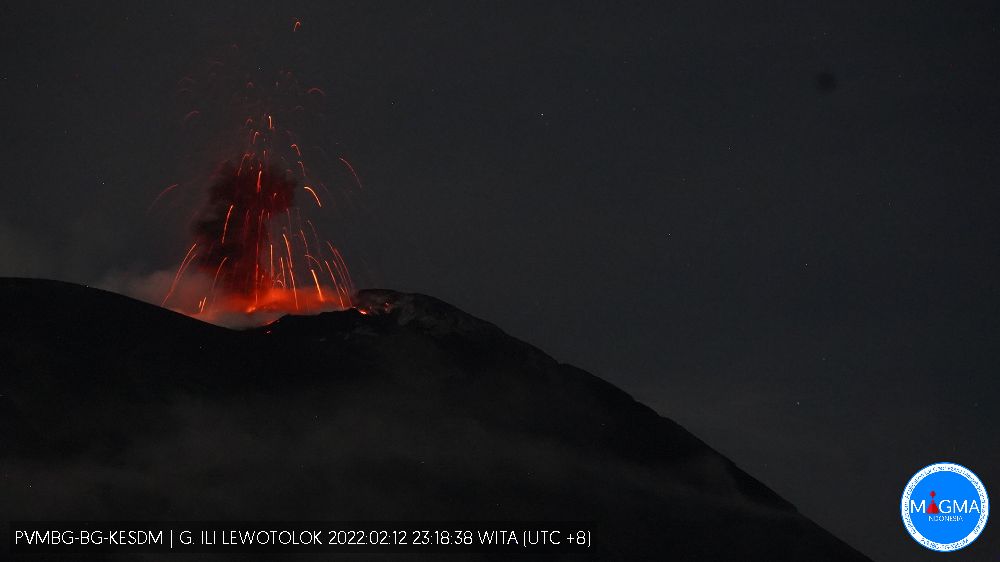 Volcanic Activity Summary :
Eruption with volcanic ash cloud at 08h04 UTC (16h04 local). Eruption and ash emission is not continuing.
Volcanic Cloud Height :
Best estimate of ash-cloud top is around 7114 FT (2223 M) above sea level, may be higher than what can be observed clearly. Source of height data: ground observer.
Other Volcanic Cloud Information :
Ash-cloud moving to East
Remarks :
Seismic activity is Dominated by gas emission earthquake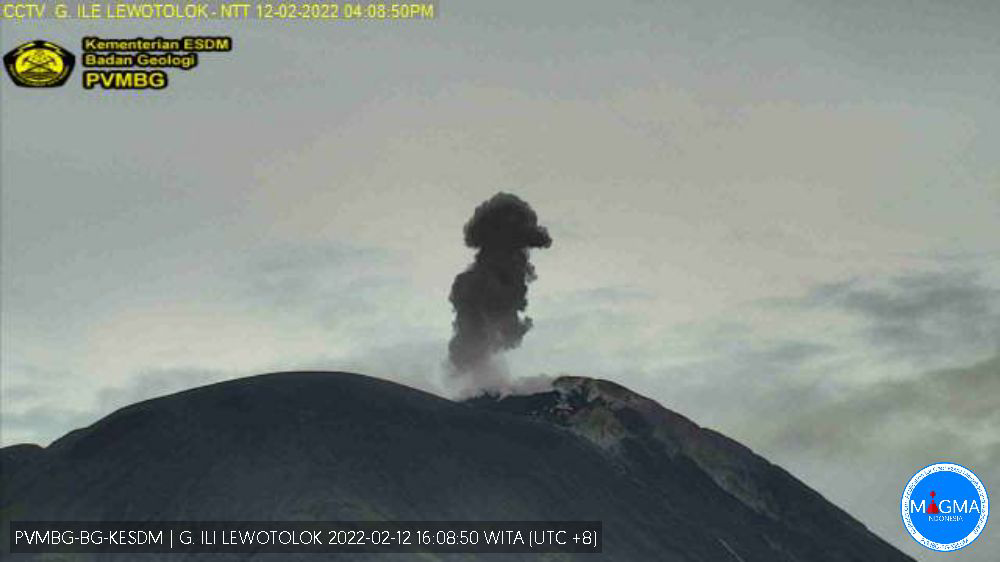 Volcanic earthquakes are related to magmatic activity as well as tectonic activity. It was recorded:
– 55 earthquakes of eruptions/explosions
– 76 emission earthquakes
– 18 harmonic tremors
– 34 non-harmonic tremors
– 4 deep volcanic earthquakes
– 1 local tectonic earthquake
– 4 distant tectonic earthquakes
Continuous tremor with an amplitude of 0.25 to 13.7 mm, mainly 8 mm.
Source : Magma Indonésie , PVMBG.
Photos : PVMBG.
Indonesia , Tangkuban Parahu :
VOLCANIC ACTIVITY OF TANGKUBAN PARAHU – WEST JAVA, February 12, 2022.
On February 12, 2022, an increase in the activity intensity of the Tangkuban Parahu volcano was observed in the form of gas bursts from the Ecoma crater which is located inside Kawah Ratu, with emissions of white gas at moderate pressure, about 100 m above the crater floor. The gas bursts that occur are thought to be due to groundwater or water seeping below the surface, which is heated by hot rocks below the surface of the crater and forms a high vapor buildup. pressure, resulting in « overpressure » and exits through the fractures in the weak zone, in the form of strong gusts. The white emission indicates that it is dominated by water vapour. The dynamics of near-surface volcanic activity such as this can occur due to changes in the energy balance from internal and external factors. The internal factor comes from the vapor pressure of magma rising from the depths. External factors can come from precipitation and the rate of evaporation.
The seismicity of Mount Tangkuban Parahu from January 1 to February 11, 2022 was marked by the recording of two shallow volcanic earthquakes, one low-frequency earthquake and 80 emission earthquakes. The dominance of emission earthquakes during this period indicates the presence of hydrothermal activity under the body of the volcano. The seismic energy as reflected by the RSAM graph (real-time seismic amplitude measurement) fluctuates and does not show an increasing trend at the end of the observation period. Observation of the deformation using EDM (Electronic Distance Measurement) showed no symptoms of inflation (swelling due to upwelling fluid) in the body of the volcano.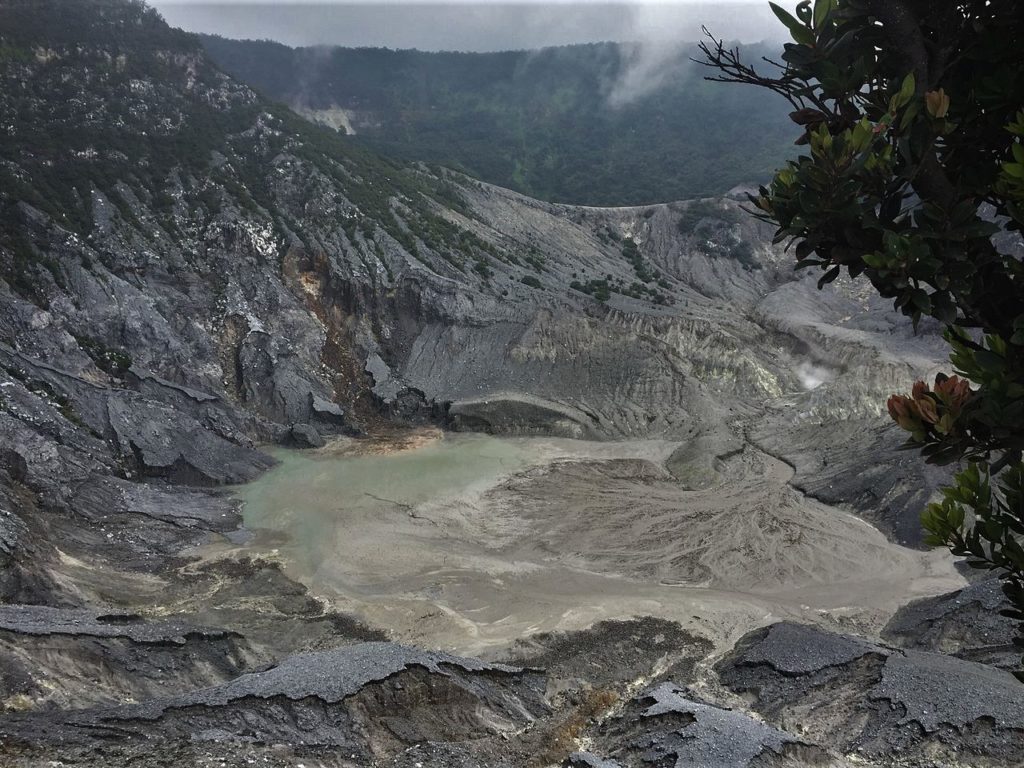 The potential danger from the current activity of Mount Tangkuban Parahu may come in the form of a sudden phreatic eruption without any obvious signs of increased volcanic activity, resulting in pyroclastic materials and high concentrations of volcanic gases around the crater. During this time, finer ash rain may cover a wider area depending on wind direction and speed.
However, referring to the visual and instrumental monitoring data above, the potential danger of the Tangkuban Parahu volcano is currently still localized in the crater and the potential for large eruptions has not been observed.
Currently, the activity level of Mount Tangkuban Parahu is set at Level I (normal), with a recommendation not to descend to the bottom of Kawah Ratu and not to approach/have activities around other active craters of the Mount Tangkuban Parahu. This level of activity will be reassessed over the next two to three days to anticipate if there are any symptoms of a significant increase in volcanic activity.
Source : PVMBG.
Photo : Adri45an
Colombia , Nevado del Huilà :
Weekly bulletin of the activity of the Nevado del Huila volcano
The level of activity of the volcano continues at the Yellow activity level or (III): changes in the behavior of volcanic activity.
From the analysis and evaluation of information obtained through the Nevado del Huila volcano monitoring network during the week of February 1 to 7, 2022, the COLOMBIAN GEOLOGICAL SERVICE – Volcanological and Seismological Observatory of Popayán reports that:
During the evaluated period, 270 seismic events were recorded, of which 122 were related to rock fracturing processes (VT type) and 148 to fluid dynamics in volcanic conduits. Of these, 136 were classified as long period events (LP type), 11 as tremor pulses (TR type) and 1 as hybrid (HB type)
.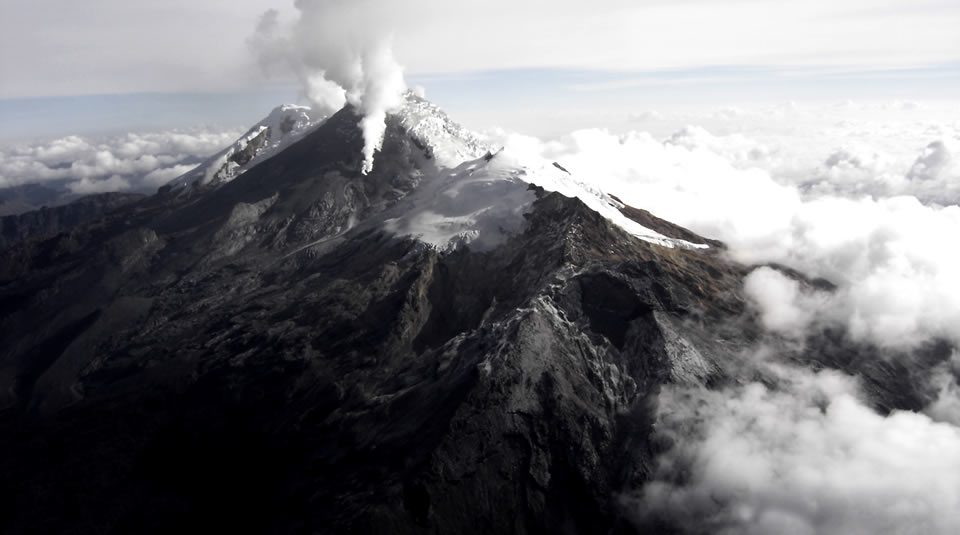 Sulfur dioxide (SO2) emissions were measured on February 7, detecting a column between the municipalities of Popayán and Caldono (Cauca); the calculated throughput was 948 t/day.
The images obtained during the week thanks to the web cameras of Caloto, Maravillas and La Palma showed low levels of degassing of the volcanic system, with a column of
white color, oriented preferentially towards the West.
Sensors monitoring ground deformation, magnetic fields and infrasound waves did not record variations associated with changes in volcanic activity.
Therefore, it is concluded that during the evaluated period, the volcano continued to exhibit stable behavior. The Colombian Geological Service continues to monitor the evolution of the volcanic phenomenon and will report any changes that may occur in due course.
Source : SGC.
Photo : Parque Nacional