February 04 , 2022 .
Indonesia , Anak Krakatau :
VOLCANO OBSERVATORY NOTICE FOR AVIATION – VONA
Issued : February 04 , 2022
Volcano : Anak Krakatau (262000)
Current Aviation Colour Code : ORANGE
Previous Aviation Colour Code : orange
Source : Anak Krakatau Volcano Observatory
Notice Number : 2022KRA02
Volcano Location : S 06 deg 06 min 07 sec E 105 deg 25 min 23 sec
Area : Lampung, Indonesia
Summit Elevation : 502 FT (157 M)
Volcanic Activity Summary :
– Volcanic ash cloud at 09:15 UTC (16:15 local time) on 02/03. Gas emission with possible volcanic ash content. Visuals directly from the CCTV we observe that a thick gray smoke blows at a height of 200m above the summit of the volcano.
– Eruption with ash clouds at 23:00 UTC (05:00 local time) on 02/04.
– Eruption with ash clouds at 05:46 UTC (12:46 local time) on 04/02. The eruption lasted 59 seconds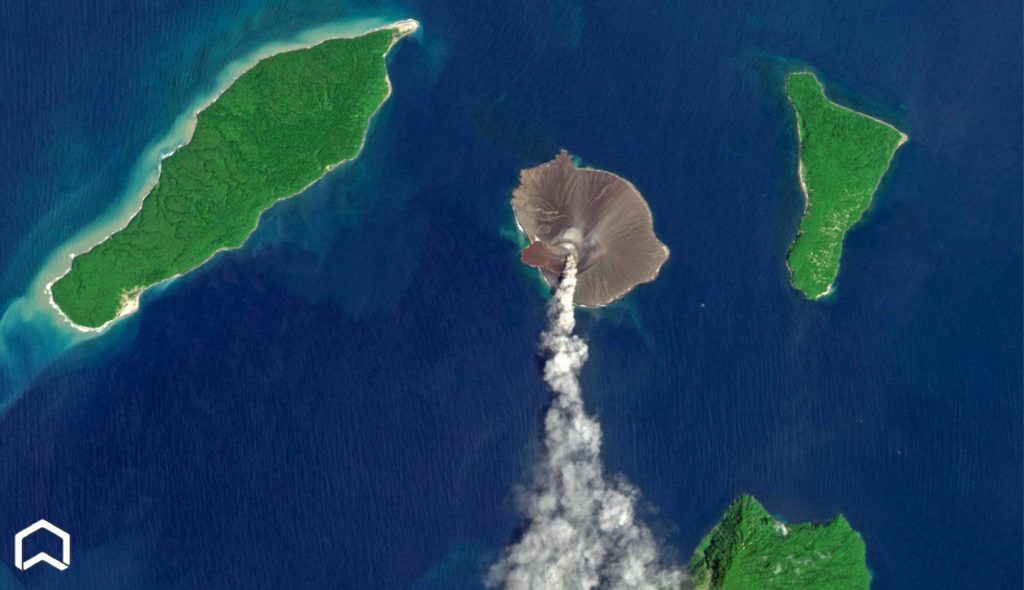 Volcanic Cloud Height :
Best estimate of ash-cloud top is around 2102 FT (657 M) above sea level, may be higher than what can be observed clearly. Source of height data: ground observer.
Other Volcanic Cloud Information :
Visuals directly from the cctv were observed eruptions with the color of the thick white-gray eruption smoke 500m from the top of the volcano, the wind direction slowly to the south west.
The volcano was clearly visible until it was covered in fog. Smoke from the crater was observed to be gray with moderate to thick intensity, about 25-200 meters above the summit. The weather is cloudy, the winds weak in the East and in the South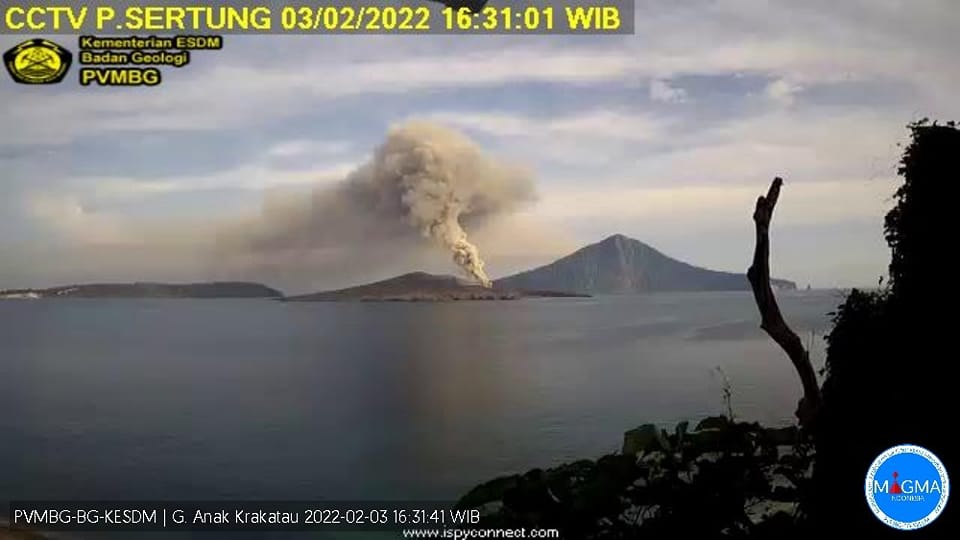 Earthquakes related to magma activity:
– 2 harmonic earthquakes
– 1 low frequency earthquake
– 2 shallow volcanic earthquakes
– 3 deep volcanic earthquakes
– Continuous tremor with an amplitude of 1-10 mm, mainly 5 mm.
Sources : Magma Indonésie , PVMBG.
Photos : Copernicus , PVMBG.
Kilauea , Hawaii :
19°25'16 » N 155°17'13 » W,
Summit Elevation 4091 ft (1247 m)
Current Volcano Alert Level: WATCH
Current Aviation Color Code: ORANGE
Activity Summary:
The summit eruption of Kīlauea Volcano, within Halemaʻumaʻu crater, has diminished in vigor this morning. Lava effusion has slowed in association with summit deflation that began just before midnight. These trends suggest that the summit eruption is heading into another pause. All recent lava activity has been confined to Halemaʻumaʻu crater, and there are no indications of the eruption migrating elsewhere on Kīlauea.
Halemaʻumaʻu Lava Lake Observations:
Effusion of lava from the western vent within Halemaʻumaʻu crater has been slowing this morning, and the active lava lake in the western portion of the crater has been stagnating. Before the slowdown, activity yesterday included multiple, intermittent ooze-outs of lava along the northern and eastern margins of the crater; some of these ooze-outs remain weakly active at this time. Additionally, a small spatter cone—less than 6 meters (20 feet) tall—near the eastern end of the crater was erupting lava fountains up to approximately 10 meters (33 feet) in height for several hours last night, before shutting down early this morning. These lava fountains fed a short lava flow that was contained near the eastern margin of the crater.
The western part of Kīlauea's current summit eruption, showing the active part of the lava lake in Halema'uma'u crater. This lava lake is being fed from a small pond to the north of the impressive west vent. This photo was taken around 9:30 a.m. on Tuesday, February 1, 2022, from the west rim of Halemaʻumaʻu.
While stagnating, the surface of the active lava lake has also dropped about 9 meters (30 feet) since 11 p.m. HST last night, in association with summit deflation and presumably reflecting a decrease in lava supply. As of 8 a.m. HST this morning, the active lava lake is approximately 81 meters (266 feet) deep relative to when lava emerged on September 29, 2021. Measurements on January 25 indicated that the total lava volume effused since the beginning of the eruption was approximately 45 million cubic meters (12.0 billion gallons) at that time.
Summit Observations:
Summit tiltmeters began tracking deflationary tilt just before midnight. The rate has slowed so far this morning, but summit deflation continues at this time. Volcanic tremor associated with the eruption has also dropped off and presently continues at reduced strength, while earthquake activity in the summit region remains below background level. A sulfur dioxide (SO2) emission rate of approximately 4,500 tonnes per day (t/d) was measured yesterday, February 1, when eruptive activity was more vigorous than this morning.
Source : HVO.
Photo : USGS / D. Downs.
Indonesia , Batu Tara :
Based on analyses of satellite imagery, the Darwin VAAC reported that on 31 January an ash plume from Batu Tara rose to an altitude of 1.5 km (5,000 ft) a.s.l. and drifted ESE.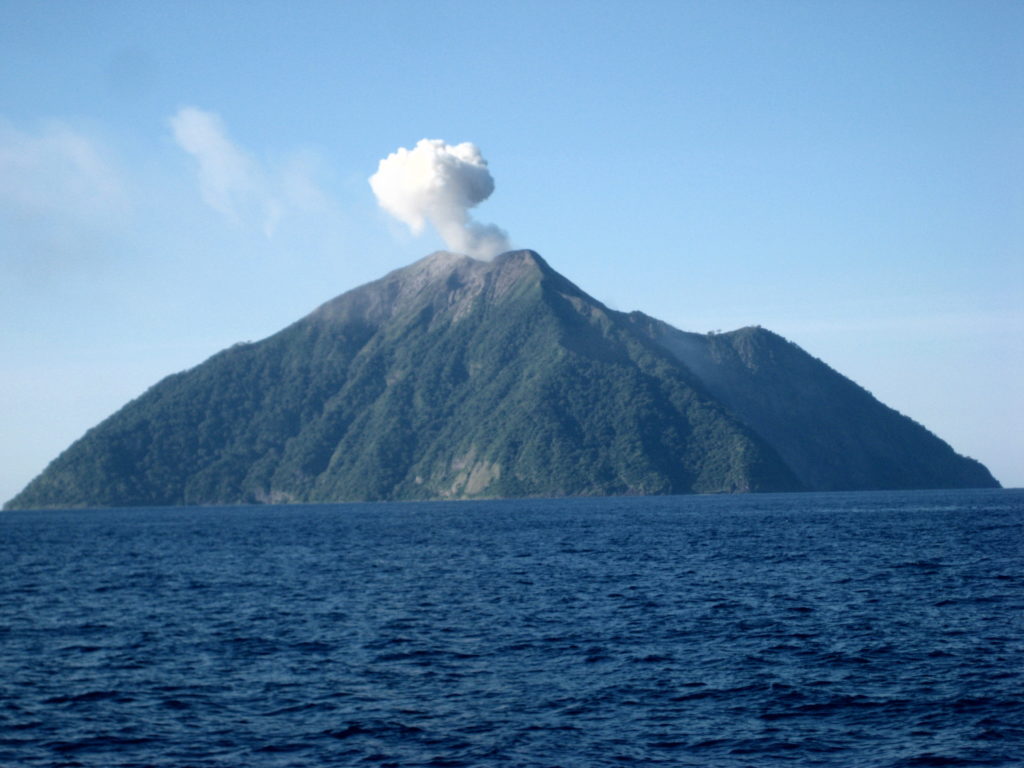 The small isolated island of Batu Tara in the Flores Sea about 50 km N of Lembata (fomerly Lomblen) Island contains a scarp on the eastern side similar to the Sciara del Fuoco of Italy's Stromboli volcano. Vegetation covers the flanks to within 50 m of the summit. Batu Tara lies north of the main volcanic arc and is noted for its potassic leucite-bearing basanitic and tephritic rocks. The first historical eruption, during 1847-52, produced explosions and a lava flow.
Source : GVP .
Photo : Nick Hughes, October 2010
Equateur / Galapagos , Wolf :
IG reported that the eruption at Wolf continued during 26 January-1 February. Daily thermal alert counts, anywhere from a few to well over one hundred, indicated advancing lava flows on the SE flank.
DAILY REPORT OF THE STATE OF WOLF VOLCANO. 03 February 2022.
Surface Activity Level: High, Surface Trend: Downward
Internal activity level: High, Internal trend: Downward
Seismicity: From February 02, 2022, 11:00 a.m. to February 03, 2022, 11:00 a.m.:
No seismic event was recorded.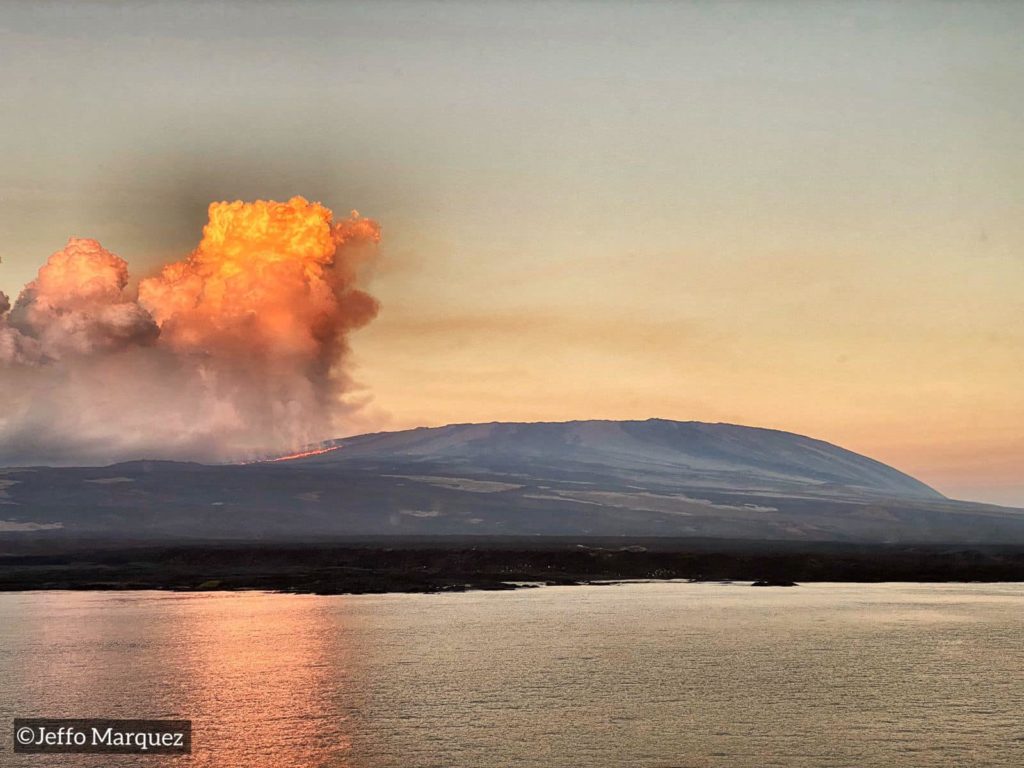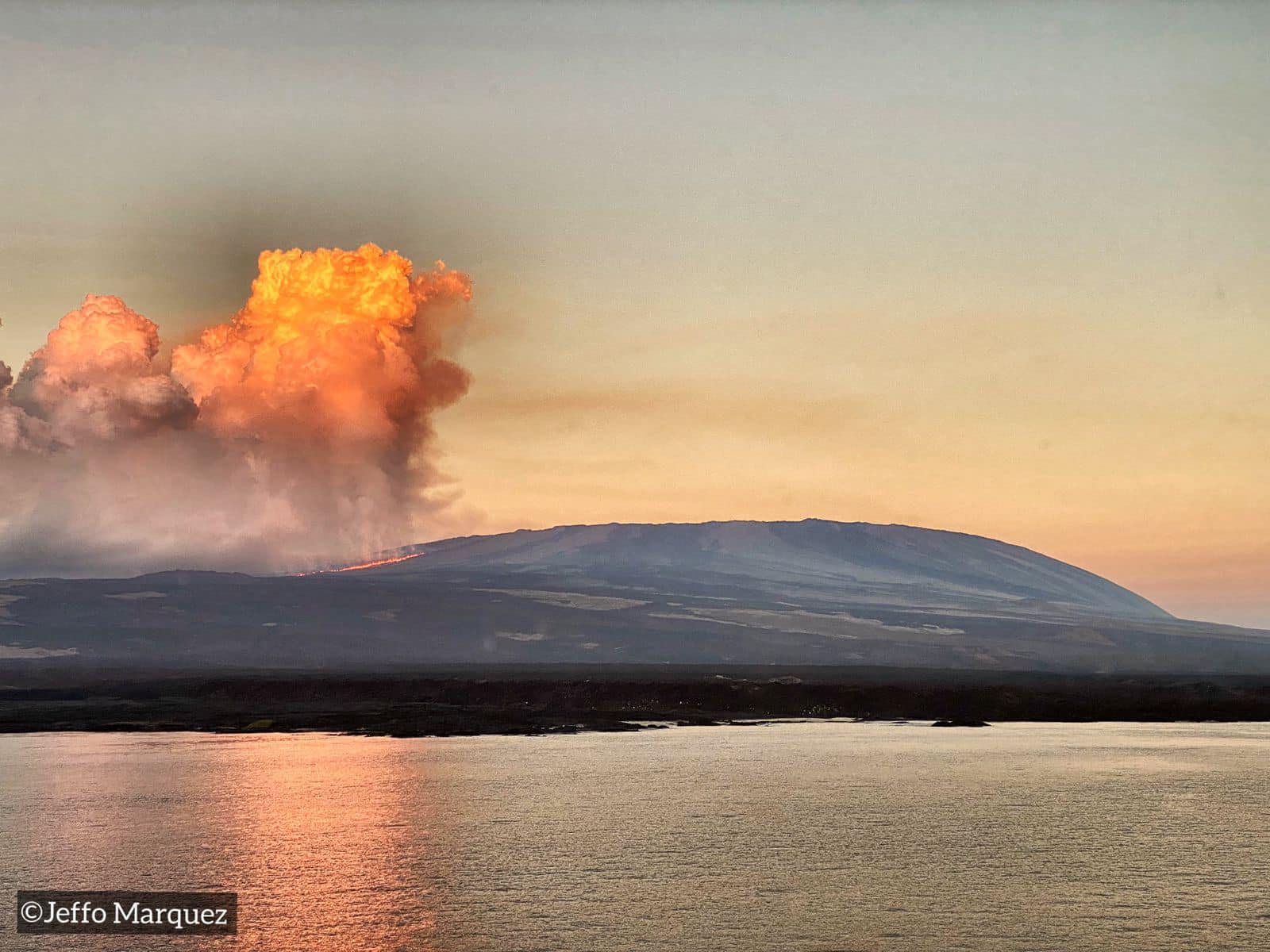 Rains / Lahars:
No rain was detected thanks to the satellite images of the WINDY application.
Emission / ash column:
In the past 24 hours, Washington's VAAC has not recorded any satellite-observed emissions.
Other Monitoring Parameters:
MIROVA records 2 very high thermal alerts (6005 and 2955 MW) and 1 high (298 MW) in the last 24 hours. WORLDVIEW records 190 thermal alerts over the past 12 hours.
Observation:
The thermal anomalies observed by the GOES-16 satellite over the past 24 hours are maintained
Source : IGEPN.
Photo : Jeffo Marquez
Guatemala , Santiaguito :
UPDATE ON THE ACTIVITY DUE TO THE DESCENT OF PYROCLASTIC FLOWS, SPECIAL VOLCANOLOGICAL BULLETIN.
Following the increase in activity that the Santa María-Santiaguito volcanic complex has presented since the night of January 29 and based on the seismic recording and observer reports from OVSAN (Santiaguito Volcano Observatory ), early today (02/03/2022) are recorded pyroclastic flows of the type « blocks and ashes » with moderate characteristics, which affected the West and South-West flanks and generated ash clouds of 600 to 800 meters high. Due to the wind in the direction of the Northwest and West, ash falls have been recorded since the early hours of the morning in San Martin Sacatepéquez, Llanos del Pinal, Xecaracoj (Quetzaltenango) and Loma Linda (El Palmar), all from the department of Quetzaltenango.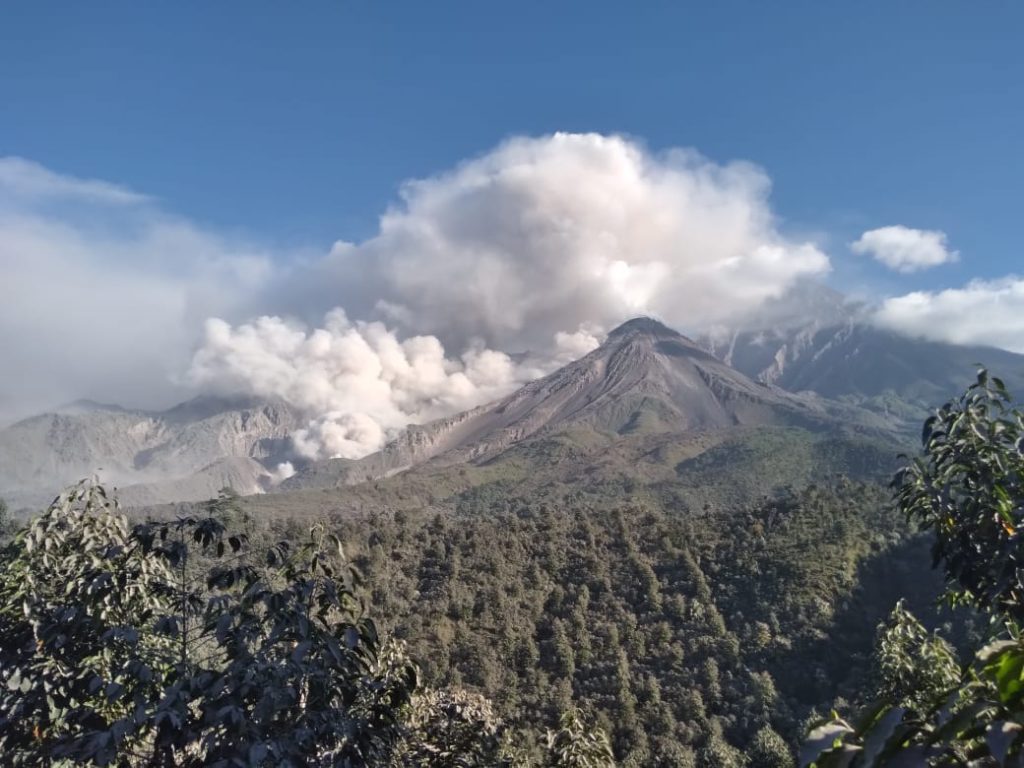 From the early hours of Sunday January 30 until yesterday morning (February 03, 2022), 20 pyroclastic flows of moderate characteristics moving 1 to 3 km in the San Isidro channel were recorded. Abundant and sustained degassing is also constantly observed on the crater of the Caliente dome.
Santiaguito Volcano is expected to continue in the coming days to weeks with more material collapses that generate moderate to strong pyroclastic flows, generating more ash clouds that move beneath the wind.
In the following hours, ash could continue to move west, northwest and north, and fall in the aforementioned places and even on the city of Quetzaltenango. In addition, it is recommended not to stay near the domes and/or their channels.
INSIVUMEH maintains instrumental and visual monitoring of volcanic activity on the Santa María-Santiaguito complex through its seismic stations, web cameras and OVSAN observers.
Source : Insivumeh
Photo : Noticias la Red GT San José del Golfo