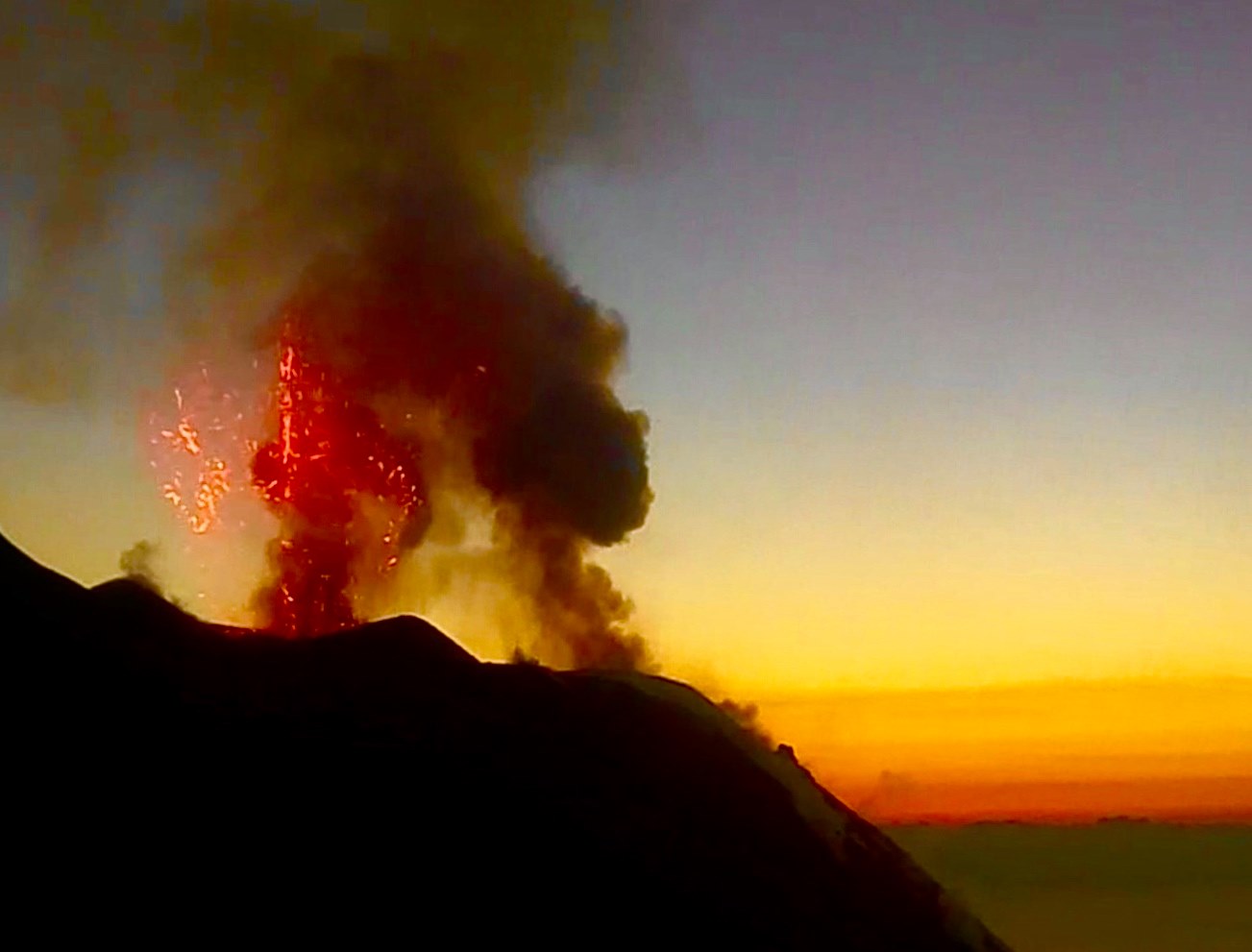 June 11 , 2020.
Italy , Stromboli :
Weekly bulletin from June 01, 2020 to June 07, 2020 (issue date June 09, 2020)
SUMMARY OF THE STATUS OF THE ACTIVITY
In light of the monitoring data, it is underlined:
1) VOLCANOLOGICAL OBSERVATIONS: During this period, a normal explosive activity of strombolian type was observed accompanied by degassing activities. The hourly frequency of explosions fluctuated between average values (11-14 events / h), with low intensity in the area of the North crater and average values in the area of the Center-South crater. There is a gradual increase in the hourly frequency of explosive events.
2) SEISMOLOGY: The seismological parameters do not present significant variations.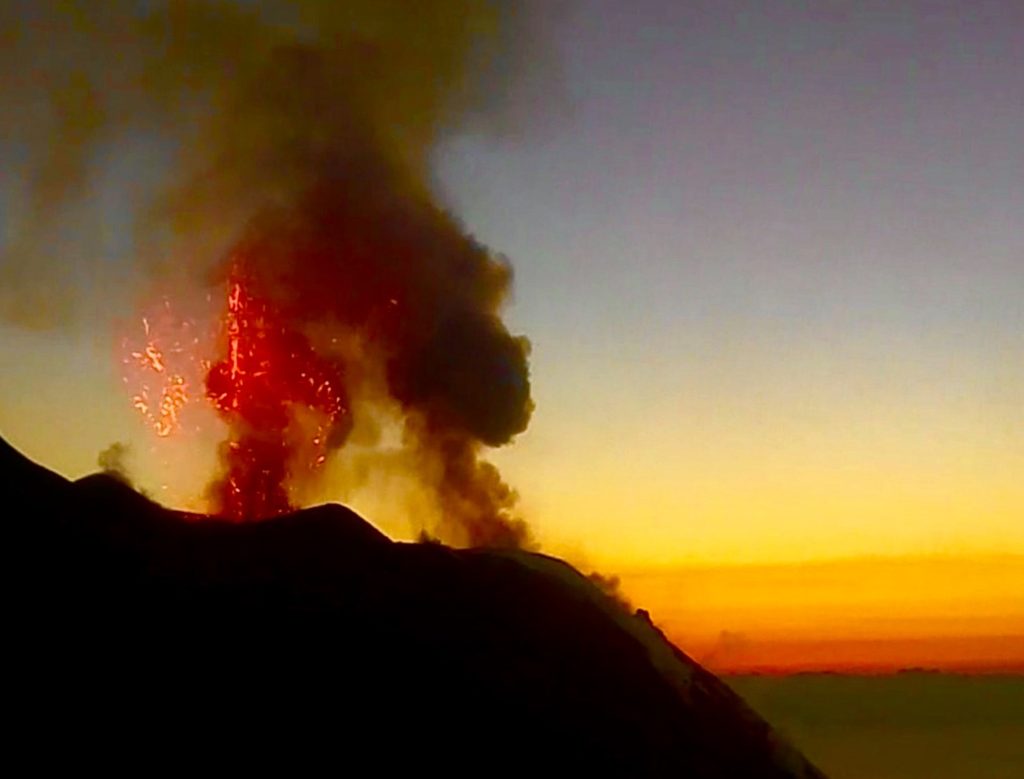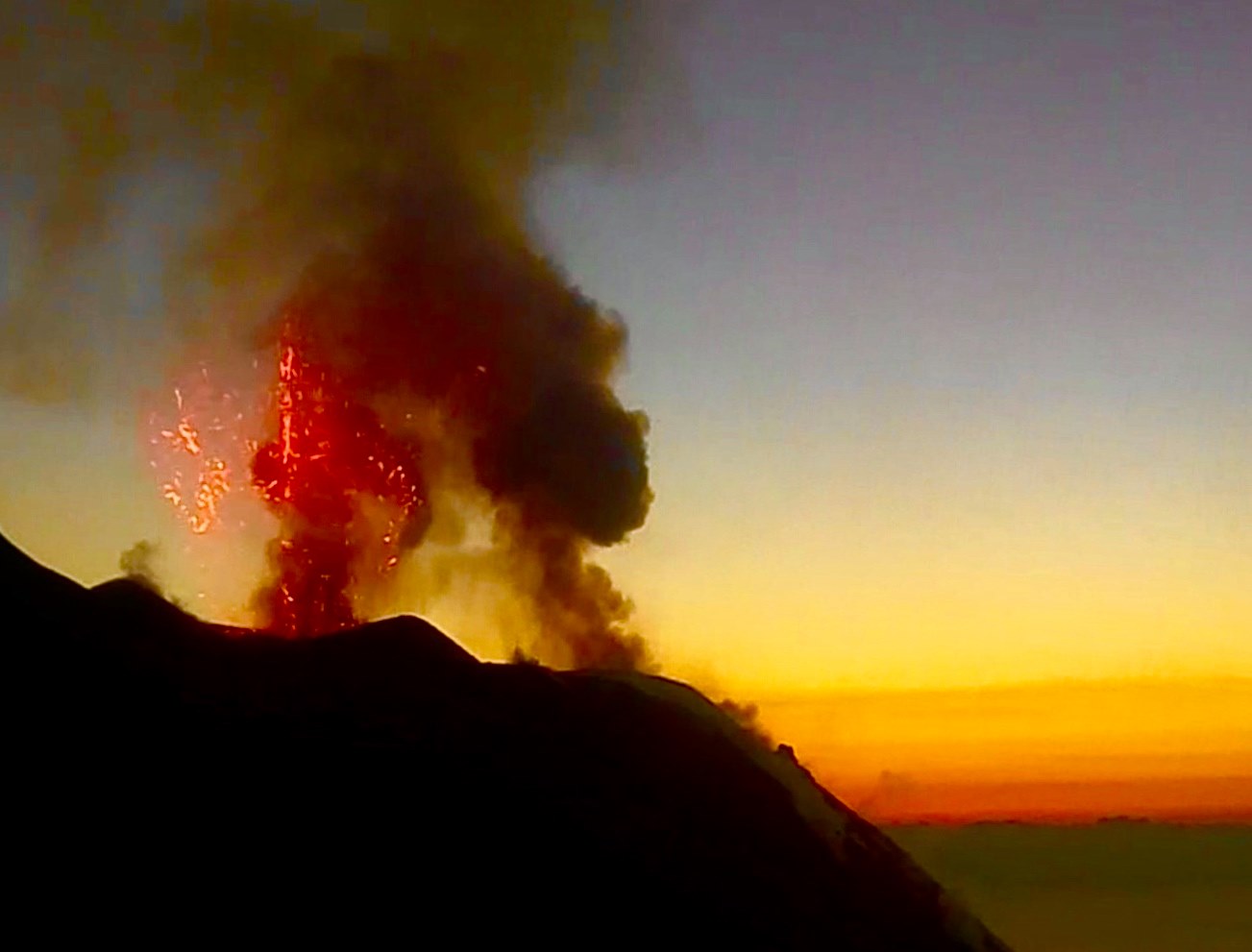 4) DEFORMATIONS: The island's soil deformation monitoring networks did not show any significant variation to report for the period considered.
5) GEOCHEMISTRY: SO2 flux is at an average level, a stabilization of the data has been observed since mid-May There is no update available for the CO2 / SO2 value, the latest data (09/02 / 20) were at average values. No update is available for the isotopic ratio of dissolved helium in the aquifer. The last figure (09/03/20) was on the average values. There is no update for the flow of CO2 emitted by soils in the Pizzo sopra La Fossa area. .
6) SATELLITE OBSERVATIONS: The thermal activity in the summit area is at a medium-low level.
VOLCANOLOGICAL OBSERVATIONS.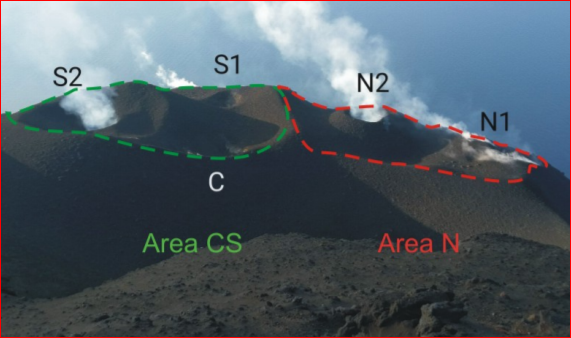 Photo of the terrace of the Stromboli crater seen from Pizzo taken during the inspection carried out by INGV-OE staff in Catania on February 22, 2020. The green and red line indicates the delimitation of the areas of the North Center-South crater (photo by F. Ciancitto).
In the North zone, the explosions were mainly of low intensity (less than 80 m in height), emitting coarse materials (lapilli and bombs). The average frequency of explosions in the North zone varied between 6 and 10 events / h. The explosive activity of the Center-South zone produced explosions of mainly coarse material (lapilli and bombs) mixed with fine materials (ash), with an average intensity (less than 150 m high). The frequency of explosions in the Center-South zone varied between 3 and 7 events / h.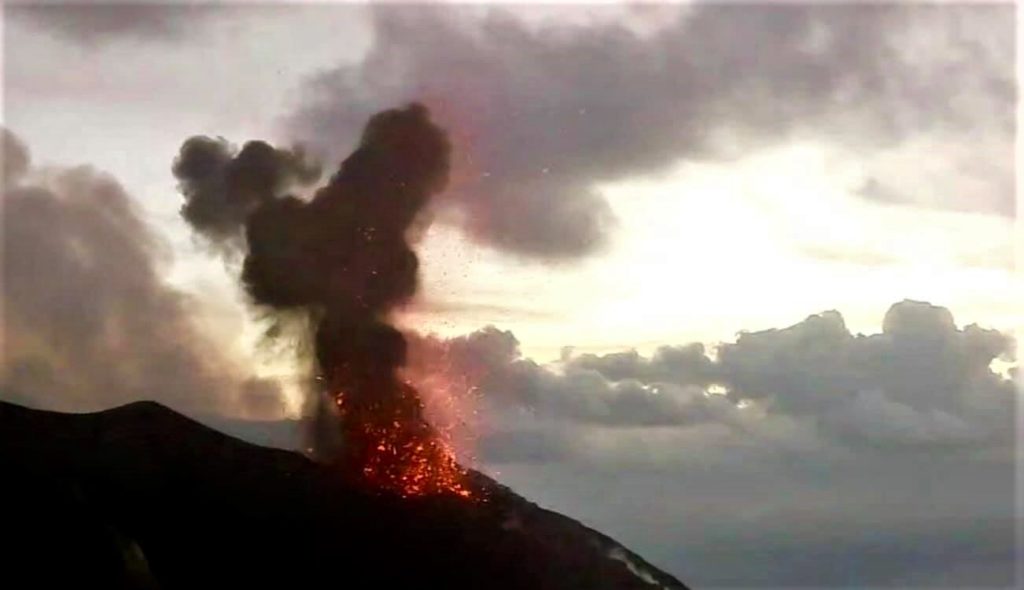 SEISMOLOGY:
The amplitude of the volcanic tremor generally had medium-low values.
The frequency of occurrence of VLP-type events had values between 13 and 17 events / hour.
Source : INGV.
Read the whole article : file:///C:/Users/Utilisateur/AppData/Local/Packages/Microsoft.MicrosoftEdge_8wekyb3d8bbwe/TempState/Downloads/BollettinoStromboli20200609%20(1).pdf
Photos : Web cam , INGV.
Iceland , Reykjanes Peninsula :
Seismic activity on Reykjanes peninsula
Seismic activity close to Grindavík increased on May 30th, and around 700 earthquakes have been detected there since then, mainly small earthquakes.
New data were acquired/processed on 26th of May, which include InSAR, GPS and radon measurements. These new observations indicate subtle sign of slow re-inflation in the vicinity of Þorbjörn. A longer time series of data is needed to better constrain the ongoing process and evaluate the associated hazards.
Uncertainty phase that Civil Protections declared due to this activity is still in force.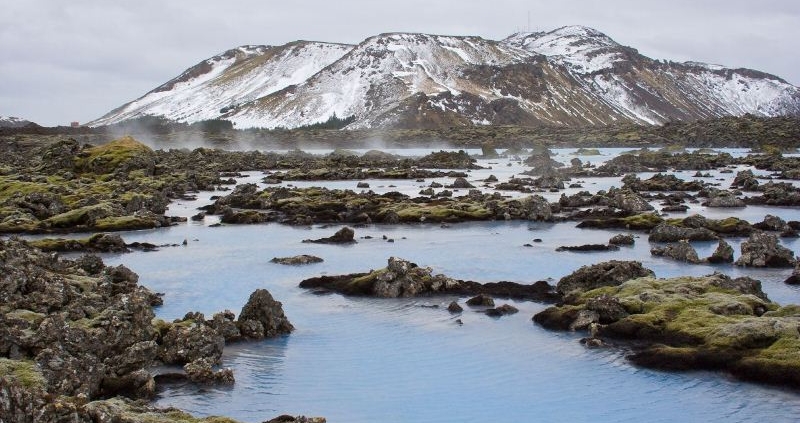 1 June – 7 June
Around 1200 earthquakes were located by the IMO¿s SIL seismic network this week, around twice as much as last week. Activity continued on the Reykjanes peninsula, but a seismic swarm began on May 30th. Most of the earthquakes were near Grindavík, around 700 earthquakes, mostly small earthquakes. The largest earthquake in that swarm was of magnitude M2.7 on June 2nd. The largest earthquake of the week was M2.8 by Reykjanestá on June 2nd. A minor swarm was by Hveragerði on June 6th, and three of these earthquakes were felt in Hveragerði. Two earthquakes occurred in Mt. Hekla and around 10 in Grímsvötn. One earthquake was detected in Öræfajökull.
Source : Vedur Is.
Photo : ferlir
Russia / Kuril Islands , Ebeko :
VOLCANO OBSERVATORY NOTICE FOR AVIATION (VONA).
Issued: June 11 , 2020 .
Volcano: Ebeko (CAVW #290380)
Current aviation colour code: ORANGE
Previous aviation colour code: orange
Source: KVERT
Notice Number: 2020-116
Volcano Location: N 50 deg 41 min E 156 deg 0 min
Area: Northern Kuriles, Russia
Summit Elevation: 3791.68 ft (1156 m)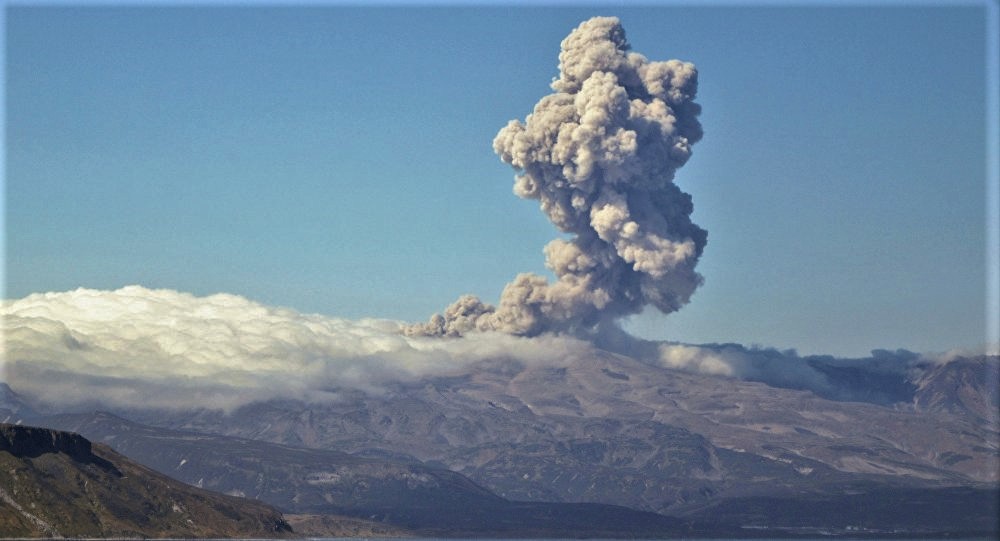 Volcanic Activity Summary:
A moderate eruptive activity of the volcano continues. According to visual data by volcanologists from Severo-Kurilsk, explosion sent ash up to 2.6 km a.s.l., an ash cloud is drifting to the north-еast of the volcano.
This activity continues. Ash explosions up to 19,700 ft (6 km) a.s.l. could occur at any time. Ongoing activity could affect low-flying aircraft and airport of Severo-Kurilsk.
Volcanic cloud height:
8528 ft (2600 m) AMSL Time and method of ash plume/cloud height determination: 20200611/0327Z – Visual data
Other volcanic cloud information:
Distance of ash plume/cloud of the volcano: 3 mi (5 km)
Direction of drift of ash plume/cloud of the volcano: NE / azimuth 50 deg
Time and method of ash plume/cloud determination: 20200611/0327Z – Visual data
Source : Kvert .
Photo : Amanda / Sputniknews.
Chile , Nevados of Chillan :
Region Del Ñuble Region, Nevados de Chillán volcanic complex, June 10, 2020, 04:20 local time (continental Chile).
The National Geological and Mining Service of Chile (Sernageomin) publishes the following PRELIMINARY information, obtained by the surveillance teams of the National Volcanic Surveillance Network (RNVV), processed and analyzed at the South Andean Volcanological Observatory (Ovdas):
Surveillance stations installed near the Nevados de Chillán volcanic complex recorded an earthquake yesterday, Wednesday June 10 at 03:09 local time (07:09 UTC), associated with fluid dynamics inside the volcanic system (long period type) ).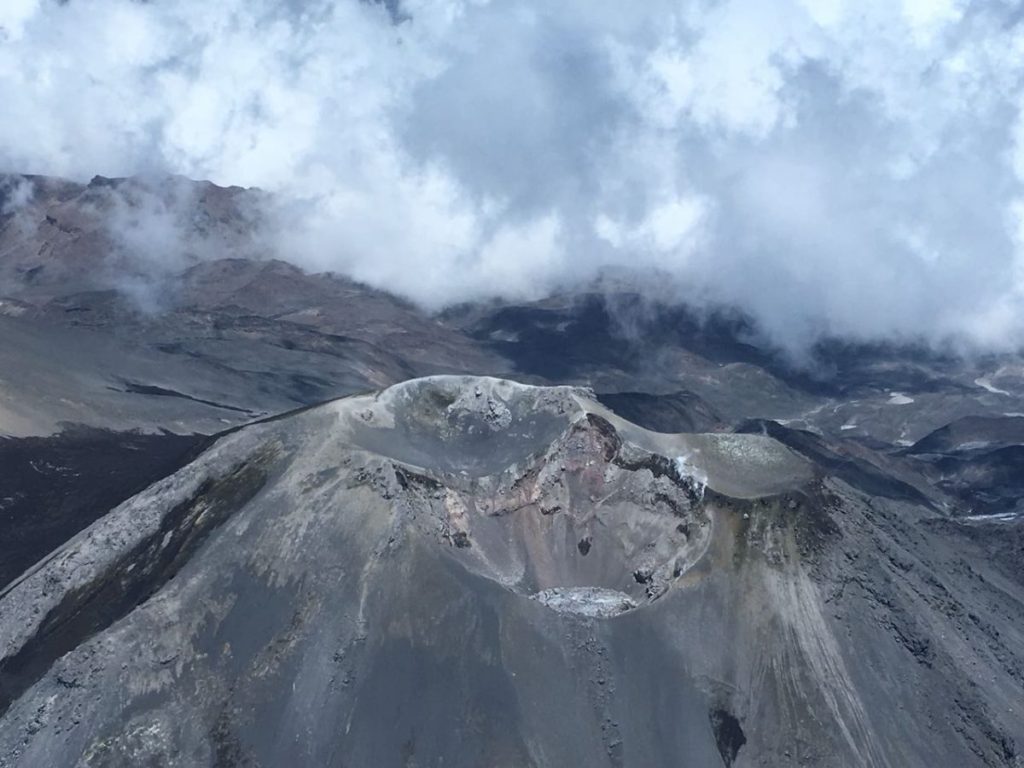 The characteristics of the earthquake after its analysis are as follows:
TIME OF ORIGIN: 03:09 local time (07:09 UTC)
LATITUDE: 36 901 ° S
LONGITUDE: 71 337 ° W
DEPTH: 4.2 km
REDUCED DISPLACEMENT: 890 cm * cm (FRE)
SOUND SIGNAL: 0 Pascals (Pa) reduced to 1 km
OBSERVATIONS:
No surface activity associated with the event is observed.
The volcanic technical alert remains at the Yellow level.
Source et Photo : Sernageomin .
Ecuador , Sangay :
Ash falls in several provinces of Ecuador
On the night of June 8, 2020, the Sangay volcano presented an eruptive event perhaps linked to the collapse of the lava flow front which descends on the southeast flank of the volcano. Associated with this collapse, pyroclastic density currents (pyroclastic flows) would have been generated and would descend towards the Rio Volcán (south-eastern flank). The ash emissions generated during this event moved to the southwest due to the direction and high wind speeds. The ashes arrived in the provinces of Chimborazo, Los Ríos, Guayas, Santa Elena and Morona Santiago, causing ash falls varying from strong to light.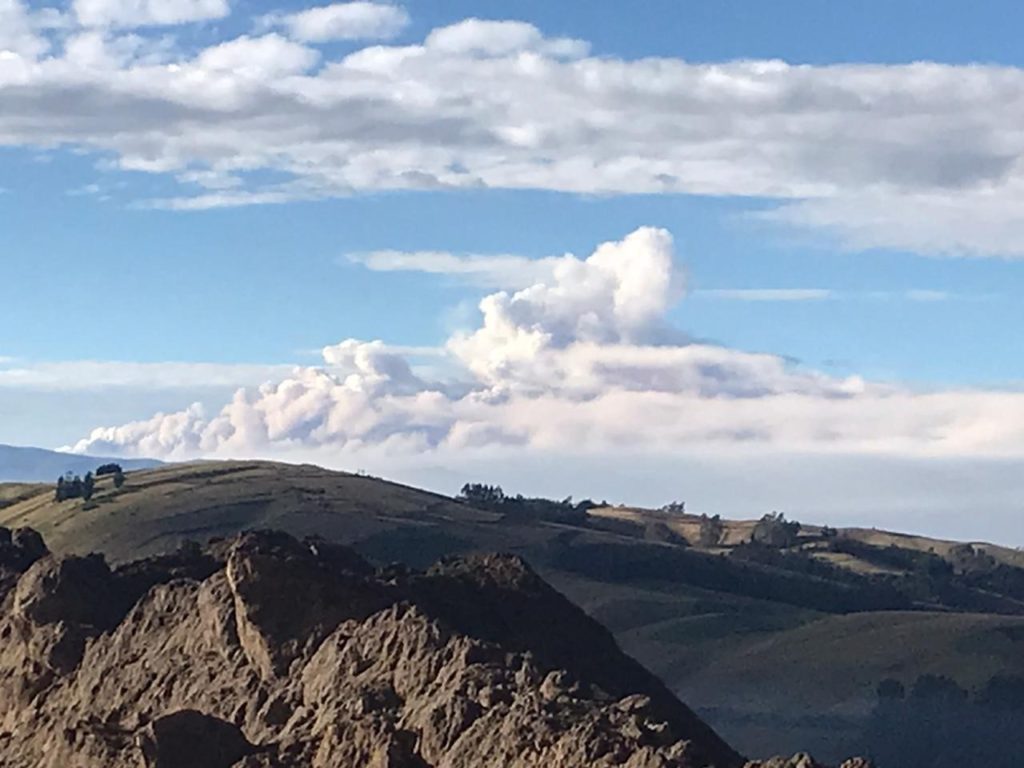 Figure 1. Photograph of the ash emission from the Sangay volcano (left), seen from the southern flank of the Chimborazo volcano at 6:30 am on June 9, 2020. Courtesy of Engineer David Rivero.
Seismic recordings:
The Geophysical Institute has a broadband seismic station and an infrared microphone 5 km from the summit of the volcano. Unfortunately, this sensor stopped transmitting its signal on June 7 at ~ 9:30 p.m. (TL). Due to its remote location, it has not been possible to recover its signal so far. However, using other sensors located tens of kilometers north of the volcano, it was possible to confirm a signal from the Sangay which corresponds to the period of time when reports of ash fall were received. It should be noted that from 8:00 p.m. (TL) on June 8, the seismic energy showed an increase that lasted several hours. On the basis of these observations, it can be deduced that this signal could be associated with a prolonged sequence of collapses of the lava front which descends on the southeast flank of the volcano.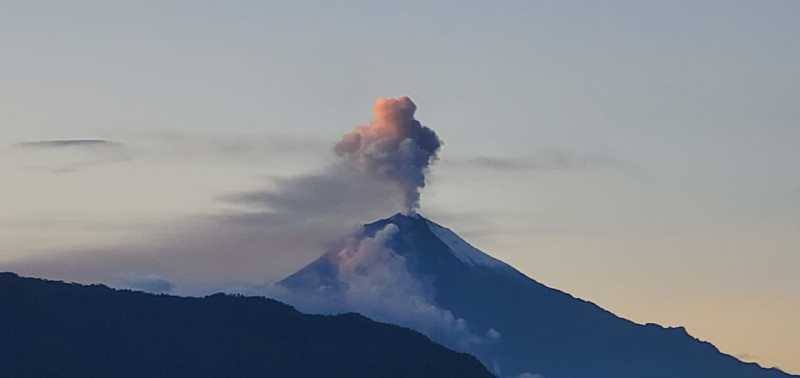 General recommendations:
Do not approach the dangerous areas of the Sangay volcano
In case of ash fall, protect yourself with a mask and limit your exposure
Stay informed of the evolution of eruptive activity on the site of the Institute of Geophysics
Follow the recommendations of the risk management authorities (SNGRE and GAD).
Source : IGEPN.
Photos : David Rivero. El Universo .
Japan , Sakurajima ( Aira) :
31.593°N, 130.657°E
Elevation 1117 m
JMA reported that during 1-8 June incandescence from Minamidake Crater (at Aira Caldera's Sakurajima volcano) was sometimes visible at night. An explosion at 02h59 on 4 June produced a plume that rose 1.5 km above the crater rim and ejected material almost 2 km away from the crater. Vibrations from the explosion were detected at the Seto Observatory, 4 km from the crater.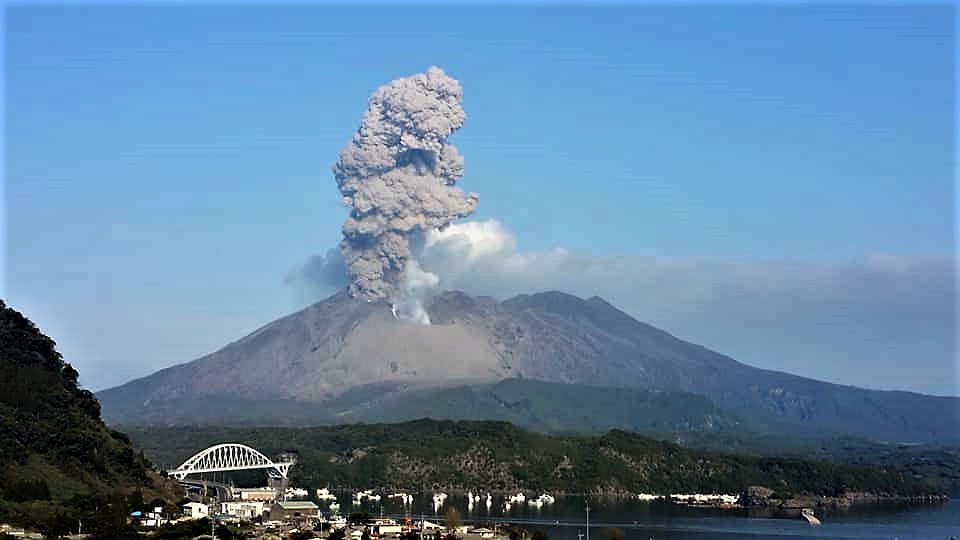 During field surveys on 4 and 8 June deposits of tephra (up to 5 cm in diameter) were observed in areas 4-5 km E, and large blocks had fallen 3 km SW; craters created from the impact of the blocks were about 6 m in dimeter and 2 m deep. An explosion at 0130 on 5 June generated a plume that rose 3.7 km above the rim.
The Alert Level remained at 3 (on a 5-level scale).
Source : JMA , GVP.
Photo : Auteur inconnu .