May 21 , 2018. EN. Pu'u 'Ō'ō / Kilauea , Piton de la Fournaise , Mérapi , Steamboat Geyser ( Yellowstone ) .
May 21 , 2018.
Pu'u 'Ō'ō / Kilauea , Hawai :
Sunday, May 20, 2018, 2:15 PM HST (Monday, May 21, 2018, 00:15 UTC)
LOWER EAST RIFT ZONE
Moderate-level eruption of lava continues from multiple points along the northeast end of the active fissure system. Residents in lower Puna should remain informed and heed Hawaii County Civil Defense closures, warnings, and messages (http://www.hawaiicounty.gov/active-alerts).
Lava from the eastern channel of the Fissure 20 complex flows into a crack in the ground. The crack opened in the early morning hours of May 20, 2018. Prior to opening, lava was flowing vigorously down a channel. After the crack formed, the lava began pouring into the ground.
Spattering continues from Fissures 6 and 17 with significant lava flows being erupted from Fissures 20. Two of these lava flows from Fissure 20 reached the ocean along the southeast Puna coast overnight; however, a crack opened under the east lava channel early this morning diverting the lava from the channel into underground voids. This may cause changes downslope in the channel system and the ocean entry.
HVO field crews are on site tracking the lava flow and spattering from multiple fissures as conditions allow and reporting information to Hawaii County Civil Defense.
Volcanic gas emissions have tripled as a result of the voluminous eruptions from Fissure 20 so SO2 concentrations are likely elevated to higher levels throughout the area downwind of the vents. Moderate trade winds today means that areas downwind of Kilauea gas emission sources may experience varying levels of vog.
This eruption is still evolving and additional outbreaks of lava are possible. Ground deformation continues and seismicity remains elevated in the area.
Future outbreaks could occur both uprift (southwest) and downrift (northeast) of the existing fissures, or, existing fissures can be reactivated. Communities downslope of these fissures could be at risk from lava inundation. Activity can change rapidly.
KILAUEA SUMMIT
Over the past day, two explosive eruption of ash have occurred. Several smaller ash emissions have also taken place. Additional explosions possible at any time.
Seismic levels, which abruptly decreased after explosive eruptions on Saturday afternoon and Sunday noon, are again slowly increasing.
At this time, based on HVO web cameras, a robust plume of gas and steam is billowing out.
052018 12:00 noon County of Hawaii Civil Defense Message, ocean entries:
A message from COUNTY OF HAWAII
This is a Civil Defense Message for Sunday, May 20 at Noon.
Hawaiian Volcano Observatory continues to monitor active flows. Two lava flows have entered the ocean off Highway 137 near MacKenzie State Park. Hawaiian Volcano Observatory reported that sulfur dioxide emission rates tripled down wind of the rift today. Areas of Kamaili, Seaview, and Malama Ki have elevated levels. Take action necessary to limit further exposure.
Lava from the Fissure 20 complex is entering the ocean in two locations, separated by an area tens of yards wide. At the time of this early morning photo, lava flowing into the ocean entry on the eastern (left-most) lobe was diminishing while lava flowing into the ocean on the western (right-most) lobe was vigorous.
Due to the lava entry at the ocean, the following policies are in effect:
Access to the area is prohibited due to the laze hazard.
Stay away from any ocean plume. The plume travels with the wind and can change direction without warning.
The U.S. Coast Guard is actively monitoring the area. Only permitted tour boats are allowed in the area.
Source : HVO
Photos : HVO , Bruce Omori.
Vidéo : Big Island Vidéo news.
Piton de la Fournaise , La Réunion :
Activity Bulletin from Sunday, May 20, 2018 to 19:00 (local time).
The eruption started on April 27, 2018 at 23:50 local time continues. The intensity of the volcanic tremor (indicator of the eruptive intensity at the surface) continued the decline started 72 hours ago to reach values equivalent to those recorded last Week.
– The flow activity is still predominantly in lava tunnels.
– No observations on site were made today.
– Surface discharges could not be estimated from satellite data in the last 24 hours due to cloud cover on the volcano.
– The inflation of the building continues.
– No volcano-tectonic earthquake has been recorded during the last 24 hours under the Piton de la Fournaise building.
Source : OVPF
Photo : Fournaise Info.
Merapi , Indonesia :
VOLCANO OBSERVATORY NOTICE FOR AVIATION – VONA .
Issued : May 21 , 2018.
Volcano: Merapi (263250)
Current Aviation Colour Code: YELLOW
Previous Aviation Colour Code: yellow
Source: Merapi Volcano Observatory
Notice Number: 2018MER03
Volcano Location: S 07 deg 32 min 31 sec E 110 deg 26 min 31 sec
Area: Special Region of Yogyakarta, Indonesia
Summit Elevation: 9498 FT (2968 M)
Volcanic Activity Summary:
Eruption with volcanic ash cloud at 02h38 UTC (09h38 local). Not continuing.
Volcanic Cloud Height:
Best estimate of ash-cloud top is around 13338 FT (4168 M) above sea level, may be higher than what can be observed clearly. Source of height data: ground observer.
Other Volcanic Cloud Information:
Ash-cloud moving to west.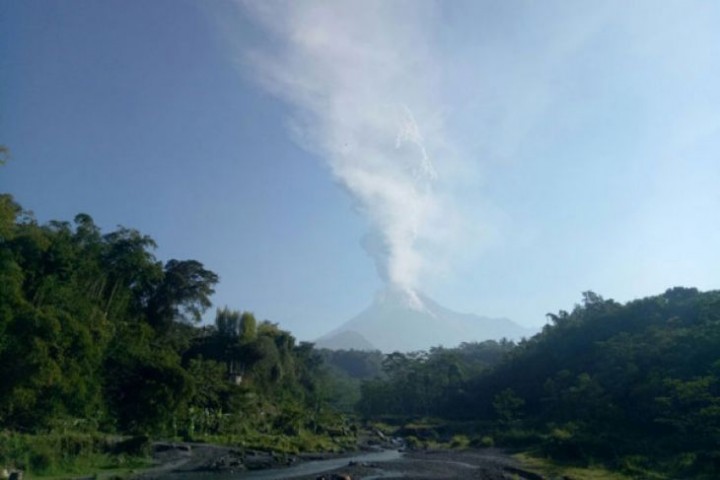 Mount Merapi spewed phreatic eruption again on early Monday, May 21. The Institute for Research and Technology Development of Geological Disaster (BPPTKG) Yogyakarta in its official Twitter account announced a small phreatic erupted at 01:25 local times.
« As observed from Babadan Post, there has been a small phreatic eruption or gusts on May 21 at 1:25 am for 19 minutes with a smoke height of 700 meters, » as quoted from BPPTKG Twitter account in Yogyakarta.
BPPTKG also confirmed the small eruption resulted in the ash rain, especially in the western region of Mount Merapi. The seismic amplitude measured at 20 mm was still considered a normal status.
BPPTKG underlined the eruption today was smaller than on May 11, 2018. « We urge the Merapi residents to please stay calm. »
Source : Magma Indonésie. , TEMPO.CO .
Photo : Antara
Steamboat Geyser , Yellowstone , United States :
Steamboat Geyser in Yellowstone National Park has erupted for the sixth time this year, soundly breaking its previous hiatus of nearly four years.
Steamboat Geyser is the tallest active geyser in the world. It erupts on its own schedule, often taking visitors and scientists by surprise.
According to the U.S. Geological Survey Volcanoes division, the eruption started around 9:49 p.m. MST. Seismographs picked up activity. The agency also noted increased discharge around the Tantalus Creek gauge: a sure sign of increased activity.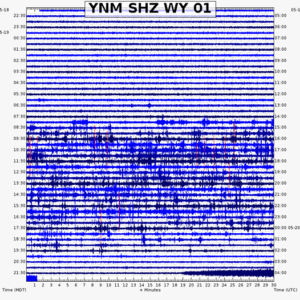 According to the agency, the thick blue trace at the bottom of the chart is what indicates the Steamboat Geyser eruption.
Before 2018, Steamboat Geyser's last major eruption occurred September 3, 2014. Steamboat Geyser roared back to life March 15, 2018, with subsequent eruptions on April 19, April 27, May 4, and May 13.
Researchers at the Yellowstone Volcano Observatory hypothesize Steamboat Geyser may be entering a new phase of activity, with smaller, more frequent eruptions. Researchers noted, for instance, that the past few eruptions have been weaker than the September 2014 eruption.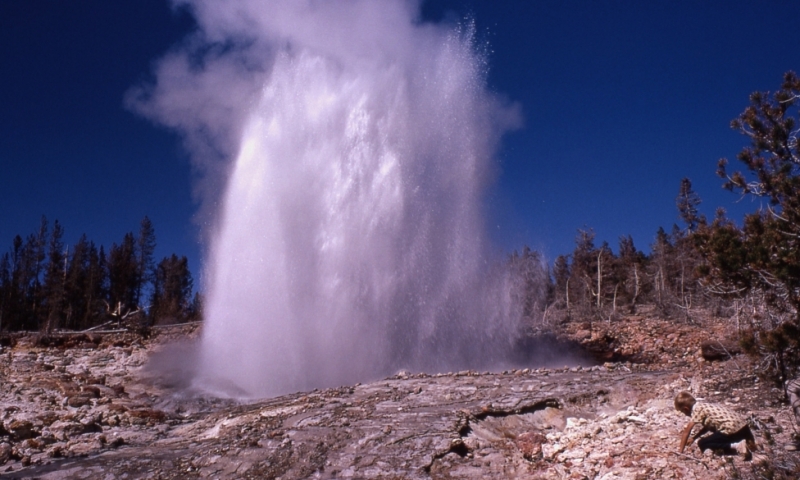 Despite concerns, this shift in Steamboat Geyser's activity does not mean the Yellowstone caldera (the pool of magma that feeds Yellowstone's hot springs and geysers) is due to blow.
Indeed, Steamboat has always had an erratic eruption history. It has gone decades without erupting—most notably between 1911 and 1961—only to turn around and start erupting frequently.
Although this most recent eruption seems to point toward a new trend for Steamboat Geyser, only time will tell whether this streak will continue or not.
Source : YVO , Yellowstoneinsider.com