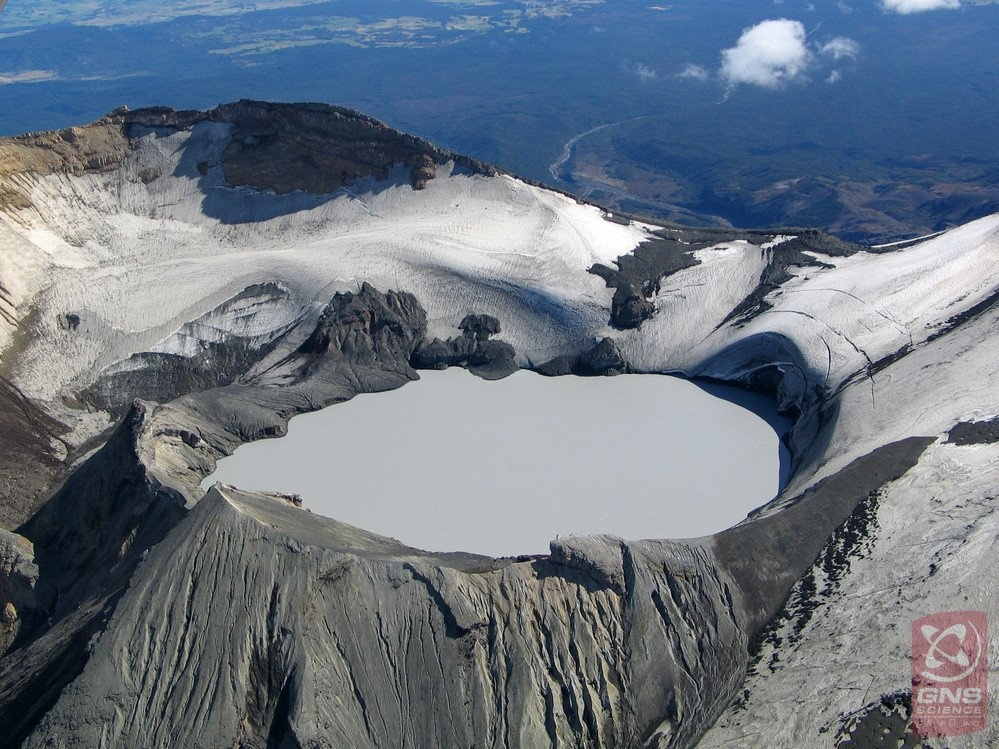 March 02 , 2020. EN. Kamchatka : Klyuchevskoy , Indonesia : Semeru , New Zealand : Ruapehu , Guatemala : Fuego.
March 02 , 2020.
Kamchatka , Klyuchevskoy :
VOLCANO OBSERVATORY NOTICE FOR AVIATION (VONA).
Issued: March 02 , 2020
Volcano: Klyuchevskoy (CAVW #300260)
Current aviation colour code: ORANGE
Previous aviation colour code: orange
Source: KVERT
Notice Number: 2020-28
Volcano Location: N 56 deg 3 min E 160 deg 38 min
Area: Kamchatka, Russia
Summit Elevation: 15580 ft (4750 m)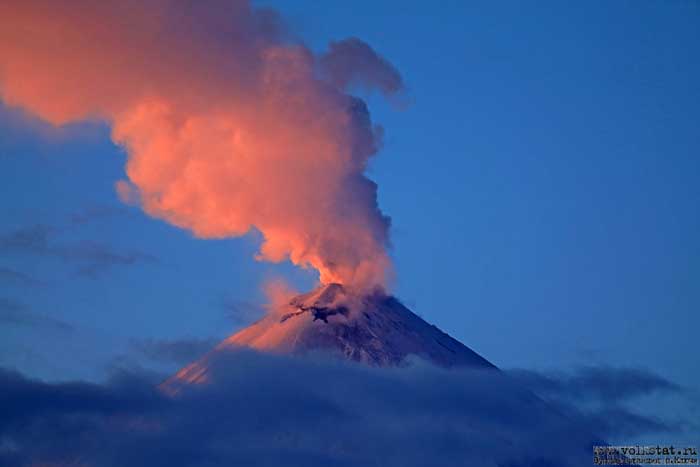 Volcanic Activity Summary:
A moderate explosive eruption of the Strombolian type of the volcano continues. According to videodata, a strong gas-steam activity of the volcano is observing all day. A some amount of ash into the gas-steam plume began to noting from 03:30 UTC this day. A gas-steam plume with some amount of ash is extending to the west of the volcano.
A moderate explosive eruption of the volcano continues. Ash explosions up to 16,400-23,000 ft (5-7 km) a.s.l. could occur at any time. Ongoing activity could affect low-flying aircraft.
Volcanic cloud height:
18040-19680 ft (5500-6000 m) AMSL Time and method of ash plume/cloud height determination: 20200302/0410Z – Video data
Other volcanic cloud information:
Distance of ash plume/cloud of the volcano: 9 mi (15 km)
Direction of drift of ash plume/cloud of the volcano: W
Time and method of ash plume/cloud determination: 20200302/0410Z – Video data
Source : Kvert.
Photo : Yuri Demyanchuk.
Indonesia , Semeru :
Level of activity at level II (WASPADA). G. Semeru (3,676 m above sea level) is experiencing a continuous eruption. The last eruption occurred on March 1, 2020 with the height of the eruption column not observed.
The volcano is clearly visible. No smoke from the crater is observed. The weather is cloudy, the winds weak, directed towards the South. The temperature is around 23-25 ° C. An incandescent lava flow descends 750 meters.
According to the seismographs of March 1, 2020, it was recorded:
49 eruption earthquakes.
14 avalanche earthquakes
6 harmonic earthquakes.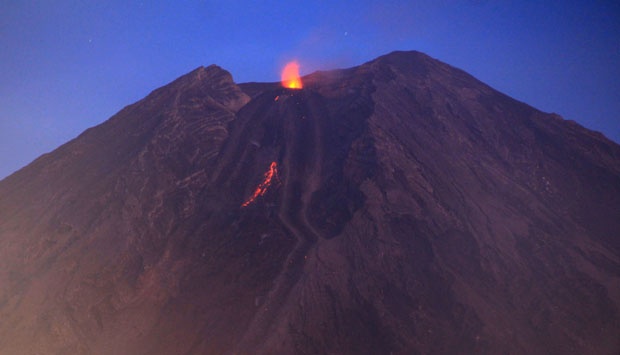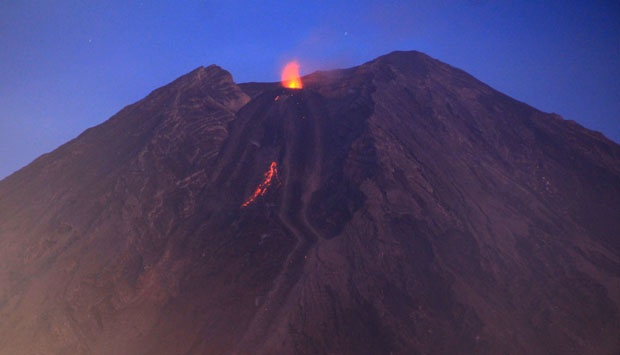 Recommendation:
The community must not carry out activities within a radius of 1 km and in the area up to 4 km in the South-South-East slope sector of the active crater which is an opening area of the active crater of G. Semeru (Jongring Seloko) as a channel for sliding warm clouds.
Be aware of the presence of a lava dome in the Seloko Jongring crater.
VONA: The last VONA ORANGE color code sent, was published on February 7, 2020 at 05:12:00 WIB. Volcanic ash was observed at an altitude of 4076 m above sea level or about 400 m above the summit.
Triggered by an increase in the supply of magma since last week, Mount Semeru, in the regency of Lumajang, in East Java, emitted incandescent lava up to 1,000 meters from the top of the crater. Despite this, until Sunday (1/3), the status of the highest volcano on the island of Java remains at Waspada II level.
Source : PVMBG. Tempo .
Photo : Cucuk Donartono/Koz/pd/12 ( archive Tempo.co 2014).
New Zeland , Ruapehu :
Mt Ruapehu: Update from seismic activity last week . Published: Mon Mar 2 2020 4:30 PM
Volcanic Alert Level remains at 1
Aviation Colour Code remains at Green
Crater Lake (Te Wai ā-moe) has responded to volcanic earthquakes beneath Mt Ruapehu. GNS Science volcanologists have collected data this week to further understand current activity.
In response to the sequence of seismic events recorded last week beneath Mt Ruapehu, volcanologists have collected water samples from Crater Lake and measured volcanic gases in the plume. Seismic data have been analysed in detail.
The amounts of carbon dioxide (CO2) and sulphur gases (SO2 and H2S) have increased since the last measurements on 7th February 2020. However, the values are not at all unusual and are within the ranges measured over the past year. Water samples are being analysed this week, with chemistry results expected by next week.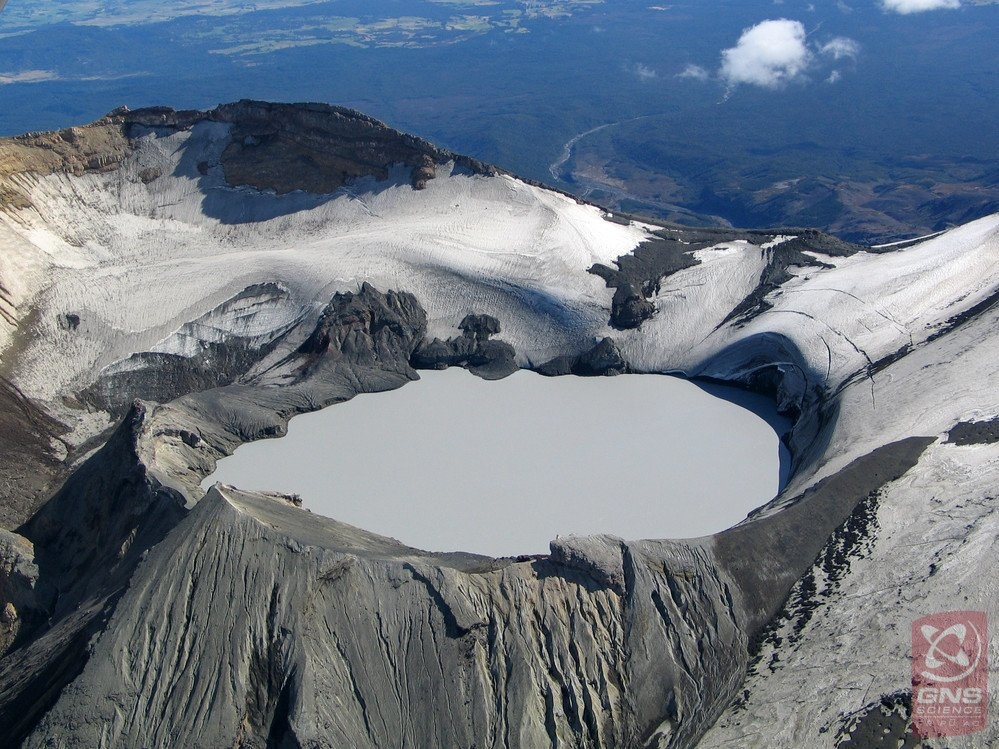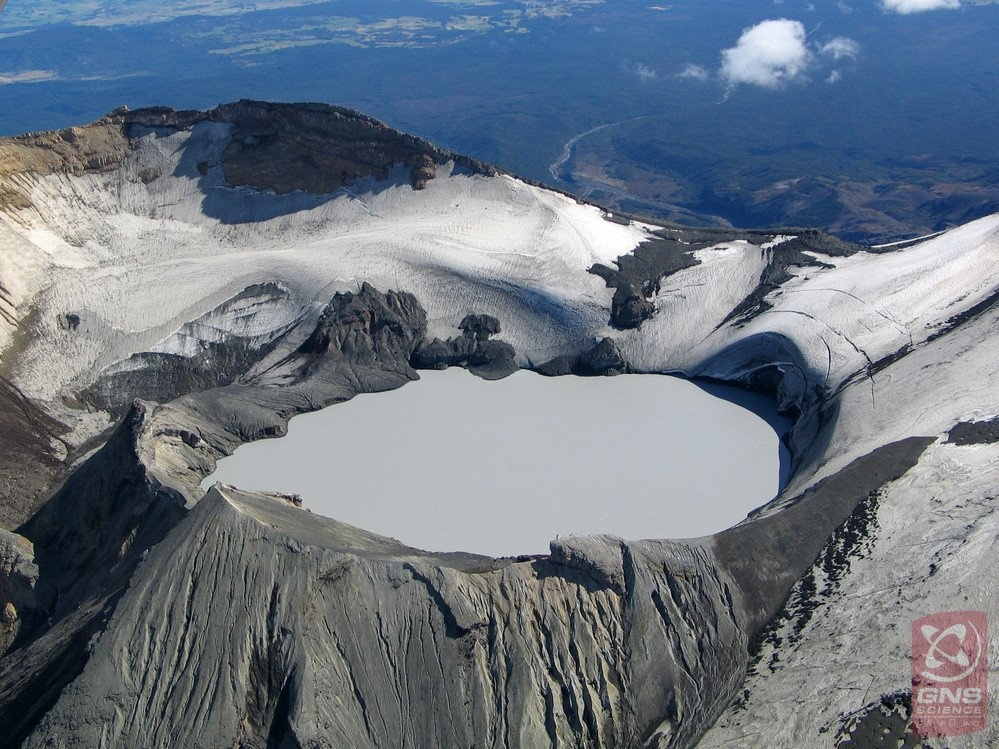 New analysis of last week's volcanic earthquakes defines a source area 3 km beneath the summit of Ruapehu, which is normal for seismic activity at Ruapehu. Volcanic tremor increased in strength briefly last weekend, then declined during the week, and has now increased again to similar levels.
In response to the earthquakes last week, Crater Lake (Te Wai ā-moe) has slowly heated from 24ºC and is currently at 30ºC. Upwelling of grey sediment and sulphur slicks on the lake surface were observed during our visit last week. The lake is being mixed and is overflowing through the usual outlet channel. The flow of gases and hydrothermal fluids though the lake show that the underlying vent area is open.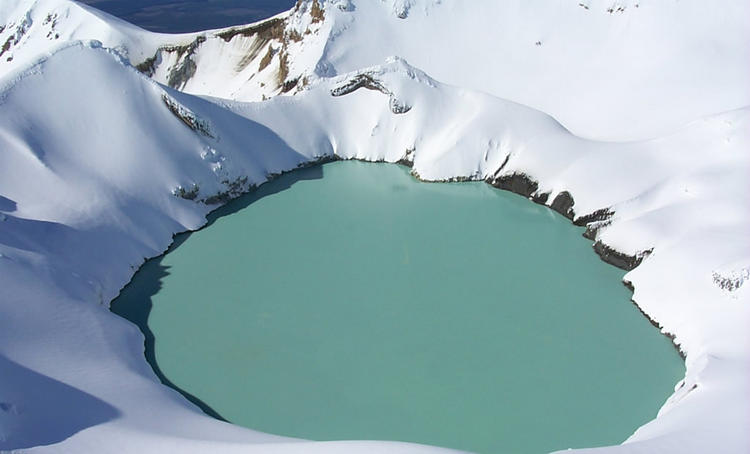 It is not unusual to observe volcanic earthquakes at Ruapehu and similar episodes of increased seismic activity and gas flux were observed during March 2018 and 2019, September 2017 and April 2016. None of these resulted in a sustained increase in volcanic unrest.
The Volcanic Alert Level remains at Level 1. The Volcanic Alert Level reflects the current level of volcanic activity and is not a forecast of future activity. There is no change in the Aviation Colour Code from Green.
GNS Science and the National Geohazards Monitoring Centre continues to closely monitor Mt Ruapehu for further signs of activity. GeoNet monitors Mt Ruapehu via a network of seismic and acoustic sensors, GPS receivers, sensors in the lake and visits to the lake area and gas flights.
Source : Geonet / Michael Rosenberg / Duty Volcanologist.
Photo : Brad Scott , IGE .
Guatemala , Fuego :
Type of activity: Vulcanian
Morphology: composite stratovolcano
Atmospheric conditions: clear.
Wind: North at 11 km / h
Precipitation: 0.0 mm.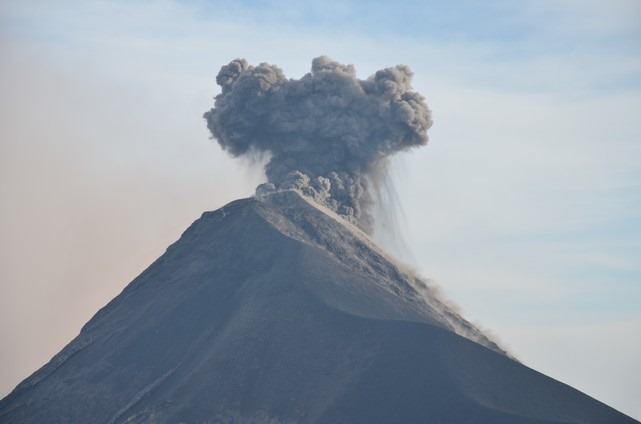 Activity:
There are moderate explosions, some of them are of Vulcanian type, strong, loaded with gray ash, in time intervals of 10 to 14 per hour, expelling columns of ash, at a height of 4500 to 4800 m altitude (14,763 to 15,748 feet) that disperse south and southeast of the volcanic building for approximately 205 kilometers. Ash falls are reported in the communities of La Rochela, San Andres Osuna, Chuchu, El Rodeo, El Zapote, Fca La Reunion and others in this region, with the probability of ash fall in Alotenango. The explosions generate rumblings, shock waves and sounds similar to a train locomotive for 5 minutes. At night, incandescent pulses 300 and 400 meters high were observed, accompanied by avalanches of boulders, moderate to strong, towards the ravines Taniluyá, Ceniza, Las Lajas, Trinidad, Seca and Honda.
Source : Insivumeh .
Photo : Nath Duverlie