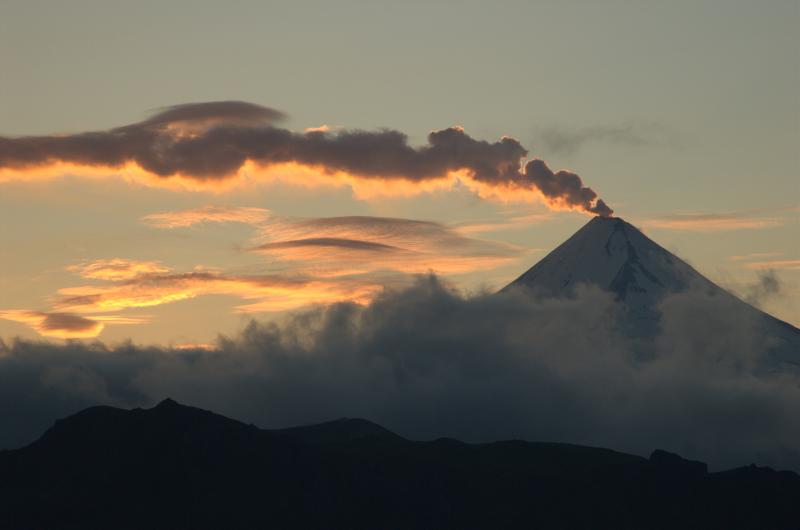 September 16 2023.
Alaska , Shishaldin :
AVO/USGS Volcanic Activity Notice
Current Volcano Alert Level: WATCH
Current Aviation Color Code: ORANGE
Issued: Friday, September 15, 2023, 2:52 PM AKDT
Source: Alaska Volcano Observatory
Notice Number: 2023/A1390
Location: N 54 deg 45 min W 163 deg 58 min
Elevation: 9373 ft (2857 m)
Area: Aleutians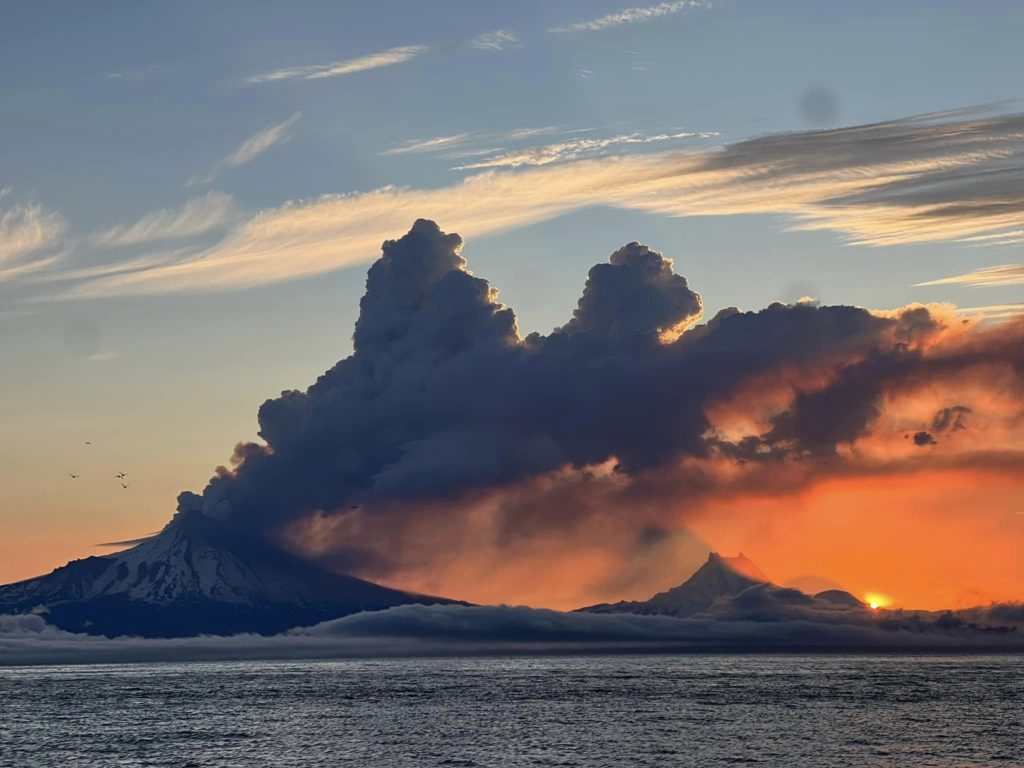 Volcanic Activity Summary:
The level of unrest is increasing at Shishaldin Volcano. Seismic tremor has intensified over the past 6 hours and, during Shishaldin's ongoing eruptive period, this has often been followed by ash-producing explosive activity over the next several hours.
Recent significant ash events during the current eruption resulted in ash clouds with heights up to 40,000 ft (12 km) above sea level. These events can occur with little warning. It is also possible that ash emissions may occur at a lower-level, steady state and be sustained for many hours.
Issued: Friday, September 15, 2023, 5:41 PM AKDT
Volcanic Activity Summary:
An explosive eruption from Shishaldin began around 5:10 p.m. AKDT on September 15, 2023 (01:10 UTC on Sept 16) following a several-hour increase in seismicity. Ash is currently being produced and is drifting to the east below the cloud deck of 27,000 ft above sea level. The Aviation Color Code and Volcano Alert Level is being raised to RED/WARNING.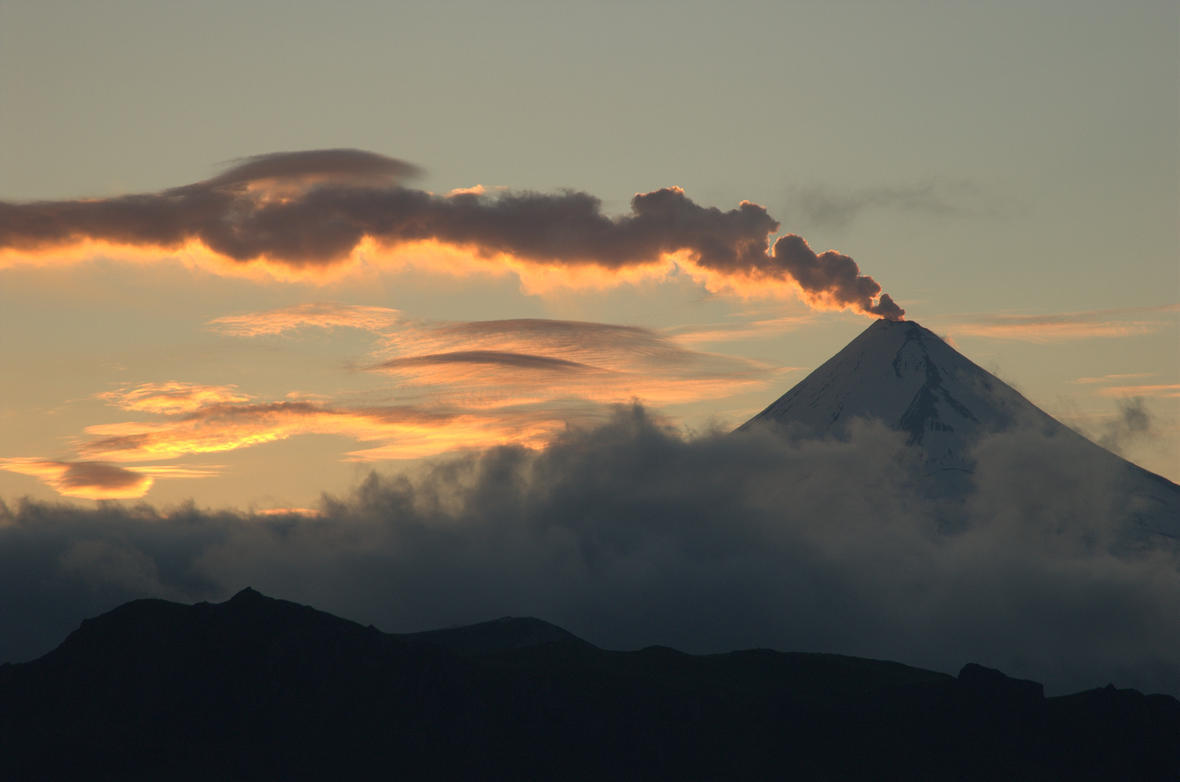 Issued: Friday, September 15, 2023, 9:24 PM AKDT
Current Volcano Alert Level: WARNING
Current Aviation Color Code: RED
Volcanic Activity Summary:
The explosive eruption at Shishaldin Volcano continues, but has decreased in intensity. An explosive event began at 5:10 p.m. AKDT on September 15, 2023 (01:10 UTC on Sept 16) after a period of rapidly increasing seismicity. The explosive event produced an ash-rich cloud that the National Weather Service estimated reached an altitude of 42,000 ft (12.8 km) above sea level and was accompanied by volcanic lightning.
This upper level cloud detached from the vent around 18:30 AKDT (02h30 UTC) and is drifting towards the east. Seismicity began to decrease dramaticially at about this same time. Beginning around 19:30 AKDT (03:30 UTC), lightning resumed indicating continued ash emssions. The meterological cloud deck over the volcano is currently at about 22,500 ft (6.8 km) above sea level and ash emissions are not visible in satellite data. Explosions continue to be detected in infrasound data, at a lower level than during the most energetic phase of this event. Seismicity is lower, it has not reached its pre-event levels and the Aviation Color Code and Volcano Alert Level remain at RED/WARNING.
Trace ash fall was reported in the community of False Pass between 18:00 and 20:30 AKDT (0200 to 0430 UTC). The National Weather Service has issued a SIGMET for the drifting ash cloud, and a Special Weather Statement has been issued for trace ash on False Pass.
Based on previous eruption cycles, significant ash emissions are likely to continue for several hours. Pyroclastic and mudflows are likely on the immediate flanks of the volcano.
Source : AVO
Photos : Nick Enloe , Cyrus_Read.
Hawaii , Kilauea :
Friday, September 15, 2023, 10:23 AM HST (Friday, September 15, 2023, 20:23 UTC)
19°25'16 » N 155°17'13 » W,
Summit Elevation 4091 ft (1247 m)
Current Volcano Alert Level: WATCH
Current Aviation Color Code: ORANGE
Activity Summary:
The Kīlauea summit eruption that began on September 10th continues this morning. Eruptive activity is confined to the downdropped block and Halemaʻumaʻu crater within Kīlauea's summit caldera. No unusual activity has been noted along Kīlauea's East Rift Zone or Southwest Rift Zone.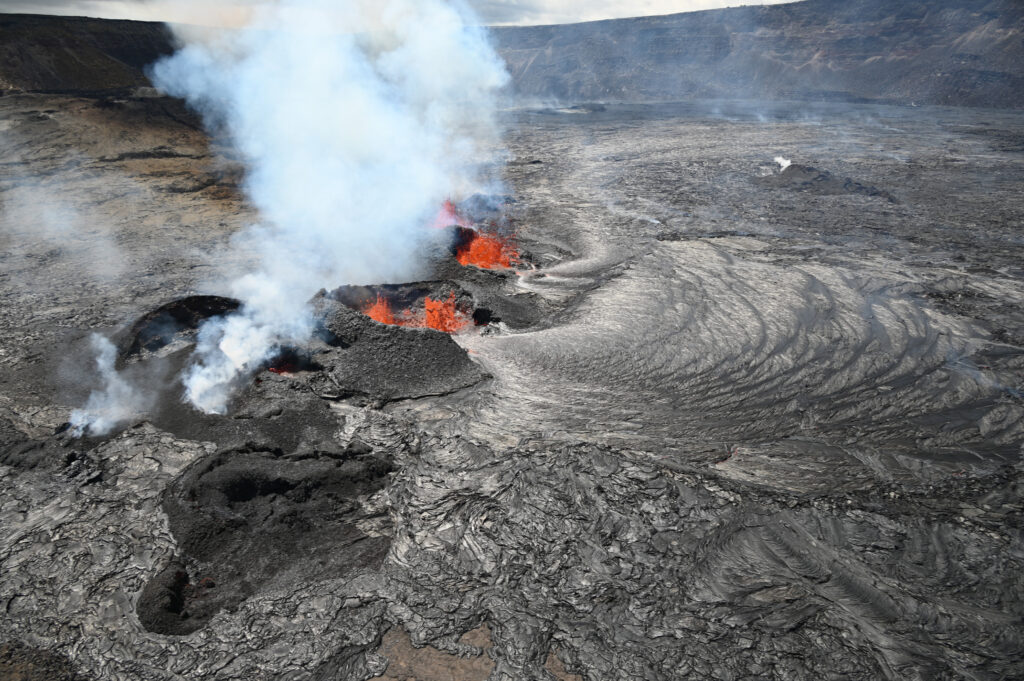 A view of the active fissure in Kīlauea summit caldera, with a chain of cinder cones as seen during an overflight on the afternoon of September 14, 2023. The vents within the cones are feeding lava flows that have covered nearly 500 acres (200 hectares) with new lava since the eruption began on September 10. Since then, the area of active lava has decreased to 108 acres (44 hectares) on September 14.
Summit Eruption Observations:
Several roughly east-west oriented vents continue to erupt on the western side of the downdropped block within Kīlauea's summit caldera and are generating lava flows onto Halema'uma'u crater floor. Effusion rates continue to decrease, but remain significant.
Vigorous spattering is restricted to the westernmost large spatter cone with fountains 10-15 meters. Minor spattering is occuring within the next cone to the east, but the fountains remain mostly below the rim of its cone. Lava continues to flow from these and potentially several of the other cones.
Pāhoehoe lava flows continue to travel in north and west directions from the vents, around elevated ground from the 1982 eruption, and onto Halema'uma'u crater floor. Overnight webcam imagery shows that the area of active lava remains restricted to the western part of the downdropped block and the northeastern parts of Halema'uma'u. This area of active lava does not appear to have changed significantly in size over the past 24 hours. Numerous oozeouts of lava were visible over other parts of Halema'uma'u crater floor overnight.
Field crews yesterday reported that lava fountain heights at the vents reached up to about 10-15 meters (32-50 feet) and the horseshoe-shaped spatter ramparts that have accumulated on the south/downwind side of the vents remain 20 meters (66 feet) high.

These thermal images look west and show the eruption at the summit Kīlauea on September 11 (the day after the eruption started) and on September 14. On September 11, multiple vents were active in a roughly east-west trending line and the area of active lava flows was approximately 448 acres (181 hectares). On September 14, only the central vents remained active and the area of active lava flows was approximately 108 acres (44 hectares).
The laser rangefinder is aimed at a western portion of Halema'uma'u, not near the new eruptive activity, and recorded about 10 meters (33 feet) of uplift to this locality since the eruption started. This demonstrates that a significant amount of lava has intruded beneath the pre-existing crust within Halema'uma'u.
Volcanic gas emissions in the eruption area are elevated; winds yesterday, September 14, prevented measurements of a suflur dioxide (SO2) emission rate. The most recent SO2 emission rate of 20,000 tonnes per day was measured the afternoon of September 13. This is down significantly from the 190,000 tonnes per day measured just after the onset of the eruption on Sunday, September 10th.
Summit Observations:
Summit tilt has remained mildly deflationary over the past 24 hours. Summit seismic activity is dominated by eruptive tremor (a signal associated with fluid movement) with very few volcano tectonic earthquakes.
Source : HVO
Photos : USGS / L. Gallant , USGS / M. Patrick
Indonesia , Merapi :
Report on the activity of Mount Merapi from September 8, 2023 to September 14, Published on September 15, 2023.
OBSERVATION RESULTS
Visual
The weather around Mount Merapi is generally sunny in the morning and afternoon, while the evening is foggy. White smoke, fine to thick, low to medium pressure and 450 m high was observed from the observation post of Mount Merapi in Badaban on September 9, 2023 at 11:30 a.m.
This week, lava avalanches were observed 162 times towards the South and Southwest, including 10 times upstream of the Boyong River up to a maximum of 1,500 m, 151 times upstream of the Bebeng River up to at 2000 m and once upstream of the Sat/Putih river up to a maximum of 1200 m. The sound of avalanches was heard 15 times from the Babadan post with low to moderate intensity.
The morphology of the southwest dome underwent changes due to growth activity and lava avalanches, while no significant changes were observed for the central dome. Based on aerial photo analysis on August 30, 2023, the measured volume of the southwest dome was 2,858,600 m3 and the central dome was 2,355,100 m3.
Seismicity
This week, the seismicity of Mount Merapi showed:
39 shallow volcanic earthquakes (VTB),
2374 multi-phase (MP) earthquakes,
24 low frequency (LF) earthquakes,
1015 avalanche earthquakes (RF)
11 tectonic earthquakes (TT).
The intensity of seismicity this week is lower than last week, but the number of earthquakes is still quite high.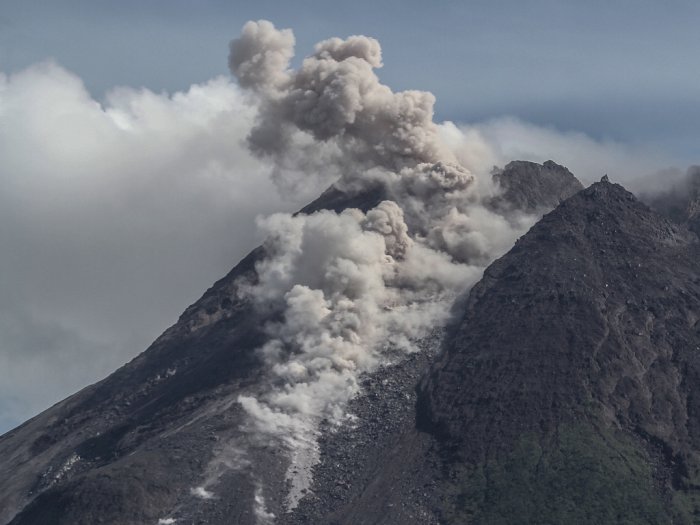 Deformation
The deformation of Mount Merapi that was monitored using EDM this week showed a shortening of steepening distance of 1.4 cm/day.
Rain and lahars:
There was no rain this week at Pengamatan's Mount Merapi lookout post. There have been no reports of additional flows or lahars from rivers flowing down from Mount Merapi.
Conclusion
Based on the results of visual and instrumental observations, it is concluded that:
-Mount Merapi's volcanic activity is still quite high in the form of effusive eruption activity. The activity status is defined at the "SIAGA" level.
The current danger potential is in the form of lava avalanches and hot clouds in the South-South-West sector including the Boyong river for a maximum of 5 km, the Bedog, Krasak, Bebeng rivers for a maximum of 7 km. In the South-East sector, it includes the Woro river for a maximum of 3 km and the Gendol river for 5 km. While the ejection of volcanic material in the event of an explosive eruption can reach a radius of 3 km from the summit.
Source : BPPTKG
Photo  : Hendra Nurdiyansyah
Indonesia , Ili Lewotolok :
THURSDAY SEPTEMBER 14, 2023.
Mount Ili Lewotolok erupted on Thursday, September 14, 2023, at 05:20 WITA. The height of the eruptive column was observed to be ± 600 m above the peak (± 2023 m above sea level). The ash column was observed to be gray with thick intensity, oriented to the West and Northwest. The eruption was recorded on a seismograph with a maximum amplitude of 34 mm and a duration of 42 seconds.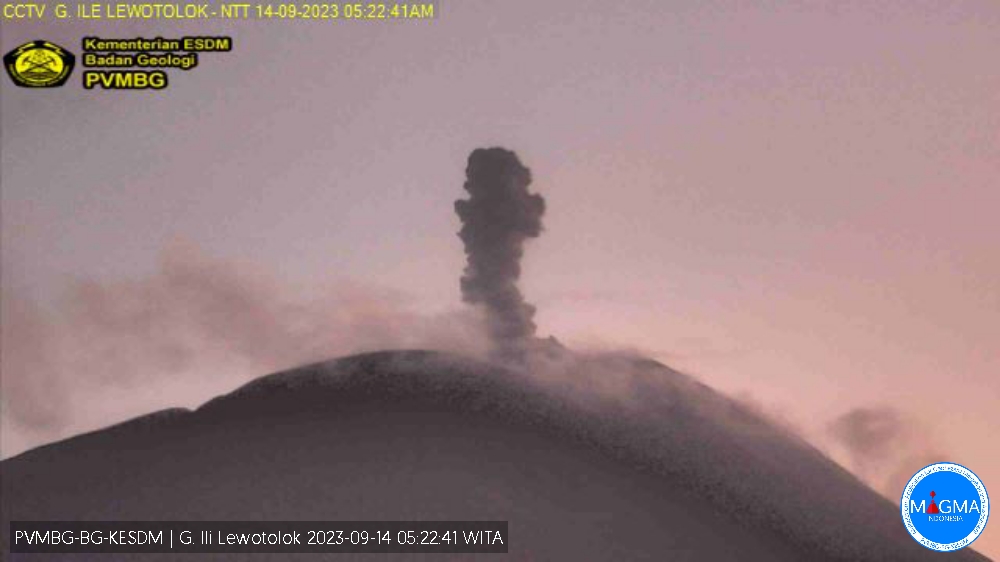 Recommendation
At activity level Level II (Alert), it is recommended:
Communities around Mount Ili Lewotolok as well as visitors/climbers/tourists should not enter or conduct activities within a 2 km radius of the Mount Activity Center. Ili Lewotolok, and the inhabitants of Lamawolo village, Lamatokan. the village and town of Jontona should always be alert to the potential threat of danger from lava avalanches and hot clouds originating from the eastern portion of the summit/crater of Mt. Ili Lewotolok.
Source et photo : Magma Indonésie.
Chile , Villarica :
Special Report on Volcanic Activity (REAV), La Araucanía and Los Ríos regions, Villarrica volcano, September 15, 2023, 06:45 local time (mainland Chile)
The National Geology and Mining Service of Chile (Sernageomin) announces the following PRELIMINARY information, obtained through the monitoring equipment of the National Volcanic Monitoring Network (RNVV), processed and analyzed at the Southern Andean Volcano Observatory (Ovdas):
On Friday, September 15, 2023, at 06:22 local time (09:22 UTC), monitoring stations installed near the Villarrica volcano recorded an earthquake associated with fluid dynamics inside the volcanic system (LP type).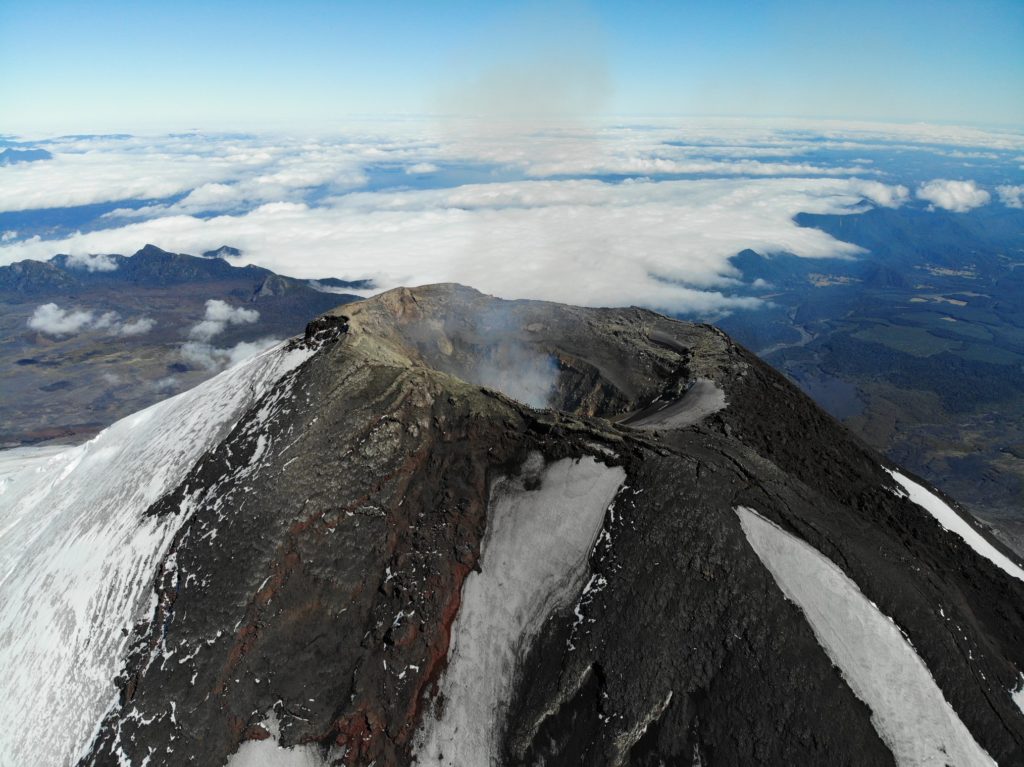 The characteristics of the earthquake, after its analysis, are as follows:
ORIGINAL TIME: 06:22 local time, (09:22 UTC)
REDUCED TRAVEL: 75.75 (cm*cm)
OBSERVATIONS:
The crater of the volcano could not be observed due to the cloudiness in the area, no changes were recorded in the seismic behavior of the volcano following the reported event.
The technical volcanic alert is maintained at the Yellow level.
Source  : Sernageomin.
Photo :  Take a Way ( 2020).