September 07 , 2023.
Japan , Fukutoku-Oka-No-Ba :
The Japan Coast Guard flew over Fukutoku-Oka-no-Ba on 15 August and confirmed that an eruption had started on 13 August and was ongoing, according to JMA. The island was horseshoe-shaped and about 1 km in diameter. Floating pumice extended about 60 km NW. The Alert Level was raised from "Volcanic Forecast" to "Volcanic Warning, Sea Area" based on a two-level scale for submarine volcanoes.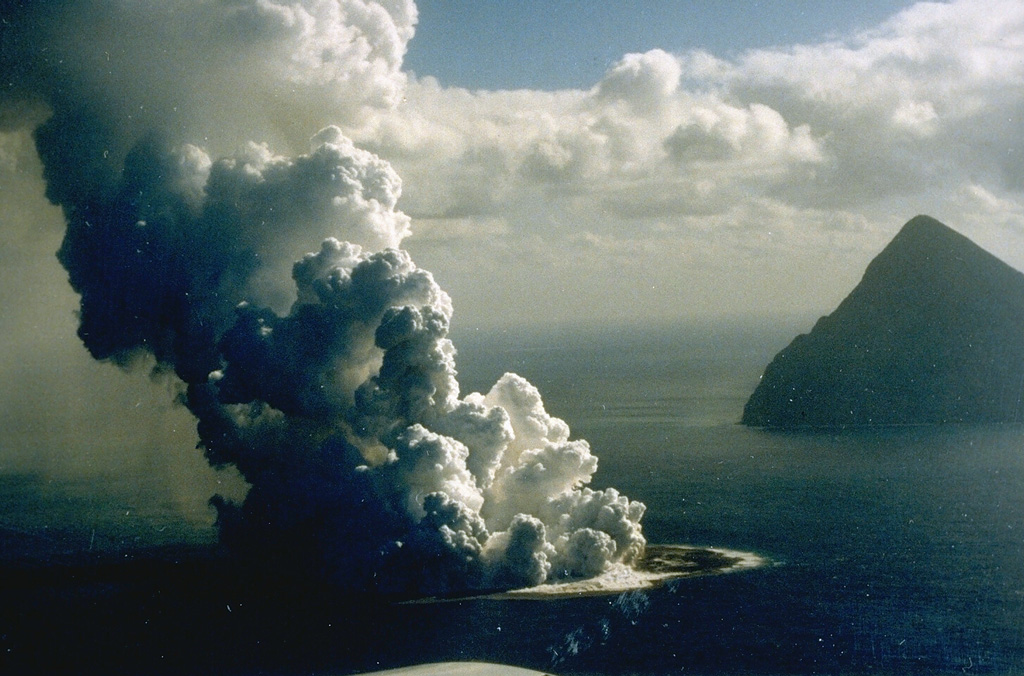 Fukutoku-Oka-no-ba is a submarine volcano located 5 km NE of Minami-Iwojima island (right). Water discoloration is frequently observed near the volcano and several ephemeral islands formed in the 20th century. The first of these created Shin-Iwojima in 1904, and the island seen in this 21 January 1986 photo; wave erosion removed the island by 8 March.
Fukutoku-Oka-no-ba is a submarine volcano located 5 km NE of the island of Minami-Ioto. Water discoloration is frequently observed, and several ephemeral islands have formed in the 20th century. The first of these formed Shin-Ioto (« New Sulfur Island ») in 1904, and the most recent island was formed in 1986. The volcano is part of an elongated edifice with two major topographic highs trending NNW-SSE, and is a trachyandesitic volcano geochemically similar to Ioto.
Source : GVP.
Photo : G. Iwashita, 1986 (Japan Meteorological Agency).
Alaska , Shishaldin :
54°45'19 » N 163°58'16 » W,
Summit Elevation 9373 ft (2857 m)
Current Volcano Alert Level: WATCH
Current Aviation Color Code: ORANGE
Low-level unrest continues at Shishaldin Volcano. Persistent elevated surface temperatures have been observed in satellite data and minor emissions were observed in clear web camera images from this morning. Seismicity remains elevated with weak but steady tremor, small low-frequency earthquakes and small explosions occurring. A SIGMET (issued by the National Weather Service) for the detached eruption cloud from yesterday's elevated activity was in effect through this morning. In addition, a SIGMET was issued for low-level ash (5000 ft to 6000 ft) extending to the south-southeast of the summit.
Webcam image from south of Shishaldin (station BRPK) showing high fountaining and light ash emissions at the start of « event 9 » of the 2023 eruption.
There have been nine periods of elevated eruptive activity resulting in significant ash emissions and mass flows of volcanic debris on the volcano's flanks since the onset of the current eruption. These periods of elevated eruptive activity have been preceded by increases in seismicity in the hours before they occur. Collapse of accumulated lava near the summit crater can occur without warning and generate hot mass flows on the upper flanks and small volcanic ash clouds. The ongoing eruptive period started on July 12, and it is unknown how long this eruptive episode will last. However, previous eruptions of Shishaldin Volcano have lasted weeks to months with repeated cycles of activity like those seen over the last month.
Local seismic and infrasound sensors, web cameras, and a geodetic network monitor Shishaldin Volcano. In addition to the local monitoring network, AVO uses nearby geophysical networks, regional infrasound and lighting data, and satellite images to detect eruptions.
Source : AVO
Photo : AVO/USGS , Alaska Volcano Observatory / U.S. Geological Survey.
Indonesia , Semeru :
Press release on the volcanic activity of Mount Semeru, September 6, 2023.
The volcanic activity of Mount Semeru in 2023 is still high. This is marked by eruption and seismicity activity that occurs an average of 79 times per day. The latest developments in the activity of the Semeru volcano until September 6, 2023 at 12:00 WIB are as follows:
Deformation monitoring using seven GPS stations shows inflation (increasing pressure) on the body of Semeru Volcano with a source of pressure from a depth of 2.3 km. Meanwhile, deformation monitoring using the Tiltmetre shows the same from August 15, 2023.
Seismic monitoring shows a decrease in the number of eruption earthquakes accompanied by an increase in avalanche earthquakes, indicating a change in eruption characteristics from explosive to effusive.
The potential danger due to the increase in pressure and changes in the characteristics of the eruption of the Semeru volcano is the occurrence of an increase in avalanche earthquakes which can trigger hot cloud avalanches.
Considering that the activity of the Semeru volcano is still high and that there is still a risk of formation of hot clouds and lava flows, it is hoped that the community around the Semeru volcano will continue to raise awareness of the dangers of eruptions and clouds. hot from the Semeru volcano.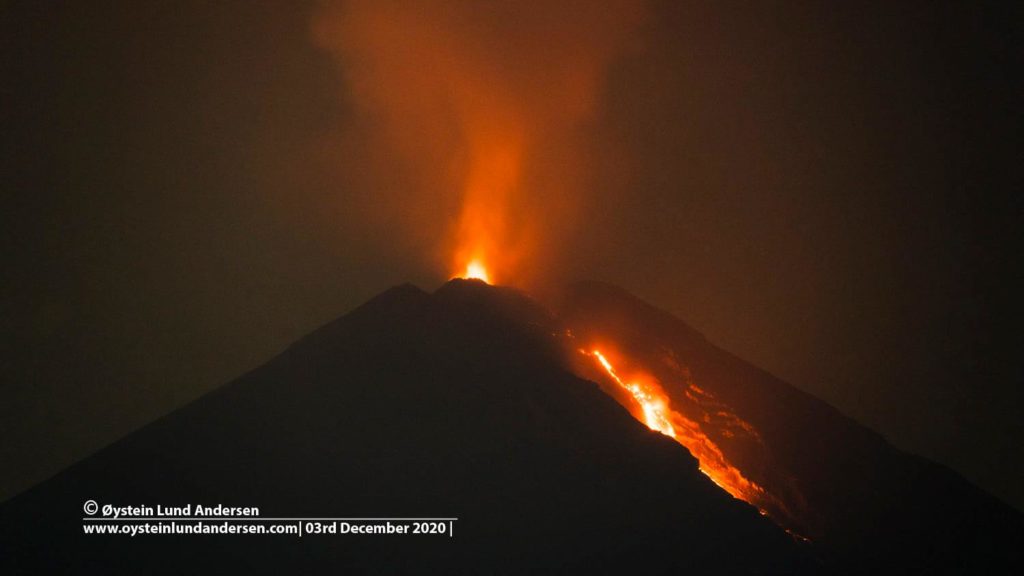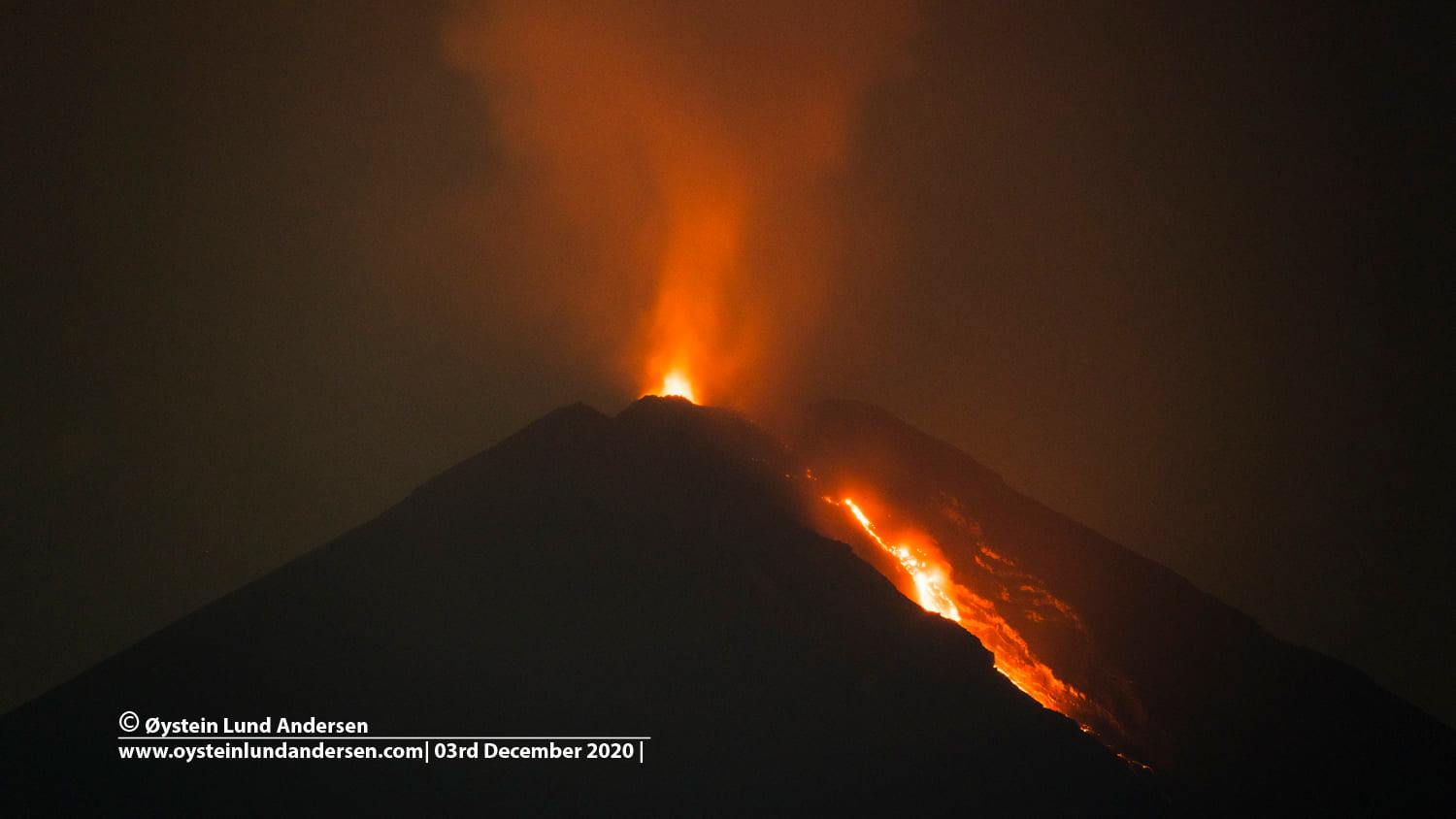 Based on visual and instrumental monitoring until September 6, 2023 at 12:00 WIB, the Geological Agency declared that the activity level of the Semeru volcano was still at level III (SIAGA).
Considering that the level of activity of the Semeru volcano is currently still at level III (SIAGA), the public/visitors/tourists are advised to:
Comply with the recommendations issued by the Geological Agency through the Center for Volcanology and Mitigation of Geological Risks,
Do not carry out any activity in the Southeast sector along Besuk Kobokan, up to 13 km from the summit (center of the eruption). Outside of this distance, the community does not carry out activities within 500 meters of the shore (river edge) along Besuk Kobokan as it may be affected by the expansion of hot clouds and lava flows up to a distance of 17 km from the summit.
Source : PVMBG
Photo : Oystein Lund Andersen.
Mexico , Popocatepetl : 
CENAPRED reported that eruptive activity continued at Popocatépetl during 29 August-4 September. Long-period events totaling 30-99 per day were accompanied by steam-and-gas plumes that sometimes contained minor amounts of ash. Periods of volcanic tremor (20-389 minutes) were recorded daily; low- to medium-amplitude, high-frequency tremor during 31 August-2 September was accompanied by continuous gas-and-steam emissions that contained minor amounts of ash, rose 1-2 km above the crater rim, and drifted WSW. A few volcano-tectonic earthquakes were recorded during 30 August-1 September. Minor and moderate explosions were recorded at 18h48 on 30 August, at 00h32, 16h14, and 17h02 on 31 August, at 15h24 and 17h55 on 1 September, at 0h442, 07h20, 22h21 on 3 September, at 17h45 on 4 September, and at 07h58, 08h59, and 10h00 on 5 September. Ashfall was reported in Ozumba (18 km W), Atlautla (16 km W), Tepetlixpa (21 km W), and Ecatzingo (15 km SW) in the State of México and in Cuernavaca (65 km WSW), Temixco (67 km WSW), Huitzilac (67 km W), Tepoztlán (49 km W), and Jiutepec (59 km SW) in the State of Morelos on 1 and 5 September. The Alert Level remained at Yellow, Phase Two (the middle level on a three-color scale) and the public was warned to stay 12 km away from the crater.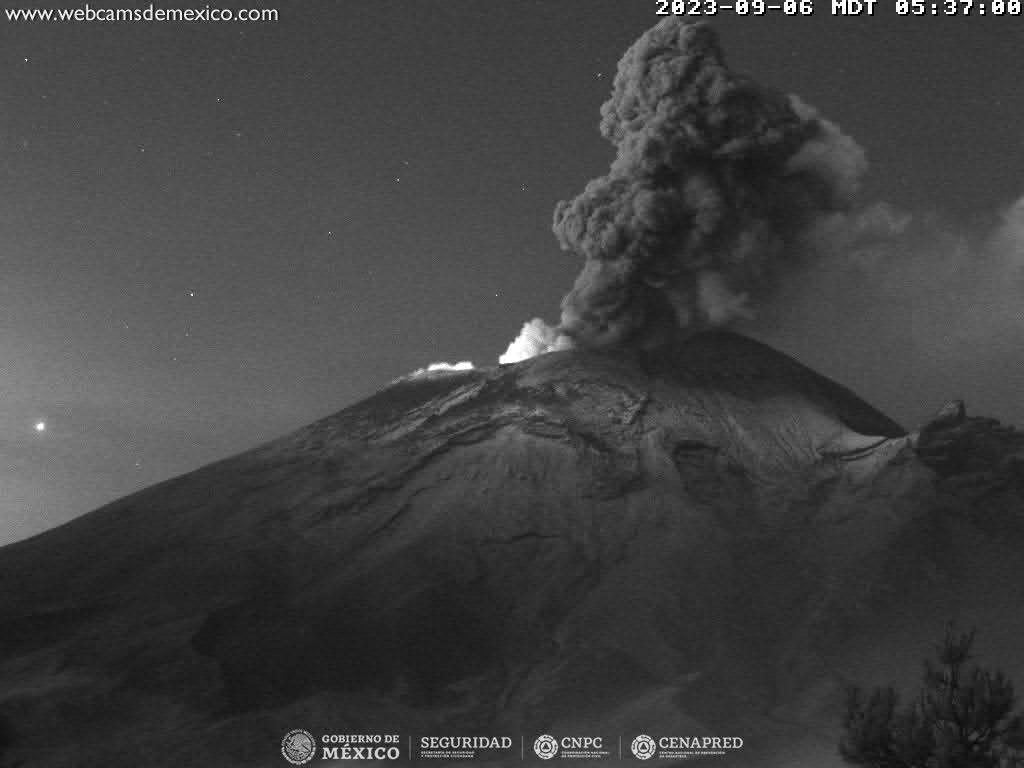 Activity in the last 24 hours
63 exhalations were detected, accompanied by water vapor, volcanic gases and sometimes ash. In addition, 295 minutes of medium to low amplitude tremors and 21 minutes of low amplitude exhalation sequences were recorded.
During the morning and at the time of this report, an emission of water vapor and volcanic gases was observed in a westerly direction.
Derived from the activity, the National Center for Communication and Civil Protection Operations (CENACOM) reported ash fall in the municipalities of Juchitepec and Tenango in the State of Mexico, as well as in Cuernavaca, Morelos.
The Popocatépetl volcanic warning light is located in phase 2 Amarillo.
Source et photo : GVP , Cenapred.
Hawaii , Kilauea : 
19°25'16 » N 155°17'13 » W,
Summit Elevation 4091 ft (1247 m)
Current Volcano Alert Level: ADVISORY
Current Aviation Color Code: YELLOW
Activity Summary:
Kīlauea volcano is not erupting. Kīlauea's summit is currently exhibiting signs of elevated unrest. No unusual activity has been noted along the volcano's East Rift Zone or Southwest Rift Zone.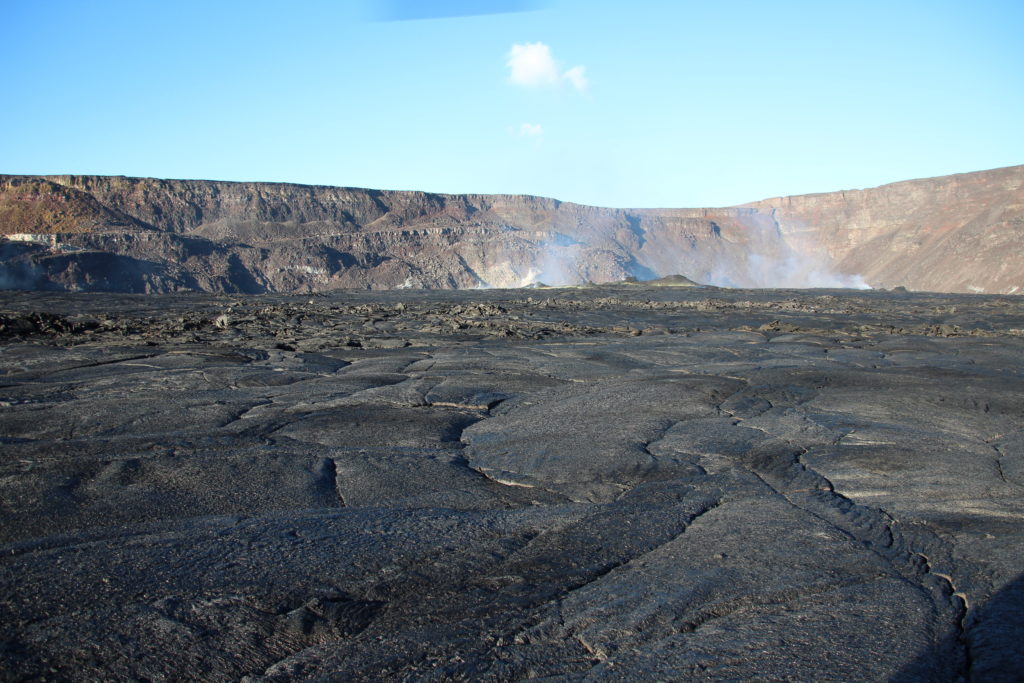 Summit Observations:
Elevated seismic activity continues in an area south of Kīlauea's summit caldera. Steady rates of earthquakes have persisted in this area since August 22, and there was a small, brief swarm this morning. Most of these earthquakes have occurred at depths of 1–2 miles (2–3 kilometers) below the surface, lacking upward migration. Last night, summit tiltmeters tracked a gradual transition to deflation, which has continued steadily today. Since the end of the last eruption in June, the general trend has been slow, long-term summit inflation. Sulfur dioxide (SO2) emissions from the summit remain low; the most recent SO2 emission rate of approximately 75 tonnes per day was measured on August 24.
The seismic and tilt data indicate that Kīlauea's summit is becoming increasingly pressurized. Similar episodes of earthquake and ground deformation activity occurred in November 2020 and August 2021, prior to eruptions in December 2020 and September 2021. The unrest is currently confined within Kīlauea's summit region and—if it continues—could escalate to an eruption in the coming days, weeks, or months. The activity could also decrease due to intrusion of magma underground or other changes, resulting in no eruption. Furthermore, levels of activity are expected to rise and fall during this period of unrest.
Source : HVO.
Photo : USGS / N. Deligne.