March 31, 2023. EN. Colombia : Nevado del Ruiz , Papua New Guinea : Ulawun , Indonesia : Anak Krakatau , Japan : Asamayama , Kamchatka : Bezymianny , Chile : Laguna del Maule .
Mars 31 , 2023.
Colombia , Nevado del Ruiz :
Manizales, March 30, 2023, 10:40 p.m.
Regarding the monitoring of the activity of the NEVADO DEL RUIZ VOLCANO, the MINISTRY OF MINES AND ENERGY through the COLOMBIAN GEOLOGICAL SERVICE (SGC) informs that:
Volcano activity level changes to ORANGE LEVEL of activity or (II): LIKELY ERUPTION IN TERMS OF DAYS OR WEEKS
This level is due to the increase in seismic activity that has occurred in recent days and can be summarized in the following aspects:
• Since March 24, there has been a significant increase in seismic activity associated with rock fracturing in the volcanic edifice. This seismicity is located on the southwest flank of the volcano at a distance of 2 to 5 km from the Arenas crater, at depths between 2 and 4 km from the summit of the volcano.
• An increase in the daily occurrence rate stands out, on March 28 with 6,500 earthquakes and on March 29 with more than 11,000 earthquakes. Until the publication of this bulletin, today more than 9600 events have been recorded.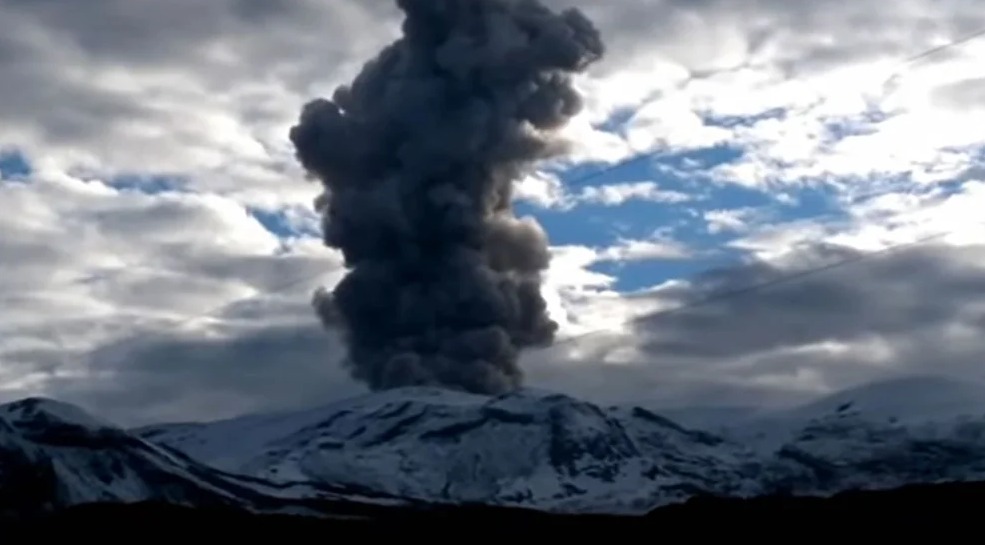 • A progressive increase in the seismic energy released is also highlighted. The maximum magnitudes recorded were: 2.6 on the 24th; 2.7 on the 29th and 3.1 on the 30th.
• An increase in thermal anomalies is observed since October 2022, which persists to this day.
• Seismicity related to the movement of fluids inside the volcanic conduits continues, which is mainly associated with ash emissions.
The community is recommended to remain calm, but to be attentive to the information provided by the Colombian Geological Service on the evolution of the state of the volcano.
The COLOMBIAN GEOLOGICAL SERVICE will continue to monitor the evolution of the volcanic phenomenon and will inform in a timely manner of any changes that may occur.
Source : SGC
Photo : infobae.com
Papua New Guinea , Ulawun :
RVO reported a short eruption at Ulawun, during 04h08-04h25 on 28 March, based on seismic data. A local volcano observer reported minor ashfall in areas to the NW including Ubili village, and the Ulamona Mission, Saltamana, and Ibana Village Oil Palm areas. According to the Darwin VAAC at 06h00 an ash plume was visible in a satellite image drifting W at 3.4 km (11,000 ft) a.s.l.; the plume had dissipated by 10h00.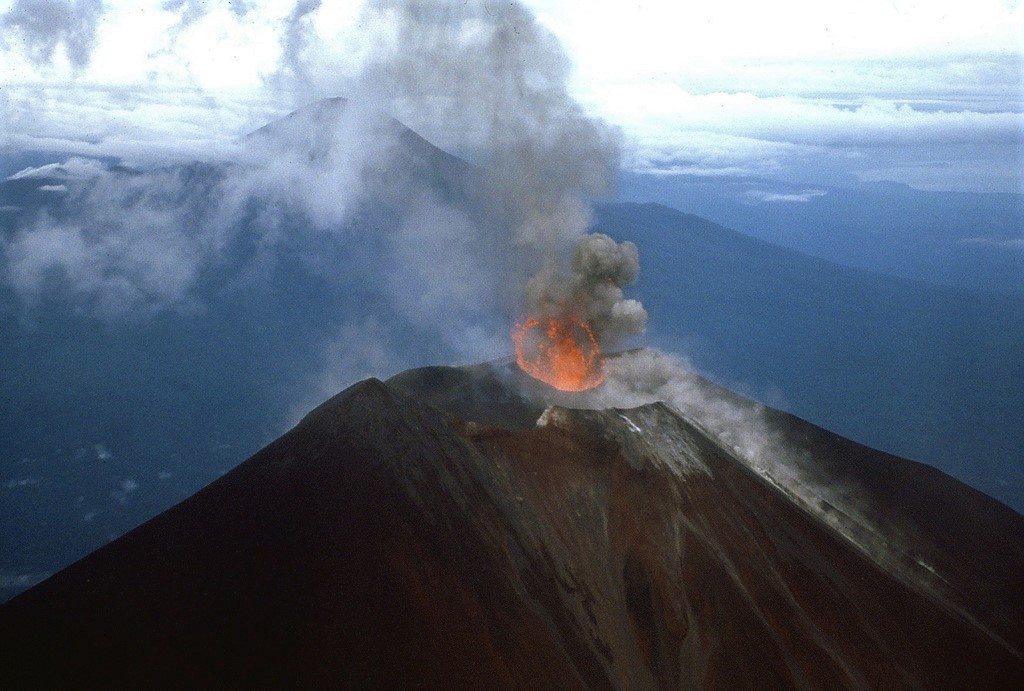 The symmetrical basaltic-to-andesitic Ulawun stratovolcano is the highest volcano of the Bismarck arc, and one of Papua New Guinea's most frequently active. The volcano, also known as the Father, rises above the N coast of the island of New Britain across a low saddle NE of Bamus volcano, the South Son. The upper 1,000 m is unvegetated. A prominent E-W escarpment on the south may be the result of large-scale slumping. Satellitic cones occupy the NW and E flanks. A steep-walled valley cuts the NW side, and a flank lava-flow complex lies to the south of this valley. Historical eruptions date back to the beginning of the 18th century. Twentieth-century eruptions were mildly explosive until 1967, but after 1970 several larger eruptions produced lava flows and basaltic pyroclastic flows, greatly modifying the summit crater.
Sources : Darwin Volcanic Ash Advisory Center (VAAC), Rabaul Volcano Observatory (RVO).
Photo : James Mori, Disaster Prevention Research Institute, Kyoto University.
Indonesia , Anak Krakatau :
PVMBG reported that the eruption at Anak Krakatau continued during 22-29 March and multiple ash plumes were visible rising from the vent during 28-29 March. Ash plumes recorded at 04h12, 07h43, 12h21, 15h13, and 19h35 on 28 March were dense and dark gray and rose as high has 2.5 km above the summit. The ash plumes drifted NE and W. Webcam images captured incandescent material being ejected above the vent at 04h15 and around the summit area at 20h03. At 00h41 on 29 March a dense dark ash plume rose 600 m and drifted W. A webcam image from 00h47 showed incandescent material at the vent. The Alert Level remained at 3 (on a scale of 1-4), and the public was warned to stay at least 5 km away from the crater.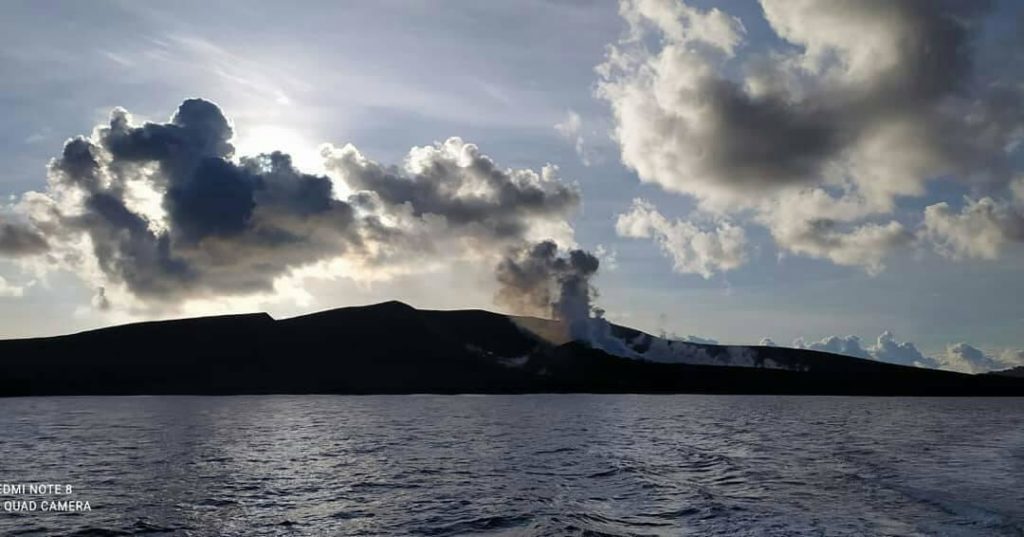 VOLCANO OBSERVATORY NOTICE FOR AVIATION – VONA
Issued : 20230328/1741Z
Volcano : Anak Krakatau (262000)
Current Aviation Colour Code : ORANGE
Previous Aviation Colour Code : orange
Source : Anak Krakatau Volcano Observatory
Notice Number : 2023KRA046
Volcano Location : S 06 deg 06 min 07 sec E 105 deg 25 min 23 sec
Area : Lampung, Indonesia
Summit Elevation : 502 FT (157 M)
Volcanic Activity Summary :
Eruption with volcanic ash cloud at 17h41 UTC (00h41 local).
Volcanic Cloud Height :
Best estimate of ash-cloud top is around 2422 FT (757 M) above sea level or 1920 FT (600 M) above summit. May be higher than what can be observed clearly. Source of height data: ground observer.
Other Volcanic Cloud Information :
Ash cloud moving to southwest. Volcanic ash is observed to be dark. The intensity of volcanic ash is observed to be thick.
Remarks :
Eruption recorded on seismogram with maximum amplitude 70 mm and maximum duration 25 second.
Source : GVP , PVMBG.
Photo : krakatau_ca_cal
Japan , Asamayama :
JMA reported that inflation on Asamayama's W flank began to be detected on 15 March, and the number of shallow volcanic earthquakes increased on 21 March. On 22 March JMA raised the Alert Level to 2 (on a scale of 1-5) and warned the public that very small eruptions may impact areas within 500 m of the crater.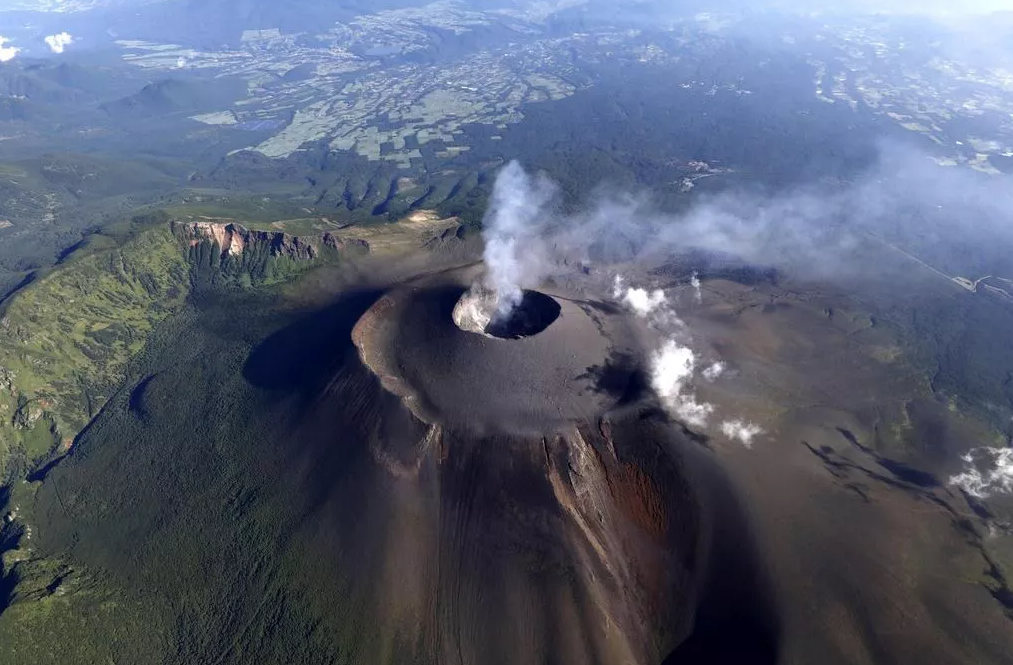 Asamayama, Honshu's most active volcano, overlooks the resort town of Karuizawa, 140 km NW of Tokyo. The volcano is located at the junction of the Izu-Marianas and NE Japan volcanic arcs. The modern Maekake cone forms the summit and is situated east of the remnant of an older andesitic volcano, Kurofuyama, which was destroyed by a late-Pleistocene landslide about 20,000 years before present (BP). Growth of a dacitic shield volcano was accompanied by pumiceous pyroclastic flows, the largest of which occurred about 14,000-11,000 BP, and by growth of the Ko-Asamayama lava dome on the east flank. Maekake, capped by the Kamayama pyroclastic cone that forms the present summit, is probably only a few thousand years old and has observed activity dating back at least to the 11th century CE. Maekake has had several major Plinian eruptions, the last two of which occurred in 1108 (Asamayama's largest Holocene eruption) and 1783 CE.
Sources : GVP , JMA .
Photo : Nautiljon.com.
Kamchatka , Bezymianny :
VOLCANO OBSERVATORY NOTICE FOR AVIATION (VONA)
Issued: March 29 , 2023
Volcano: Bezymianny (CAVW #300250)
Current aviation colour code: ORANGE
Previous aviation colour code: yellow
Source: KVERT
Notice Number: 2023-37
Volcano Location: N 55 deg 58 min E 160 deg 35 min
Area: Kamchatka, Russia
Summit Elevation: 2882 m (9452.96 ft)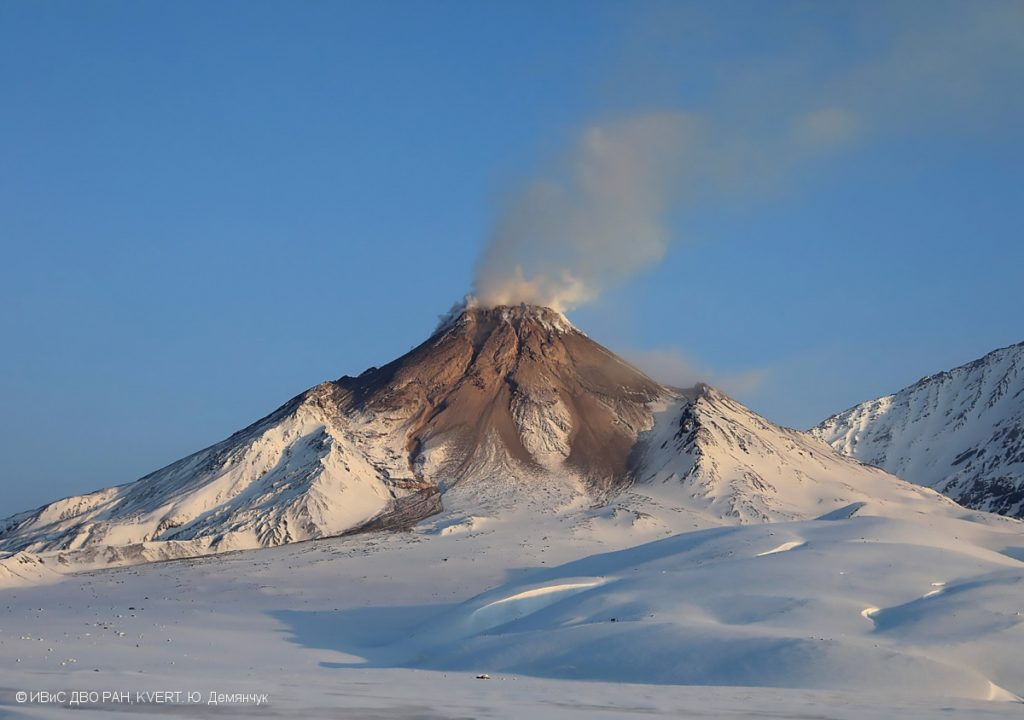 Volcanic Activity Summary:
The activity of the volcano is gradually increasing. Probably, a new block of lava is squeezed out on the lava dome of the volcano, this is accompanied by the collapse of avalanches. According to Tokyo VAAC and KVERT, an ash cloud up to 6 km a.s.l. was formed at 0625 UTC on 29 March. An explosive volcanic eruption is possible with the removal of ash up to 15 km above sea level, the formation of pyroclastic flows and the spread of an ash cloud hundreds of kilometers from the volcano during next several days. KVERT continues to monitor the volcano.
The extrusive eruption of the volcano continues. Ash explosions up to 10-15 km (32,800-49,200 ft) a.s.l. could occur during next several days. Ongoing activity could affect international and low-flying aircraft.
Volcanic cloud height:
6000 m (19680 ft) AMSL Time and method of ash plume/cloud height determination: 20230329/0625Z – Video data
Other volcanic cloud information:
Distance of ash plume/cloud of the volcano: 25 km (16 mi)
Direction of drift of ash plume/cloud of the volcano: NE / azimuth 51 deg
Time and method of ash plume/cloud determination: 20230329/0820Z – Himawari-9 14m15
Source : Kvert
Photo : Yu. Demyanchuk, IVS FEB RAS, KVERT
Chile , Laguna del Maule :
Special Report on Volcanic Activity (REAV), Maule region, Laguna del Maule volcanic complex, March 30, 2023, 7:30 p.m. local time (mainland Chile)
The National Geology and Mining Service of Chile (Sernageomin) announces the following PRELIMINARY information, obtained through the monitoring equipment of the National Volcanic Monitoring Network (RNVV), processed and analyzed at the Volcanological Observatory of the Andes del Sud ( Ovdas):
On Thursday March 30 at 6:00 p.m. local time (21:00 UTC), the monitoring stations installed near the Laguna del Maule volcanic complex recorded a seismic swarm which, at the time of issuing this report, counts 300 volcano-tectonic (VT) type events associated with rock fracturing, located 10.1 km west-southwest of the crater.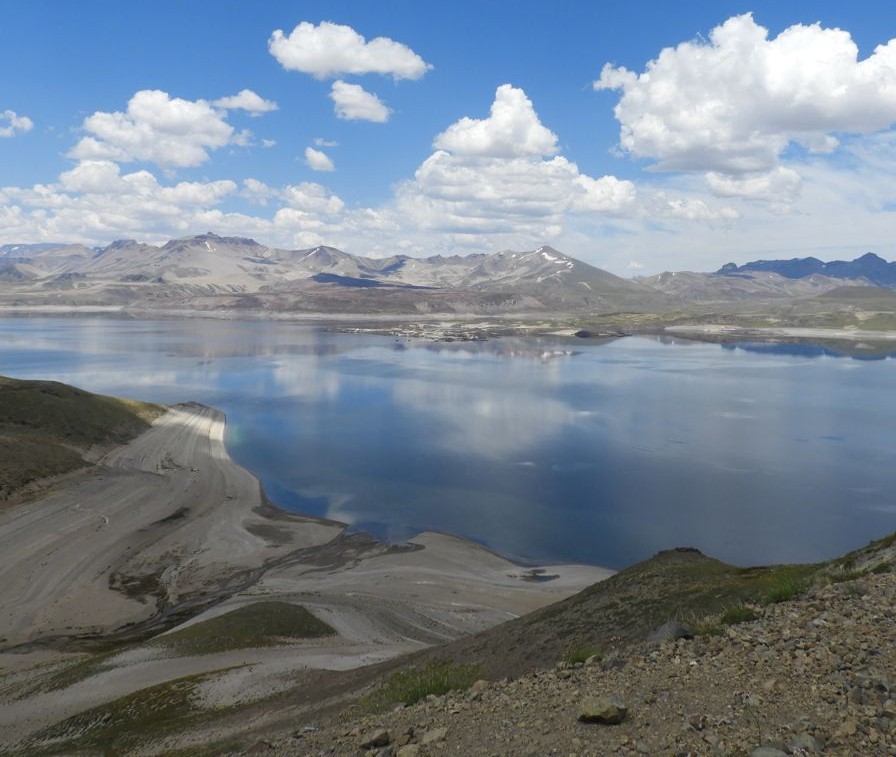 The characteristics of the earthquake of greatest magnitude recorded for the moment after its analysis are as follows:
ORIGINAL TIME: 6:29 p.m. local time (9:29 p.m. UTC)
LATITUDE: 36.107°S
LONGITUDE: 70.606°W
DEPTH: 4.5 km
LOCAL MAGNITUDE: 1.4 (ML)
Comments:
At the time of issuing this report, the volcano-tectonic (VT) type activity has not ceased.
The volcanic technical alert remains at the Green level.
Source : Sernageomin.
Photo : Segemar.