February 26, 2023 . EN. Indonesia : Karangetang , Alaska : Aniakchak , Chile : Lascar , Colombia : Cerro Machin , Costa Rica : Turrialba / Poas .
February 26 , 2023 .
Indonesia , Karangetang :
Published: February 25, 2023.
Volcano: Karangetang
Current Aviation Color Code: Orange
Previous Aviation Color Code: Yellow
Source: Himawari9
Volcano location: 2.78°N / 125.4°E
Region: Siau Island, Sangihe Islands, Indonesia,
Summit altitude: 1784 m
Volcanic Activity Summary:
Explosive activity continues. 2 earthquakes of hot cloud avalanches with an amplitude of 40 mm and an earthquake duration of 110-127 seconds were recorded.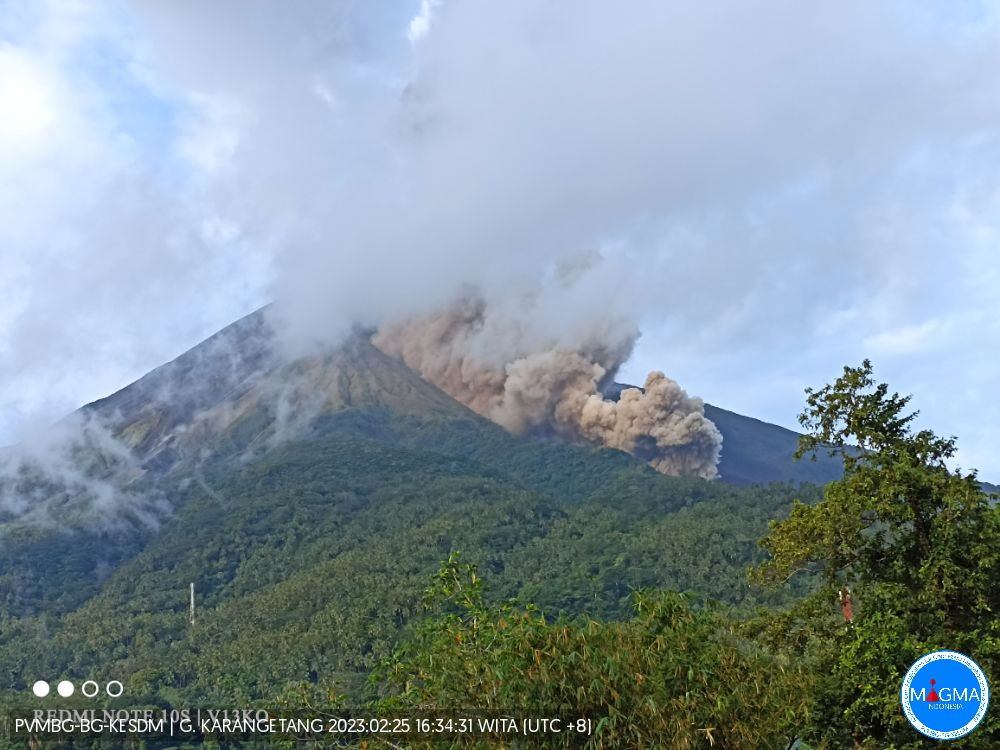 Observation of seismicity:
2 earthquakes of hot cloud avalanches with an amplitude of 40 mm and an earthquake duration of 110-127 seconds.
1 Continuous tremor with an amplitude of 0.5 to 10 mm, dominant value of 2 mm.
Seismicity is dominated by avalanche earthquakes.
The Karangetang (or Api Siau) volcano is located at the northern end of the island of Siau, in North Sulawesi. The 1784 m high stratovolcano contains five summit craters along a north-south line. Karangetang is one of the most active volcanoes in Indonesia, with over 40 eruptions recorded since 1675 and many additional small eruptions that have not been documented.
Source : Magma Indonésie.
Alaska , Aniakchak :
56°54'21 » N 158°12'32 » W,
Summit Elevation 4400 ft (1341 m)
Current Volcano Alert Level: ADVISORY
Current Aviation Color Code: YELLOW
More than one hundred small earthquakes were detected over the past day (not all locatable), but no significant activity was observed in partly cloudy web camera and satellite views.
The current period of seismic unrest began in October 2022. Increases in seismic activity have been detected previously at other similar volcanoes, with no subsequent eruptions. We expect additional shallow seismicity and other signs of unrest, such as gas emissions, elevated surface temperatures, and surface deformation to precede any future eruption, if one were to occur.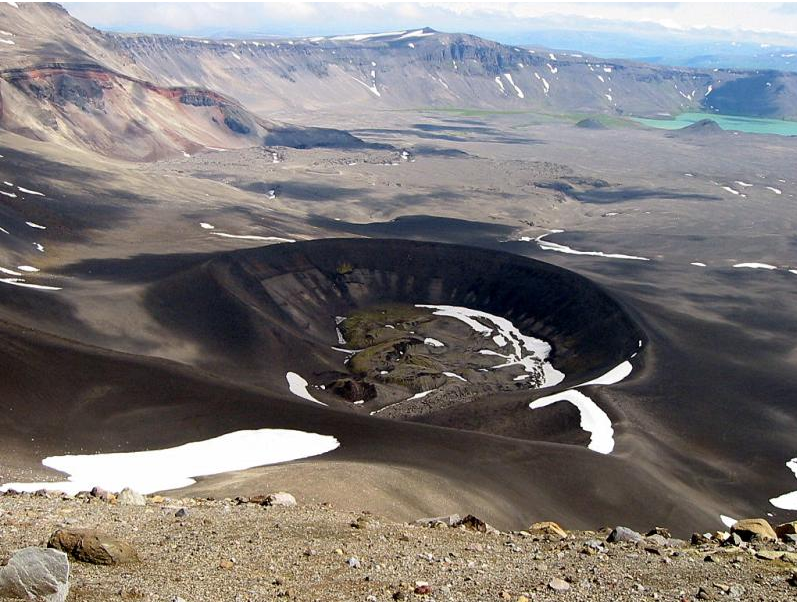 Looking into Aniakchak Caldera across the dark tephra cone produced during the May – June 1931 eruption, one of the largest eruptions in Alaska in the last 100 years. In the bottom of the cone is a moss-dappled lava and spatter field produced during the last stages of eruption. In the distance is the exposed wall of Half Cone, (another site of explosive activity) and the turquoise Surprise Lake.
AVO monitors Aniakchak with a local network, which consists of six seismometers, a web camera, and a single infrasound sensor, as well as satellite remote sensing data and regional infrasound and lightning networks.
Source : AVO
Photo : Plucinski, T. A. / Alaska Volcano Observatory / U.S. Geological Survey
Chile , Lascar :
Volcanic Activity Report (RAV), Volcanological Observatory of the Southern Andes – Ovdas.
Seismic activity:
The seismicity recorded during the last 24 hours continues to show a discrete volcano-tectonic activity (type VT, associated with processes of rupture of rocky materials), as well as earthquakes associated with movements of fluids of the Long Period type ( LP), Tornillos (TO) and tremor (TR) in minor occurrence.
The most energetic VT earthquake was located 0.5 km west-southwest of the active crater, at a depth of 1.1 km.
The most energetic TR earthquake occurred on the 24th at 5:38 p.m. local time.
A low intensity degassing is observed, without any trace of particulate matter.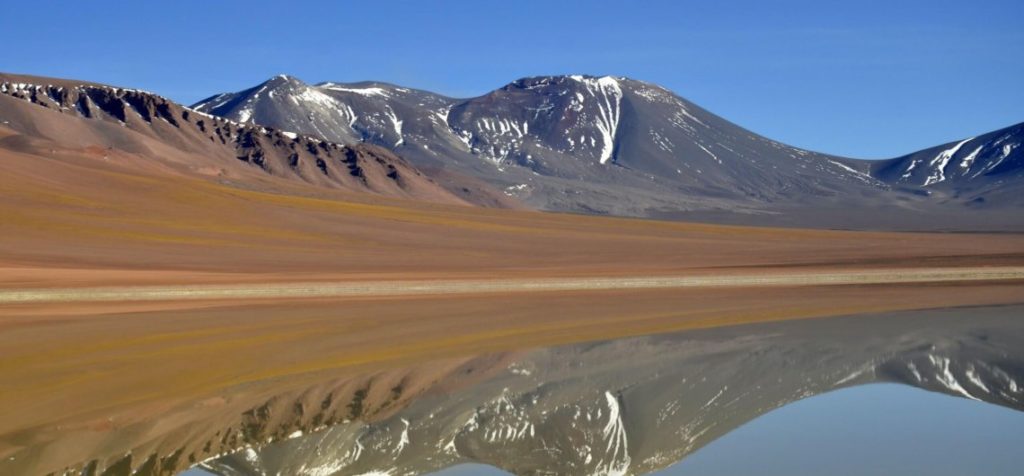 Other Notes:
No GNSS distortion is observed to indicate significant pressure variations at depth. The distance between the stations maintains variations of less than 1.5 cm compared to the annual average value. The greatest horizontal displacement is recorded at the PUNA station, south of the active crater, in a northwest direction. In addition, the vertical displacements are weak, observing a negative trend of the vertical of the two stations.
It was not possible to assess the deformation using radar satellite images, due to the loss of coherence produced by the snow that fell in the last period (last Sentinel 1A image: February 19).
No new satellite thermal anomaly was detected (date of last image: February 25 (3)).
No new SO2 satellite anomaly was detected (date of last image: February 24 (4)).
The average SO2 flow was 364.2 t/d for February 24. The measurements were made with DOAS equipment.
Source : Sernageomin
Photo : 80 jours voyages / Sylvain Chermette.
Colombia , Cerro Machin :
Weekly bulletin of activity of the Cerro Machín volcano
The activity level continues at the yellow activity level or (III): changes in the behavior of volcanic activity.
Regarding the monitoring of the activity of the Cerro Machín volcano, the COLOMBIAN GEOLOGICAL SERVICE reports that:
Over the past week, recording of seismic activity related to rock fracturing in the volcanic edifice has continued. This seismic activity decreased slightly in the number of earthquakes recorded and in the seismic energy released compared to the previous week. The earthquakes were located to the West-South-West, South-East and East of the main dome, at depths between 4.2 and 8.8 km.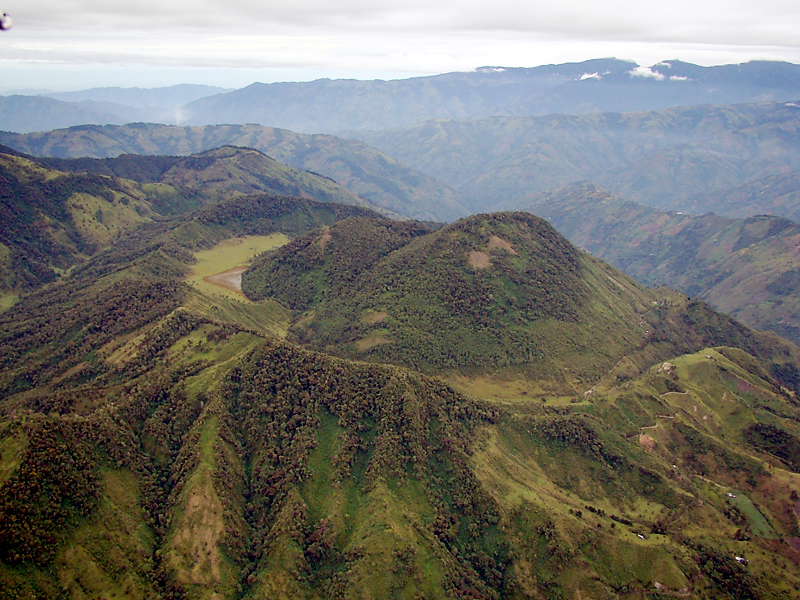 The highest magnitude recorded during the week was 0.5 ML (Local Magnitude) corresponding to the earthquake recorded on February 20 at 00:49 (local time), located 4.6 km southeast of the main dome, at a depth of 8.8 km.
The other parameters used for the complete diagnosis of volcanic activity did not show significant changes during the period evaluated.
The COLOMBIAN GEOLOGICAL SERVICE remains attentive to the evolution of the volcanic phenomenon and will continue to report in a timely manner any changes that may occur.
Source et photo : SGC.
Costa-Rica , Turrialba / Poas :
Turrialba Volcano
Latitude: 10.025
Longitude:-83.767
Altitude: 3,325 meters above sea level
Observed activity:
There are no volcanic eruptions or tremors. Volcanic seismicity is characterized by frequent low-frequency, low-amplitude LP-type earthquakes associated with fumarolic degassing. The fumaroles in the West crater remain at a weak degassing rich in water vapor and sulfur gases. Volcanic gas concentrations and ratios remain stable with SO2 between 2.5 and 6 ppm (parts per million), CO2/SO2 around 10 and H2S/SO2=0.2. The volcanic edifice does not show any significant deformation.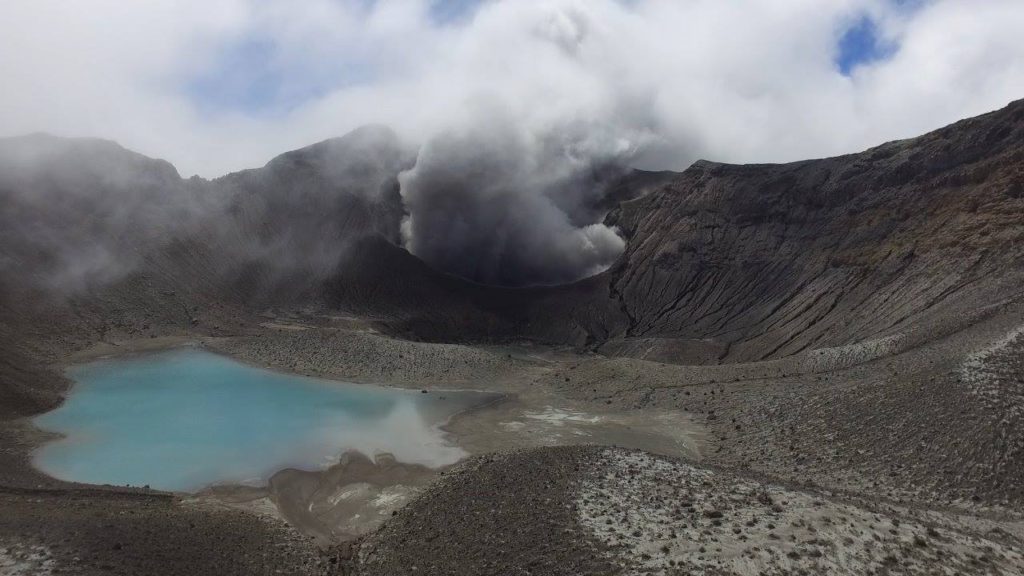 Environmental conditions:
The winds are blowing in the West, with gusts of around 80 km/h (IMN). In general, visibility is good at the top.
Activity Level: Warning (2)
Poas Volcano
Latitude: 10.2
Longitude:-84.233
Altitude: 2687 meters above sea level
Observed activity:
There are no eruptions and the continuous volcanic tremor manifests itself with a very low amplitude. The fumarolic activity in the lake and the eastern sector of the active crater is very weak and at low temperature (<95 degrees Celsius). Few low frequency and low amplitude volcanic earthquakes of the LP type related to fumarolic degassing have been recorded. The concentrations of volcanic gases remain very low, both those measured by Multigas in the western sector of the crater and those measured at the Mirador Visitor. The gas sensor at the gazebo indicates low concentrations of SO2 in the ambient air, less than 0.4 ppm.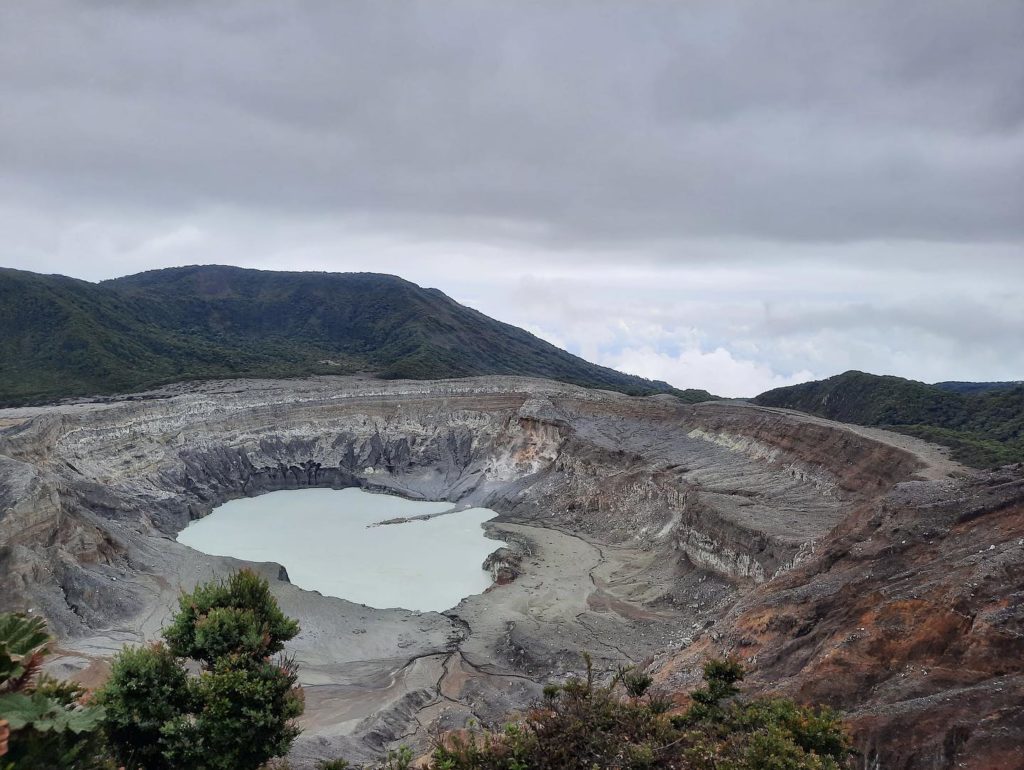 The ambient air sensor located in Coronado records relatively high concentrations of PM10, PM2.5, and PM1 aerosols that may have originated from the fumaroles of Poás Volcano, as suggested by the wind pattern with each increase in aerosols. The GPS network records a slight deflation of the volcano.
Environmental conditions:
The winds are blowing south with gusts of up to 67 km/h (IMN). The summit of the volcano remains cloudy.
Activity Level: Warning (2)
Source : Ovsicori.
Photos : Archives : RSN , New Summit Academy Costa Rica.