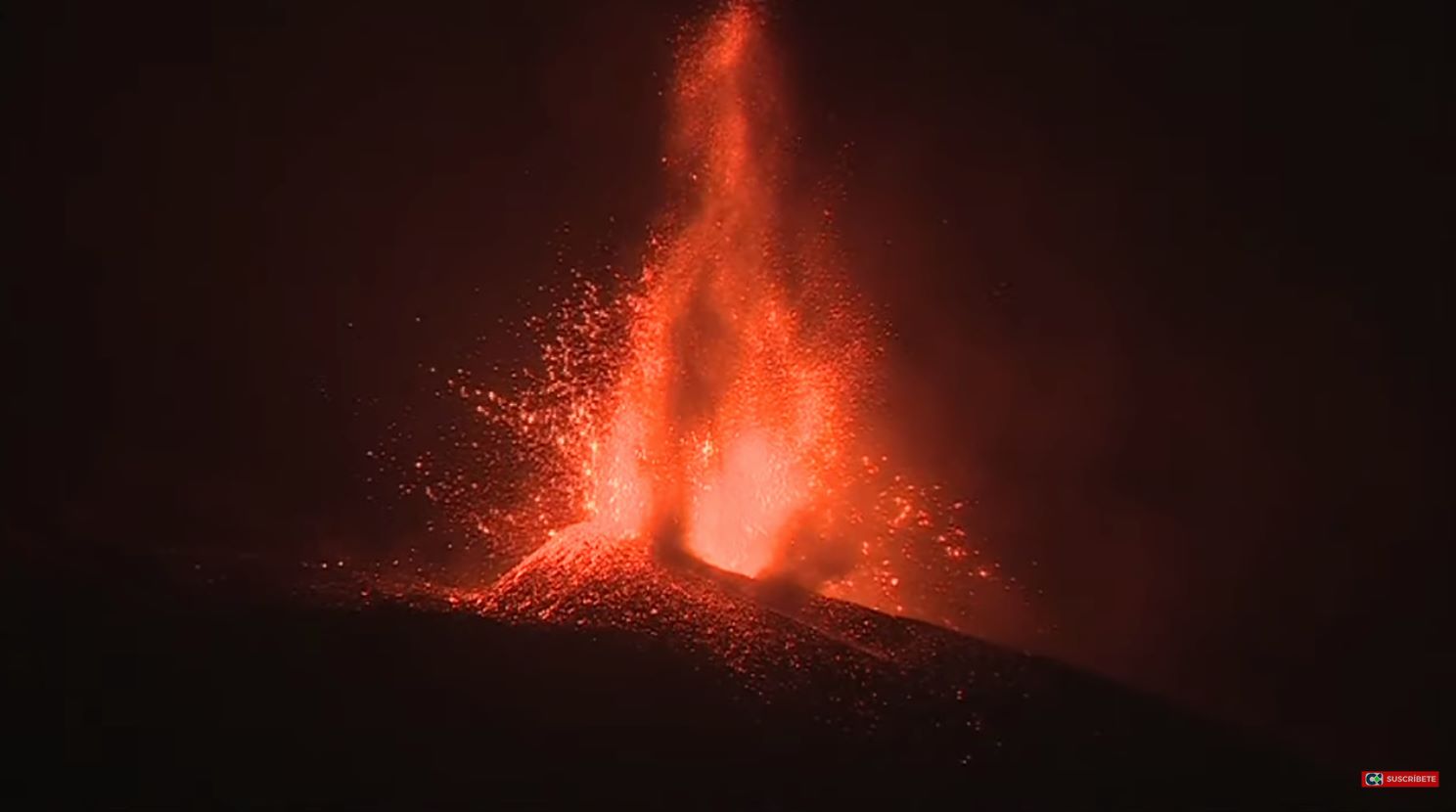 September 23, 2021. EN. Spain / La Palma : Cumbre Vieja , Alaska : Semisopochnoi , Japan : Sakurajima , Mexico : Popocatepetl , Saint Vincent : Soufrière Saint Vincent .
September 23 , 2021.
Spain / La Palma , Cumbre Vieja :
The volcano enters a « zone of stability »: slower flows, four mouths and a single crack.
The volcano has nine emission centers, four of which are active. Pevolca technical director Miguel Angel Morcuende said on Wednesday that the Cumbre Vieja volcano has entered an area of « mini stability » and although it is « quite explosive », the lava flows have slowed down and are advancing very slowly. . There are no predictions as to whether they will finally reach the sea.
Thus, he pointed out that, despite this explosiveness, the deformation of the island « has not increased », since it is at 28 centimeters, including 24 in six 6 days.
Lava flows from the volcano of La Palma reached the town of Todoque, razing homes, crops and infrastructures.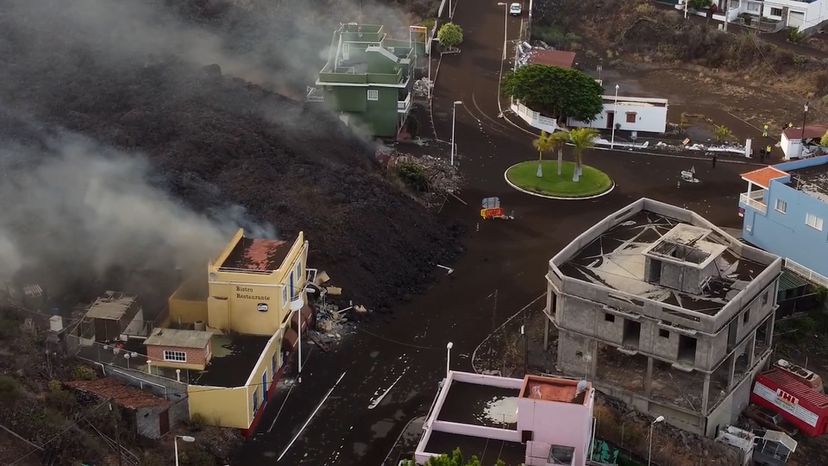 At 15h10 on 19 September an eruption began in the area of Cabeza de Vaca, in the municipality of El Paso. Observers near the eruption site observed a large explosion that ejected material and produced a gas-and-ash plume; volcanic tremor was recorded by the seismic network. Two 200-m-long fissures aligned N-S opened about 200 m apart. INVOLCAN scientists observed seven vents along the fissures during the initial stage of the eruption. Multiple tall lava fountains fed flows downslope to the W, igniting forest fires. Photos and video posted by IGN showed multiple pulsating fountains fanning out from parts of the fissure. Ash plumes rose about 1.5 km and gas plumes rose 3 km and drifted ESE. The PEVOLCA steering committee briefly raised the Alert Level to Orange, and then to Red (the highest level on a four-color scale) by 17h00 for high-risk municipalities directly affected by the eruption. About 5,500 people evacuated with no injuries reported, and authorities recommended that residents stay at least 2 km from the vents. The La Palma airport briefly closed, livestock were evacuated, and education centers were closed along with sections of multiple highways. Later that day INVOLCAN scientists who measured an area of the flows determined an average flow rate of 700 m per hour and temperatures around 1,075 degrees Celsius. By the next day a main cone had formed.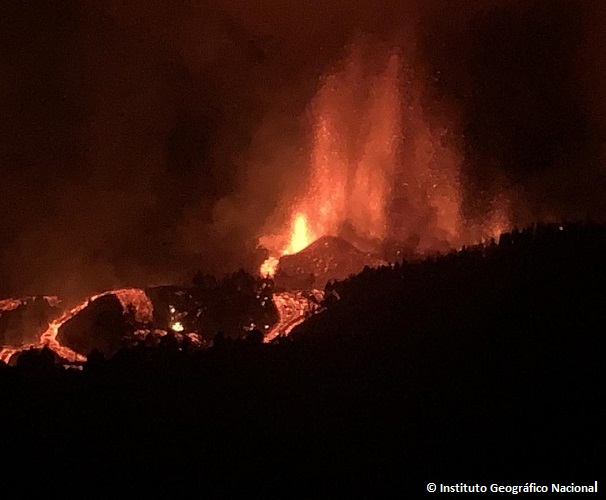 The sulfur dioxide gas emission rate was 6,000-11,500 tons per day during 19-20 September. Satellite data showed a plume of sulfur dioxide drifting 475 km SE and reaching the coastline of Africa by 20 September. A map produced on 20 September by IGN in partnership with Copernicus Emergency Management Service (EMS) showed that the main part of the lava flow had traveled more than 3 km W and another branch extended about 1.5 km WSW. The flows had covered about 1 square kilometer and destroyed an estimated 166 buildings. A news article noted that activity was concentrated at four main vents, the last (and ninth) of which opened at 19h56 on 20 September about 900 m from the main vents. Strong lava fountaining continued during 20-21 September and ash fell in the vicinity of the vents. Ash plumes rose 2.4-4.6 km (8,000-15,000 ft) a.s.l. and drifted as far as 55 km SW and S according to the Toulouse VAAC. Sulfur dioxide gas plumes drifted W and E at an altitude of 3 km (10,000 ft) a.s.l.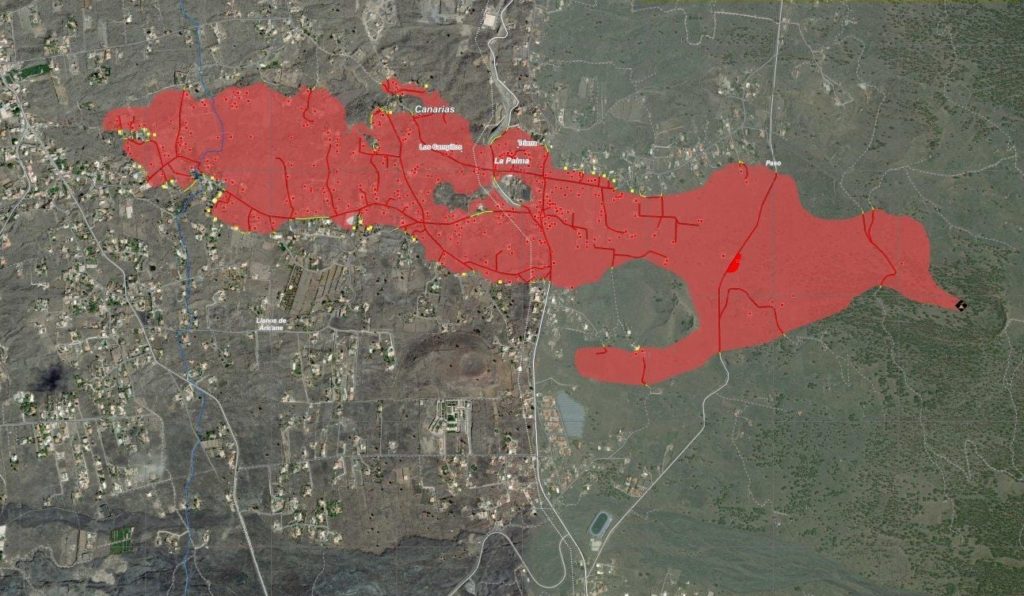 By 08h14 on 21 September an updated Copernicus EMS map showed that 350 homes had been covered by lava and the flow field had expanded to 1.54 square kilometers. According to a news report lava up to 12 m thick was advancing at a rate of 200 m per hour. A few hundred more residents evacuated as lava advanced towards Tacande; bringing the number of evacuees to about 5,700. The S lava branch was advancing slowly, at a rate of 2 m per hour. Later that day INVOLCAN stated that increased volcanic tremor amplitude reflected greater intensity of Strombolian explosions at the vents.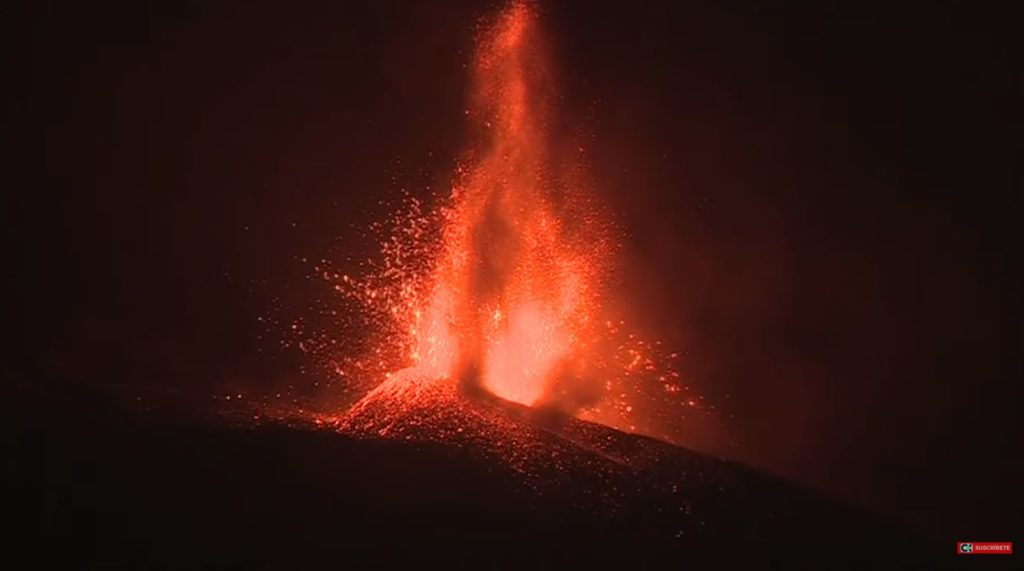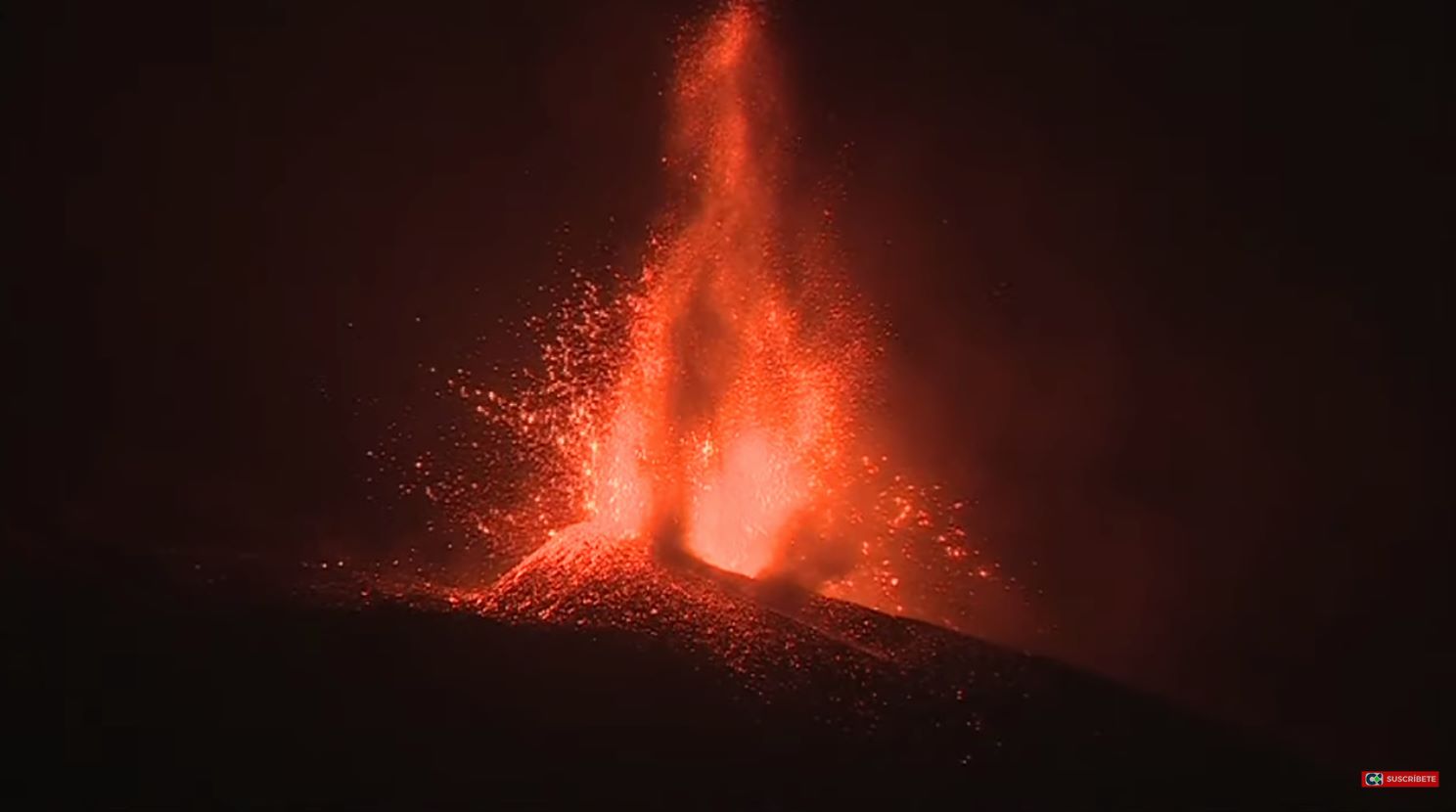 The ejecting lava front, with an average height of six meters, like a two-storey building, has already razed in its wake houses, crops and infrastructures in localities such as Tacande or El Paraiso (municipality of 'El Paso). It was advancing on Monday afternoon at about 300 meters per hour, slower than the 700 meters per hour initially calculated alongside the eruptive cones, according to Vicente Soler, volcanologist at CSIC.
Sources : diariodeavisos.elespanol.com, GVP , El Pais .
Photos : ANTONIO CARRILLO , IGN , Copernicus / Involcan , RTVC .
Alaska , Semisopochnoi :
51°55'44 » N 179°35'52 » E,
Summit Elevation 2625 ft (800 m)
Current Volcano Alert Level: WATCH
Current Aviation Color Code: ORANGE
Ash emissions have decreased in frequency and intensity over the past 24 hours with occasional discrete low-level ash clouds drifting to the west at approximately 10,000 to 15,000 ft a.m.s.l. SO2 emission have also been observed in the past 24 hours drifting to the west of the island. Seismicity has remained elevated with explosions detected on local seismic networks.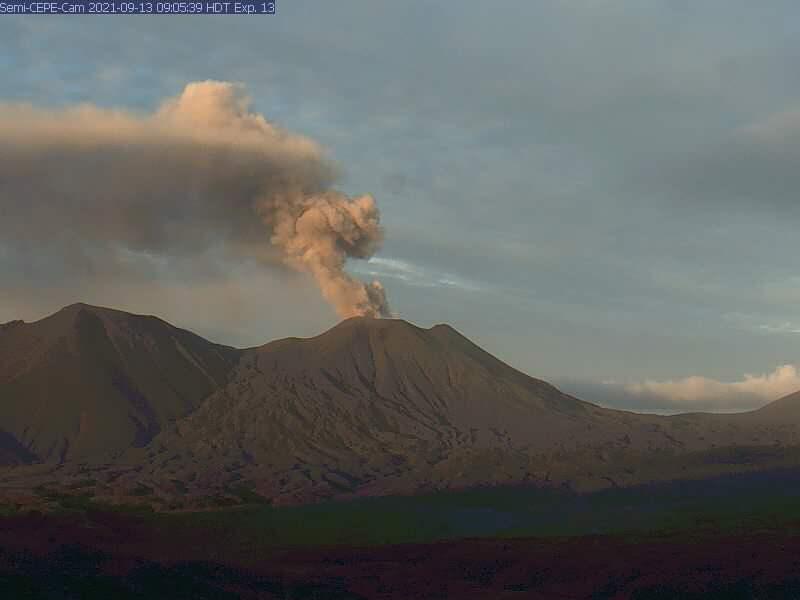 Small eruptions producing minor ash deposits within the vicinity of the active north crater of Mount Cerberus and ash clouds usually under 10,000 feet above sea level have characterized the recent activity, which shows no signs of abating. Small explosions may continue to occur and could be difficult to detect, especially during poor weather conditions.
Semisopochnoi Island is monitored by local seismic and infrasound sensors, satellite data, web cameras, and remote infrasound and lightning networks.
Source : AVO.
Photo : USGS.
Japan , Sakurajima :
JMA reported that an explosion at Minamidake Crater (at Aira Caldera's Sakurajima volcano) at 1617 on 19 September produced an eruption plume that rose 1 km above the crater rim. Crater incandescence was visible at night during 20-21 September. The report noted that inflation around the summit continued to be recorded. The Alert Level remained at 3 (on a 5-level scale), and residents were warned to stay 2 km away from the crater.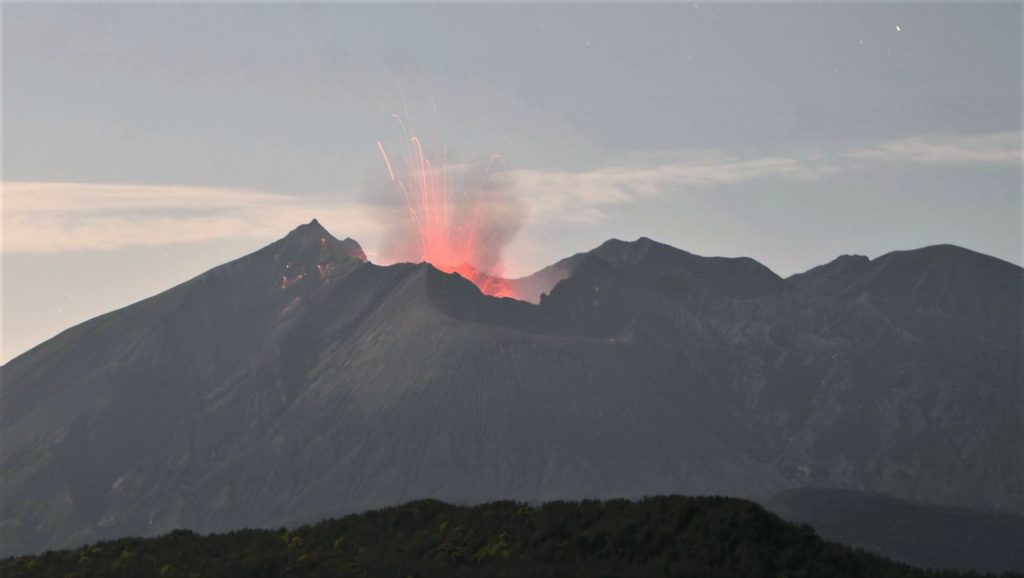 The Aira caldera in the northern half of Kagoshima Bay contains the post-caldera Sakurajima volcano, one of Japan's most active. Eruption of the voluminous Ito pyroclastic flow accompanied formation of the 17 x 23 km caldera about 22,000 years ago. The smaller Wakamiko caldera was formed during the early Holocene in the NE corner of the Aira caldera, along with several post-caldera cones. The construction of Sakurajima began about 13,000 years ago on the southern rim of Aira caldera and built an island that was finally joined to the Osumi Peninsula during the major explosive and effusive eruption of 1914. Activity at the Kitadake summit cone ended about 4850 years ago, after which eruptions took place at Minamidake. Frequent historical eruptions, recorded since the 8th century, have deposited ash on Kagoshima, one of Kyushu's largest cities, located across Kagoshima Bay only 8 km from the summit. The largest historical eruption took place during 1471-76.
Source : GVP.
Photo : Kyodo.
Mexico , Popocatepetl :
September 22, 11:00 a.m. (September 22, 4:00 p.m. GMT)
During the last 24 hours, 102 exhalations have been identified according to the monitoring systems of the Popocatepetl volcano, accompanied by water vapor, volcanic gases and sometimes small amounts of ash. The broadcasts were mainly dispersed to the West and the Northwest.
At the time of this report there is visibility towards the volcano, a continuous emission of water vapor, gas is observed. The plume is moving northwest.
CENAPRED recommends NOT TO APPROACH the volcano and especially the crater, because of the danger of falling ballistic fragments and, in the event of heavy rains, to stay away from the bottom of the ravines because of the danger. mudslides and debris.
The Popocatépetl volcanic traffic light is in PHASE 2 YELLOW.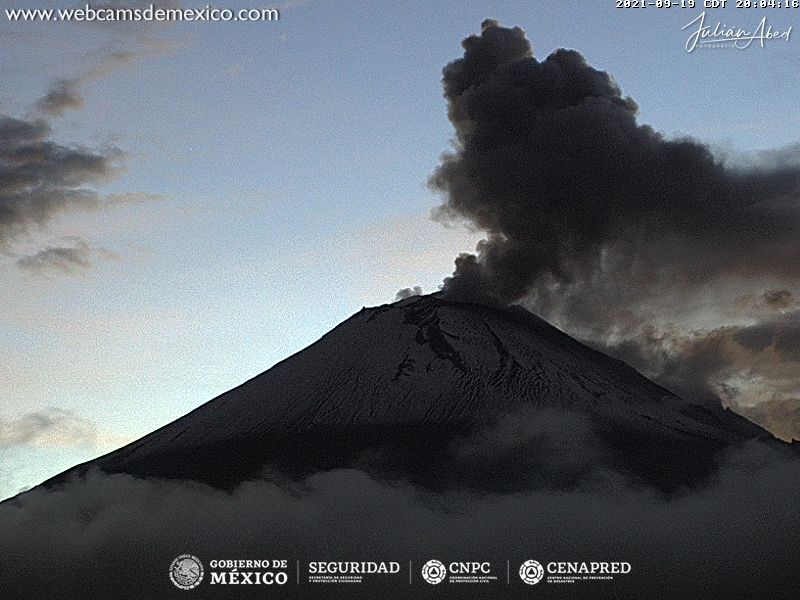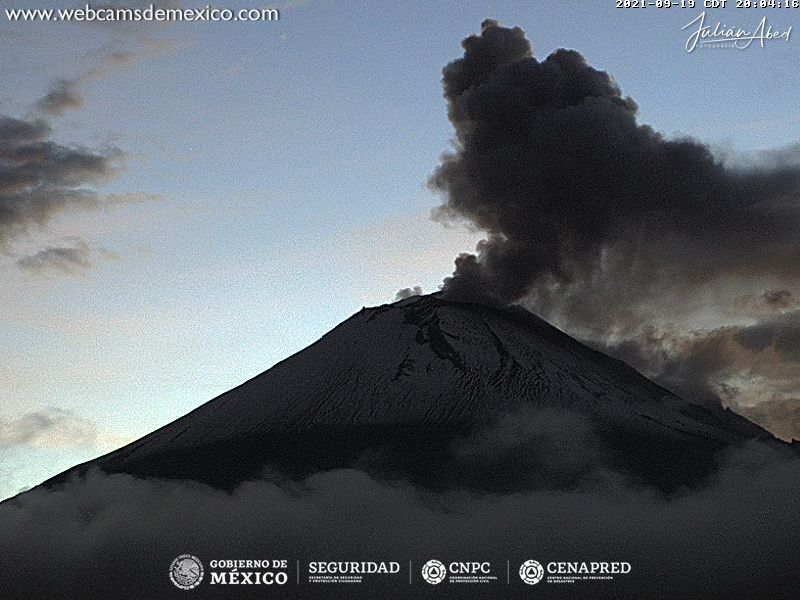 CENAPRED reported that each day during 14-21 September there were 89-152 steam-and-gas emissions from Popocatépetl. The plumes drifted mainly NW and some contained ash. As many as five daily explosions were recorded during 14-19 September and some ejected incandescent material onto the flanks. Explosions at 18h18, 18h39, and 23h50 on 14 September produced ash plumes that rose 1.2-1.5 km above the crater rim. Explosions at 10h15 and 14h41 on 15 September produced ash plumes that rose 1.8-2.2 km. During 15-17 September minor ashfall was reported in the municipalities of Cuernavaca, Valle de Chalco, Chiautla, Ixtapaluca, Nezahualcóyotl, La Paz, Ecatepec, Ayapango, Temamatla, Tenango del Aire, Tlalmanalco, Amecameca, Tepetlixpa, Tlalnepantla, and Acolman in the México State, and in Iztapalapa, Xochimilco, and Tlahuac in México City. The Alert Level remained at Yellow, Phase Two (middle level on a three-color scale).
Sources et photo : Cenapred , GVP.
Saint Vincent , Soufrière Saint Vincent :
La Soufriere Volcano – SCIENTIFIC UPDATE 21/09/21 1:00PM
-Seismic activity at La Soufrière, St Vincent has remained low since the tremor associated with the explosion and ash venting on 22 April.
-Current activity is consistent with a period of unrest after an eruption. This can continue for weeks to months. While volcanic activity has been on a decline, there is the continued presence of near surface hot spots, daily seismic activity and persistent degassing.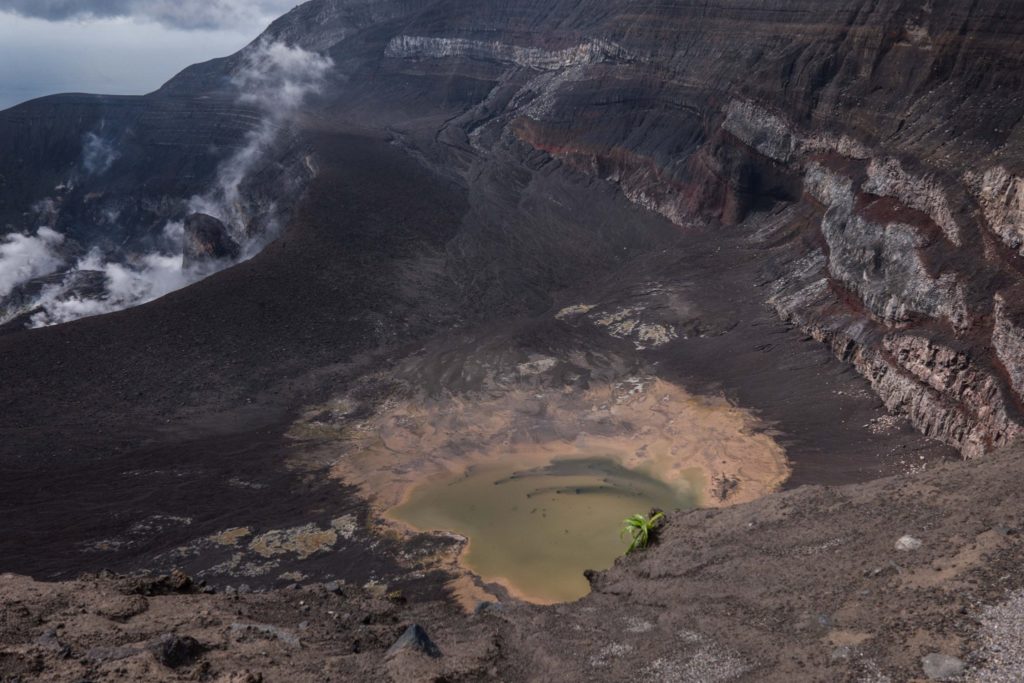 – Measurements of the sulphur dioxide (SO2) flux at La Soufrière were carried out by boat off the west coast on 09 and 16th September, with the assistance of the coast guard. Several traverses were completed and yielded an average SO2 flux of 207 and 262 tons per day respectively.
-Visual observations on 19th September indicate no major changes have occurred in the crater since the end of explosive activity on 22 April.
– There is a small, but not insignificant, possibility that magmatic activity might restart, should there be an influx of new magma from depth.
– The volcano is at alert level YELLOW.
Source et photo : UWI.