September 26 , 2021.
Spain / La Palma , Cumbre Vieja :
Latest news from the Cumbre Vieja volcano on La Palma.
A new lava emission point opens further west of the main mouth
The cone of the volcano partially breaks, a new lava flow passes over the main one.
A new hotbed of emissions opened this Saturday at noon on the volcano of La Palma, said the Volcanological Institute of the Canaries. The new opening is located further west of the main crater, the scientific body said. The outbreak comes on top of two new eruptive vents that opened on Friday evening, which forced the evacuation of residents who still remained in three of the most threatened areas. In addition, Carlos Lorenzo, geologist at IGME, belonging to CSIC, explained this Saturday that the main cone collapsed in the southwestern part, « leaving a huge flow with very large blocks moved on the slope of the river. cone towards the sea ". The president of Pevolca, Miguel Angel Morcuende, specified that « it is not strange in this type of eruptions that the cone of the volcano fractures » and that it « did not have more impact ». These movements resulted in a new, smoother and faster lava flow above the main one, which has covered more than 190 hectares since the eruption began on Sunday, destroying more than 450 homes.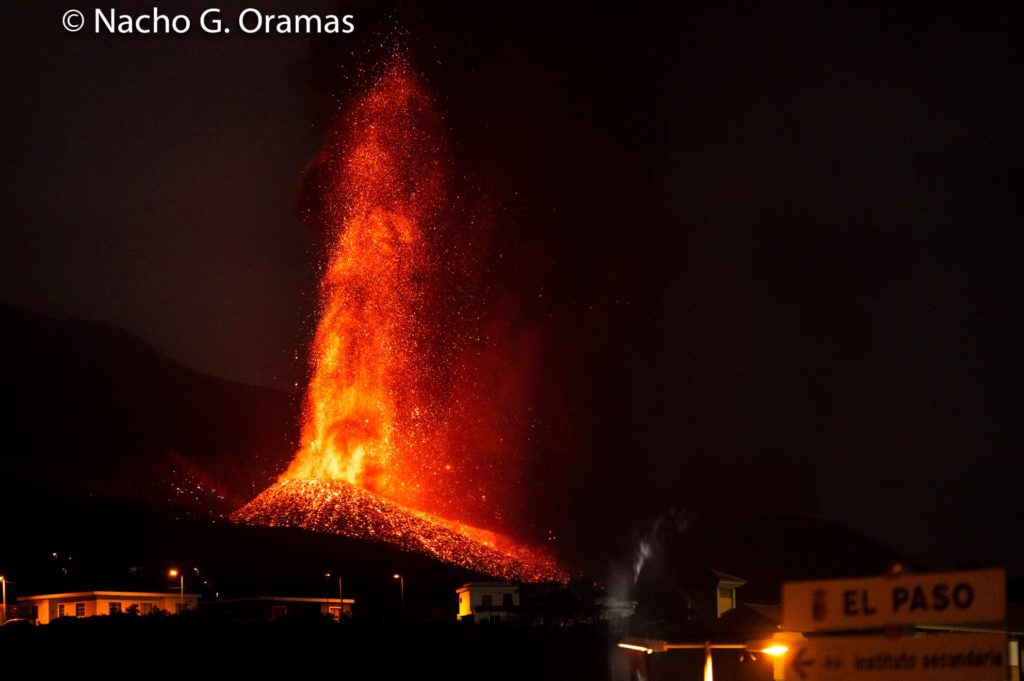 Yesterday (the 24th), we had to evacuate the inhabitants of Tajuya, Tacande de Abajo and the rest of Tacande de Arriba. These people were relocated to hotel rooms. Although the intensity of the volcano reached a significant peak between midnight and 4 p.m. yesterday, overnight there was a decrease. However, during the morning she rose again and continues to do so. For this reason, we will need an additional 24 hours to assess whether the residents of these three neighborhoods can return to their homes. « 
Miguel Ángel Morcuende, director of Pevolca, on the rupture of the cone of the volcano: « It is not strange in this type of eruption that the cone of the volcano is fractured: a crater increases in volume, which does not support its own weight and due to the blasts, we have the cone breaking. During the night there was this partial rupture, which had no major impact, except that a new casting comes out at a higher temperature and goes faster, to exceed the old one « .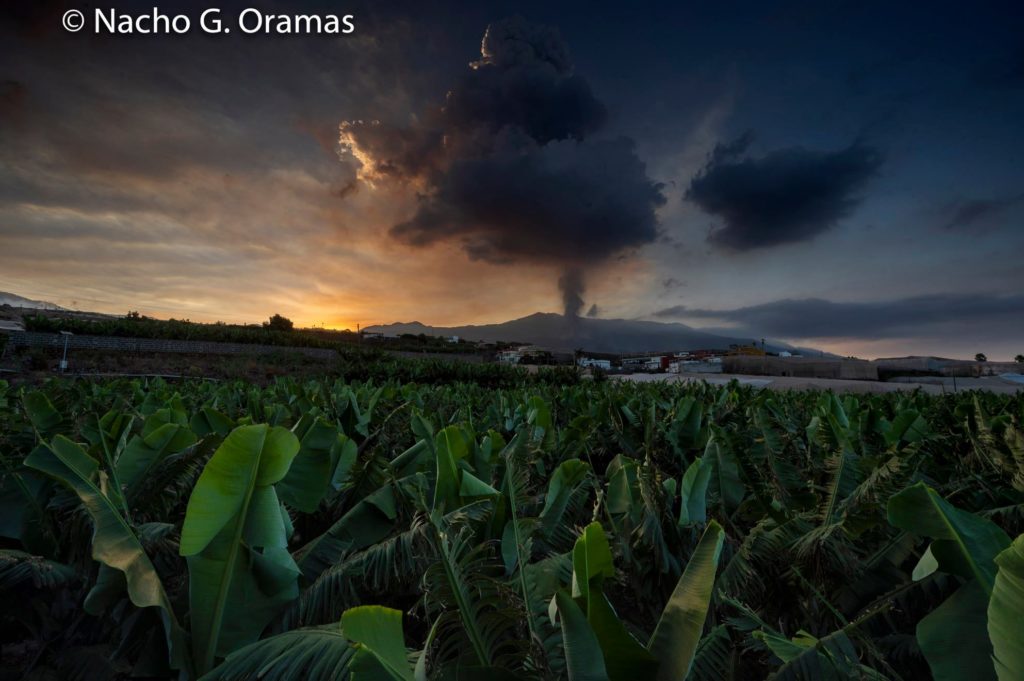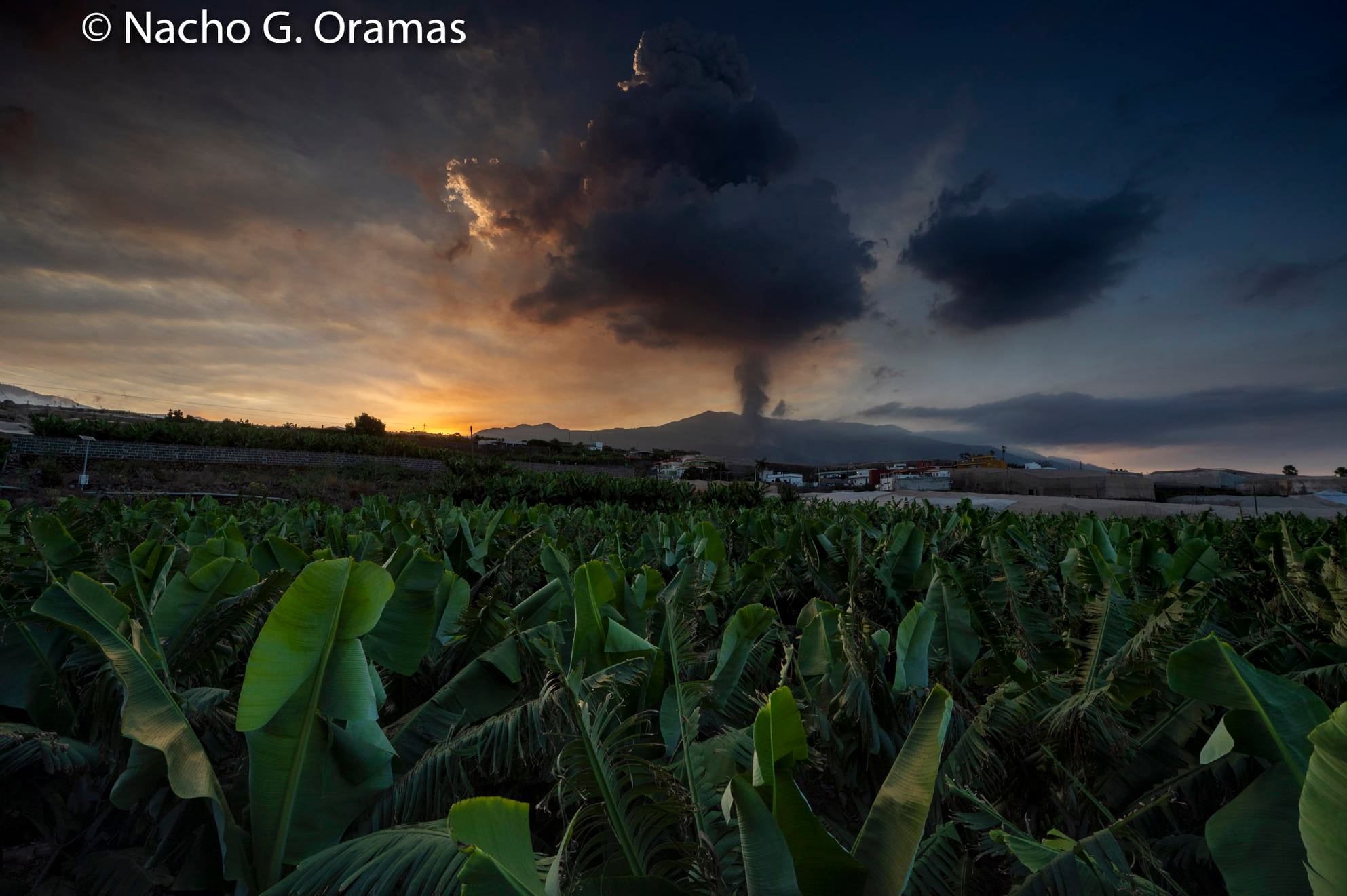 September 25, 2021 12:00 UTC. Eruptive activity continues on La Palma
Since 12 p.m. UTC yesterday, 3 earthquakes with a magnitude greater than 2.2 (mbLg) have been located in the area of the current volcanic eruption. Two of them located 11 km deep where it all began on September 11.
The amplitude of the volcanic tremor reached the highest values of the eruption in the last 24 hours, during the most explosive phase, reaching a maximum value around 2:00 p.m. UTC yesterday, just before the opening of a new mouth on the side of the cone. After opening, the average amplitude decreased considerably but remains at high values similar to those of the previous days, although without detection of explosions.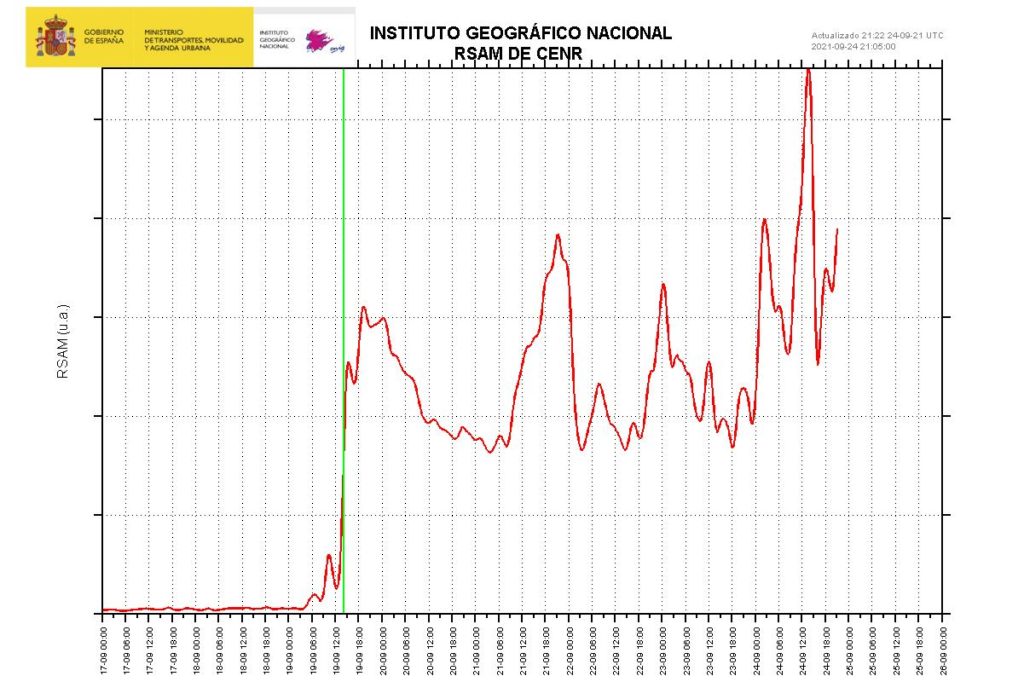 The network of permanent GNSS stations on the island shows stability in the deformations.
IGN continues to monitor activity, having strengthened its presence on the island, where the CAVE (Center for Care and Monitoring of Eruptions) is located.
Sources : El Pais , IGN
Photos : Nacho G. Oramas , IGN
Kamchatka : Karymsky ,
VOLCANO OBSERVATORY NOTICE FOR AVIATION (VONA)
Issued: September 25 , 2021.
Volcano: Karymsky (CAVW #300130)
Current aviation colour code: ORANGE
Previous aviation colour code: orange
Source: KVERT
Notice Number: 2021-117
Volcano Location: N 54 deg 2 min E 159 deg 26 min
Area: Kamchatka, Russia
Summit Elevation: 1486 m (4874.08 ft)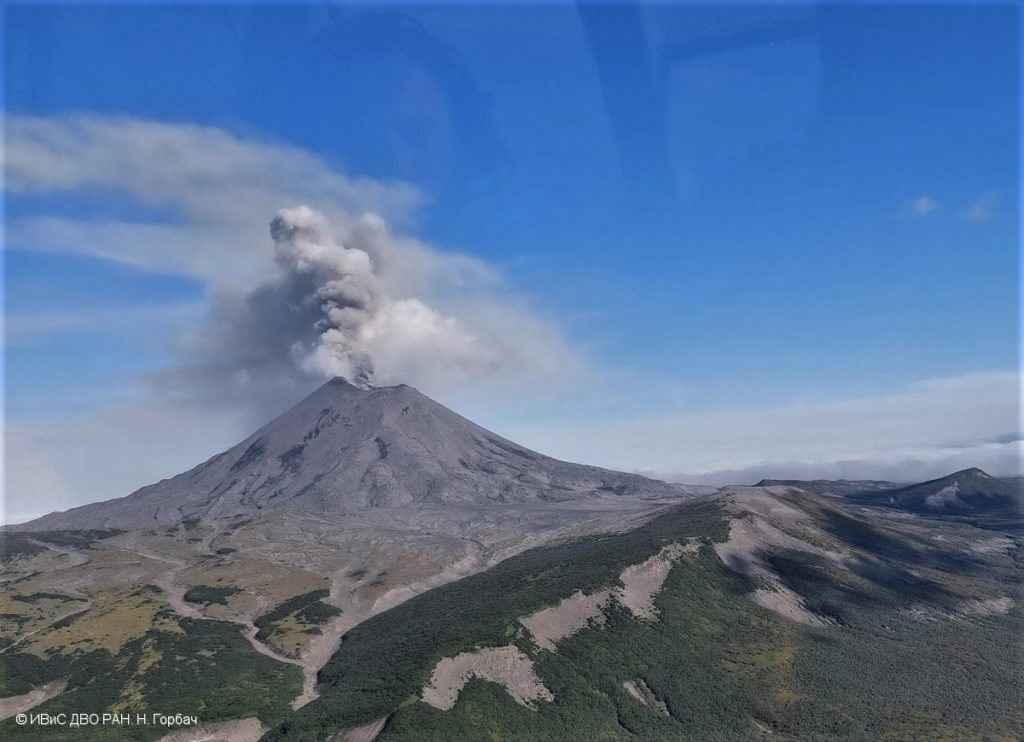 Volcanic Activity Summary:
A moderate eruptive activity of the volcano continues. Satellite data by KVERT showed: explosions sent ash up to 3 km a.s.l., an ash plume is extending for 12 km to the southwest of the volcano.
This activity continues. Ash explosions up to 7-8 km (23,000-26,200 ft) a.s.l. could occur at any time. Ongoing activity could affect international and low-flying aircrafts.
Volcanic cloud height:
3000 m (9840 ft) AMSL Time and method of ash plume/cloud height determination: 20210925/2240Z – Himawari-8
Other volcanic cloud information:
Distance of ash plume/cloud of the volcano: 12 km (7 mi)
Direction of drift of ash plume/cloud of the volcano: SW / azimuth 225 deg
Time and method of ash plume/cloud determination: 20210925/2240Z – Himawari-8
Source : Kvert.
Photo : N. Gorbach, IVS FEB RAS.
Philippines , Taal :
TAAL VOLCANO BULLETIN 26 September 2021 8:00 AM
In the past 24-hour period, the Taal Volcano Network recorded seven (7) volcanic earthquakes, including three (3) volcanic tremor events having durations of two (2) to thirteen (13) minutes, three (3) low-frequency volcanic earthquakes, one (1) hybrid event, and low-level background tremor that has persisted since 7 July 2021 .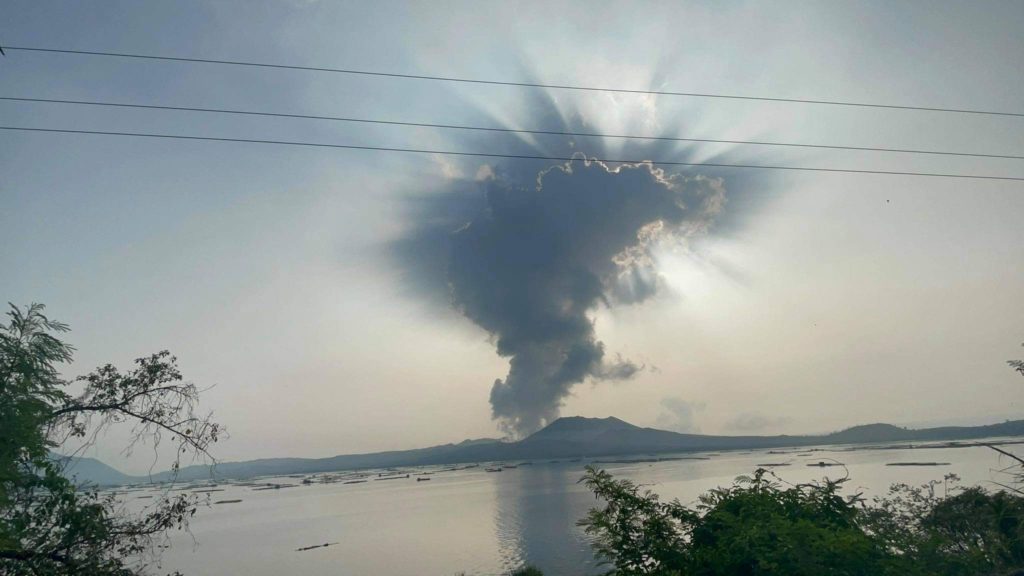 Activity at the Main Crater was dominated by upwelling of hot volcanic fluids in its lake which generated plumes 2,000 meters tall that drifted west-northwest. Sulfur dioxide (SO2) emission averaged 8,631 tonnes/day on 25 September 2021. Based on ground deformation parameters from electronic tilt, continuous GPS and InSAR monitoring, Taal Volcano Island has begun deflating in April 2021 while the Taal region continues to undergo very slow extension since 2020.
Source : Phivolcs .
Photo : Seys Marasigan / Seys Channel
Guatemala , Fuego :
ACTIVITY:
Seismic stations reflect activity and OVFGO observers report weak white fumaroles were observed at night and early in the morning, rising to 4,400 meters above sea level. The number of explosions remains in a range of 8 to 12 per hour, expelling ash columns at a height of 4,700 to 4,800 m (15,420 to 15,748 feet) moving west and south. West for a distance of 15 km. We note the presence of fine ash falls in the communities of Panimaché I and II, Morelia, Santa Sofía, El Porvenir, Yepocapa and others in this direction.
Incandescent pulses were observed above the crater, accompanied by faint white fumaroles. Some of the explosions generate weak, moderate and some loud rumbles that generate vibrating shock waves on roofs and windows within a 10 kilometer radius in the villages of the West and South West Flanks. Constant boulder avalanches were heard towards the ravines of Ceniza, Taniluya, Trinidad and Santa Teresa, some of the material reached the edge of the vegetation. A train locomotive noise is reported at intervals of 1 to 3 minutes. The lava flows towards the canyons of Ceniza and Seca are no longer active (BEFGO recommendations 144-2021).
Source : Insivumeh.
Photo : Arnaud Béguin.
Indonesia , Ili Lewotolok :
Level of activity at level III (Siaga) since November 29, 2020 at 1:00 p.m. WITA. This increase in status was motivated by an eruption on November 27, 2020 at 05:57 a.m. WITA with a height of gray to black ash columns observed at 500 m above the peak (1923 m altitude) with a strong intensity, oriented towards the west. This eruption was recorded on a seismogram with a maximum amplitude of 34 mm. Eruptions still occur today.
The volcano is clearly visible until it is covered in fog. The smoke from the crater is white / gray with low intensity, medium to thick, about 50-500 meters from the summit. The weather is sunny to cloudy, the wind is weak in the southwest, west and northwest. The air temperature is approximately 24.6-36.9 ° C. Humidity 48.3-70.4%.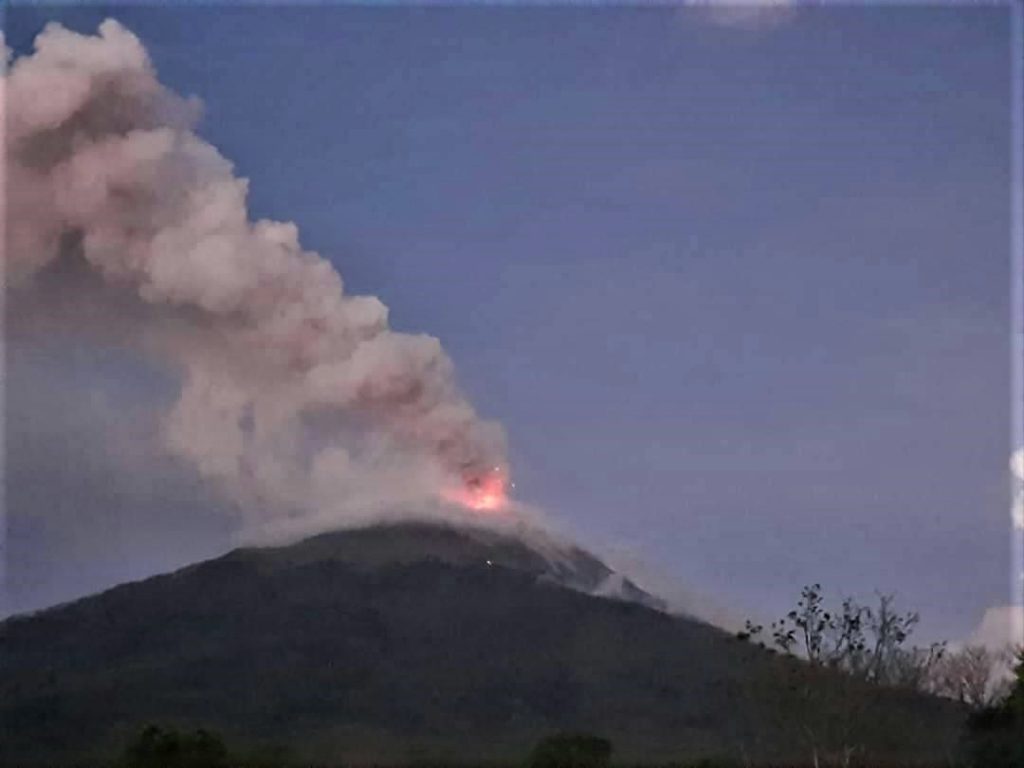 According to the seismographs of September 25, 2021, it was recorded:
14 eruption / explosion earthquakes
21 earthquakes of emissions
3 harmonic earthquakes
3 non-harmonic tremors
1 deep volcanic earthquake
1 local tectonic earthquake
4 distant tectonic earthquakes
Source : PVMBG.
Photo : Rizal M.