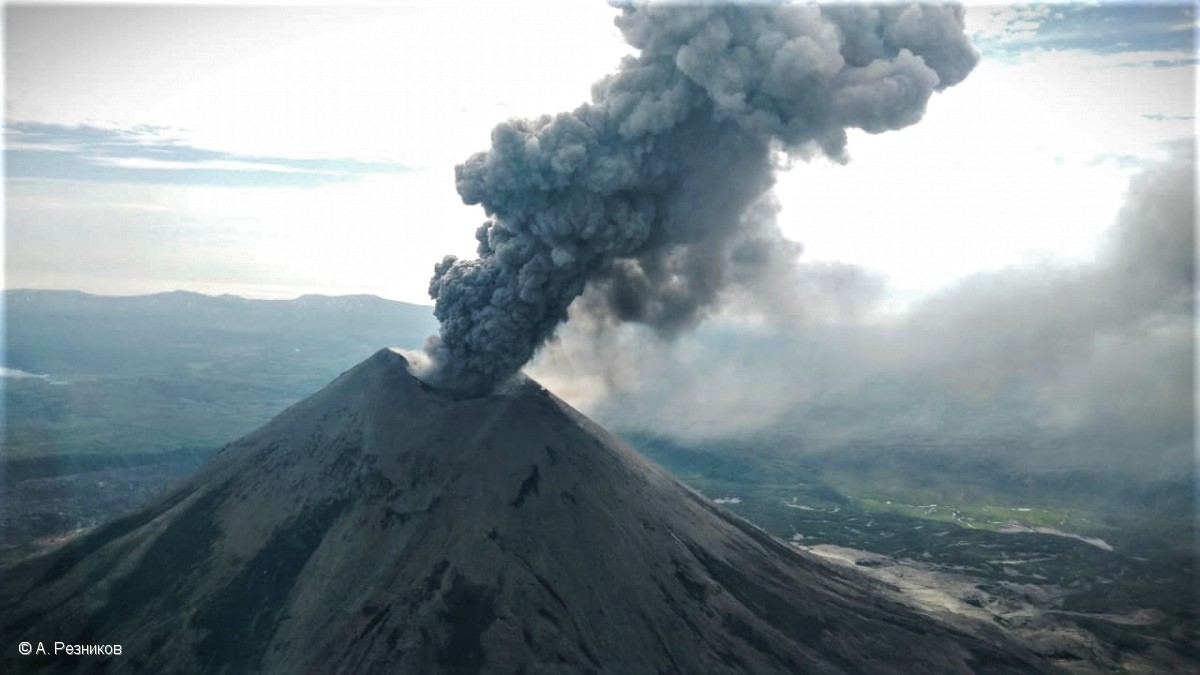 September 05 , 2021.
Alaska , Semisopochnoi :
51°55'44 » N 179°35'52 » E,
Summit Elevation 2625 ft (800 m)
Current Volcano Alert Level: WATCH
Current Aviation Color Code: ORANGE
Eruptive activity continues at the north crater of Mount Cerberus on Semisopochnoi Island. Several explosions occurred over the past 24 hours, detected seismically and by infrasound networks. Continuous ash and gas emissions continue to be observed in satellite data.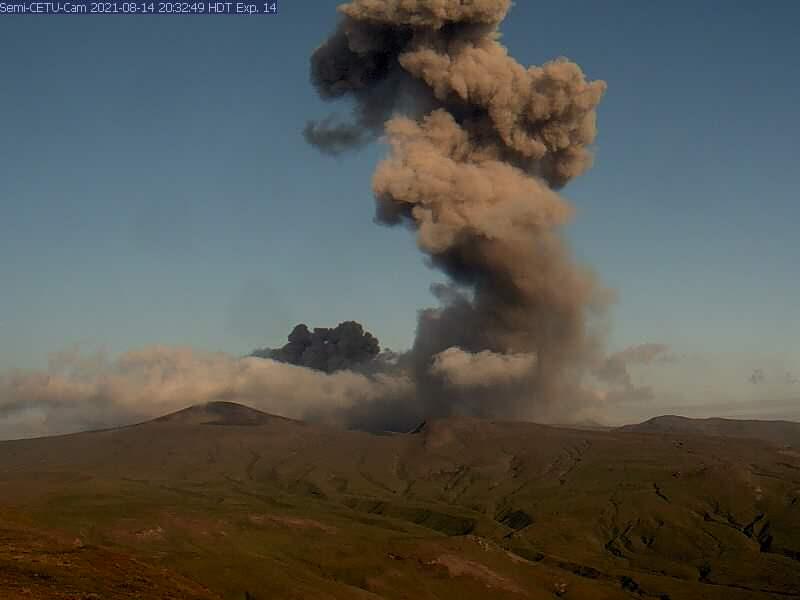 Ash emission from north crater of Cerberus, Semisopochnoi Island, August 15, 2021, caught on AVO's CETU webcam.
Small eruptions producing minor ash deposits within the vicinity of the active north crater of Mount Cerberus and ash clouds usually under 10,000 feet above sea level have characterized the recent activity, which shows no signs of abating. Small explosions may continue to occur and could be difficult to detect, especially during poor weather conditions.
Semisopochnoi Island is monitored by local seismic and infrasound sensors, satellite data, web cameras, and remote infrasound and lightning networks.
Source : AVO.
Photo : Alaska Volcano Observatory, CETU /Alaska Volcano Observatory / U.S. Geological Survey.
Kamchatka , Karymsky :
VOLCANO OBSERVATORY NOTICE FOR AVIATION (VONA).
Issued: September 05 , 2021
Volcano: Karymsky (CAVW #300130)
Current aviation colour code: ORANGE
Previous aviation colour code: orange
Source: KVERT
Notice Number: 2021-107
Volcano Location: N 54 deg 2 min E 159 deg 26 min
Area: Kamchatka, Russia
Summit Elevation: 1486 m (4874.08 ft)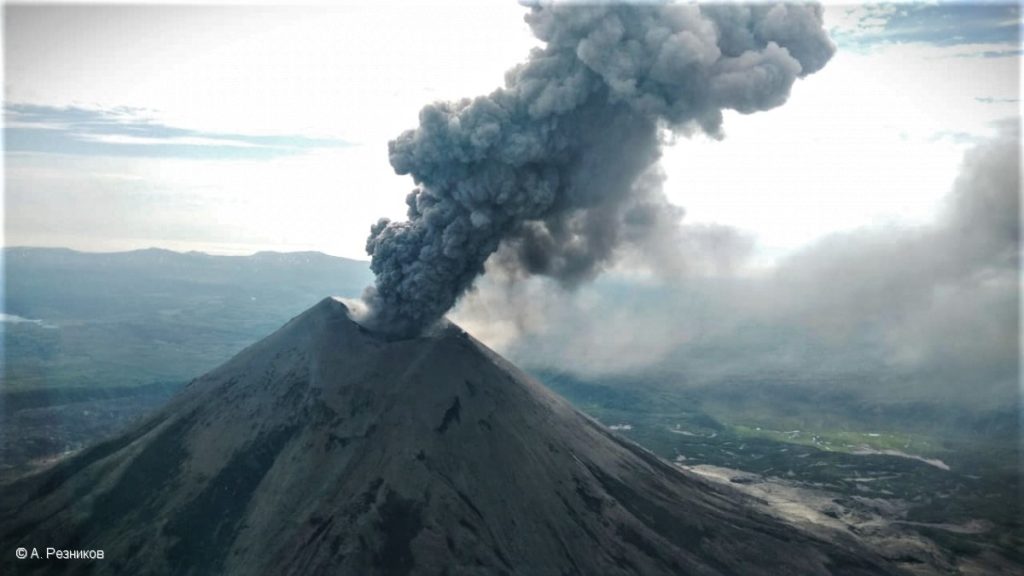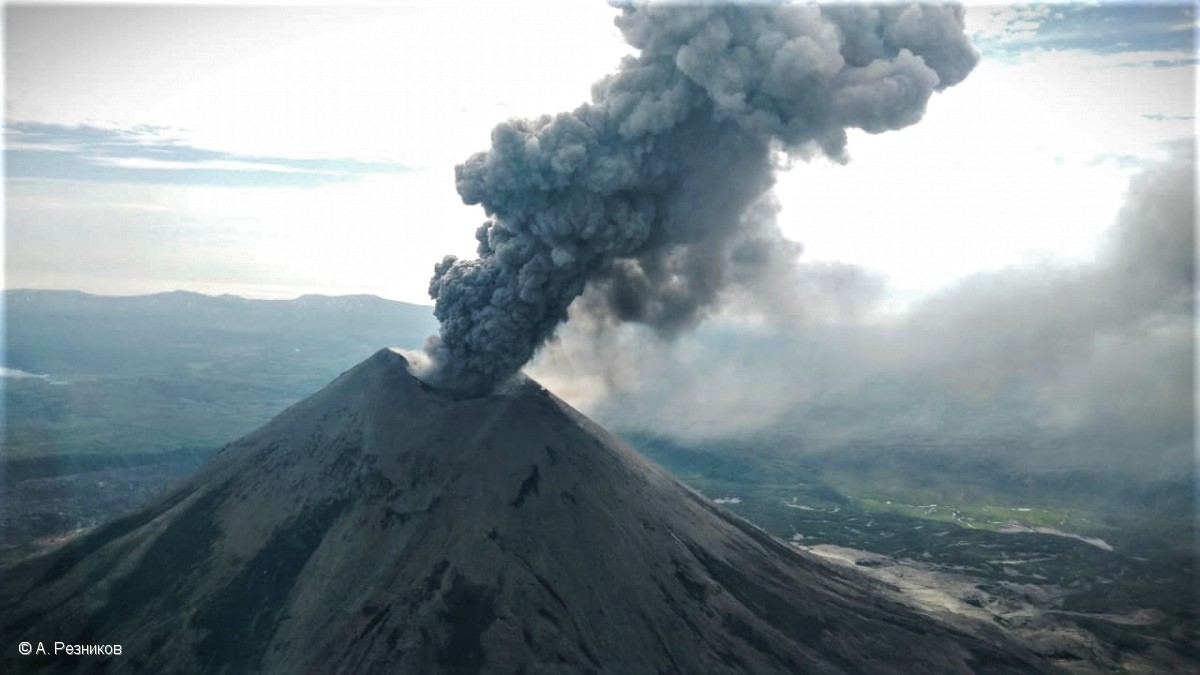 Volcanic Activity Summary:
A moderate eruptive activity of the volcano continues. According to satellite data, an ash plume is extending about 25 km to the east-north-east of the volcano.
This activity persist. Ash explosions up to 19,700-23,000 ft (6-7 km) a.s.l. could occur at any time. Ongoing activity could affect low-flying aircrafts.
Volcanic cloud height:
2500-3000 m (8200-9840 ft) AMSL Time and method of ash plume/cloud height determination: 20210905/0234Z – MODIS AQUA (31m32)
Other volcanic cloud information:
Distance of ash plume/cloud of the volcano: 25 km (16 mi)
Direction of drift of ash plume/cloud of the volcano: ENE / azimuth 78 deg
Time and method of ash plume/cloud determination: 20210905/0234Z – MODIS AQUA (31m32)
Source : Kvert.
Photo : A. Reznikov / Kvert
Indonesia , Semeru :
Level of activity at level II (WASPADA) since May 2, 2012. The Semeru volcano (3676 m above sea level) erupts intermittently, showing explosive and effusive eruptions, producing lava flows towards the southern and southern slopes -Is, as well as ejections of incandescent rocks around the summit crater.
The volcano was covered in fog. No smoke from the crater was observed. The weather is sunny to rainy, the wind is weak to moderate in the West and North-West. The air temperature is around 20-27 ° C. The eruption earthquake was recorded, but visually the height of the eruption and the color of the ash was not observed.
According to the seismographs of September 4, 2021, it was recorded:
81 eruption / explosion earthquakes
6 emission earthquakes
1 harmonic earthquake
2 distant tectonic earthquakes.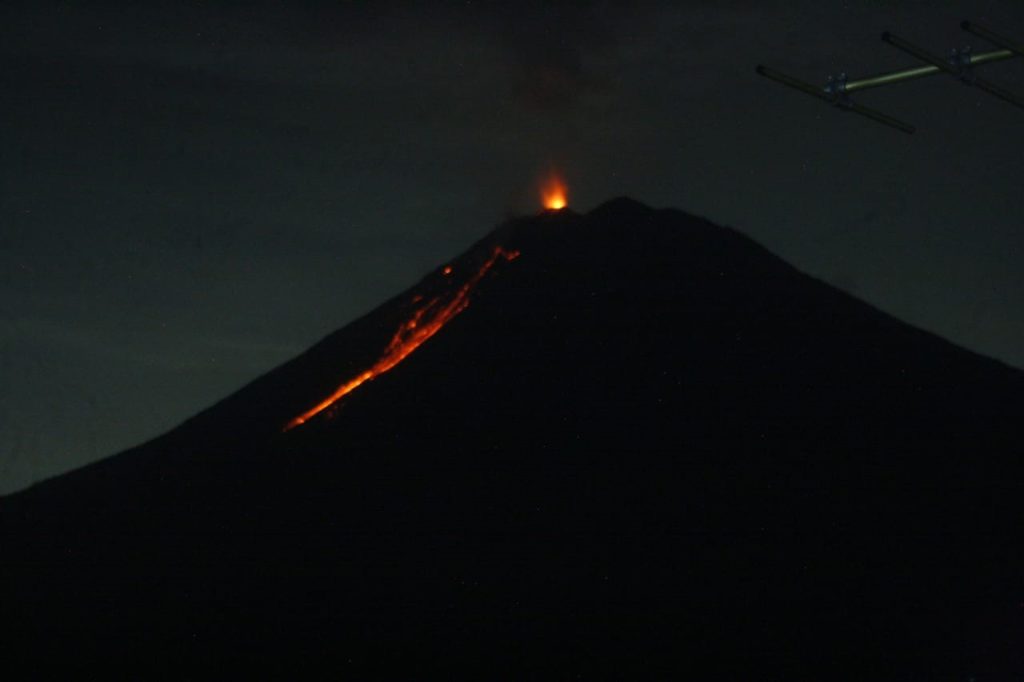 VOLCANO OBSERVATORY NOTICE FOR AVIATION – VONA.
Issued : September 01 , 2021
Volcano : Semeru (263300)
Current Aviation Colour Code : ORANGE
Previous Aviation Colour Code : orange
Source : Semeru Volcano Observatory
Notice Number : 2021SMR51
Volcano Location : S 08 deg 06 min 29 sec E 112 deg 55 min 12 sec
Area : East java, Indonesia
Summit Elevation : 11763 FT (3676 M)
Volcanic Activity Summary :
Eruption with volcanic ash cloud at 22h44 UTC (05h44 local)
Volcanic Cloud Height :
Best estimate of ash-cloud top is around 12403 FT (3876 M) above sea level, may be higher than what can be observed clearly. Source of height data: ground observer.
Other Volcanic Cloud Information :
Ash-cloud moving to southwest
Source et photo : PVMBG, Magma Indonésie.
Ecuador , Reventador :
DAILY REPORT OF THE STATE OF THE REVENTADOR VOLCANO, Wednesday September 01, 2021.
Information Geophysical Institute – EPN.
Surface activity level: High, Surface trend: No change.
Internal activity level: Moderate, Internal trend: No change.
Seismicity: From September 03, 2021, 11: 00h to September 04, 2021, 11: 00h:
Explosions (EXP): 70 events
Long period type events (LP): 78
Tremors of emissions (TREMI): 14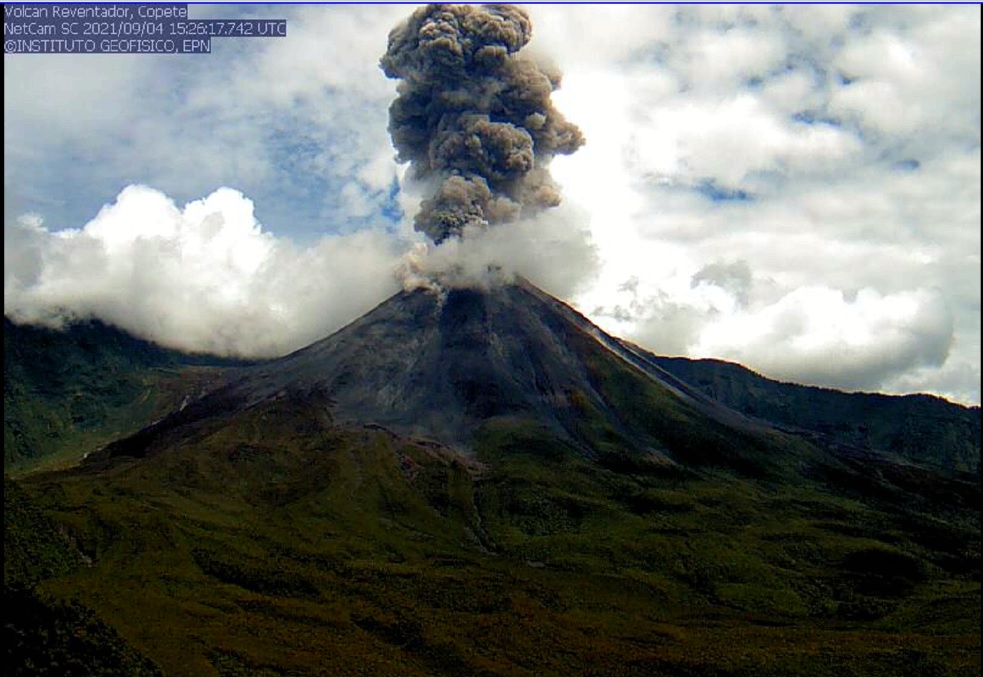 Rains / lahars: No rain was reported in the area
Emission / ash column: Gas and ash emissions were observed in southwest and northwest directions, with altitudes of 1000 m above crater level. The VAAC for its part reported 4 emission alerts with a maximum height of 1638m above crater level in the past 24 hours.
Other monitoring parameters: FIRMS recorded 7 thermal alerts, while MIROVA recorded 1 moderate thermal alert in the last 24 hours.
Observations: The cited emissions were observed in the afternoon of yesterday and today, while during the night, an incandescence was observed at the level of the summit as well as the rolling of boulders up to 500 m below the level of the crater on the southern flank.
Alert level: Orange.
Source et photo : IG-EPN.
Mexico , Popocatepetl :
September 03, 11:00 a.m. (September 03, 4:00 p.m. GMT)
During the last 24 hours, thanks to the monitoring systems of the Popocatépetl volcano, 97 exhalations accompanied by water vapor and volcanic gases have been identified. During most of the time there was no visibility due to cloud cover, however in the morning an emission of volcanic gases was observed towards the northwest. In addition, 392 minutes of low and medium amplitude tremor were recorded, as well as a minor explosion recorded at 06:59 a.m. and two volcano-tectonic earthquakes recorded at 02:17 and 02:22, with a calculated magnitude of 1.3 and 2.4, respectively.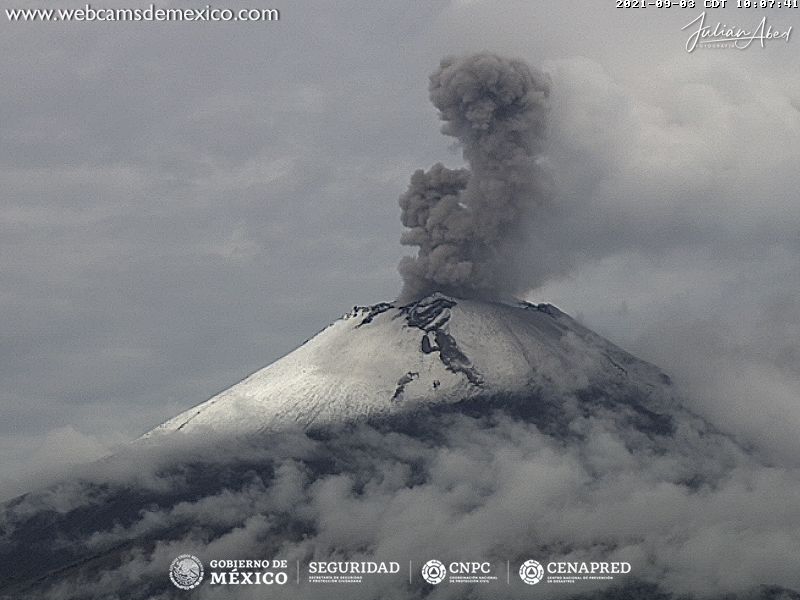 At the time of this report, there is partial visibility towards the volcano due to adverse weather conditions in the area. However, the continuous emission of steam and gas is observed, mainly in a north-westerly direction.
CENAPRED recommends NOT TO APPROACH the volcano and especially the crater, because of the danger of falling ballistic fragments and, in the event of heavy rains, to stay away from the bottom of the ravines because of the danger of flows. mud .
The volcanic signal light of the Popocatépetl volcano is in YELLOW PHASE 2.
Source : Cenapred.
Photo : Cenapred / Julian Abed