July 22, 2021. EN. Alaska : Semisopochnoi , Kamchatka : Karymsky , Philippines : Taal , Japan : Suwanosejima , Indonesia : Sirung .
July 22 , 2021.
Alaska , Semisopochnoi :
AVO/USGS Volcanic Activity Notice
Current Volcano Alert Level: ADVISORY
Previous Volcano Alert Level: WATCH
Current Aviation Color Code: YELLOW
Previous Aviation Color Code: ORANGE
Issued: Wednesday, July 21, 2021, 4:28 PM AKDT
Source: Alaska Volcano Observatory
Notice Number: 2021/A542
Location: N 51 deg 55 min E 179 deg 35 min
Elevation: 2625 ft (800 m)
Area: Aleutians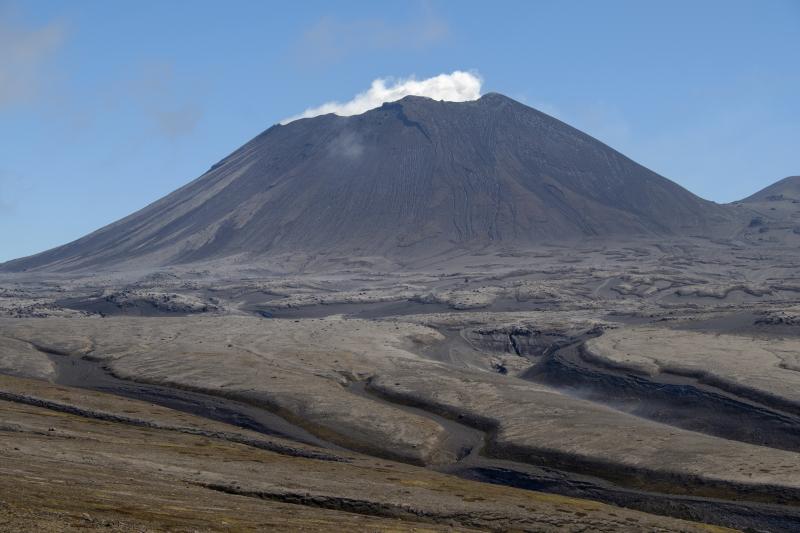 North Cerberus, Semisopochnoi Island, steaming from the southwest.
Volcanic Activity Summary:
Due to a marked decline is seismicity and no evidence of explosive activity detected in satellite, seismic or infrasound data since July 12, AVO is decreasing the Aviation Color Code to YELLOW and the Alert Level to ADVISORY.
When occurring, small eruptions producing minor ash deposits within the vicinity of the active north crater of Mount Cerberus and ash clouds under 10,000 ft above sea level are typical of activity at Semisopochnoi.
Recent Observations:
[Volcanic cloud height] none
[Other volcanic cloud information] none
Hazard Analysis:
[Ash cloud] none
[Volcanic gas] SO2 emissions detected on occasion
Remarks:
Semisopochnoi is monitored by a local seismic and infrasound network, local web cameras, regional lightning and infrasound sensors, and satellite data.
Source : AVO.
Photo : Loewen, Matt / Alaska Volcano Observatory / U.S. Geological Survey.
Kamchatka , Karymsky :
VOLCANO OBSERVATORY NOTICE FOR AVIATION (VONA)
Issued: July 22 , 2021
Volcano: Karymsky (CAVW #300130)
Current aviation colour code: ORANGE
Previous aviation colour code: orange
Source: KVERT
Notice Number: 2021-72
Volcano Location: N 54 deg 2 min E 159 deg 26 min
Area: Kamchatka, Russia
Summit Elevation: 1486 m (4874.08 ft)
Volcanic Activity Summary:
A moderate eruptive activity of the volcano continues. According to satellite data by KVERT, an emission of ash continues continuously. Explosions send ash up to 1.6 km a.s.l. and ash plume is extending for 48 km to the northeast of the volcano.
This activity continues. Ash explosions up to 19,700-23,000 ft (6-7 km) a.s.l. could occur at any time. Ongoing activity could affect low-flying aircrafts.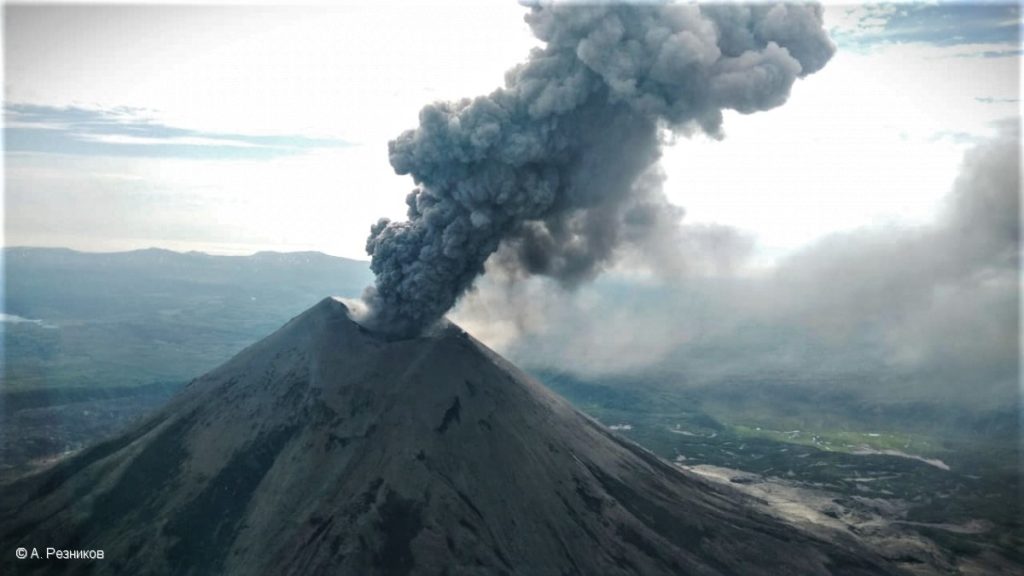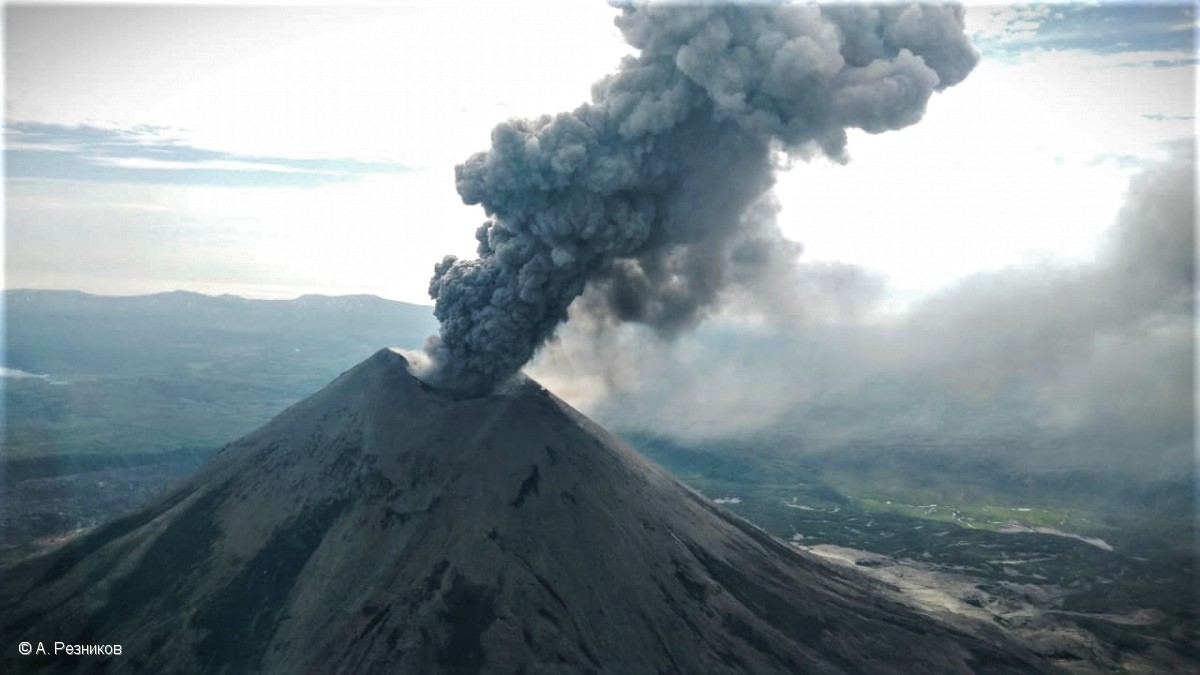 The explosive eruption of Karymsky volcano on 09 July, 2021.
Volcanic cloud height:
1400-1600 m (4592-5248 ft) AMSL Time and method of ash plume/cloud height determination: 20210722/0120Z – Himawari-8
Other volcanic cloud information:
Distance of ash plume/cloud of the volcano: 48 km (30 mi)
Direction of drift of ash plume/cloud of the volcano: ENE / azimuth 71 deg
Time and method of ash plume/cloud determination: 20210722/0120Z – Himawari-8.
KVERT reported that ash plumes from Karymsky were identified in satellite data drifting 80 km NW, NE, and ESE during 8-11 and 15 July. A thermal anomaly was visible during 8 and 10-13 July. The Aviation Color Code remained at Orange (the second highest level on a four-color scale).
Source : Kvert , GVP.
Photo : A. Reznikov / Kvert.
Philippines , Taal :
TAAL VOLCANO BULLETIN: 22 July 2021 8:00 AM
In the past 24-hour period, the Taal Volcano Network recorded thirty-five (35) volcanic earthquakes, including seventeen (17) volcanic tremor events having durations of one (1) to forty-nine (49) minutes, eighteen (18) low-frequency volcanic earthquakes, and low-level background tremor that has persisted since 07 July 2021. High levels of volcanic sulfur dioxide or SO2 gas emissions and steam-rich plumes that rose nine hundred (900) meters before drifting east were generated from the Taal Main Crater. Sulfur dioxide (SO2) emission averaged 5,286 tonnes/day on 20 July 2021. Based on ground deformation parameters from electronic tilt, continuous GPS and InSAR monitoring, Taal Volcano Island has begun deflating in April 2021 while the Taal region continues to undergo very slow extension since 2020.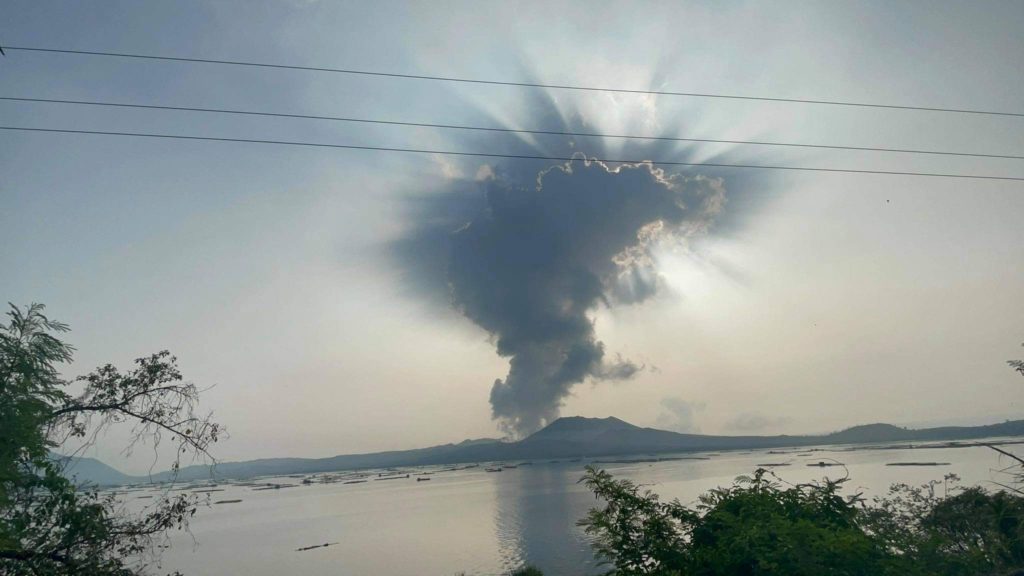 PHIVOLCS reported that unrest at Taal continued during 13-20 July. Daily plumes of steam and sulfur dioxide gas rose 0.9-2.1 km from the lake and drifted in multiple directions. Sulfur dioxide emissions averaged 1,142-6,574 tonnes/day. Two tremor events, at 1018 and 1038 on 20 July, were felt at Intensity I by residents of Pira-piraso in the NE sector of Volcano Island. The DROMIC report stated that 3,839 people were in evacuation centers or private residences by 20 July. The Alert Level remained at 3 (on a scale of 0-5) and PHIVOLCS reminded the public that the entire Taal Volcano Island is a Permanent Danger Zone (PDZ) and to not enter the high-risk barangays of Agoncillo and Laurel. Activities on Taal Lake were strictly prohibited.
Source : Phivolcs , GVP.
Photo : Seys Marasigan / Seys Channel
Japan , Suwanosejima :
JMA reported that five explosions at Suwanosejima's Ontake Crater during 12-19 July ejected bombs as far as 400 m from the crater. Crater incandescence was visible on some nights and ashfall was occasionally reported in Toshima village (4 km SSW). An explosion at 2330 on 12 July produced an ash plume that rose 3.6 km. The Alert Level remained at 3 and the public was warned to stay 2 km away from the crater.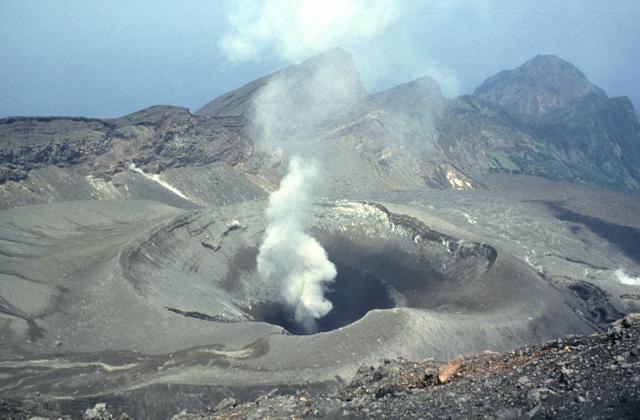 The 8-km-long, spindle-shaped island of Suwanosejima in the northern Ryukyu Islands consists of an andesitic stratovolcano with two historically active summit craters. The summit is truncated by a large breached crater extending to the sea on the east flank that was formed by edifice collapse. Suwanosejima, one of Japan's most frequently active volcanoes, was in a state of intermittent strombolian activity from Otake, the NE summit crater, that began in 1949 and lasted until 1996, after which periods of inactivity lengthened. The largest historical eruption took place in 1813-14, when thick scoria deposits blanketed residential areas, and the SW crater produced two lava flows that reached the western coast. At the end of the eruption the summit of Otake collapsed forming a large debris avalanche and creating the horseshoe-shaped Sakuchi caldera, which extends to the eastern coast. The island remained uninhabited for about 70 years after the 1813-1814 eruption. Lava flows reached the eastern coast of the island in 1884. Only about 50 people live on the island.
Source : GVP
Photo : Yukio Hayakawa, 1998 (Gunma University).
Indonesia , Sirung :
VOLCANO OBSERVATORY NOTICE FOR AVIATION – VONA
Issued : July 21 , 2021
Volcano : Sirung (264270)
Current Aviation Colour Code : ORANGE
Previous Aviation Colour Code : unassigned
Source : Sirung Volcano Observatory
Notice Number : 2021SIR01
Volcano Location : S 08 deg 30 min 29 sec E 124 deg 07 min 48 sec
Area : East Nusa Tenggara, Indonesia
Summit Elevation : 2758 FT (862 M)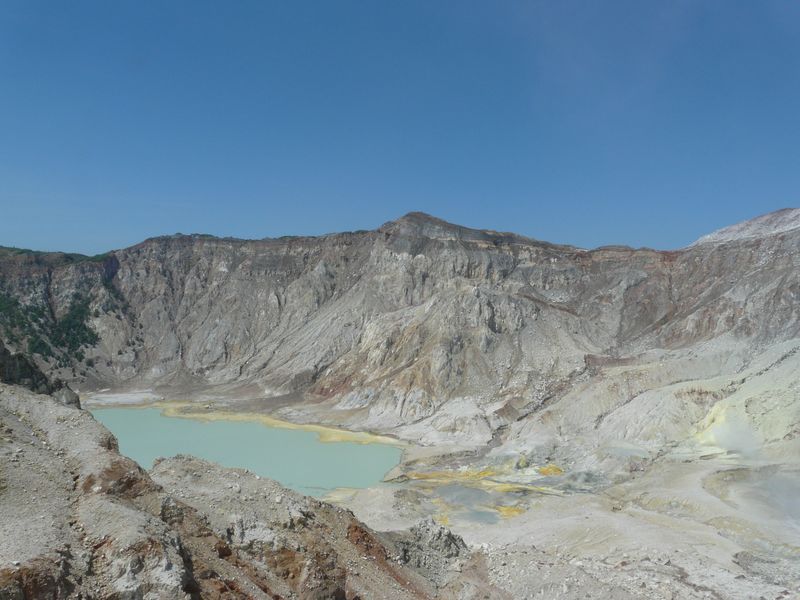 Volcanic Activity Summary :
Ash emission was observed starting from 08h44 UTC (16h44 local). Currently, ash emission is not observed.
Volcanic Cloud Height :
Best estimate of ash-cloud top is around 9158 FT (2862 M) above sea level, may be higher than what can be observed clearly. Source of height data: ground observer.
Other Volcanic Cloud Information :
Ash-cloud is moving north.
Remarks :
Seismicity has not shown significant changes, however ash emission may reoccur.
Press release on the phreatic eruption of G. Sirung of July 21, 2021 at 4:44 p.m. WITA, July 22, 2021
Sirung volcano is located in Pantar Tengah sub-district, Alor regency, eastern Nusa Tenggara province. The last eruption of Mount Sirung (phreatic) occurred on May 8 and 12, 2012. Its activity level has been level I (normal) since September 7, 2012.
Surveillance data:
The activity of Mount Sirung saw an increase which was observed visually from the phreatic eruption that occurred on July 21, 2021 from 4:44 p.m. WITA to approximately 6:00 p.m. WITA, which emitted a cloud of white-gray gas and ash with light to medium intensity. the maximum height reaches about 2000 meters above the summit with a dominant direction towards the North. Although observed visually, the seismometer does not record the eruption earthquake.
Records of seismic activity from Mount Sirung over the past three months were relatively low, emission earthquakes were recorded a maximum of 9 times per day on May 8, 2021, and local tectonic earthquakes were recorded in maximum 3 times a day on June 14, 2021. The increase in the amplitude of the tremor had lasted about 10 hours on July 21, 2021 before the emission of ash, but the volcanic earthquakes indicating a movement of the magma from the depth n 'were not recorded and the amplitude of the tremor did not show a significant increase. The RSAM seismic amplitude (real-time seismic amplitude measurement) which reflects the energy of volcanic activity also did not show a significant increase.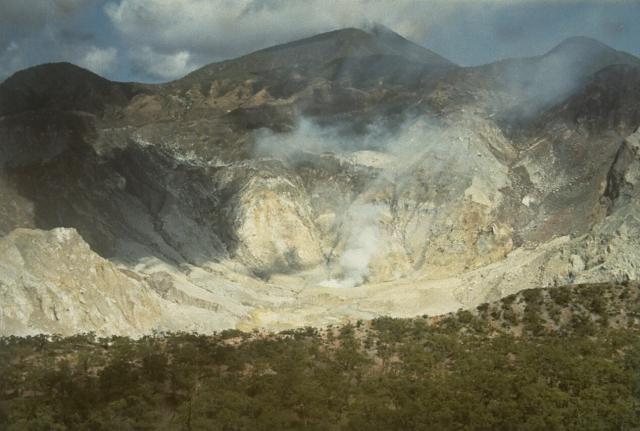 Evaluation:
Without a significant increase in volcanic earthquakes, the phreatic eruption that occurred was the result of the interaction between the heat of the magma and the hydrothermal system of Mount Sirung. Although the current activity is not high, phreatic eruptions can potentially be followed by magmatic eruptions if the magmatic pressure increases significantly.
With the current level of activity of Mount Sirung, there is a potential danger of ash, mud and rocks being thrown (if the intensity of the eruption increases) in all directions within a radius of 1.5 km around. from the summit / crater of Mount Sirung. Additionally, there is a potential threat of toxic volcanic gases such as CO2, CO and SO2 in the peak / crater area. The potential for ash falls can also occur, the extent and direction of distribution of which depends on the direction and speed of the wind.
Conclusion:
Mount Sirung's activity level was raised to Level II (WASPADA) on July 21, 2021 at 9:00 p.m. WITA.
Recommendation:
At Activity Level II (Waspada), it is recommended that the community around Mount Sirung as well as visitors / climbers / tourists do not perform activities within 1.5 km of the summit / crater of Mount Sirung.
Source : PVMBG , Magma Indonésie.
Photos : Pantar , Wikipedia .