July 04 , 2021.
Philippines , Taal :
TAAL VOLCANO ADVISORY 3 July 2021 8:00 P.M.
This is a notice of high volcanic SO2 gas emission from Taal Volcano.
The highest levels of volcanic sulfur dioxide or SO2 gas emission and tall, steam-rich plumes from the Taal Main Crater have been recorded today. SO2 emission averaged 14,699 tonnes/day, the highest ever recorded in Taal, while upwelling in the Main Crater Lake generated steam plumes that rose 2,500 meters above Volcano Island. Elevated SO2 emission may be succeeded by eruptive activity at the Main Crater similar to increases in SO2 flux of 14,326 tonnes/day and 13,287 tonnes/day on 28 June and the morning of 1 July 2021, respectively, that preceded the short-lived phreatomagmatic eruption at 3:16 PM of 1 July. In addition, the increased SO2, coupled with high relative humidities of 79-91% and wind velocities of 0.5 – 2 meters/second over Taal Lake based on All-Weather Stations data from the Taal Volcano Observatory and Volcano Island, is also likely to promote the formation of volcanic smog or vog over the lakeshore communities of Batangas Province.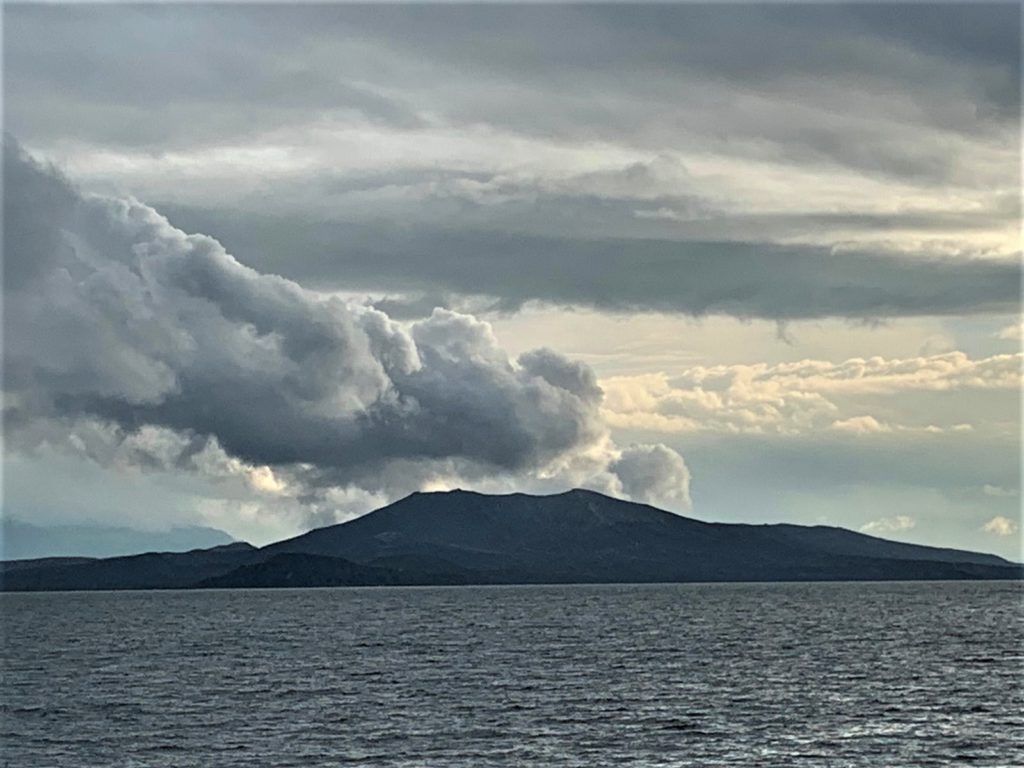 TAAL VOLCANO BULLETIN 04 July 2021 8:00 AM
In the past 24-hour period, the Taal Volcano Network recorded thirty-one (31) low frequency volcanic earthquakes and low-level background tremor that has persisted since 08 April 2021. High levels of volcanic sulfur dioxide or SO2 gas emissions and steam-rich plumes that rose as much as two thousand five hundred (2,500) meters high that drifted south-southwest was generated from the Taal Main Crater. Sulfur dioxide (SO2) emission averaged 14,699 tonnes/day on 03 July 2021.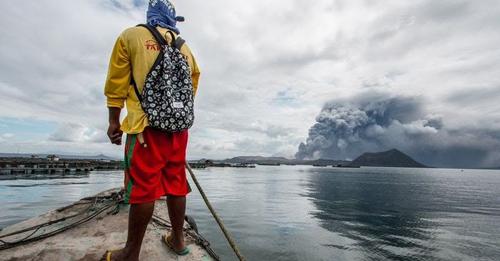 In view of the above, DOST-PHIVOLCS is reminding the public that Alert Level 3 prevails over Taal Volcano and that current SO2 parameters indicate ongoing magmatic extrusion at the Main Crater that may further drive succeeding explosions. PHIVOLCS strongly recommends Taal Volcano Island and high-risk barangays of Bilibinwang and Banyaga, Agoncillo and Buso-buso, Gulod and eastern Bugaan, Laurel, Batangas Province remain evacuated due to the possible hazards of pyroclastic density currents and volcanic tsunami should stronger eruptions subsequently occur. The public is reminded that the entire Taal Volcano Island is a Permanent Danger Zone (PDZ), and entry into the island as well as high-risk barangays of Agoncillo and Laurel must be prohibited. All activities on Taal Lake should not be allowed at this time. Communities around the Taal Lake shores are advised to remain vigilant, take precautionary measures against possible airborne ash and vog and calmly prepare for possible evacuation should unrest intensify. Because of unprecedented high SO2 degassing from Taal Main Crater, local government units are additionally advised to conducts health checks on communities affected by vog to assess the severity of SO2 impacts on their constituents and to consider temporary evacuation of severely exposed residents to safer areas. Civil aviation authorities must advise pilots to avoid flying over Taal Volcano Island as airborne ash and ballistic fragments from sudden explosions and pyroclastic density currents such as base surges may pose hazards to aircraft.
DOST-PHIVOLCS maintains its close monitoring of Taal Volcano and any new development will be communicated to all concerned stakeholders.
Source : Phivolcs
Photo : Val Cuenca/ABS-CBN News , Philstar.
Iceland , Geldingadalur / Fagradalsfjall :
No glow from volcano crater
There is currently no molten lava visible in the Geldingadalir volcanic crater on the Reykjanes peninsula. Kristín Jónsdóttir, head of natural hazards monitoring at the Met Office, says it is a very noteworthy development—but that it is not possible to say the eruption is over. There may still be great activity below the surface.
The volcano was unusually active yesterday evening and overnight, with brand new lava flowing all the way down into Nátthagi, but visible activity has since died out completely today.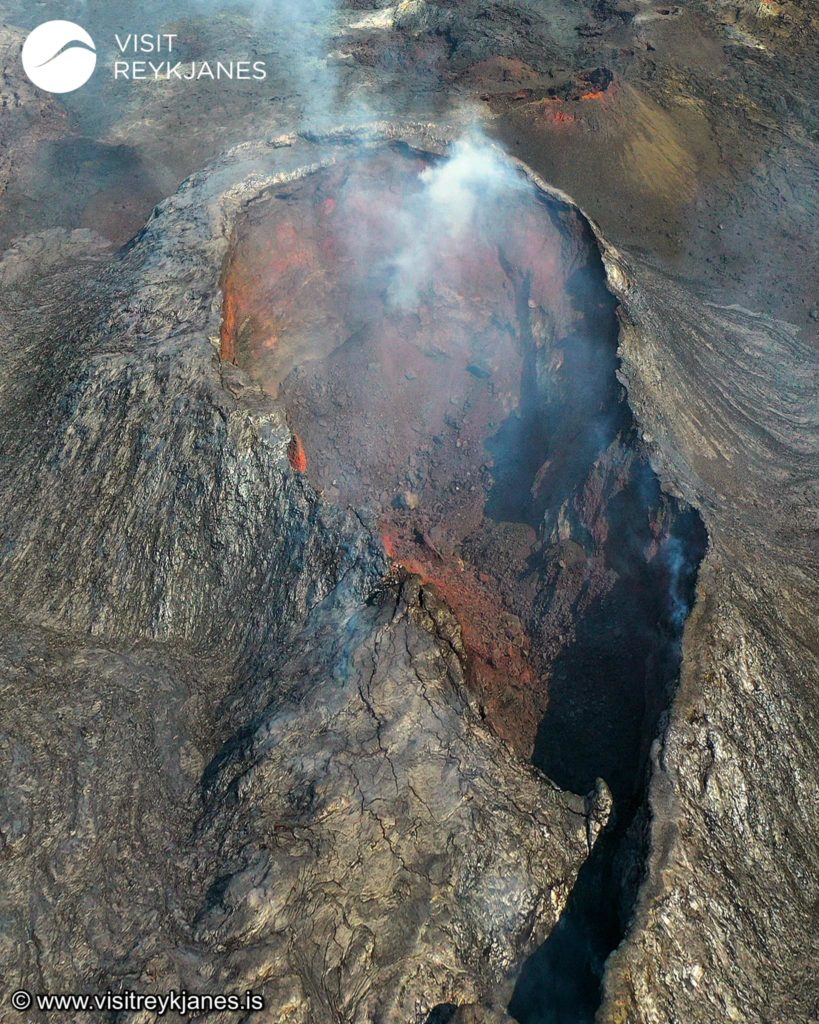 Kristín points out that the volcano has gone through several quiet periods since the eruption started in March, but the lava flow has always picked up again.
The volcano has never before gone from such a peak of activity to a quiet period so quickly, however, and molten lava has always been visible in the crater before now.
Natual hazards specialist Lovísa Mjöll Guðmundsdóttir told RÚV this morning that the eruption seems to have entered a new phase of periodic peaks in activity.
Source : RUV.
Photo : Visit Reykjanes
Chile , Nevados de Chillan :
Special Report on Volcanic Activity (REAV), Ñuble region, Nevados de Chillán volcanic complex, July 03, 2021, 2:55 p.m. local time (Continental Chile).
The National Service of Geology and Mines of Chile (Sernageomin) publishes the following PRELIMINARY information, obtained thanks to the monitoring equipment of the National Volcanic Monitoring Network (RNVV), processed and analyzed at the Volcanological Observatory of the Southern Andes ( Ovdas):
On Saturday 03 July, at 13:51 local time (17:51 UTC), the monitoring stations installed near the Nevados de Chillán volcanic complex recorded two explosive events associated with fluid dynamics (long period type) in the volcanic system.
The characteristics of earthquakes after their analysis are as follows:
ORIGINAL TIME: 13:51 local time (17:51 UTC)
LATITUDE: 36.854 ° S
LONGITUDE: 71.371 ° W
DEPTH: 2.2 km
REDUCED DISPLACEMENT: 654.4 (cm2)
ACOUSTIC SIGNAL: 1.8 Pascals (Pa) reduced to 1 km.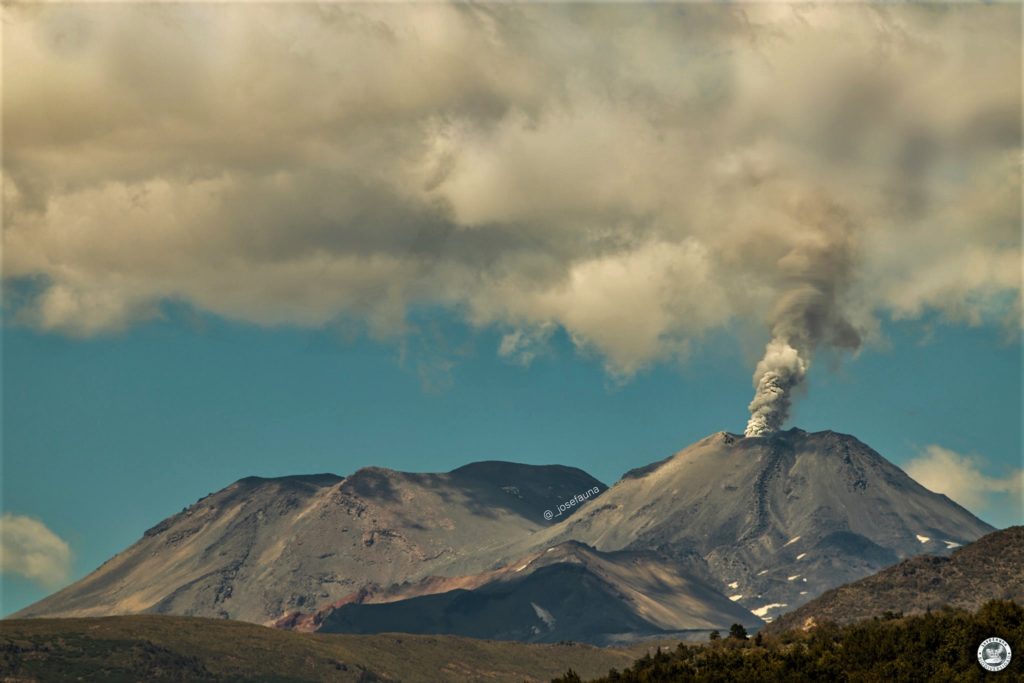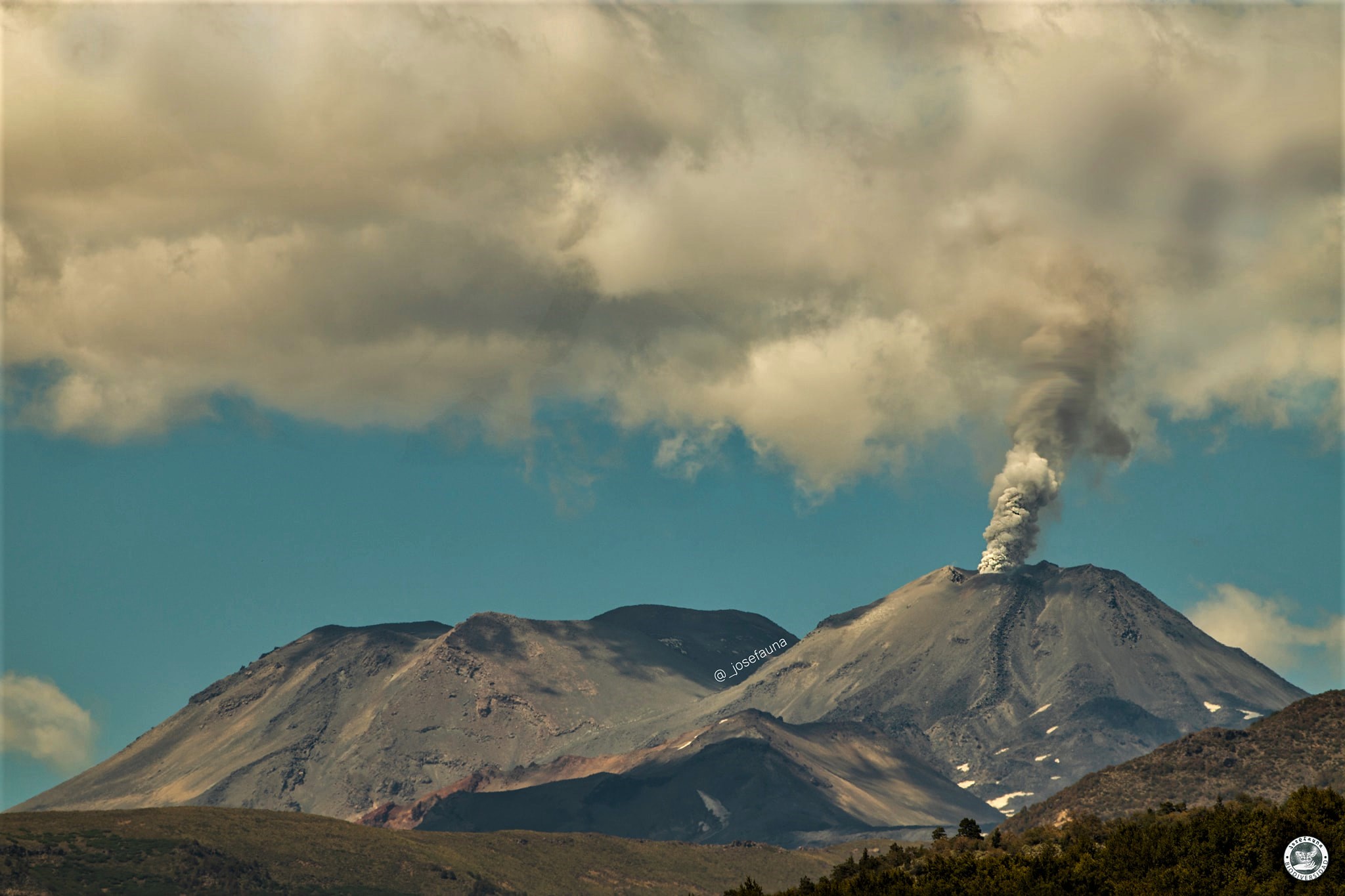 ORIGINAL TIME: 14:12 local time (18:12 UTC)
LATITUDE: 36.856 ° S
LONGITUDE: 71.371 ° W
DEPTH: 2.1 km
REDUCED DISPLACEMENT: 627.9 (cm2)
ACOUSTIC SIGNAL: 1.6 Pascals (Pa) reduced to 1 km.
The characteristics of the associated surface activity are as follows:
Maximum height of the column: 240 m above the emission point for the first, 220 m above the emission point for the second.
Direction of dispersion: South-South-East and East-South-East.
Observations: At the time of the issuance of this report, the Nevados de Chillán volcanic complex maintains seismic activity with surface manifestations, characterized by pulsatile emissions of particulate materials.
The volcanic technical alert remains at the Yellow level.
Source : Sernageomin.
Photo : Josefauna .
Guatemala , Santiaguito :
Activity:
The Santiaguito volcano OVSAN observatory reports a white and gray degassing column at a height of 3,250 m (10,663 feet) moving in a southwest direction. Weak to moderate explosions have been observed which expel columns of water vapor and other volcanic gases at an altitude of 3,600 m (11,811 feet) which disperse in a westerly and southwest direction.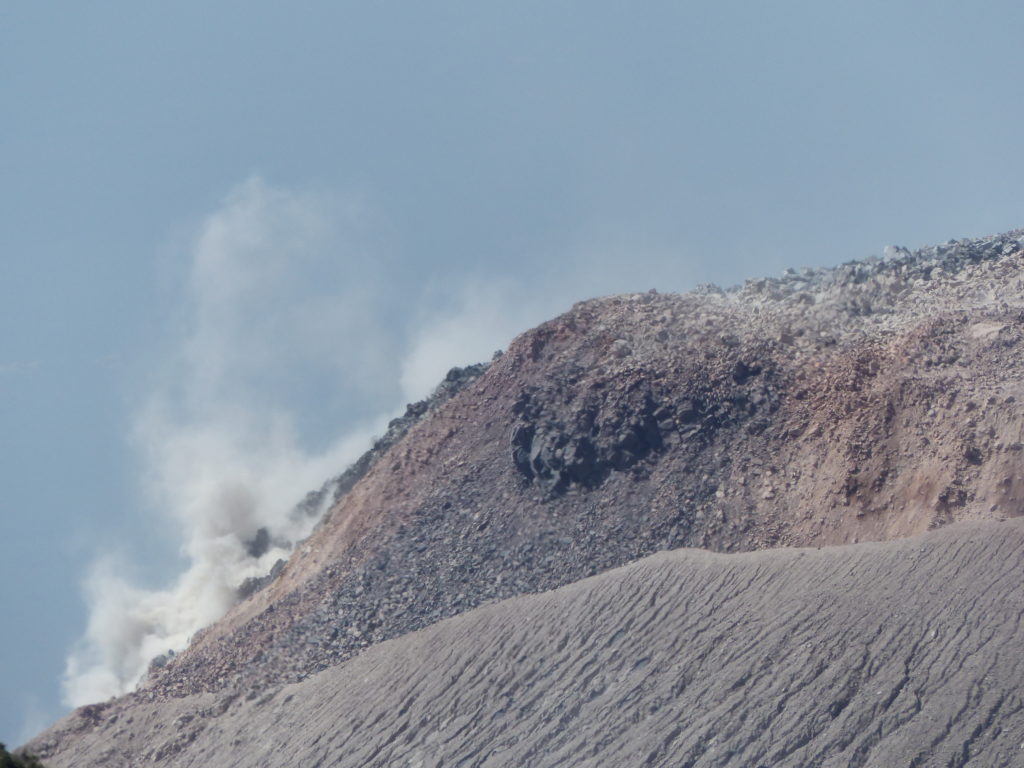 Weak to moderate boulder and ash avalanches continue to be generated on the flanks: West, Southwest and South, some reaching the base of Dome Caliente. Due to the blocky lava extrusion of the dome in a west-southwest direction and unstable material in the crater, there is a likelihood of moderate to strong pyroclastic flows, so do not stay near or in the channels. rivers near the slopes of the volcano.
Source : Insivumeh .
Photo : G Vitton