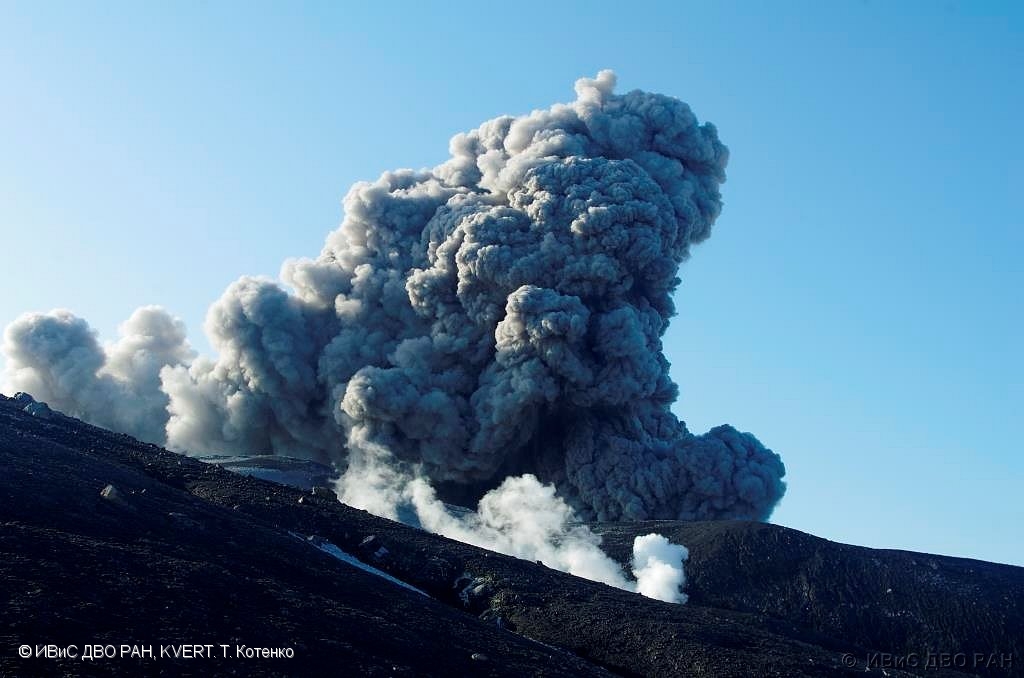 June 12, 2021. EN. Hawaii : Kilauea , Indonesia : Merapi , Italy : Stromboli , Russia / Northern Kurils : Ebeko , Philippines : Taal .
June 12 , 2021 .
Hawaii , Kilauea :
19°25'16 » N 155°17'13 » W,
Summit Elevation 4091 ft (1247 m)
Current Volcano Alert Level: ADVISORY
Current Aviation Color Code: YELLOW
Activity Summary:
Kīlauea Volcano is no longer erupting. No surface activity has been observed by field crews or webcam images over the past week. Sulfur dioxide emission rates remain slightly elevated. It is possible that the Halema'uma'u vent could resume eruption or that Kīlauea is entering a period of quiescence prior to the next eruption.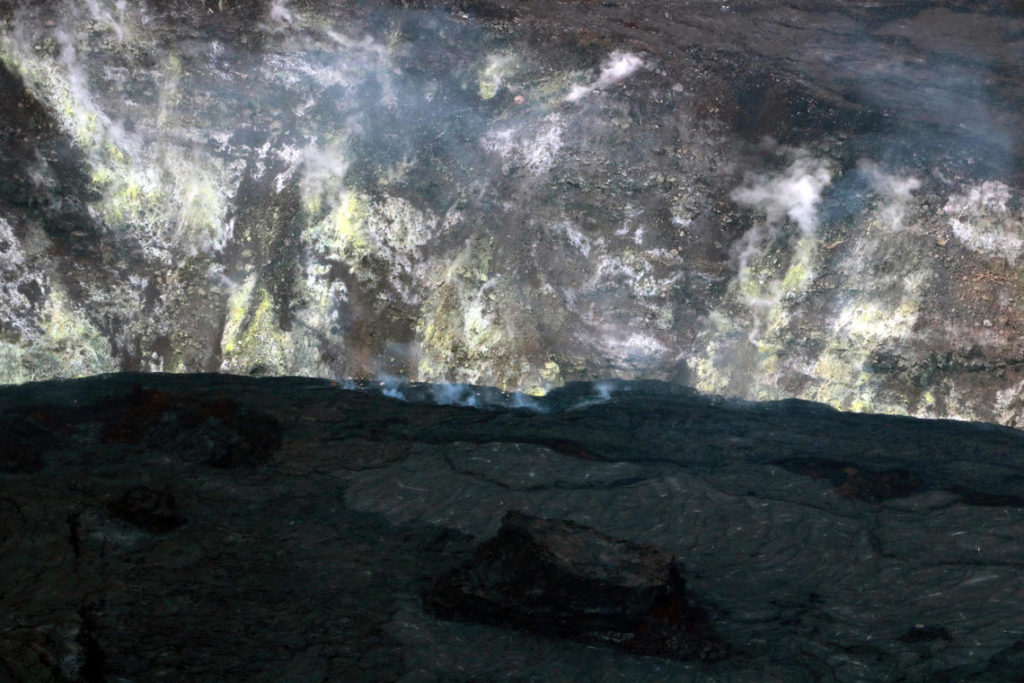 No eruptive activity or major changes were observed during a USGS Hawaiian Volcano Observatory Kīlauea summit monitoring shift on June 8, 2021. An area near the north wall of Halema'uma'u continues to visibly emit gases, though the eruption has paused. The most recent sulfur dioxide emission rate, measured on June 4, remains slightly elevated at 54 tonnes per day. USGS photo by K. Mulliken.
Summit Observations:
The most recent sulfur dioxide (SO2) emission rates, measured on June 4, 2021, were 54 tonnes per day (t/d). SO2 emission rates are approaching levels associated with the non-eruptive period from late 2018 to late 2020 (30-35 t/d) and are significantly lower than emission rates that averaged over 800 t/d from mid-February to mid-April. Summit tiltmeters recorded one deflation-inflation cycle over the past week, with mild inflation over the past two days. Seismicity remains stable overall, with earthquake counts and tremor over the past week similar to the previous week.
Halemaʻumaʻu Lava Lake Observations:
The lake's surface is now completely covered by solidified lava crust. No surface activity or evidence of recent surface activity has been observed over the past week, except for minor subsidence on the order of 1-2 meters (3-7 feet). Small, warmer-temperature spots around the rim and in local cavities remain visible in thermal webcam imagery, although at temperatures well below those associated with molten lava.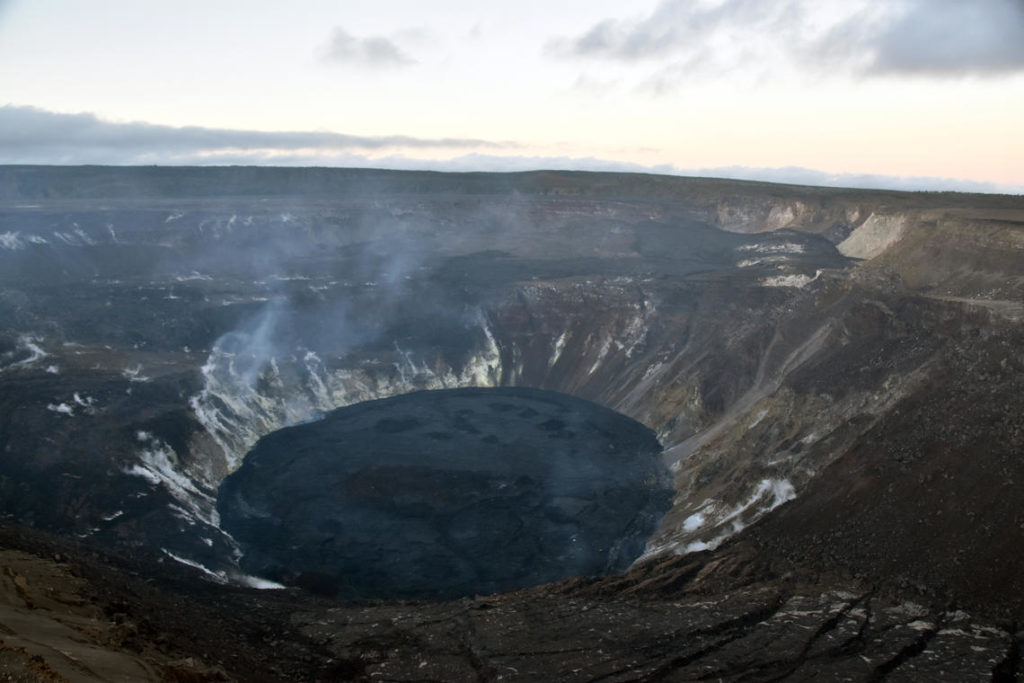 During a Kīlauea summit monitoring field shift on the evening of June 2, HVO geologists observed no eruptive activity or any major changes at the Halema'uma'u crater lava lake. No incandescence was visible anywhere on the lake surface or around the vents. Degassing from the west vent was minimal, with most outgassing now observed coming from a location along the the crater wall on the northeast side of the lava lake (back left of the lake surface in this photo).
East Rift Zone Observations:
No unusual activity noted in the region. Geodetic monitors indicate that the summit and upper East Rift Zone—between the summit and Puʻuʻōʻō—is refilling at rates similar to those measured over the past 2 years and before the December 2020 eruption. SO2 and hydrogen sulfide (H2S) emissions from Puʻuʻōʻō were below instrumental detection levels when last measured on January 7, 2021.
Source : HVO.
Photos : USGS / K. Mulliken. USGS / B. Carr.
Indonesia , Merapi :
Mount Merapi Activity Report, June 4-10, 2021
I. RESULTS OF OBSERVATIONS
Visual
The weather around Mount Merapi is generally sunny in the morning and evening, while it is foggy in the afternoon. The smoke emitted is white, weak to thick with low pressure. A maximum smoke height of 150m was observed from the Mount Merapi observation post in Babadan on June 5, 2021 at 06:30 WIB.
Hot cloud avalanches have occurred 12 times with a maximum slide distance of 1600 m to the southwest and 1000 m to the southeast, and recorded on a seismogram with a maximum amplitude of 60 mm and lasting 132 seconds. Lava avalanches were observed 52 times southwest with a maximum slide distance of 2000 meters and 3 times southeast with a slide distance of 600 m.
On June 8, 2021, aerial photos were taken with drones. The results of the photographic analysis show that the volume of the dome in the southwest sector is 1,300,000 m3. While the volume of the central dome is 2,100,000 m3.
Seismicity
This week, the seismicity of Mount Merapi recorded
12 hot cloud avalanches (AP),
72 shallow volcanic earthquakes (VTB),
340 multi-phase earthquakes (MP),
1 low frequency earthquake (LF),
964 avalanche earthquakes (RF),
104 emission earthquakes (DG)
6 tectonic earthquakes (TT).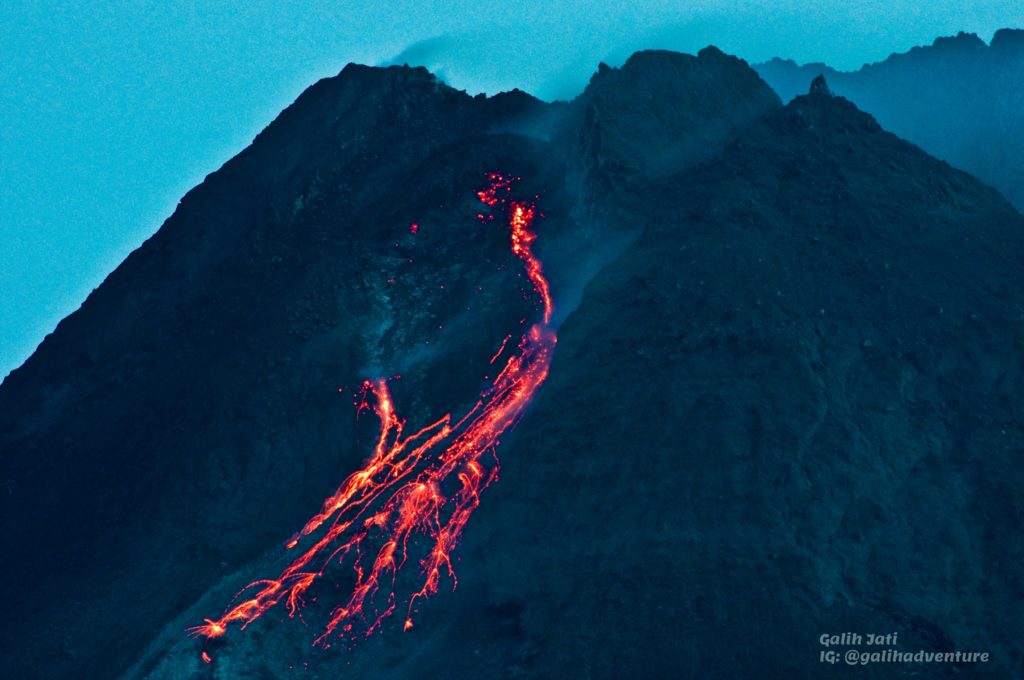 This week's seismicity intensity was higher than last week.
Deformation
The deformation of Mount Merapi, which was monitored using EDM this week, showed a distance shortening rate of 1.8 cm / day.
Rain and lahars
This week, it rained at the Mount Merapi observation post with an intensity of 53 mm / hour for 170 minutes at Babadan post on June 9, 2021. There were no reports of lahars or additional flow in the mountains. rivers that take their source on Mount Merapi.
Conclusion
Based on the results of visual and instrumental observations, it is concluded that:
The volcanic activity of Mount Merapi is still quite high in the form of effusive eruption activity. The status of the activity is defined in the "SIAGA" level.
Source : BPPTKG.
Photo : Yohannes Tyas Galih Jati
Italy , Stromboli :
STROMBOLI PRESS RELEASE, June 11, 2021 18:36 (16:36 UTC).
The National Institute of Geophysics and Volcanology, Osservatorio Etneo, announces from around 2:00 p.m. UTC, CCTV camera images show increased splash and explosion activity from active vents in the crater area North. The coarse material produced covers the walls of the cone abundantly and rolls along the Sciara del Fuoco. From 14:40 UTC, an overflow of lava is also observed from the edge of the North crater area. The lava flow produced is in the upper sector of the Sciara del Fuoco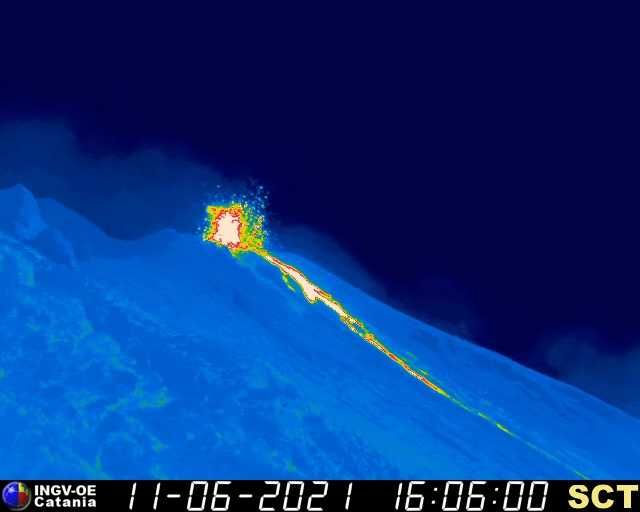 STROMBOLI PRESS RELEASE, June 11, 2021 21:23 (19:23 UTC).
The splash activity and explosions of the active vents in the North Crater area, already described in Update # 2, continues. Additionally, the lava flow that overflowed from the lowered rim of N2 crater into the North Crater area continues to be weakly fed. The front of the flow has advanced slightly compared to the previous communication and therefore still remains located on the top of the Sciara del Fuoco. The frequent rolling of incandescent blocks along the entire Sciara del Fuoco is observed, produced both by the slow advance of the flow front and by the explosions of the top vents.
The average amplitude of the volcanic tremor has medium-low values. The frequency and amplitude of transients attributable to explosive events do not show significant variations.
No significant changes are observed in the time series of soil deformation monitoring stations.
Further updates will be communicated shortly.
Source et photo : INGV.
Russia / Northern Kuriles , Ebeko :
VOLCANO OBSERVATORY NOTICE FOR AVIATION (VONA).
Issued: June 12 , 2021 .
Volcano: Ebeko (CAVW #290380)
Current aviation colour code: ORANGE
Previous aviation colour code: orange
Source: KVERT
Notice Number: 2021-63
Volcano Location: N 50 deg 41 min E 156 deg 0 min
Area: Northern Kuriles, Russia
Summit Elevation: 1156 m (3791.68 ft)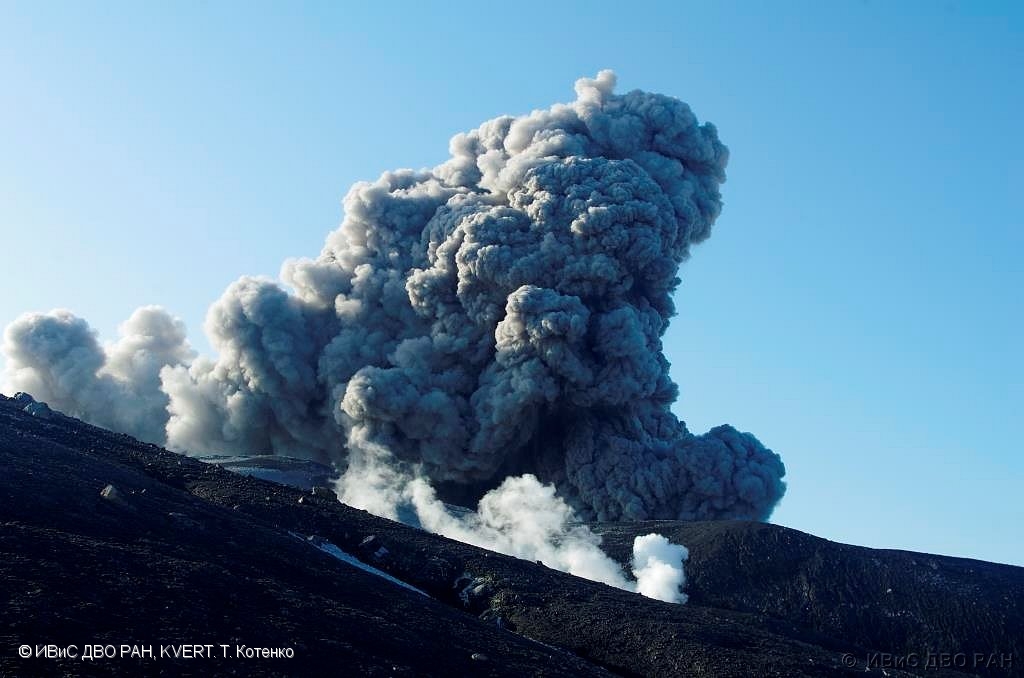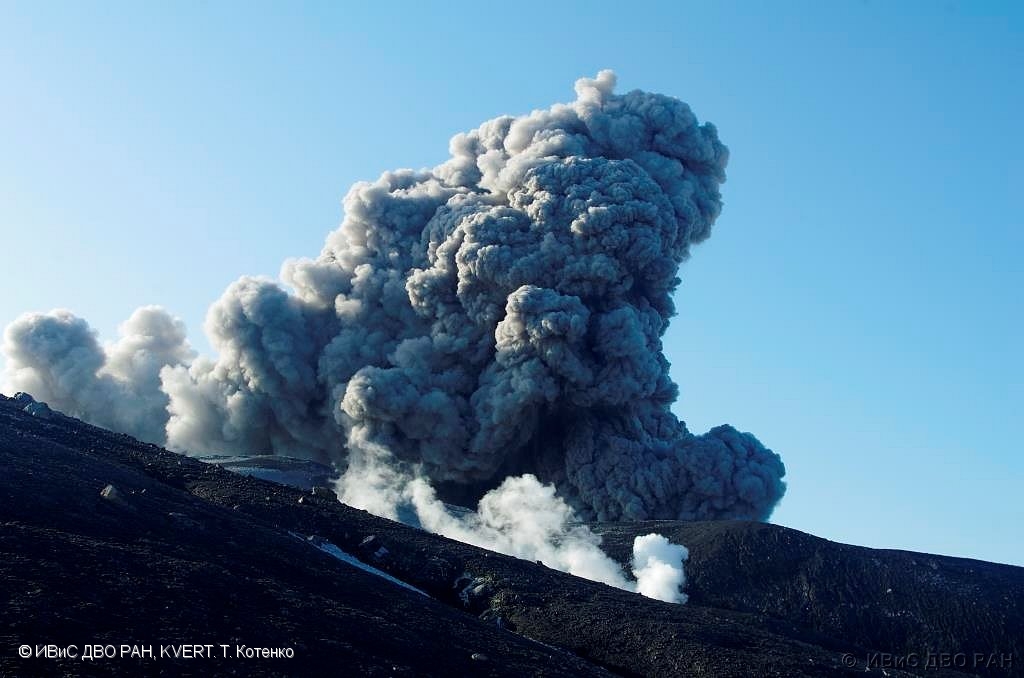 Volcanic Activity Summary:
A moderate eruptive activity of the volcano continues. According to visual data by volcanologists from Severo-Kurilsk, explosion sent ash up to 2 km a.s.l., an ash cloud is drifting to the north-east of the volcano.
A moderate eruptive activity of the volcano continues. Ash explosions up to 6 km (19,700 ft) a.s.l. could occur at any time. Ongoing activity could affect low-flying aircraft and airport of Severo-Kurilsk.
Volcanic cloud height:
2000 m (6560 ft) AMSL Time and method of ash plume/cloud height determination: 20210612/0321Z – Visual data
Other volcanic cloud information:
Distance of ash plume/cloud of the volcano: 6 km (4 mi)
Direction of drift of ash plume/cloud of the volcano: NE
Time and method of ash plume/cloud determination: 20210612/0321Z – Visual data
Source : Kvert
Photo : T. Kotenko ( 7/4/2021 ) , IVS FEB RAS, KVERT.
Philippines , Taal :
TAAL VOLCANO ADVISORY 12 June 2021 8:00 A.M.
This is a notice of reported and further potential impacts of elevated volcanic SO2 gas emission from the Main Crater of Taal Volcano.
For the past two days, high levels of volcanic sulfur dioxide or SO2 gas emissions from the Taal Main Crater have been measured by campaign UV spectrometry around the Taal Lake shore. The highest SO2 flux ever recorded for Taal averaged 9,911 tonnes/day on 10 June 2021. Peak measurements were obtained within a period of vigorous upwelling at the Main Crater Lake, which occurred continuously between 6:00 PM of 9 June and 10:00 AM of 10 June and generated 1.5 kilometer-tall steam plumes that drifted generally to the northwest. Because of high levels of SO2 aerosol over the western Taal Caldera, residents in three barangays of the Municipality of Agoncillo, Batangas Province – Banyaga, Bilibinwang and Subic Ilaya – have experienced throat irritations and observed sudden dry-out or vegetation kill in crops, plants and trees after a period of rain. These observations were reported to us by the Municipal Agricultural Office and is currently under further investigation. The unprecedented high levels of SO2 flux during this period of seismic quiescence warn not only of continued magmatic unrest, but also, of direct impacts of volcanic gas on downwind populations and local economies around Taal Lake. Should this persist, and considering the wind forecast of PAGASA for the Southern Tagalog region for the next days, communities to the west and north of Taal Volcano Island or TVI may experience the effects of volcanic SO2.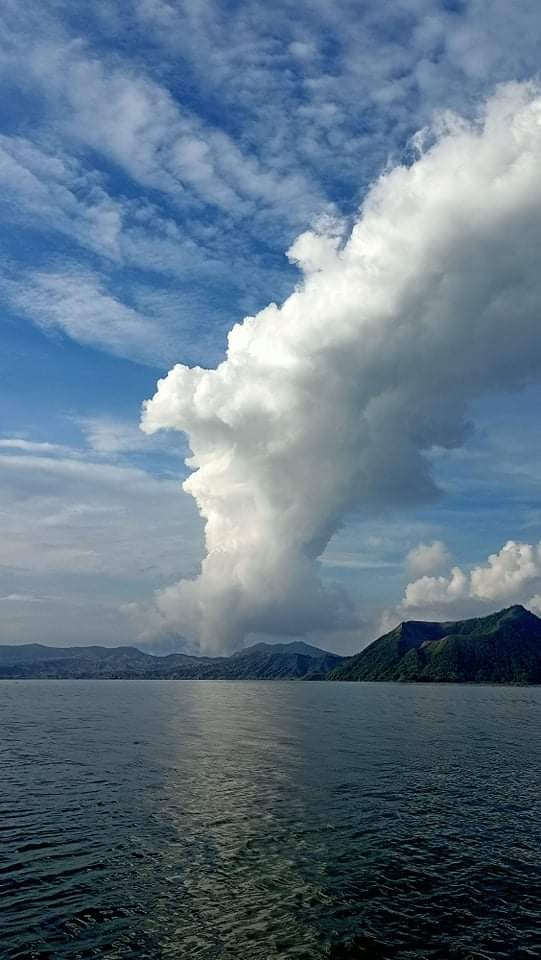 The public is reminded that Alert Level 2 (Increased Unrest) prevails over Taal Volcano and that the threat of sudden steam- or gas-driven explosions and lethal accumulations or expulsions of volcanic gas can occur and threaten areas within and around TVI. Venturing into TVI must therefore remain strictly prohibited. DOST-PHIVOLCS is closely monitoring Taal Volcano's activity and any new significant development will be immediately communicated to all stakeholders.
Source : Phivolcs.
Photo : R. Olazo