March 27, 2021. EN . Alaska : Veniaminof , Indonesia : Merapi , Saint Vincent : Soufrière Saint Vincent , Hawaii : Mauna Loa .
March 27 , 2021 .
Alaska , Veniaminof :
56°11'52 » N 159°23'35 » W,
Summit Elevation 8225 ft (2507 m)
Current Volcano Alert Level: WATCH
Current Aviation Color Code: ORANGE
Low-level eruptive activity continues at Veniaminof. Elevated seismicity continues to be observed in the limited available seismic data. Seismic activity reached a high level on March 23 and throughout the week consisted of periods of repeating low frequency events and intermittent tremor. Ash and volcanic gas emissions continued intermittently throughout the week and were visible at times in web camera and satellite data. Pressure waves from explosive activity were detected on local seismic stations and in regional infrasound data at times this past week, and reached a high level of on March 23.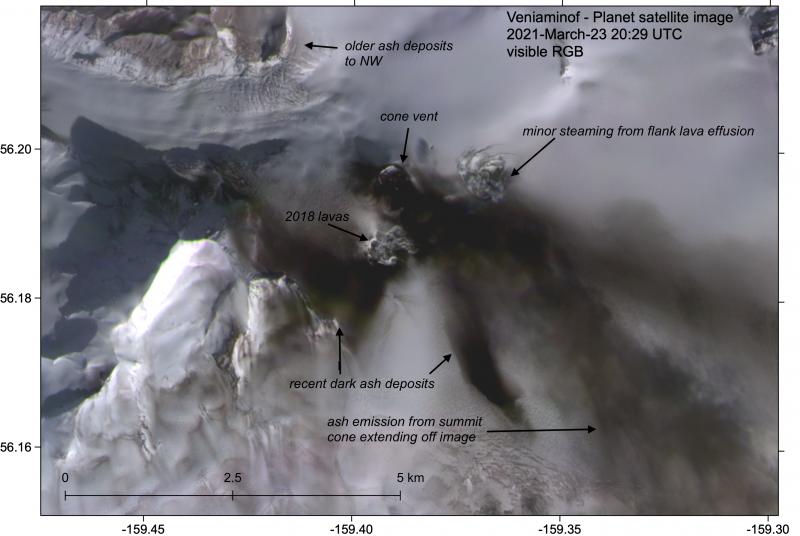 Ash plume from the cone vent at Veniaminof in visible (RGB) Planet satellite image. Minor steaming is visible in a depression east of the vent from an ice cauldron resulting from this eruption's flank vent. Recent (<2 days old) ash deposits are visible around the vent.
These explosions were heard by residents in the villages of Perryville located 21 miles (35 km) southeast, and in Chignik Lagoon located 34 miles (55 km) northeast, of the volcano. The audible noise produced by these periodic explosions occur when a gas-rich slug of magma reaches the surface and expands rapidly producing a sudden release of gas and fragmented magma. These audible explosions are common during eruptions at Veniaminof (and other similar volcanoes) and atmospheric conditions play a role in whether they are heard in nearby villages. Eruption of lava from a sub-glacial flank vent near the summit cone likely continues, as indicated by incandescence in web camera and satellite data, as well as highly elevated surface temperatures observed in satellite data.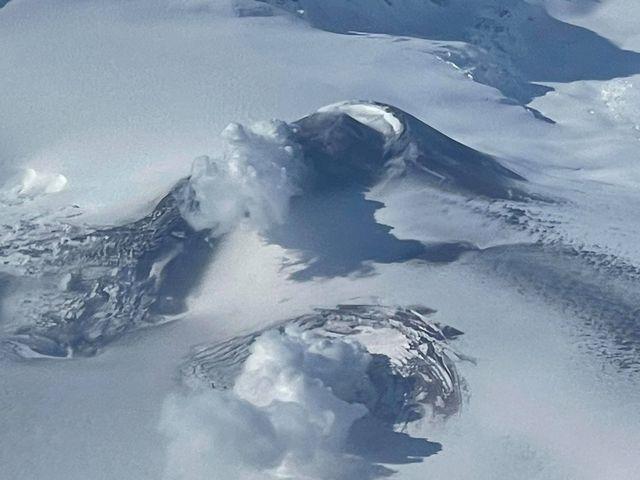 Eruptive activity at Veniaminof usually consists of minor ash emissions, lava fountaining and lava flows from the small cone in the summit caldera. Ash emissions are typically confined to the summit crater, but larger events can result in ash fall in nearby communities and drifting airborne ash.
A limited amount of seismic data from the local network that had been offline since December 8, 2020, have been recently restored. While the network has not been fully restored the additional information will aid in the detection of changes in unrest that may lead to a more significant explosive eruption. The Alaska Volcano Observatory continues to monitor Veniaminof with satellite and webcam data and remote infrasound, regional seismic and lightning networks.
Source : AVO.
Photos : Loewen, Matt , Jacob, Ben David .
Indonesia , Merapi :
Mount Merapi Activity Report, March 19-25, 2021.
I. OBSERVATION RESULTS
Visual
The weather around Mount Merapi is generally sunny in the morning and evening, while the afternoon until evening is foggy. There is white smoke, thin to thick with low pressure. A maximum smoke height of 500m was observed from the Mount Merapi de Selo observation post on March 25, 2021 at 2:30 p.m. WIB.
Hot avalanche clouds occurred 4 times with a maximum slide distance of 1800 m to the southwest and were recorded on a seismogram with a maximum amplitude of 70 mm and a duration of 174 seconds . Lava avalanches were observed 104 times with a maximum glide distance estimated at 1,200 meters to the southwest and 2 times in the south-east with a maximum slide distance of 400 m.
Morphological analysis of the peak area based on photos of the southwest sector from March 25 to March 18, 2021 shows that there is a change in the morphology of the peak area due to effusion activity and the growth of the dome. The volume of the lava dome in the southwest sector is 949,000 m3 with a growth rate of 13,300 m3 / day.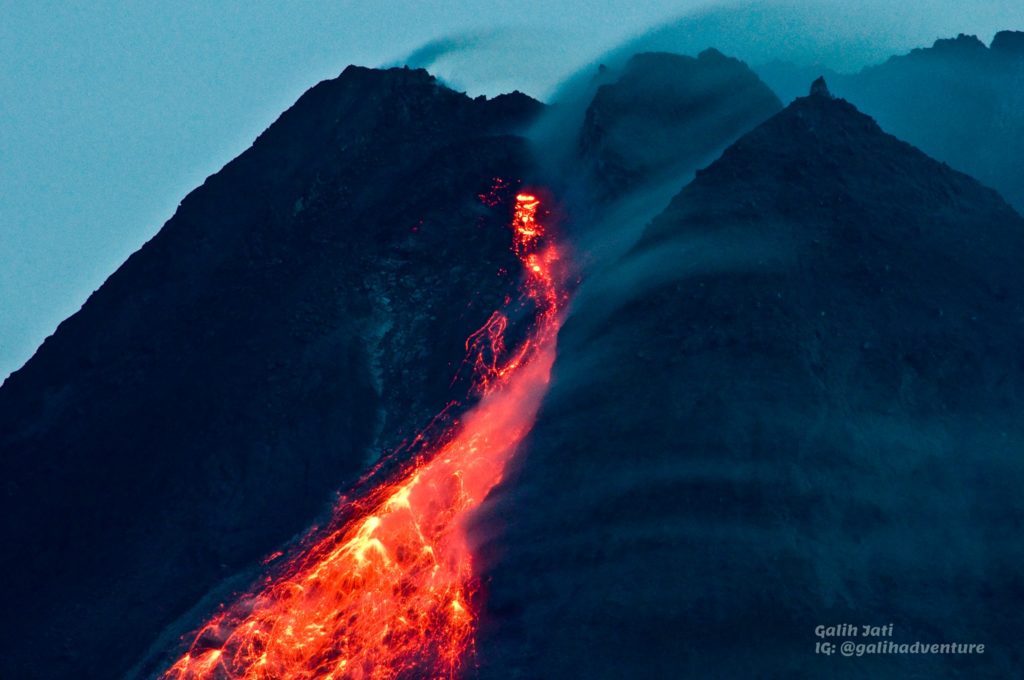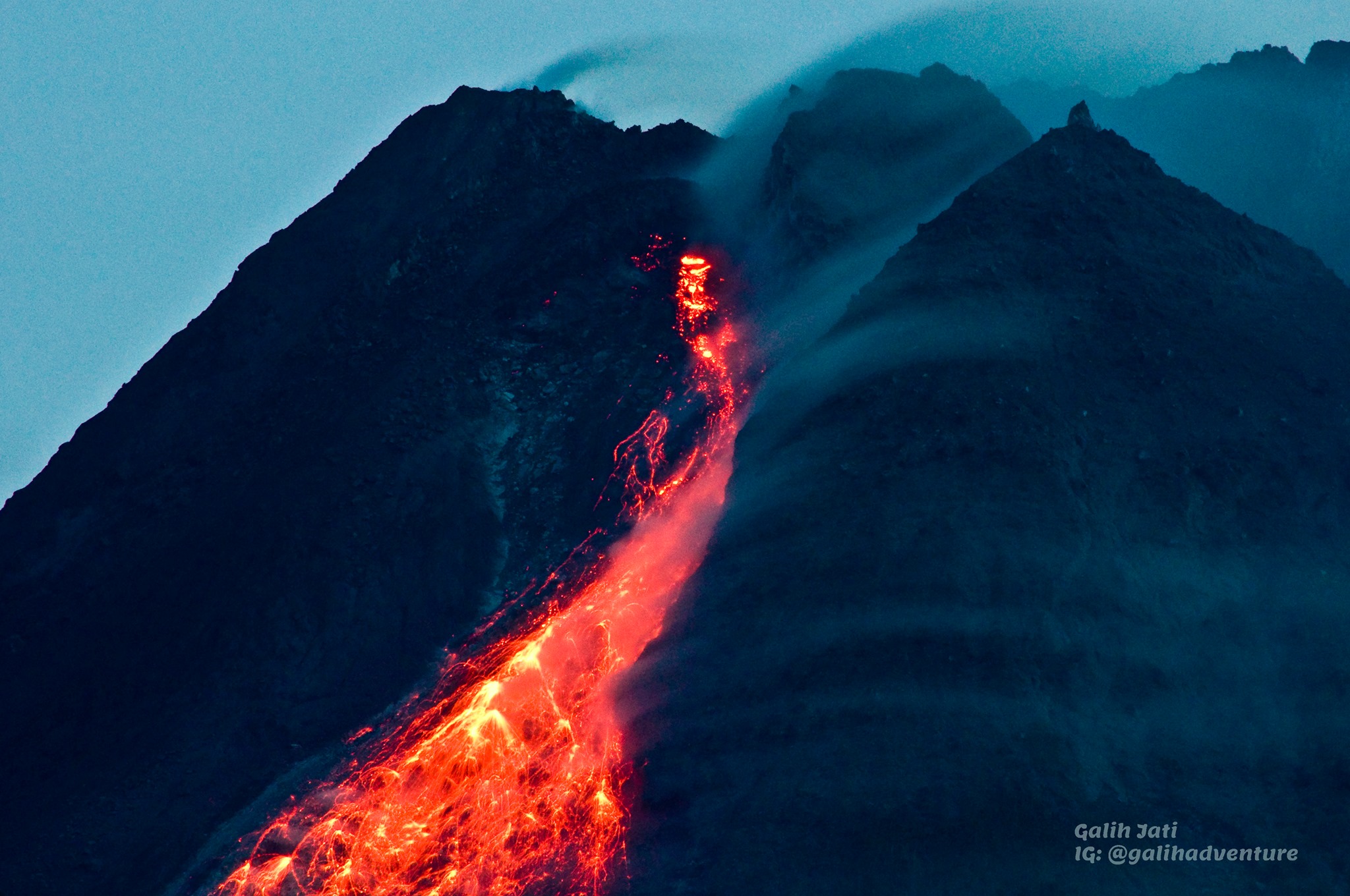 Seismicity
This week, the seismicity of Mount Merapi was recorded with:
4 hot cloud avalanches (AP),
29 multi-phase earthquakes (MP),
1 low frequency earthquake (LF),
911 avalanche earthquakes (RF),
15 emission earthquakes (DG)
2 tectonic earthquakes (TT).
The seismic intensity this week is lower than last week.
Deformation
The deformation of Mount Merapi which was monitored using EDM and GPS this week showed no significant changes.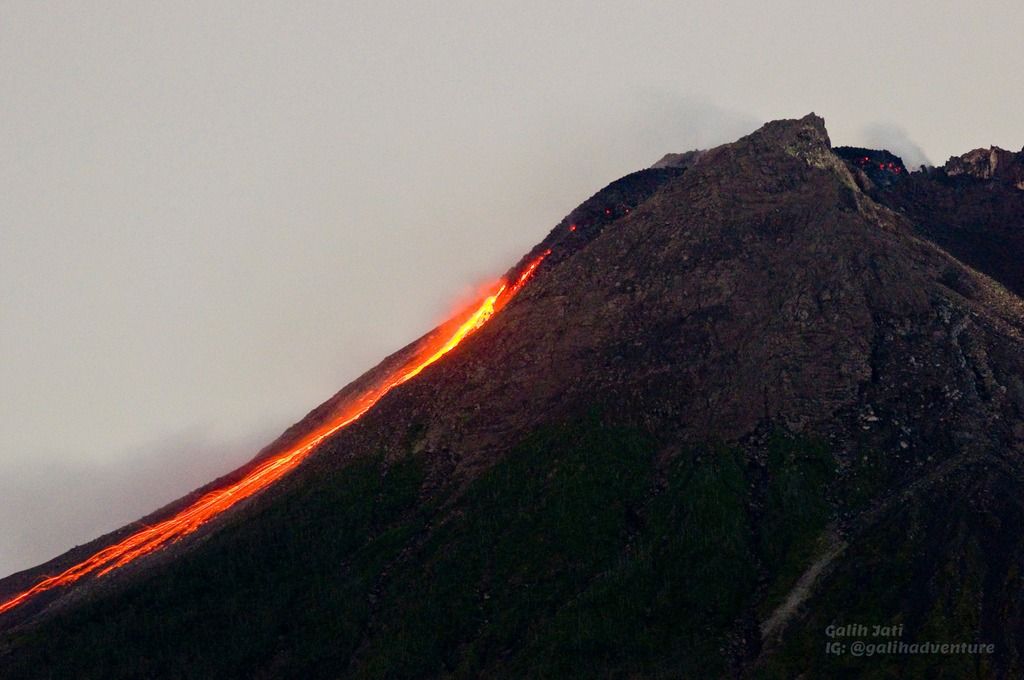 Rain and lahars
This week there was rain at Mount Merapi Observation Post with the highest rainfall intensity of 39mm / hour for 55 minutes at Kaliurang Post on March 20, 2021. There was no rain. lahars or additional flows in the rivers that descend from Mount Merapi.
Conclusion
Based on the results of visual and instrumental observations, it is concluded that:
The volcanic activity of Mount Merapi is still quite high in the form of effusive eruption activity. The activity status is defined at the « SIAGA » level.
Source : BPPTKG.
Photos : Yohannes Tyas Galih Jati / Volcanodiscovery .
Saint Vincent , Soufrière Saint Vincent :
NEWS RELEASE FOR IMMEDIATE RELEASE
SCIENTISTS HAVE NOTED A CHANGE IN SEISMIC ACTIVITY ASSOCIATED WITH THE ONGOING ERUPTION OF THE LA SOUFRIÈRE VOLCANO
Monitoring scientists at the Belmont Observatory led by scientists from The UWI Seismic Research Centre (SRC) have noted a change in seismic activity associated with the ongoing eruption of the La Soufrière Volcano. Up until 23 March 2021, the seismic activity had been dominated by very small low-frequency events which were associated with the ongoing extrusion of the lava dome. These were almost always only recorded at the seismic station closest to the dome.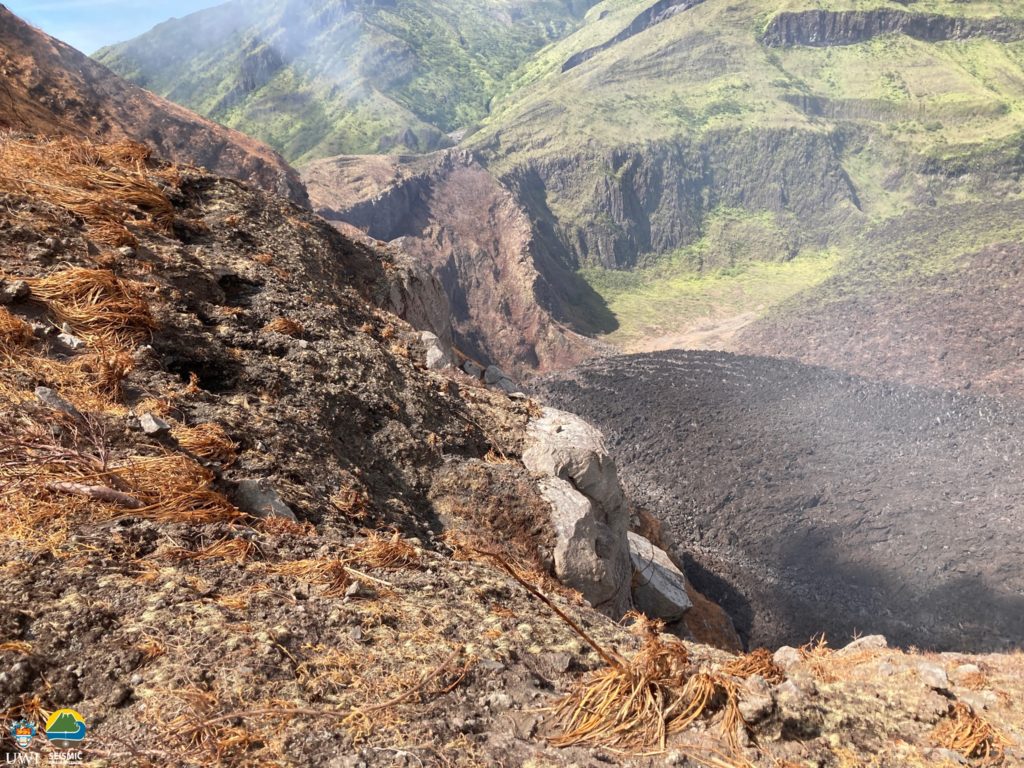 Starting at approximately 10:30 local time (14:30 UTC) on 23 March 2021, the monitoring network recorded a swarm of small low-frequency seismic events which lasted for about 45 minutes. These events were different from previous activity in that they were also recorded on other stations. These events were probably associated with magma movement beneath the dome, although their depth cannot be determined. This is the first time that such a swarm has been seen since the seismic network was upgraded in early 2021.
Starting at 16:53 local time (20:53 UTC) on 23 March 2021, the monitoring network started recording volcano-tectonic (VT) earthquakes. These earthquakes are normally associated with underground fractures of the rock mass and are commonly generated by magma pushing through an unyielding rock mass. The volcano-tectonic earthquakes were located beneath the volcano, at depths down to 10 km below the summit. The largest of these had a magnitude of 2.6. Some of them have been reported felt by people living in communities close to the volcano such as Fancy Owia and Sandy Bay.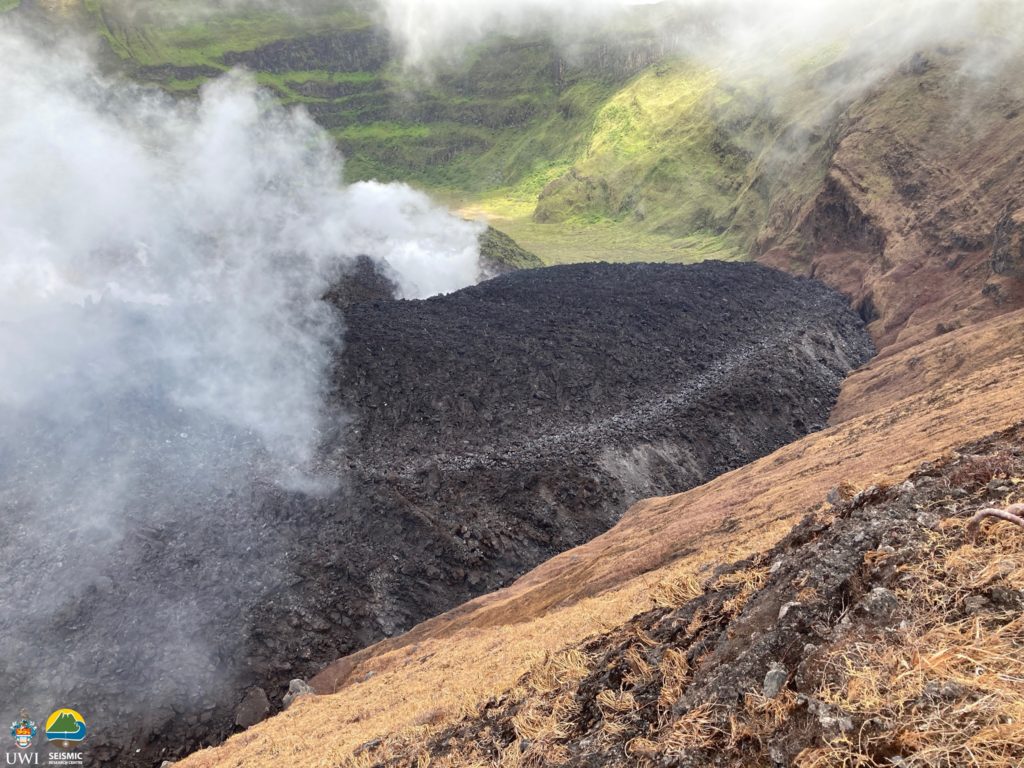 Right side of the new dome showing the spread along the bottom of the crater. The new material is now close to the fumarole along the old dome. The volume of the dome is now estimated at 13.13 million m3 and measures 912 m in length, 243 m in width and 105 m in height.
At the present time the volcano-tectonic earthquakes continue, with the numbers of events fluctuating. The very-small dome-extrusion events also continue.
The National Emergency Management Organisation (NEMO) wishes to inform the public that earthquakes associated with the ongoing eruption of the La Soufrière Volcano continue to occur from time to time and some of the largest ones may be felt. The alert level remains at Orange and no evacuation order or notice has been given. However, NEMO is encouraging residents especially person living in communities close to the volcano (i.e., the Red and Orange Volcanic Hazard zone), to heighten their preparedness in the event that it becomes necessary to evacuate at short notice.
The La Soufrière Volcano continues to be closely monitored by a locally based team consisting of scientists from the Soufriere Monitoring Unit (SMU), The UWI Seismic Research Centre (SRC) and the Montserrat Volcano Observatory (MVO). This team work closely with an extended group based at the SRC (Trinidad) and MVO (Montserrat). The Team Lead at this time is Vincentian Professor Richard Robertson. The monitoring network use a variety of techniques to monitor the volcano that are constantly being improved and upgraded.
Source : UWI.
Photos : UWI/SRC.
Hawaii , Mauna Loa :
19°28'30 » N 155°36'29 » W,
Summit Elevation 13681 ft (4170 m)
Current Volcano Alert Level: ADVISORY
Current Aviation Color Code: YELLOW
Activity Summary:
Mauna Loa Volcano is not erupting. Rates of deformation and seismicity at the summit remain slightly elevated and above long-term background levels. Other Mauna Loa monitoring data streams show no significant change in deformation rates or patterns that would indicate increased volcanic hazard at this time.
Observations:
During the past week, HVO seismometers recorded approximately 223 small-magnitude earthquakes below Mauna Loa, 81 of which were below the summit and upper-elevation flanks of the volcano. All of the earthquakes were less than M2.5 and occurred at shallow depths of less than 6 km (about 4 mi) below ground level. These patterns of seismicity are typical of the past several weeks for Mauna Loa.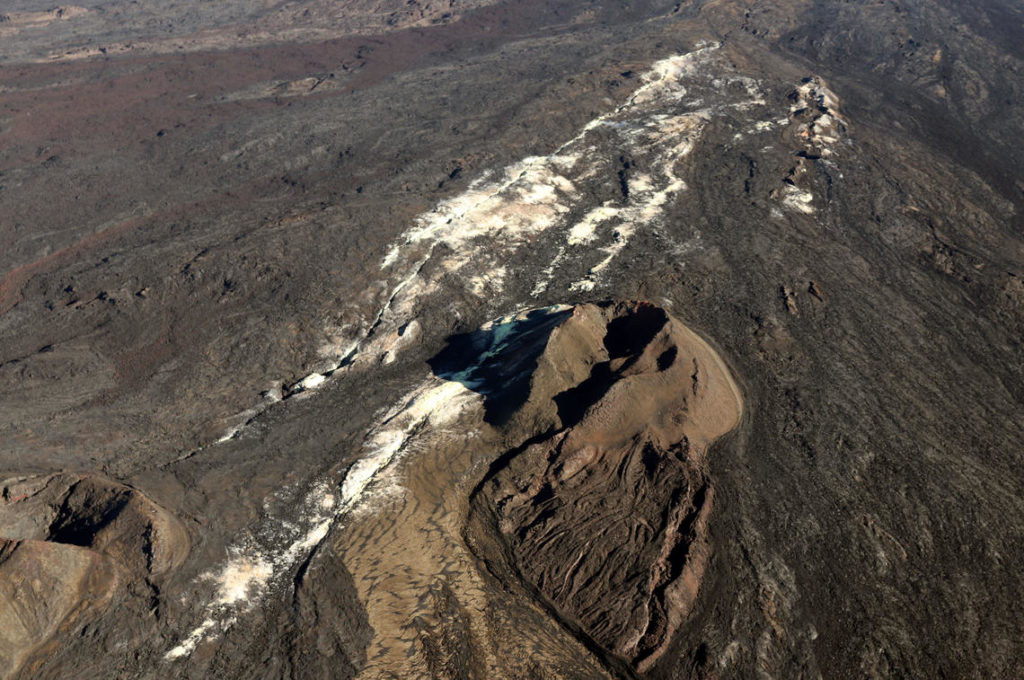 A vertical view of the whole Sulphur Cone area, including a sulphur flow out of one of the cones (yellow bottom of image). The white in the middle of the image is caused by alteration of the rock by volcanic gas.
Global Positioning System (GPS) measurements continue to show slow, long-term summit inflation, consistent with magma supply to the volcano's shallow storage system. A slight increase in the rate of inflation at the summit that began in January is continuing.
Gas concentrations (0 ppm SO2) and fumarole temperatures (below 100 degrees Celsius or 212 degrees Fahrenheit) at both the summit and at Sulphur Cone on the Southwest Rift Zone remain stable.
Webcam views have shown no changes to the volcanic landscape on Mauna Loa over the past week.
Source et photo : HVO.