October 31, 2020. EN . Philippines : Kanlaon , Alaska : Korovin , Ecuador : Reventador , Kamchatka : Klyuchevskoy .
October 31 , 2020.
Philippines , Kanlaon :
KANLAON VOLCANO BULLETIN 31 October 2020 08:00 A.M.
Kanlaon Volcano's monitoring network recorded sixteen (16) volcanic earthquakes during the 24-hour observation period. Moderate emission of white steam-laden plumes that rose 200 meters before drifting northeast and northwest was observed. Sulfur dioxide (SO2) emission was measured at an average of 656 tonnes/day on 13 October 2020. Ground deformation data from continuous GPS measurements indicate slight inflation of the lower and mid slopes since June 2020, while short-term electronic tilt monitoring on the southeastern flanks recorded inflation on the lower to mid slopes that began on 21 June 2020. These parameters may indicate hydrothermal or magmatic processes occurring beneath the edifice.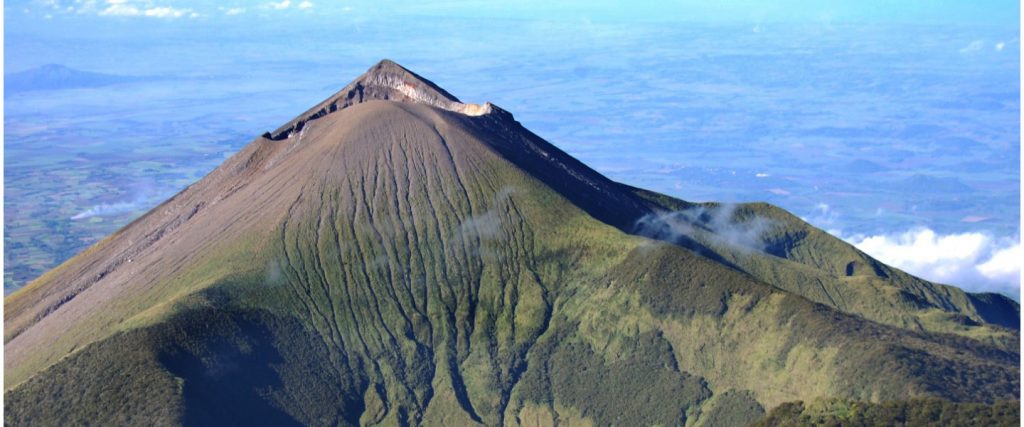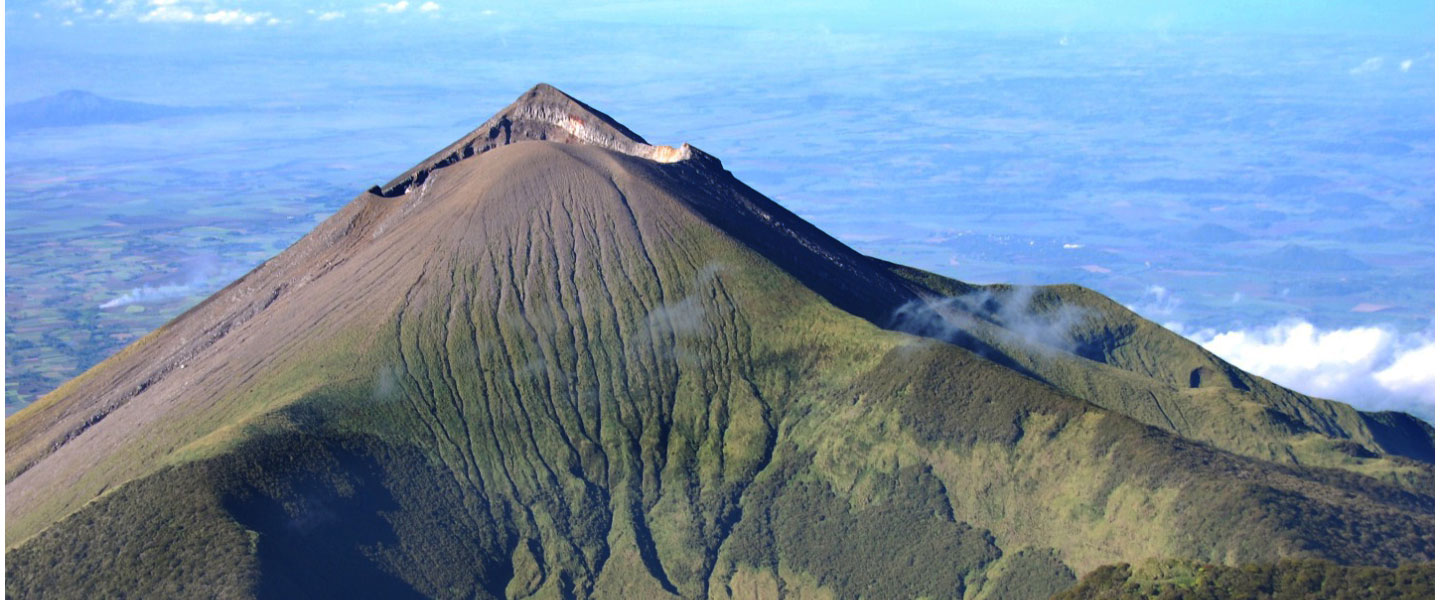 Based on the Severe Weather Bulletin # 3 issued at 05:00 PM today by the Philippine Atmospheric Geophysical and Astronomical Services Administration (PAGASA), Typhoon "ROLLY" will make landfall over Aurora-Quezon Provinces on Sunday evening or Monday early morning, traverse Central Luzon and affect nearly the entirety of Luzon Island. Due to its trajectory, current severe intensity and potentially high-volume rainfall, "ROLLY" can be expected to generate volcanic sediment flows or lahars, muddy streamflows or muddy run-off in rivers and drainage areas on the monitored active volcanoes of Mayon, Pinatubo and Taal. DOST-PHIVOLCS thus strongly recommends increased vigilance and readiness of communities in pre-determined zones of lahar and related hazards on these volcanoes.
Prolonged and heavy rainfall may generate post-eruption lahars on major channels draining Mayon Volcano by incorporating loose material from remnant pyroclastic density current (PDC) deposits from the January-March 2018 eruption. The bulk of erodible PDC deposits occupy the watershed areas of the Miisi, Mabinit, Buyuan and Basud Channels. In addition, older and erodible eruption deposits occupy the watershed areas on the eastern and western slopes of the edifice and can be remobilized as non-eruption lahars by erosion of banks and channel beds. Mayon lahars can threaten communities downstream of the above channels with inundation, burial and wash away. Potential lahars and sediment-laden streamflows may occur along the Miisi, Binaan, Anoling, Quirangay, Maninila, Masarawag, Muladbucad, Nasisi, Mabinit, Matan-ag, and Basud Channels in Albay Province.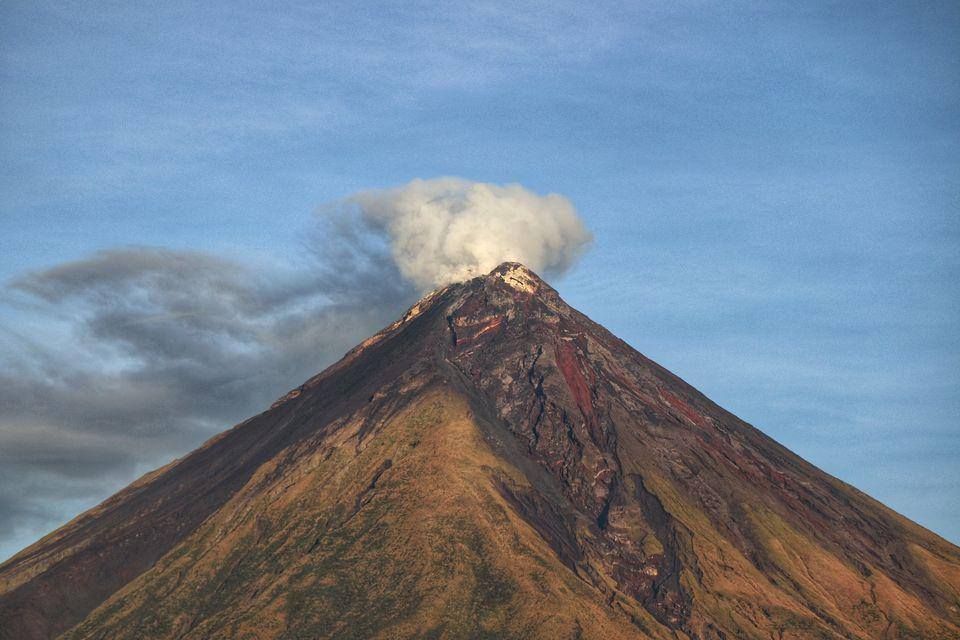 Prolonged and intense rainfall may generate non-eruption lahars on major rivers draining western Pinatubo Volcano where significant deposits of the 1991 PDCs remain on the watershed. Pinatubo lahars are likely be channel-confined and occur on the upper to middle reaches of the Sto. Tomas- Marella and Bucao River systems but may transition to muddy streamflows and floods on the lower reaches and affect adjacent communities of San Marcelino, San Narciso, San Felipe and Botolan, Zambales Province. Muddy streamflows may likewise be generated along the O'Donnell and Pasig-Potrero River systems draining the Pinatubo edifice to the north and southeast, respectively and affect downstream communities in Tarlac and Pampanga Provinces.
Prolonged and heavy rainfall may also generate muddy streamflow and muddy runoff around Taal Volcano, particularly on the slopes west of Taal Lake where thin remnant ash can be remobilized in streams and roads and overland of the lakeward slopes. In particular, muddy streamflow and runoff can recur on previously affected communities of Agoncillo and Laurel, Batangas Province.
Source : Phivolcs .
Photos : Phivolcs , Erickson Banzuela Balderama (mayon )
Alaska , Korovin :
52°22'54 » N 174°9'55 » W,
Summit Elevation 5030 ft (1533 m)
Current Volcano Alert Level: ADVISORY
Current Aviation Color Code: YELLOW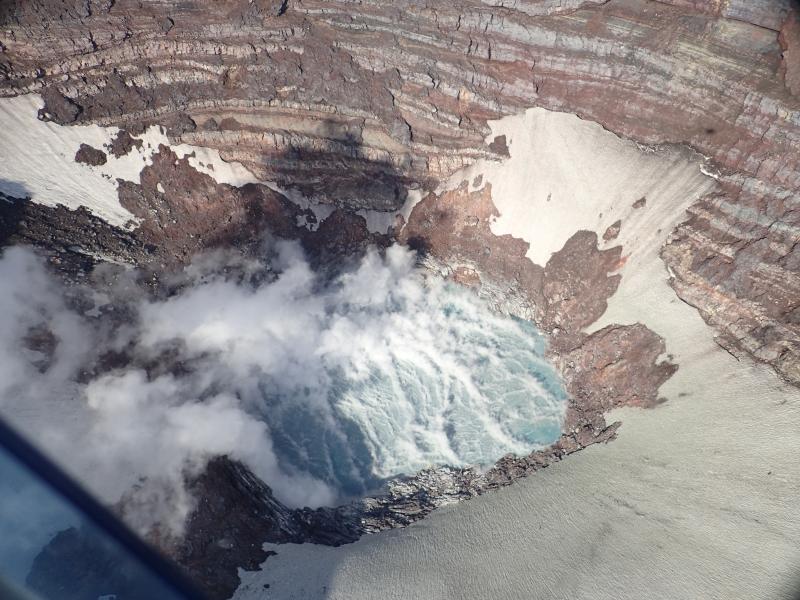 Korovin Volcano's crater and its lake during helicopter flight to measure gas emissions.
Based on satellite detections of significant sulfur dioxide emissions on October 15, 20 and 26 and an increase in seismicity to a level above background, AVO raised the Aviation Color Code and Alert Level at Korovin Volcano to YELLOW/ADVISORY on Wednesday October 28. Discrete earthquakes have been detected over the past two weeks and a larger magnitude (M2.5) earthquake was detected at a shallow depth (3.5 km) near the volcano at 4:10 PM AKDT October 29 (00:10 October 30 UTC). Clear satellite views as of October 26 showed no other signs of activity. Nothing unusual was observed in mostly cloudy satellite views since October 26. AVO will continue to monitor the volcano closely.
Korovin is monitored by local seismic and infrasound sensors, satellite data, and regional lightning detection instruments.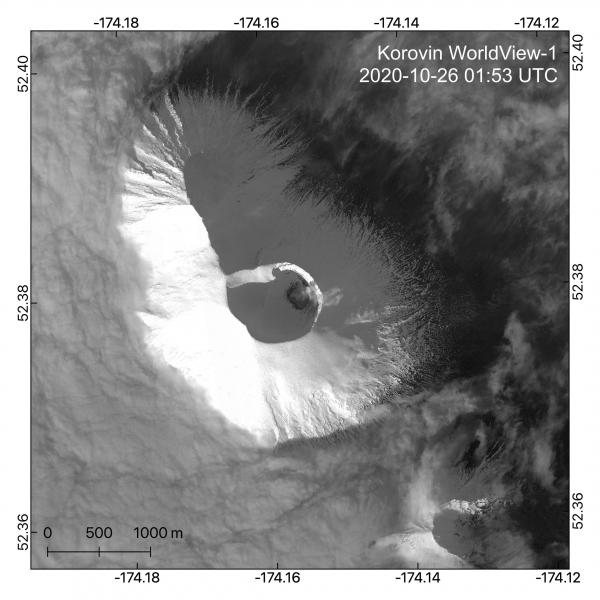 A WorldView-1 satellite image taken on October 26, 2020 (UTC; October 25 local time) shows the typical minor steam plume from the crater lake at the summit of Korovin Volcano. Imagery is panchromatic grayscale.
Korovin Volcano is a 1553-m-high (5030 ft) stratovolcano located on the northern part of Atka Island in the central Aleutian Islands, about 21 km (13 mi) north of the community of Atka, 538 km (350 mi) west of Dutch Harbor, and 1760 km (1100 mi) southwest of Anchorage. The volcano has two distinct summit vents about 0.6 km (2000 ft) apart, that have been the sites of eruptive activity in historical time. The most recently active of the vents maintains a small, roiling, lake that occasionally produces energetic steam emissions. Thermal springs and fumaroles located on and near the volcano indicate an active hydrothermal system. Korovin has erupted several times in the past 200 years, including 1973, 1987, and 1998, and has likely had small ash emissions as recently as 2005. Typical recent Korovin eruptions produce minor amounts of ash and occasional but small lava flows. Reports of the height of the ash plume produced by the 1998 eruption ranged from 4,900 to 10,600 m (16,000 to 35,000 feet) above sea level.
Source : AVO .
Photos : Kelly, Peter , Dietterich, Hannah.
Ecuador , Reventador :
DAILY REPORT OF THE STATE OF THE REVENTADOR VOLCANO, Friday October 30, 2020.
Information Geophysical Institute – EPN.
Surface activity level: High, Surface trend: Increasing.
Internal activity level: High, Internal trend: No change.
Seismicity: From October 29, 2020, 11:00 a.m. to October 30, 2020, 11:00 a.m.
Explosions (EXP): 69 events.
Long periods (LP): 89 events.
Emission tremor (TE): 14 events.
Harmonic tremor (TA): 2 events.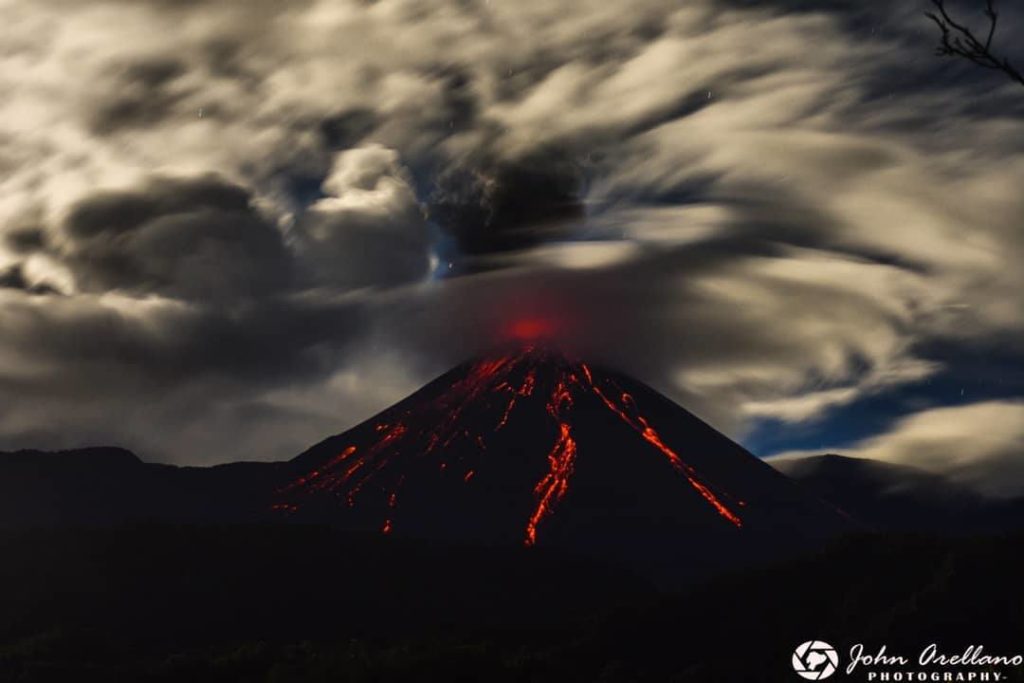 Rains / lahars: Today in the morning, rains were recorded in the area which did not generate mudslides and debris
Emission / ash column: Today, emissions were observed at 1000 meters above crater level in a south-easterly direction.
There were 2 VAAC alerts of emissions observed by satellites reaching 1000 and 1400 meters above the crater level, these emissions were directed respectively to the North-East and the South-East
Other monitoring parameters: MIROVA has recorded 1 low thermal alert on the Reventador in the last 24 hours.
Observations: Since the night until the writing of this bulletin for a few moments the volcano cleared, allowing to observe the described emissions and the incandescence in the crater accompanied by explosions and the rolling of incandescent blocks along the flanks of the volcano up to 600 meters below the level of the crater.
Alert level: Orange.
Source : IGEPN.
Photo : John Arellano.
Kamchatka , Klyuchevskoy :
56.06 N, 160.64 E;
Elevation 15580 ft (4750 m)
Aviation Colour Code is ORANGE
A moderate explosive-effusive eruption of the volcano continues. Ash explosions up to 19,700-23,000 ft (6-7 km) a.s.l. could occur at any time. Ongoing activity could affect low-flying aircraft.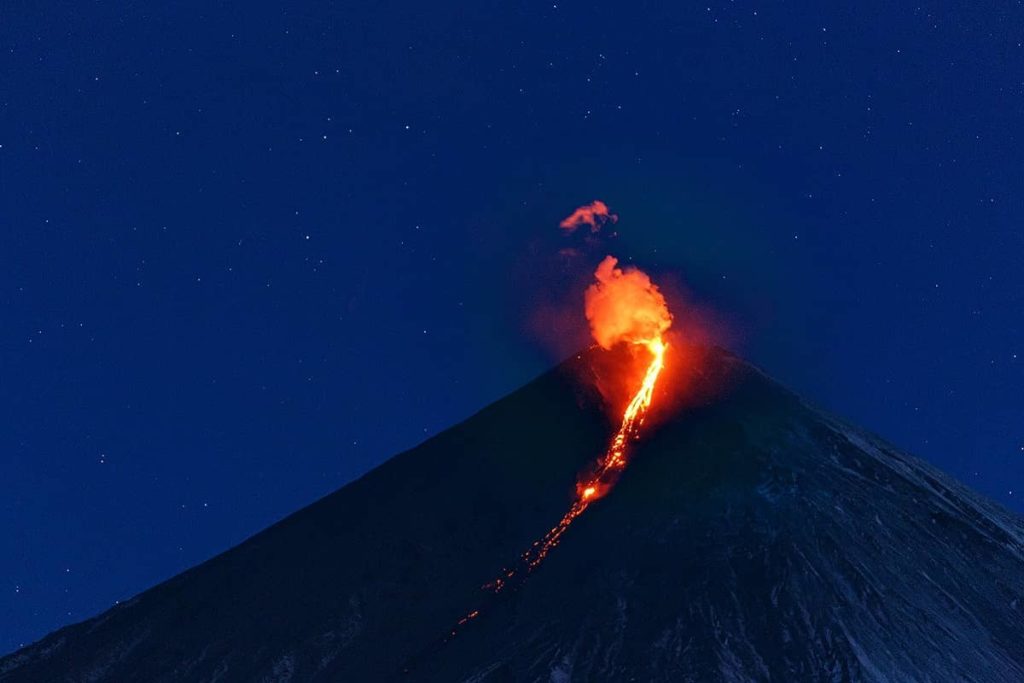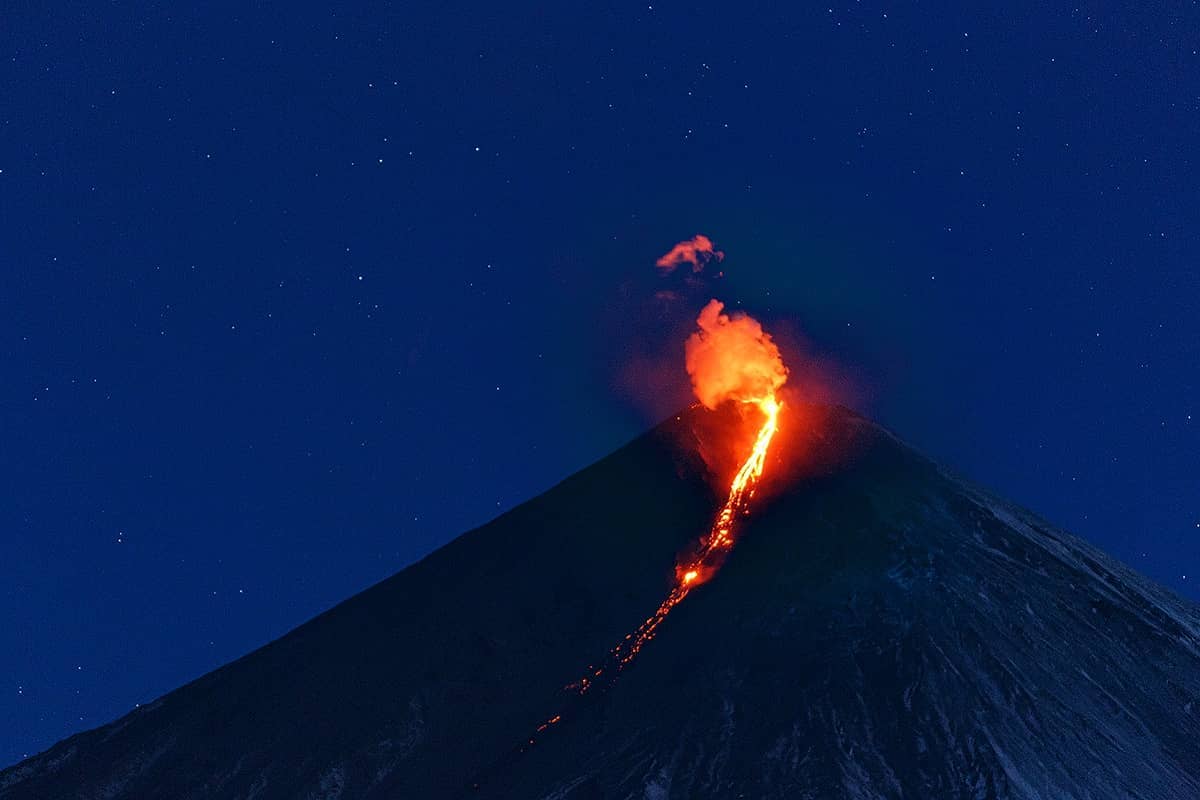 A moderate explosive-effusive eruption of the volcano continues, the Strombolian and gas-steam activity with some amount of ash is observing. The lava flow continues to move along Apakhonchich chute on the southeastern volcanic flank. Satellite data showed a large bright thermal anomaly in the area of the volcano all week.
Source : Kvert .
Photo : Денис Будьков via Sherine France .