October 30 , 2020.
Indonesia , Sinabung :
The activity level has been at level III (SIAGA) since May 20, 2019 at 10:00 a.m. WIB. The Sinabung volcano (2460 m above sea level) has been erupting since 2013. The last eruption occurred on September 5, 2020, causing a column of gray eruption reaching 800 meters above the summit.
The volcano was clearly visible until it was covered in fog. The smoke from the crater was observed to be white with low pressure, thick intensity, 50-300m high above the crater peak. Hot avalanche clouds were observed with a sliding distance of 1000 to 2000 m and avalanches with a sliding distance of 500 to 1000 m to the east and southeast. The weather is sunny / cloudy, with weak to strong winds in the North-East, East and South-East. Air temperature 16-25 ° C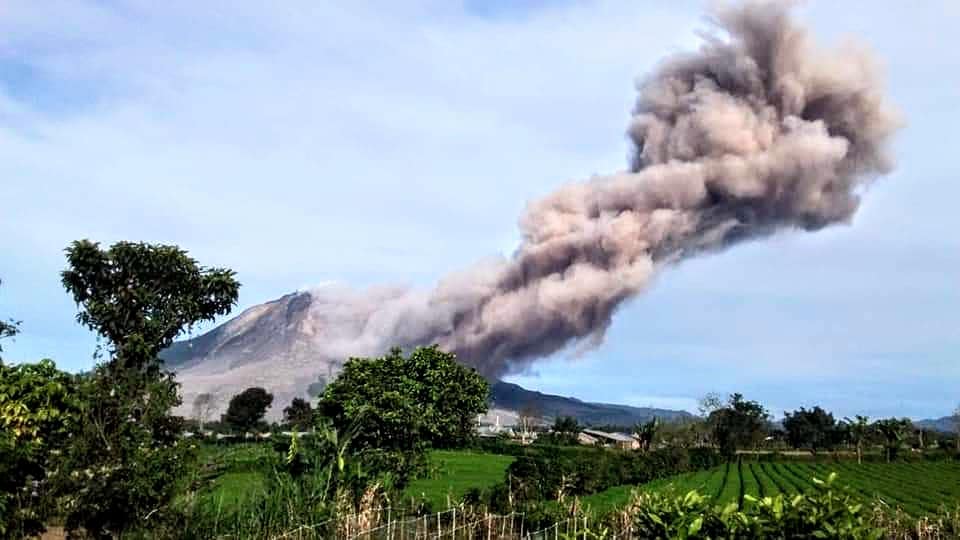 According to the seismographs of October 29, 2020, it was recorded:
2 hot cloud avalanches
87 avalanche earthquakes
35 emission earthquakes
7 low frequency earthquakes
41 hybrid / multiphase earthquakes
1 deep volcanic earthquake
2 distant tectonic earthquakes.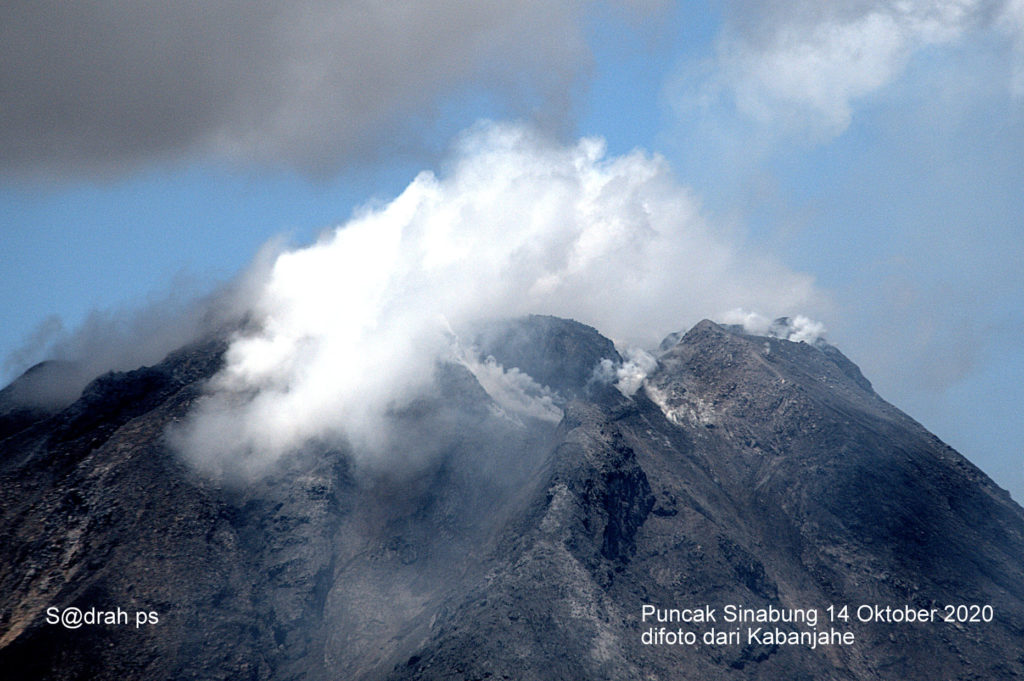 Recommendation:
Communities and visitors / tourists should not carry out activities in villages that have been relocated, as well as within a radial radius of 3 km around the summit of G. Sinabung, with a sector radius of 5 km for the southern sector -East and 4 km for the East-North sector.
In case of ash rain, it is advisable to wear masks and secure the drinking water facilities, clean the roof of the house from dense volcanic ash so that it does not collapse.
People who live near rivers flowing from Mount Sinabung should be aware of the dangers of lahars.
Source : PVMBG.
Photos : Firdaus Surbakti , Sadrah Peranginangin .
Hawaii : Mauna Loa ,
19°28'30 » N 155°36'29 » W,
Summit Elevation 13681 ft (4170 m)
Current Volcano Alert Level: ADVISORY
Current Aviation Color Code: YELLOW
Activity Summary:
Mauna Loa Volcano is not erupting. Rates of deformation and seismicity have not changed significantly over the past week and remain above long-term background levels.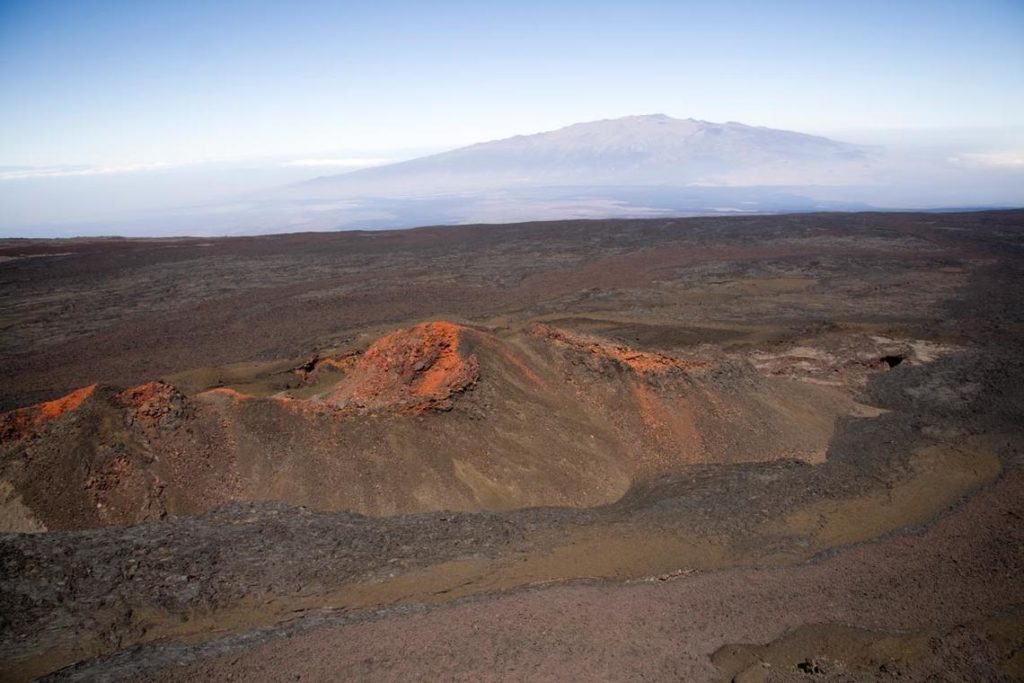 Mauna Loa looking across an unnamed cone toward Mauna Kea
View from above Mauna Loa's upper Northeast Rift Zone looking across an unnamed cone toward Mauna Kea.
Observations:
During the past week, HVO seismometers recorded 36 small-magnitude earthquakes on the volcano's summit and upper-elevation flanks. Most of these earthquakes occurred at shallow depths of less than 8 kilometers (~5 miles) below ground level.
Global Positioning System (GPS) measurements show continued slow summit inflation, consistent with magma supply to the volcano's shallow storage system.
Gas concentrations and fumarole temperatures at both the summit and Sulphur Cone on the Southwest Rift Zone remain stable.
Webcam views have revealed no changes to the landscape over the past week.
Source : HVO.
Chile , Nevados of Chillan :
Special Report on Volcanic Activity (REAV) Ñuble Region, Nevados de Chillán Volcanic Complex October 29, 2020, 12:28 p.m. Local time (Continental Chile)
The National Geological and Mining Service of Chile (Sernageomin) publishes the following PRELIMINARY information, obtained thanks to the monitoring teams of the National Volcanic Monitoring Network (RNVV), processed and analyzed at the Volcanological Observatory of the Southern Andes (Ovdas):
On October 29 at 11:55 a.m. local time (2:55 p.m. UTC), monitoring stations installed near the Nevados de Chillán volcanic complex recorded an earthquake associated with fluid dynamics inside the volcanic system (long period type).
The characteristics of the earthquake after analysis are as follows:
TIME OF ORIGIN: 11:55 a.m. local time (2:55 p.m. UTC)
LATITUDE: 36,861 ° S
LONGITUDE: 71.375 ° W
DEPTH: 0.1 km
REDUCED DISPLACEMENT: 621 (cm2).
The characteristics of the surface activity observed by the fixed camera are as follows:
MAXIMUM HEIGHT OF THE DISPERSION COLUMN: 360 meters above the point of emission.
DIRECTION OF DISPERSAL: South-West.
OBSERVATIONS:
Associated with this activity, it was not detected other events, neither seismological, nor visual.
The volcanic technical alert remains at the Yellow level.
Source : Sernageomin.
Photo : Josefauna .
Ecuador , Sangay :
DAILY REPORT ON THE STATE OF SANGAY VOLCANO, Saturday October 10, 2020.
Surface activity level: High, Surface trend: Increasing.
Internal activity level: High, Internal trend: No change.
Seismicity: From October 28, 2020, 11:00 a.m. to October 29, 2020, 11:00 a.m .:
Long period type events: 16
Explosions: 103.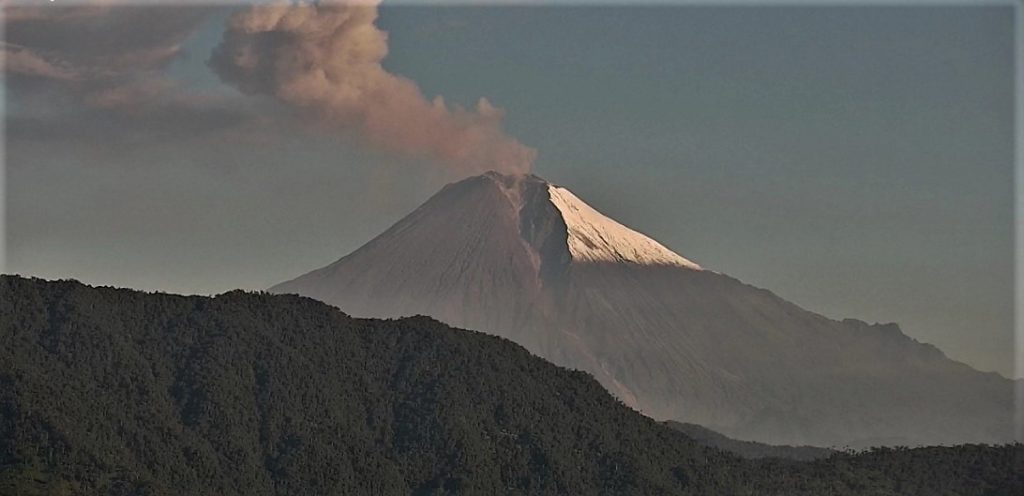 Rains / lahars:
No rains were recorded in the area.
** In case of heavy rains, lahars can be generated in the Volcán, Upano rivers and other tributaries **
Emission / ash column: Gas and ash emissions were observed at altitudes up to 1000 meters above crater level with directions of dispersion varying between East and Southeast. The Washington VAAC reported 4 ash emissions that had heights between 1,200 to 1,500 meters above crater level and with an East / North direction. The Sentinel satellite recorded two SO2 measurements of 773.04 and 689.80 tonnes on October 28 at 12:58 p.m. and 1:18 p.m., respectively.
Other monitoring parameters: FIRMS recorded 19 thermal anomalies on the Sangay in the last 24 hours, while MIROVA reports 1 thermal anomaly of 60 MW at 10:05 am today.
Observations: During the last 24 hours, the volcano has cleared several times, allowing to observe the previously described emissions.
Alert level: yellow.
Source et photo : IGEPN.