October 17 , 2020.
Indonesia , Kerinci :
VOLCANO OBSERVATORY NOTICE FOR AVIATION – VONA .
Issued : October 16 , 2020 .
Volcano : Kerinci (261170)
Current Aviation Colour Code : ORANGE
Previous Aviation Colour Code : yellow
Source : Kerinci Volcano Observatory
Notice Number : 2020KER27
Volcano Location : S 01 deg 41 min 49 sec E 101 deg 15 min 50 sec
Area : Jambi, West Sumatra, Indonesia
Summit Elevation : 12176 FT (3805 M)
Volcanic Activity Summary :
Eruption with volkanic ash cloud at 10h40 UTC ( 03h40 local). Eruption and ash emission is continuing.
Volcanic Cloud Height :
Best estimate of ash-cloud top is around 14736 FT (4605 M) above sea level, may be higher than what can be observed clearly. Source of height data: ground observer.
Other Volcanic Cloud Information :
Ash plume moving to north-east
Remarks :
Seismicity dominated by continuous volcanic tremor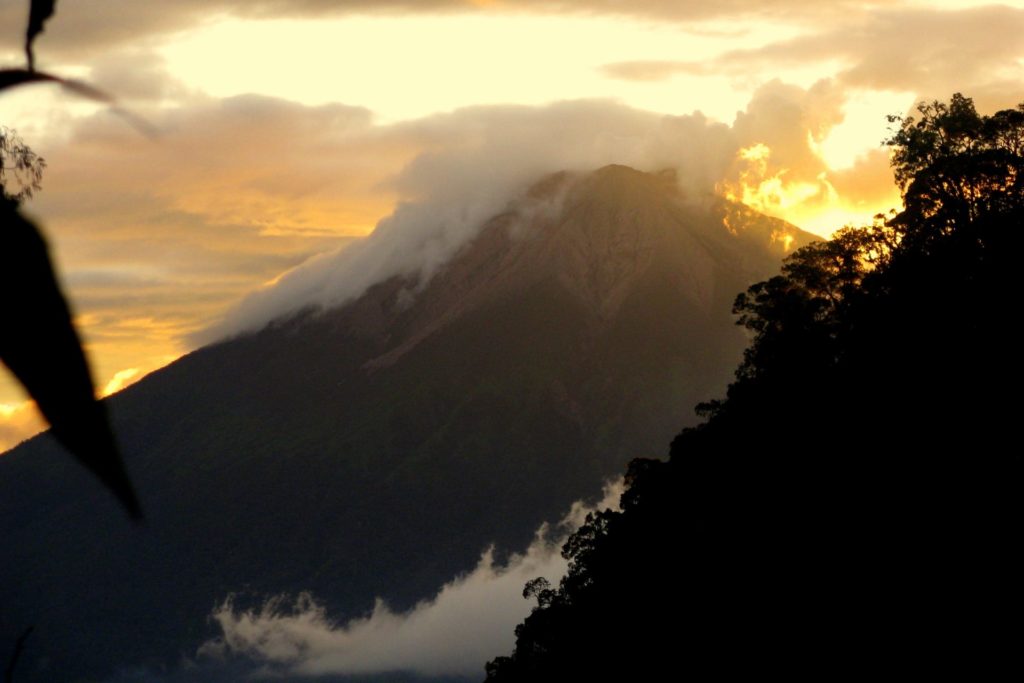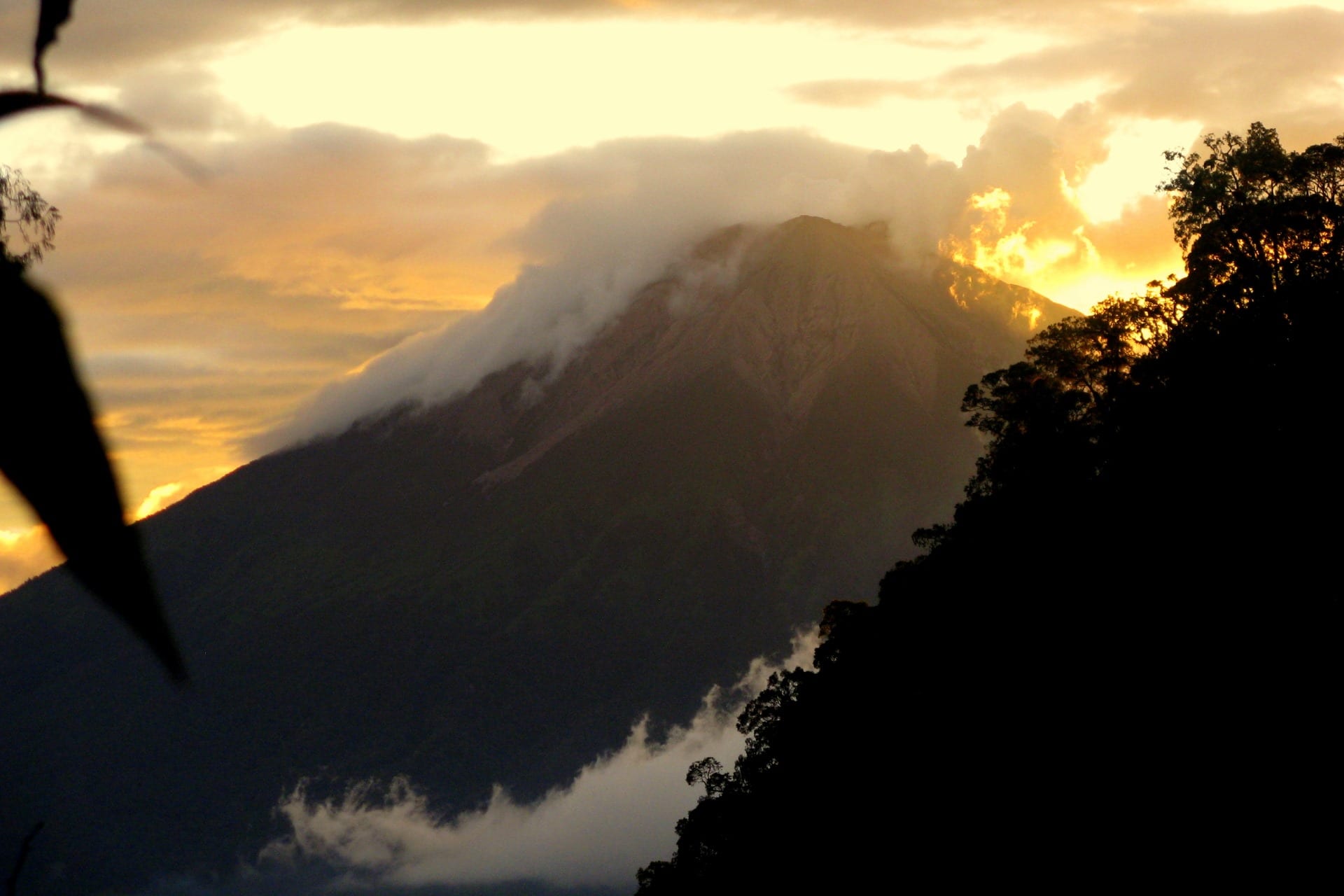 Level of activity at level II (WASPADA). G. Kerinci (3,805 m above sea level) is continuously erupting. The last eruption occurred on March 30, 2019, resulting in a high eruption column 600 meters above the summit. It was observed that the color of the ash column was gray.
The volcano is clearly visible until it is covered in fog. The crater emits white smoke with a low intensity, about 50-200 meters above the summit. The weather is sunny, the winds moderate in the northeast. The air temperature is about 21-25 ° C., humidity 59-71%.
According to the seismographs of October 16, 2020, it was recorded:
107 emissions earthquakes.
4 distant tectonic earthquakes
Continuous tremor amplitude 0.5-1 mm (dominant value 1 mm)
Recommendation:
People around Kerinci Volcano and visitors / tourists are not allowed to climb the crater on top of Kerinci Volcano within a radius of 3 km around the active crater (people are prohibited from doing activities within the danger radius / KRB III).
It is best to avoid flight paths around Kerinci Volcano as at all times it still has the potential for ash eruption at an altitude that can interfere with flight paths.
Source : Magma Indonésie , PVMBG .
Photo : Wild Sumatra
Russia / Kurile Islands , Ebeko :
50.69 N, 156.01 E;
Elevation 3792 ft (1156 m)
Aviation Colour Code is ORANGE
A moderate eruptive activity of the volcano continues. Ash explosions up to 19,700 ft (6 km) a.s.l. could occur at any time. Ongoing activity could affect low-flying aircraft and airport of Severo-Kurilsk.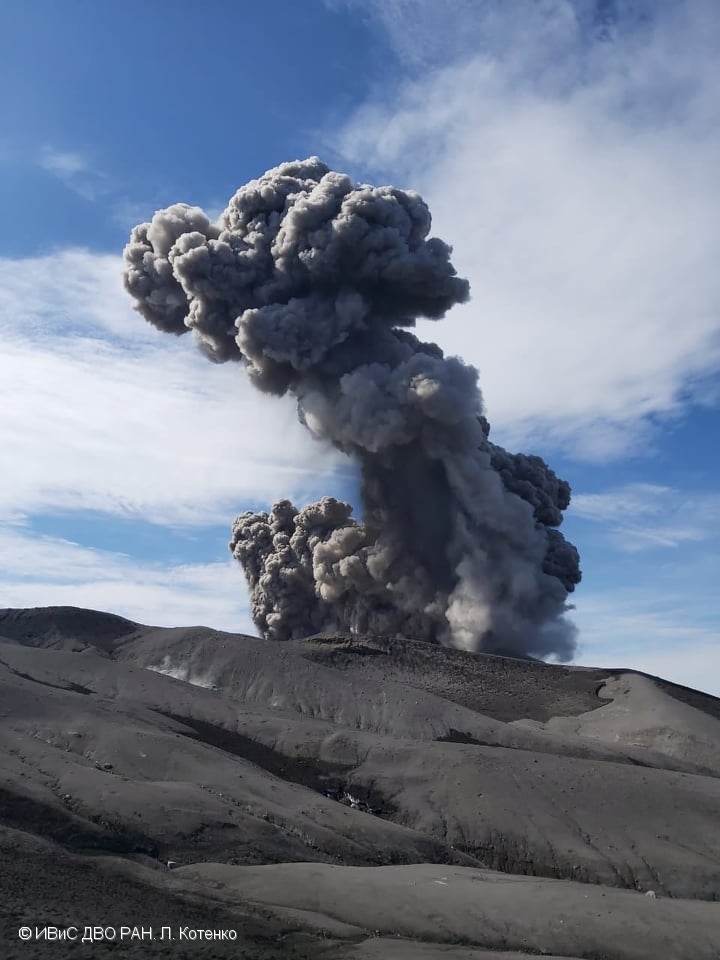 A moderate explosive eruption of the volcano continues. According to visual data by volcanologists from Severo-Kurilsk, explosions sent ash up to 3 km a.s.l. on 08-12 and 14-15 October; ash clouds drifted to the east, southeast, and northeast of the volcano; ashfalls were noted at Severo-Kurilsk on 09-10 October. Satellite data showed a thermal anomaly over the volcano on 12 October, the volcano was obscured by clouds in the other days of week.
Source : Kvert .
Photo : L. Kotenko. IVS FEB RAS .
El Salvador , Santa Ana ( Llamatepec) :
Location: shared by the departments of Santa Ana and Sonsonate
Altitude: 2381 meters above sea level
Type of volcano: Stratovolcano
Type of activity: Vulcanian – Strombolian
Last eruption: October 1, 2005.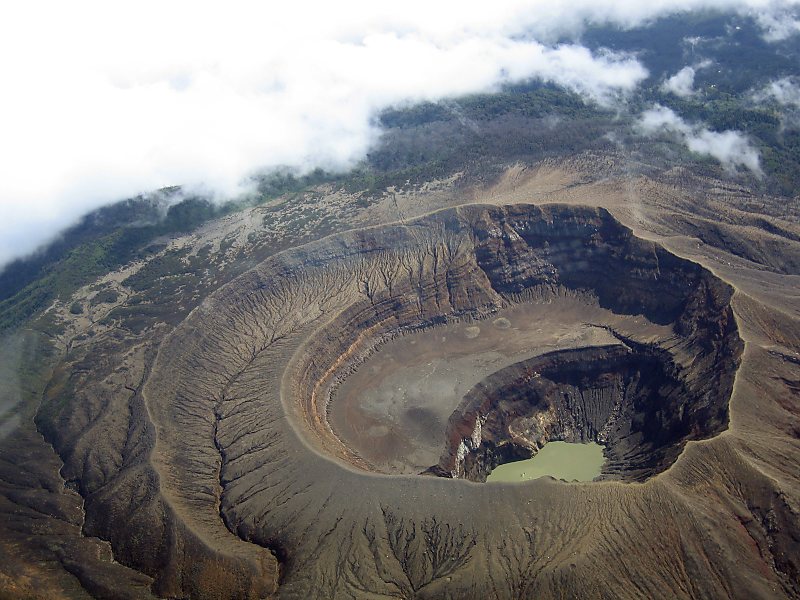 The seismic vibration of the volcano remained between 19 and 22 RSAM units per average day, that is to say in the normal range. Regarding the earthquakes associated with rock fractures, four were recorded during the month, and three presented sufficient energy to be located, with magnitudes between 0.6 and 1.4 and depths less than 3 km . Two were located to the south and one to the northwest of the crater, respectively 3 and 8 km. In addition, 33 earthquakes related to the movement of fluids have been recorded. Concerning Sulfur Dioxide (SO2) emissions, measured with DOAS equipment, they fluctuated between 172 and 357 tonnes per day, with an average of 219 tonnes / d, the threshold being 300 tonnes / d. The resource guards who are in the area of ​​the volcano and who constantly visit it, report that there is no change.
According to the analysis of monitoring data, the volcano remains with latent activity.
Source : Marn .
Photo : José Fernández, U.S Air Force .
Ecuador , Reventador :
DAILY REPORT OF THE STATE OF THE REVENTADOR VOLCANO, Friday October 17, 2020.
Information Geophysical Institute – EPN.
Surface activity level: High, Surface trend: Increasing.
Internal activity level: High, Internal trend: No change.
Seismicity: From October 15, 2020, 11:00 a.m. to October 16, 2020, 11:00 a.m.
Explosions (EXP): 73 events
Rains / lahars: There were no rainfall events in the area.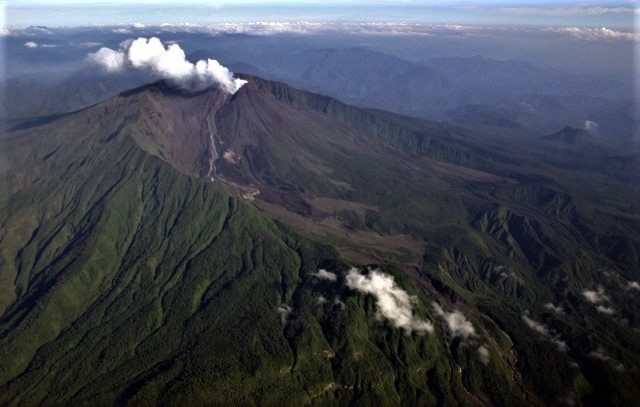 Emission / ash column: Emissions were observed yesterday afternoon, ranging from 500 to 1000 meters above crater level in a northwest and west direction. There were 4 VAAC alerts of emissions observed by satellites reaching 1000 meters above crater level, these emissions were directed to the Northwest.
Other monitoring parameters: FIRMS has logged 1 thermal alert on the Reventador in the last 24 hours.
Observations: During the last 24 hours, the volcano has been cleared for a few moments, allowing to observe the emissions already described. Incandescence was observed in the crater overnight.
The lava flow is still active (~ 400 m) to the northeast and is unchanged. The seismic statistics were carried out at the CASC station located in Dorado de Cascales, about 42 km from the Reventador volcano (Read the statement: http://ow.ly/IB0C30r51gd).
Alert level: Orange.
Source : IGEPN.
Photo : Patricio Ramon, 2005 (Instituto Geofisca, Escuela Politecnica Nacional).
Mexico , Popocatepetl :
October 16, 11:00 a.m. (October 16, 4:00 p.m. GMT)
During the last 24 hours, according to the monitoring system of the Popocatépetl volcano, 165 exhalations accompanied by volcanic gas emissions and sometimes slight amounts of ash have been identified. In addition, 51 minutes of low amplitude tremor and a volcano-tectonic earthquake were recorded yesterday at 10:58 am with a magnitude of 2.6.
During the night, a slight incandescence could be observed above the crater.
Since the morning and at the time of this report, an emission of water vapor, gas and a slight amount of ash has been observed, which disperses in a south-westerly direction.
CENAPRED urges NOT to APPROACH the volcano and especially the crater, because of the danger posed by the fall of ballistic fragments and, in the event of heavy rains, to stay away from the bottom of the ravines because of the danger of flows mud and debris.
The Popocatépetl volcanic alert semaphore is on YELLOW PHASE 2.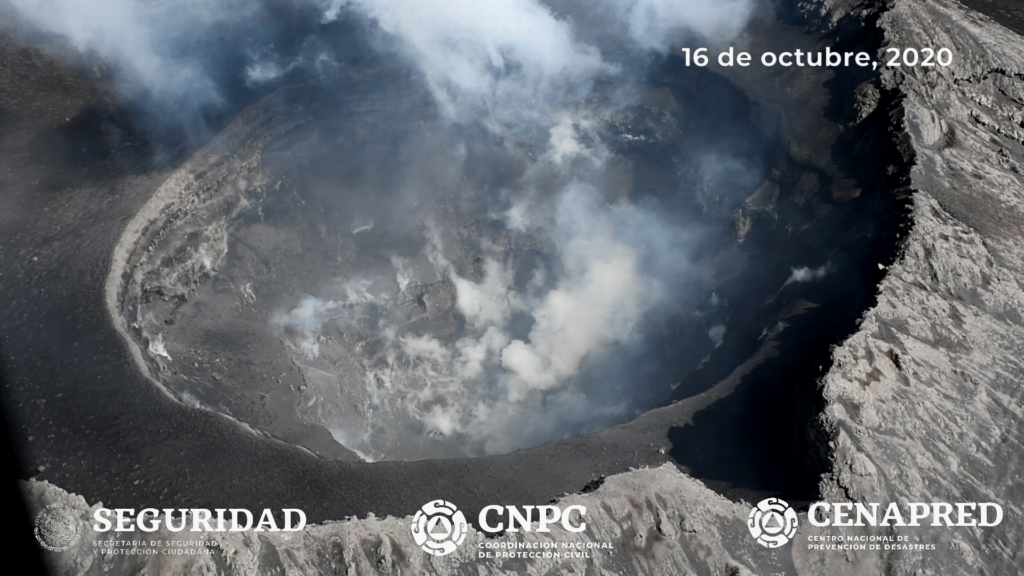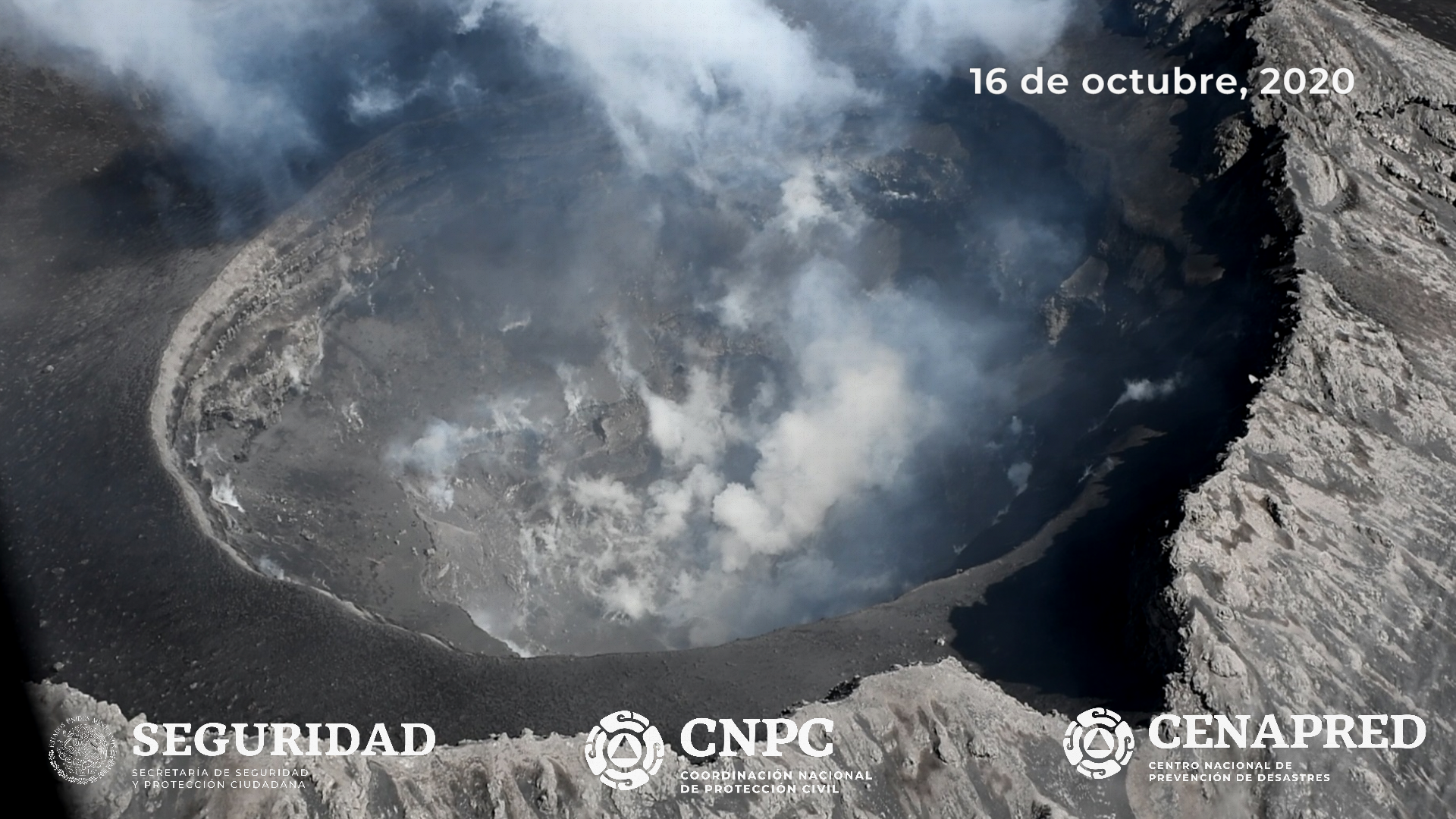 Update October 16, 4:30 p.m. (October 16, 9:30 p.m. GMT)
On October 16, an overflight of the Popocatépetl volcano was carried out with the support of the National Guard, expert staff from the Institute of Geophysics of the National Autonomous University of Mexico (UNAM) and the National Center for Disaster Reduction (CENAPRED ,. to check its general conditions. It has been visualized that the internal crater maintains a diameter of 360 to 390 meters. Its approximate depth is 120 to 170 meters, and is covered by tephra.
Source et photo : Cenapred .