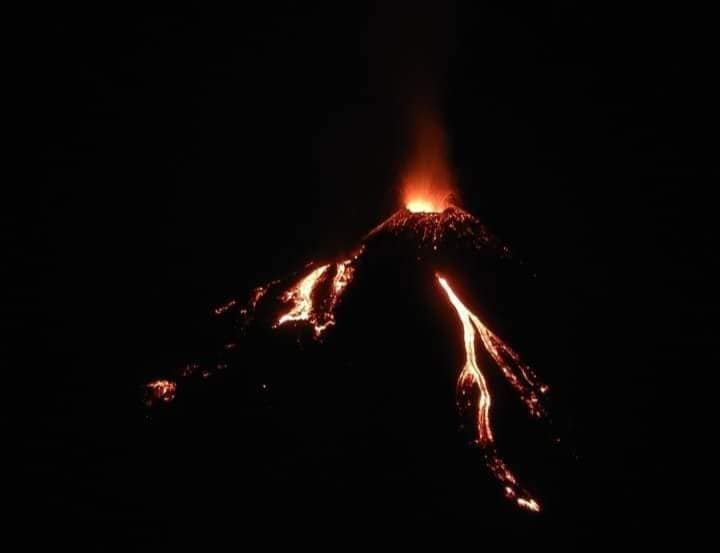 October 09 , 2020. EN . Italy / Sicily : Etna , Papua New Guinea : Langila , Kamchatka : Klyuchevskoy , Guatemala : Pacaya , Hawaii : Mauna Loa .
October 09 , 2020.
Italy / Sicily , Etna :
COMMUNICATION ETNA, October 08, 2020.
The National Institute of Geophysics and Volcanology, Osservatorio Etneo, announces that the increase in explosive activity at the New Southeast Crater (NSEC), reported in the previous press release (Etna 'Update press release n.85 17:33 UTC), is no longer observable as well as the associated ash cloud. However, strombolian activity of varying intensity persists at the New Southeast Crater (NSEC), which fuels sporadic and light ash emissions that are rapidly dispersed in the summit area.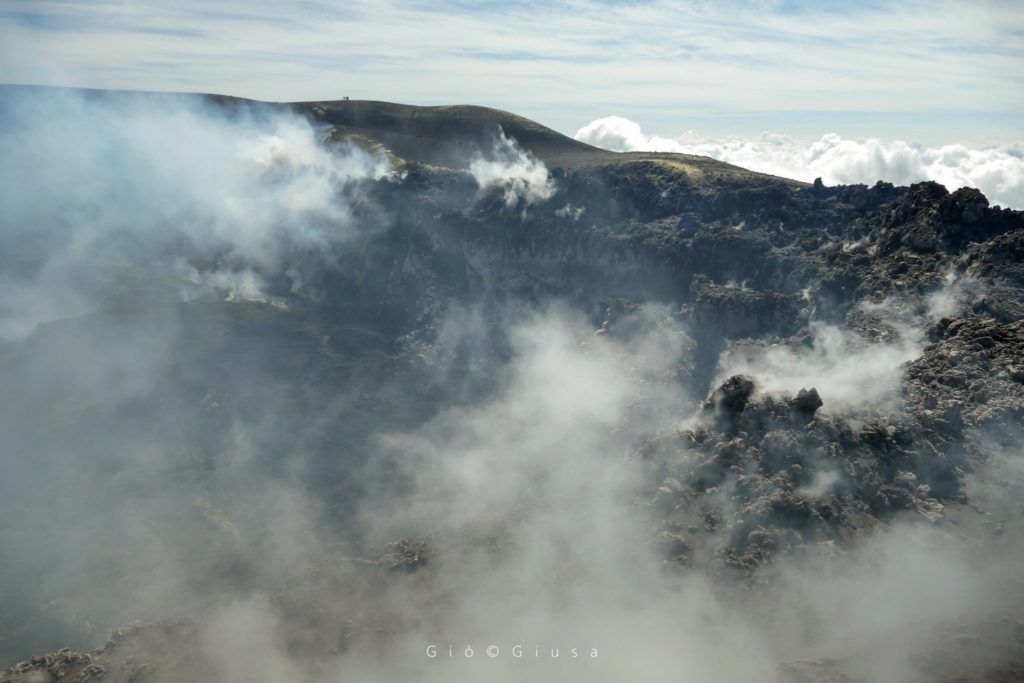 The temporal trend in the amplitude of the volcanic tremor, like the infrasound activity, has not shown significant changes over the past 24 hours. The average amplitude of the tremor is mainly maintained in the range of average values. Infrasound activity is characterized by a low frequency of occurrence of events. As for the location of the sources of the volcanic tremor and infrasound events, it remains confined to the vicinity of the New Southeast Crater (NSEC) area. Soil deformation monitoring networks did not detect any significant changes from the last update.
Further updates will be communicated shortly.
Source : INGV.
Photo : Gio Giusa .
Papua New Guinea , Langila :
5.525°S, 148.42°E
Elevation 1330 m
Based on analyses of satellite imagery and wind-model data, the Darwin VAAC reported that on 5 October an ash plume from Langila rose to an altitude of 1.8 km (6,000 ft) a.s.l. and drifted NW.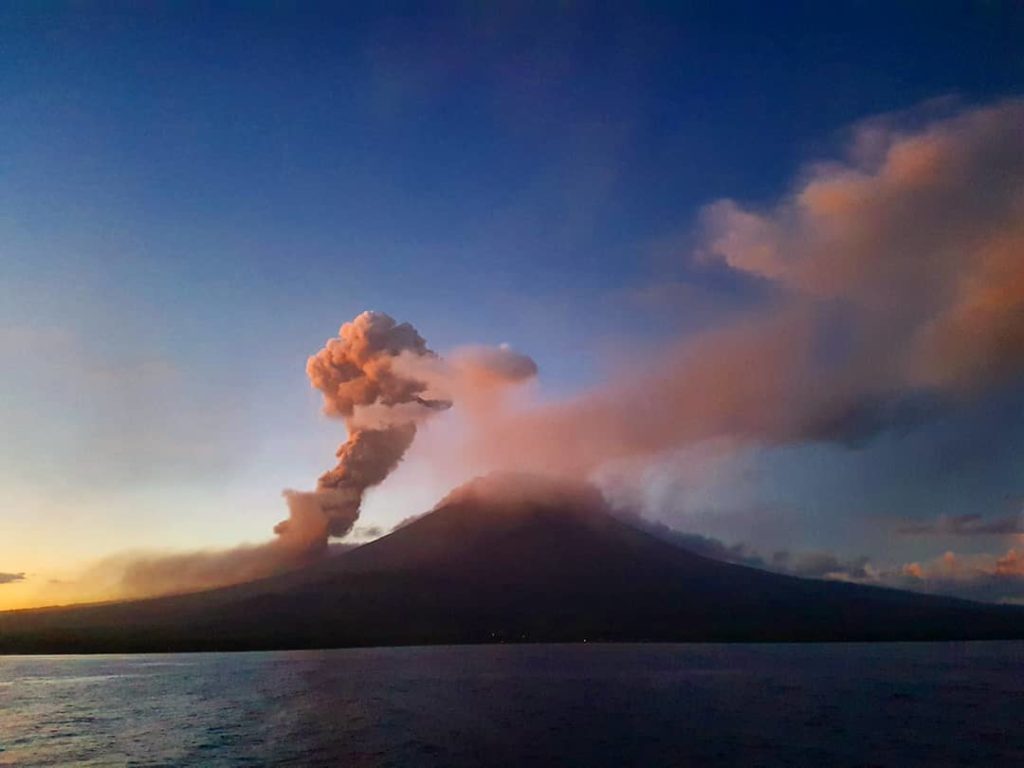 Langila, one of the most active volcanoes of New Britain, consists of a group of four small overlapping composite basaltic-andesitic cones on the lower E flank of the extinct Talawe volcano in the Cape Gloucester area of NW New Britain. A rectangular, 2.5-km-long crater is breached widely to the SE; Langila was constructed NE of the breached crater of Talawe. An extensive lava field reaches the coast on the N and NE sides of Langila. Frequent mild-to-moderate explosive eruptions, sometimes accompanied by lava flows, have been recorded since the 19th century from three active craters at the summit. The youngest and smallest crater (no. 3 crater) was formed in 1960 and has a diameter of 150 m.
Source : GVP ,
Photo : David Gorman via Shérine France ,
Kamchatka , Klyuchevskoy :
VOLCANO OBSERVATORY NOTICE FOR AVIATION (VONA).
Issued: October 09 , 2020
Volcano: Klyuchevskoy (CAVW #300260)
Current aviation colour code: ORANGE
Previous aviation colour code: orange
Source: KVERT
Notice Number: 2020-188
Volcano Location: N 56 deg 3 min E 160 deg 38 min
Area: Kamchatka, Russia
Summit Elevation: 15580 ft (4750 m)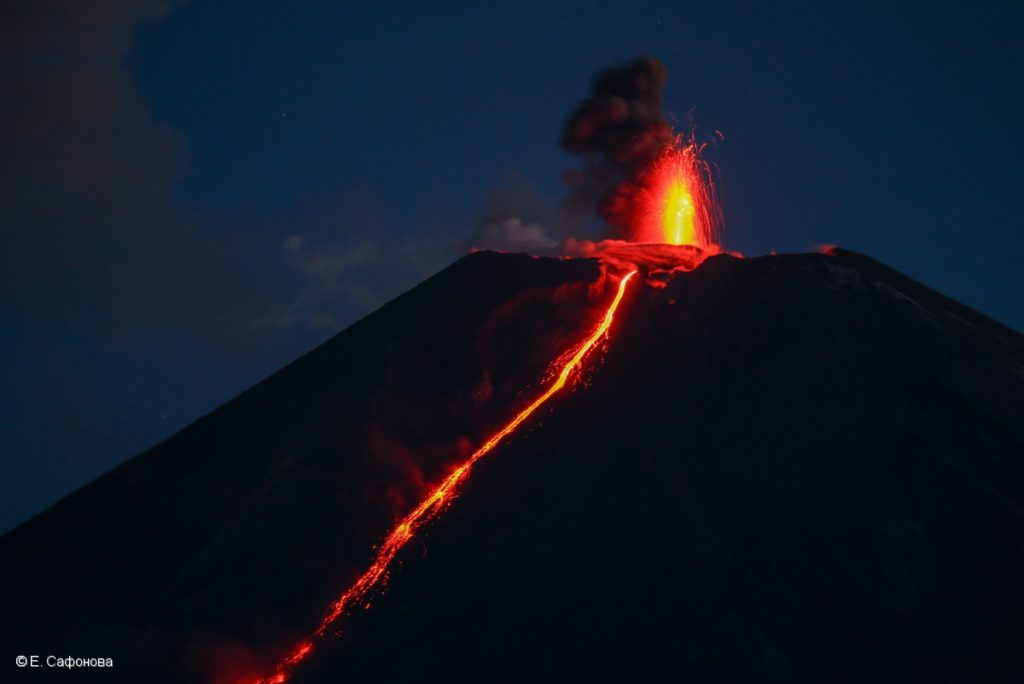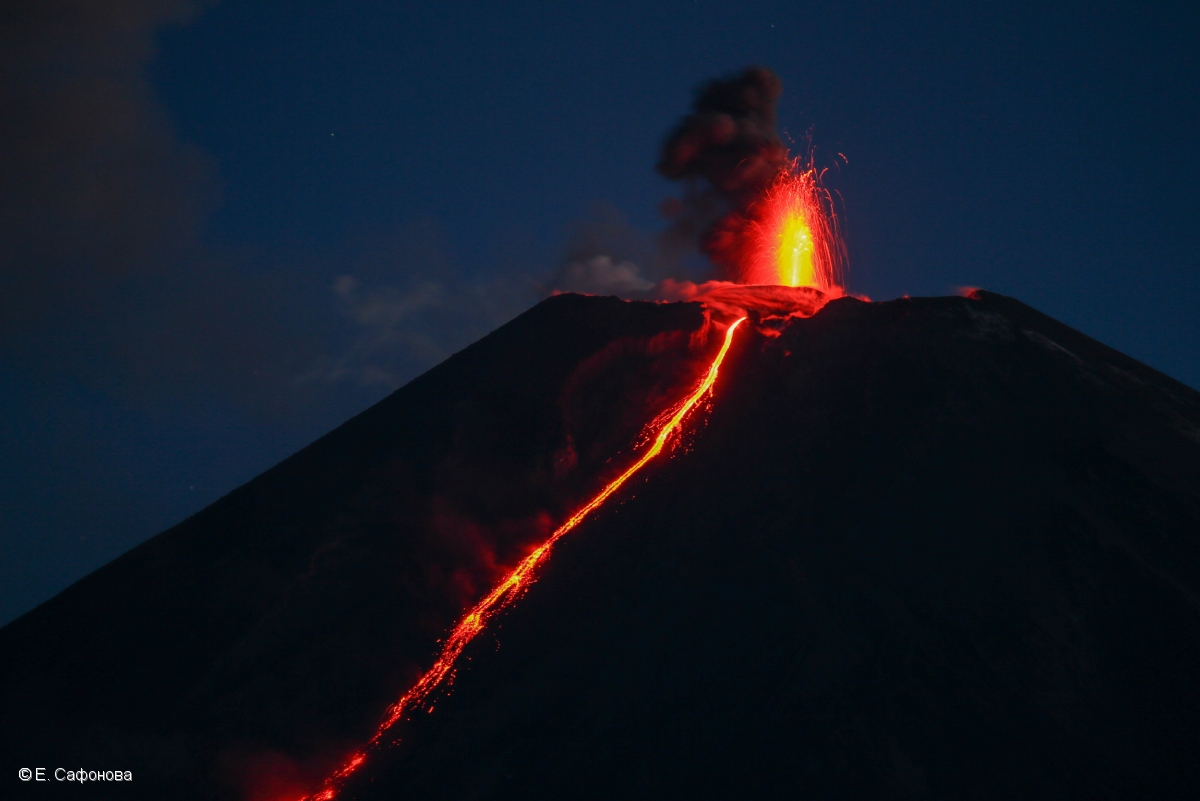 Volcanic Activity Summary:
A moderate explosive-effusive eruption of the volcano continues, the Strombolian and gas-steam activity with some amount of ash is observing. The lava flow continues to move along Apakhonchich chute on the southeastern volcanic flank. Satellite data showed a ash plume to extending to the southeast of the volcano.
A moderate explosive-effusive eruption of the volcano continues. Ash explosions up to 19,700-23,000 ft (6-7 km) a.s.l. could occur at any time. Ongoing activity could affect low-flying aircraft.
Volcanic cloud height:
16400 ft (5000 m) AMSL
Time and method of ash plume/cloud height determination: 20201009/0440Z – Himawari-8
Other volcanic cloud information:
Distance of ash plume/cloud of the volcano: 56 mi (90 km)
Direction of drift of ash plume/cloud of the volcano: ESE / azimuth 117 deg
Source : Kvert .
Photo : E. Saphonova
Guatemala , Pacaya :
SPECIAL VOLCANOLOGICAL BULLETIN
INCREASE IN STROMBOLIAN ACTIVITY OF THE PACAYA VOLCANO
Type of activity: Strombolian.
Morphology: composite stratovolcano
Geographic location: 14 ″ 22'50 ~ Latitude N; 90 ° 36'00 ~ Longitude W
Height: 2,552 meters above sea level.
During the last hours, the activity of the Pacaya volcano has shown increased Strombolian activity, generating moderate explosions expelling volcanic material (tephra, ballistic projections, fine ash) at a height of 200 to 300 meters, above the crater, moving 12 kilometers west. This effusive activity currently forms 4 lava flows on the North and East sides with a length of 250 and 300 meters, with the possibility of generating other flows. Due to this increase, the cinder cone is constantly being built and destroyed.
Due to atmospheric conditions, it is possible to observe lava flows from various points of the capital. This activity is completely effusive, however a greater increase in activity cannot be excluded.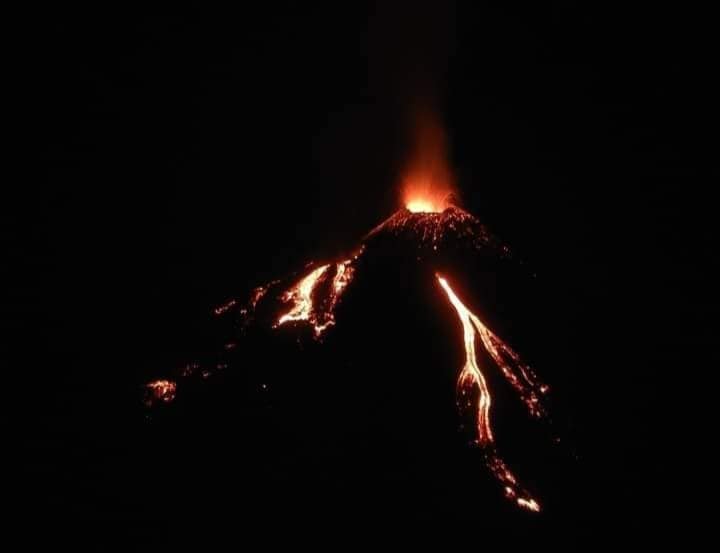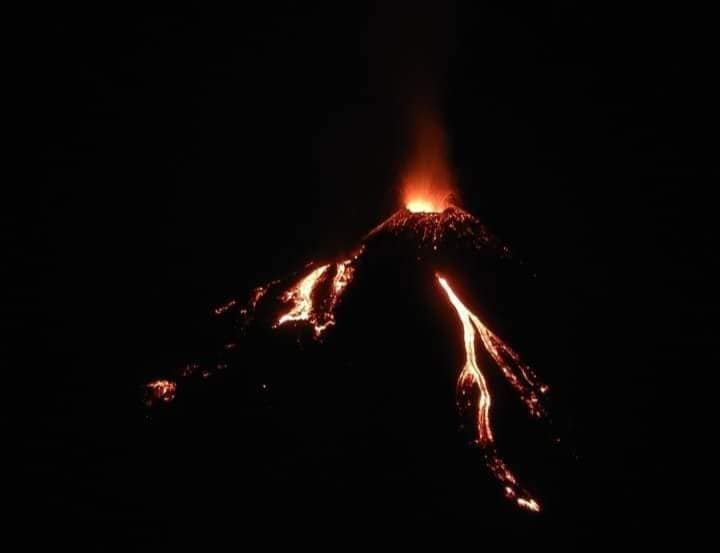 The seismic stations of the PCG and the PCGS record the explosions, the tremors (internal vibrations) generated by the movement of lava flows, the rise of magma, gases.
INSIVUMEH maintains a seismic and visual surveillance through the seismic stations of PCG and PCGS and of OVPAC, for any change or increase in activity that could be observed or recorded.
Source : Insivumeh.
Photo : el Escuintleco via Shérine France .
Hawaii , Mauna Loa :
19°28'30 » N 155°36'29 » W,
Summit Elevation 13681 ft (4170 m)
Current Volcano Alert Level: ADVISORY
Current Aviation Color Code: YELLOW
Activity Summary:
Mauna Loa Volcano is not erupting. Rates of deformation and seismicity have not changed significantly over the past week and remain above long-term background levels.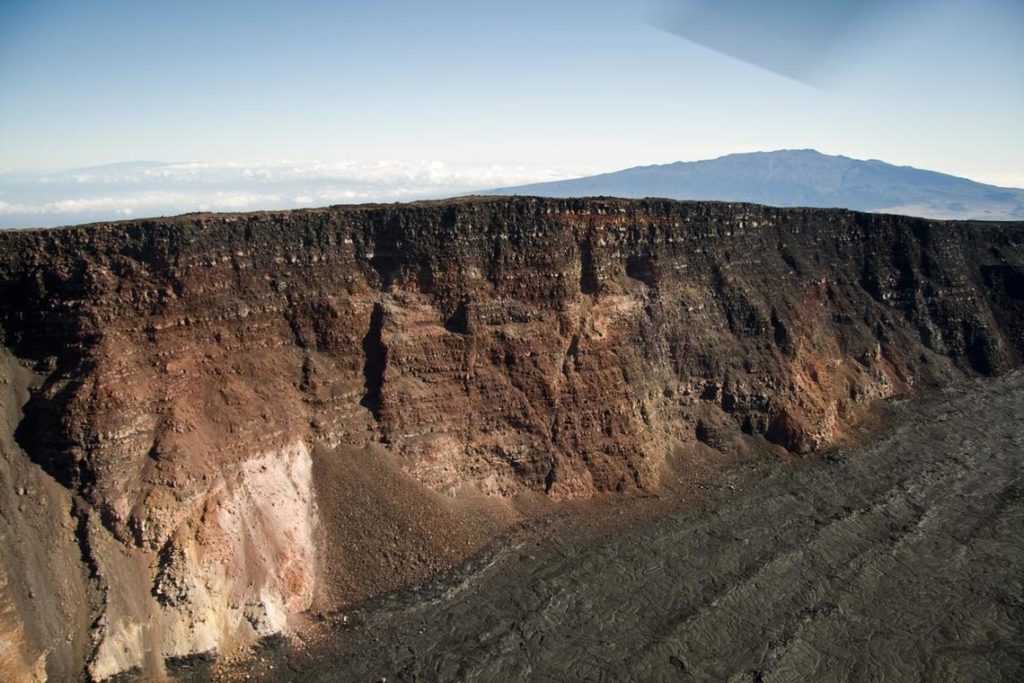 This edge of the cliff above Moku'āweoweo, at an elevation of 13,661 feet, is only a few feet lower than Mauna Loa's high point (out of sight to the left). The cliff here is about 600 feet high. Mauna Kea, in the background to the right rises to an elevation of 13,796 feet, barely 100 feet higher the summit of Mauna Loa.
Observations:
Over the past week, HVO seismometers recorded approximately 98 small-magnitude earthquakes beneath the volcano's summit and upper-elevation flanks. The majority of these earthquakes occurred at shallow depths of less than 8 kilometers (approximately 5 miles) below sea level. The largest earthquake was a magnitude 3.2 (M3.2) event that occurred below the volcano's Southwest Rift Zone on October 6.
Global Positioning System (GPS) measurements continue to indicate slow, long-term summit inflation, consistent with magma supply to the volcano's shallow storage system.
Gas concentrations and fumarole temperatures at both the summit and Sulphur Cone on the Southwest Rift Zone remain stable.
Source : HVO.