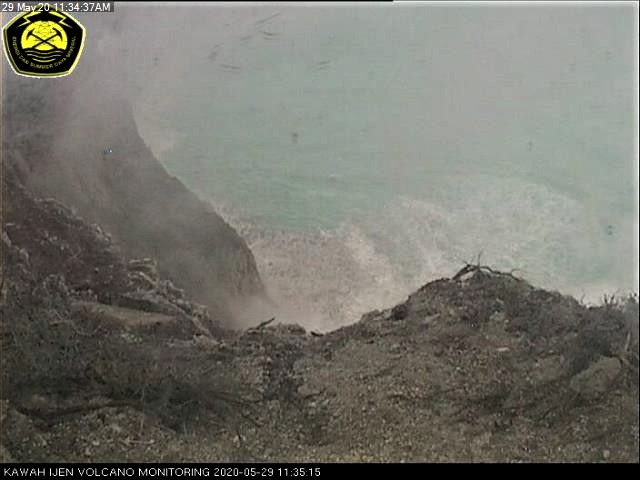 May 30 , 2020.
Indonesia , Kawah Ijen :
Press release on the volcanic activity of Mount Ijen, May 29, 2020.
Gas emission activity from the edge of the crater of G. Ijen on May 29, 2020, at 11.35 WIB.
The activity level of Kawah Ijen has been level I (Normal) since August 8, 2014.
Monitoring data:
Visually, after the increase in seismicity from January 17, 2020 until May 29, 2020, it was observed that white gases of low to moderate intensity had risen, about 50-300 meters above the summit or about 250-500 m above the surface of the lake. Observations to crater lake did not show any change in the water color of crater lake, indicating an increase in sediments from the bottom of the crater to the surface due to high gas pressure.
The types of earthquakes recorded during the period from January 18 to May 29, 2020, were emission earthquakes, non-harmonic tremors, harmonic tremors, tornillo, shallow volcanics, deep volcanics, local tectonics, distant tectonics and continuous tremors. The number of each earthquake fluctuates and does not indicate an increasing trend.
The results of crater lake water temperature measurements from January to mid-May 2020 tend to go up and down slowly in the range of 24.5 to 40.3 ° C.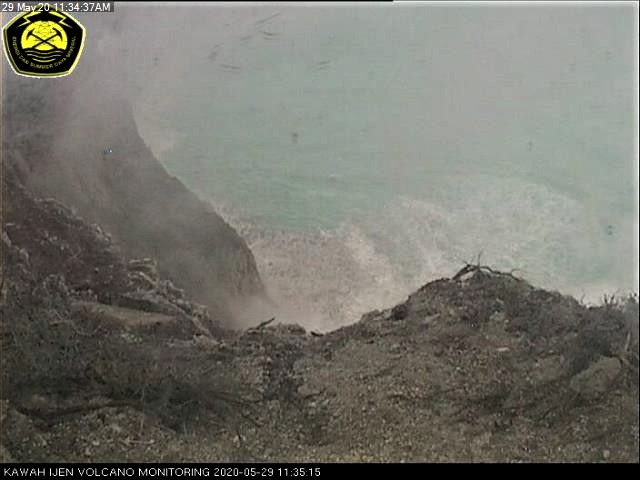 Analysis:
From January to May 2020, the rain was continuous around the crater / peak, which led to the addition of a volume of water in the crater lake and may be an external factor that disturbs the water balance of the lake. crater.
Over the past 3 (three) years, there has been a recurring change in the water temperature of the crater lake which increased to 20 ° C at the start of the year during the rainy season, and the temperature water from the crater lake decreased with the change of season.
Seismicity is dominated by emission earthquakes (very shallow earthquakes) and type B volcanic earthquakes (shallow earthquakes) where the number of events per day fluctuates at a low level (5 events / day) and short-lived tremors (1 to 5 minutes) which occur very rarely from the end of January until May 29, 2020.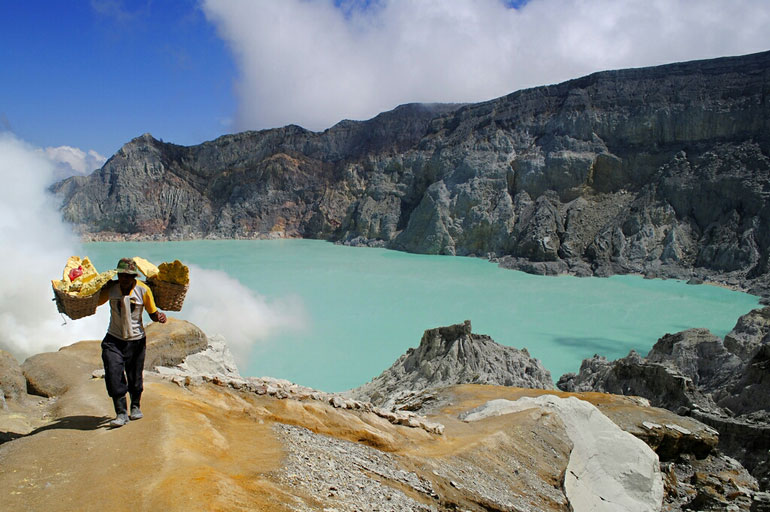 Potential danger:
Under current conditions, the potential threat of volcanic activity from Mount Ijen is high concentrations of volcanic gases around the crater which can suddenly increase due to the rising bursts of gas bubbles from the bottom of the lake.
Conclusion:
According to visual and instrumental observations as of May 29, 2020, volcanic seismic energy has not shown a significant increase. Volcanic activity is currently more dominated by the interaction of crater lake water and seasonal change activities / external factors. The level of volcanic activity of G. Ijen is still at level I (normal).
Recommendation:
The communities around G. Ijen and visitors / tourists / miners should not approach the edge of the crater or descend and approach the bottom of the crater at the top of G. Ijen, and not spend the night in the area of G Ijen within a radius of 1 km around the crater.
Source : PVMBG.
Photos : PVMBG , Auteur inconnu .
Alaska , Shishaldin :
54°45'19 » N 163°58'16 » W,
Summit Elevation 9373 ft (2857 m)
Current Volcano Alert Level: ADVISORY
Current Aviation Color Code: YELLOW
Low-level unrest at Shishaldin Volcano has continued over the past week. Satellite and web camera observations of the volcano have been mostly obscured by clouds for much of the week, although weak to moderate elevated surface temperatures were observed at the summit on May 26–29. Minor amounts of sulfur dioxide gas were detected near the volcano in satellite data on May 28 and 29. The level of seismic activity remains above background with nearly continuous, weak tremor and occasional low-frequency earthquakes occurring over the past week. No evidence of eruptive activity has been observed this week.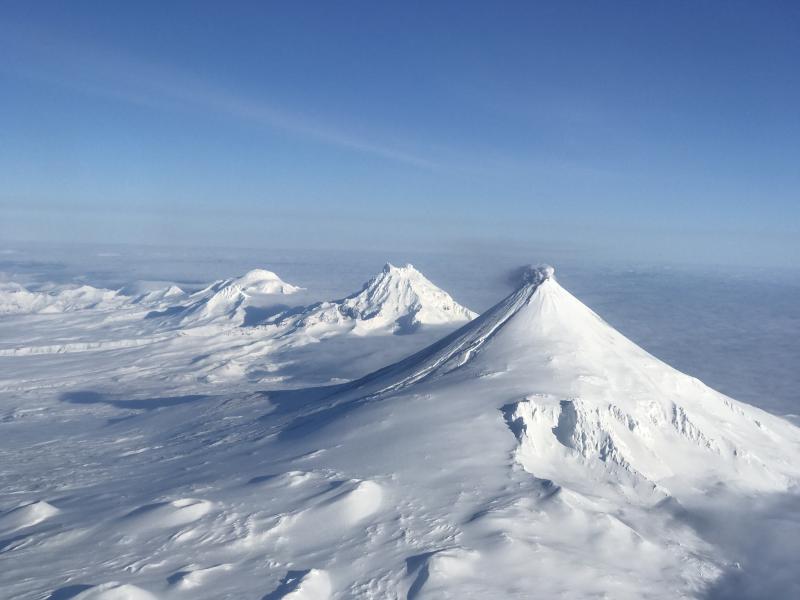 Although the current level of unrest at the volcano remains low, it is possible for activity to escalate at any time with little warning. Thus, ash emission, lava effusion and the possibility of lahars in the drainages extending from the volcano remain plausible outcomes of escalating unrest. Shishaldin is monitored by local seismic and infrasound sensors, satellite data, web cameras, a telemetered geodetic and tilt network, and distant infrasound and lightning networks.
Shishaldin volcano, located near the center of Unimak Island in the eastern Aleutian Islands, is a spectacular symmetric cone with a base diameter of approximately 16 km (10 mi). A 200-m-wide (660 ft) funnel-shaped summit crater typically emits a steam plume and occasional small amounts of ash. Shishaldin is one of the most active volcanoes in the Aleutian volcanic arc, with at least 54 episodes of unrest including over 24 confirmed eruptions since 1775. Most eruptions are relatively small, although the April-May 1999 event generated an ash column that reached 45,000 ft above sea level.
Source : AVO.
Photo : Jacob, Ben David .
Japan , Sakurajima ( Aira) :
31.593°N, 130.657°E
Elevation 1117 m
JMA reported that during 18-25 May incandescence from Minamidake Crater (at Aira Caldera's Sakurajima volcano) was visible nightly. There were 17 explosive events and five eruptive events with plumes rising as high as 2.8 km above the crater rim. Material was ejected 800-1,300 m away from the crater. The daily sulfur dioxide emission rate was high; it was just over 1,200 tons per day on 22 May. The Alert Level remained at 3 (on a 5-level scale).
The Aira caldera in the northern half of Kagoshima Bay contains the post-caldera Sakurajima volcano, one of Japan's most active. Eruption of the voluminous Ito pyroclastic flow accompanied formation of the 17 x 23 km caldera about 22,000 years ago. The smaller Wakamiko caldera was formed during the early Holocene in the NE corner of the Aira caldera, along with several post-caldera cones. The construction of Sakurajima began about 13,000 years ago on the southern rim of Aira caldera and built an island that was finally joined to the Osumi Peninsula during the major explosive and effusive eruption of 1914. Activity at the Kitadake summit cone ended about 4850 years ago, after which eruptions took place at Minamidake. Frequent historical eruptions, recorded since the 8th century, have deposited ash on Kagoshima, one of Kyushu's largest cities, located across Kagoshima Bay only 8 km from the summit. The largest historical eruption took place during 1471-76.
Source : GVP. Japan Meteorological Agency (JMA).
Photo : @volcanohull / public domain / Volcanodiscovery
Philippines , Taal :
TAAL VOLCANO BULLETIN 30 May 2020 08:00 A.M.
In the past 24-hour period, the Taal Volcano Network recorded twelve (12) volcanic earthquakes that are associated mainly with rock-fracturing processes beneath and around the edifice. Four (4) of these earthquakes that occurred yesterday at 8:09 AM, 8:14 AM, 8:30 AM, and 8:38 AM were felt at Intensity I to Intensity II in Laurel, San Luis, San Nicolas, and Taal, Batangas. Weak steaming or fumarolic activity was observed from fissure vents along the Daang Kastila Trail.
Alert Level 1 (Abnormal) is maintained over Taal Volcano. DOST-PHIVOLCS reminds the public that at Alert Level 1, sudden steam-driven or phreatic explosions, volcanic earthquakes, minor ashfall and lethal accumulations or expulsions of volcanic gas can occur and threaten areas within the Taal Volcano Island (TVI). DOST-PHIVOLCS strongly recommends that entry into TVI, Taal's Permanent Danger Zone or PDZ, especially the vicinities of the Main Crater and the Daang Kastila fissure, must remain strictly prohibited. Local government units are advised to continuously assess previously evacuated barangays around Taal Lake for damages and road accessibilities and to strengthen preparedness, contingency and communication measures in case of renewed unrest. People are also advised to observe precautions due to ground displacement across fissures, possible ashfall and minor earthquakes. Civil aviation authorities must advise pilots to avoid flying close to the volcano as airborne ash and ballistic fragments from sudden explosions and wind-remobilized ash may pose hazards to aircraft.
DOST-PHIVOLCS is closely monitoring Taal Volcano's activity and any new significant development will be immediately communicated to all stakeholders.
Source : Phivolcs.
Photo : Raffy Tima .