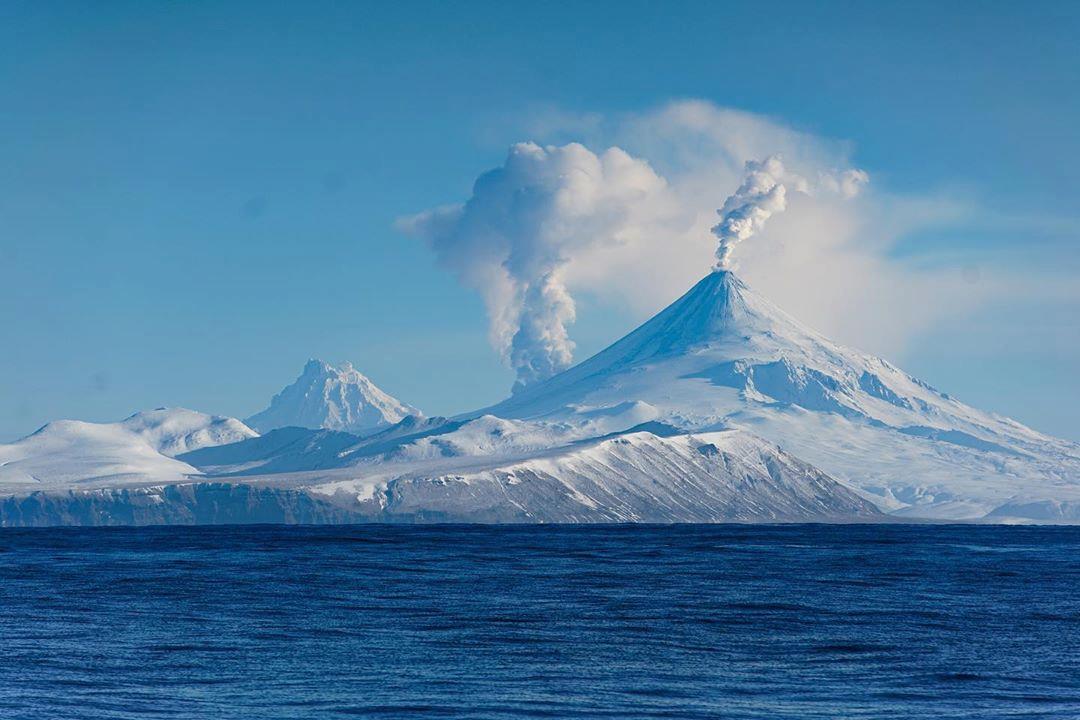 January 22, 2020. EN . Philippines : Taal , New Zealand : White Island , Alaska : Shishaldin , Kamchatka : Klyuchevskoy , Guatemala : Fuego .
January 22 , 2020 .
Philippines , Taal :
TAAL VOLCANO BULLETIN 22 January 2020 8:00 A.M.
Activity in the Main Crater in the past 24 hours has been characterized by weak emission of white steam-laden plumes 50 to 500 meters high from the Main Crater that drifted southwest. Sulfur dioxide (SO2) emission was measured at an average of 153 tonnes/day.
The Philippine Seismic Network (PSN) plotted a total of seven hundred twenty-five (725) volcanic earthquakes since 1:00 PM, January 12, 2020. One hundred seventy-six (176) of these registered at magnitudes M1.2-M4.1 and were felt at Intensities I-V. Since 5:00 AM on January 21, 2020 until 6:00 AM today, there were six (6) volcanic earthquakes plotted, registered at magnitudes M1.5-M2.4 with no felt event.
TAAL VOLCANO ADVISORY: 22 JANUARY 2020 04:00 PM:
This is to notify the public and concerned authorities on the current activity of Taal Volcano.
Since 5:00 AM this morning, there were no ash emissions based on our seismic records and visual observations. However, unconsolidated ash blanketing Taal Volcano Island has been remobilized and transported by strong low-level winds towards southwest (SW), affecting the towns of Lemery and Agoncillo. Reports from several airlines state the presence of remobilized volcanic ash at a height of approximately 5800m (19000ft).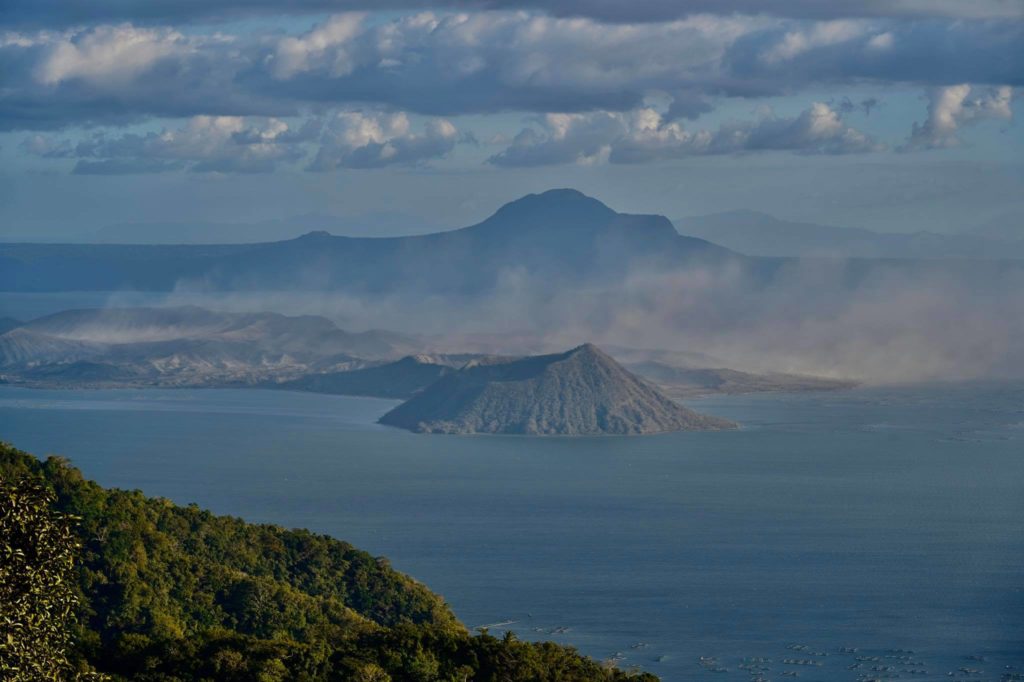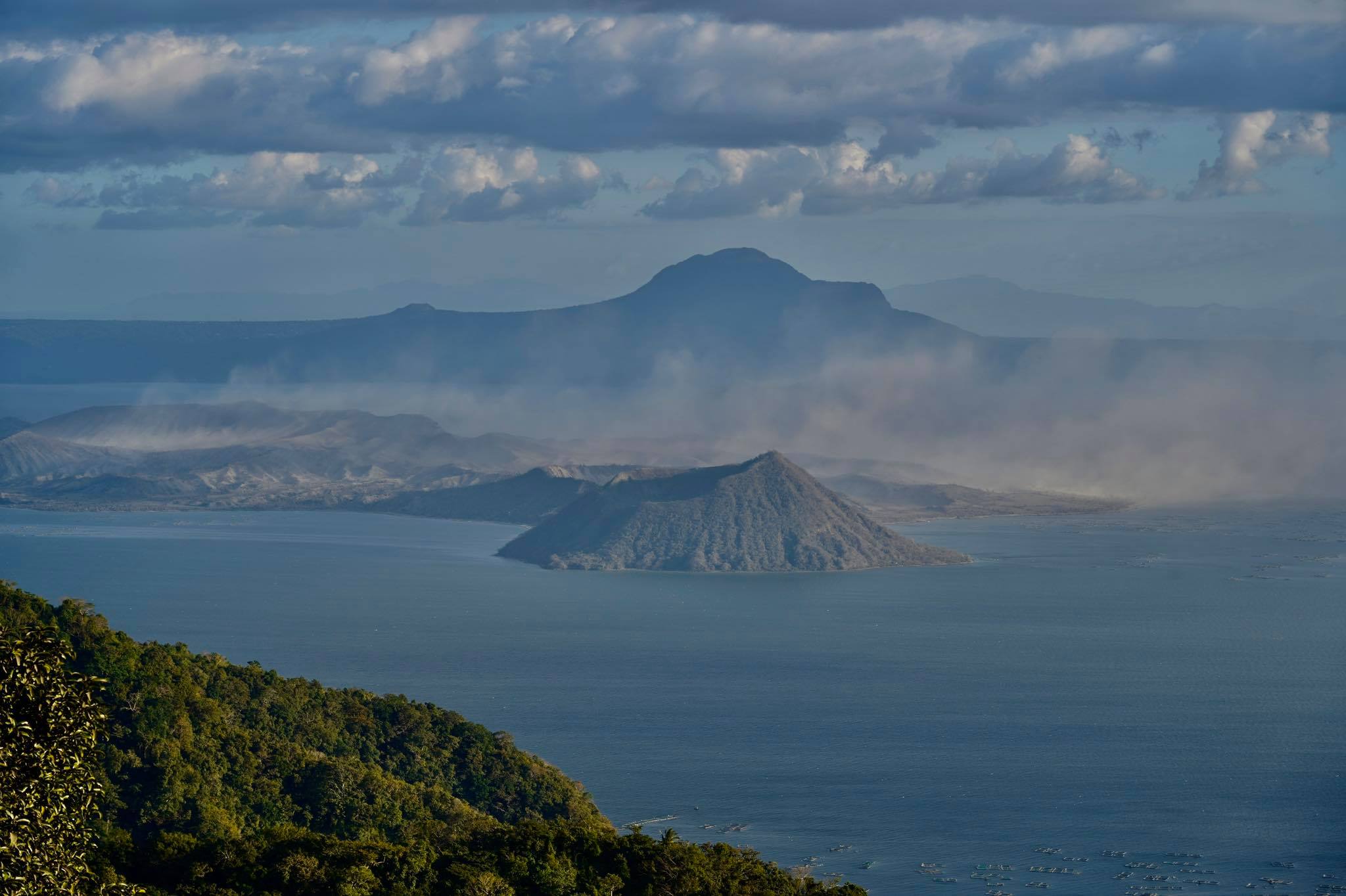 For the past 24 hours, the Taal Volcano Network, which can record small earthquakes undetectable by the PSN, recorded four hundred eighty-one (481) volcanic earthquakes including eight (8) low-frequency earthquakes. Such intense activity likely signifies continuous magmatic intrusion beneath the Taal edifice, which may lead to further eruptive activity.
Alert Level 4 still remains in effect over Taal Volcano. This means that hazardous explosive eruption is possible within hours to days. DOST-PHIVOLCS strongly reiterates total evacuation of Taal Volcano Island and high-risk areas as identified in the hazard maps within the 14-km radius from Taal Main Crater and along the Pansipit River Valley where fissuring has been observed. Based on PAGASA wind forecast, if the eruption plume remains below three (3) km, ash will be drifted to the municipalities west and southwest of the Main Crater; however, if a major eruption occurs during the day and the eruption column exceeds 5 km, ash will also be drifted over the eastern part of Laguna, and some parts of Rizal and Marinduque. Residents around the volcano are advised to guard against the effects of heavy and prolonged ashfall. Civil aviation authorities must advise pilots to avoid the airspace around Taal Volcano as airborne ash and ballistic fragments from the eruption column pose hazards to aircraft.
DOST-PHIVOLCS is continually monitoring the eruption and will update all stakeholders of further developments.
Source : Phivolcs .
Photo : Raffy Tima
New Zealand , White Island :
Volcanic Alert BulletinWI – 2020/03 , Wed Jan 22 2020 12:00 PM; White Island Volcano
Volcanic Alert Level remains at 2
Aviation Colour Code remains at Yellow
Whakaari/White Island remains in an elevated state of unrest. Lava is now visible in the vents created by the eruption. Further explosive eruptions are very unlikely on any given day in the next four weeks. The Volcanic Alert Level remains at Level 2 and the Aviation Colour Code remains Yellow.
Visual observations last week and Monday (20th January) show lava has been extruded into the vents created by the December 9th eruption. In previous bulletins we proposed that magma was at a very shallow level beneath the floor of the crater, and we now have visual confirmation that this magma has risen to the surface. When magma reaches the surface, it is called lava.
Apart from minor ash emissions on December 23rd and 26th, no significantly sustained or strong eruptive activity has been observed since the December 9th eruption.
Airborne measurements of gas on Monday 20th show they are still at the high levels expected after an eruption, and the vent temperature remains very hot (> 400 C).
Considering these new observations, we have recalculated the expert judgement of eruption likelihood. It remains very unlikely (1% chance) that there will be another eruption in any 24-hour period during the next 4 weeks.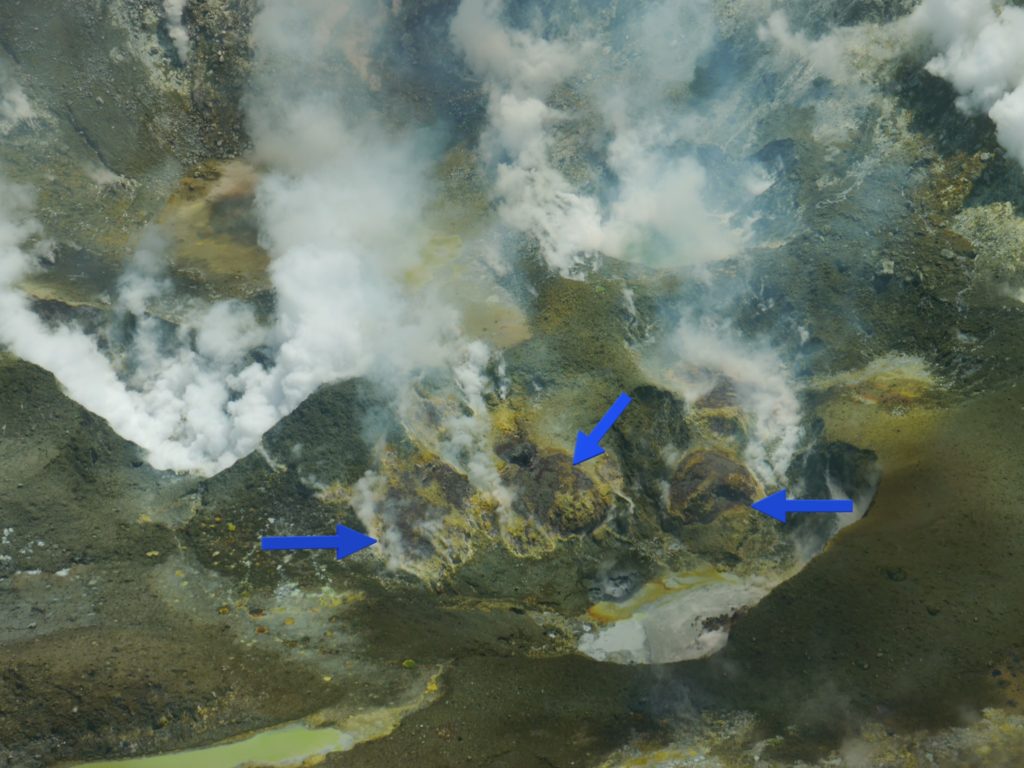 Although very unlikely, an explosive eruption from the active vent area remains possible and could occur with no precursory activity. This style of eruption could be driven by the collapse of unstable material behind the vents, or by a marked decrease in gas emissions allowing water from the reforming crater lake or geothermal system to enter the active hot gas vents.
Should any explosive activity produce an ash cloud, the likelihood of ash affecting the mainland remains low.
All our monitoring equipment on the island is operating and the camera feeds have been re-established on the GeoNet web pages.
Volcanic Alert Level remains at Level 2 Aviation Colour Code remains Yellow
Volcanic Alert Level 2 indicates moderate to heightened unrest with potential for eruption hazards including unpredictable and life-threatening steam driven eruptions.
The Volcanic Alert Level reflects the current level of volcanic activity and is not a forecast of future activity.
GNS Science and our National Geohazards Monitoring Centre continue to closely monitor Whakaari/White Island for further signs of activity. Further updates will be provided as the situation evolves.
Source : Geonet / Craig Miller, Duty Volcanologist
Alaska , Shishaldin :
54°45'19 » N 163°58'16 » W,
Summit Elevation 9373 ft (2857 m)
Current Volcano Alert Level: WATCH
Current Aviation Color Code: ORANGE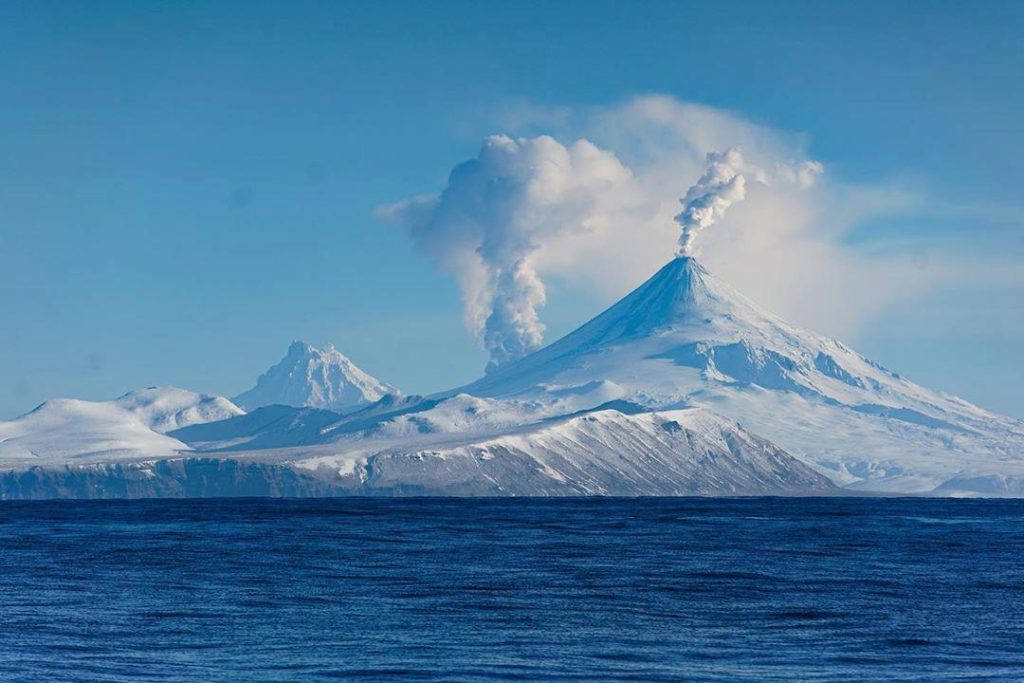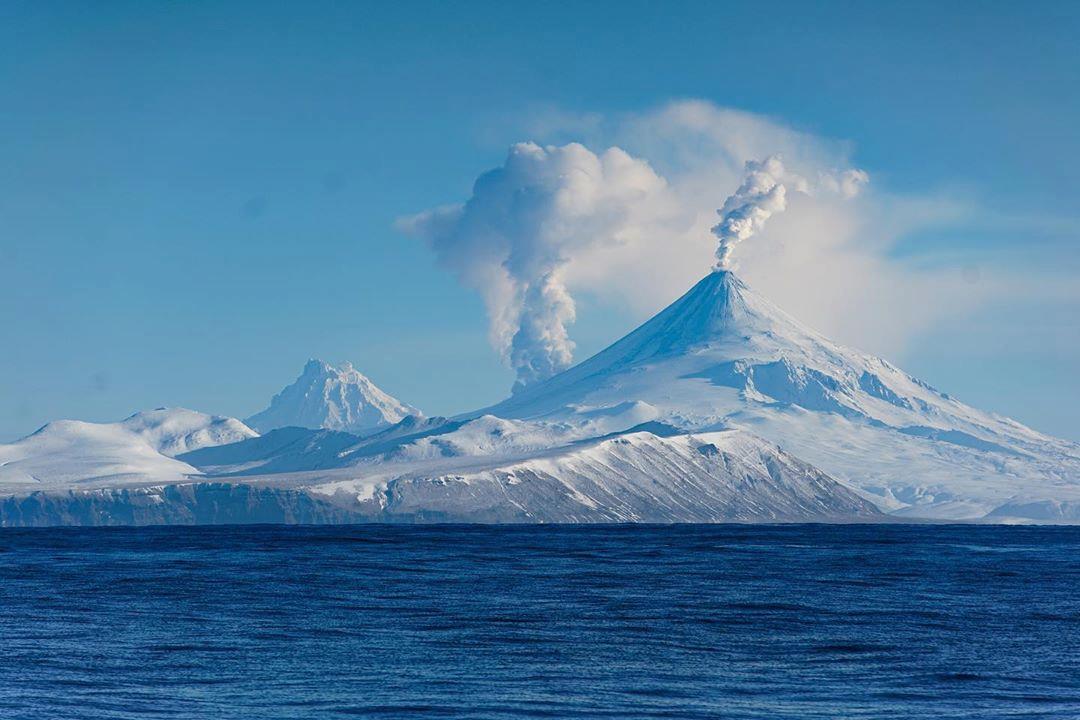 Activity has declined since the eruption over the weekend, and no significant eruptive activity has occurred over the past day. Elevated surface temperatures were observed in satellite images, but the north flank lava flows appear to be cooling and are not active at this time. Seismicity remains above background and coincides with near-continuous airwave detections in regional infrasound data over the past day, suggesting small explosions may occurring at the vent. Clear web camera views also show steaming from the summit. Although the current eruptive activity has declined, it remains possible for unrest to escalate with little warning at any time and additional lava flows, lahars, and ash-producing eruptive events may occur.
Shishaldin is monitored by local seismic and infrasound sensors, satellite data, web cameras, a telemetered geodetic network, and distant infrasound and lightning networks.
Source : AVO.
Photo : Elysha Agne via Sherine France .
Kamchatka , Klyuchevskoy :
VOLCANO OBSERVATORY NOTICE FOR AVIATION (VONA).
Issued: January 22 , 2020 .
Volcano: Klyuchevskoy (CAVW #300260)
Current aviation colour code: ORANGE
Previous aviation colour code: orange
Source: KVERT
Notice Number: 2020-10
Volcano Location: N 56 deg 3 min E 160 deg 38 min
Area: Kamchatka, Russia
Summit Elevation: 15580 ft (4750 m)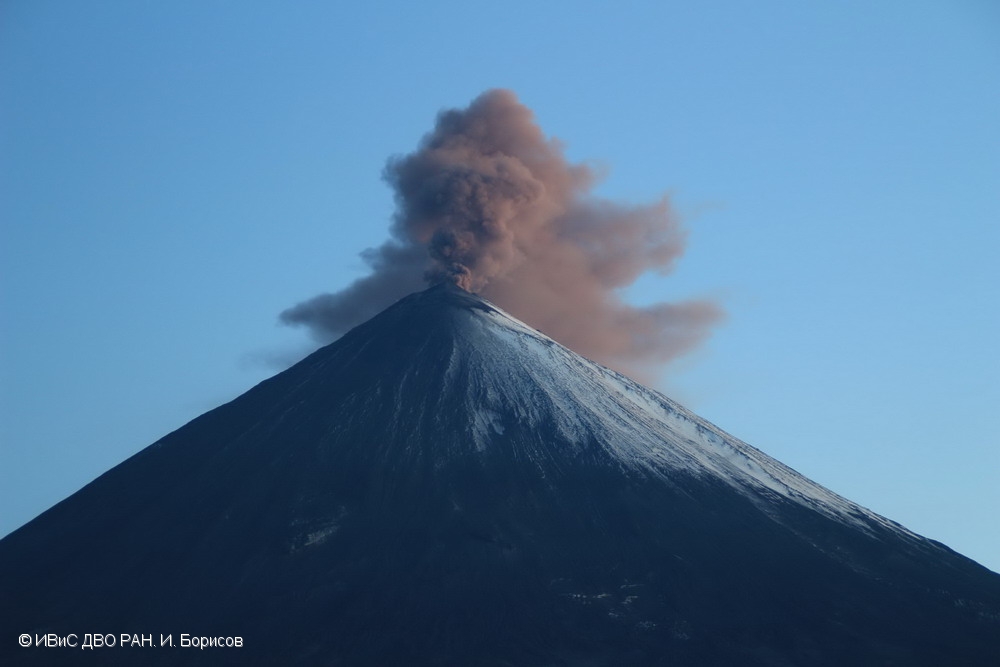 Volcanic Activity Summary:
A moderate eruptive activity of the volcano continues. Explosions send ash up to 5.0-5.5 km a.s.l., and ash plume is extending for 388 km to the northeast of the volcano.
A moderate eruptive activity of the volcano continues. Ash explosions up to 16,400-23,000 ft (5-7 km) a.s.l. could occur at any time. Ongoing activity could affect low-flying aircraft.
Volcanic cloud height:
16400-18040 ft (5000-5500 m) AMSL Time and method of ash plume/cloud height determination: 20200122/0310Z – Video data
Other volcanic cloud information:
Distance of ash plume/cloud of the volcano: 241 mi (388 km)
Direction of drift of ash plume/cloud of the volcano: ENE / azimuth 67 deg
Time and method of ash plume/cloud determination: 20200122/0230Z – Himawari-8
Source : Kvert .
Photo : I. Borisov, IVS FEB RAS.
Guatemala , Fuego :
Type of activity: Vulcanian
Morphology: composite stratovolcano
Location: 14 ° 28'54˝ Latitude N; 90 ° 52'54˝ Longitude W.
Height: 3,763 msnm.
Atmospheric conditions: Clear
Wind: 8 km / h northeast
Precipitation: 0.0 mm.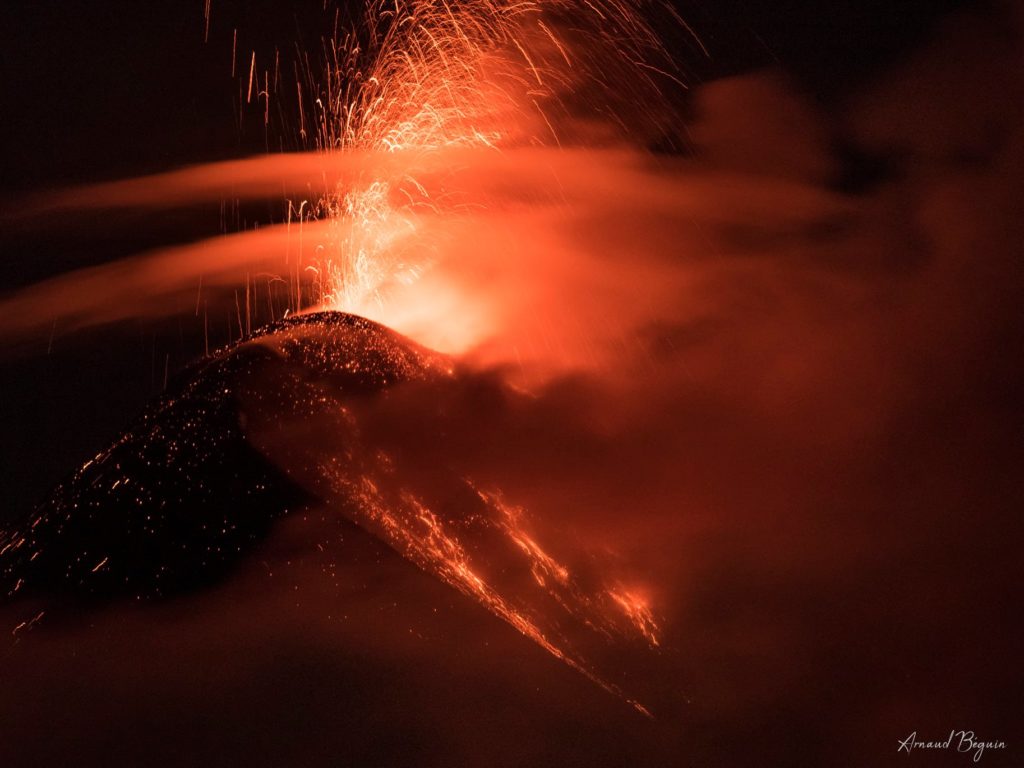 Visible and audible activity:
Presence of a white degassing at an approximate height of 4300 meters above sea level (14108 feet) dispersing in a southwest direction. 8 to 12 weak explosions were generated per hour, expelling columns of gray ash at a height between 4,300 and 4,700 m above sea level (14,108 to 15,420 feet) dispersing in two directions: over 10 kilometers to the southwest and over 18 kilometers to the east. Incandescent pulses in the evening and early morning of about 350 to 500 meters high were observed above the crater with weak and moderate avalanches around the crater towards the ravines of Taniluya, Ceniza, Santa Teresa, Trinidad, Trinidad, Honda and Las Lajas. Some of the materials descend to the edge of the vegetation. Low to moderate rumblings generating shock waves cause vibrations in houses near the volcano. Weak to moderate degassing sounds are noted similar to train locomotives with time intervals between 6 and 9 minutes. During these degassings, a sustained glow is observed in the crater. There are falls of fine particles of ash in the areas of Panimaché I and II, Palo Verde, Sangre de Cristo, Yepocapa and others located in this direction.
Source : Insivumeh .
Photo : Arnaud Béguin