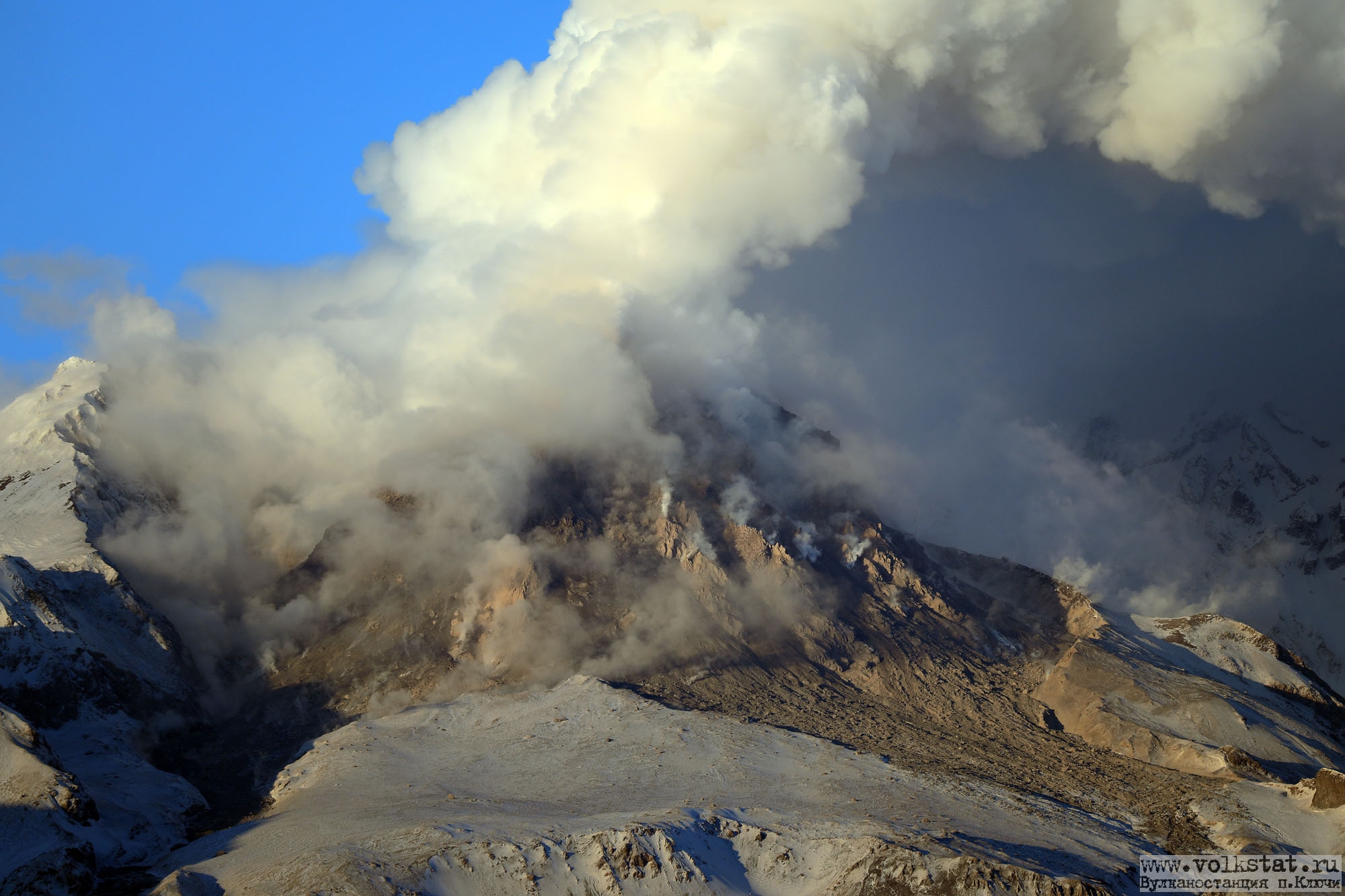 March 10 , 2019. EN. Kamchatka : Sheveluch , La Réunion : Piton de la Fournaise , Indonesia : Merapi , Mexico : Popocatepetl .
March 10 , 2019.
Kamchatka , Sheveluch :
VOLCANO OBSERVATORY NOTICE FOR AVIATION (VONA).
Issued: March 09 , 2019.
Volcano:Sheveluch (CAVW #300270)
Current aviation colour code: RED
Previous aviation colour code:red
Source:KVERT
Notice Number:2019-55
Volcano Location:N 56 deg 38 min E 161 deg 18 min
Area:Kamchatka, Russia
Summit Elevation:10768.24 ft (3283 m), the dome elevation ~8200 ft (2500 m)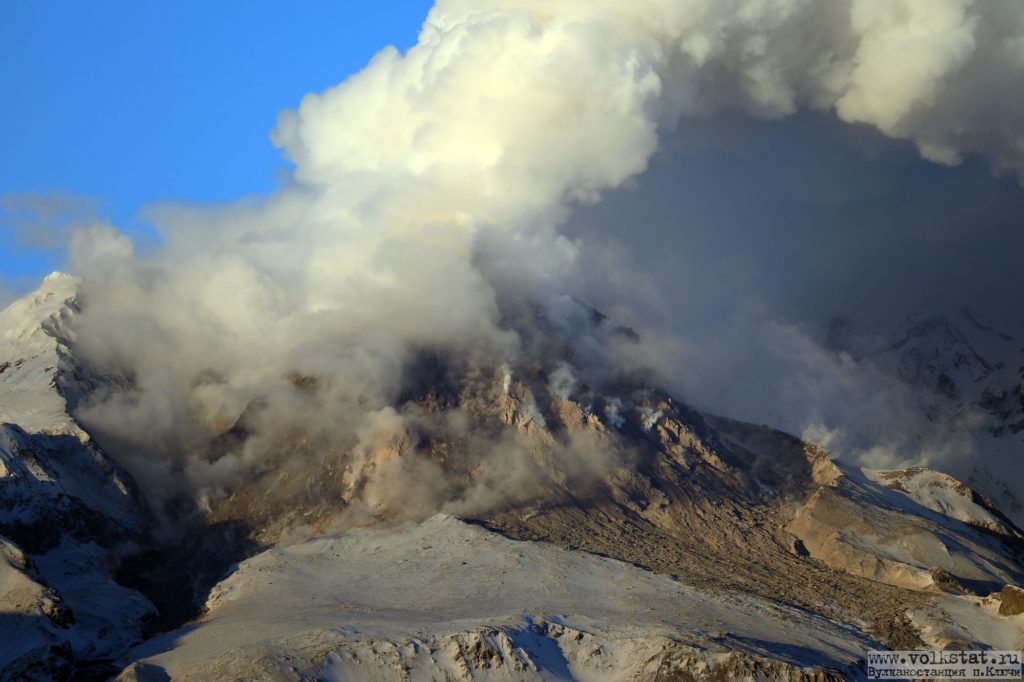 Volcanic Activity Summary:
An eruptive activity of the volcano continues. Satellite data by KVERT showed the ash plume on the height 10-11.2 km a.s.l. continues to drift for about 70 km to the north from the volcano.
A moderate gas-steam activity of the volcano continues. Ash explosions up to 32,800-49,200 ft (10-15 km) a.s.l. could occur at any time. Ongoing activity could affect international and low-flying aircrafts.
Volcanic cloud height:
32800-36736 ft (10000-11200 m) AMSL Time and method of ash plume/cloud height determination: 20190309/0630Z – Himawari-8
Other volcanic cloud information:
Distance of ash plume/cloud of the volcano: 43 mi (70 km)
Direction of drift of ash plume/cloud of the volcano: N / azimuth 17 deg
Time and method of ash plume/cloud determination: 20190309/0630Z – Himawari-8
Volcanic Activity Summary: ( 10/03)
A growth of the lava dome continues (a viscous lava blocks extrude out on the northern part of it), a strong fumarolic activity and an incandescence of the dome blocks and hot avalanches accompanies this process. According to video and satellite data, a gas-steam plume with some amount of ash continues to drift to the north-east from the volcano.
Current aviation colour code: ORANGE
Previous aviation colour code: RED
Source : Kvert.
La Réunion , Piton de la Fournaise :
Activity Bulletin from Saturday, March 9, 2019 to 13:00 (local time).
The eruptive activity that resumed on February 19, 2019 at Piton de la Fournaise around 7:10 pm local time continues. Following the strong increase observed for more than 48h, the intensity of the eruptive tremor remains very high (Figure 1).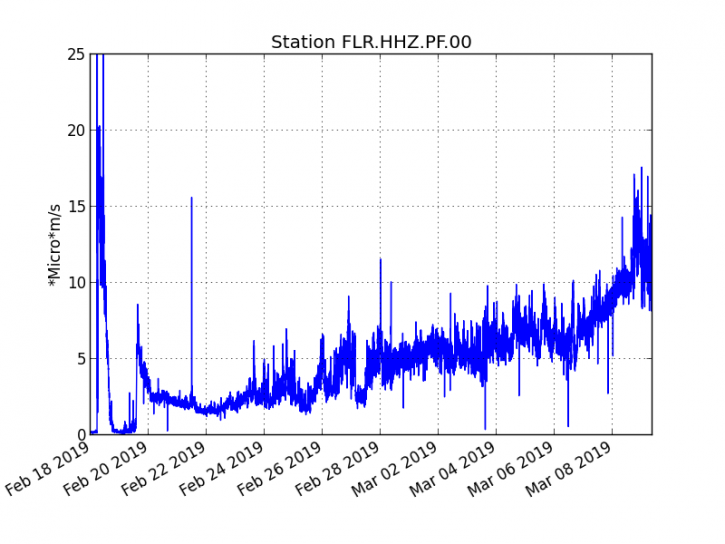 Figure 1: Evolution of the RSAM (indicator of the volcanic tremor and the intensity of the eruption) between 18 February 09h48 (05h48 UTC) and 9 March 13h00 (09h00 UTC) on the seismic station of FLR. (© OVPF / IPGP)
This sharp increase in the tremor is to be related to the opening of two new cracks on March 5th and 7th. Following these two new openings, the surface flows estimated from the satellite data, via the HOTVOLC platform (OPGC – University of Auvergne), increased significantly with values ​​between <1 (value assigned / decreased by the cloud cover) and peaks> 50 m3 / s (value approximately 10 times higher than the average values ​​recorded during the 2017-2018 eruptions at Piton de la Fournaise); the average over the last 24 hours is around 20-25 m3 / s.
These increases in flows favored a rapid progression of the flows over the last 24 hours. Based on the visual feedback from the RN2 and the observations from the OVPF webcam located in Piton des Cascades, the active flows front was estimated at 650m – 700m above sea level this morning at 8am. The flow front traveled about 1km in 24 hours and was located this morning between 2.5 and 3 km from the national road 2 (Figure 2).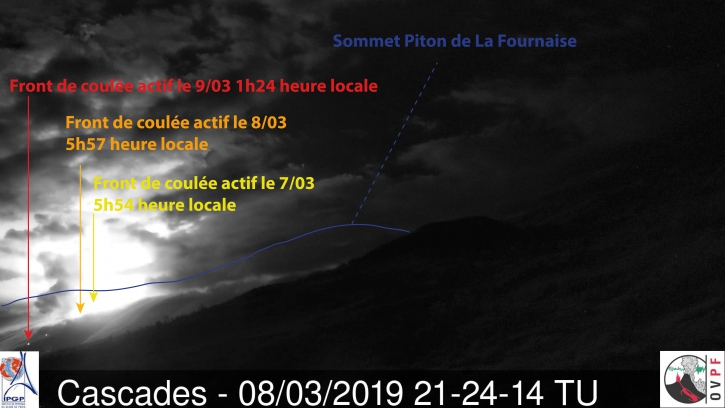 Figure 2: Shooting of the eruptive site on March 9, 2019 at 1:24 local time (21:24 UT) from the OVPF webcam located in Piton des Cascades, with the location of the casting front over the last 48 hours. (© OVPF / IPGP)
– NOVAC stations of the OVPF located around the Enclos Fouqué have detected for the day yesterday emissions of SO2 in the air 3 to 4 times greater than those recorded at the beginning of the eruption. In parallel, the US satellites (Gome2 and OMI) but also the European satellite Sentinel 2 have detected on the day yesterday a plume of SO2 spreading full East. On the Gome 2 and OMI satellite data, the plume can be followed respectively 450 km and 550 km (different resolution), which makes it pass to the south of Mauritius.
– CO2 concentrations in the near-field soil (cottage volcano area) appear to have been falling since this morning, indicating an acceleration of the superficial transfer of magma (from the reservoir to the surface) relative to the deep transfer (from the depths to the tank). This parameter will be confirmed in the next few days.
– The deformation data do not record any particular signals over the last 24 hours.
Eruption du 19 mars 2019 : fontaines de lave "en folie"

Des fontaines de lave impressionnantes vues depuis la Route des Laves vers 21h15 (à ~6 km à vol d'oiseau) au zoom x24.Il semble que ce soir, les projections au niveau du cône éruptif atteignaient les 80 à 100 m. Cela n'avait pas été observé depuis l'éruption mémorable d'avril 2007.

Publiée par Actus Météo 974 sur Samedi 9 mars 2019
– Over the last 36 hours, more than a hundred superficial volcano-tectonic earthquakes (above sea level, at a depth <2.5 km) have been recorded below the summit area. This number is largely underestimated because of the difficulty of counting them in view of the intensity of the tremor. It should be noted that this STRONG seismicity under the summit zone has been increasing for 48 hours, often with compression mechanisms at the source, which could correspond to collapse of the roof of the superficial magmatic chamber due to its major emptying. This seismicity is closely followed by the OVPF, indeed in case of propagation of this seismicity towards the surface (which is not currently the case), it could lead to the formation of a pit-crater (depression formed by a subsidence of the surface above a reservoir of magma that is emptying) as has been observed in the past at Piton de la Fournaise (eg December 2002).
Moreover, given all these parameters (increase in surface flow rates, rapid transfer of magma from the reservoir to the surface, seismicity), the opening of new eruptive fissure (s) at the level of eruptive site or elsewhere (further upstream or downstream, inside or outside the Enclos ) is not excluded.
Activity Bulletin from Sunday, March 10, 2019 at 7:00 am (local time).
After a phase of very strong surface activity observed in the night of March 9 to 10 (lava fountains of the order of 50-100m height and numerous flows arms), surface eruptive activity at Piton de la Fournaise stopped around 6:28 am local time (Figure 1). Following the cessation of surface lava emissions, seismicity has slowed down considerably.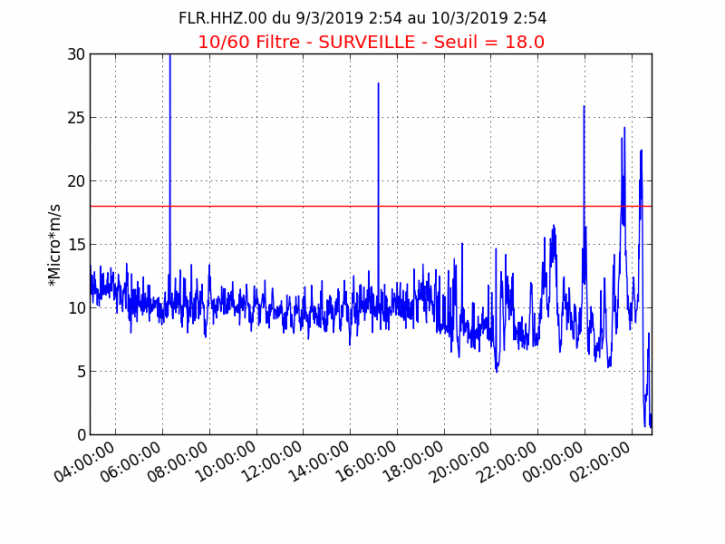 A residual eruptive tremor is always recorded (Figure 1), so no hypothesis is discarded as to the evolution of the future situation (final shutdown, resumption of activity on the same site, resumption of activity on a other site).
Alert level: Alert 2-2
Source : OVPF
Video : Actus Meteo 974 via Alexandre Dijoux.
Indonesia , Merapi :
ACTIVITY REPORT OF MERAPI, 1st to 7th March 2019
I. RESULTS OF OBSERVATION
Visual:
The weather is sunny from morning to evening, while the night is foggy. The observed smoke is white / gray, thin to thick, with a strong gas pressure. The maximum height of 1000 m was observed from the Mount Merapi observation post in Kaliurang on 2 March 2019.
Morphological analysis based on photographs of the Southeast sector revealed no morphological changes. The volume of the lava dome based on measurements using aerial photographs with drones on March 5, 2019 of 470 000 m3 is relatively identical to the previous weeks. Indeed, the lava extrusion falls directly into the furrow of Kali Gendol.
During this week, 14 occurrences of hot avalanches were observed on March 2, 3 and 7, 2019, with slip distances ranging from 500 to 1900 m. As a result, since January 29, 2019, there have been 28 times more avalanches with a maximum slip distance of 2,000 m.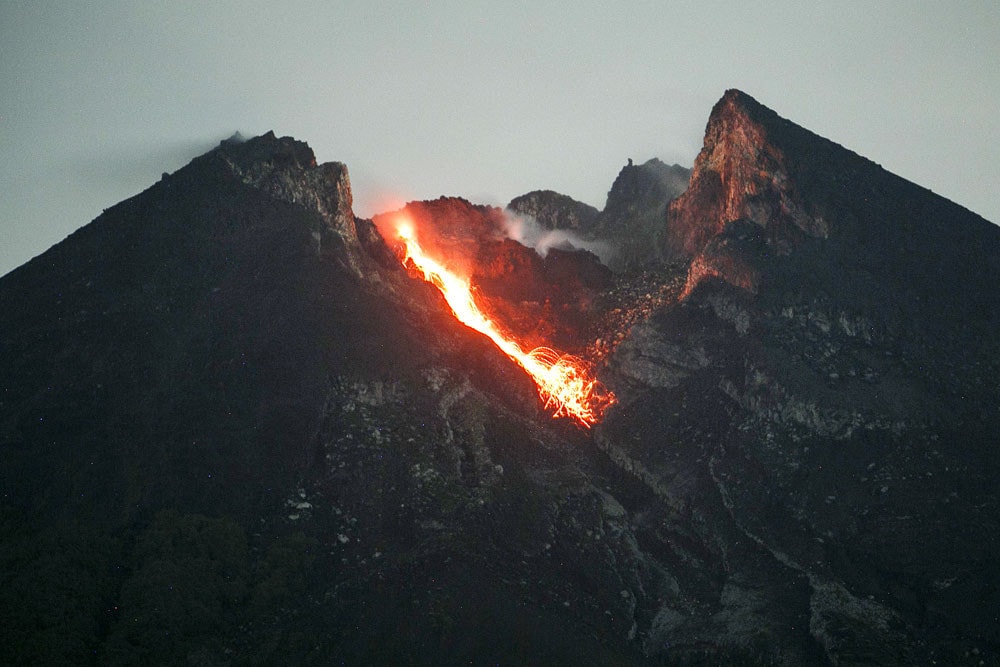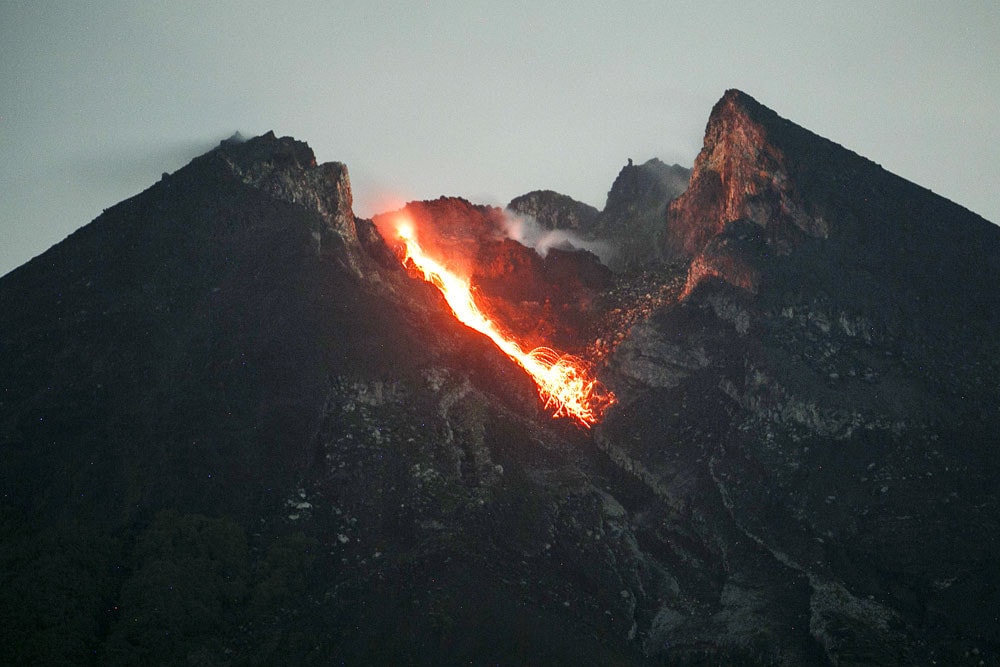 Seismicity:
During this week, the seismicity of Mount Merapi recorded 14 hot avalanche (PA) earthquakes, 35 emission earthquakes (DGs), 3 superficial volcanic earthquakes (VTB), 23 Multiple Phases (MP) earthquakes, 327 earthquakes. avalanches (RF), 21 low frequency earthquakes (LF) and 12 tectonic earthquakes (TT). The number of VTB earthquakes this week has decreased compared to last week, while the number of AP, MP, RF, LF and DG earthquakes has increased.
Deformation:
The deformation of G. Merapi, monitored by EDM and GPS this week, showed no significant change.
Rain and lahars:
This week, rain fell around Mount Merapi, with a rainfall intensity of 26 mm / hour for 15 minutes, measured at Babadan Post on February 24, 2019. No cases of lahars or additional flow have been reported in the rivers downstream of Merapi.
II. CONCLUSION:
From the results of the visual and instrumental observations, it was concluded that:
1. The lava dome is currently in a stable state with a relatively low growth rate.
2. The volcanic activity of Mount Merapi is still quite high and is at the activity level « WASPADA ».
Source : BPPTKG
Photo : Antara/Hendra Nurdiyansyah.
Mexico , Popocatepetl :
March 09 at 11:00 am (March 09 at 17:00 GMT)
In the last 24 hours, according to the surveillance systems of the Popocatépetl volcano, 65 exhalations have been identified, accompanied by a continuous emission of water vapor, gas and light amounts of ash. In addition, an explosion was recorded yesterday at 15:24, which initially reached a height of 1500 m above the crater. Subsequently, when winds moved to the southwest, emissions reached about 3,000 m. A slight ash drop has been reported in communities in this area, such as Tochimilco, San Francisco Huilango and Huaquechula. In addition, a volcano-tectonic earthquake was recorded yesterday at 11:13 pm, with a preliminary magnitude of M 1.8, as well as 29 minutes of low amplitude tremor and 102 minutes of low amplitude exhalations, between 4h25 and 6h07 today, a period during which we observed the release of some incandescent fragments.
At the time of this report, there was no visibility on the summit of the volcano due to clouds. However, during the previous hours, a continuous emission of water vapor and gas was visible, with a South-East orientation.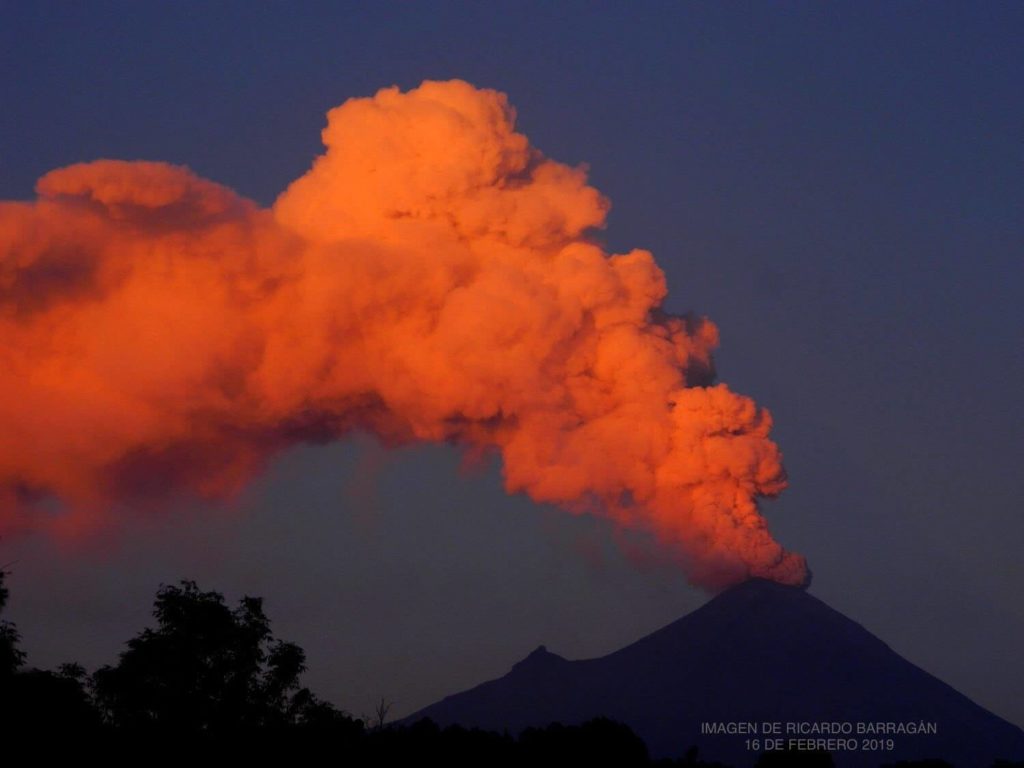 March 9, 11:50 pm (March 10, 5:50 am GMT)
At 11:16 today, an explosion of moderate intensity occurred, projecting incandescent fragments on the cone of the volcano reaching distances of up to 1,200 m. The generated ash column had an initial height of 1.5 km above the crater that was moving northeast. It is possible to have low ash falls in communities in this area. After this event, the general activity of the volcano has returned to its previous levels.
CENAPRED urges DO NOT APPROACH the volcano and especially the crater, because of the risk of falling ballistic fragments, and in case of heavy rains, to move away from the bottom of the ravines because of the risk of falling blocks and mud flows
The Popocatepetl Volcanic Warning Light is located at Amarillo Phase 2.
Source : Cenapred
Photo : Ricardo Barragan