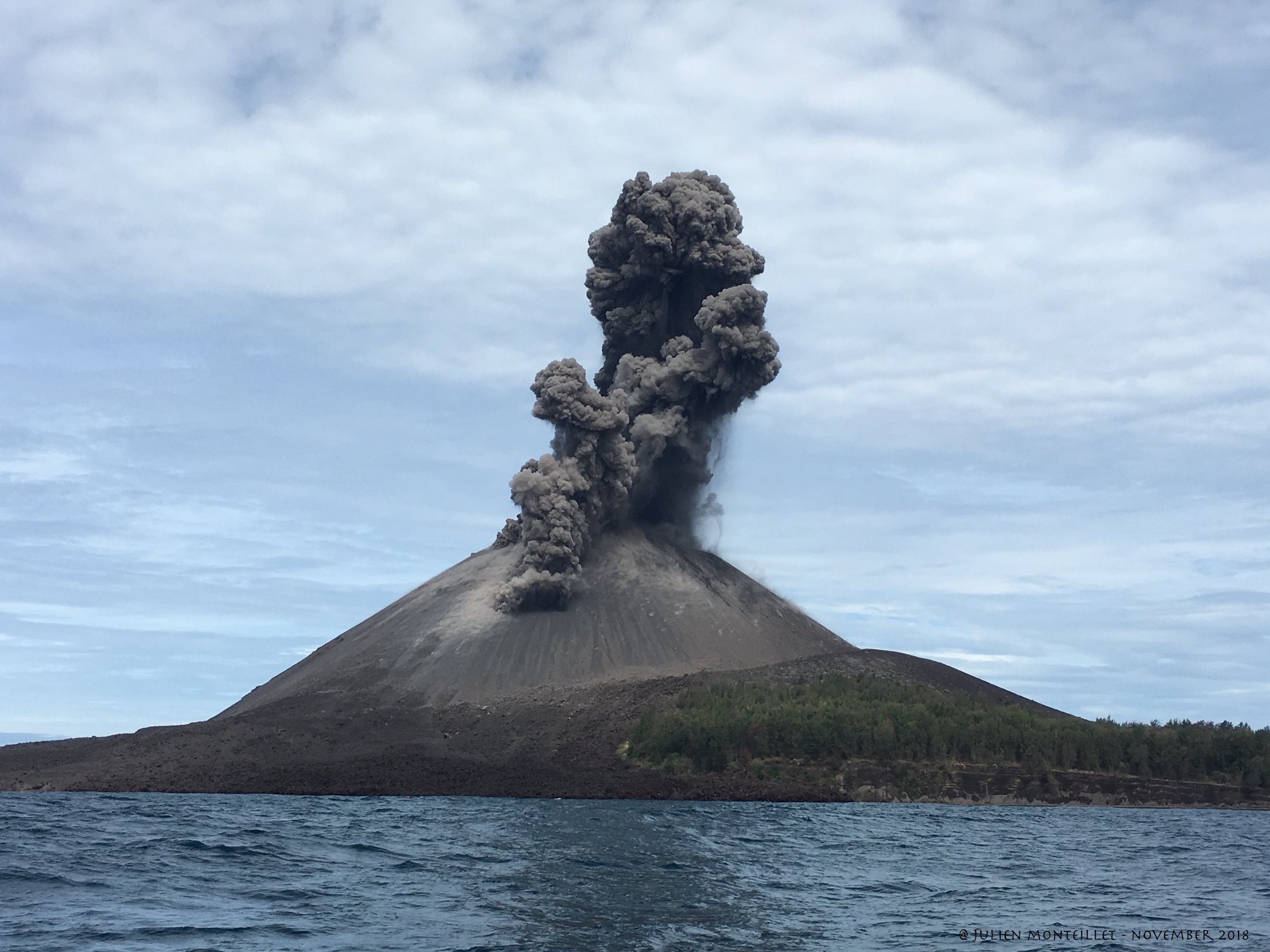 November 27 , 2018.
Indonesia , Anak Krakatau :
Information on the eruption of Mount Anak Krakatau, November 26, 2018.
The eruption of Mount Anak Krakatau at Lampung on November 26, 2018 at 10:37 am had an ash column height observed at ± 600 m above the summit (± 938 m above sea level). The column of ash was observed with a strong intensity, of black color, thick, oriented towards the North-East. This eruption was recorded on a seismogram with a maximum amplitude of 58 mm and a duration of ± 36 seconds.
At present, G. Anak Krakatau is at Level II (Waspada) with these recommendations:
People / tourists are not allowed to approach the crater within 2 km.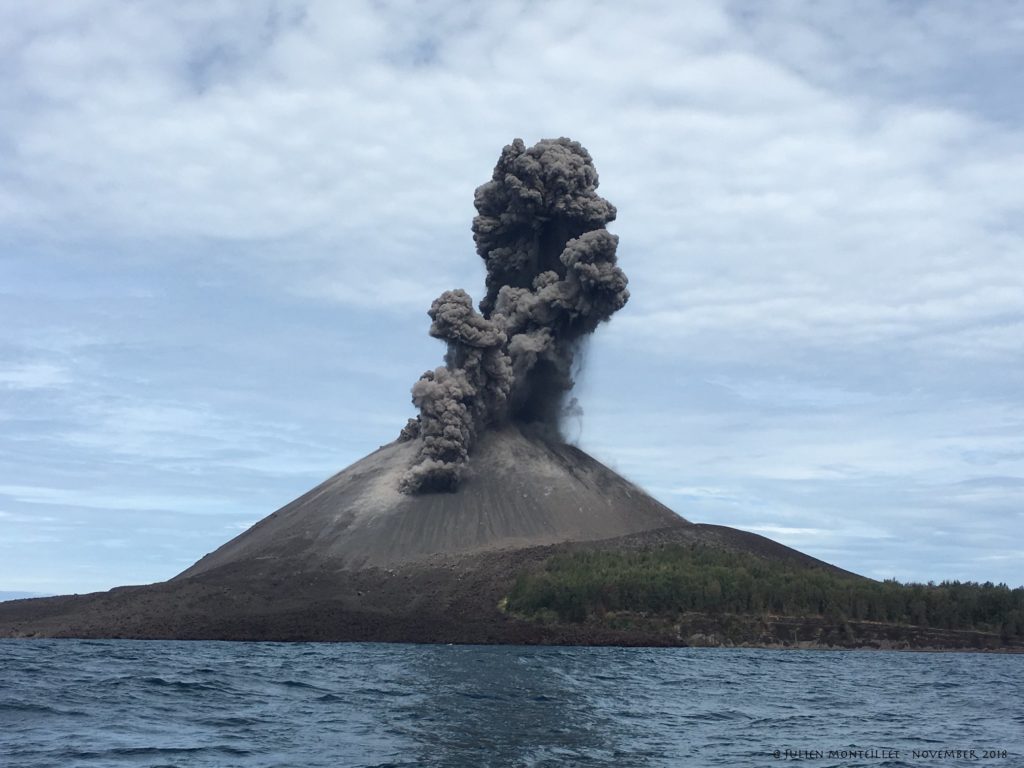 VOLCANO OBSERVATORY NOTICE FOR AVIATION – VONA.
Issued: November 26 , 2018
Volcano: Anak Krakatau (262000)
Current Aviation Colour Code: ORANGE
Previous Aviation Colour Code: orange
Source: Anak Krakatau Volcano Observatory
Notice Number: 2018KRA89
Volcano Location: S 06 deg 06 min 07 sec E 105 deg 25 min 23 sec
Area: Lampung, Indonesia
Summit Elevation: 1082 FT (338 M)
Volcanic Activity Summary:
Eruption with ash clouds at 03.37 UTC (10.37 local time). The eruption lasted for 36 seconds.
Volcanic Cloud Height:
Best estimate of ash-cloud top is around 3002 FT (938 M) above sea level, may be higher than what can be observed clearly. Source of height data: ground observer.
Other Volcanic Cloud Information:
Ash-cloud moving to northeast.
Remarks:
Eruption recorded on seismogram with maximum amplitude 58 mm and maximum duration 36 second.
Source : Magma Indonésie , PVMBG.
Photo : Julien Monteillet
Peru , Sabancaya :
An average of 20 EXP / day has been recorded. The activity associated with fluid movements (long-period types) continues to predominate. Earthquakes associated with the rise of magma (hybrid types) remain very few and low energy. 
The columns of gas and eruptive ash reached a maximum height of 2700 m above the crater. The dispersion of these materials occurred within a radius of about 40 km, mainly in the northwestern, northern and northeastern directions.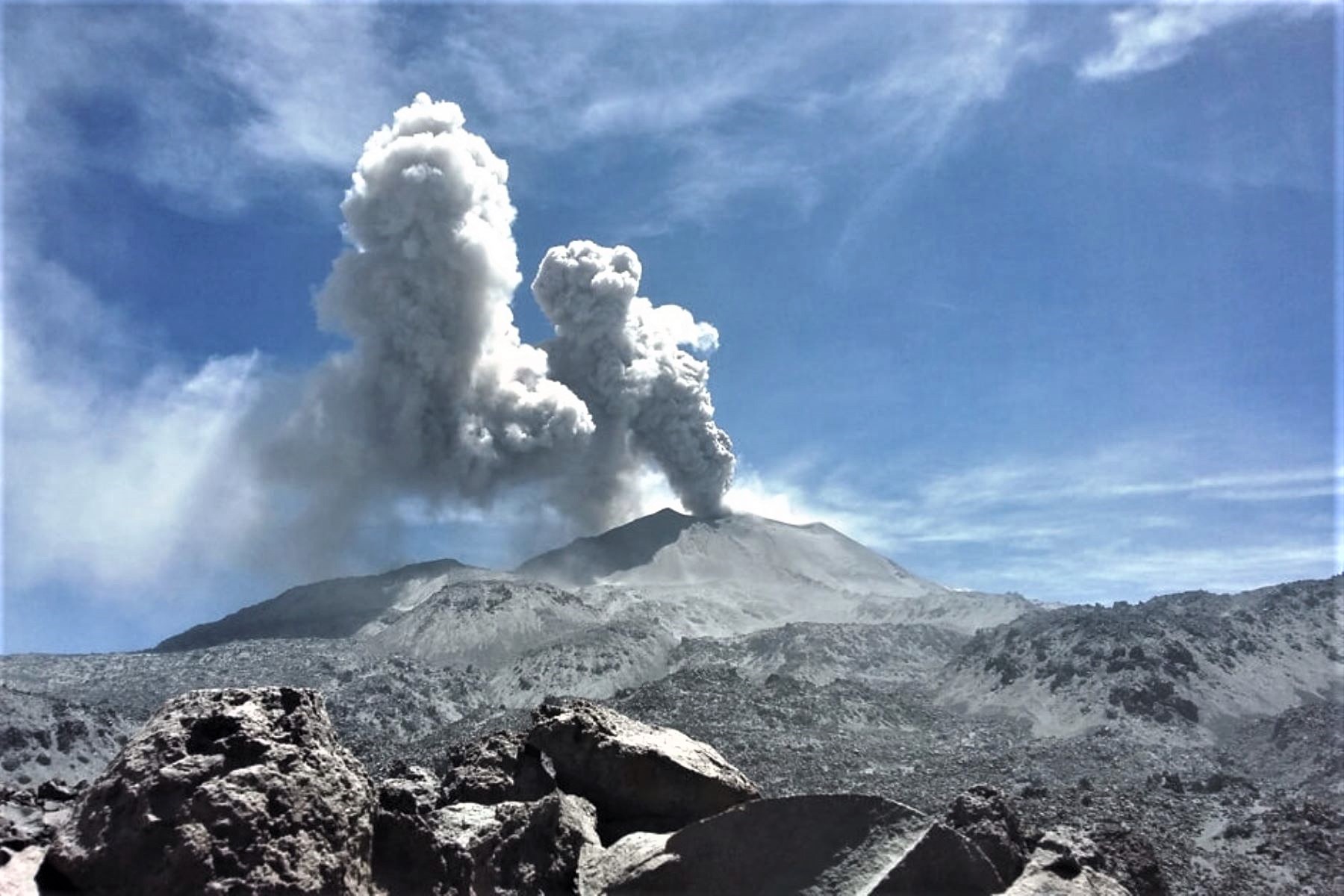 
On November 22, the volcanic gas (SO2) flow recorded a maximum value of 3,000 tonnes / day, a value considered important. 
The deformation of the surface of the volcanic building presents a slight process of inflation. 
The MIROVA satellite system recorded 6 thermal anomalies, with values between 3 and 10 MW VRP (Radiated Volcano Energy).
In general, eruptive activity maintains moderate levels. No significant changes are expected in the coming days.
Source : IGP Peru.
Photo : Auteur Inconnu
Fuego , Guatemala :
SPECIAL VOLCANOLOGICAL BULLETIN BEFGO # 222-2018, Guatemala 26 November 2018, 10:45 (Local time). CHANGE OF WIND DIRECTION.
Type of activity: Vulcanian
Morphology: Composite Stratovolcan
Location: 14 ° 28'54˝ Latitude N; 90 ° 52'54˝ Longitude W.
Height: 3,763msnm.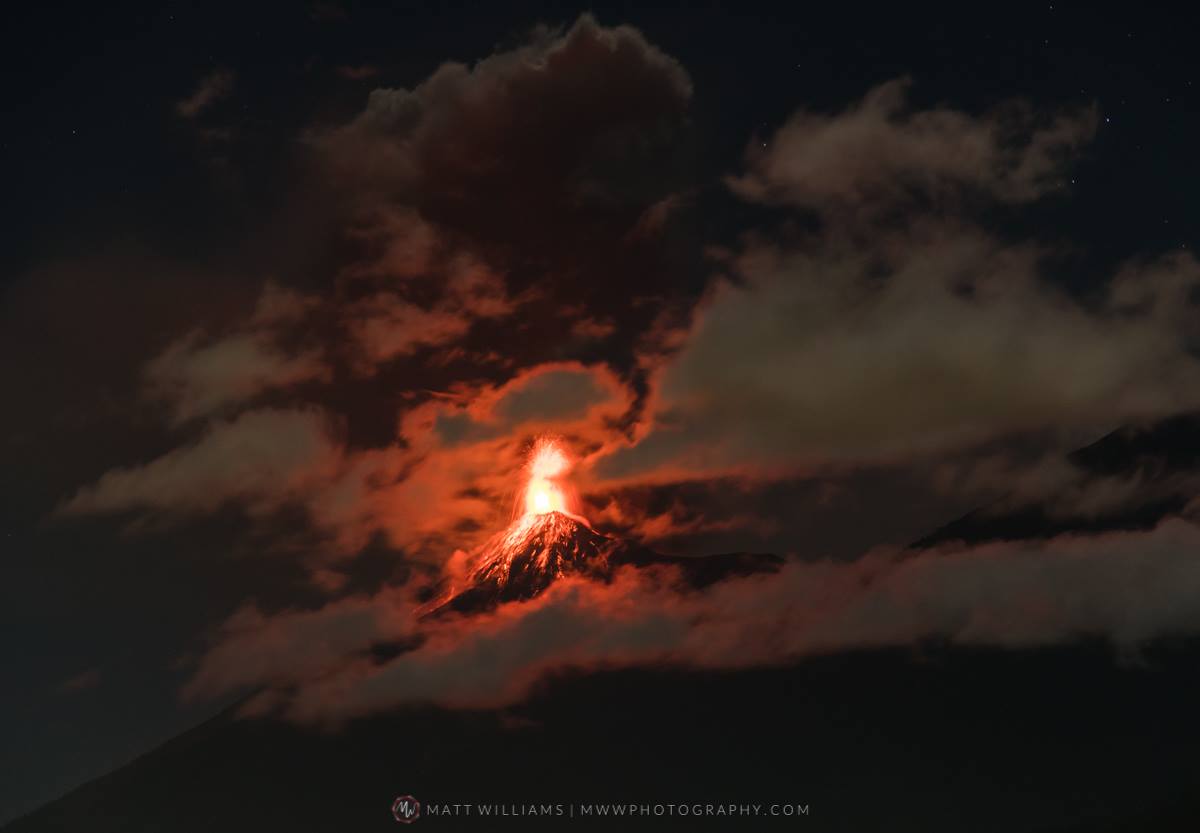 The Fuego volcano has moderate to strong explosions, which expel abundant ash columns up to 5000 msnm (16,404 feet). Currently, their direction of dispersion is variable because the direction of the wind changes, which goes from the South to the North, which moves the columns of ashes over Alotenango, San Miguel Dueñas, possibly on Antigua Guatemala. It must be taken into account that there is still ash on the west and south-east flanks.
This behavior can generate ash falls in municipalities and in the Guatemalan capital. Precautions must therefore be taken in this case, mainly with air traffic.
Vulcanian-type explosions generate powerful echoes and shock waves that rattle the roofs and windows of houses within a 25-kilometer radius of the volcano. The rumblings are audible even in the capital.
Source : Insivumeh.
Photo : Matt Williams.
Philippines , Mayon :
MAYON VOLCANO BULLETIN 27 November 2018 08:00 A.M.
Mayon Volcano's seismic monitoring network recorded four (4) volcanic earthquakes during the past 24 hours. Two of these were related to two (2) phreatic eruption events at 07:59 AM and 08:04 AM yesterday. At 05:33 AM today, another phreatic eruption event was observed. These events generated grayish to grayish white ash plumes that rose 300 to 500 meters above the summit before drifting southwest. Weak to moderate emission of white steam-laden plumes that drifted southwest was observed most of the day. Faint crater glow from the summit could be observed at night. Sulfur dioxide (SO2) emission was measured at an average of 624 tonnes/day on 26 November 2018. Precise leveling data obtained on 22-31 October 2018 indicate inflation of the edifice in the southeast sector while the north sector indicate short-term deflation relative to 30 August to 3 September 2018. The volcano generally remains inflated relative to 2010 baselines. Electronic tilt data further show pronounced inflation of the mid-slopes beginning 25 June 2018, possibly due to aseismic magma intrusion deep beneath the edifice.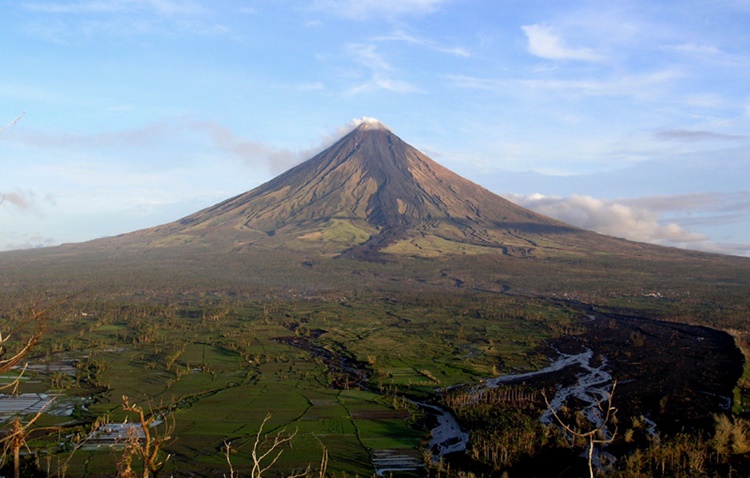 Alert Level 2 currently prevails over Mayon Volcano. This means that Mayon is at a moderate level of unrest. DOST-PHIVOLCS reminds the public that sudden explosions, lava collapses, pyroclastic density currents or PDCs and ashfall can still occur and threaten areas in the upper to middle slopes of Mayon. DOST-PHIVOLCS recommends that entry into the six kilometer-radius Permanent Danger Zone or PDZ and a precautionary seven kilometer-radius Extended Danger Zone or EDZ in the south-southwest to east-northeast sector, stretching from Anoling, Camalig to Sta. Misericordia, Sto. Domingo must be strictly prohibited. People residing close to these danger areas are also advised to observe precautions associated with rockfalls, PDCs and ashfall. Civil aviation authorities must advise pilots to avoid flying close to the volcano's summit as airborne ash and ballistic fragments from sudden explosions and PDCs may pose hazards to aircrafts.
Source : Phivolcs.
Photo : Theworldnews.
Costa Rica , Poas / Rincon de la Vieja / Turrialba :
Daily report on the state of volcanoes. OVSICORI-UNA, Date: November 26, 2018, Updated at: 10:58:00 AM.
Poas Volcano:
No eruptions are reported.
The seismic activity is lower than yesterday.
At the time of this report, the winds are blowing west.
Low frequency and very low amplitude earthquakes continue to be recorded, but no significant surface activity is recorded.
Rincon de la Vieja volcano:
No eruptions are reported.
Seismic activity is more important than yesterday.
At the time of this report, the winds are blowing west.
The Ríncón de la Vieja volcano continues to exhibit very low frequency, very sporadic earthquakes, as well as low amplitude background tremors.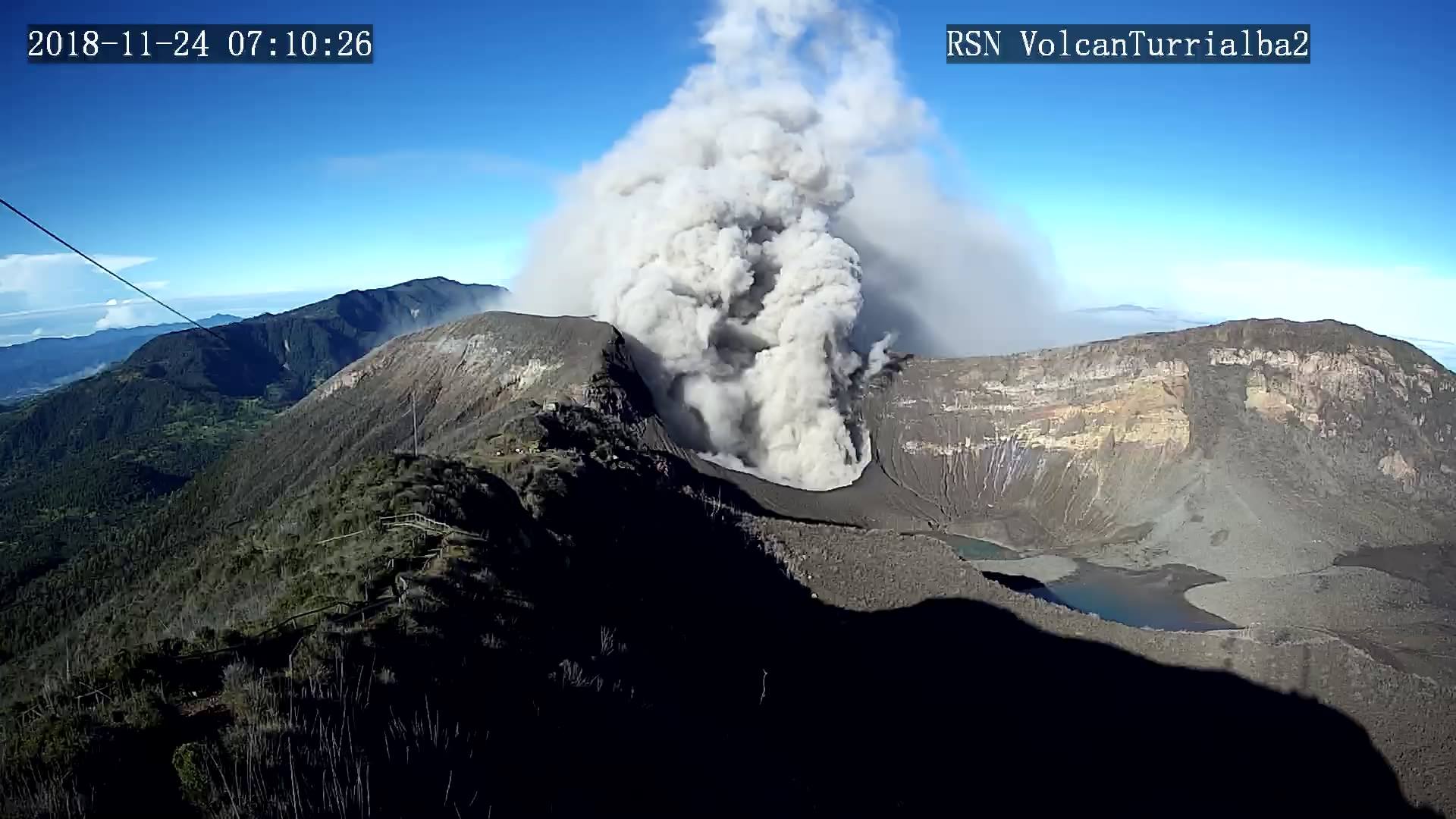 Turrialba Volcano:
Since 22 November 2018, the Turrialba volcano has been erupting continuously. Its column of emission rises to 200 meters above the height of the crater and to 3540 meters of altitude. (11611.2 ft).
The seismic activity is lower than yesterday.
At the time of this report, the winds are blowing west.
Activity on the Turrialba volcano is maintained with frequent eruptions of varying duration. The tremor has decreased and explosions have disappeared since last Saturday.
Source : Ovsicori
Photo : RSN