November 09 , 2018.
Colombia , Nevado del Ruiz :
Subject: Activity bulletin of the Nevado del Ruiz volcano.
The level of activity continues at the level: Yellow activity level or (III): Changes in the behavior of volcanic activity.
With regard to monitoring the activity of the Nevado del Ruiz volcano, the COLOMBIAN GEOLOGICAL SERVICE announces that:
During the last week, the seismicity caused by the fracturing of the rocks that make up the volcano has decreased compared to the number of earthquakes and released seismic energy compared to the previous week. These earthquakes were located mainly in the west, southwest and southeast of the Arenas crater and, to a lesser extent, in the east and north-east of the crater, at depths between 0, 5 and 6.1 km. The maximum magnitude recorded during the week was 1.0 ML (local magnitude) corresponding to the October 30 earthquake at 12:22 pm (local time), located northwest of Arenas Crater, at a depth of 2,77 km. During this last week, the occurrence of several episodes of seismicity type « drumbeat » of short duration and low energy level is highlighted. This type of seismicity is related to the processes of ascending lava domes towards the surface.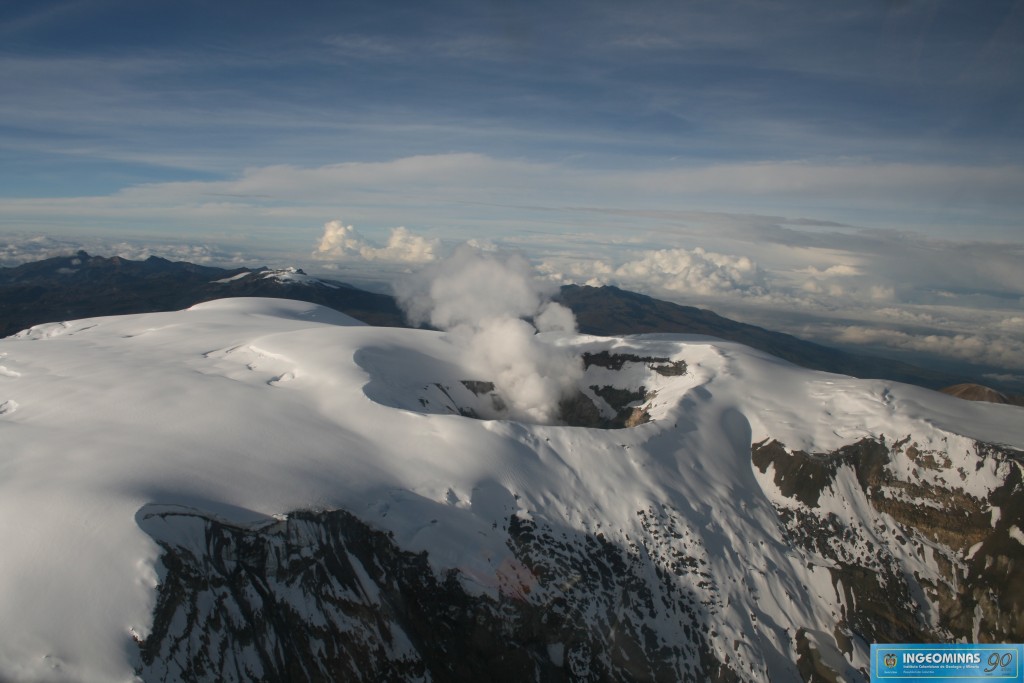 Seismicity related to fluid dynamics, within the channels of the volcanic structure, showed a decrease in the number of earthquakes and released seismic energy compared to the previous week. This activity was characterized by the occurrence of earthquakes of variable energy levels of long period (PL), very long period (VLP) and tremors. The earthquakes were mainly located in the crater Arenas and its surroundings.
Volcanic deformations measured from electronic inclinometers, GNSS (Global Navigation Satellite System) stations and radar images have so far shown stability behavior without recording significant deformation processes of the volcanic structure.
The volcano continues to emit water vapor and gases into the atmosphere, among which is the sulfur dioxide (SO2), as evidenced by the values obtained by the SCANDOAS stations installed in the region of the volcano. satellite image analysis. During the week, the NASA FIRMS portal reported a thermal anomaly with a very low energy level.
The column of gas, steam and ash reached a maximum height of 1650 m, measured at the top of the volcano on October 31. The direction of dispersion of the column was governed by the direction of the wind in the region, which during the week prevailed towards the northwest.
The Nevado del Ruiz volcano continues at the level of yellow activity.
Source : SGC
Photo : Archives SGC
Kamchatka , Sheveluch :
VOLCANO OBSERVATORY NOTICE FOR AVIATION (VONA).
Issued: November 09 , 2018 .
Volcano:Sheveluch (CAVW #300270)
Current aviation colour code:ORANGE
Previous aviation colour code:orange
Source:KVERT
Notice Number:2018-109
Volcano Location:N 56 deg 38 min E 161 deg 18 min
Area:Kamchatka, Russia
Summit Elevation:10768.24 ft (3283 m), the dome elevation ~8200 ft (2500 m)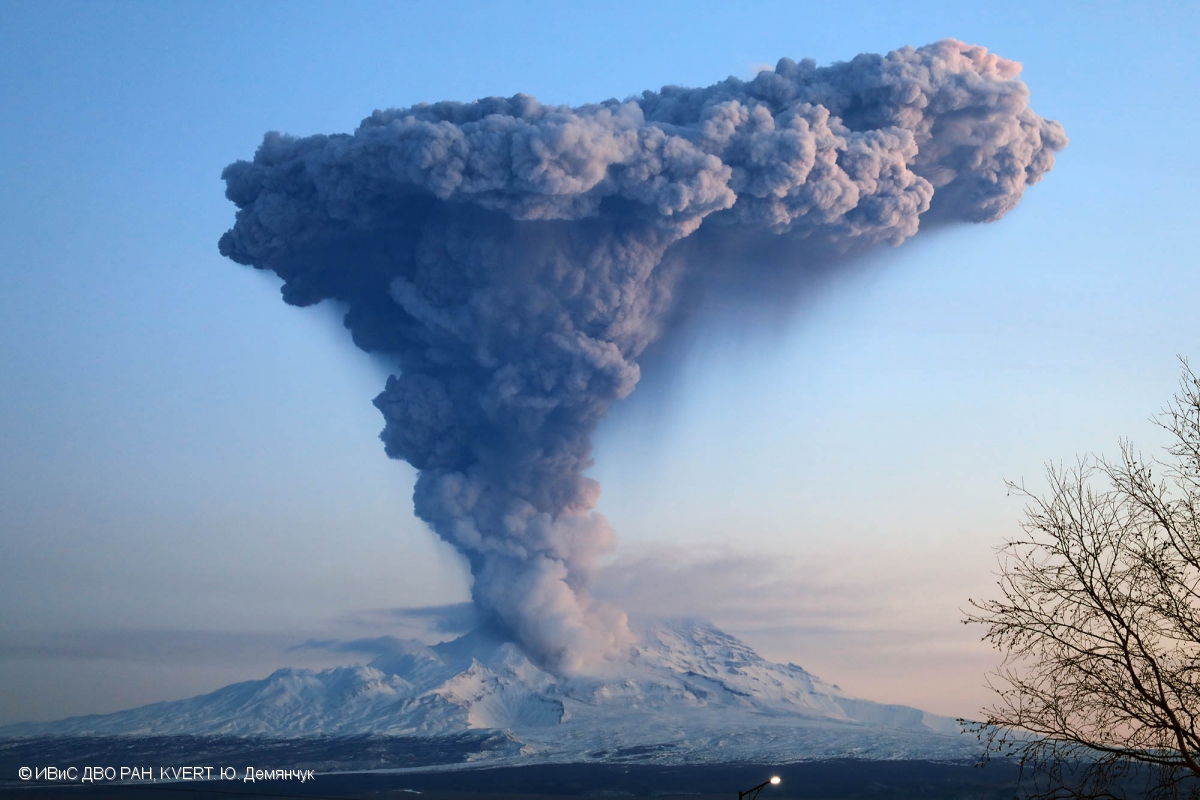 Explosions sent ash up to 10 km a.s.l. on 04 December, 2017, ash plume is extending to the northeast from the volcano.
Volcanic Activity Summary:
Visual data show explosions sent ash up to 7 km a.s.l. from 03:10 UTC, and ash plume drift to the north-east from the volcano.
Explosive-extrusive eruption of the volcano continues. Ash explosions up to 26,200-32,800 ft (8-10 km) a.s.l. could occur at any time. Ongoing activity could affect international and low-flying aircraft.
Volcanic cloud height:
22960 ft (7000 m) AMSL Time and method of ash plume/cloud height determination: 20181109/0310Z – Visual data
Other volcanic cloud information:
Distance of ash plume/cloud of the volcano: 3 mi (5 km)
Direction of drift of ash plume/cloud of the volcano: NE
Source : Kvert
Photo : Yu. Demyanchuk, IVS FEB RAS, KVERT, 4/12/2017 .
Ecuador , Reventador :
DAILY REPORT OF THE STATE OF THE VOLCANO REVENTADOR N ° 2018-313
THURSDAY 8 NOVEMBER 2018, Information Geophysical Institute – EPN
Level of activity on the surface: High. Surface Trend: No change
Internal activity level: High. Internal trend: No change
Seismicity (events): From November 07, 2018 to November 08, 2018:
Long period type (LP): 61
explosions (EXP): 48
Tremors of emissions (TE): 10
Harmonic Tremors (TA): 8
Gas flow (SO2, ton / day): 449.0 +/- 210.0, Number of measures validated: 17
Rains / lahars: Early in the morning and during the morning, light and moderate rains did not generate lahars.
Emission / ash column: At dawn, light steam, gas and ash emissions were observed at a maximum height of 400 meters above the summit, dispersed in a northwesterly direction.
Other monitoring parameters: No change.
Observations: At the end of today's dawn, alongside emissions or explosions, an incandescence was observed in the crater and the blocks rolled up to 500 meters under the summit, on the flanks South and Southeast. The volcano remained cloudy most of the time.
Alert level: orange
Source : SGC , Secrétariat d'information pour la gestion des risques SGR (www.gestionderiesgos.gob.ec)
Video : Fausto Alvarado Dávila , 4 novembre, 05:00
Philippines , Mayon :
MAYON VOLCANO BULLETIN 09 November 2018 08:00 A.M.
Mayon Volcano's seismic monitoring network recorded three (3) volcanic earthquakes and one (1) rockfall event during the past 24 hours. A small, short-lived brownish ash plume, associated with degassing, was observed around 12:43 PM yesterday near the summit area that drifted towards the WSW direction. There was no accompanying seismic and infrasound record from this event. Sulfur dioxide (SO2) emission was measured at an average of 806 tonnes/day on 24 October 2018. Precise leveling data obtained on 22-31 October 2018 indicate inflation of the edifice in the southeast sector while the north sector indicate short-term deflation relative to 30 August to 3 September 2018. The volcano generally remains inflated relative to 2010 baselines. Electronic tilt data further show pronounced inflation of the mid-slopes beginning 25 June 2018, possibly due to aseismic magma intrusion deep beneath the edifice.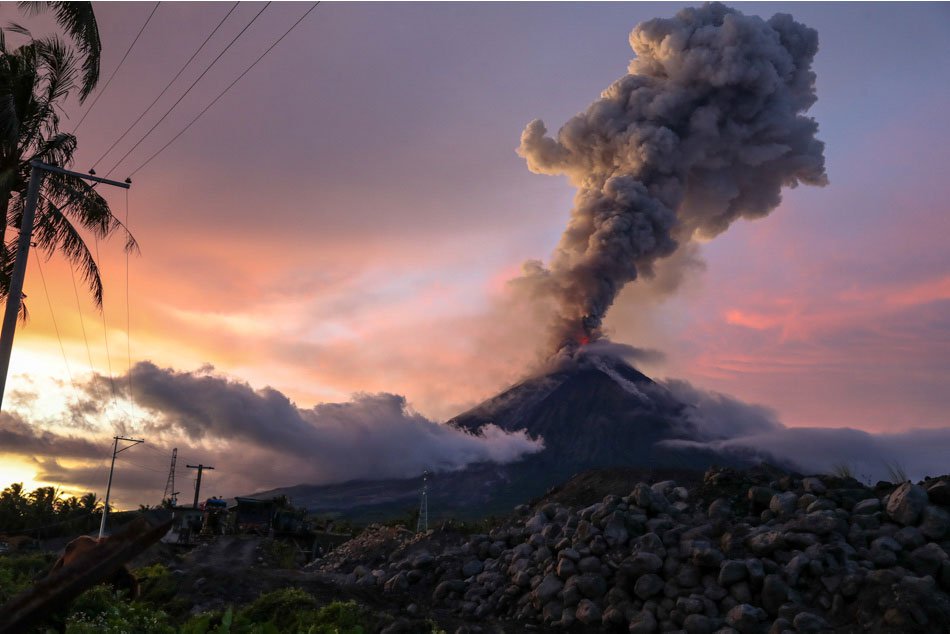 Alert Level 2 currently prevails over Mayon Volcano. This means that Mayon is at a moderate level of unrest. DOST-PHIVOLCS reminds the public that sudden explosions, lava collapses, pyroclastic density currents or PDCs and ashfall can still occur and threaten areas in the upper to middle slopes of Mayon. DOST-PHIVOLCS recommends that entry into the six kilometer-radius Permanent Danger Zone or PDZ and a precautionary seven kilometer-radius Extended Danger Zone or EDZ in the south-southwest to east-northeast sector, stretching from Anoling, Camalig to Sta. Misericordia, Sto. Domingo must be strictly prohibited. People residing close to these danger areas are also advised to observe precautions associated with rockfalls, PDCs and ashfall. Civil aviation authorities must advise pilots to avoid flying close to the volcano's summit as airborne ash and ballistic fragments from sudden explosions and PDCs may pose hazards to aircrafts.
Source : Phivolcs
Photo : Archive, Author unknown.
Guatemala , Fuego :
SPECIAL BEFGO VULCANOLOGICAL BULLETIN # 202-2018 Guatemala November 8, 2018 at 7:00 am (local time) ERUPTION EFUSIVE
Type of activity: Vulcanian
Morphology: Composite stratovolcano
Location: 14 ° 28'54˝ Latitude N; 90 ° 52'54˝ Longitude W.
Height: 3,763msnm.
The effusive activity of the Fuego volcano continues, as it has been reported in recent days, the volcano is currently generating a lava flow towards the Ceniza Canyon, so far estimated to be about 1200 meters long and is observed in its trajectory of setting in motion of fine particles as well as the generation of avalanches towards the ravines Las Lajas and Honda.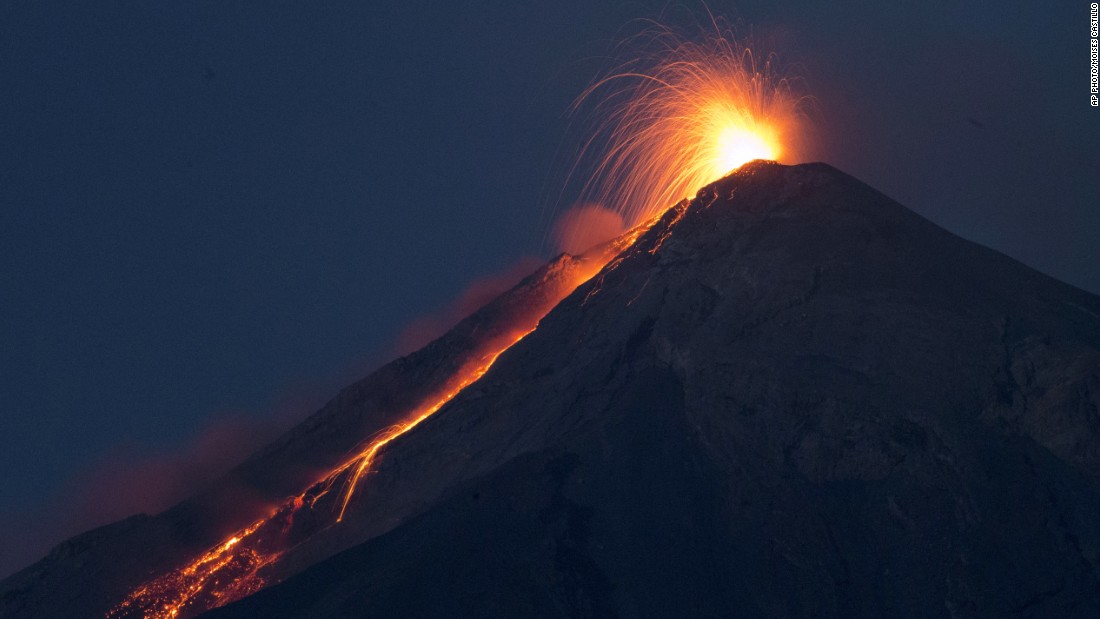 The explosions range from mild to moderate, with ranges from 12 to 18 per hour. They are accompanied by ash columns between 4,600 and 4,700 meters (15092 and 15420 feet) and disperse to the west and southwest over a distance of 10 and 15 kilometers, generating ash falls on communities such as Sangre de Cristo, Santa Sofia, Panimaché I and II, Finca Palo Verde, El Porvenir and others in this direction. Explosions are accompanied by degassing sounds with time intervals between 2 and 5 minutes.
For the moment, the seismicity is maintained, however, the possibility that new lava flows are generated in the different ravines is not excluded, as well as the episodes of pyroclastic flows that can be channeled in one of the volcano canyons Fuego, so it is necessary to be alert to sudden changes.
Source : Insivumeh
Photo : Moise Castillo