April 26 , 2022. EN. Indonesia : Anak Krakatau , New Zealand : Ruapehu , Peru : Sabancaya , Indonesia : Ibu , Hawaii : Mauna Loa .
April 26 , 2022.
Indonesia , Anak Krakatau :
A volcanologist talks about the potential eruption of Mount Anak Krakatau.
Mount Anak Krakatau's eruption cycle has shrunk from about two years before 2018 to four years, said volcanologist from the Institute of Technology in Bandung (ITB), Mirzam Abdurrachman.
Located in the Sunda Strait, the volcano last erupted on December 22, 2018, killing 400 and injuring thousands. Its status recently changed from Waspada (level 2) to Siaga or Alert (level 3), effective Sunday, April 24, 2022.
Mirzam believed that the increasing seismicity indicated the movement of magma. « The eruption of Mount Anak Krakatau is a routine phase to expel excess magma, » Mirzam said on Monday evening, April 25, 2022.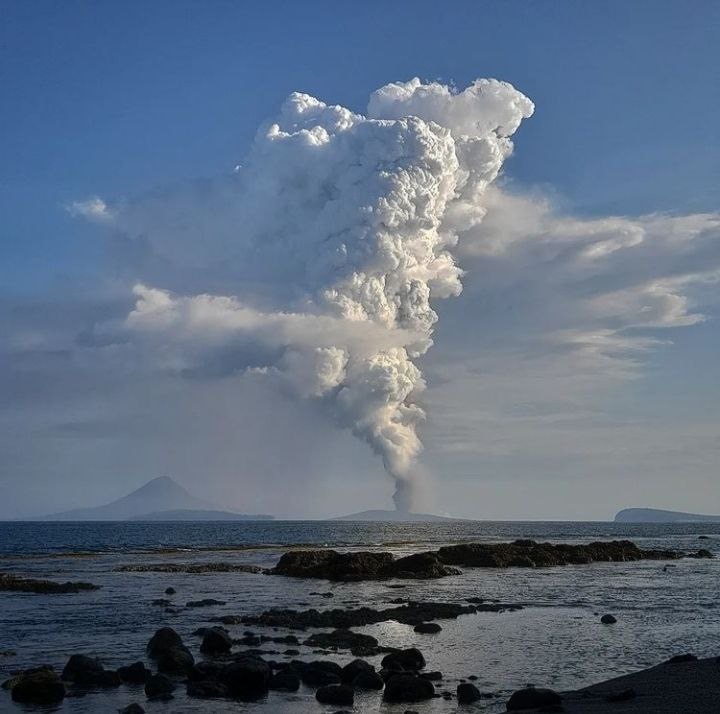 He pointed out that when the position of the magma is already close to the surface – which is indicated by the release of high SO2 gas – but it does not come out, its shallow position will be very vulnerable to external factors. Therefore, it could trigger a sudden eruption like what happened in Hawaii in 2018.
Based on the results of the ITB study, it was indicated that the magma chamber of Mount Anak Krakatau was filled by two different sources; the melting of the plates due to subduction and by the depths of the Earth's mantle layer.
"So Anak Krakatau is now in the growth phase to establish a larger cone due to the accumulation of eruption products," Mirzam explained.
Asked about the potential recurrence of the devastating eruption that led to a tsunami in 2018, Mirzam argued that it could happen but is not something to worry about at the moment. « Because the current volume is still low and far from the body size of Mount Anak Krakatau in 2018, » he said.
Source : en.tempo.co .
Photo : Andrea Ercolani via Marc Szeglat ( vulkane.net) ,
New Zealand , Ruapehu :
Mt Ruapehu strong volcanic tremor continues. Volcanic Alert Level remains at Level 2. Published: Tue Apr 26 2022 3:30 PM
Aviation Colour Code remains at Yellow
Elevated volcanic unrest has now been sustained at Mt Ruapehu for five weeks. This heightened volcanic unrest is primarily manifested as volcanic tremor, gas output and heat flow into the summit crater lake. The volcanic tremor level has varied during the last week but remains elevated overall. This tremor episode now represents the combined longest-strongest period of tremor recorded over the past 20 years.
The Crater Lake (Te Wai ā-moe) temperature has remained around 37 °C (range 36-38 °C) over the past three weeks. While the temperature has not increased, our modelling requires that a substantial amount of heat (about 200-300 MW) is still needed to sustain this high lake temperature. The laboratory analyses of a lake sample collected on 15 April show no changes in Crater Lake water chemistry since 31 March.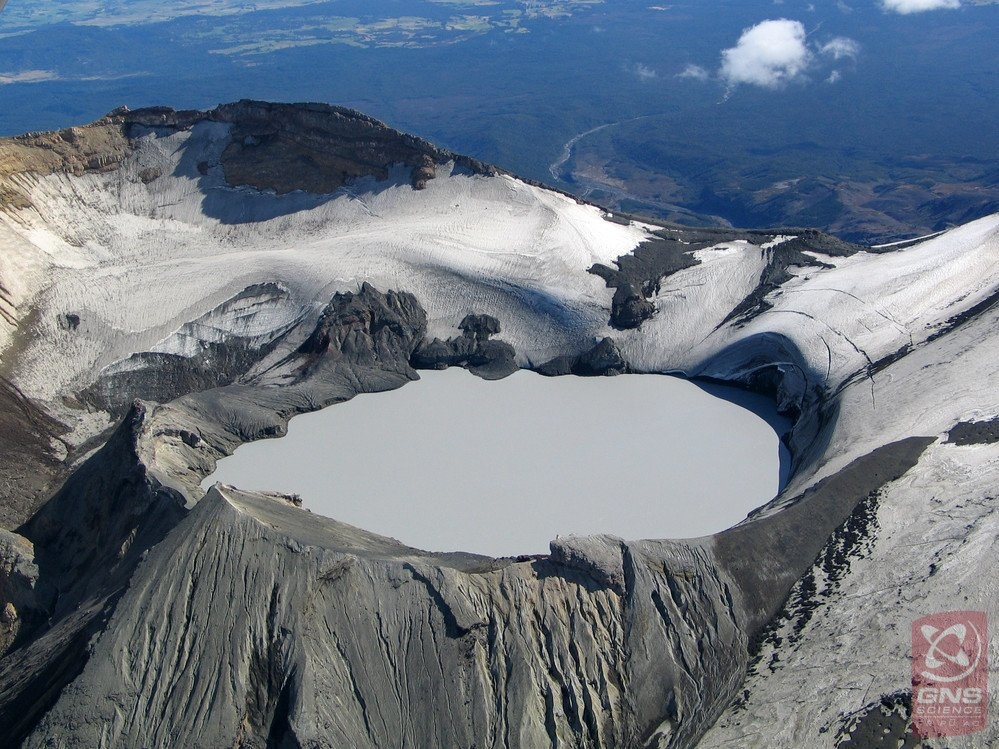 The static lake temperature and lack of chemical response indicate processes at shallow depth below the Crater Lake are not being reflected in the lake conditions. We did not observe an increase in magnesium concentration that would have pointed at some potential magma-water interaction below the surface. We will keep sampling the crater lake regularly to monitor any changes in the water chemistry.
The sustained nature of the volcanic unrest, coupled with the strong volcanic tremor signals, elevated gas output and hot lake remain indicative of processes being driven by molten rock (magma) interacting with the geothermal system within the volcano at shallow depth (0.5-2 km).
The most likely outcome of this unrest episode within the next four weeks is still that no eruptive activity occurs, as no eruptions have followed unrest in the past 15 years. If eruptive activity does follow this unrest, it is expected to be initially small-scale. Such an eruption would impact mostly the summit area, with also lahars further downstream – like the September 2007 eruption or the slightly larger April 1975 or June 1969 events. Only if eruptions continued would we expect to see larger, ash eruptions developing with substantial impact further afield outside the Tongariro National Park.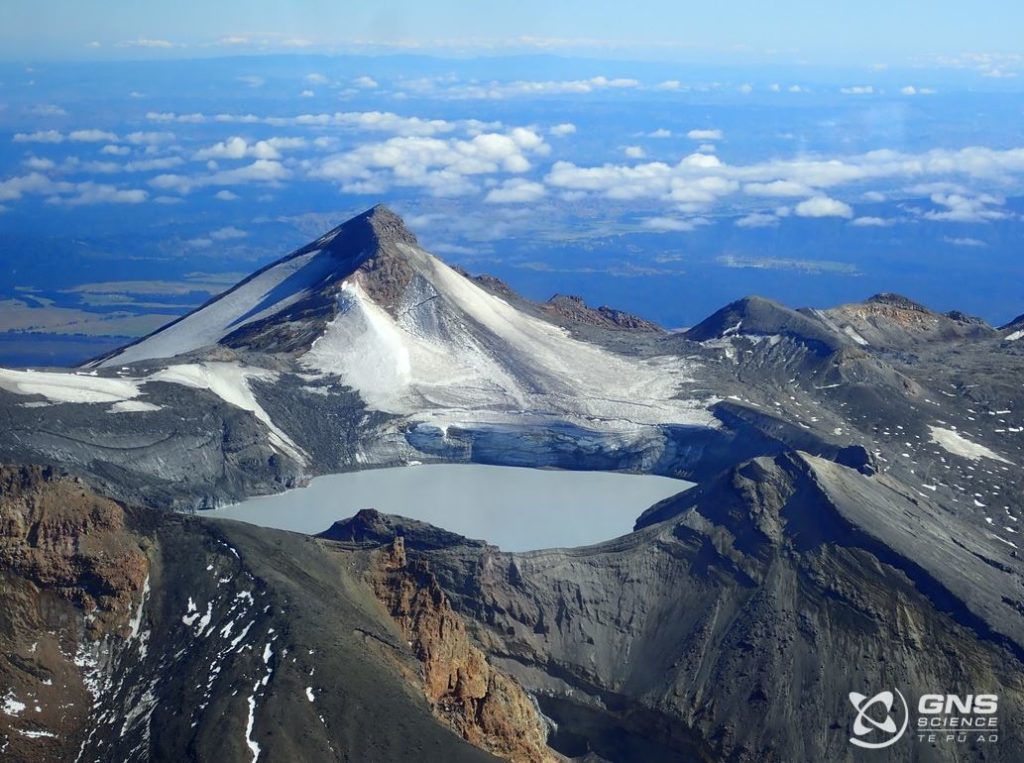 The chances of a prolonged eruptive episode or a larger eruption, such as occurred in 1995-96 with wider ashfall impacts, is higher than it was two months ago, but remains very unlikely. Such an eruption would most likely only follow a sequence of smaller eruptions.
The interpretation of this activity is consistent with elevated volcanic unrest at the heightened level and therefore the Volcanic Alert Level remains at Level 2. The Aviation Colour Code remains at Yellow.
Mt Ruapehu is an active volcano and has the potential to erupt with little or no warning when in a state of elevated volcanic unrest.
The Volcanic Alert Level reflects the current level of elevated volcanic unrest. The Volcanic Alert Level should not be used to forecast future activity. However, at Volcanic Alert Level 2, eruptions are usually more likely than at Volcanic Alert Level 1.
Volcanic Alert Level 2 indicates the primary hazards are those expected during volcanic unrest; steam discharge, volcanic gas, earthquakes, landslides and hydrothermal activity. While Volcano Alert Level 2 is mostly associated with volcanic unrest hazards, eruptions can still occur with little or no warning.
Source : Geonet / Steven Sherburn / Duty volcanologist.
Photos : Bradd Scott/ GNS Science , Geonet / GNS Science .
Peru , Sabancaya :
Analysis period: from April 19, 2022 to April 24, 2022, Arequipa, April 25, 2022.
Alert level: ORANGE
The Geophysical Institute of Peru (IGP) reports that the eruptive activity of the Sabancaya volcano remains at moderate levels, that is to say with the recording of an average of 37 daily explosions, with columns of ash and of gas up to 2.3 km altitude above the summit of the volcano and their subsequent dispersion. Therefore, for the following days, no significant change is expected in eruptive activity.
The IGP recorded and analyzed the occurrence of 140 earthquakes of volcanic origin, associated with the circulation of magmatic fluids inside the Sabancaya volcano. An average of 37 explosions was recorded daily, in addition to recording Volcano-Tectonic (VT) type events associated with rock fracturing inside the Sabancaya volcano.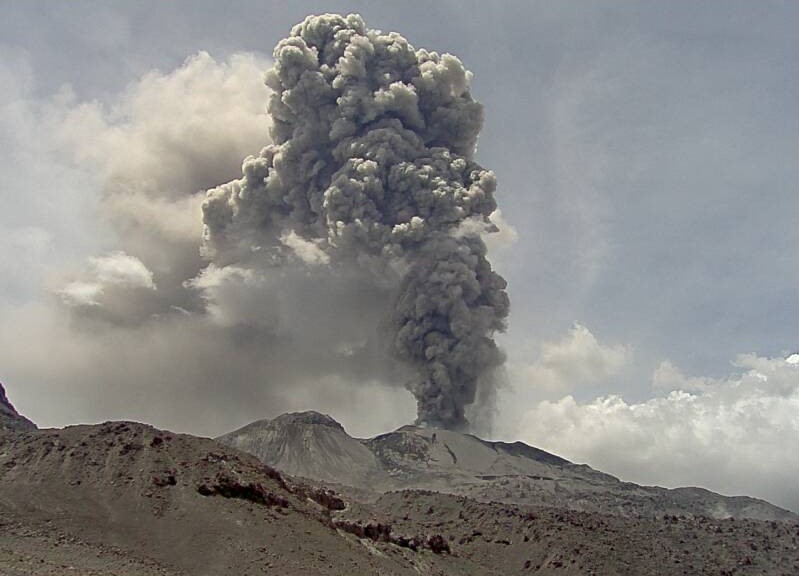 Monitoring the deformation of the volcanic structure using GNSS techniques (processed with fast orbits) does not show any significant anomalies. However, in general, an inflation process has been observed in the northern sector (surroundings of the Hualca Hualca volcano). Visual surveillance identified columns of gas and ash up to 2.3 km above the summit of the volcano, which were dispersed towards the East, South-East, South, North-East and North of Sabancaya. Satellite recordings have identified the presence of 10 thermal anomalies, with a maximum value of 34 MW, associated with the presence of a lava body on the surface of the volcano's crater.
RECOMMENDATIONS
• Keep the volcanic alert level orange.
• Do not approach within a radius of less than 12 km from the crater.
Source : Cenvul
Photo : Ingemmet 2017.
Indonesia , Ibu :
VOLCANO OBSERVATORY NOTICE FOR AVIATION – VONA
Issued : April , 25 ,2022
Volcano : Ibu (268030)
Current Aviation Colour Code : ORANGE
Previous Aviation Colour Code : orange
Source : Ibu Volcano Observatory
Notice Number : 2022IBU21
Volcano Location : N 01 deg 29 min 17 sec E 127 deg 37 min 48 sec
Area : North Maluku, Indonesia
Summit Elevation : 4240 FT (1325 M)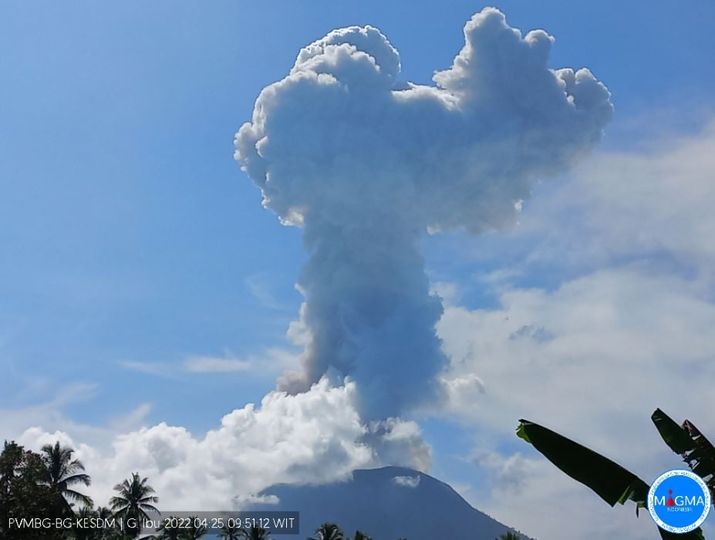 Volcanic Activity Summary :
Eruption with volcanic ash cloud at 00h48 UTC (09h48 local).
Volcanic Cloud Height :
Best estimate of ash-cloud top is around 13840 FT (4325 M) above sea level, may be higher than what can be observed clearly. Source of height data: ground observer.
Other Volcanic Cloud Information :
Ash-cloud moving to west.
Remarks :
Eruption and ash emission is continuing.
Source et photo : Magma Indonésie.
Hawaii , Mauna Loa :
19°28'30 » N 155°36'29 » W,
Summit Elevation 13681 ft (4170 m)
Current Volcano Alert Level: ADVISORY
Current Aviation Color Code: YELLOW
Activity Summary:
Mauna Loa Volcano is not erupting. Rates of seismicity remain slightly elevated above long-term background levels, but have not changed significantly over the past week. Other Mauna Loa monitoring data streams—ground deformation, gas concentrations, visual appearance in webcams—show no significant changes.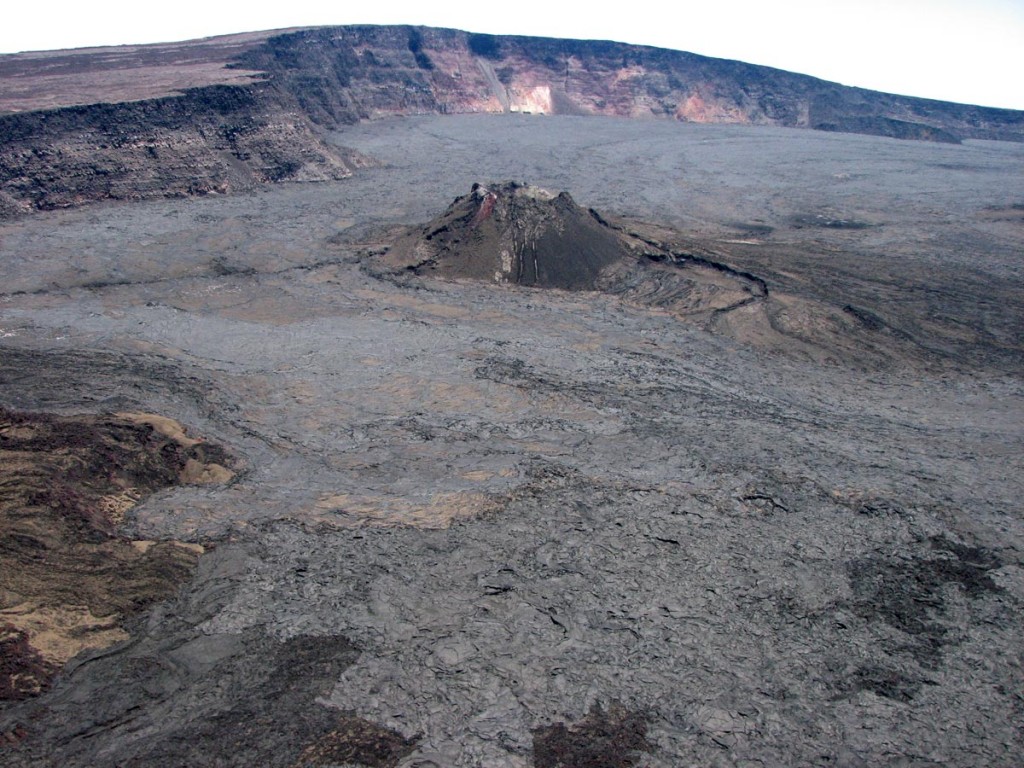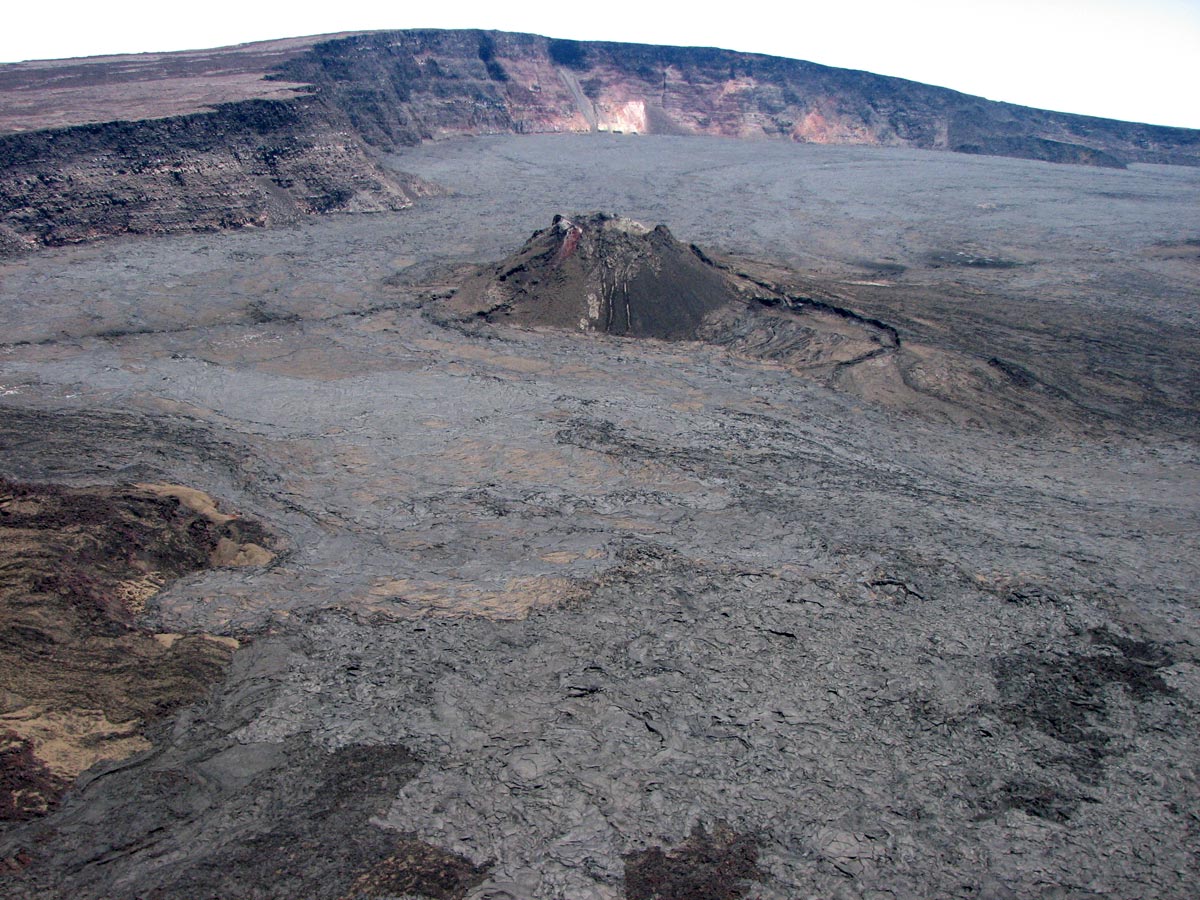 Observations:
During the past week, HVO seismometers recorded approximately 77 small-magnitude (below M3.0) earthquakes below the summit and upper-elevation flanks of Mauna Loa and one M3.5 earthquake below the upper southwest rift on April 19. The majority of these earthquakes occurred at shallow depths less than 15 kilometers (9 miles) below sea level.
Global Positioning System (GPS) measurements show low rates of deformation in the volcano's summit region continuing through the past week.
Concentrations of sulfur dioxide (SO2), hydrogen sulfide (H2S), and carbon dioxide (CO2), as well as fumarole temperatures, remain stable at both the summit and at Sulphur Cone on the upper Southwest Rift Zone.
Webcam views have shown no changes to the volcanic landscape on Mauna Loa over the past week.
Source et photo : HVO.