November 11, 2021. EN. Italy : Vulcano , Spain / La Palma : Cumbre Vieja , Kamchatka : Karymsky , Philippines : Taal , Chile : Copahue , Japan : Sakurajima .
November 11 , 2021.
Italy , Vulcano :
WEEKLY NEWSLETTER from November 01, 2021 to November 07, 2021 (issue date November 09, 2021)
SUMMARY STATEMENT OF ACTIVITY
In view of the monitoring data, it is highlighted:
1) Temperature of the fumaroles of the crater: The temperatures recorded on the edge of the crater increase slightly while they seem stable on the internal face.
2) CO2 flux in the crater area: Continuous flux measurements show high values in line with those acquired during the last period.
3) SO2 flow in the crater area: SO2 flow occurs at a high level of degassing
4) Geochemistry of fumarolic gases: No update is available. The last sample of 10/17/2021 indicated a strong contribution of magmatic gases to the fumaroles of the crater.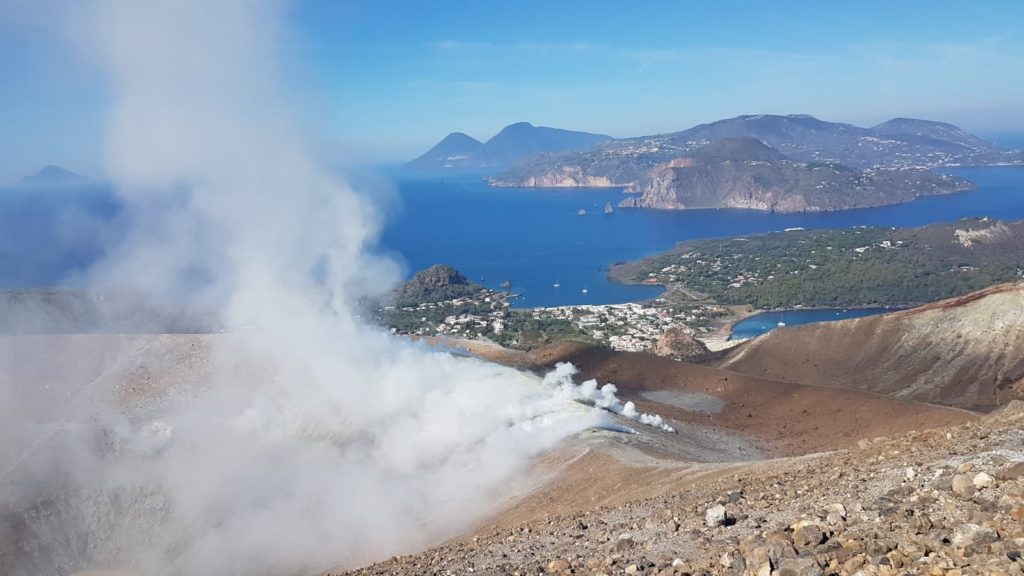 5) CO2 fluxes at the base of the La Fossa cone and in the Vulcano Porto area: very high CO2 flux values ​​in the sites of Rimessa, C. Sicilia and Palizzi (P4max); values ​​down compared to the last week on the Faraglione site
6) Geochemistry of thermal aquifers: temperature and conductivity values ​​slightly increasing in the C. Sicilia well; the temperatures recorded are anyway on very high values ​​while the conductivity on very low values; in the Bambara well, the level remains constant, while the conductivity continues to increase.
7) Local seismicity: A slight decrease in high frequency seismicity continues; there is a marked decrease in the rate of occurrence of VLP events.
8) Regional seismicity: Absence of fracturing seismicity associated with earthquakes with Ml> = 1.0.
9) Deformations – GNSS: GNSS data show that after the strong variations recorded between mid-September and mid-October, during the last week there were no significant deformations
10) Deformations – Inclinometry: The inclinometric network shows that after the variations recorded between September 13 and October 10, there are no significant variations.
11) Other observations: A variation was recorded from 3:45 p.m. UTC on November 6, observed only in the VSOCR station, probably of local type and linked to the dynamics of the aquifer. There are no changes with characteristics similar to those observed in the previous weeks.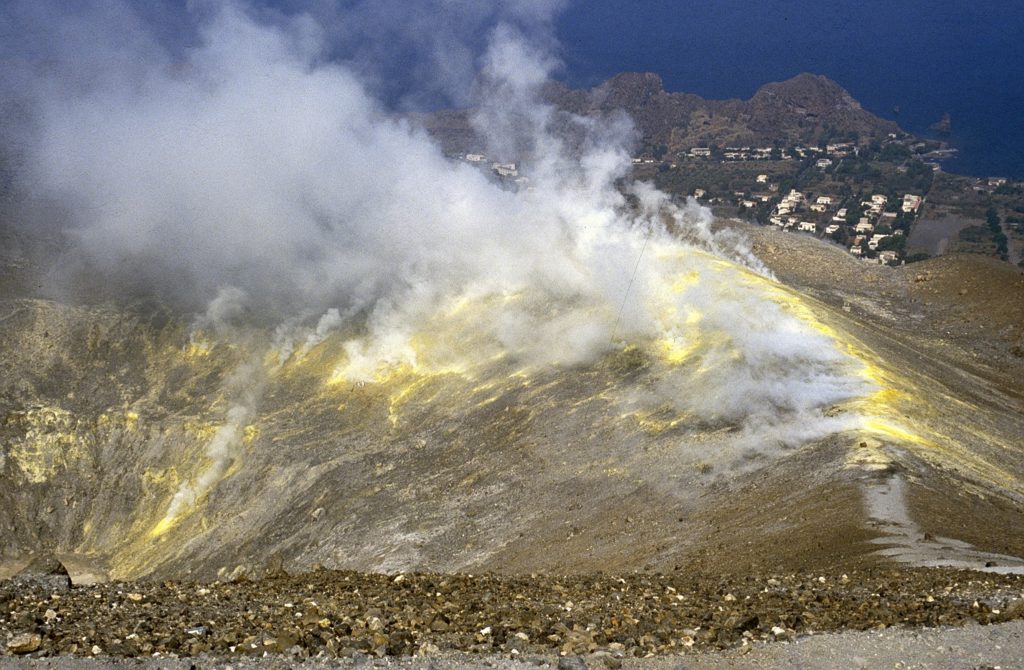 TEMPERATURE OF FUMEROLLES FROM THE CRATER.
The signals acquired by the Vulcra station have been characterized during the last week by a strong noise caused by the repeated rains; this made the data validation discontinuous; the maximum temperature channel (T_2) recorded maximum values ​​around 375 ° C. The temperatures continuously monitored on the internal side (Vulcra2 station) are appreciably stable around 110 ° C.
SO2 FLOW INTO THE CRATER ZONE.
The total SO2 flux emitted by the Vulcano fumarolic field measured by the FLAME-DOAS scanner network, since mid-September, has indicated values ​​at a high level and above the typical degassing of the Vulcano SO2 flux (20- 30 t / d). The average daily values ​​recorded over the last week are stable at a high level of ~ 180 t / d with intra-daily values ​​up to ~ 200 t / d.
From the beginning of October, the flow shows a gradual upward trend.
Source : INGV.
Read the article: https://www.ct.ingv.it/index.php/monitoraggio-e-sorveglianza/prodotti-del-monitoraggio/bollettini-settimanali-multidisciplinari/557-bollettino-settimanale-sul-monitoraggio-vulcanico-geochimico-e-sismico-del-vulcano-Vulcano-del-2021-11-09/file
Photos : INGV , Boris Behncke .
Spain / La Palma , Cumbre Vieja :
November 10, 2021, 09:00 UTC. Eruptive activity continues on La Palma.
Since the last press release, 113 earthquakes have been located in the area affected by the volcanic reactivation of Cumbre Vieja, 5 of these earthquakes were felt by the population, having reached the maximum intensity of III-IV (EMS98) in the epicentral area .
The most important earthquake is the one which occurred today at 4:24 a.m. (UTC), with a magnitude of 3.7 mbLg at a depth of 14 km and felt with an intensity III-IV on the island of La Palma . In the period considered, 3 earthquakes were located at a depth of about 30 km, the rest of the hypocenters of the period are located at a shallower depth, at about 12 km.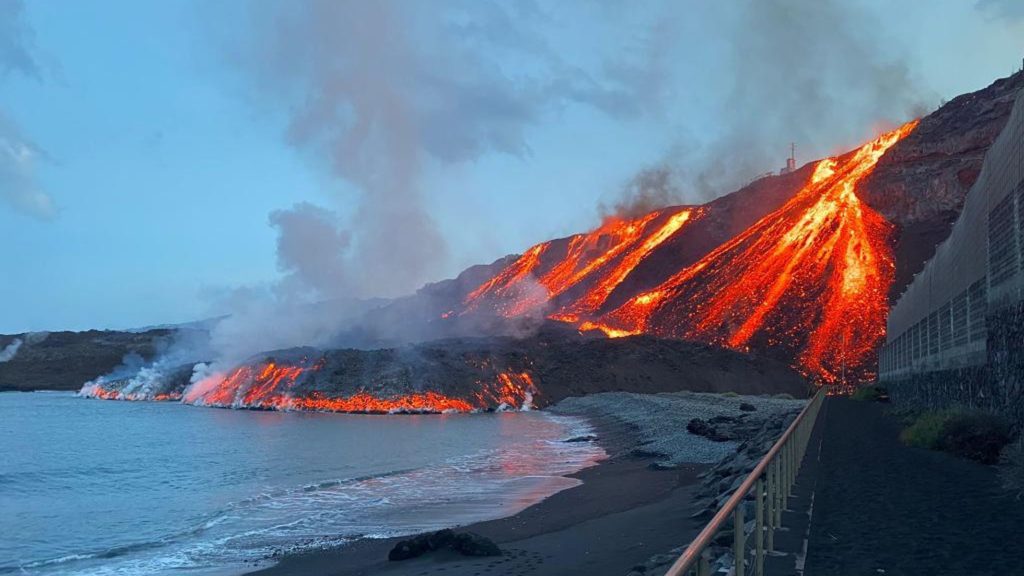 The amplitude of the volcanic tremor signal continues at lower average levels with an intensification peak.
The island's network of permanent GNSS stations continues to show that after reversing the inflation on November 4 and 5 at station LP03, which is closest to the eruptive centers, it remains at a lower level than previously. established. On the other hand, the southwest deformation recorded in the station is still continuing.
In the rest of the stations, a slight deflation persisted, possibly linked to deep seismicity.
In view of the calibrated image, an eruptive column altitude of 1,800 m is estimated at 08:45 UTC, oriented towards the West. The altitude of the cone is measured by obtaining a value of 1,131 m at sea level.
Lava from the Cumbre Vieja volcano in La Palma again reached the Atlantic Ocean overnight, after reaching Los Guirres beach on Tuesday, the Transport Ministry reported on Wednesday. The seismicity associated with the eruptive process has increased sharply in recent hours, especially at depths greater than 20 kilometers. The largest earthquake was an M 4.8, recorded at a depth of 34 kilometers at Villa de Mazo.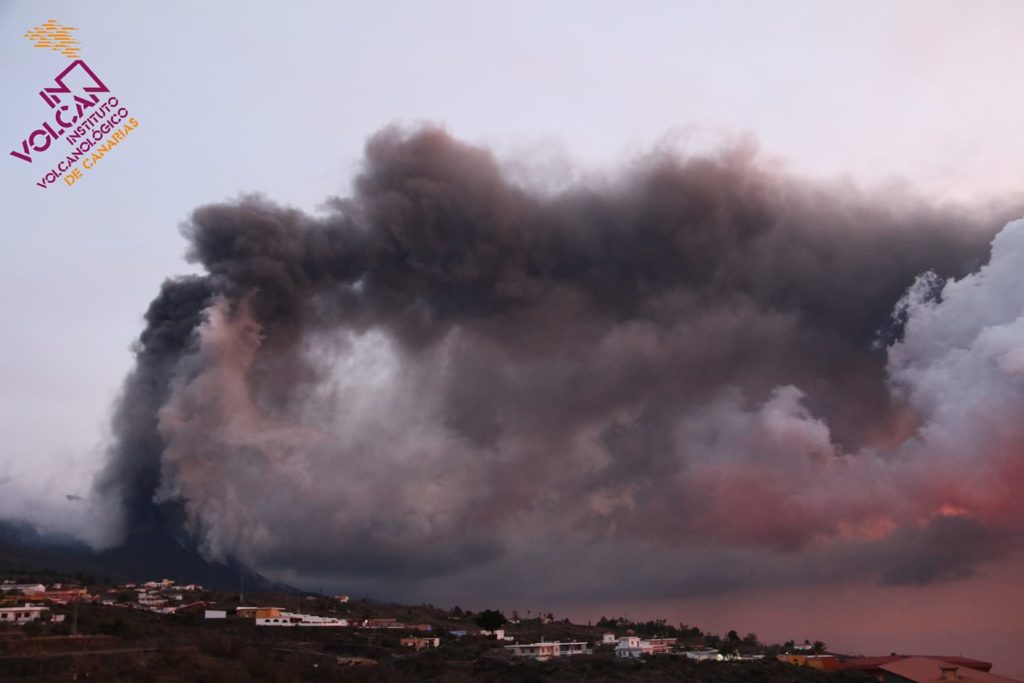 Scientists who follow the evolution of the eruption of the La Palma volcano have observed in recent hours a small rise in seismicity at great depths and the emission of sulfur dioxide, two of the volcanic monitoring variables that have been analyzed. Seismicity at depths greater than 20 kilometers has recorded an increase in recent hours, both in number and magnitude.
In fact, this morning there was an earthquake of 4.8 (mbLg) which was felt with a maximum intensity of IV on the islands of La Palma and El Hierro. Likewise, the emission of sulfur dioxide, associated with the volcanic plume of the current eruptive process in progress (visible emanations of volcanic gases), recorded yesterday continues to be high, with a range of values between 31,000 and 43,000 tonnes. per day through remote optical sensors of the miniDOAS type in maritime mobile position.
Sources : IGN es , El Pais .
Photos : SALVAMENTO MARÍTIMO , Involcan .
Kamchatka , Karymsky :
KVERT reported that during 29 October-2 November explosions at Karymsky generated ash plumes that rose as high as 4 km (13,100 ft) a.s.l. and drifted 135 km E and SE. According to the Tokyo VAAC ash plumes rose as high as 7.9 km (26,000 ft) a.s.l. on 3 November and drifted SE and E.
A powerful explosive eruption on 4 November generated notable ash plumes described in a series of VONAs issued by KVERT and volcanic ash advisories (VAAs) issued by the Tokyo and Anchorage VAACs. On 4 November ash plumes rose 3-9.5 km (10,000-31,200 ft) a.s.l. and drifted E. Satellite images acquired at 1750 showed two large ash clouds, one was 400 x 560 km in extent and had drifted 1,090 km E and the second was 80 x 280 km and had drifted 460 km SE. On 5 November ash plumes rose 3-5.5 km (10,000-18,000 ft) a.s.l. and drifted E and NE. Additional explosions at 1540 on 6 November generated ash plumes that rose 7.5-8 km (24,600-26,200 ft) a.s.l. and drifted ENE, prompting KVERT to raise the Aviation Color Code to Red (the highest level on a four-color scale). Observers on Medny and Bering islands reported ashfall. Activity waned, but at 1305 on 7 November more ash plumes rose to 4-4.6 km (13,100-15,000 ft) a.s.l. and drifted 110 km NNE; KVERT lowered the Aviation Color Code to Orange.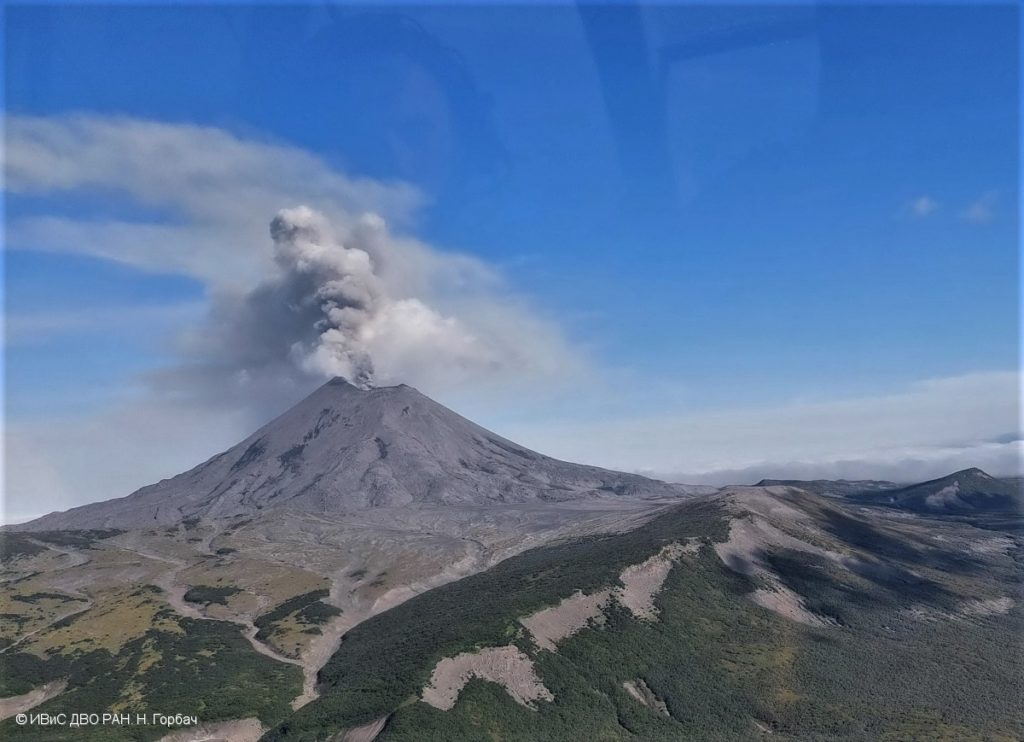 VOLCANO OBSERVATORY NOTICE FOR AVIATION (VONA)
Issued: November 10 , 2021
Volcano: Karymsky (CAVW #300130)
Current aviation colour code: ORANGE
Previous aviation colour code: orange
Source: KVERT
Notice Number: 2021-146
Volcano Location: N 54 deg 2 min E 159 deg 26 min
Area: Kamchatka, Russia
Summit Elevation: 1486 m (4874.08 ft)
Volcanic Activity Summary:
The eruptive activity of the volcano continues. Satellite data showed explosions sent ash up to 3.5-4 km a.s.l., and ash cloud to drift for 40 km to the east of the volcano.
This activity continues. Ash explosions up to 10 km (32,800 ft) a.s.l. could occur at any time. Ongoing activity could affect international and low-flying aircraft.
Volcanic cloud height:
3500-4000 m (11480-13120 ft) AMSL Time and method of ash plume/cloud height determination: 20211110/0224Z – MODIS AQUA (31m32)
Other volcanic cloud information:
Distance of ash plume/cloud of the volcano: 40 km (25 mi)
Direction of drift of ash plume/cloud of the volcano: E / azimuth 99 deg
Time and method of ash plume/cloud determination: 20211110/0310Z – Himawari-8
Start time of explosion and how determined: 20211110/0215Z – Satellite data
Sources: GVP , Kamchatkan Volcanic Eruption Response Team (KVERT)
Photo : N. Gorbach, IVS FEB RAS.
Philippines , Taal :
TAAL VOLCANO BULLETIN 11 November 2021 8:00 AM
In the past 24-hour period, the Taal Volcano Network recorded two hundred twenty-three (223) volcanic earthquakes, including one hundred eighty (180) volcanic tremor events having durations of one (1) to two (2) minutes, forty-three (43) low-frequency volcanic earthquakes, and low-level background tremor that has persisted since 7 July 2021. Activity at the Main Crater was dominated by upwelling of hot volcanic fluids in its lake which generated plumes 1500 meters tall that drifted southwest and south-southwest. Sulfur dioxide (SO2) emission averaged 10,280 tonnes/day on 10 November 2021. Based on ground deformation parameters from electronic tilt, continuous GPS and InSAR monitoring, Taal Volcano Island has begun inflating in August 2021 while the Taal region continues to undergo very slow extension since 2020.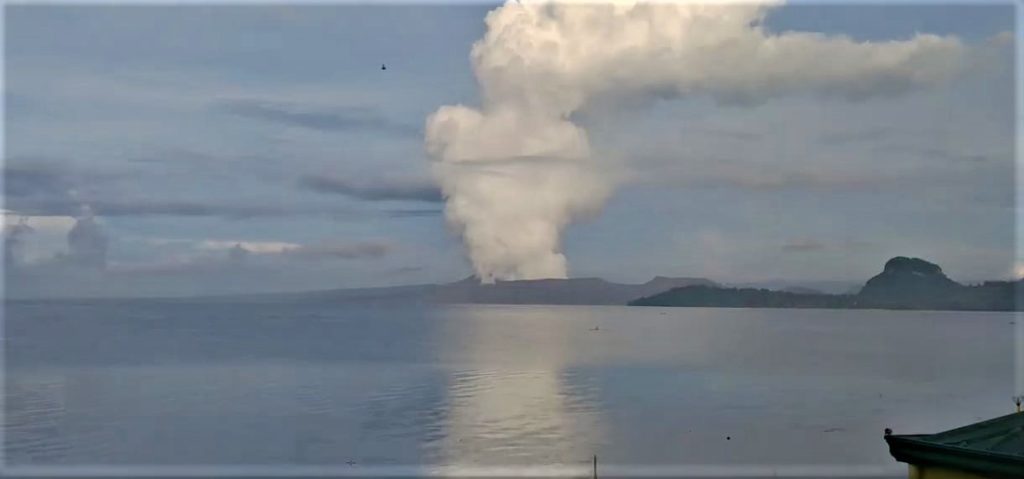 PHIVOLCS reported that a series of volcanic earthquakes at Taal began at 0347 on 3 November and lasted for two minutes based on the seismic data; the events were felt at Intensity I in Banyaga, Agoncillo, and Batangas, and the largest event was a local M 2.9. The events were accompanied by a series of four short-lived plumes that rose less than 1 km above the lake. The characteristics of the seismic signals were similar to the phreatic bursts recorded in July. Upwelling hot volcanic fluids were visible in the crater lake during 3-9 November, and gas-and-steam plumes rose 0.9-1.8 km above the lake and drifted mainly SW. Sulfur dioxide emissions averaged 4,877-19,463 tonnes/day. Low-level background tremor continued along with as many as 111 volcanic earthquakes per day during 2-3 and 5-9 November and as many as 85 low-frequency volcanic earthquakes per day during 2-3 and 7-8 November. There were also 6-40 daily episodes of volcanic tremor, each lasting between 1 and 19 minutes. The Volcano Alert Level remained at a 2 (on a scale of 0-5). PHIVOLCS reminded the public that the entire Taal Volcano Island is a Permanent Danger Zone (PDZ) and that boating on Taal Lake was prohibited.
Sources : Philippine Institute of Volcanology and Seismology (PHIVOLCS), GVP
Photo : Stefan Wagner
Chile , Copahue :
During the period, 11 classified volcano-tectonic earthquakes were recorded, associated with fragile rupture processes in volcanic systems. The most energetic earthquake had a local magnitude (ML) value of 1.2 and was located 10.5 km northeast of the active crater, with a depth of 5.5 km.
In addition, 1 long period (LP) type earthquake was recorded, associated with the internal dynamics of fluids in the volcanic system; the size of the earthquake valued from the Reduced Displacement (DR) parameter was equal to 2.3 cm2
. Finally, 2 earthquakes related to the movement of fluids at very low frequency (VLP) were recorded, the largest of which had a reduced displacement of 18 cm2 and a dominant frequency of 0.36 Hz.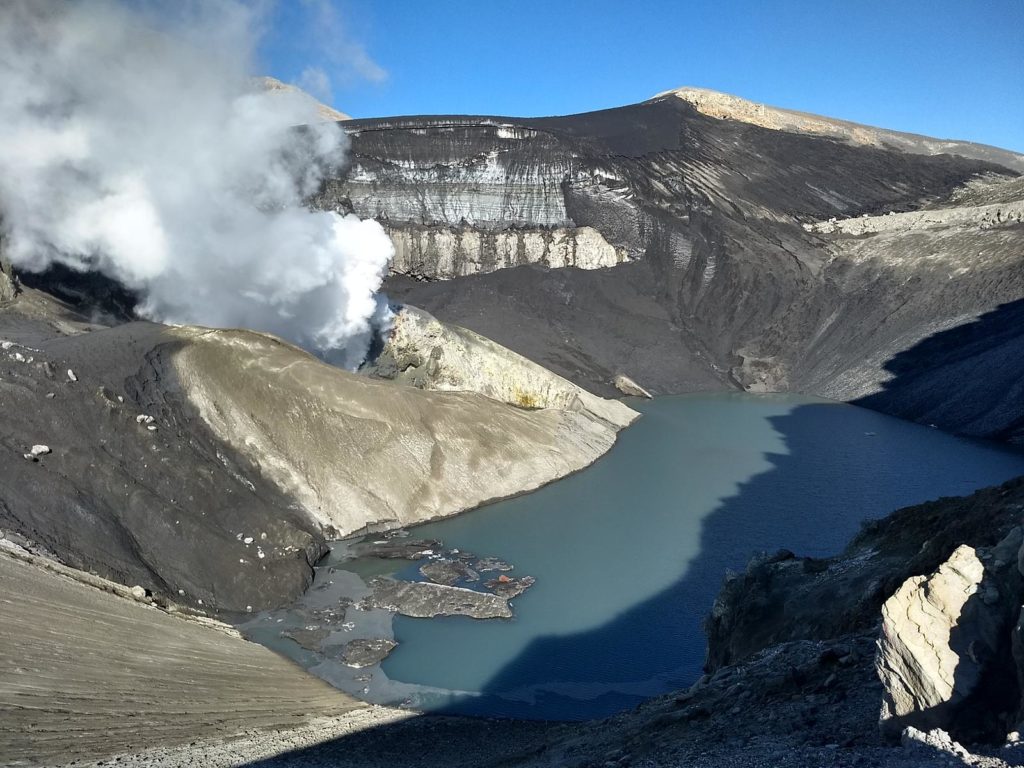 – Les images fournies par les caméras fixes installées à proximité du volcan ont montré des colonnes de dégazage avec des hauteurs inférieures à 880 m par rapport au centre d'émission.
– A partir des données des 4 stations GNSS installées sur le volcan, des changements de faible amplitude ont été observés qui suggèrent des variations déflationnistes d'ordre inférieur.
– 7 anomalies ont été signalées dans les émissions de dioxyde de soufre (SO2) dans l'atmosphère dans le secteur proche du volcan, les 2, 3, 8, 11, 12, 17 et 18 octobre, selon les données publiées par le Tropospheric Monitoring Instrument ( TROPOMI) et Ozone Monitoring Instrument (OMI) Sulfur Dioxide Group.
– Au cours de la période, aucune alerte thermique n'a été enregistrée dans la zone associée au volcan, selon les données traité par l'Observation Infrarouge Moyen de l'Activité Volcanique MIROVA . Cinq anomalies de radiance ont été signalées dans la zone associée au cratère grâce à l'analyse des images satellites Sentinel 2L2A, les 7, 12, 17, 22 et 27 octobre.
– Les données sur les émissions de dioxyde de soufre (SO2) obtenues par l'Equipement de Spectroscopie Optique d'Absorption Différentielle (DOAS), correspondant aux stations Hito et Mellizas, installées à 5 km Est-Sud-Est (ESE) et 6 km à l'Est-Sud-Est ( ESE) du cratère actif respectivement, présentaient une valeur moyenne de 954 ± 85 t/j, avec une valeur quotidienne maximale de 2642 t/j le 25 octobre. Selon l'activité du volcan, ces valeurs restent à des niveaux jugés modérés.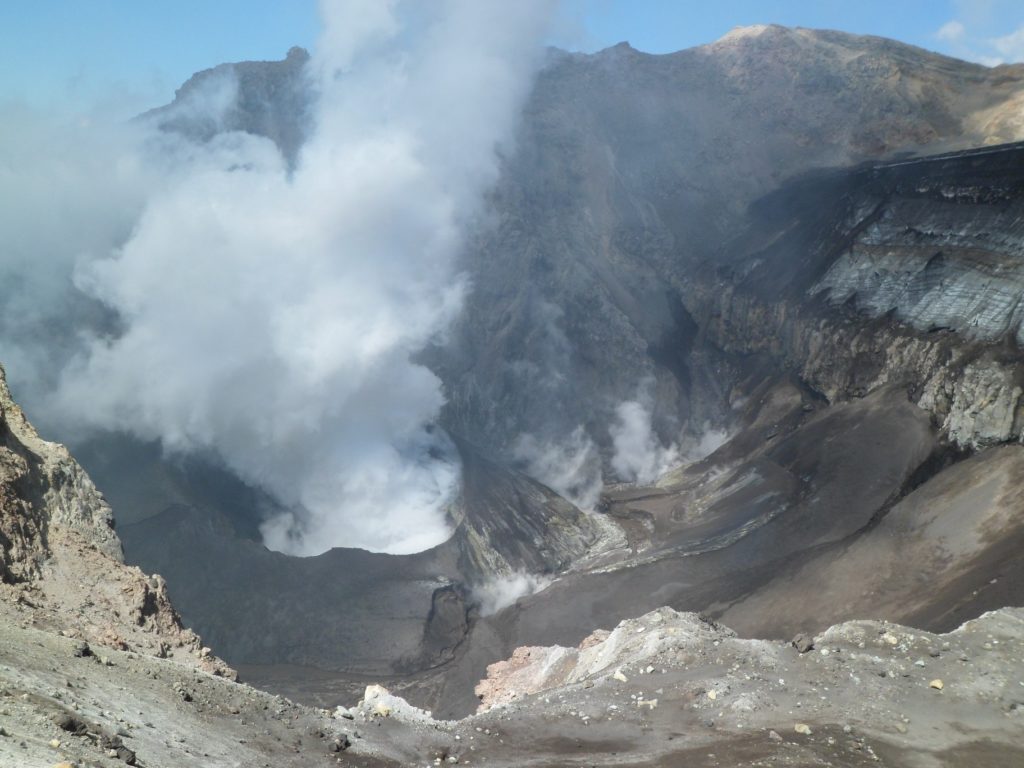 The aforementioned data that describes volcanic activity suggests a low energy state of the surface system and in this context, the occurrence of episodes impacting a larger area than that previously recorded is less likely. According to what has been observed during the previous phases, the volcanic system could experience temporary increases in surface activity with the emission of gases and particles which, depending on their power and dispersion, can be considered in correspondence with the current alert level.
Consequently, the volcanic technical alert is maintained in: GREEN TECHNICAL ALERT: Active volcano with stable behavior – No immediate risk.
Observation: The area close to the active crater within a radius of 500 m is considered to be an impacted zone.
Source : Sernageomin.
Photos : Carpediem1971 , Dario G. Lazo .
Japan , Sakurajima :
JMA reported that incandescence from Minamidake Crater (at Aira Caldera's Sakurajima volcano) was visible at night during 1-8 November. An eruption at 2225 on 2 November produced a plume that rose 1.1 km above the crater rim and drifted SW. The sulfur dioxide emission rate was 1,000 tons per day on 4 November. Very small eruptions were detected during 5-8 November. The Alert Level remained at 3 (on a 5-level scale), and residents were warned to stay 2 km away from the crater.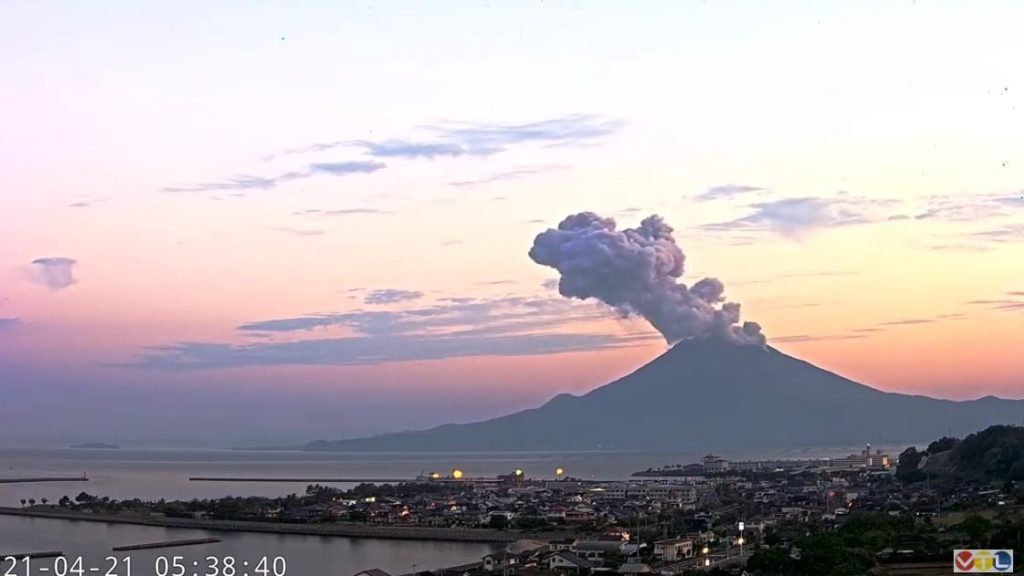 The Aira caldera in the northern half of Kagoshima Bay contains the post-caldera Sakurajima volcano, one of Japan's most active. Eruption of the voluminous Ito pyroclastic flow accompanied formation of the 17 x 23 km caldera about 22,000 years ago. The smaller Wakamiko caldera was formed during the early Holocene in the NE corner of the Aira caldera, along with several post-caldera cones. The construction of Sakurajima began about 13,000 years ago on the southern rim of Aira caldera and built an island that was finally joined to the Osumi Peninsula during the major explosive and effusive eruption of 1914. Activity at the Kitadake summit cone ended about 4850 years ago, after which eruptions took place at Minamidake. Frequent historical eruptions, recorded since the 8th century, have deposited ash on Kagoshima, one of Kyushu's largest cities, located across Kagoshima Bay only 8 km from the summit. The largest historical eruption took place during 1471-76.
Source : GVP ,Japan Meteorological Agency (JMA), Tokyo Volcanic Ash Advisory Center (VAAC)
Photo : VTL via Alicja Szojer ( Archive).