September 19, 2021. EN. Spain / La Palma : Cumbre Vieja , Indonesia : Ibu , Hawaii : Mauna Loa , Costa Rica : Rincon de la Vieja / Turrialba / Poas , Mexico : Popocatepetl .
September 19 , 2021.
Spain / La Palma , Cumbre Vieja :
Updated information on volcanic activity in the south of the island of La Palma. September 18, 2021, 12:00 UTC.
Seismic activity at Cumbre Vieja, which began on the 11 at 3:18 a.m. (UTC), has declined over the past 48 hours, however, over the past 12 hours there has been a slight increase with a magnitude M earthquake. 3, 2, at 03:26 (UTC) today, at a depth of 0.1 km, which was felt by the population with intensity III (EMS98). So far and since the start of the series, 5391 earthquakes have been detected, of which 1102 have been located.
The maximum cumulative vertical deformation is of the order of 10 cm in the zone close to seismicity and its distribution is still compatible with a center of pressure in this zone. These movements were observed both with the island's GNSS network and with InSAR data (Sentinel-1).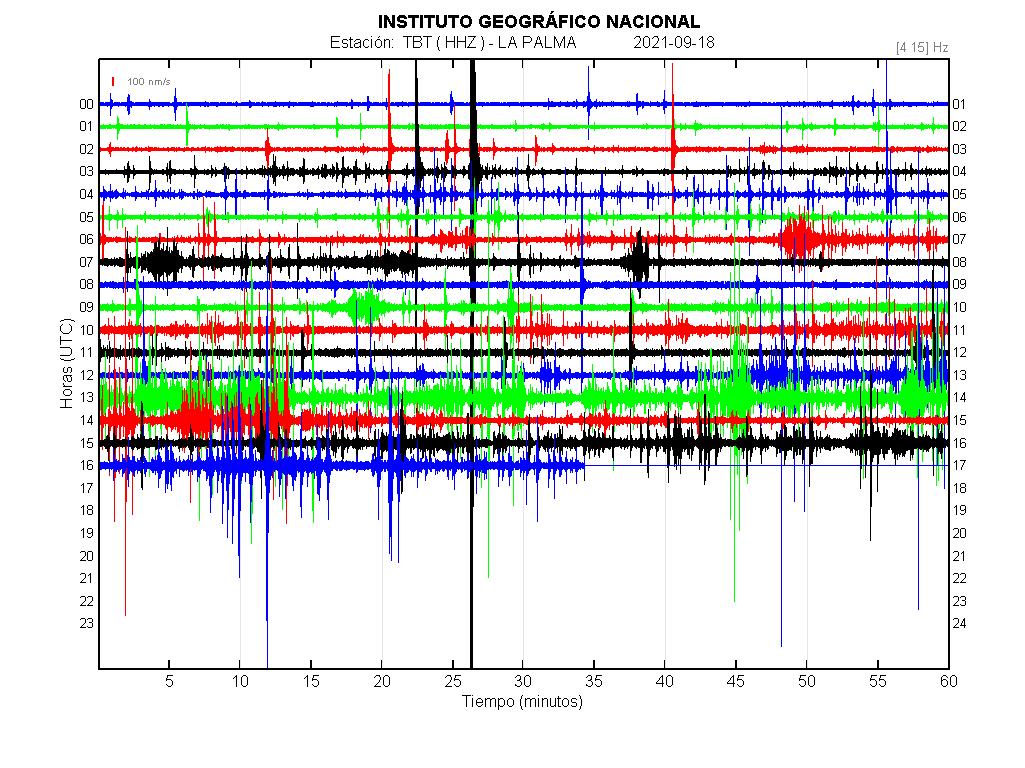 Information update: The seismic swarm continues on the Cumbre Vieja volcano (La Palma, Canary Islands) with more than 22,700 low magnitude earthquakes detected.
From 4:18 a.m. (Canary Island time) on Saturday, September 11, 2021, the Canary Islands Seismic Network, managed by the Canary Islands Volcanic Institute (INVOLCAN), records a new swarm of low-magnitude seismic events under the Cumbre volcano. Vieja.
Update 4:30 p.m. (Canary Island time): no significant thermal anomaly was observed in the surface environment of Cumbre Vieja West and the summit area.
In order to reinforce the seismic / volcanic vigilance of Cumbre Vieja, an INVOLCAN team installed today a seismic table in the region of El Charco.
A seismic table is a set of seismic stations installed at a short distance from each other which, in addition to detecting seismic waves, makes it possible to establish the direction from which these waves originate.
Using analysis techniques similar to those used by telecommunication antennas, this tool will more sensitively detect any seismic signal coming from inside the volcano, including the volcanic tremor, which is an important precursor of a possible eruptive phase.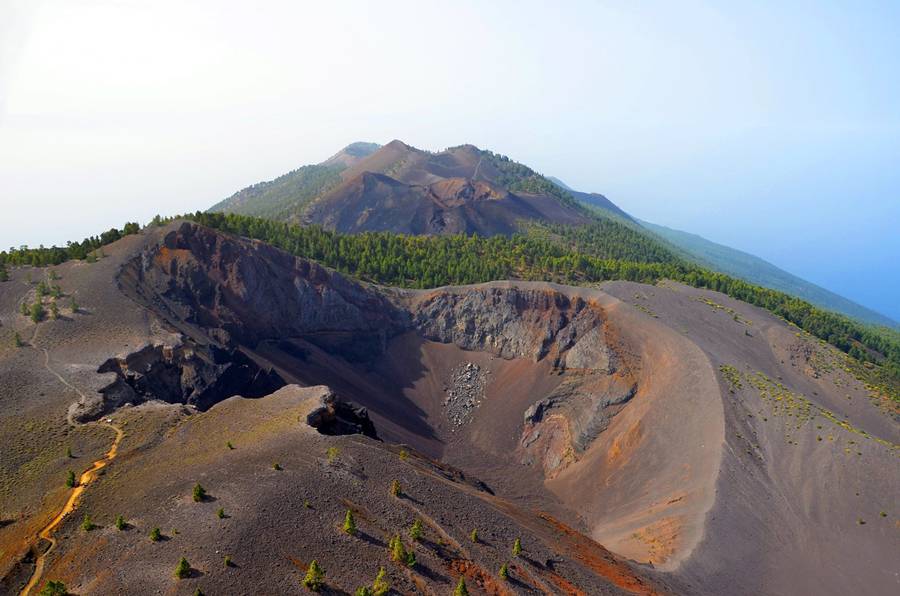 In recent years, the Cumbre Vieja volcano has experienced 10 seismic swarms including the one that started last Saturday (1 in 2017, 1 in 2018, 5 in 2020 and 3 in 2021). The earthquakes in this latter swarm are shallower than in previous seismic swarms, where the depth varied between 20 and 30 km. Without a doubt, the current seismic swarm represents a significant change in the activity of the Cumbre Vieja volcano and is linked to a process of magmatic intrusion under the island of La Palma.
INVOLCAN will continue to be informed of the evolution of this new seismic swarm at the Cumbre Vieja volcano. We remind you that it is not excluded that the seismicity felt in the coming days will intensify, depending on the evolution of the activity.
Sources : IGN , Involcan.
Photos : IGN , Involcan.
Indonesia , Ibu :
VOLCANO OBSERVATORY NOTICE FOR AVIATION – VONA.
Issued : September 18 , 2021.
Volcano : Ibu (268030)
Current Aviation Colour Code : ORANGE
Previous Aviation Colour Code : orange
Source : Ibu Volcano Observatory
Notice Number : 2021IBU17
Volcano Location : N 01 deg 29 min 17 sec E 127 deg 37 min 48 sec
Area : North Maluku, Indonesia
Summit Elevation : 4240 FT (1325 M)
Volcanic Activity Summary :
Eruption with volcanic ash cloud at 02h35 UTC (11h35 local).
Volcanic Cloud Height :
Best estimate of ash-cloud top is around 7440 FT (2325 M) above sea level, may be higher than what can be observed clearly. Source of height data: ground observer.
Other Volcanic Cloud Information :
Ash-cloud moving to west.
Remarks :
Eruption and ash emission is continuing.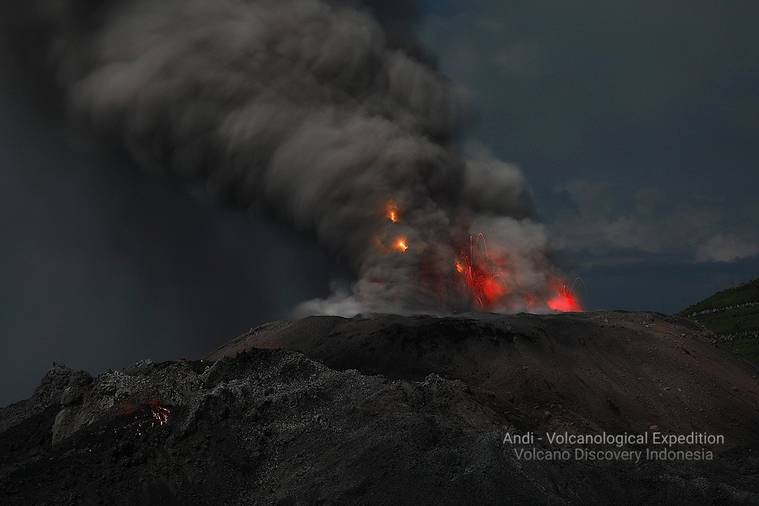 The level of activity is level II (WASPADA) since December 10, 2013. The Ibu volcano (1340 m above sea level) has been in continuous eruption since 2008. The eruption produces rocks that accumulate in the crater.
The volcano was clearly visible until it was covered in fog. The smoke from the crater, of low to moderate pressure was observed to be white / gray with low to medium intensity and a height of 200 to 800 m above the crater. An eruption was observed with a column height of 200-800 m. The color of the smoke was white / gray. The weather is sunny to cloudy, the winds are weak to moderate in the south and west.
According to the seismographs of September 17, 2021, it was recorded:
78 eruption / explosion earthquakes
71 avalanche earthquakes
26 emissions earthquakes
104 Harmonic tremors
3 distant tectonic earthquakes.
Source : Magma Indonésie , PVMBG.
Photo : Andi Rosati / Volcanodiscovery.
Hawaii , Mauna Loa :
19°28'30 » N 155°36'29 » W,
Summit Elevation 13681 ft (4170 m)
Current Volcano Alert Level: ADVISORY
Current Aviation Color Code: YELLOW
Activity Summary:
Mauna Loa Volcano is not erupting. Rates of seismicity at the summit remain slightly above long-term background levels, but have not changed significantly over the past week. Other monitoring data streams—ground deformation, gas discharge, and visual observations—show no significant changes.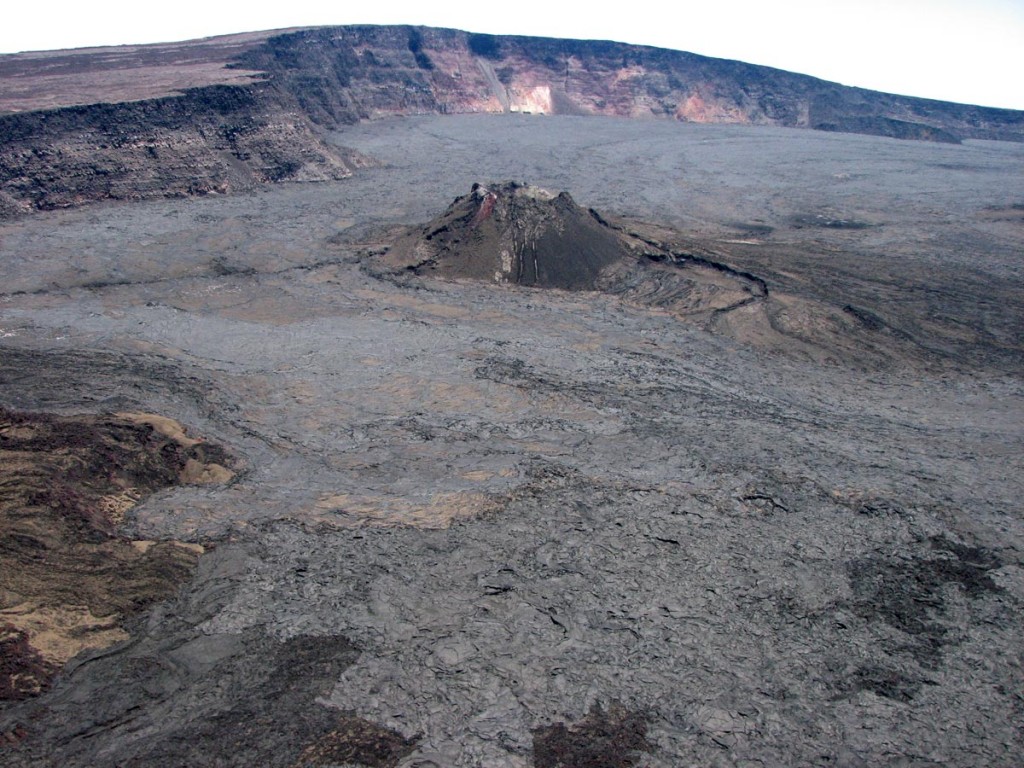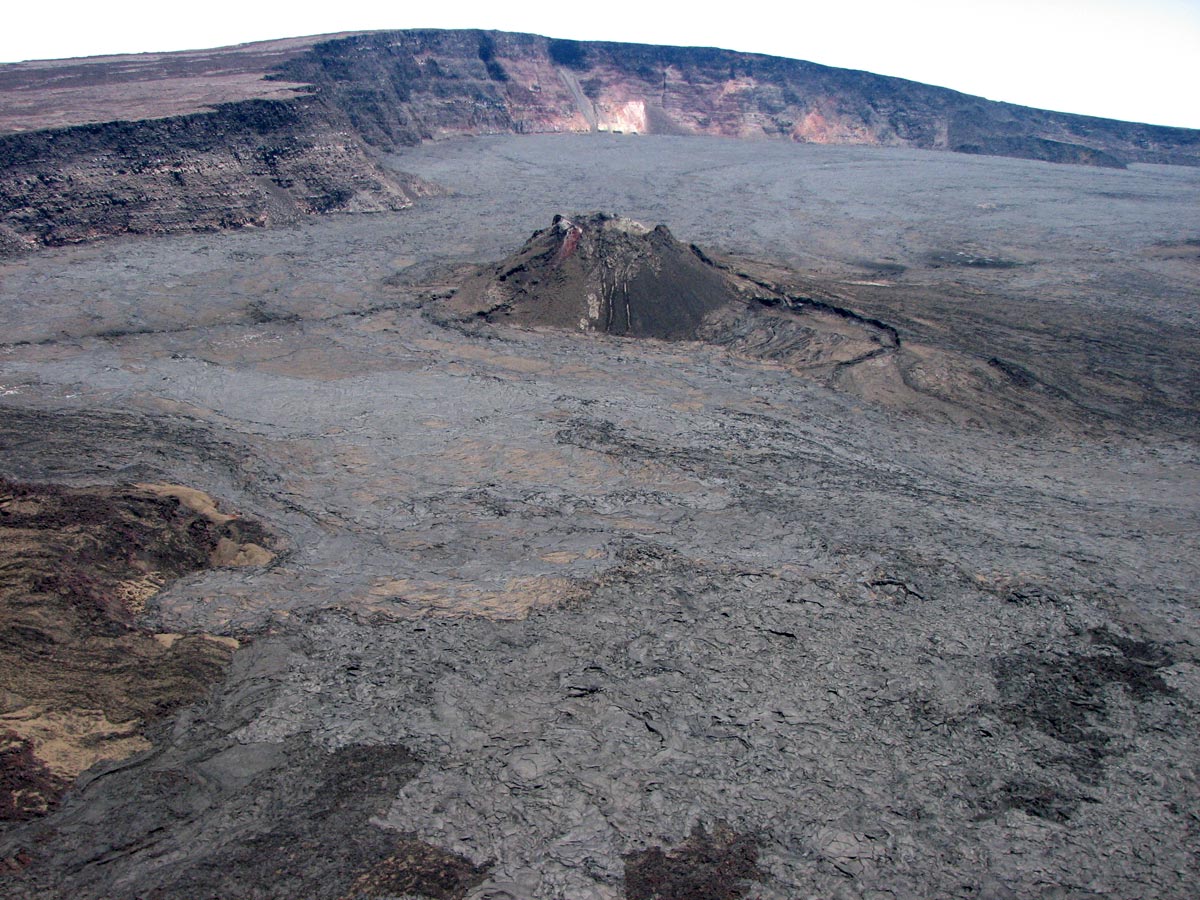 Observations:
During the past week, HVO seismometers recorded 66 small-magnitude earthquakes—all below M2.8—beneath the summit and upper-elevation flanks of Mauna Loa. The majority of these earthquakes occurred at shallow depths less than 8 kilometers (5 miles) below sea level.
Measurements of ground deformation, using Global Positioning System (GPS) instruments, confirm that the surface of the volcano has not moved appreciably over the past week.
Gas concentrations and fumarole temperatures at both the summit caldera and at Sulphur Cone on the Southwest Rift Zone remain stable.
Webcam views have shown no changes to the landscape at the Mauna Loa summit or on the lower flanks of the volcano over the past week.
Source et photo : HVO
Costa Rica , Rincon de la Vieja / Turrialba / Poas :
Volcanic Watch Program Weekly Bulletin, September 14, 2021
Rincón de la Vieja volcano
Lat: 10.83 ° N; Long: 85.324 ° W;
Altitude: 1895 m.s.n.m.
Current activity level: 3 (erupting volcano)
Potentially associated hazards: lahars, gas, phreatic eruptions, proximal ballistic projections, ash falls, acid rain.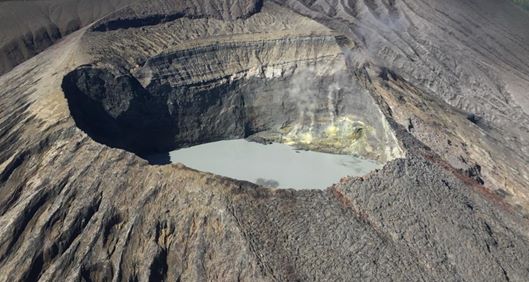 The last phreatic eruption occurred on September 1. The number of « Tornillos » type events is decreasing and the number of LP type events is stable. RSAM remains low and few VT-type events have been recorded. GPS geodetic monitoring shows localized retreat at the top and uplift of stations in the north.
Turrialba volcano
Lat: 10.025 ° N; Long: 83.767 ° W;
Altitude: 3340 m.s.n.m.
Current activity level: 2 (active volcano)
Potentially associated hazards: gas, ash emission, proximal ballistic projections, acid rain.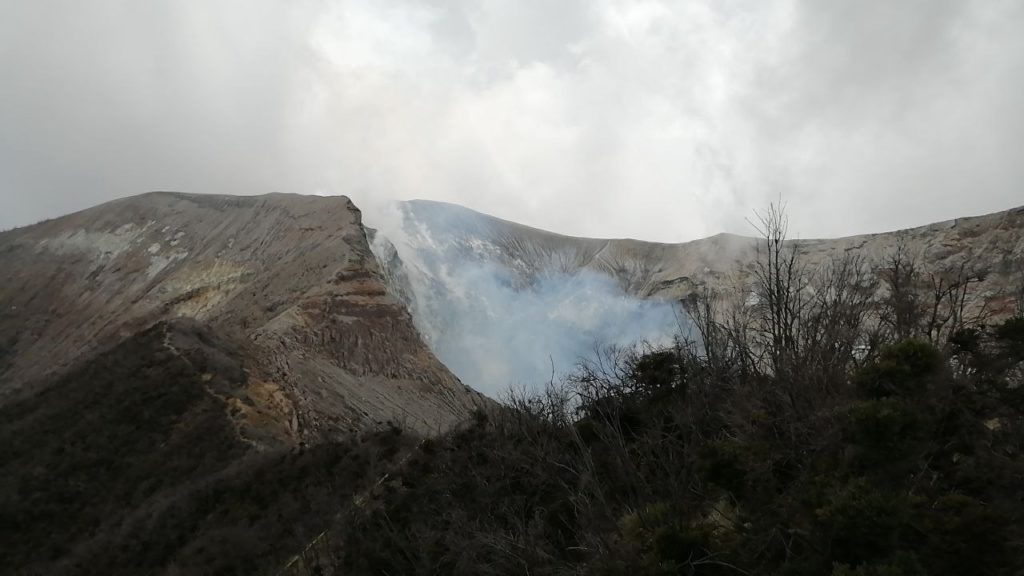 The last confirmed eruption took place on July 26. The number of low frequency LP type events decreases, the number of high frequency LP type events is stable, and short tremors increase. RSAM remains relatively low. Geodetic monitoring shows a contraction on the Irazú-Turrialba massif during the last 3 months. The CO2 / SO2 and H2S / SO2 gas ratios do not show significant changes, with weekly averages of 22 +/- 3 and 0.4 +/- 0.2 respectively.
Poas volcano
Lat: 10.2 ° N; Long: 84.233 ° W;
Height: 2780 m.s.n.m.
Current activity level: 2 (active volcano)
Potentially associated hazards: gas, phreatic eruptions, proximal ballistic projections, lahars, acid rain.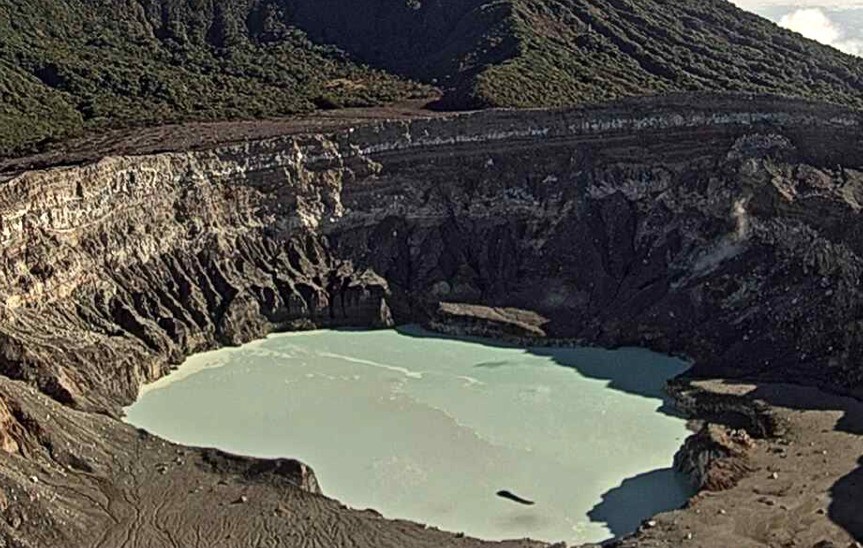 No eruption was observed. The number of daily LP type events remains high. Short tremors continue to be recorded every 10 to 60 minutes, with low amplitude. The RSAM continues to decline. Geodetic monitoring shows long term expansion and inflation, a small short term expansion. The SO2 / CO2 and H2S / SO2 gas ratios remain stable, with weekly averages of 0.36 +/- 0.12 and 0.02 +/- 0.01. The maximum SO2 concentration detected at the lookout was 2.4 ppm last week. The level of the hyperacid lake remained stable.
Source : Ovsicori.
Photos : Chris Allen / Sunquest Helitours , Jean Paul Calvo /RSN , Ovsicori.
Mexico , Popocatepetl :
September 18, 11:00 a.m. (September 18, 4:00 p.m. GMT)
During the last 24 hours, according to the monitoring systems of the Popocatépetl volcano, 90 exhalations have been identified, some accompanied by water vapor, volcanic gases and ash. The emissions were mainly dispersed to the northwest (NW). A minor explosion was detected at 11:38 a.m. yesterday.
In addition, 267 minutes of low and medium amplitude tremor were recorded.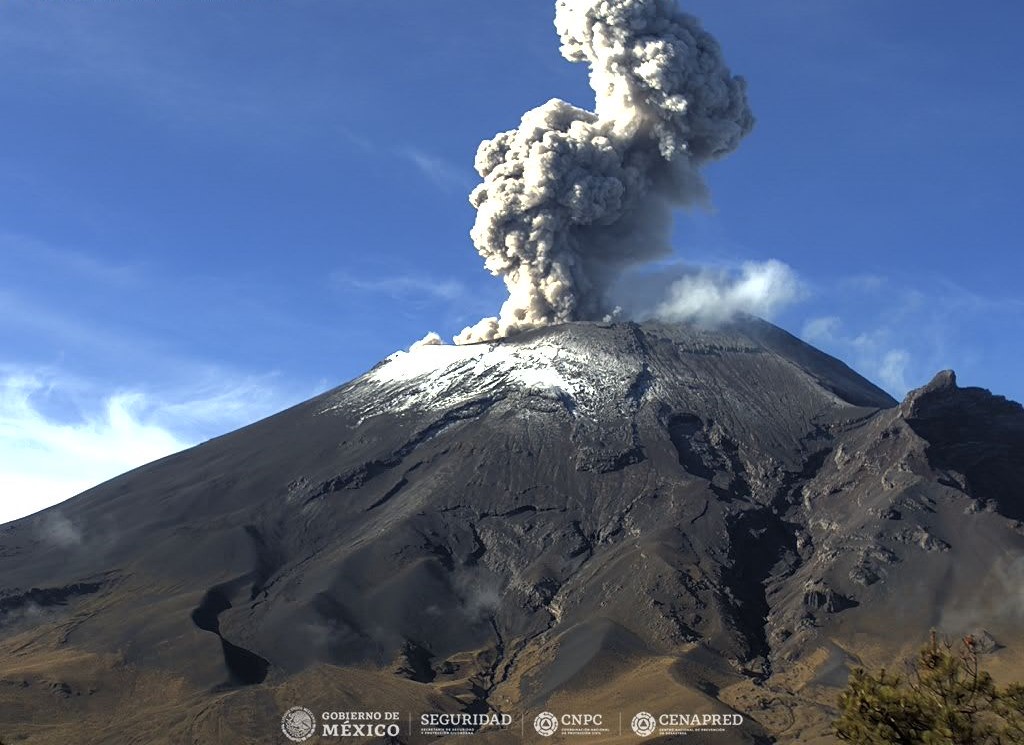 According to information from the National Center for Communication and Civil Protection Operations (CENACOM), yesterday there was a slight fall of ash in some areas of the municipality of Cuernavaca.
At the time of this report there is no visibility due to dense clouds.
CENAPRED recommends NOT TO APPROACH the volcano and especially the crater, because of the danger of falling ballistic fragments and, in the event of heavy rains, to stay away from the bottom of the ravines because of the danger. mudslides.
The Popocatépetl volcanic traffic light is in PHASE 2 YELLOW.
Source et photo : Cenapred.