March 26, 2021. EN. Philippines : Taal , Italy / Sicily : Etna , Guatemala : Pacaya , Chile / Argentina : Nevados of Chillan , Hawaii : Kilauea .
March 26 , 2021.
Philippines , Taal :
TAAL VOLCANO BULLETIN: 26 March 2021 08:00 A.M.
In the past 24-hour period, the Taal Volcano Network recorded two hundred seventy (270) volcanic earthquakes, including one hundred ninety-three (193) episodes of volcanic tremor having durations of one (1) to twelve (12) minutes, and seventy-seven (77) low frequency volcanic earthquakes. Activity at the Main Crater consisted of weak emission of steam-laden plumes from fumarolic vents that rose ten (10) meters. Sulfur dioxide (SO2) emission that averaged 925 tonnes/day was measured yesterday, 25 March 2021. Temperature highs of 71.8°C and pH of 1.59 were last measured from the Main Crater Lake respectively on 04 March and 12 February 2021. Ground deformation parameters from electronic tilt, continuous GPS and InSAR data analysis indicated a very slow and steady inflation and expansion of the Taal region since after the January 2020 eruption. These parameters may indicate increased magmatic activity at shallow depths beneath the edifice.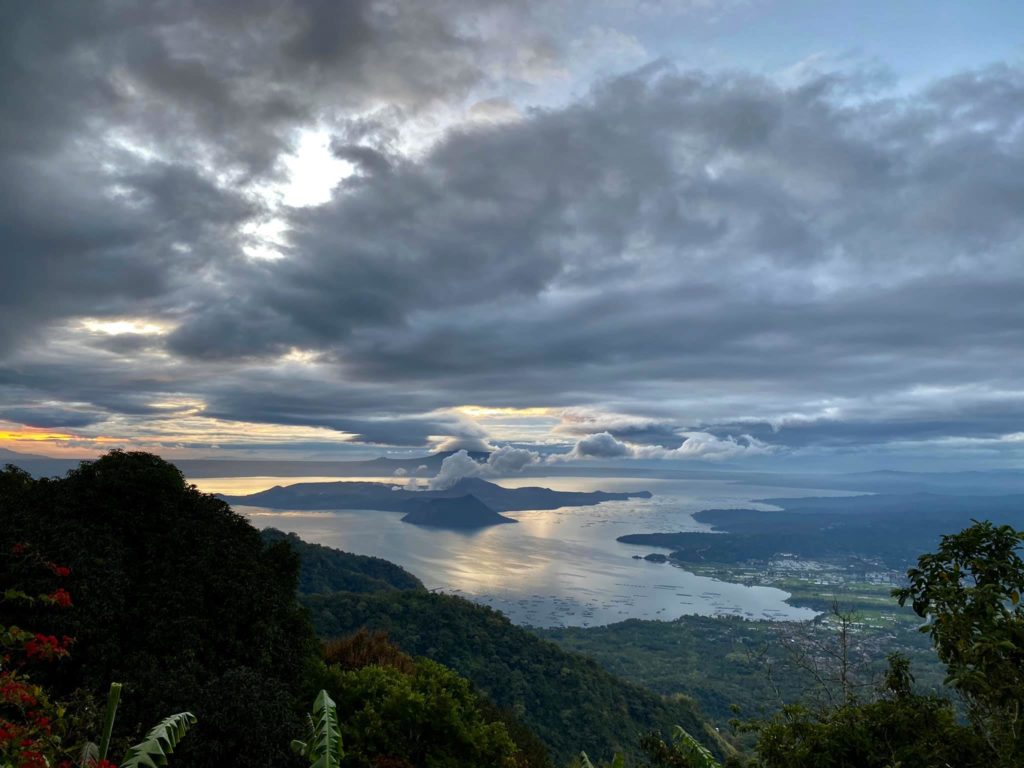 Alert Level 2 (Increased Unrest) is currently maintained over Taal Volcano but that unrest has been elevating and is under constant evaluation. DOST-PHIVOLCS reminds the public that at Alert Level 2, sudden steam-driven or phreatic explosions, volcanic earthquakes, minor ashfall, and lethal accumulations or expulsions of volcanic gas can occur and threaten areas within and around TVI. DOST-PHIVOLCS strongly recommends that entry must be strictly prohibited into Taal Volcano Island, Taal's Permanent Danger Zone or PDZ, especially the vicinities of the Main Crater and the Daang Kastila fissure, and occupancy and boating on Taal Lake. Local government units are advised to continuously assess and strengthen the preparedness of previously evacuated barangays around Taal Lake in case of renewed unrest. Civil aviation authorities must advise pilots to avoid flying close to the volcano as airborne ash and ballistic fragments from sudden explosions and wind-remobilized ash may pose hazards to aircraft.
DOST-PHIVOLCS is closely monitoring Taal Volcano's activity and any new significant development will be immediately communicated to all stakeholders.
Source : Phivolcs .
Photo : Raffy Tima .
Italy / Sicily , Etna :
Press release on ETNA's activity, 25 March 2021, 09:34 (08:34 UTC).
The National Institute of Geophysics and Volcanology, Osservatorio Etneo, reports that the lava flows, put in place during the last lava fountain in the Southeast Crater, are no longer supplied and the fronts are cooling.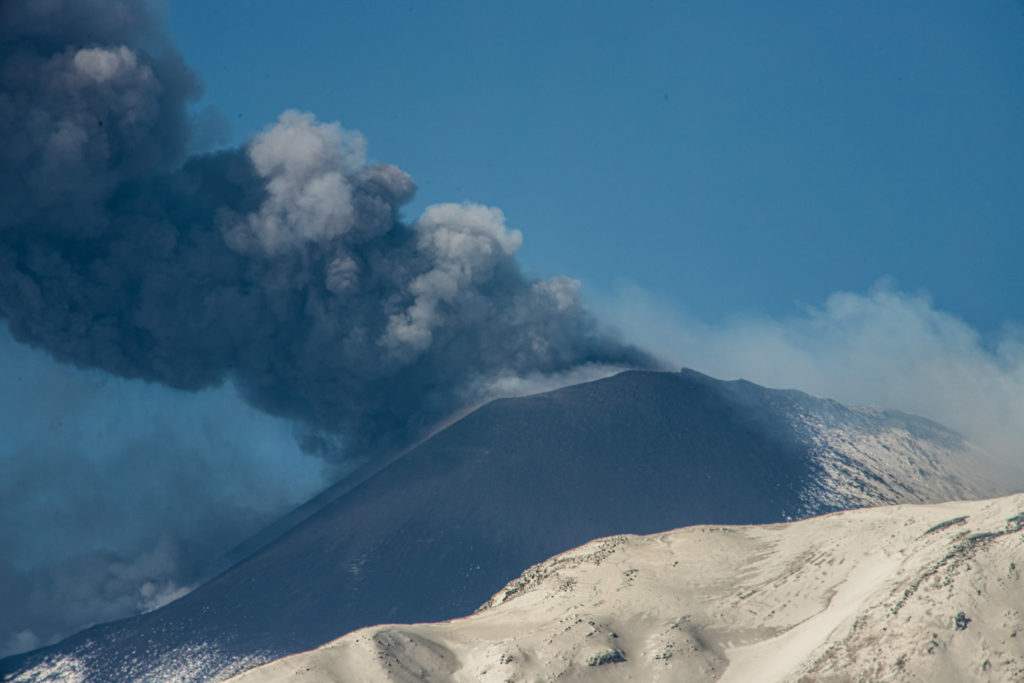 The average amplitude of the volcanic tremor is maintained on average values and the infrasound activity is low.
Signals from soil deformation monitoring stations do not show significant changes.
Further updates will be communicated shortly.
Source : INGV .
Photo : Guide Alpine Vulcanologiche Etna
Guatemala , Pacaya :
SPECIAL VOLCANOLOGICAL BULLETIN; 25 March 2021 at 18:11 local time
UPDATE ON ERUPTIVE AND EFFUSIVE ACTIVITY.
The activity of the Pacaya volcano continues with moderate explosions, accompanied by columns of ash, at heights of 3000 to 3500 meters above sea level. (9842 and 11482 feet) moving on the southwest, southeast, north, northeast flanks, over distances of approximately 15 and 20 kilometers. Falls of fine particles of ash are reported in the villages of Pepinal San Francisco de Sales, El Cedro, Calderas, Mesías Alta and Messías Baja.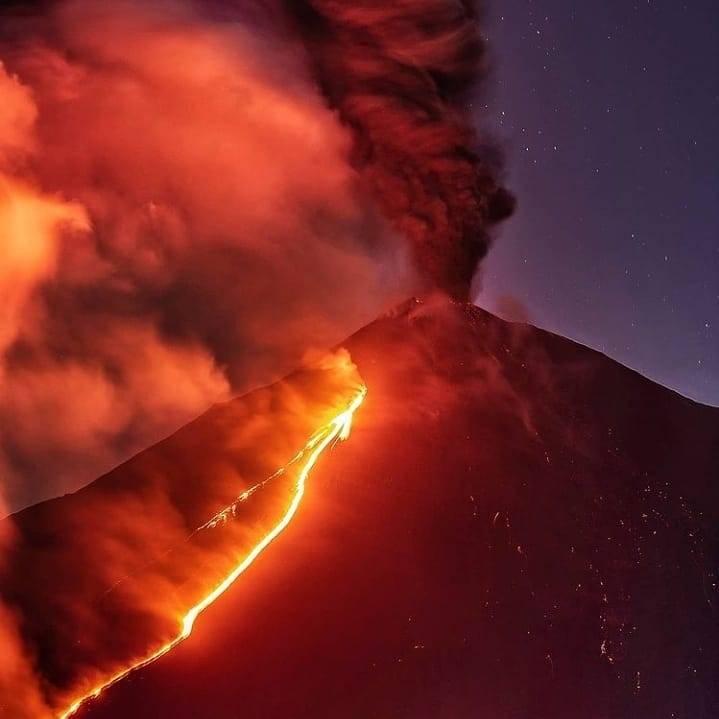 If Strombolian activity intensifies with strong explosions, the ash column can be transported over the capital and its surroundings. It is also necessary to take into account the fact that since March 18, lava flows have been generated on the southwest flank, which move over a length of approximately 2,500 meters. The flow front is 250 meters wide, reaching the vegetation, causing fires and the destruction of coffee and avocado plants.

L'enregistrement des stations sismiques de PCG et PCG4 montre l'activité du volcan Pacaya.
Given the behavior that the Pacaya volcano has shown in recent weeks, the activity is considered to continue at high levels and it is not excluded that increasing pulses will continue to appear in the coming hours, generating explosions, ballistic projections and ash falls. , and / or the appearance of new lava flows or the increase in their length.
Source : Insivumeh .
Photo : Travel Guatemala via Volcan Pacaya Facebook.
Chile / Argentina , Nevados of Chillan :
The seismicity parameters associated with the fracturing processes of rigid materials (type VT) and fluid dynamics (types LP, TR and EX) showed a stable trend compared to the previous period, both due to their energy and the number of events.
The highest energy VT-type event, with a local magnitude (ML) of 2.8, was located 8.3 km east-northeast (ENE) of the active crater and at a depth of 3.7 km.
The analysis of the images provided by the surveillance cameras belonging to the OVDAS, demonstrated the continuity of the effusive and explosive dynamics during this fortnight. The effusive activity maintains the growth of the dome which records explosions and emissions of fragments at a distance of 160 m from the crater but without significant changes in its morphology. The advance of the lava flow, at a speed of 0.1 m / h and with an estimated range of 925 m, continues to show greater development of its central channel and front. The explosive activity exhibited maximum column heights of 1160 m, with varying particulate matter content.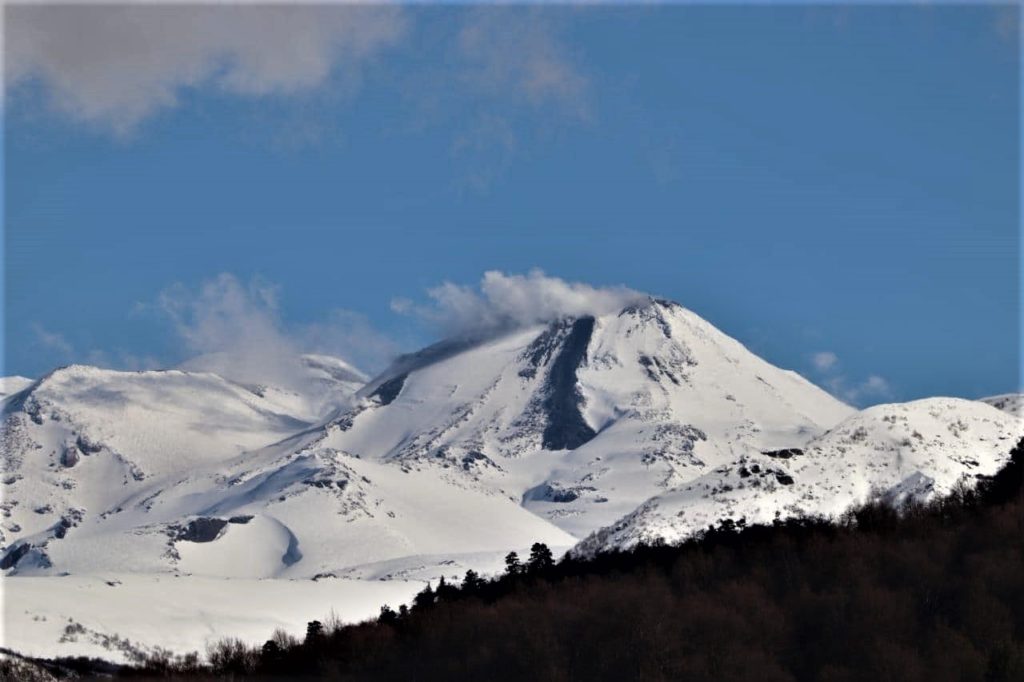 When weather conditions permitted, it was possible to record the nocturnal incandescence associated with the dome in a recurring fashion and focused on the crater area.
According to data obtained from the network of GNSS stations and inclinometers installed on the volcano, the inflationary trend during this period is still observed in the stations around the crater. Data modeling suggests a pressure source located just under 5 km deep, similar to that modeled between 2019 and 2020.
Eighteen (18) thermal alerts were recorded in the area with a maximum value of 15 MW, a value considered moderate for this volcano. Radiation anomalies were detected on March 1, 4, 6, 9, 11 and 14 from Sentinel 2-L2A image analysis.
There was no increase in the mean temperature observed for the lava flow during this period.
Source : Segemar .
Photo : REAV / Servicio Nacional de Geología y Minería.
Hawaii , Kilauea :
19°25'16 » N 155°17'13 » W,
Summit Elevation 4091 ft (1247 m)
Current Volcano Alert Level: WATCH
Current Aviation Color Code: ORANGE
Activity Summary:
Laser rangefinder measurements this morning, indicate that the total depth of the lava lake is 224 m (735 ft). SO2 emission rates remain elevated at 950 t/day, last measured on March 22.
Summit Observations:
The most recent sulfur dioxide emission rate, measured on March 22, was 950 t/day. This is elevated compared to rates in the months before the eruption started on December 20 (less than 100 t/day), but lower than emission rates from the pre-2018 lava lake (around 5,000 t/day). Summit tiltmeters recorded neutral tilt over the past day (i.e. no inflationary or deflationary trends). Seismicity remains stable, with elevated tremor.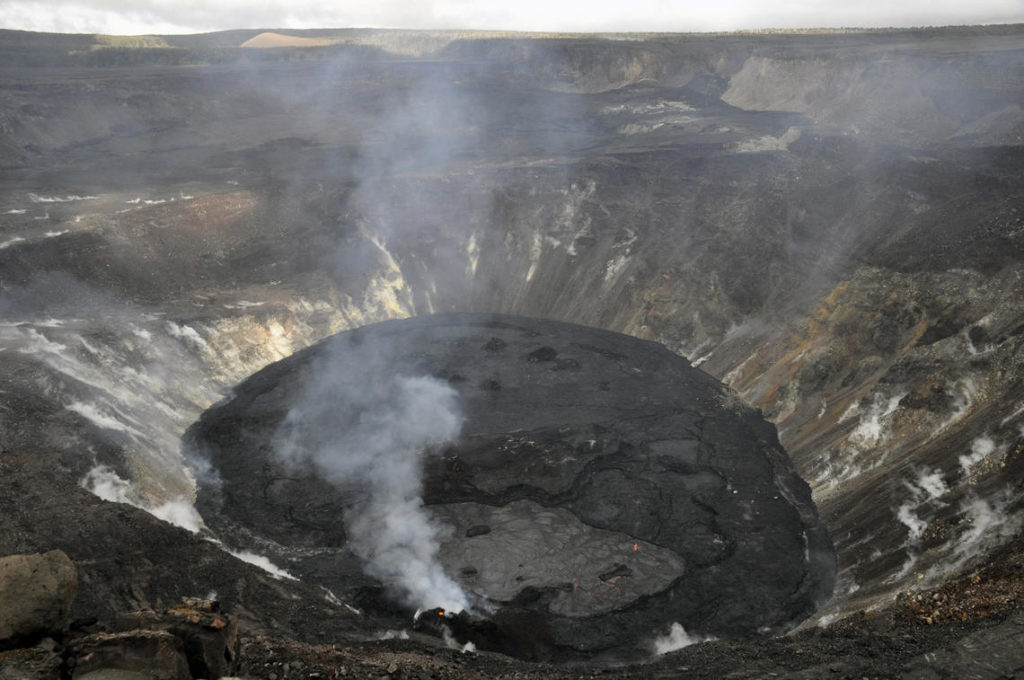 The lava lake in Halema'uma'u crater, at the summit of Kīlauea, remains active. Active surface lava is limited to the western (bottom) portion of the lake between the main island and the western fissure complex. In this view looking east, a 4 meter (13 feet) diameter skylight is visible at the top of the northeastern-most spatter cone (left).
Halemaʻumaʻu lava lake Observations:
Lava effusion from the west vent continues to supply the lava lake within Halema'uma'u crater. The main section of the west vent is consistently effusing lava at low rates through two crusted-over channels and submerged inlets to the lake. Lava circulation and intermittent foundering of thin crust continue in the active western portion of the lava lake. The total depth of the lake is 224 m (735 ft) this morning as measured by a continuous laser rangefinder on the active western portion of the lake. Stagnant and solidified lava crust covers the eastern portion of the lava lake and is slowly growing westward, preventing any lateral movement of the enclosed islands
Source : HVO
Photo : USGS / N.Deligne .