November 28, 2022. EN. Italy / Sicily : Etna , Ecuador : Cotopaxi , Kamchatka : Sheveluch , Indonesia : Semeru , Hawaii : Mauna Loa .
November 28 , 2022 .
Italy / Sicily , Etna :
Statement on ETNA activity, November 27, 2022, 9:08 (18:08 UTC).
The National Institute of Geophysics and Volcanology, Etna Observatory, communicates that from 17:00 UTC, the video surveillance network, when the cloud cover that persists on the volcano cleared up, highlighted the opening of an effusive vent northeast of the Southeast Crater, at an altitude of about 2800 m above sea level, from which a small lava flow is emitted and slowly advances towards the desert Valle del Leone.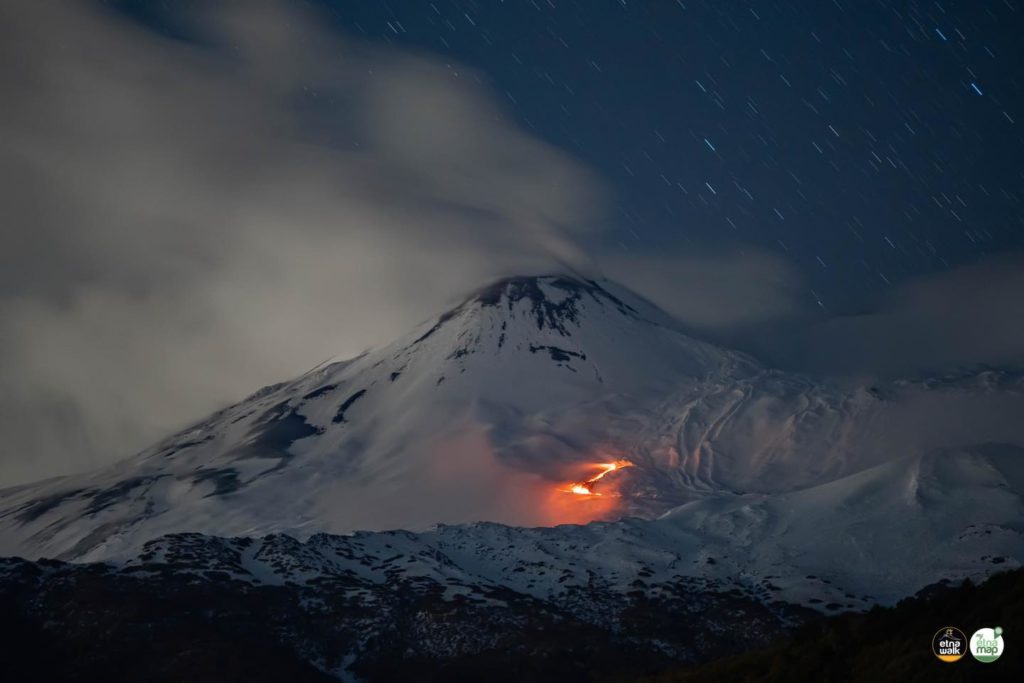 The volcanic tremor of the last hours does not show any particular variations compared to the average trend recorded last week.
Signals currently available from stress monitoring networks show no significant changes over the past few hours.
Further updates will be communicated soon
Source : INGV.
Photo : Etna Walk
Ecuador , Cotopaxi :
Information on the activity of the COTOPAXI volcano N° 2022-013, SUNDAY NOVEMBER 27, 2022
From 05:40 TL, through the surveillance cameras of the Cotopaxi volcano, a column of gas and water vapor emission with low ash content is observed which reaches 1.8 km above the level of the crater, towards the northwest. This phenomenon was persistent during the last period of activity of the volcano which began at the end of October. It is recommended to take appropriate measures and receive information from official sources.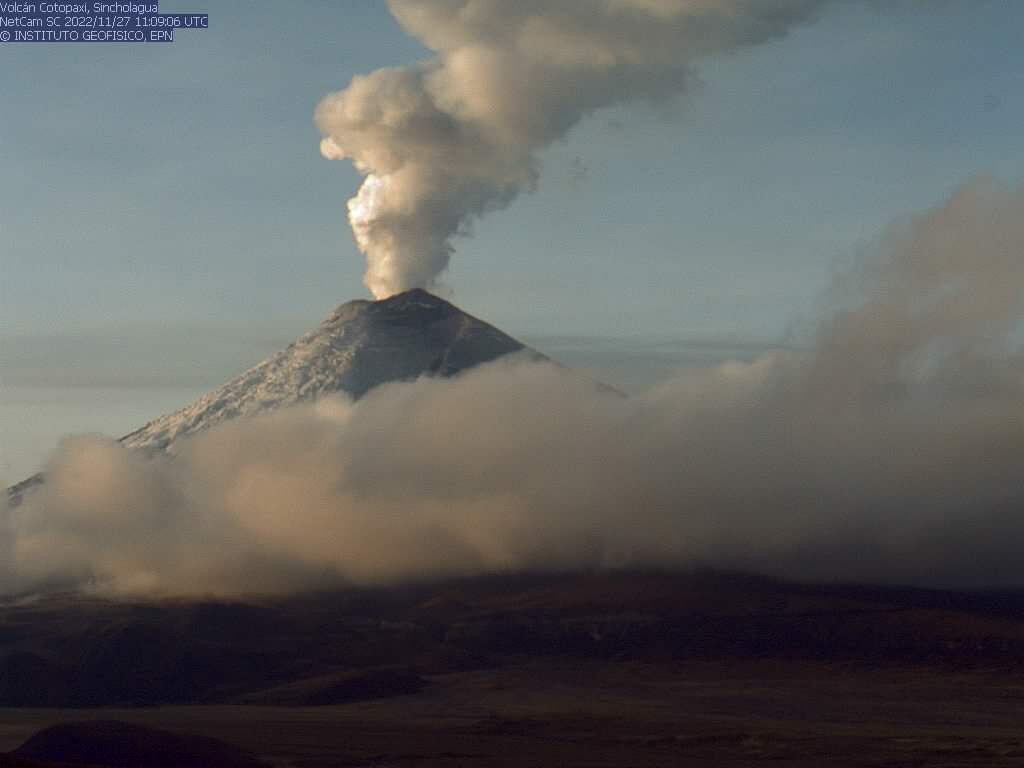 The Geophysical Institute will inform in a timely manner in the event of the detection of significant changes in its activity.
DAILY REPORT OF THE STATE OF COTOPAXI VOLCANO, Sunday November 27, 2022.
Information Geophysical Institute – EPN.
Surface activity level: Low, Surface trend: Ascending.
Internal activity level: Low, Internal trend: Ascending.
Seismicity: From November 26, 2022, 11:00 a.m. to November 27, 2022, 11:00 a.m.:
Data transmission from the BREF station is complete for seismic statistics.
Transmit Tremor (TREMI ) 8
Long Period (LP): 58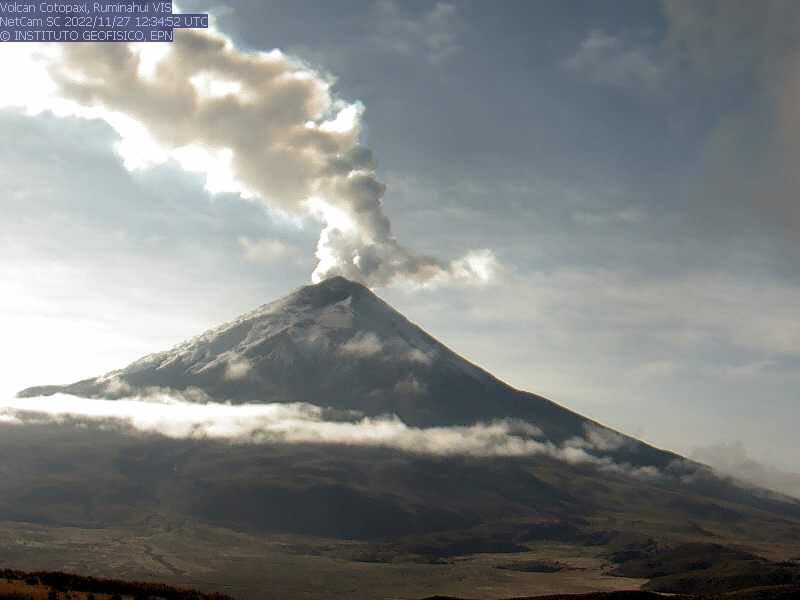 Rains / Lahars:
Yesterday afternoon there was no rain in the area.
Emission / Ash Column:
Water vapor and low ash gas emissions were observed up to 1800 meters above crater level in a north and northwest direction. The Washington VAAC reported gas and ash emissions up to 1,700 meters above the summit in a northwesterly direction. From the early hours of the morning, the emission of water vapor and gas remains continuous.
Gas:
The MOUNTS system reported 3493 tons of SO2, measured on 11/26/2022 at 7:06 p.m. TL
Observation:
The volcano remained clear through the morning, observing the broadcasts described above.
Alert Level: Yellow
Source : IGEPN.
Kamchatka , Sheveluch :
VOLCANO OBSERVATORY NOTICE FOR AVIATION (VONA)
Issued: November 26 , 2022
Volcano: Sheveluch (CAVW #300270)
Current aviation colour code: ORANGE
Previous aviation colour code: orange
Source: KVERT
Notice Number: 2022-182
Volcano Location: N 56 deg 38 min E 161 deg 18 min
Area: Kamchatka, Russia
Summit Elevation: 3283 m (10768.24 ft), the dome elevation ~2500 m (8200 ft)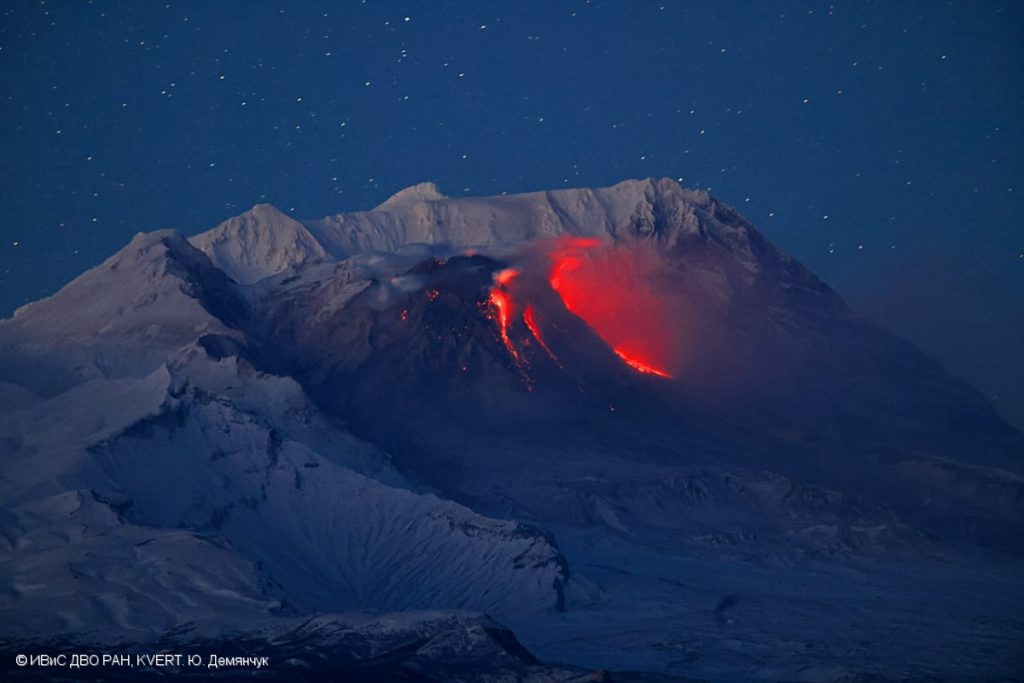 Volcanic Activity Summary:
A growth of the lava dome continues, a strong fumarole activity, an incandescence of the lava dome, explosions, and hot avalanches accompanies this process. Video data by KVERT showed an ash plume associated with hot avalanches collapses is extending for 10 km to the north-east of the volcano.
The extrusive eruption of the volcano continues. Ash explosions up to 10-15 km (32,800-49,200 ft) a.s.l. could occur at any time. Ongoing activity could affect international and low-flying aircraft.
Volcanic cloud height:
3500 m (11480 ft) AMSL Time and method of ash plume/cloud height determination: 20221126/0255Z – Video data
Other volcanic cloud information:
Distance of ash plume/cloud of the volcano: 10 km (6 mi)
Direction of drift of ash plume/cloud of the volcano: E / azimuth 80 deg
Time and method of ash plume/cloud determination: 20221126/0255Z – Video data
Source : Kvert
Photo : Yu. Demyanchuk, IVS FEB RAS, KVERT
Indonesia , Semeru :
Mount Semeru erupted on Monday, November 28, 2022 at 05:56 WIB with an ash column height observed at ± 600 m above the summit (± 4276 m above sea level). The ash column was observed to be gray with a thick intensity, oriented to the north. This eruption was recorded on a seismograph with a maximum amplitude of 23 mm and a duration of 115 seconds.
SEISMICITY OBSERVATION
25 earthquakes of eruptions/explosions with an amplitude of 10 to 23 mm and a duration of 42 to 145 seconds.
2 distant tectonic earthquakes with amplitudes of 5-10 mm, S-P 16-35 seconds and a duration of 48-79 seconds.
1 lahar signal with an amplitude of 30 mm and a duration of 600 seconds.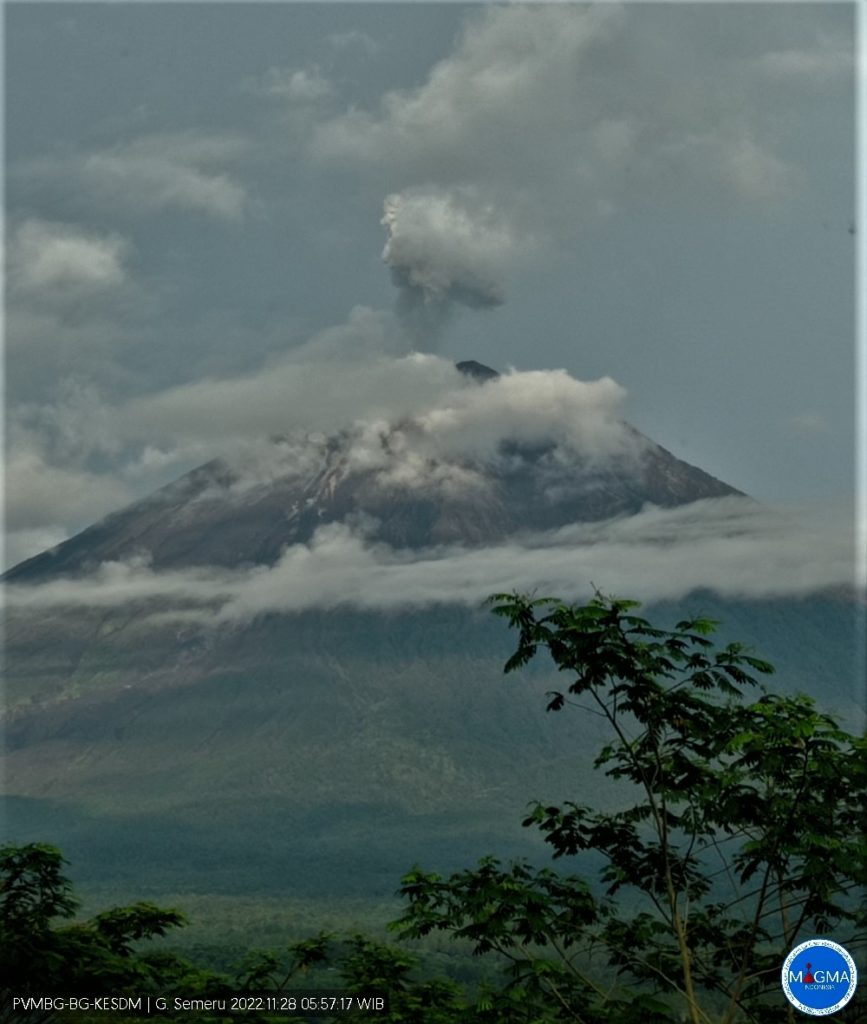 VOLCANO OBSERVATORY NOTICE FOR AVIATION – VONA
Issued : November 27 , 2022
Volcano : Semeru (263300)
Current Aviation Colour Code : RED
Previous Aviation Colour Code : orange
Source : Semeru Volcano Observatory
Notice Number : 2022SMR702
Volcano Location : S 08 deg 06 min 29 sec E 112 deg 55 min 12 sec
Area : East java, Indonesia
Summit Elevation : 11763 FT (3676 M)
Volcanic Activity Summary :
Eruption with volcanic ash cloud at 22h56 UTC (05h56 local).
Volcanic Cloud Height :
Best estimate of ash-cloud top is around 13683 FT (4276 M) above sea level or 1920 FT (600 M) above summit. May be higher than what can be observed clearly. Source of height data: ground observer.
Other Volcanic Cloud Information :
Ash cloud moving to north. Volcanic ash is observed to be gray. The intensity of volcanic ash is observed to be thick.
Remarks :
Eruption recorded on seismogram with maximum amplitude 23 mm and maximum duration 115 second.
Source et photo : Magma Indonésie.
Hawaii , Mauna Loa :
19°28'30 » N 155°36'29 » W,
Summit Elevation 13681 ft (4170 m)
Current Volcano Alert Level: ADVISORY
Current Aviation Color Code: YELLOW
Activity Summary:
Mauna Loa is not erupting and there are no signs of an imminent eruption at this time. Monitoring data show no significant changes within the past 24 hours. Mauna Loa continues to be in a state of heightened unrest as indicated by increased earthquake activity and inflation of the summit. The current unrest is most likely being driven by renewed input of magma 2–5 miles (3–8 km) beneath Mauna Loa's summit.
Observations:
During the past 24 hours, HVO detected 24 small-magnitude (M3.0 or below) earthquakes 2–3 miles (2–5 km) below Mokuʻāweoweo caldera and 4–5 miles (6–8 km) beneath the upper-elevation northwest flank of Mauna Loa. Both of these regions have historically been seismically active during periods of unrest on Mauna Loa.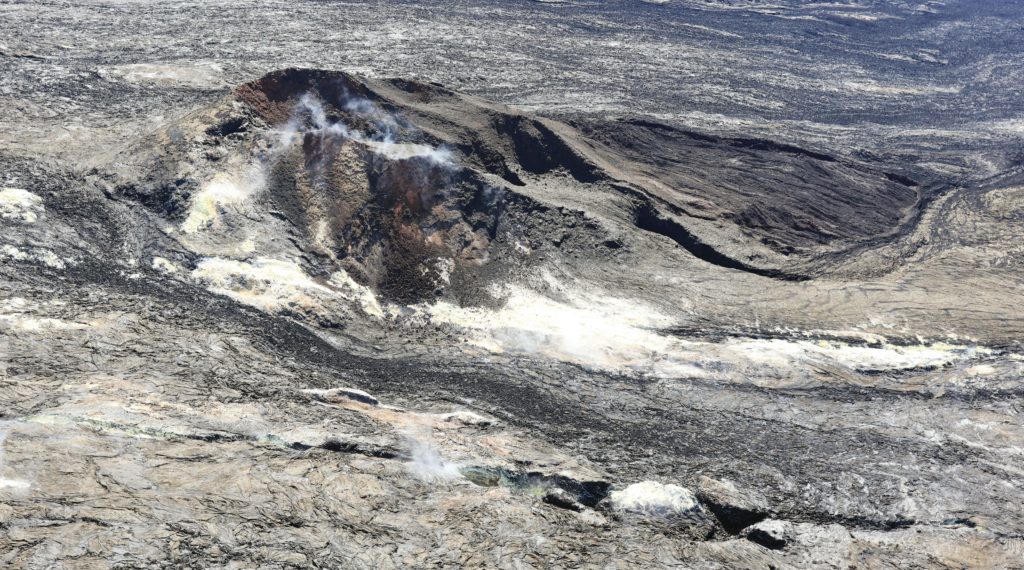 On October 28, 2022, HVO geologists conducted an overflight of Mauna Loa's summit region. This photo of Sulfur Cone, on the Southwest Rift Zone, is at an elevation of 3,430 meters (11,240 feet) above sea level. The 1950 fissure is visible in the foreground of the image.
Global Positioning System (GPS) instruments at the summit and on the flanks of Mauna Loa continue to measure inflation at rates elevated since mid-September. However, tiltmeters at the summit are not showing significant surface deformation over the past week.
Concentrations of sulfur dioxide (SO2), hydrogen sulfide (H2S), and carbon dioxide (CO2), as well as fumarole temperatures, remain stable at the summit and at Sulphur Cone on the upper Southwest Rift Zone. Webcam and thermal camera views have shown no changes to the volcanic landscape on Mauna Loa over the past week.
Source : HVO.
Photo : USGS / K. Mulliken