October 29, 2022. EN. Kamchatka : Sheveluch , Hawaii : Mauna Loa , Philippines : Mayon , Colombia : Nevado del Ruiz , Alaska : Pavlof .
October 29 , 2022.
Kamchatka , Sheveluch :
VOLCANO OBSERVATORY NOTICE FOR AVIATION (VONA)
Issued: October 29 , 2022
Volcano: Sheveluch (CAVW #300270)
Current aviation colour code: ORANGE
Previous aviation colour code: orange
Source: KVERT
Notice Number: 2022-154
Volcano Location: N 56 deg 38 min E 161 deg 18 min
Area: Kamchatka, Russia
Summit Elevation: 3283 m (10768.24 ft), the dome elevation ~2500 m (8200 ft)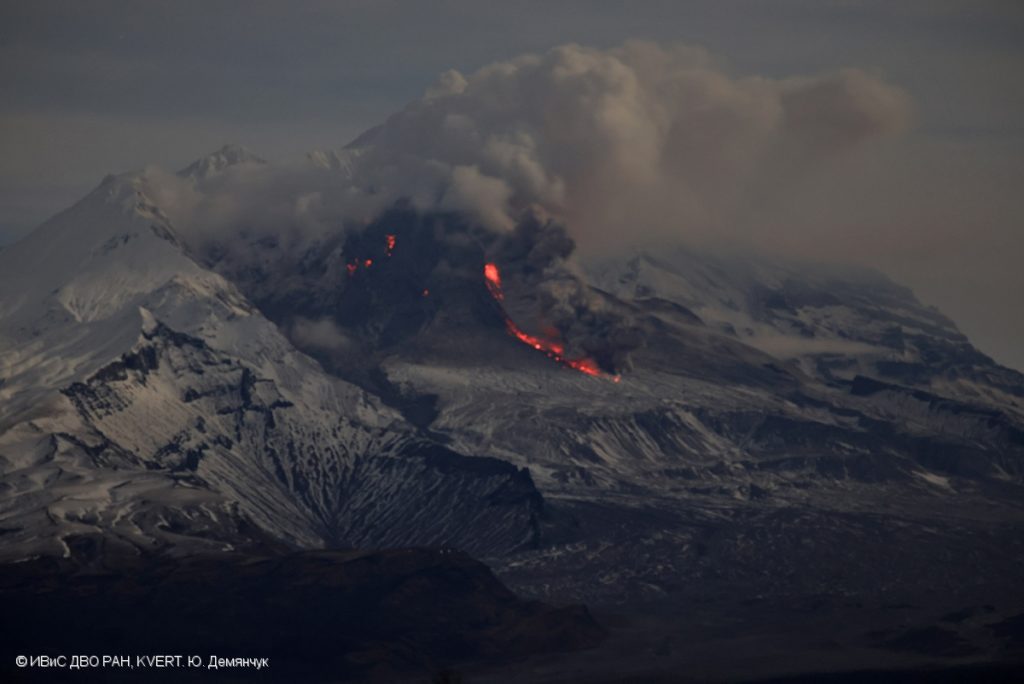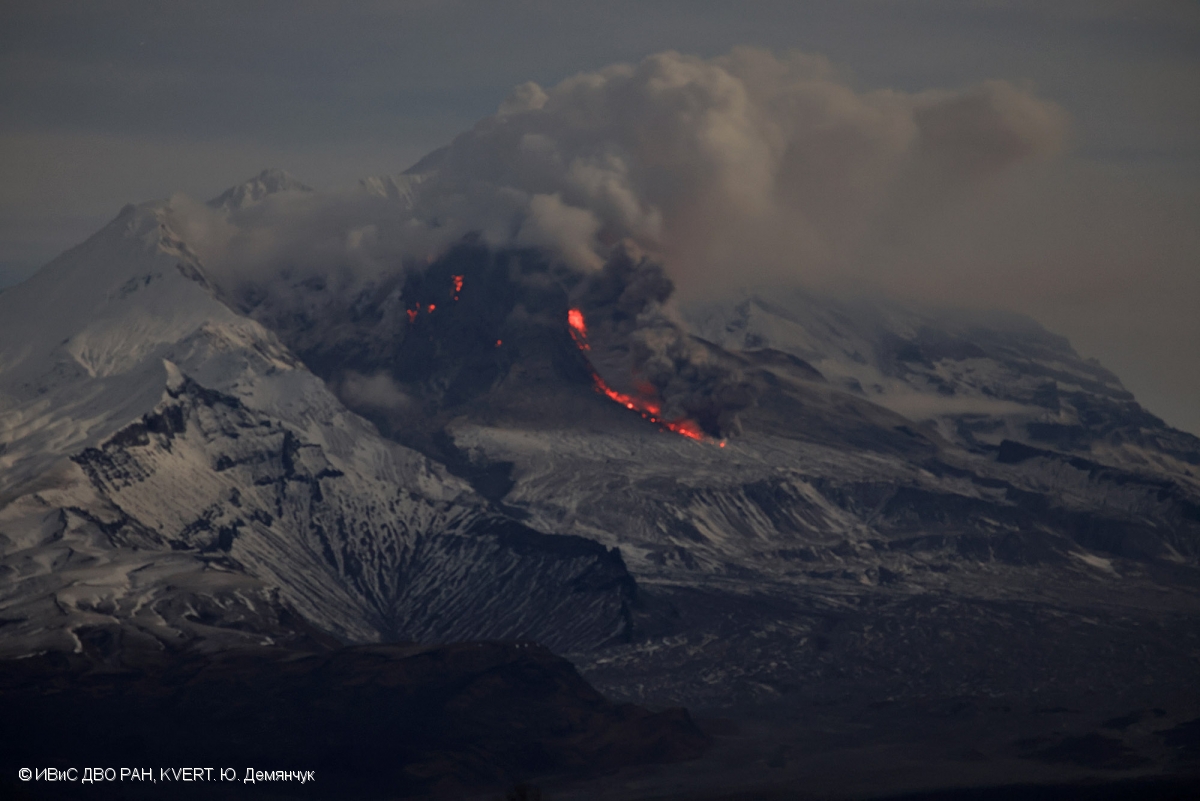 Volcanic Activity Summary:
A strong wind lifts ash from the southern slopes of Sheveluch volcano, a plume of resuspended ash extends 80 km to the south-east of the volcano. A growth of the lava dome continues, a strong fumarolic activity, and an incandescence of the lava dome, explosions, and hot avalanches accompanies this process.
The extrusive eruption of the volcano continues. Ash explosions up to 10-15 km (32,800-49,200 ft) a.s.l. could occur at any time. Ongoing activity could affect international and low-flying aircraft.
Volcanic cloud height:
3000 m (9840 ft) AMSL Time and method of ash plume/cloud height determination: 20221029/0300Z – Video data
Other volcanic cloud information:
Distance of ash plume/cloud of the volcano: 80 km (50 mi)
Direction of drift of ash plume/cloud of the volcano: SE / azimuth 124 deg
Time and method of ash plume/cloud determination: 20221029/0220Z – Himawari-8 14m15
Source : Kvert.
Photo : Yu. Demyanchuk, IVS FEB RAS, KVERT
Hawaii , Mauna Loa :
19°28'30 » N 155°36'29 » W,
Summit Elevation 13681 ft (4170 m)
Current Volcano Alert Level: ADVISORY
Current Aviation Color Code: YELLOW
Activity Summary:
Mauna Loa is not erupting and there are no signs of an imminent eruption at this time. However, Mauna Loa continues to be in a state of heightened unrest as indicated by increased earthquake activity and inflation of the summit. The current unrest is most likely being driven by renewed input of magma 2–5 miles (3–8 km) beneath Mauna Loa's summit. Monitoring data show no significant changes in the past day.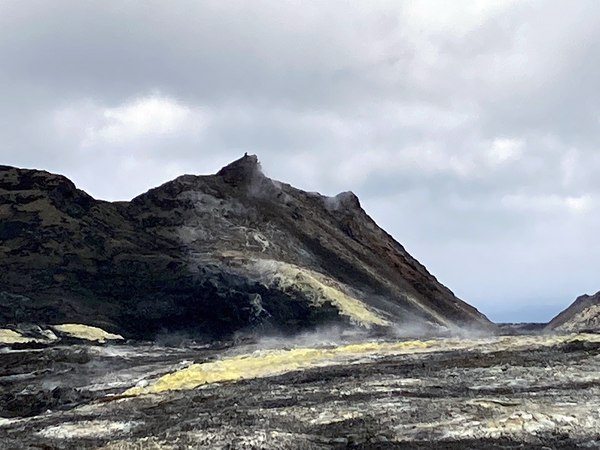 Observations:
During the past 24 hours, HVO detected 19 small-magnitude (below M3.0) earthquakes 2–3 miles (2–5 km) below Mokuʻāweoweo caldera and 4–5 miles (6–8 km) beneath the upper-elevation northwest flank of Mauna Loa. Both of these regions have historically been seismically active during periods of unrest on Mauna Loa.
Global Positioning System (GPS) instruments at the summit and on the flanks of Mauna Loa continue to measure inflation at rates elevated since mid-September. However, tiltmeters at the summit are not showing significant surface deformation over the past week.
Concentrations of sulfur dioxide (SO2), hydrogen sulfide (H2S), and carbon dioxide (CO2), as well as fumarole temperatures, remain stable at the summit and at Sulphur Cone on the upper Southwest Rift Zone. Webcam and thermal camera views have shown no changes to the volcanic landscape on Mauna Loa over the past week.
Source : HVO.
Photo : Sulfur cone / USGS / T. Elias.
Philippines , Mayon :
LAHAR ADVISORY FOR MAYON VOLCANO UNDER TROPICAL STORM PAENG (NALGAE) , 28 October 2022 ,7:00 PM
Based on the Tropical Cyclone Bulletin 11 issued at 5:00 PM today by the Philippine Atmospheric Geophysical and Astronomical Services Administration (PAGASA), tropical storm "PAENG" is expected to bring heavy to intense, with at times torrential, rains over Bicol Region and Eastern Visayas this afternoon until tomorrow morning. These rains could generate volcanic sediment flows or lahars, muddy streamflows or muddy run-off in rivers and drainage areas of Mayon Volcano. DOST-PHIVOLCS thus strongly recommends increased vigilance and readiness of communities in pre-determined zones of lahar and related hazards on this volcano.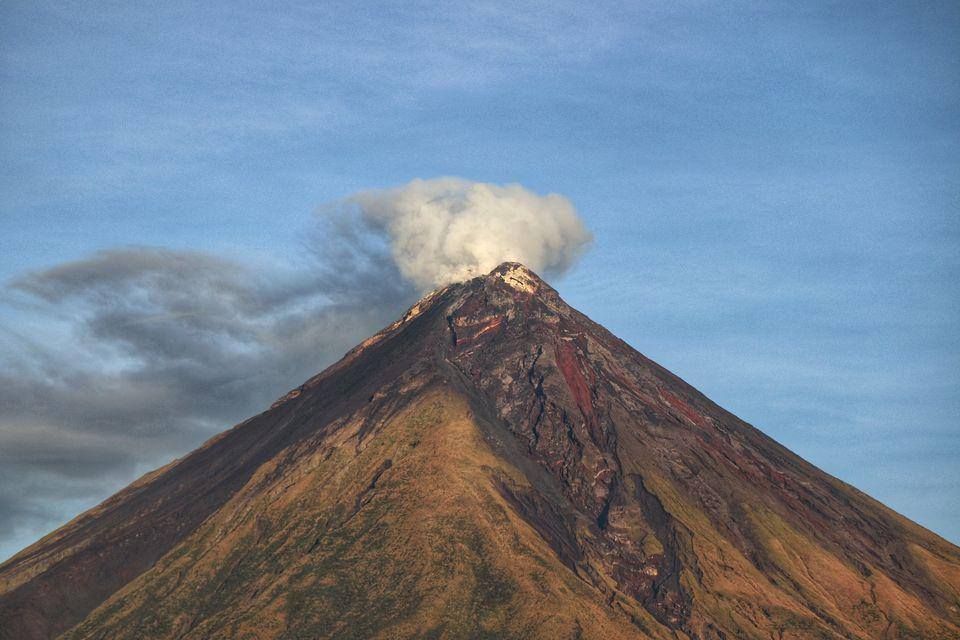 Prolonged and heavy rainfall may generate non-eruption lahars along river/stream channels draining the Mayon edifice. Potential lahars and sediment-laden streamflows may occur along the Miisi, Binaan, Anoling, Quirangay, Maninila, Masarawag, Muladbucad, Nasisi, Mabinit, Matan-ag, and Basud, Bantayan Channels in Albay Province. Mayon lahars can threaten communities along the middle and lower slopes and downstream of these channels with inundation, burial and wash out.
DOST-PHIVOLCS strongly advises the communities and local government units of the above identified areas of risk to continually monitor the typhoon conditions and take pre-emptive response measures for their safety .
Source : Phivolcs
Photo : Erickson Banzuela Balderama
Colombia , Nevado del Ruiz :
Bulletin of activity level of the Nevado del Ruiz volcano.
The activity level continues at the Yellow Activity Level or (III): changes in the behavior of volcanic activity.
Regarding the monitoring of the activity of the Nevado del Ruiz volcano, the COLOMBIAN GEOLOGICAL SERVICE reports that:
Seismic activity related to fluid dynamics within volcanic conduits increased in number of recorded earthquakes and maintained similar levels of seismic energy released, compared to the previous week. It should be mentioned that a decrease in the energy level of the continuous volcanic tremor was observed, which continued to decrease for a few weeks. Through images captured by cameras installed in the volcano area and reports from Los Nevados National Natural Park officials and SGC field staff, gas and ash emissions associated with some of these seismic signals have been identified. confirmed.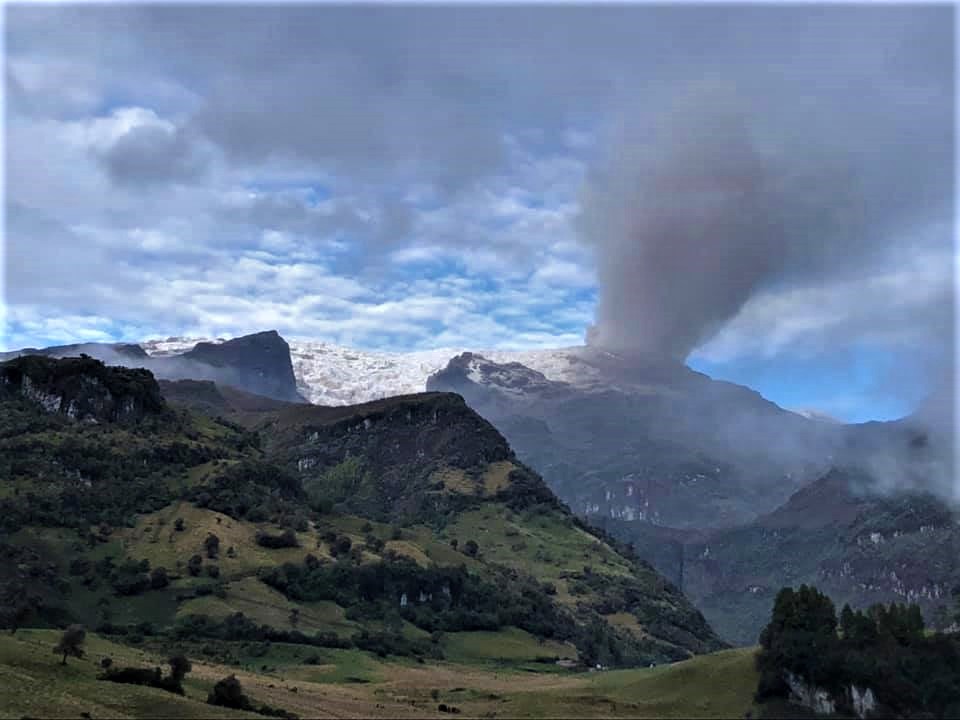 Seismic activity associated with rock fracturing increased in number of earthquakes recorded and seismic energy released, compared to the previous week. The earthquakes were located mainly in the Arenas crater, in the northern distal sector and, in a scattered manner, in the northeast, southwest to southeast and east sectors of the volcano. The depth of the earthquakes ranged from about 0.3 to 8.7 km. The maximum magnitude observed during the week was 1.5 ML (Local Magnitude) corresponding to the earthquake recorded on October 19 at 5:54 p.m. (local time), located 6.9 km north of the crater at a depth of 6.2 km .
The volcano continues to emit water vapor and gases, mainly sulfur dioxide (SO2). This week, from satellite images, an increase in SO2 outgassing values ​​was observed, which had not been recorded since April this year. The maximum mass value recorded was around 5,000 tonnes on October 20. The column of gas and steam reached an approximate height of 2500 meters measured at the top of the volcano on October 22.
Source : SGC.
Photo :Ramirez Jorge
Alaska , Pavlof :
55°25'2″ N 161°53'37 » W,
Summit Elevation 8261 ft (2518 m)
Current Volcano Alert Level: WATCH
Current Aviation Color Code: ORANGE
Pavlof Volcano continues to erupt from the active vent just below the summit on its east flank. Several explosions were detected daily. These explosions had higher seismic and infrasound amplitudes than in previous weeks, marking an increase in explosive activity this week. Nearly continuous seismic tremor was also recorded throughout the week. Cloudy conditions generally obscured views of the volcano although low-level ash and steam emissions were observed intermittently in clear web camera views. Elevated surface temperatures were observed in satellite data on several days over the past week.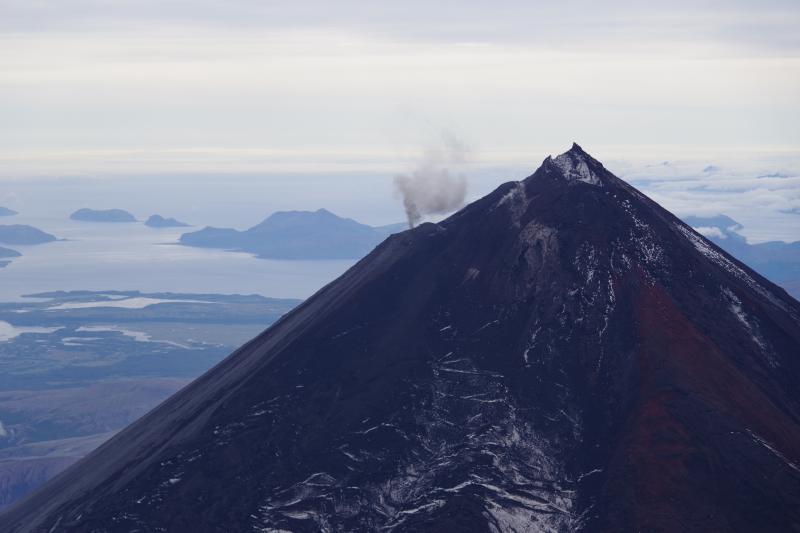 Periods of lava spatter and fountaining from the vent on the volcano's upper east flank have been occurring since mid-November 2021. This activity has built a small cone and sent lava flows down the flank that melt the snow and ice and produce variable amounts of meltwater. The meltwater typically incorporates loose debris on the flank of the volcano and forms thin (less than 2 m thick) lahars. The lahar deposits extend down the east-southeast flank for several kilometers, not quite to the base of the volcano.
Previous eruptions of Pavlof indicate that the level of unrest can change quickly and the progression to more significant eruptive activity can occur with little or no warning.
Pavlof is monitored by local seismic and infrasound sensors, satellite data, web cameras, and regional infrasound and lightning networks.
Source : AVO
Photo : Izbekov, Pavel