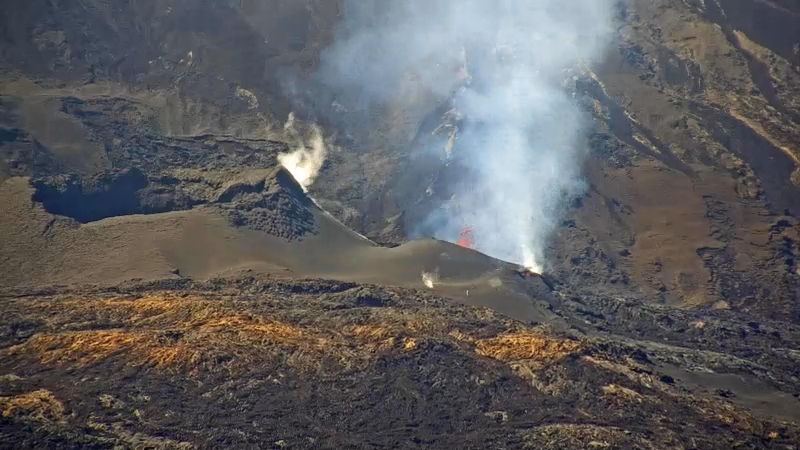 September 24 , 2022.
La Réunion , Piton de la Fournaise :
Press release, Paris Institute of Earth Physics, Piton de la Fournaise Volcanological Observatory, September 23, 2022 – 2:30 p.m. (local time) – 10:30 a.m. (UTC time)
Ongoing eruption
The eruption started on 09/19/2022 around 07:48 local time continues. The amplitude of the eruptive tremor (indicator of surface lava emission) has remained generally stable over the past 24 hours, at around 20% of its initial amplitude (Figure 1).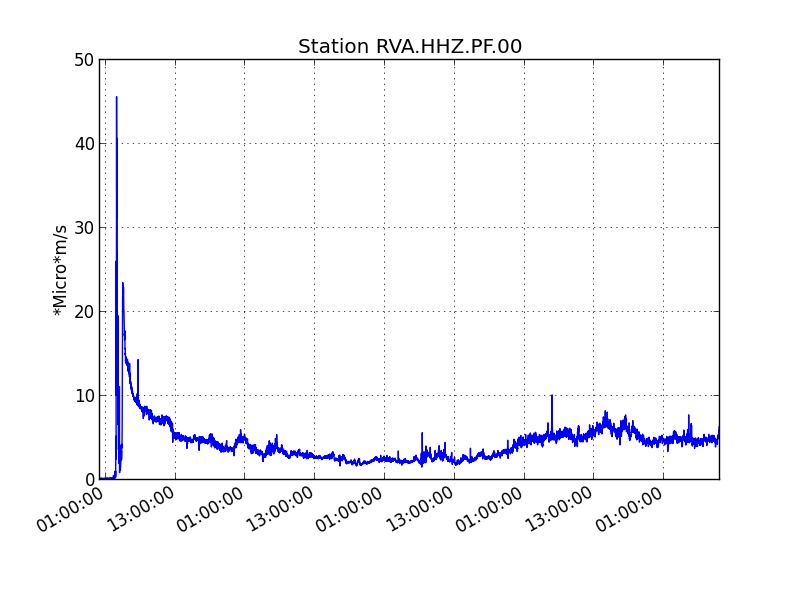 Evolution of the RSAM (indicator of a surface lava emission) since 09/19/2022 00:00 UTC time (04:00 local time) on the RVA seismological station located at the Rivals crater (© OVPF / IPGP).
No volcano-tectonic earthquake has been recorded directly above the summit area over the past 24 hours.
Due to the very bad weather conditions on site,
– No field reconnaissance could be carried out by the OVPF-IPGP teams, whether on foot or by air,
– No image allowing to visualize a possible evolution of the eruptive site by the cameras of the OVPF/IPGP could be made.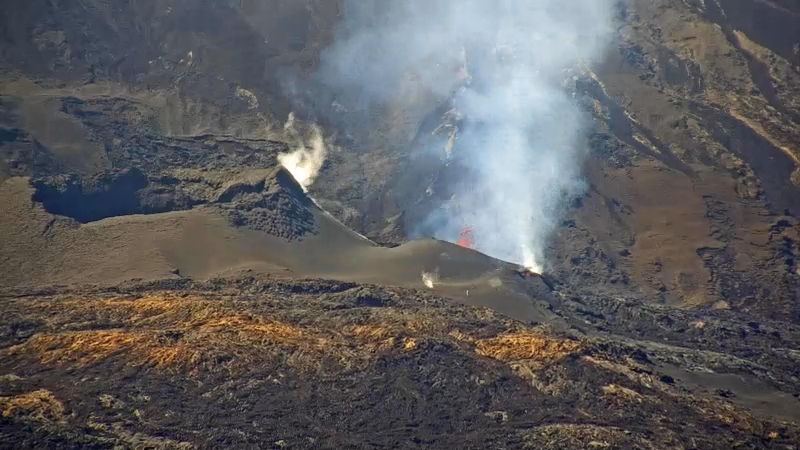 Despite these unfavorable weather conditions on the Piton de la Fournaise over the past 24 hours, some lava flow estimates have been established by satellite method on the HOTVOLC platform (OPGC – Clermont Auvergne University). These estimates indicate a relatively stable flow over the period estimated at around 4 m3/s.
The COPERNICUS program developed by the European Commission provides images from the TROPOMI instrument for observing the composition of the atmosphere, and in particular sulfur dioxide (SO2). The images of September 19, 20, 21 and 22 (Figure 2) indicate a weak plume, rising slightly towards the NNW, probably at low altitude (2-3 km).
On the image of 09/22/2022 (noisy, because the volcano falls on the edge of the track), we can still see a weak plume drifting towards the SW. This direction is consistent with a transport around 2 km altitude, and the distribution of winds (deduced from the ERA-5 weather model). The masses of SO2 visible on Sept 21 and 22 are very low (approx < 1 kton) and difficult to quantify.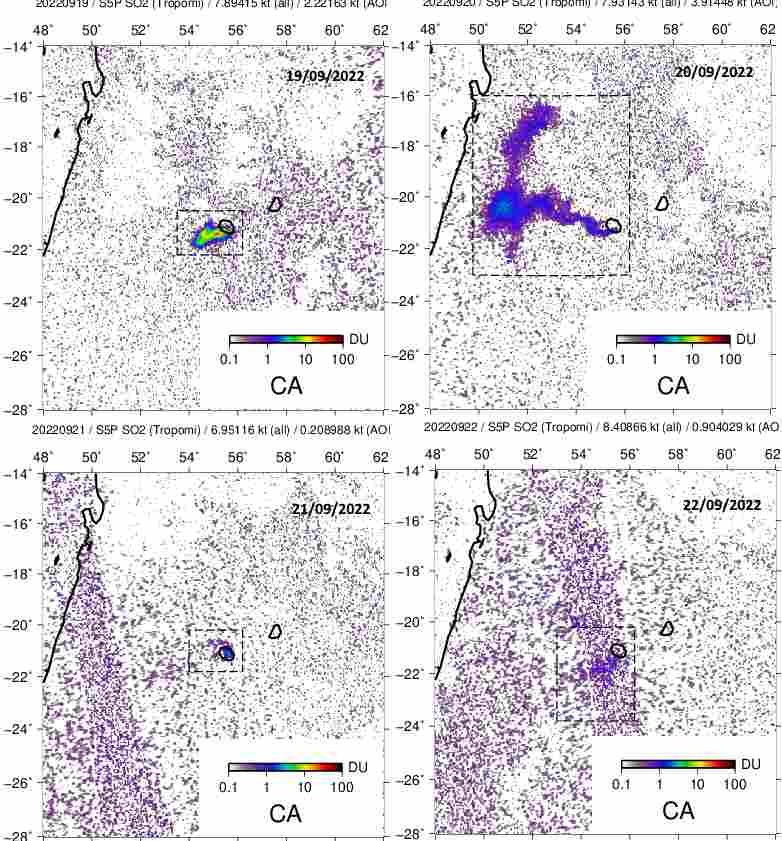 Evolution of the SO2 concentrations per m² detected by the TROPOMI instrument (Copernicus – ESA), on September 19, 20, 21 and 22, 2022.
Alert level: Alert 2-1 (eruption in the Enclosure without any particular threat to the safety of people, property or the environment)
Source et photos : Direction OVPF / IPGP.
Indonesia , Semeru :
VOLCANO OBSERVATORY NOTICE FOR AVIATION – VONA
Issued : September 23 , 2022
Volcano : Semeru (263300)
Current Aviation Colour Code : ORANGE
Previous Aviation Colour Code : orange
Source : Semeru Volcano Observatory
Notice Number : 2022SMR211
Volcano Location : S 08 deg 06 min 29 sec E 112 deg 55 min 12 sec
Area : East java, Indonesia
Summit Elevation : 11763 FT (3676 M)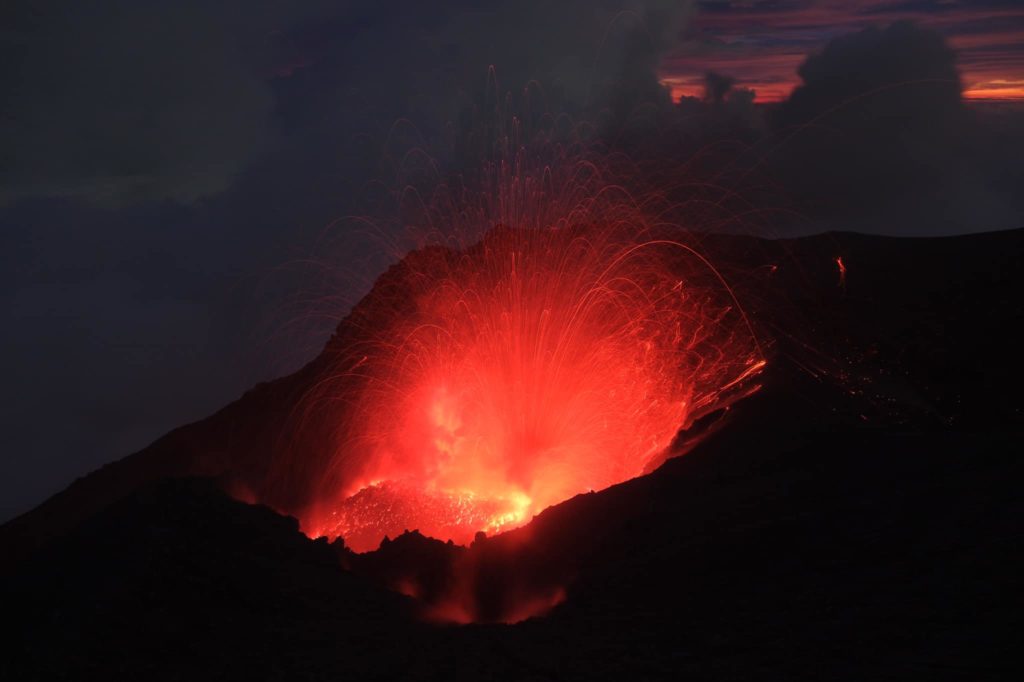 Volcanic Activity Summary :
Eruption with volcanic ash cloud at 23h06 UTC (06h06 local)
Volcanic Cloud Height :
Best estimate of ash-cloud top is around 13043 FT (4076 M) above sea level, may be higher than what can be observed clearly. Source of height data: ground observer.
Other Volcanic Cloud Information :
Ash-cloud moving to west
Recorded seismicity:
23 earthquakes of eruptions/explosions with an amplitude of 14-22 mm and a duration of 60-85 seconds.
1 emission earthquake with an amplitude of 3 mm and a duration of 35 seconds.
Source : Magma Indonésie .
Photo : Tomas Spinner / volcanoes and volcanism .
Indonesia , Merapi :
Report on the activity of Mount Merapi from September 16, 2022 to September 22, 2022, Published on September 23, 2022
RESULTS OF OBSERVATIONS
Visual
The weather around Mount Merapi is usually sunny in the morning and afternoon, while the evening is foggy. White smoke, thin to medium thickness, low pressure and 100 m high was observed from the Mount Merapi observation post of Babadan on September 22, 2022 at 05:35 WIB.
This week, 13 lava avalanches were observed in the Southwest, descending the Bebeng River with a maximum slip distance of 1900 m.
On the Southwest dome, there is no change in the height of the dome. For the central dome, no significant morphological change was observed. Based on photo analysis, the volume of the dome is still calculated at 1,664,000 m3, and for the central dome it is 2,772,000 m3.
Seismicity
This week, the seismicity of Mount Merapi showed:
294 deep volcanic earthquakes (VTA),
57 shallow volcanic earthquakes (VTB),
282 multi-phase earthquakes (MP),
504 avalanche earthquakes (RF),
2 low frequency earthquake (LF)
62 emission earthquakes (DG),
9 tectonic earthquakes (TT).
The intensity of this week's seismicity is still quite high.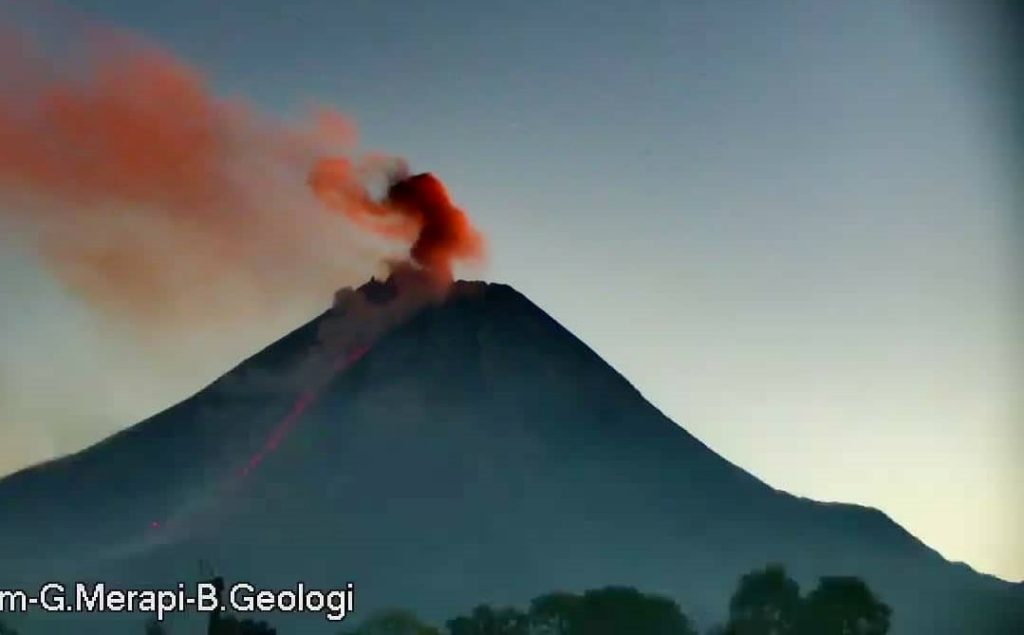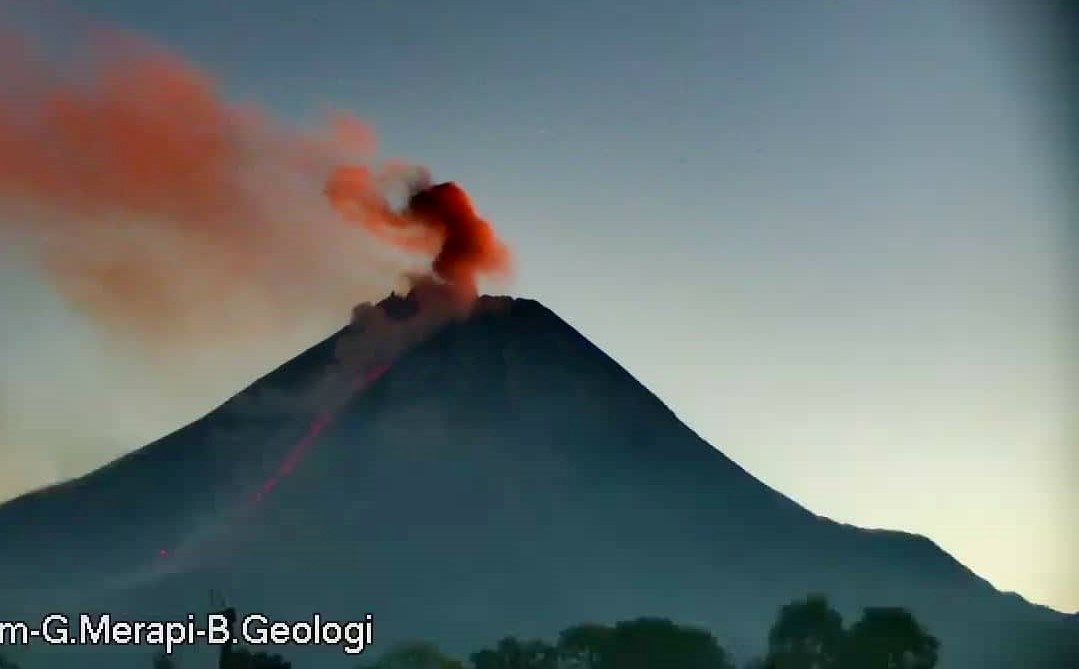 Deformation
Mount Merapi's deformation that was monitored using EDM and GPS this week showed a distance shortening rate of 0.8 cm/day.
Rain and lahars:
This week there was rain at the Kaliurang observation post with a rain intensity of 14 mm/h for 50 minutes on September 21, 2022. There were no reports of lahars or additional flow in the rivers that originate from Mount Merapi.
Conclusion
Based on the results of visual and instrumental observations, it is concluded that:
The volcanic activity of Mount Merapi is still quite high in the form of effusive eruption activity. The state of the activity is defined at the « SIAGA » level.
Source : BPPTKG.
Photo : Frekom
La Martinique , Mount Pelée :
Weekly report on the activity of Mount Pelee for the period from September 16, 2022 to September 23, 2022.
Between September 16, 2022 at 4 p.m. (UTC) and September 23, 2022 at 4 p.m. (UTC), the OVSM recorded at least 9 volcano-tectonic earthquakes of magnitude less than 0.1. 2 of these low energy earthquakes could be located. These are earthquakes identical to those of the well-known families on Pelee which are located inside the volcanic edifice around 0.4 km deep above sea level or about 1 km below the summit. This superficial volcano-tectonic seismicity is associated with the formation of micro-fractures in the volcanic edifice.
During the period of this report, the OVSM also recorded 3 hybrid-type earthquakes, one of which we were able to locate in the volcanic edifice. These signals containing low frequencies are associated with the presence of fluids (gas, hydrothermal waters) in the volcanic edifice.
None of these earthquakes was felt by the population.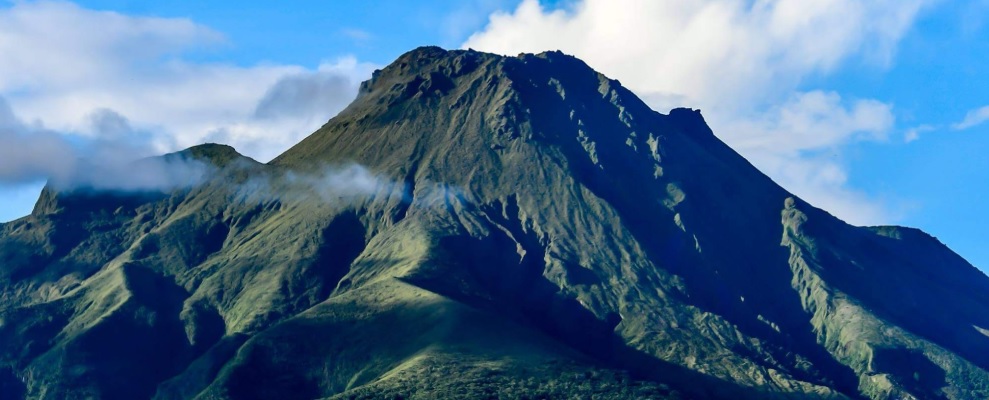 During volcanic reactivation phases, periods of higher seismic activity often alternate with phases of lower seismicity. Since the reactivation of the hydrothermal-magmatic system (end of 2018), several periods of zero or weak seismicity have been recorded by the OVSM, for example May 2019 (5 earthquakes), October 2019 (3 earthquakes), August 2020 (1 earthquake) , and only 8 earthquakes between June 24 and August 8, 2022 (period of 2 months).
An extension of two known areas of degraded vegetation located between Morne Plumé and the Chaude River was observed during a helicopter flight carried out on February 9 and May 5, with the support of Dragon 972, and confirmed by image analysis. satellites and drones (overflight of May 11) . A new area of degraded vegetation, located just north of the Chaude River, was observed from August 26th.
The alert level remains YELLOW: vigilance.
Source : OVSM-IPGP.
Photo : ville-saintemarie
Kamchatka , Klyuchevskoy :
VOLCANO OBSERVATORY NOTICE FOR AVIATION (VONA)
Issued: September 24 , 2022
Volcano: Klyuchevskoy (CAVW #300260)
Current aviation colour code: GREEN
Previous aviation colour code: orange
Source: KVERT
Notice Number: 2022-123
Volcano Location: N 56 deg 3 min E 160 deg 38 min
Area: Kamchatka, Russia
Summit Elevation: 4750 m (15580 ft)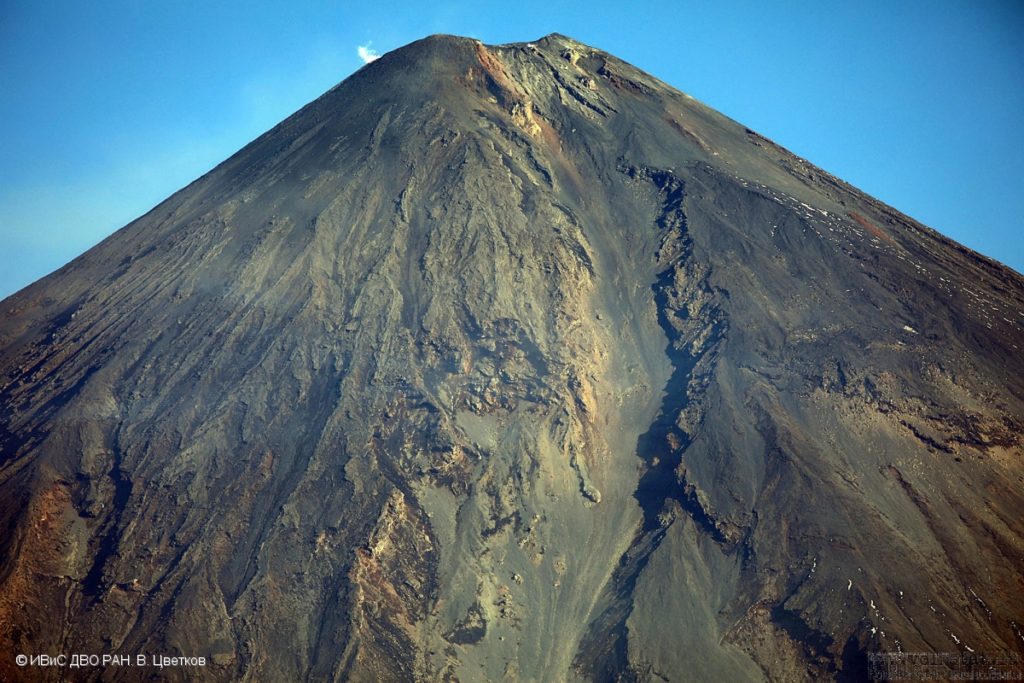 Volcanic Activity Summary:
A strong wind lifted ash from the eastern slopes of Klyuchevskoy volcano on 21-23 September, 2022. Satellite data by KVERT shows a plume of resuspended ash is not observing at now. KVERT continues to monitor Klyuchevskoy volcano.
Klyuchevskoy volcano is quiet. The volcano has no eruption at now, but its gas-steam activity could affect low-flying aircraft.
Volcanic cloud height: NO ASH CLOUD PRODUSED
Other volcanic cloud information: NO ASH CLOUD PRODUSED
Source : Kvert.
Photo : V. Tsvetkov, IVS FEB RAS
Mexico , Popocatepetl :
September 23, 11:00 a.m. (September 23, 4:00 p.m. GMT)
During the last 24 hours, according to the monitoring systems of the Popocatépetl volcano, 67 exhalations have been detected accompanied by water vapor, volcanic gases and slight amounts of ash. Today at 04:26 (local time) an explosion was detected which, due to the energy and seismic amplitude, was classified as minor. In addition, 52 minutes of tremor were recorded.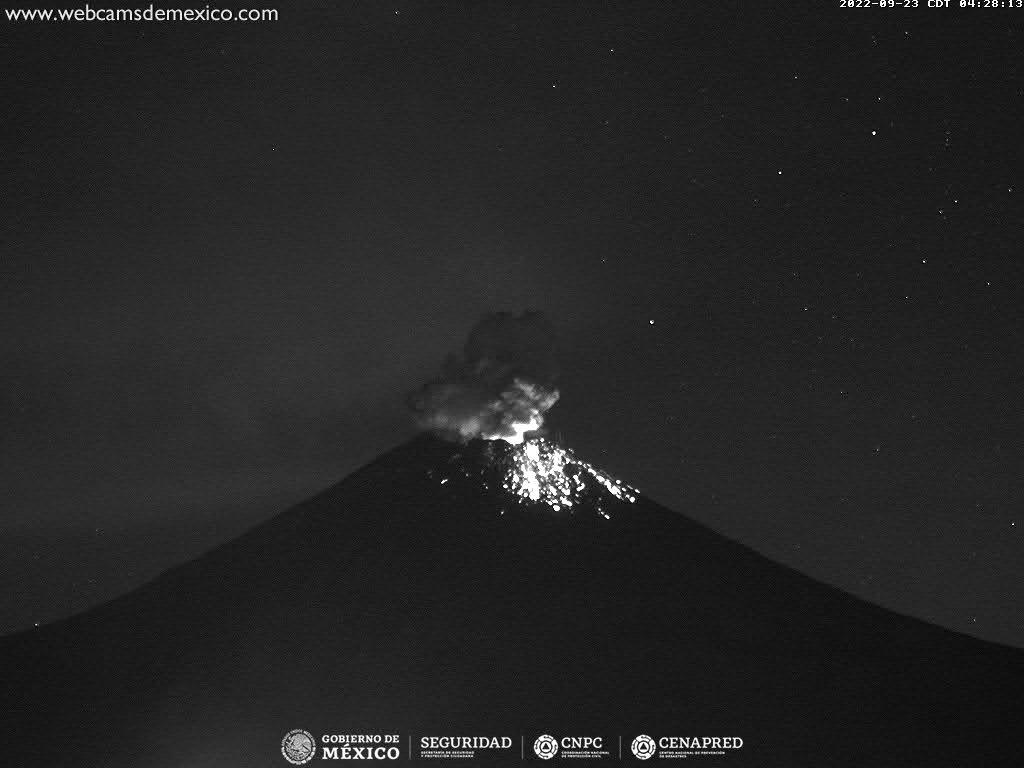 During the morning and at the time of this report, a continuous emission of water vapor and volcanic gases towards the West-Northwest is observed.
CENAPRED urges NOT TO APPROACH the volcano and especially the crater, due to the danger of falling ballistic fragments and, in case of heavy rains, to stay away from the bottom of the ravines due to the danger of mudslides and of debris.
The Popocatépetl volcanic alert traffic light is in YELLOW PHASE 2.
Source et photo : Cenapred.