August 22, 2022 . EN. Philippines : Mayon , Alaska : Semisopochnoi , Iceland : Meradalur , Ecuador : Chiles / Cerro Negro , Indonesia : Semeru , Mexico : Popocatepetl .
August 22, 2022 .
Philippines , Mayon :
August 21 , 2022 , 4:00 PM
This serves as a notice of raising the status of Mayon Volcano from Alert Level 0 (Normal) to Alert Level 1 (Low-Level Unrest).
Ground deformation observations from Global Positioning Systems (GPS), precise leveling (PL), electronic tilt and electronic distance meter (EDM) monitoring have tracked a slight short-term inflation of the volcano edifice, particularly on the northwestern and southeastern slopes, since April 2022. In contrast, the latest measured SO2 emission on 12 August 2022 averaged 688 t/d, near baseline levels. Short-lived spikes in the number of low-frequency volcanic earthquakes were recorded on 26 May and 20 June 2022, but for most of this year, only baseline seismic activity has been detected. These observation parameters indicate that volcanic gas-induced pressurization at the shallow depths of the edifice may be occurring, causing the summit dome of Mayon to be pushed out.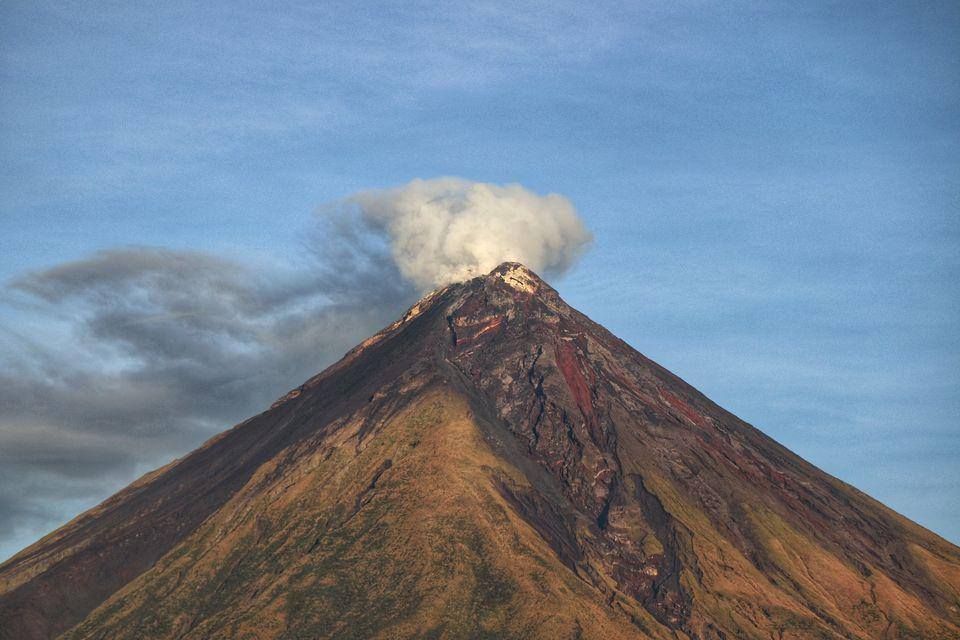 In view of the above, PHIVOLCS-DOST is now raising the alert status of Mayon from Alert Level 0 to Alert Level 1. This means that the volcano is exhibiting abnormal conditions and has entered a period of unrest. The public is reminded that entry into the 6-km Permanent Danger Zone or PDZ must be strictly avoided due to an increase in the chances of sudden steam-driven or phreatic eruption, as well as the perennial hazards of rockfalls, avalanches and ash bursts at the summit area, that may occur without warning. Furthermore, people living in valleys and active river channels are cautioned to remain vigilant against sediment-laden streamflows and lahars in the event of prolonged and heavy rainfall brought about by the advent of the rainy season.
PHIVOLCS-DOST is closely monitoring Mayon Volcano's activity and any new development will be immediately communicated to all concerned.
Source : Phivolcs.
Photo : Erickson Banzuela Balderama.
Alaska , Semisopochnoi :
AVO/USGS Volcanic Activity Notice
Current Volcano Alert Level: WATCH
Previous Volcano Alert Level: ADVISORY
Current Aviation Color Code: ORANGE
Previous Aviation Color Code: YELLOW
Issued: Sunday, August 21, 2022, 3:01 PM AKDT
Source: Alaska Volcano Observatory
Notice Number: 2022/A927
Location: N 51 deg 55 min E 179 deg 35 min
Elevation: 2625 ft (800 m)
Area: Aleutians
Volcanic Activity Summary:
A short-lived explosion occured at 1:47 PM AKDT (21:47 UTC) today that produced ash emissions observed in local webcams. Ash emissions ceased by 2:16 PM AKDT (22:16 UTC). The ash plume was not visible above the meteorological clouds in satellite images, thus was below 20,000 ft. (6 km) above sea level. This event is similar to eruptive activity observed over the last year at Semisopochnoi, but not since June 12. The Aviation Color Code and Volcano Alert Level are being raised to ORANGE/WATCH.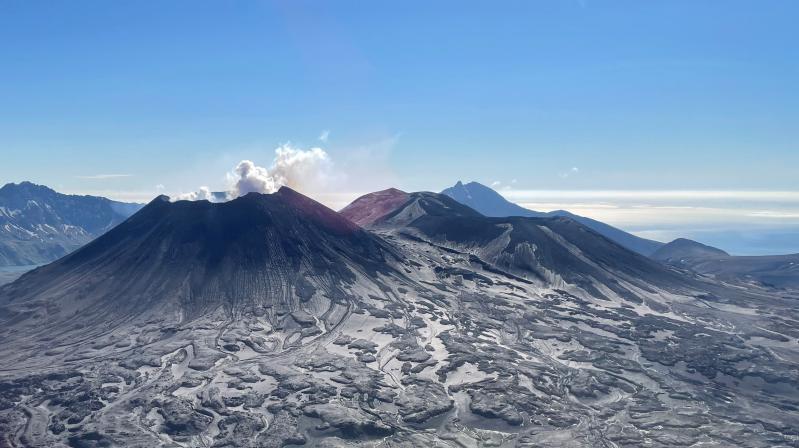 Small eruptions producing minor ash deposits within the vicinity of the active north crater of Mount Cerberus and ash clouds usually under 10,000 ft (3 km) above sea level have characterized the recent activity and more ash-producing events could occur again with little warning.
Recent Observations:
[Volcanic cloud height] less than 20,000 ft. above sea level
Hazard Analysis:
[General hazards] Explosive activity and ash emissions at Semisopochnoi could increase again at any time.
Remarks:
Semisopochnoi is monitored by a local seismic and infrasound network, local web cameras, regional lightning and infrasound sensors, and satellite data.
Source : AVO.
Photo : Lerner, Allan / Alaska Volcano Observatory / U.S. Geological Survey .
Iceland , Meradalur :
The Icelandic Meteorological Office is not ready to officially declare the end of the eruption, but all turbulence from the eruption has subsided. The unrest subsided completely in Meradalur last night after seeing a steady decline for the past few days. Along with that, it looks like all the glow has disappeared from the crater this morning, says the Southern Volcanoes and Natural Hazards Group. It also indicates that the degassing of the crater is visibly much less than yesterday and that the vent is therefore probably closed.
Sigríður Magnea Óskarsdóttir, a nature scientist at the Icelandic Meteorological Office, is not ready to say that the eruption is over. « Yes, that's the big question, and no, there's still some activity in the crater and it's bubbling, but that's not the magma jet activity that we've seen over the past few days and weeks since the eruption started, but late yesterday the unrest started to subside and now it's completely calm. »
Sigríður says that for the weather office to declare the end of the eruption, there must be no activity for several days or weeks. "I guess someone will go this week and look at the situation and then there will probably be a scientific council meeting soon and people will look at the situation and the data and assess it based on that.
Source et photo : RUV.
Ecuador , Chiles / Cerro Negro :
DAILY REPORT OF THE STATE OF THE CHILES VOLCANO, Sunday August 21, 2022.
Information Geophysical Institute – EPN.
Surface activity level: Very low, Surface trend: No change.
Internal activity level: Moderate, Internal trend: Ascending.
Seismicity: From August 20, 2022, 11:00 a.m. to August 21, 2022, 11:00 a.m.:
Since the earthquake of 07/25/2022, 2,485 events have been located in the Chiles-Cerro Negro volcanic complex. The following table shows the total number of earthquakes at reference station CHL1, in the last 24 hours. The largest earthquake in the area was recorded at 7:22 p.m. TL and was 4.2 Mlv with a depth of 1.1 km. (green star).
Tectonic Volcano (VT) 879.
Locations of seismic events recorded on Chiles-Cerro Negro (orange dots) and Potrerillos-Chalpatán (red dots) since the 07/25/2022 earthquake (yellow star) to date.
Seismicity at Potrerillos-Chalpatán:
After the earthquake of magnitude 5.2 MLv (5.6 Mw) which occurred on 07/25/2022, in the Potrerillos-Chalpatán region, located about 15 km southeast of the Chiles-Cerro Negro volcanic complex, 932 earthquakes with magnitudes between 1.1 to 5.2 Mlv were located less than 10 km deep in the epicentral area.
Rains / Lahars:
No rain was recorded.
Observation:
Most of the time the volcano remained cloudy.
Source : IGEPN
Photos : IGEPN.
Indonesia , Semeru :
VOLCANO OBSERVATORY NOTICE FOR AVIATION – VONA
Issued : August 22 , 2022
Volcano : Semeru (263300)
Current Aviation Colour Code : ORANGE
Previous Aviation Colour Code : orange
Source : Semeru Volcano Observatory
Notice Number : 2022SMR193
Volcano Location : S 08 deg 06 min 29 sec E 112 deg 55 min 12 sec
Area : East java, Indonesia
Summit Elevation : 11763 FT (3676 M)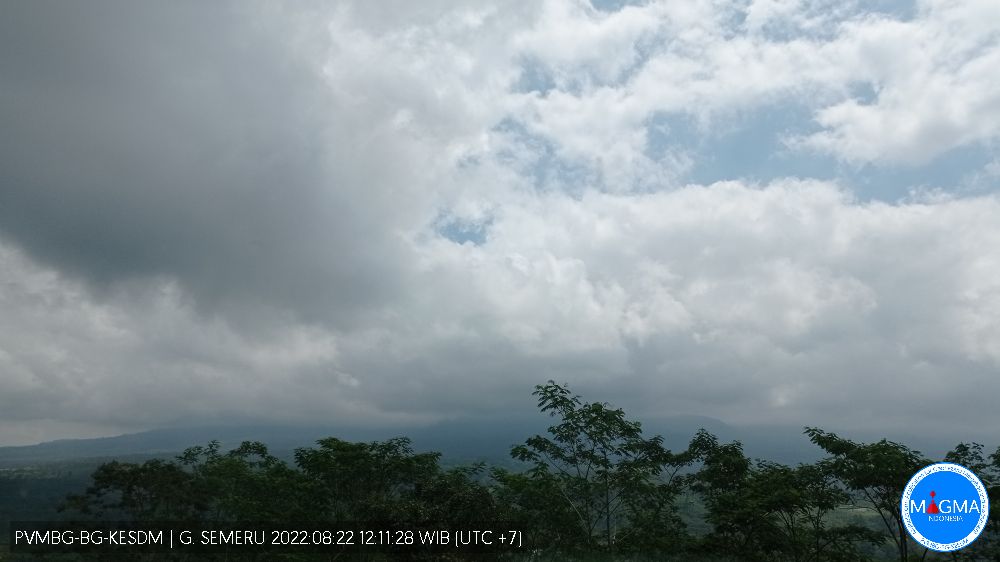 Volcanic Activity Summary :
Eruption with volcanic ash cloud at 00h17 UTC (07h17 local)
Volcanic Cloud Height :
Best estimate of ash-cloud top is around 12723 FT (3976 M) above sea level, may be higher than what can be observed clearly. Source of height data: ground observer.
Other Volcanic Cloud Information :
Ash-cloud moving to west
Seismicity:
It was recorded:
19 earthquakes of eruptions/explosions with an amplitude of 10-22 mm and a duration of 51-104 seconds.
1 distant tectonic earthquake with an amplitude of 20 mm, S-P 19 seconds and a duration of 68 seconds.
Source et photo : Magma Indonésie.
Mexico , Popocatepetl :
August 20, 11:00 a.m. (August 20, 4:00 p.m. GMT)
During the past 24 hours, thanks to the monitoring systems of the Popocatépetl volcano, 42 low intensity exhalations have been detected, accompanied by water vapor, volcanic gases and sometimes slight amounts of ash. In addition, nine minutes of low amplitude tremor were recorded.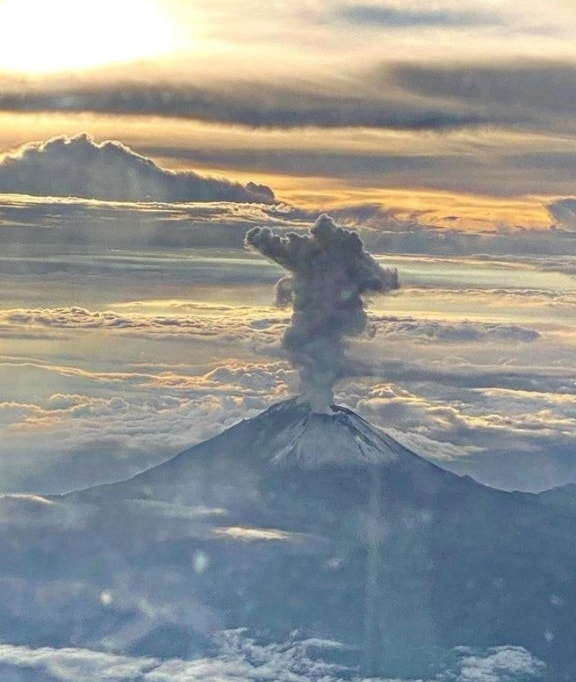 At the time of this report, there is no visibility due to clouds. However, in the previous hours, a continuous emission of water vapor and gas with the North-West direction was observed.
CENAPRED urges NOT TO APPROACH the volcano and especially the crater, because of the danger of falling ballistic fragments and, in case of heavy rains, to stay away from the bottom of the ravines because of the danger of mudslides and of debris.
The Popocatépetl Volcanic Warning Light is in YELLOW PHASE 2.
Source : Cenapred.
Photo : C S .