February 07 , 2022. Indonesia , Ili Lewotolok , Vanuatu Archipelago : Ambae , Hawaii : Mauna Loa , Costa Rica : Rincon de la Vieja / Turrialba / Poas / Irazu , Mexico : Popocatepetl .
February 07 , 2022.
Indonesia , Ili Lewotolok :
The volcano is clearly visible until it is covered in fog. Smoke from the crater is white/gray with low to moderate intensity about 100-400 meters above the summit. The weather is sunny, the wind is weak to strong in the East and South-East. The air temperature is around 25-33.9°C. The eruption occurred accompanied by a rumbling sound and a low sound of explosion. An incandescence was observed.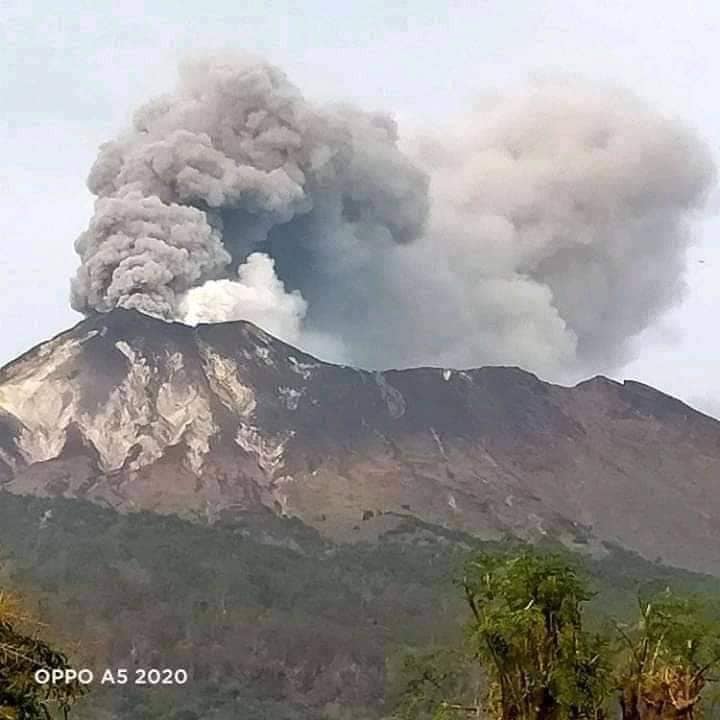 Volcanic earthquakes are related to magmatic activity as well as tectonic activity. We record:
-15 earthquakes of eruptions/explosions
-65 emissions earthquake
-9 Harmonic tremors
-16 non-harmonic tremors
-2 hybrid/multi-phase earthquakes
-1 deep volcanic earthquake
-1 local tectonic earthquake
-3 times distant tectonic earthquake
Continuous tremor with an amplitude of 0.2-1 mm, mostly 0.5 mm.
The Center for Volcanology and Geological Hazard Mitigation (PVMBG) reported an eruption of Ili Lewotolok Volcano located in Lembata Regency, East Nusa Tenggara Province on Monday (7/2/2022) at 00:10 local time or WITA. PVMBG has appealed to people around Mount Ili Lewotolok as well as visitors/mountaineers/tourists not to do any activities within 3km of the mountain peak. The Ministry of Energy and Mineral Resources reported that images of the eruption had not been observed. The eruption was recorded on a seismograph with a maximum amplitude of 12 mm and a duration of 22 seconds. "Residents of Jontona village should always be aware of the potential threat of landslides of weathered materials which may be accompanied by hot clouds southeast of the G. Ili Lewotolok summit/crater."
Sources : PVMBG , Bisnis.com.
Photo : Kodi Setiawan / OPPO.
Vanuatu Archipelago , Ambae :
Latest update on Ambae volcano activity issued on 05th February 2022 at 11:34 am:
The activity of Ambae volcano is continuing at the major unrest state consistent with the Volcanic Alert L Level 2. The Ambae volcano continue to emit Volcanic steam, gas and ash plumes
The danger area remains at 2 km around the volcanic vents and within the area of flowing creeks.
« With this current volcanic activity, it is a useful reminder that eruptions can occur at any level of unrest with little or no warnings. »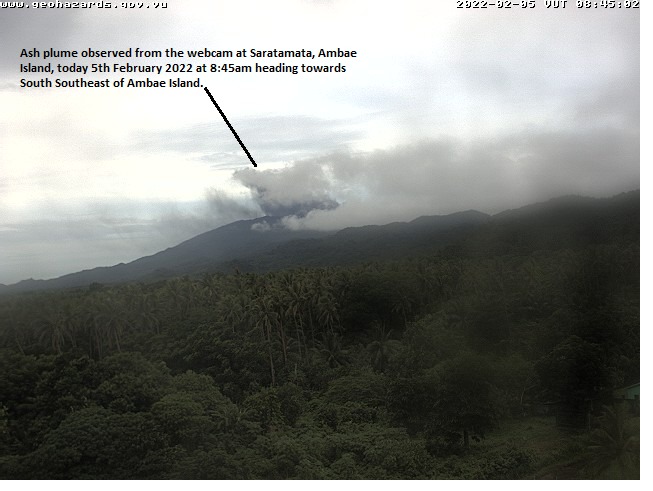 New observations on webcam this morning, 5th February 2022, show clear moderate ash plume from both webcam at (1)Saratamata, Ambae Island and (2)Enar, Pentecost Island heading towards South South-east of Ambae Island.
Areas and villages located close to the volcano summit may continue to expect volcanic gas and/or ash falls impacts following wind speed and directions (currently ~15knots North-Northwest wind Directions).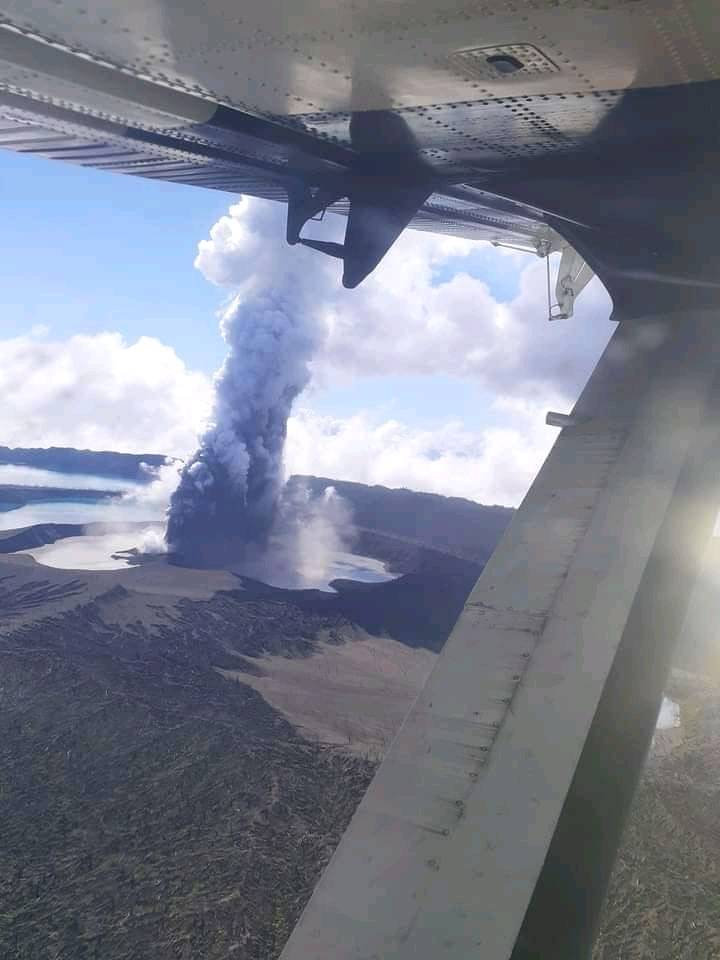 In addition, the presence of remaining volcanic ash around the island (deposited during the 2017/18 eruption) can be mobilized by rainfall. The villages located near flowing creeks (dangerous flow zones) can expect changes in stream behavior and larger than normal flow rates during heavy rain fall (CURRENTLY ON LA NINA SEASON). People of Ambae Island need to be aware of the dangerous water flows while approaching these creeks during heavy rains.
The Department of Meteorology and Geohazards will continue to closely monitor this volcano activity. More information will be provided when necessary.
Source : Geohazard.
Photos : Webcam , Johnston Aga.
Hawaii , Mauna Loa :
19°28'30 » N 155°36'29 » W,
Summit Elevation 13681 ft (4170 m)
Current Volcano Alert Level: ADVISORY
Current Aviation Color Code: YELLOW
Activity Summary:
Mauna Loa Volcano is not erupting. Rates of seismicity remain slightly elevated above long-term background levels, but have not changed significantly over the past week. Other Mauna Loa monitoring data streams—ground deformation, gas concentrations, visual appearance in webcams—show no significant changes.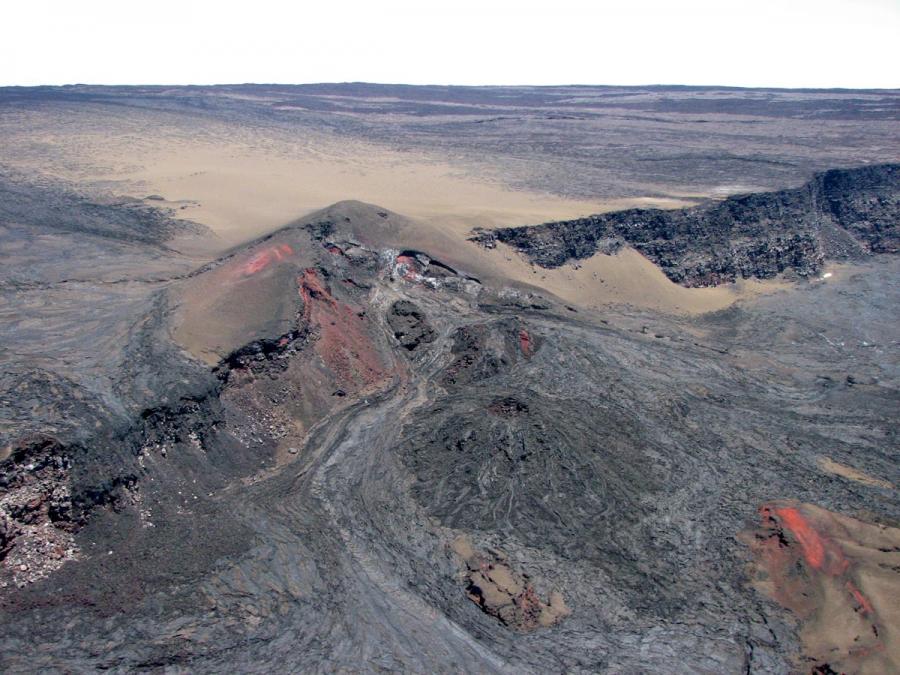 Observations:
During the past week, HVO seismometers recorded 68 small-magnitude (below M2.5) earthquakes below the summit and upper-elevation flanks of Mauna Loa. The majority of these earthquakes occurred at shallow depths less than 10 kilometers (6 miles) below sea level.
Global Positioning System (GPS) measurements show very low rates of deformation in the summit region continuing through the past week.
Gas concentrations and fumarole temperatures at the summit and at Sulphur Cone on the Southwest Rift Zone remain stable.
Webcam views have shown no changes to the volcanic landscape on Mauna Loa over the past week.
Source et photo : HVO.
Costa Rica , Rincon de la Vieja / Turrialba / Poas / Irazu :
Rincon de la Vieja Volcano
latitude: 10.83°N;
Longitude: 85.324°W;
Altitude: 1895m.
Current activity level: 3 (volcanic eruption)
Potentially associated dangers: Lahars, gas, phreatic and phreato-magmatic eruptions, proximal ballistic projections, acid rain, ashes.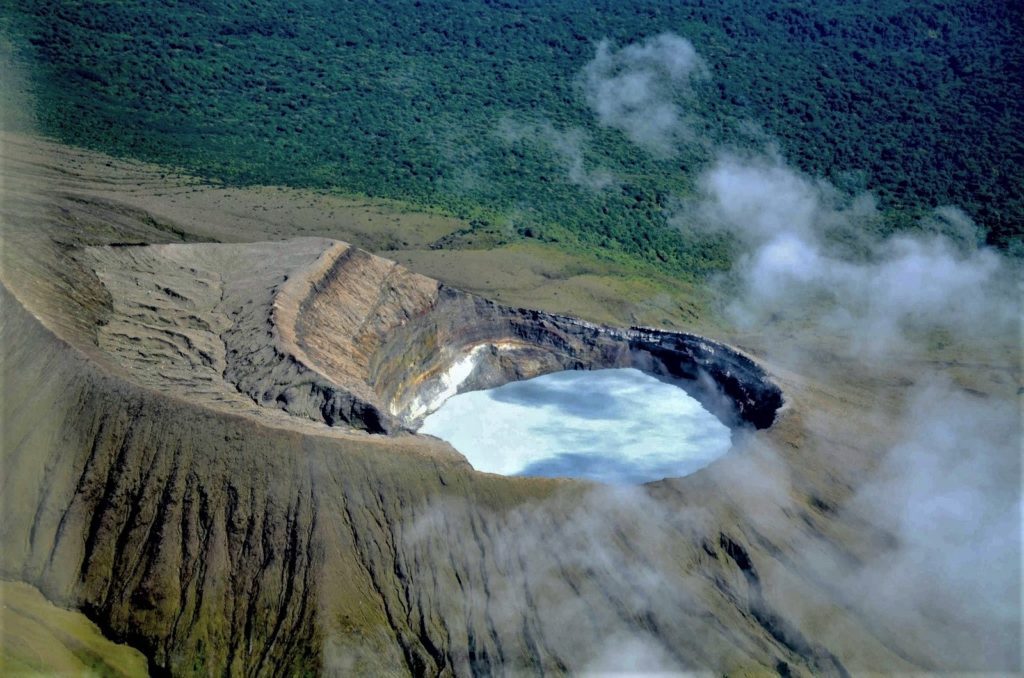 5 phreatic eruptions have been recorded since January 27, several generating small lahars. The strongest eruption occurred on January 30. An increase in "Tornillos" type earthquakes is observed, the number of VTs and LPs type earthquakes remains stable, the low frequency tremor seems to begin a gradual decrease. The RSAM is variable. On January 30, a tremor associated with a deep underground explosion without external manifestation (absence of sound signal) was recorded. Geodetic monitoring indicates a slight radial extension of the building over a period of 3 months. The seismicity coupled with the deformation suggests a possible rise of new magma at a deep level, that is to say under the hydrothermal system of the volcano.
Turrialba Volcano
latitude: 10.025°N;
Longitude: 83.767°W;
Altitude: 3340m
Current activity level: 3 (volcanic eruption)
Potentially associated hazards: gas, ash emission, proximal ballistic projections, acid rain.
A small eruption was recorded on January 30. The sustained trend of increasing low-frequency type earthquakes that began in 2022 continues to this day. High frequency earthquakes remain stable. Short tremors increased in amplitude and duration.
Proximal VT type earthquakes continue to be recorded at the top of the volcano. The geodetic monitoring shows a displacement of the Irazú-Turrialba massif towards the North, and a contraction of the massif for a period of 3 months. Geodetic observations show a contraction and subsidence of the Turrialba-Irazú massif, more marked around the Turrialba crater. The CO2/SO2 ratio remained stable around the values ​​of 20, with the exception of a substantial anomaly on January 29 (CO2/SO2 =51), some peaks were also recorded in the H2S/SO2 ratio when the concentration in H2S was low. The SO2 flux is estimated at 173 +/- 101 t/d, a value similar to the previous week.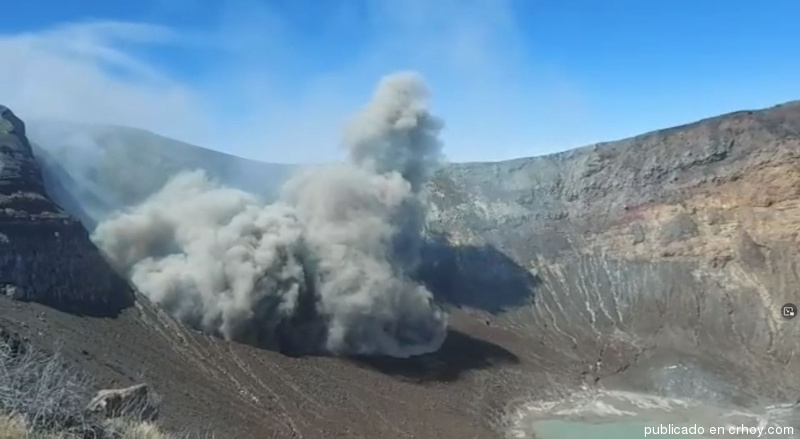 On February 06, 2022 at 12:59 p.m. local time, an eruption was recorded at the level of the Turrialba volcano, with a column that rose 100 meters above the height of the crater and 3440 meters above the level of the Wed (11283.2 feet).
Activity duration: 0.5 minutes.
The winds blow to the southwest.
Reported ash fall: There are no reports.
Sulfur odor reported in: No report.
Comments:
Small phreatic eruption with a plume of ash and gas about 100 meters above the crater. Seismographs and the infrasound system detected the eruption. The prevailing winds were from the northeast to the southwest during the day.
Poas Volcano
latitude: 10.2°N;
Longitude: 84.233°W;
Altitude: 2780m
Current activity level: 2 (active volcano at rest)
Potentially associated dangers: gas, phreatic eruptions, proximal ballistic projections, acid rain, lahars.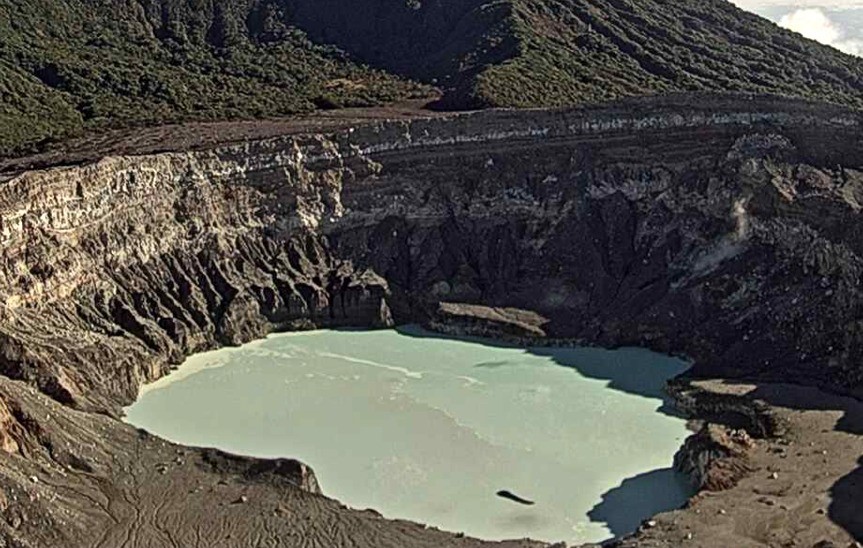 No eruption has been detected so far in 2022. Instability in seismic activity is observed from day to day, but weekly seismicity is stable. There are no seismic tremor signals, although there are many low amplitude LP type seismic events. The geodetic network does not record any significant deformation of the volcano. The SO2/CO2 and H2S/SO2 gas ratios remain stable. The SO2 concentration around the crater is low and the H2S is near detection level. The SO2 flux is 53 +/- 24 t/d, a stable value since the end of 2021. The SO2 warning system at the visitors' gazebo detected a maximum of 1.48 ppm last week. The level of the hyperacidic lake has decreased by about 20cm. The lake retains a pale green color and underwater fumaroles.
Irazu Volcano
latitude: 9.979°N;
Longitude: 83.852°W;
Altitude: 3432m
Current activity level: 1 (active volcano at rest)
Potentially associated hazards: landslides, lahars, proximal ballistic projections, gas, acid rain, ash fall, debris avalanches.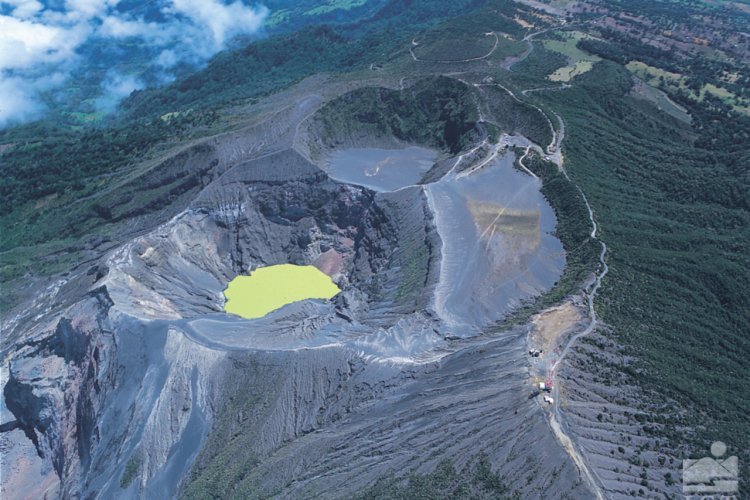 The seismicity of the Irazú volcano remains very low. The main landslide in the Las Torres sector shows a relatively stable velocity. Geochemical monitoring of gases in the fumarolic field in the northern sector of the volcano shows stability in terms of maximum CO2 concentrations (511 ppm) and CO2 / H2S values (25).
Source : Ovsicori.
Photos : Federico Chavarría-Kopper – Ovsicori , Diego Nunez Salmeron et Reina Sanchez Solano , Ovsicori , parque-nacional-volcan-irazu.
Mexico , Popocatepetl :
February 06, 11:00 (February 06, 17:00 GMT)
During the past 24 hours, according to the monitoring systems of the Popocatépetl volcano, 25 low intensity exhalations have been identified, accompanied by water vapor, volcanic gases and slight amounts of ash.
During the morning and at the time of this report, a slight emission of volcanic gases is observed in an East-North-East direction.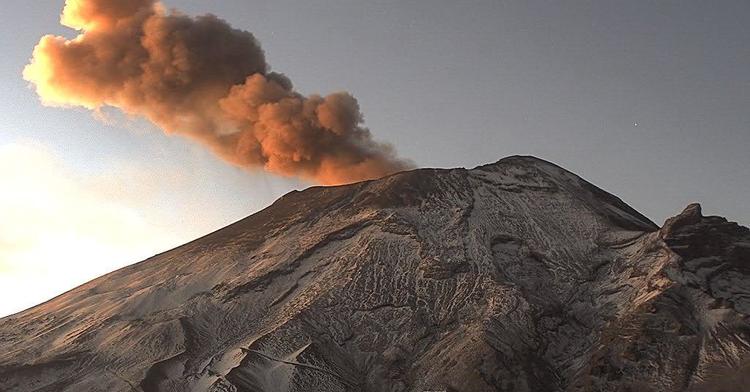 CENAPRED urges NOT TO APPROACH the volcano and especially the crater, because of the danger of falling ballistic fragments and, in case of heavy rains, to stay away from the bottom of the ravines because of the danger of mudslides and of debris.
The Popocatépetl volcanic warning light is in YELLOW PHASE 2.
Source et photo : Cenapred.