February 05 , 2022 . EN . Indonesia : Anak Krakatau , Indonesia : Merapi , Alaska : Davidof , Italy / Sicily : Etna , Russia / Kuriles Islands : Chikurachki , Dominica : Boiling Lake .
February 05 , 2022 .
Indonesia , Anak Krakatau :
VOLCANO OBSERVATORY NOTICE FOR AVIATION – VONA
Issued : February 05 , 2022
Volcano : Anak Krakatau (262000)
Current Aviation Colour Code : ORANGE
Previous Aviation Colour Code : orange
Source : Anak Krakatau Volcano Observatory
Notice Number : 2022KRA10
Volcano Location : S 06 deg 06 min 07 sec E 105 deg 25 min 23 sec
Area : Lampung, Indonesia
Summit Elevation : 502 FT (157 M)
Volcanic Activity Summary :
Eruption with ash clouds at 03:41 UTC (10:41 local time). The eruption lasted for 61 seconds.
Eruption with volcanic ash cloud at 06:03 UTC (13:03 local)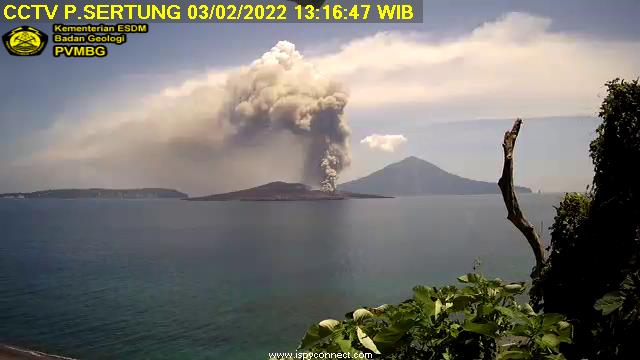 Volcanic Cloud Height :
Best estimate of ash-cloud top is around 6902 FT (2157 M) above sea level, may be higher than what can be observed clearly. Source of height data: ground observer.
Other Volcanic Cloud Information :
Visuals directly from the cctv were observed eruptions with the color of the thick black eruption smoke 2000m from the top of the volcano, the wind direction slowly to the south east.
Remarks :
Eruption recorded on seismogram with maximum amplitude 60 mm and maximum duration 144 second and Seismic activity is characterized by continuous volcanic tremor
The Geological Agency of the Ministry of Energy and Mineral Resources (ESDM) has urged the public not to approach Mount Anak Krakatu within 2 kilometers (km) of the active crater, due to the eruption today, Friday (4/2). Geological Agency chief Eko Budi Lelono said the eruption of Mount Anak Krakatau had been observed 9 times with the height of the ash column ranging from 800 to 1000 meters above the summit and the color of the thick emission column was grey-black. At night, an incandescence was observed above the crater.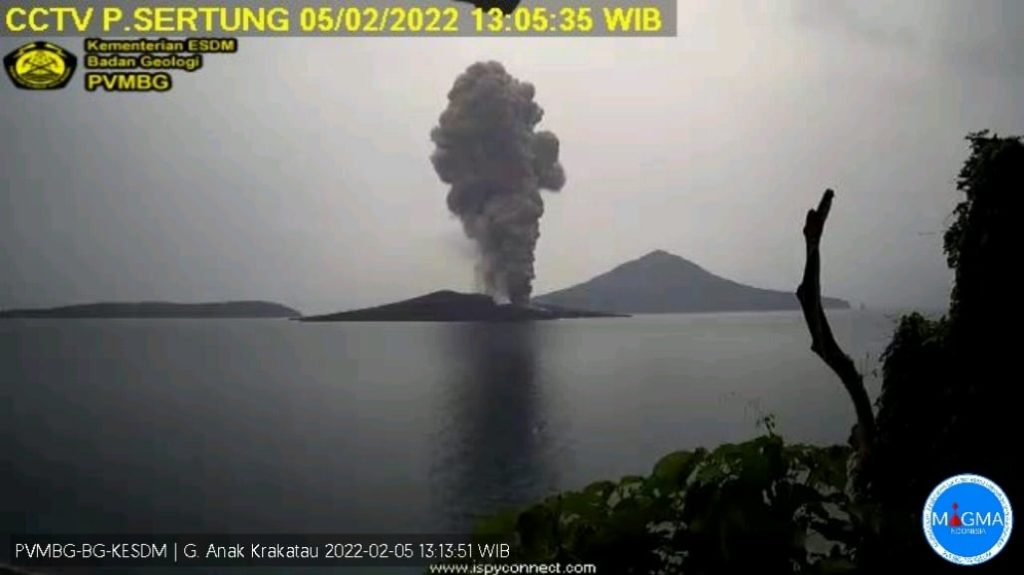 For this February 2022 eruption period, an increase in magmatic intrusion is likely to have begun since December 20, 2021, indicated by the recording of deep volcanic and shallow volcanic earthquakes in significant numbers. In January 2022, volcanic seismicity is still observed quite high and shallow earthquakes are increasingly recorded. At the end of January 2021, it is indicated that the magma is already at a very shallow depth and that ash emissions began to be observed since February 3, 2022 around 10:00 p.m. On February 4, 2022, 9 seismic eruptions were recorded at 9:43 a.m., 10:25 a.m., 10:28 a.m., 12:46 p.m., 1:00 p.m., 1:31 p.m., 1:41 p.m., 2:46 p.m. and 5:07 p.m. WIB.
In addition, the energy of volcanic activity reflected by the value of RSAM (real-time seismic amplitude measurement) shows a pattern of fluctuations with a relatively upward trend in the period January – February 2022. This increase is associated with an increase in low frequency earthquake swarms and continuous tremors which increase relatively in energy both in the number and in the magnitude of the amplitude of the earthquakes caused by the release of energy which occurs during the discharge of fluid to the surface.
Sources and photos : Magma Indonésie , PVMBG.
Indonesia , Merapi :
Merapi activity report from January 28 to February 3, 2022.
– The weather around Mount Merapi is generally sunny in the morning and evening, while it is foggy in the afternoon.
– This week 2 hot avalanche clouds were observed towards the South-West, upstream of the Bebeng river with a sliding distance of 2,000 to 2,500 m. Lava avalanches were observed 133 times to the southwest, upstream of the Bebeng river with a maximum slip distance of 2,000 m, and 1 time to the northwest (upstream of the Apu and Trising rivers) with a sliding distance of 300 m.
– Based on the morphological analysis, no significant morphological changes were observed in either the Southwest lava dome or the central dome. The volume of the Southwest lava dome is 1,670,000 m3 and the central dome is 3,007,000 m3.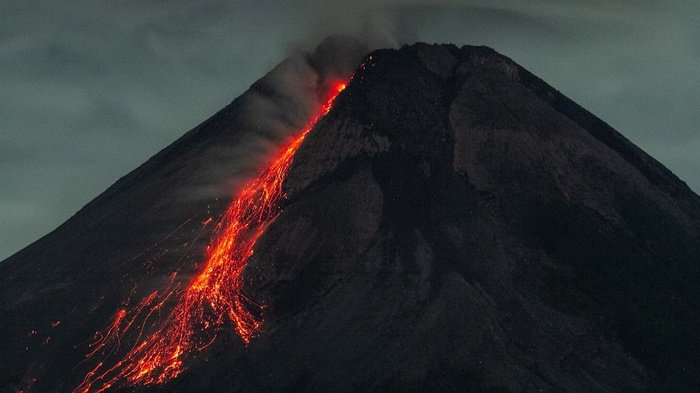 – The intensity of seismicity this week is higher than last week. We record:
-2 hot avalanche clouds
– 128 avalanche earthquakes
– 9 emission earthquakes
– 59 hybrid/multi-phase earthquakes
– 13 shallow volcanic earthquakes
– 1 distant tectonic earthquake
Mount Merapi's deformation, which was monitored using EDM this week, showed a distance shortening rate of 1.6 cm/day.
– Rainfall intensity was 167mm/hour for 70 minutes at Kaliurang post on Feb 3, 2022 and it was reported that there was flooding in Boyong and Kali Kuning rivers.
Conclusion:
1. The volcanic activity of Mount Merapi is still quite high in the form of effusive eruption activity. The state of the activity is defined at the « SIAGA » level.
2. The current potential danger is in the form of lava avalanches and hot clouds in the South-South-West sector covering the Boyong River for a maximum of 5 km, the Bedog River, Krasak, Bebeng for a maximum of 7 km. The Southeast sector covers the Woro River for a maximum of 3 km and the Gendol River for a maximum of 5 km. Meanwhile, the ejection of volcanic material in the event of an explosive eruption can reach a radius of 3 km around the summit.
Sources : BPPTKG , PVMBG.
Photo : ANTARA /Hendra Nurdiyansyah
Alaska , Davidof :
51°57'15 » N 178°19'34 » E,
Summit Elevation 1076 ft (328 m)
Current Volcano Alert Level: ADVISORY
Current Aviation Color Code: YELLOW
An earthquake swarm in the vicinity of Davidof volcano that began on Monday, January 24, has continued with small earthquakes detected every day this past week. The largest earthquake this week happened on January 29 at 1:34 AM AKST (09:34 UTC) and had a magnitude of 4.0. A similar earthquake swarm occurred in December 2021. No signs of unrest have been observed in partly cloudy satellite images of the volcano this week. This earthquake activity may be associated with volcanic unrest, or could be due to regional tectonic activity.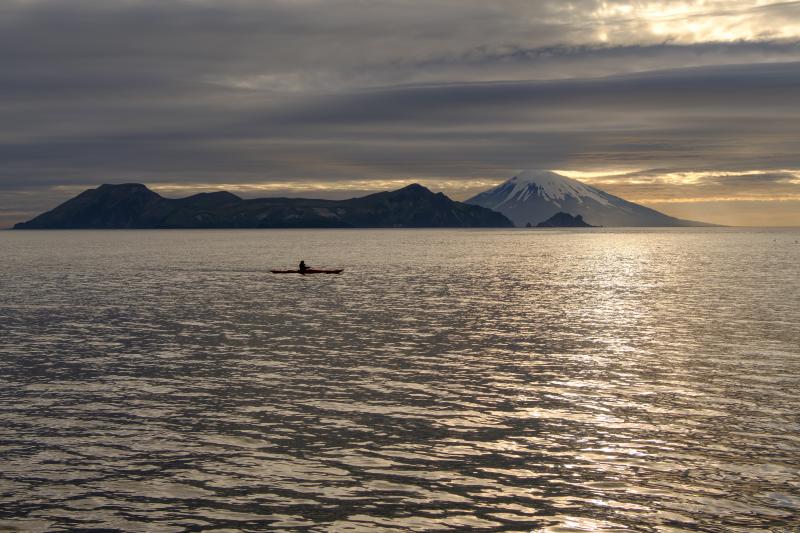 Davidof and Segula islands viewed from the west side of Little Sitkin
There is no real-time seismic monitoring network at Davidof volcano. The closest seismometers are approximately 9 miles (15 km) to the east of the volcano on Little Sitkin Island. Davidof is also monitored by satellite data and remote infrasound and lightning networks.
Source : AVO
Photo : Loewen, Matt / Alaska Volcano Observatory / U.S. Geological Survey
Italy / Sicily , Etna :
Press release on ETNA activity, 04 February 2022, 13:00 (12:00 UTC).
The National Institute of Geophysics and Volcanology, Osservatorio Etneo reports that Strombolian activity at the Southeast Crater has ceased. In addition, by analyzing the images of the INGV-OE surveillance cameras, from February 2, the light and discontinuous emissions of volcanic ash communicated in updates n. 531 of January 30 and no. 532 of January 31 are no longer observed.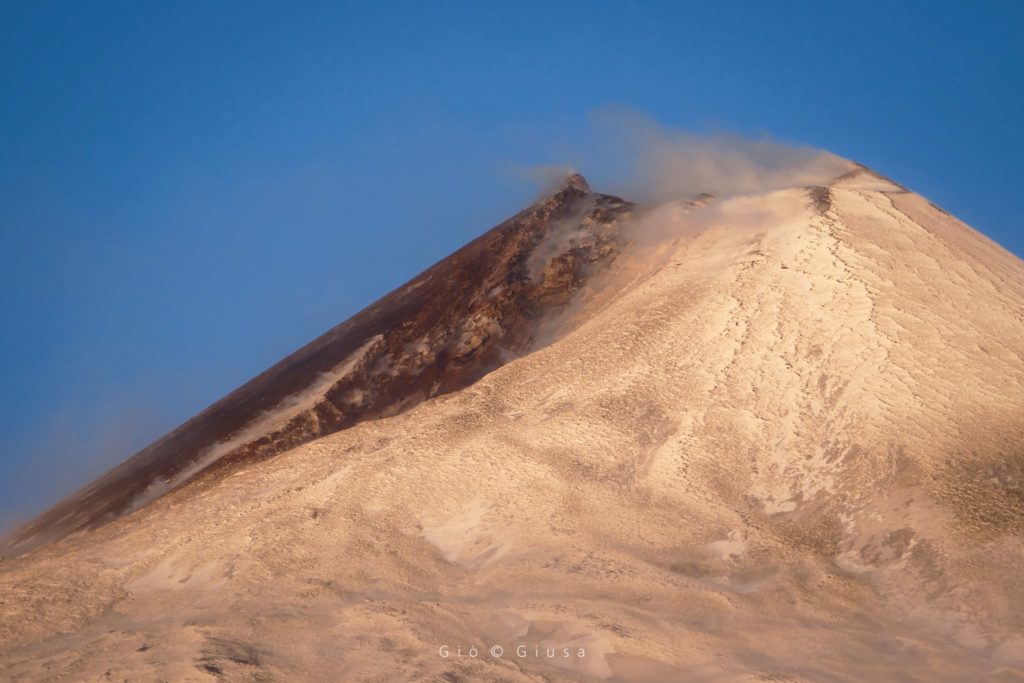 The magnitude of the shaking is still in the low range. The sources of the signal are located between the central craters and the Southeast crater. Infrasound activity is weak. The sources of the infrasonic signal are located near the Bocca Nuova.
The stations of the ground deformation monitoring networks (GPS and tilt) operating on Etna do not show significant variations.
Further updates will be communicated soon.
Source : INGV.
Photo : Gio Giusa .
Russia / Kuriles Islands , Chikurachki :
VOLCANO OBSERVATORY NOTICE FOR AVIATION (VONA)
Issued: February 05 , 2022
Volcano: Chikurachki (CAVW #290360)
Current aviation colour code: GREEN
Previous aviation colour code: yellow
Source: KVERT
Notice Number: 2022-15
Volcano Location: N 50 deg 19 min E 155 deg 27 min
Area: Northern Kuriles, Russia
Summit Elevation: 1816 m (5956.48 ft)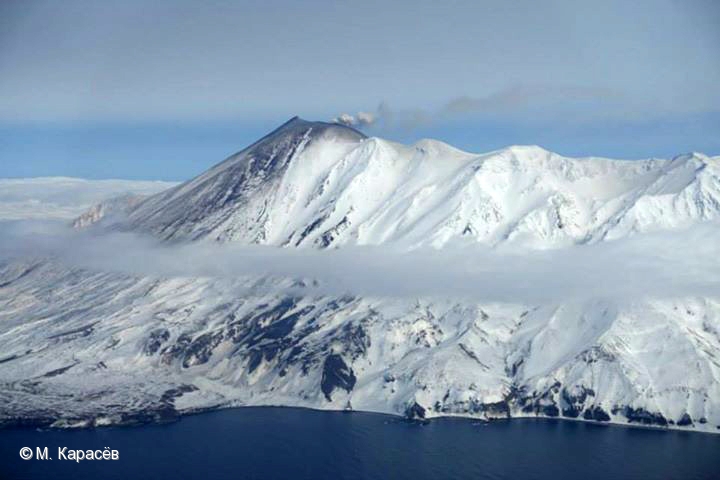 Volcanic Activity Summary:
A gas-steam activity of the volcano continues. The explosive eruption of the volcano began near 16:00 UTC on 30 January, and finished on 02 February. Explosions sent ash up to 5 km a.s.l., and ash plumes and clouds moved for 255 km west, southwest, south and southeast of the volcano during the eruption. KVERT continues to monitor Chikurachki volcano.
A gas-steam activity of the volcano continues. Ongoing activity could affect low-flying aircraft.
Volcanic cloud height: NO ASH CLOUD PRODUSED
Other volcanic cloud information: NO ASH CLOUD PRODUSED
Source : Kvert
Photo : M. Karasev ( 2015) .
La Dominique , Boiling Lake :
Update on the Boiling Lake February 3 , 2022 .
The University of the West Indies Seismic Research Centre (UWI SRC) has informed the Office of Disaster Management (ODM) that as of February 2nd, 2022, the water level and geothermal activity (heat and gas emissions) at the Boiling Lake has decreased significantly. The observed changes at the Boiling Lake are not necessarily related to increased volcanic activity in the area.
The current period of significant changes in activity at the lake began in November 2021. Significant water level changes at the Boiling Lake are not a new phenomenon, but has occurred several times since 1876. In fact, reports indicated that the lake levels have dropped dramatically and have been restored at least eight times in the past. The last draining episode occurred on 8 November, 2016 with the lake returning to its normal state by 10 January, 2017.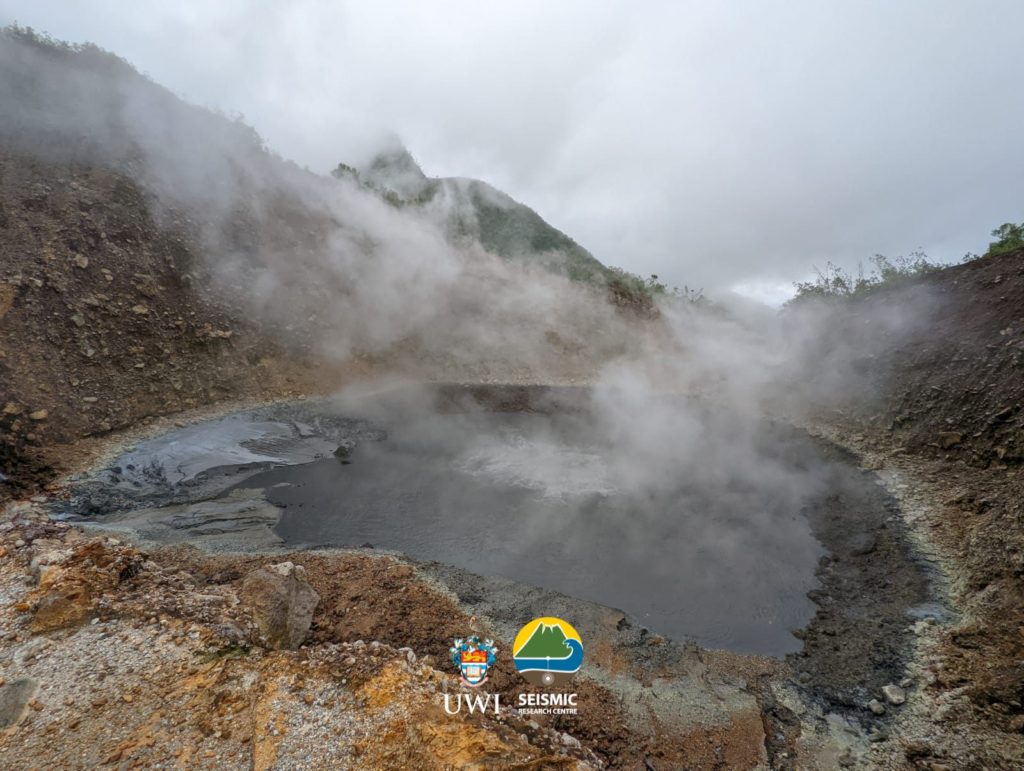 Be advised that these periods of instability can last for weeks to months before normal activity is fully re-established. As this current episode continues, the risk of harmful gases such as Carbon Dioxide and small steam explosions is heightened.
The ODM is advising the public to remain calm. Visits to the Boiling Lake should be avoided at this stage unless approved by the relevant authorities. The public is asked to keep updated on information provided by the authorities.
The UWI-SRC and the Office of Disaster Management, with support from the Forestry, Wildlife & Parks Division, will continue to monitor the situation and provide updates as necessary.
Source : ODM /UWI.