05 March 2021. EN . Alaska : Veniaminof , Kamchatka : Klyuchevskoy , Saint Vincent : Soufrière Saint Vincent , Indonesia : Raung .
March 05 , 2021.
Alaska , Veniaminof :
AVO/USGS Volcanic Activity Notice
Current Volcano Alert Level: WATCH
Previous Volcano Alert Level: UNASSIGNED
Current Aviation Color Code: ORANGE
Previous Aviation Color Code: UNASSIGNED
Issued: Thursday, March 4, 2021, 9:04 AM AKST
Source: Alaska Volcano Observatory
Notice Number: 2021/A39
Location: N 56 deg 11 min W 159 deg 23 min
Elevation: 8225 ft (2507 m)
Area: Alaska Peninsula
Volcanic Activity Summary:
Regional infrasound sensors detected a small explosion from Veniaminof volcano this morning at 14:13 UTC (05:13 local time). Satellite and webcam views indicate low-elevation (< 10,000 ft asl) ash emissions heading in the SSE direction, and minor ash deposits are visible at the volcano. As a result, AVO is raising the Aviation Color Code to ORANGE and the Volcano Alert Level to WATCH at Veniaminof volcano. The local seismic data remains offline due to an outage of a satellite link at Port Heiden. However, the Alaska Volcano Observatory continues to monitor Veniaminof with satellite and webcam data and remote infrasound, seismic and lightning networks.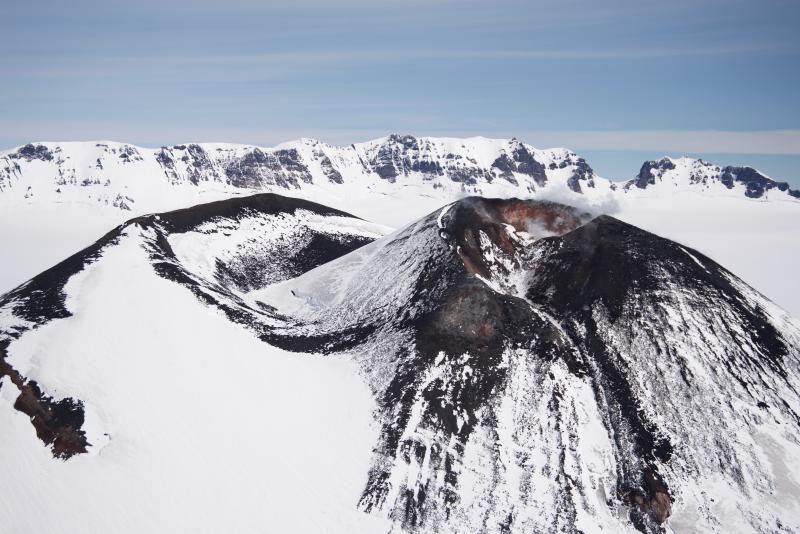 Eruptive activity usually consists of minor ash emissions, lava fountaining and lava flows from the small cone in the summit caldera. Ash emissions are typically confined to the summit crater, but larger events can result in ash fall in nearby communities and drifting airborne ash.
Recent Observations:
[Volcanic cloud height] 10000 feet asl
[Other volcanic cloud information] SSE direction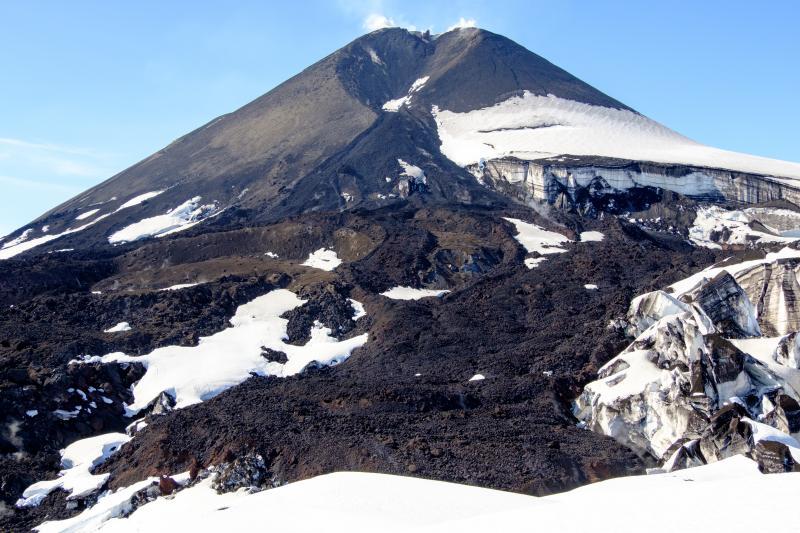 Remarks:
Mount Veniaminof volcano is an andesitic stratovolcano with an ice-filled 10-km diameter summit caldera located on the Alaska Peninsula, 775 km (480 mi) southwest of Anchorage and 35 km (22 mi) north of Perryville. Veniaminof is one of the largest (~300 cubic km; 77 cubic mi) and most active volcanic centers in the Aleutian Arc and has erupted at least 14 times in the past 200 years. Recent eruptions in 1993-95, 2005, 2013, and 2018 all occurred at the intracaldera cone and lasted for several months. These eruptions produced lava spattering and fountaining, minor emissions of ash and gas, and small lava flows into intracaldera icefield. Minor ash-producing explosions occurred nearly annually between 2002 and 2010. Previous historical eruptions have produced ash plumes that reached 15,000 to 20,000 ft above sea level (1939, 1956, and 2018) and ash fallout that blanketed areas within about 40 km (25 mi) of the volcano (1939, 2018).
Source : AVO.
Photo : Read, Cyrus , 11 Juillet 2018 . Loewen, Matt .
Kamchatka , Klyuchevskoy :
56.06 N, 160.64 E;
Elevation 4750 m (15580 ft)
Aviation Colour Code is ORANGE
A moderate explosive-effusive flank eruption continues. The danger of ash explosions up to 5-6 km (16,400-19,700 ft) a.s.l. from the flank crater remains. Ongoing activity could affect low-flying aircraft.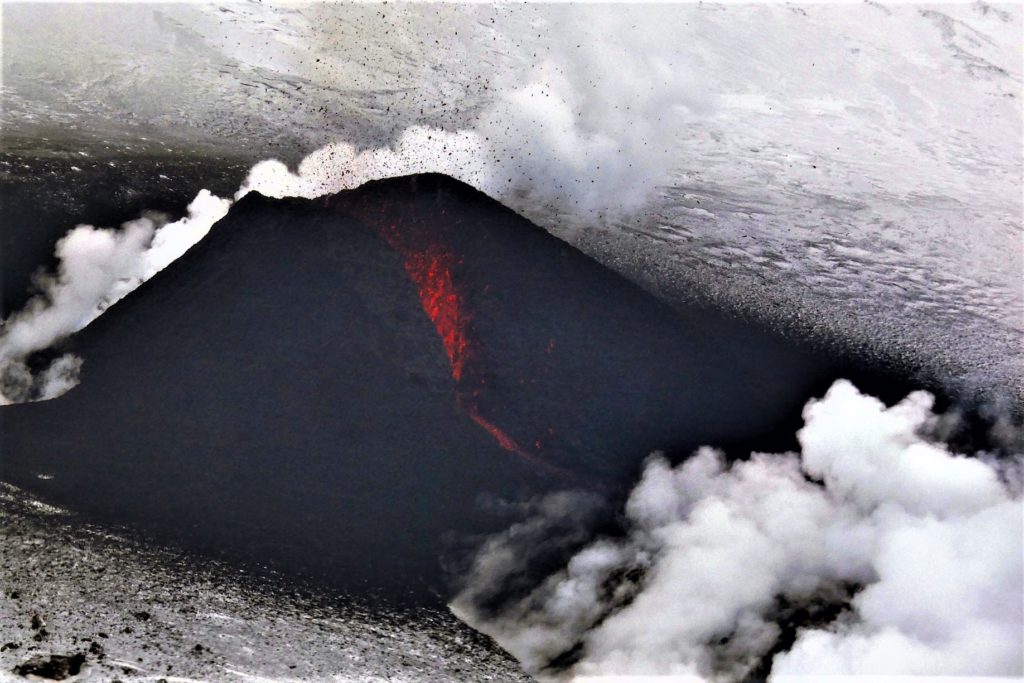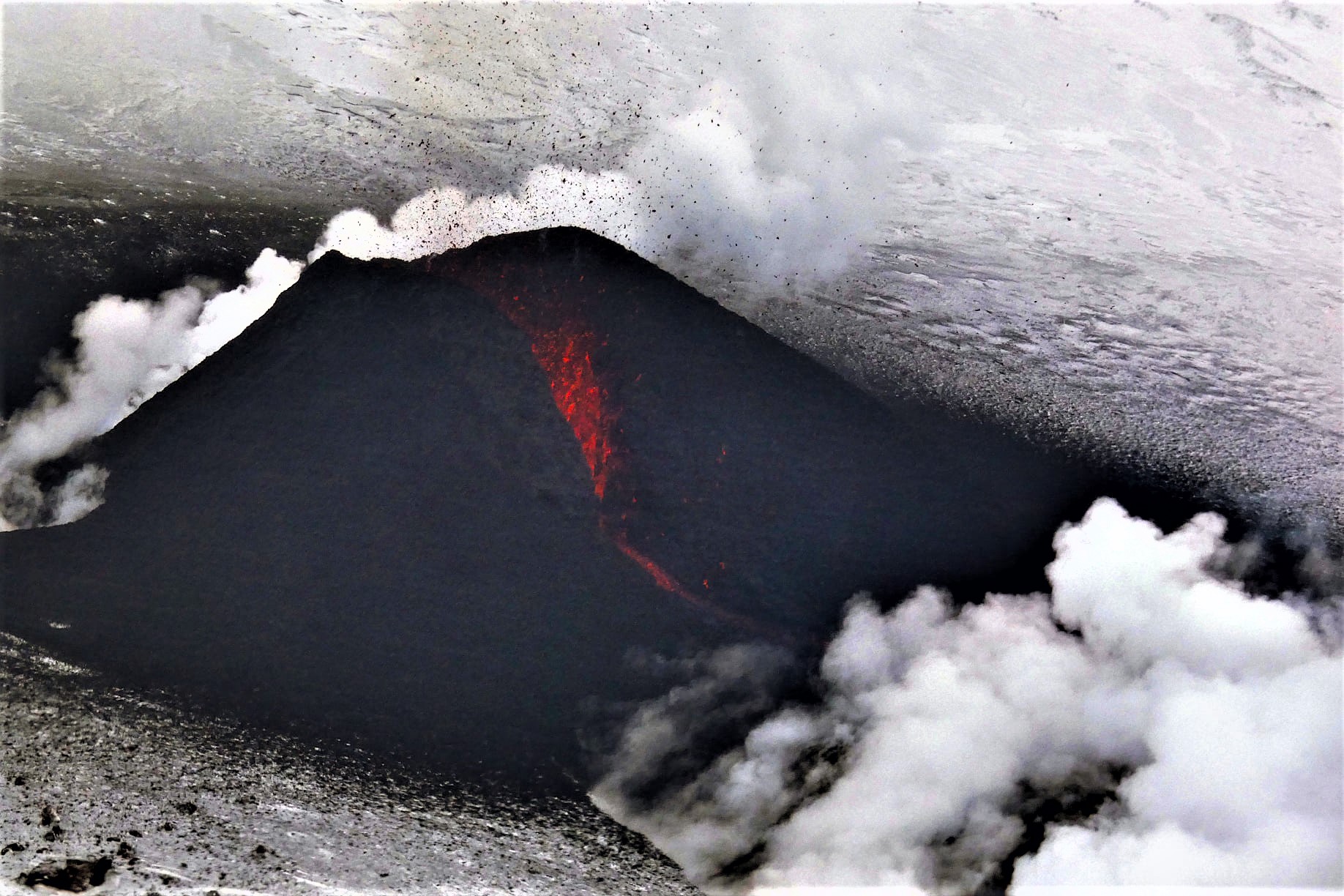 The flank eruption on the northwestern slope of the volcano at an altitude of 2800 m a.s.l. continues. The fumarole activity of the volcano also continues. According to satellite data, a bright large thermal anomaly was observed all week in the area of the flank eruption.
KVERT reported that the eruption at two vents on Klyuchevskoy's lower NW flank continued during 24-26 February. Both vents produced lava flows and ejected lava 50 m high. A cinder cone had formed over the higher vent. A bright thermal anomaly over the vents was identified in satellite images. The Aviation Color Code remained at Orange (the second highest level on a four-color scale).
Source : Kvert , GVP.
Photo : Сергей Самойленко via Sherine France .
Saint Vincent , Soufrière Saint Vincent :
LA SOUFRIÈRE BULLETIN, MARCH 04, 2021 12:00 PM
Drone surveys and aerial photographs of the volcano were done at the La Soufriere Volcano on Wednesday 3rd March, 2021.
The new seismic station constructed at the National Parks Interpretation Centre at Bamboo Range, on the eastern side of the volcano is operational. The streaming of data from this into the Seismic Research Centre (SRC) began on March 01, 2021.
A new continuous Global Positioning System (GPS) monitoring station was installed at the monument recently constructed in Fancy.
Work continued at the Belmont Observatory, on the installation of the seismic data acquisition system.
Additional measurements of carbon dioxide in soil along the lower sides of the volcano is completed.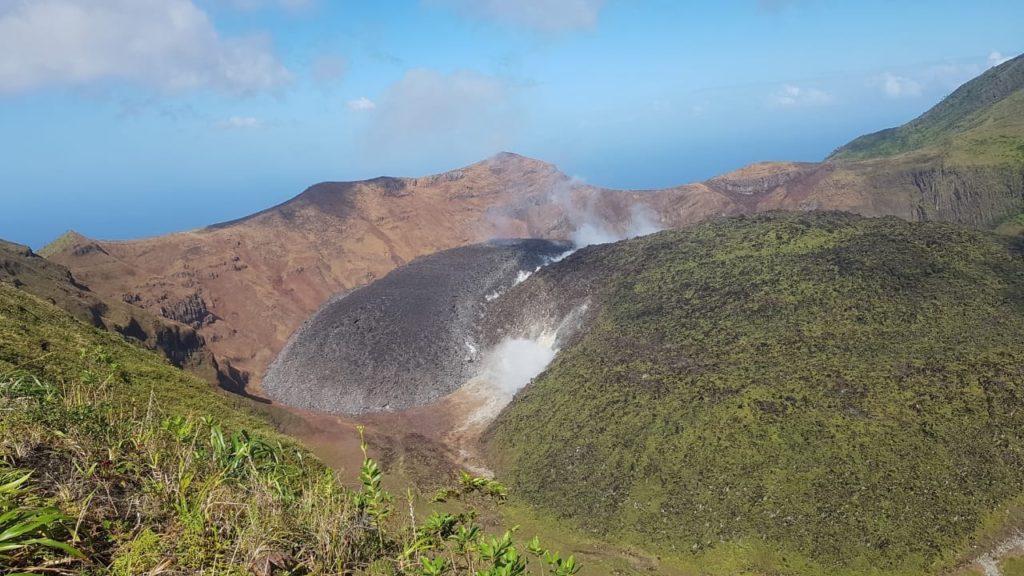 Three members of the Seismic Research Centre Team returned to Trinidad and Tobago on Monday March 1, 2021. They are Dr. Michal Camejo, Ms. Monique Johnson & Mr. Garth Mannette.
The National Emergency Management Organisation is reminding the public that no evacuation order or notice has been issued.
University of the West Indies Seismic Research Centre (UWI-SRC) and National Emergency Management Organisation (NEMO) reported that the lava dome in Soufrière St. Vincent's main crater continued to grow during 24 February-2 March. The rate of growth was variable, though overall slow. Gas emissions continued to damage vegetation in the summit area as well as on the SW flank. The monitoring teams replaced a camera and continue to improve the seismic and GPS networks. The Alert Level remained at Orange (the second highest level on a four-color scale).
Source : Nemo , GVP.
Photo : UWI
Indonesia , Raung :
Since January 20, 2021, non-harmonic tremors have been recorded, followed by deep volcanic earthquakes, accompanied by changes in height and color of the emission gas / ash column. Thus, since January 21, 2021, the activity level of G. Raung has been raised to level II (Waspada).
The volcano was clearly visible until it was covered in fog. The crater emits gray smoke of moderate intensity, rising approximately 300-1000 meters above the summit. The weather is sunny to rainy, with weak winds to the east and south. The air temperature is around 18-30 ° C.
According to the seismographs of March 4, 2021, it was recorded:
5 distant tectonic earthquakes
Continuous tremor, amplitude 1 to 13 mm (dominant value 1 mm)
Recommendation: People and visitors / tourists should not do activities within a radius of 2 km around the eruption center of the summit crater.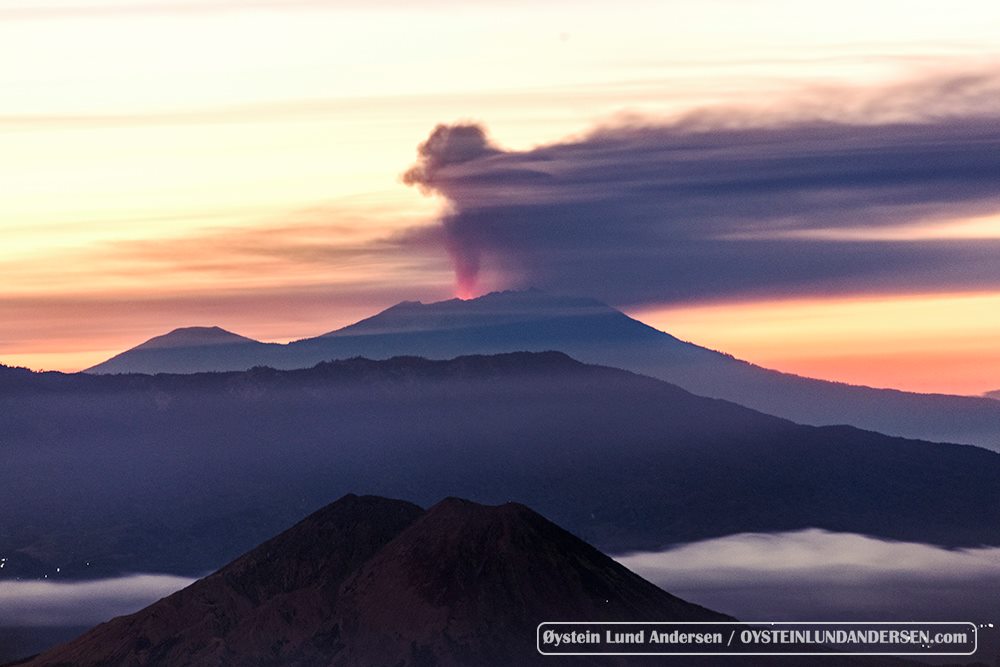 VOLCANO OBSERVATORY NOTICE FOR AVIATION – VONA.
Issued : March 05 , 2021
Volcano : Raung (263340)
Current Aviation Colour Code : ORANGE
Previous Aviation Colour Code : orange
Source : Raung Volcano Observatory
Notice Number : 2021RAU03
Volcano Location : S 08 deg 07 min 30 sec E 114 deg 02 min 31 sec
Area : East java, Indonesia
Summit Elevation : 10662 FT (3332 M)
Volcanic Activity Summary :
Eruption with volcanic ash cloud at 08h01 UTC (15h01 local).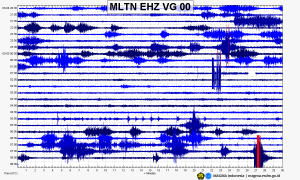 Volcanic Cloud Height :
Best estimate of ash-cloud top is around 13862 FT (4332 M) above sea level, may be higher than what can be observed clearly. Source of height data: ground observer.
Other Volcanic Cloud Information :
Ash-cloud moving to northeast
Remarks :
Seismic activity is characterized by continuous volcanic tremor.
Source : PVMBG , Magma Indonésie .
Photo : Oystein Lund Andersen .