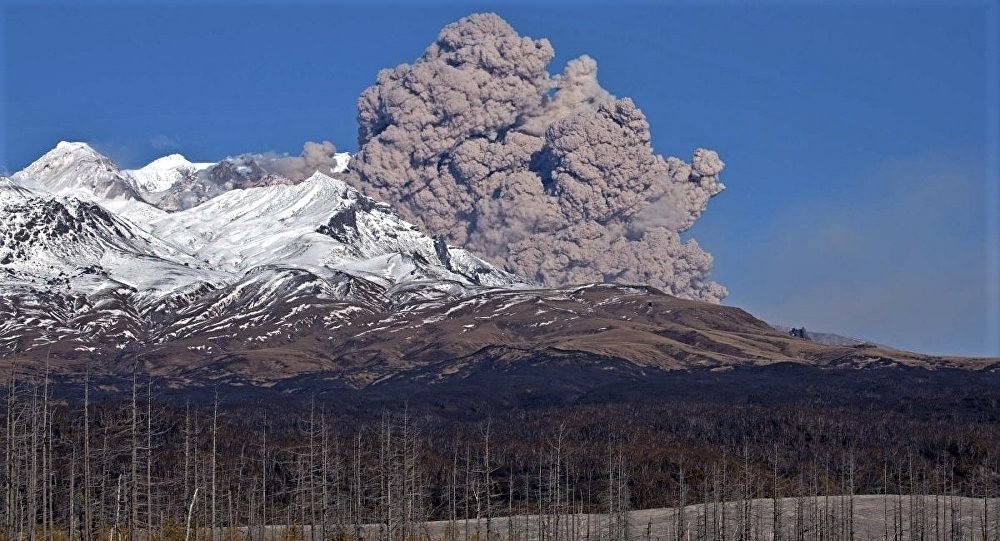 April 09 , 2020. EN. Kamchatka : Sheveluch , Japan : Sakurajima (Aira) , Chile : Nevados of Chillan , Guatemala : Fuego .
April 09 , 2020.
Kamchatka , Sheveluch :
VOLCANO OBSERVATORY NOTICE FOR AVIATION (VONA).
Issued: 20200409/0412Z
Volcano: Sheveluch (CAVW #300270)
Current aviation colour code: ORANGE
Previous aviation colour code: orange
Source: KVERT
Notice Number: 2020-41
Volcano Location: N 56 deg 38 min E 161 deg 18 min
Area: Kamchatka, Russia
Summit Elevation: 10768.24 ft (3283 m), the dome elevation ~8200 ft (2500 m)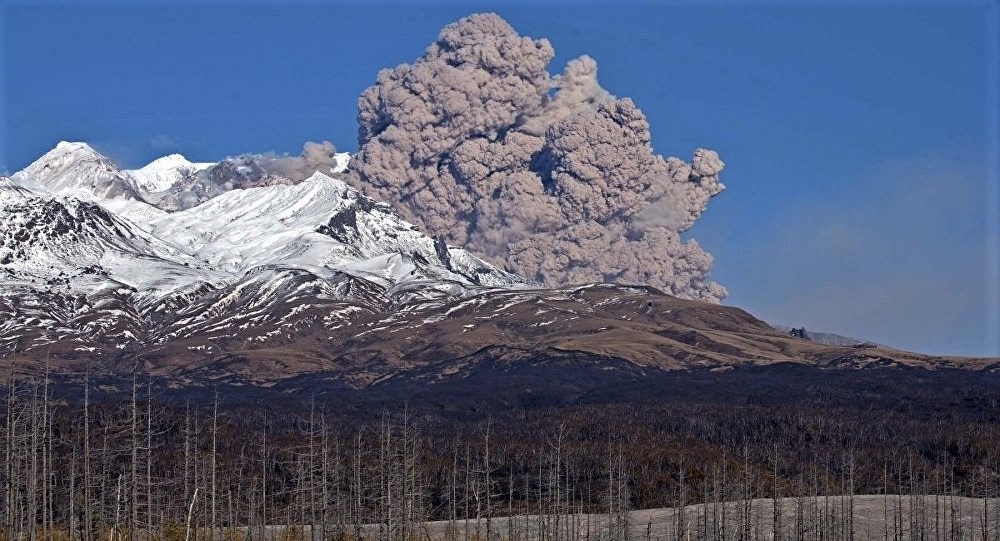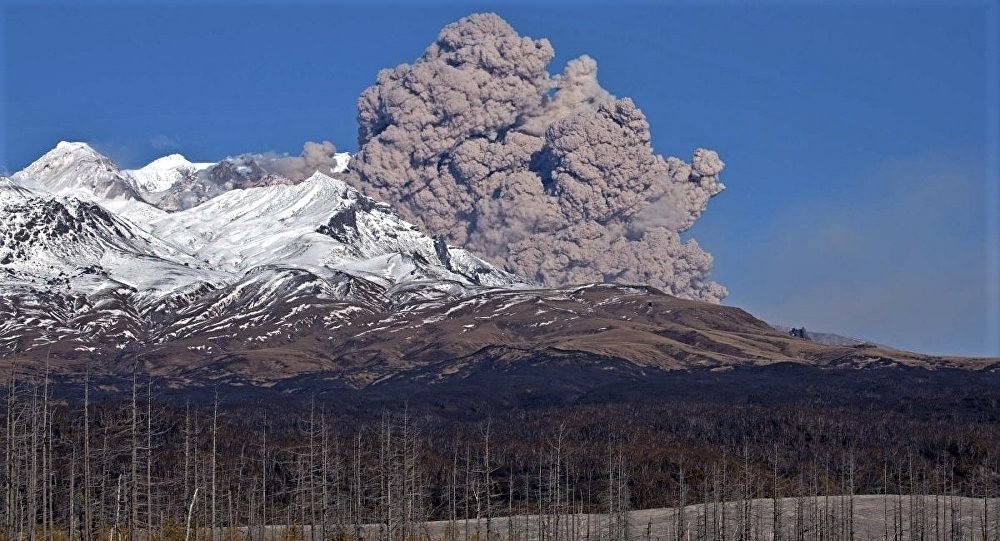 Volcanic Activity Summary:
Satellite data by KVERT showed an ash cloud drifted about 230 km to the south-east from the volcano.
Explosive-extrusive eruption of the volcano continues. Ash explosions up to 32,800-49,200 ft (10-15 km) a.s.l. could occur at any time. Ongoing activity could affect international and low-flying aircraft.
Volcanic cloud height:
13120-16400 ft (4000-5000 m) AMSL Time and method of ash plume/cloud height determination: 20200409/0350Z – Himawari-8
Other volcanic cloud information:
Distance of ash plume/cloud of the volcano: 143 mi (230 km)
Direction of drift of ash plume/cloud of the volcano: SE / azimuth 134 deg
Time and method of ash plume/cloud determination: 20200409/0350Z – Himawari-8
Start time of explosion and how determined: 20200408/1910Z – Satellite data
Source : Kvert.
Photo : Yu Demyanchuck 09/2019.
Japan , Sakurajima ( Aira ):
31.593°N, 130.657°E
Elevation 1117 m
JMA reported that during 30 March-6 April incandescence from Minamidake Crater (at Aira Caldera's Sakurajima volcano) was visible nightly. The seismic network recorded 22 eruptive events and one explosion (at 1558 on 4 April). The highest plume during the period rose to 3.8 km above the crater rim, visible at 1621 on 4 April. Material was ejected 500-900 m away from the crater. The Alert Level remained at 3 (on a 5-level scale).
The Aira caldera in the northern half of Kagoshima Bay contains the post-caldera Sakurajima volcano, one of Japan's most active. Eruption of the voluminous Ito pyroclastic flow accompanied formation of the 17 x 23 km caldera about 22,000 years ago. The smaller Wakamiko caldera was formed during the early Holocene in the NE corner of the Aira caldera, along with several post-caldera cones. The construction of Sakurajima began about 13,000 years ago on the southern rim of Aira caldera and built an island that was finally joined to the Osumi Peninsula during the major explosive and effusive eruption of 1914.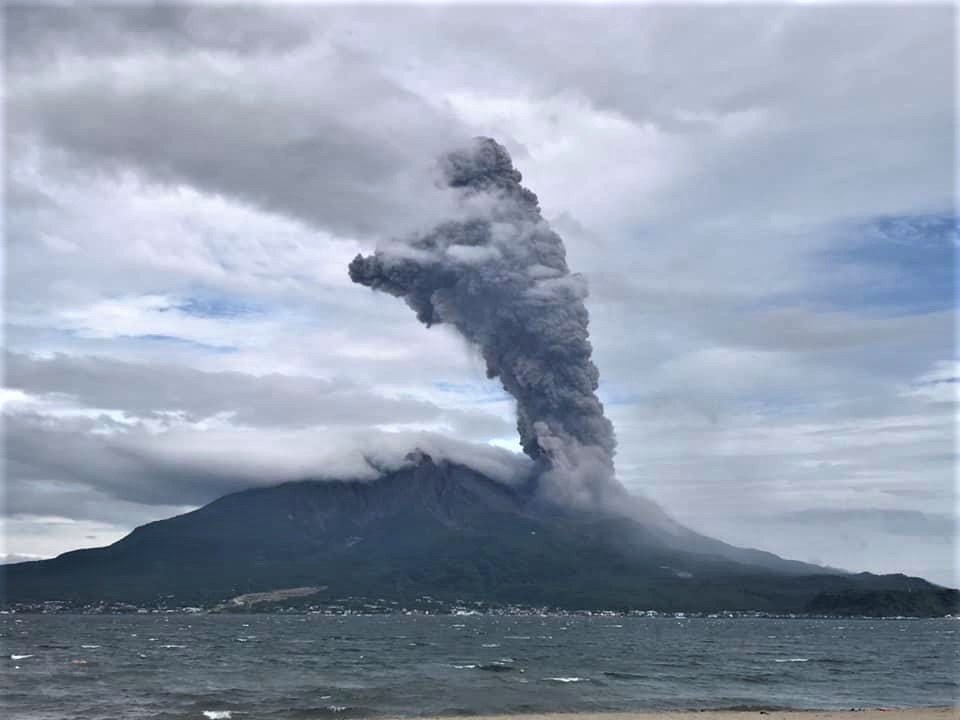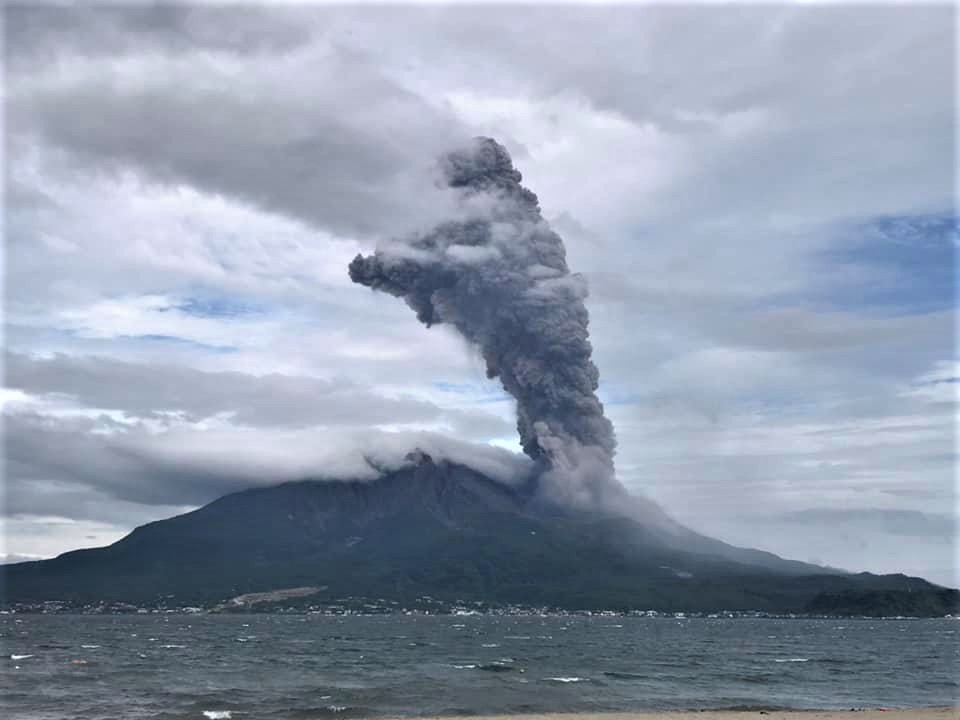 Activity at the Kitadake summit cone ended about 4850 years ago, after which eruptions took place at Minamidake. Frequent historical eruptions, recorded since the 8th century, have deposited ash on Kagoshima, one of Kyushu's largest cities, located across Kagoshima Bay only 8 km from the summit. The largest historical eruption took place during 1471-76.
Source: Japan Meteorological Agency (JMA) , GVP .
Vidéo : Volcano Time-Lapse.
Photo : Koki Arima .
Chile , Nevados of Chillan :
Special volcanic activity report (REAV), region of the Nevados de Chillán volcanic complex, on April 8, 2020 at 6:18 p.m. local time (mainland Chile).
The National Geological and Mining Service of Chile (Sernageomin) discloses the following PRELIMINARY information, obtained thanks to the surveillance equipment of the National Volcanic Surveillance Network (RNVV), processed and analyzed at the South Andes Volcanological Observatory (OVDAS ):
On Wednesday April 08, 2020 at 5:54 p.m. local time (9:54 p.m. UTC), the monitoring stations installed near the Nevados de Chillán volcanic complex recorded an earthquake associated with fluid dynamics inside the volcanic system ( long period type).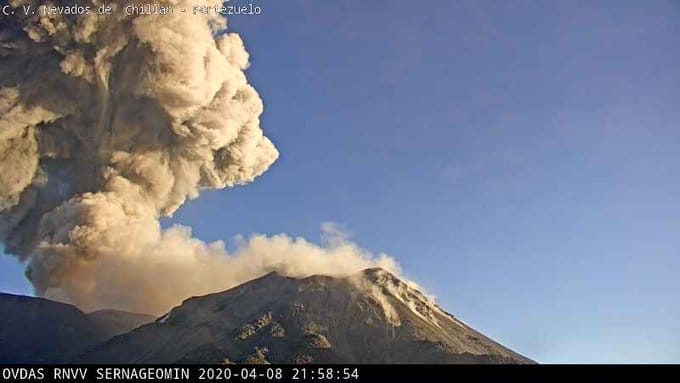 The characteristics of the LP earthquake are as follows:
TIME OF ORIGIN: 5:54 p.m. local time (9:54 p.m. UTC).
LATITUDE: 36 870 ° S
LONGITUDE: 71.373 ° W
DEPTH: 0.4 km
REDUCED MOVEMENT: 50cm2
ACOUSTIC SIGNAL: 9.1 Pa reduced to 1 km.
The characteristics of the associated surface activity are as follows:
Maximum height of the emission column: 3700 m above the emission point.
Dispersion direction: South.
OBSERVATIONS:
Preliminary, we observe basal pyroclastic flows towards the North, North-East and South-East sectors mainly.
The volcanic technical alert is maintained at the YELLOW level.
Source : Sernageomin .
Guatemala , Fuego :
Special volcanological bulletin
April 8, 2020, 9:44 p.m. local time
BEFGO SPECIAL VOLCANOLOGICAL BULLETIN # 05-2020
CHANGE OF ERUPTIVE SHEMA WITH EFFUSIVE ACTIVITY
Type of activity: Vulcanienne
Morphology: Composite stratovolcano
Location: 14 ° 28'54˝Latitude N; 90 ° 52'54˝Longitude W.
Height: 3763 m above sea level.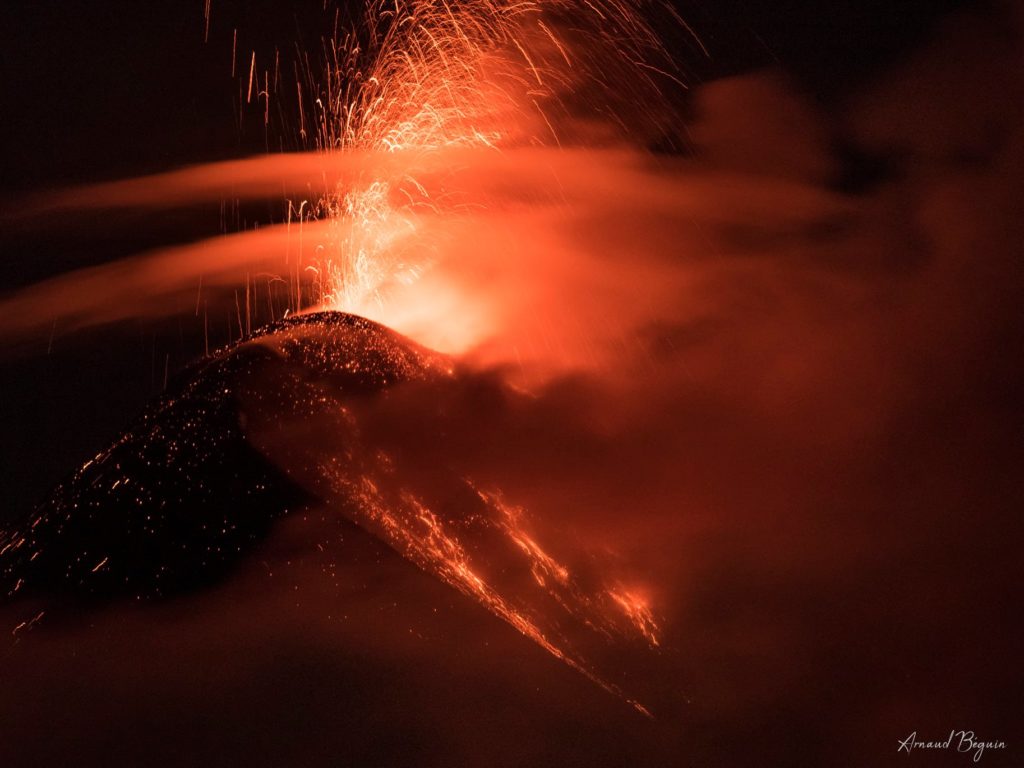 On the evening of April 6, 2020, the INSIVUMEH network of seismic stations and acoustic sensors recorded a change in the eruptive pattern of the Volcán Fuego. This activity is currently effusive, forming a new lava flow towards the Ceniza ravine, with an approximate length of 400 meters, accompanied by an almost constant glow in the crater and avalanches which travel up to 1 km and reach the vegetation. This stream can be extended in length and can even be extended to other ravines. Weak and moderate explosions are also observed and recorded which generate rumblings, shock waves and ash columns at an altitude of 4800 m (15748 feet). The current activity is similar to that recorded on March 16, 2020 which had lasted approximately 8 days.
INSIVUMEH volcanic surveillance cameras show the active lava flow. Its incandescence increased the radiation values ​​detected by the GOES-16 satellite.
The lava flow is observed from the village of Panimache.
Source : Sernageomin / Jose Jose Leonardo Quexel Hernandez .
Photo : Arnaud Béguin.