March 06 , 2020. EN . Hawaii : Kilauea , Iceland : Reykjanes , Kamchatka : Klyuchevskoy , France : Mayotte , Indonesia : Kerinci .
March 06 , 2020 .
Hawaii , Kilauea :
19°25'16 » N 155°17'13 » W,
Summit Elevation 4091 ft (1247 m)
Current Volcano Alert Level: NORMAL
Current Aviation Color Code: GREEN
Activity Summary:
Kīlauea Volcano is not erupting. Monitoring data for the month of February show variable but typical rates of seismicity and ground deformation, low rates of sulfur dioxide emissions, and only minor geologic changes since the end of eruptive activity in September 2018.
Observations:
Monitoring data have shown no significant changes in volcanic activity in February.
Rates of seismicity over the month were variable but within a range observed over the past year. Sulfur dioxide emission rates are low at the summit and are below detection limits at Puʻu ʻŌʻō and the lower East Rift Zone. The water pond at the bottom of Halema'uma'u continues to slowly expand and deepen. As of early March, pond dimensions are approximately 100 meters (330 feet) by 200 meters (660 feet). The current depth is approximately 28 meters or 92 feet.

Comparison of the water pond in Halema'uma'u on November 20, 2019, and March 1, 2020. Camera and lens same for both photos. Since November 20, 2019, the pond deepened 10 m (33 ft) and widened more than 50 m (164 ft) east-west and 30 m (98 ft) north-south. Circled clusters of rocks did not move between photos, evidence of slope stability. The water's color browned with time, though the photos probably exaggerate the color difference. The blue-green water at the far and near ends of the pond is interpreted as groundwater entering the pond. USGS photos by D. Swanson.
Over the past month, the summit tiltmeter recorded about 9 deflation-inflation events, a number similar to January. Since March 2019, GPS stations and tiltmeters at the Kīlauea summit have recorded deformation consistent with slow magma accumulation within the shallow portion of the Kīlauea summit magma system (1-2 km or approximately 1 mile below ground level). Gas measurements show continuing low levels of sulfur dioxide emission from the Halema'uma'u area, consistent with no significant shallowing of magma. Some amount of sulfur dioxide is being dissolved into the summit lake and work continues to try and quantify this process. The pond was last sampled by UAS in January and additional, regular sampling with UAS is planned.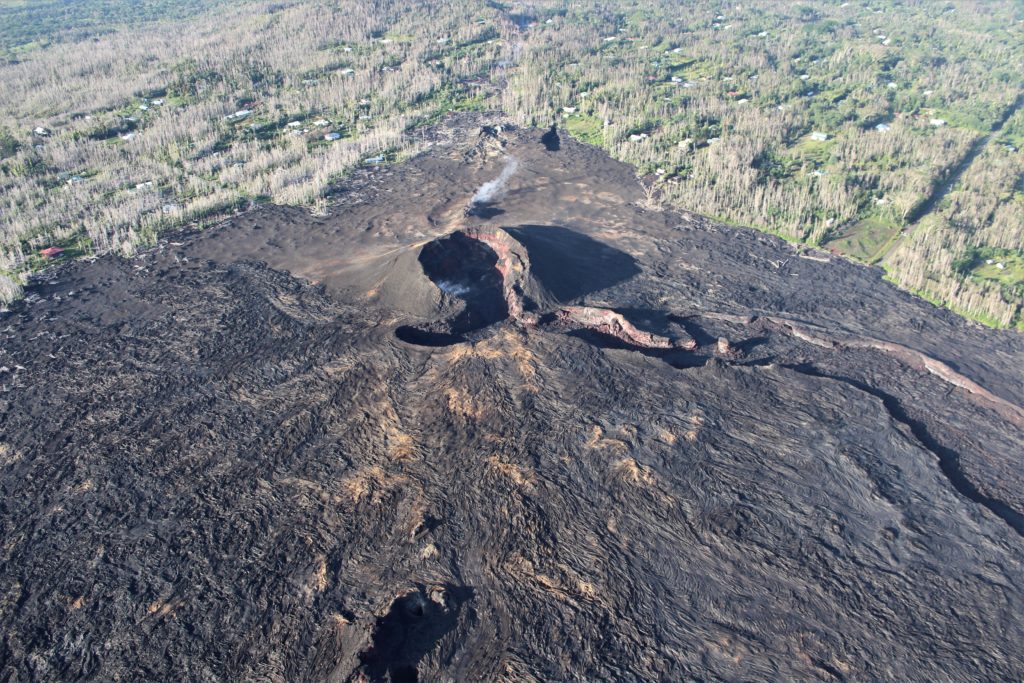 HVO geologists conducted a routine helicopter overflight of Kīlauea's East Rift Zone, from Pu'u 'Ō'ō to the lower East Rift Zone flow field, on Tuesday, January 21. This photo looks uprift (west) and shows Fissure 8, the dominant vent for the 2018 lower East Rift Zone eruption. Minor steaming is normally present in and around the cone. USGS photo by M. Zoeller.
Farther east, GPS stations and tiltmeters continue to show motions consistent with slowed refilling of the deep East Rift Zone magmatic reservoir in the broad region between Puʻu ʻŌʻō and Highway 130. During February, deformation rates in this region have decreased slightly. Monitoring data do not suggest any imminent change in volcanic hazard for this area. The south flank of Kīlauea continues to creep seaward at elevated rates following the May 4, 2018 M6.9 earthquake near Kalapana. HVO continues to carefully monitor all data streams along the Kīlauea East Rift Zone and south flank for important changes.
Source : HVO
Photos : USGS / D. Swanson , USGS / M. Zoeller.
Iceland , Reykjanes :
Yesterday the seismic activity at the SW tip of Reykjanes increased again. A seismic swarm has been ongoing there since 15th of Feb. Five earthquakes >M3.0 were detected yesterday, the largest M3.4. Nearly 300 earthquakes were located in the area yesterday. In 2013 a seismic swarm occurred few km away, then the largest earthquake was M5.2.
The IMO warns about cave excursions in the Eldvörp area on the Reykjanes Peninsula. Hazardous levels of CO2 and low levels of O2 were measured there recently, in a cave close to a parking lot which is popular for hikers.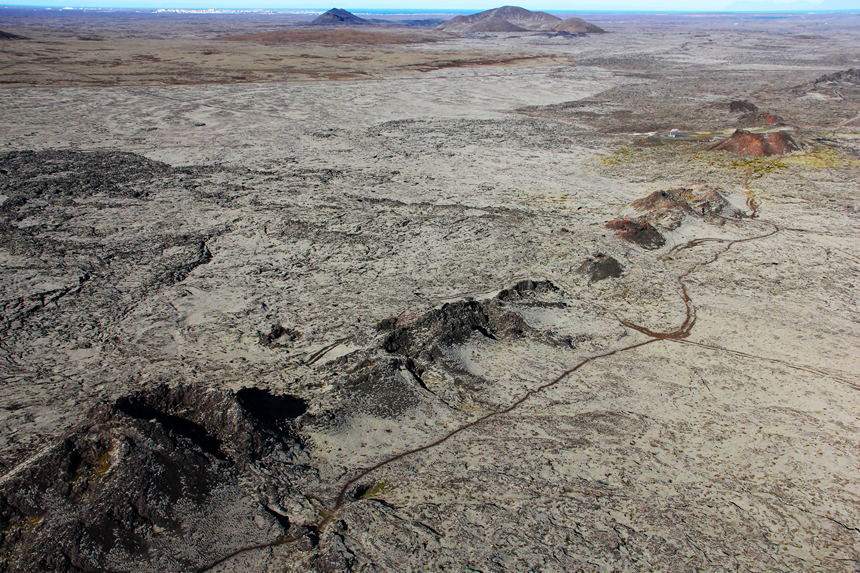 Seismic activity near Grindavík
Earthquake activity near Thorbjorn has significantly decreased recently. Uplift is no longer being observed, which is likely due to the halt of magma inflow. The uncertainty phase that Civil Protections declared is still in force.
Source : IMO.
Photo : Ómar Ragnarsson.
Kamchatka , Klyuchevskoy :
56.06 N, 160.64 E;
Elevation 15580 ft (4750 m)
Aviation Colour Code is ORANGE
A moderate explosive eruption of the volcano continues. Ash explosions up to 16,400-23,000 ft (5-7 km) a.s.l. could occur at any time. Ongoing activity could affect low-flying aircraft.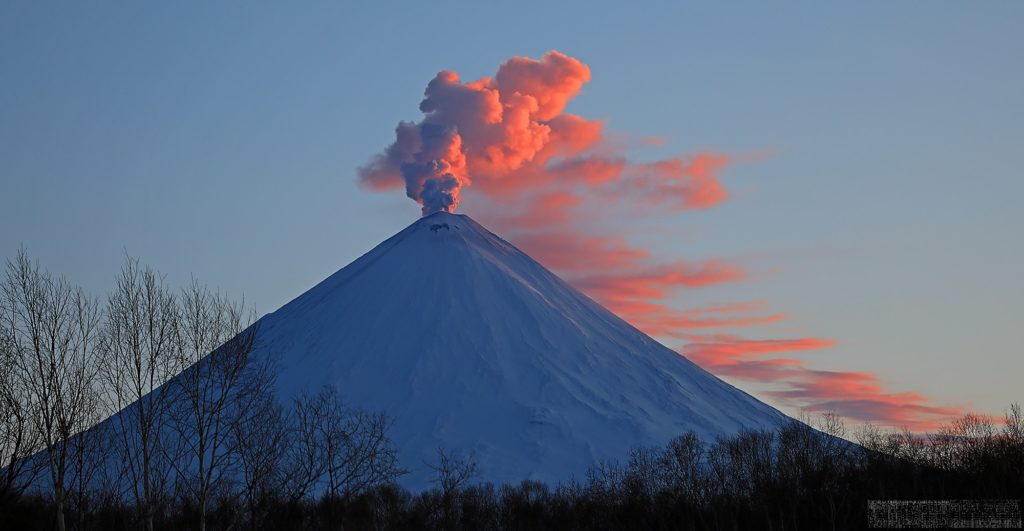 A moderate explosive eruption of the volcano continues, the Strombolian and gas-steam activity were noted all week. Satellite data showed a bright thermal anomaly over the summit volcanic crater all week; a gas-steam plume containing some amount of ash extended for 60 km to the west-northwest of the volcano on 02 March.
Source : Kvert.
Photo : Yu. Demyanchuck.
France , Mayotte :
Between February 16 and 29, 592 « Volcano-Tectonic » earthquakes (high frequency), 288 « Long Period » earthquakes (low frequency) and 16 « Very Long Period » earthquakes (very low frequency) were detected by the REVOSIMA program , which studies the new underwater volcano in Mayotte. A total of 896 earthquakes! Long period signals, a new category, have already been observed since the start of the crisis, but they have not been classified until now.
The main seismic activity is still concentrated 5-15 km from Petite-Terre, at depths of 20-45 km. An earthquake was reported as felt on February 23 at 1:20 p.m. Note that with the recruitment of new staff as part of the sustainability of REVOSIMA, additional human resources are now dedicated to seismic analysis, which makes it possible to better identify earthquakes of smaller magnitudes.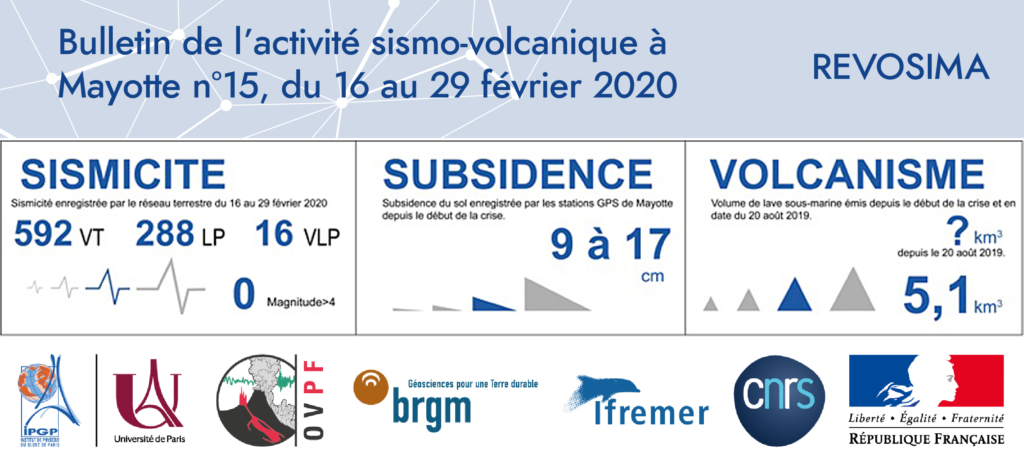 The surface displacements measured since the beginning of the crisis by Mayotte GPS stations indicate:
– a shift of GPS stations from Mayotte to the east of about 20 to 22 cm
– a sagging of about 9 to 17 cm depending on their location on the island
– a slowdown in travel has been observed since April-May 2019.
Source : IP Réunion .
Photo : REVOSIMA.
Indonesia , Kerinci :
VOLCANO OBSERVATORY NOTICE FOR AVIATION – VONA.
Issued: March 06 , 2020
Volcano: Kerinci (261170)
Current Aviation Colour Code: YELLOW
Previous Aviation Colour Code: yellow
Source: Kerinci Volcano Observatory
Notice Number: 2020KER11
Volcano Location: S 01 deg 41 min 49 sec E 101 deg 15 min 50 sec
Area: Jambi, West Sumatra, Indonesia
Summit Elevation: 12176 FT (3805 M)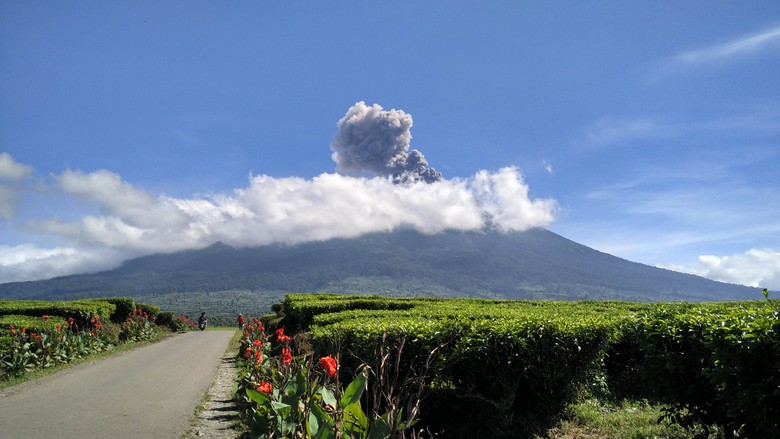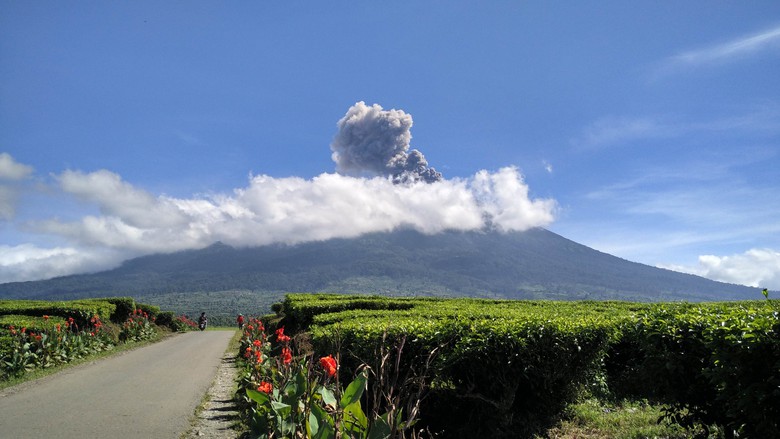 Volcanic Activity Summary:
On 6 Maret 2020, observed brown ash emission at 23h55 UTC ( 06h55 Local Time )
Volcanic Cloud Height:
Best estimate of ash-cloud top is around 13776 FT (4305 M) above sea level, may be higher than what can be observed clearly. Source of height data: ground observer.
Other Volcanic Cloud Information:
Ash emission moving northeast.
Remarks:
Seismic activity is dominated by gas emission and continuous vulcanic tremor with amplitude 0,5-1 mm (dominan 1mm).
Source : Magma Indonésie .
Photo : news detik.com