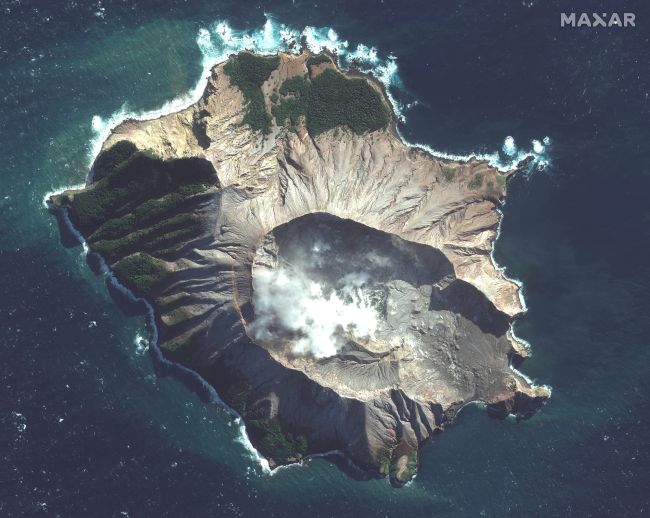 February 04 , 2020. EN . Iceland : Thorbjorn , Italy : Stromboli , Philippines : Taal , New Zealand : White Island , Peru : Sabancaya , Kamchatka : Klyuchevskoy .
February 04 , 2020 .
Iceland , Thorbjorn :
Seismic activity continues in the vicinity of Grindavík, on the Reykjanes peninsula, although last night was rather uneventful, according to the Icelandic Met Office.
About 40 tremors have been detected in the area since midnight, most of which are less than 2 in magnitude. An earthquake of magnitude 3.3 was detected around 2 km northeast of Grindavik at 7:04 pm last night.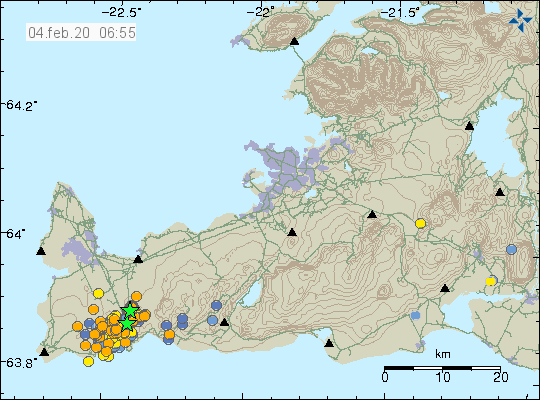 Since January 21, over 1,000 tremors or earthquakes have been detected in the area, 700 of which occurred over the weekend. Most of them are located in a SW/NE line around 2 km northeast of Grindavík.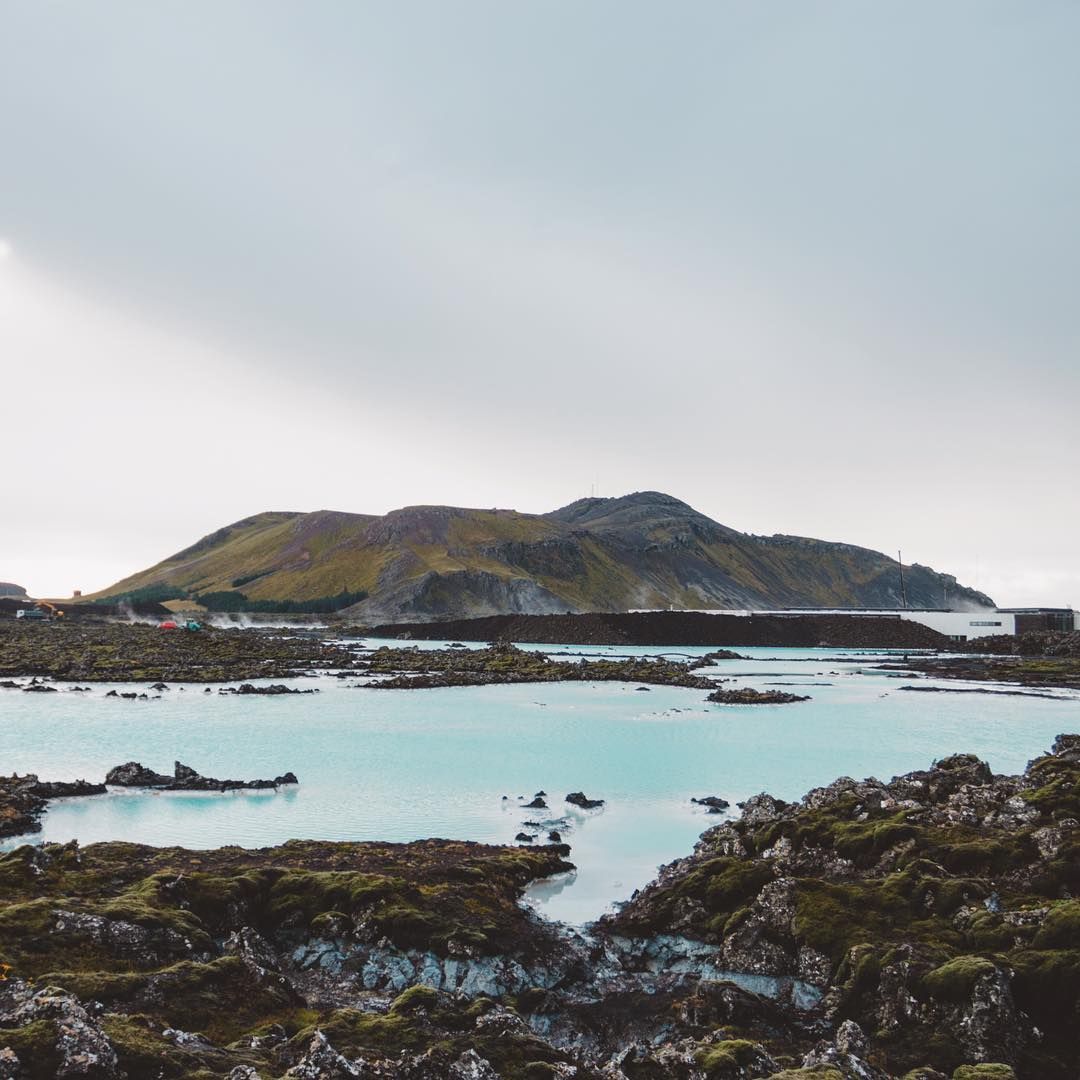 The largest earthquake hit the area Friday night at 10:23 pm. It measured 4.3 in magnitude. Two other quakes in excess of magnitude 3 hit that night.
The latest GPS data show that the uplift west of Þorbjörn is still ongoing – amounting to more than 4 cm since January 20. "With ongoing uplift we can expect ongoing earthquake activity," a specialist at the Icelandic Met Office notes, adding that the most likely explanation of the uplift and earthquake activity is that there is a magma intrusion at a depth of 3-9 km, just west of Þorbjörn mountain. "Most likely, this activity will stop without any volcanism," the specialist concludes – a remark that must be considered uplifting.
Source : Icelandmonitor .
Lire l'article : https://icelandmonitor.mbl.is/news/nature_and_travel/2020/02/03/more_than_700_tremors_over_the_weekend/?fbclid=IwAR2z-9XAAdB1lAM8WY0cU9KqCd1Dr1ZiQuEpTwuqyDSF8kA2hHt13iN1T9Q
Carte : IMO.
Photo : Unknown author.
Italy , Stromboli :
REPORT ON VOLCANIC ACTIVITY AT STROMBOLI, 3 FEBRUARY 2020, 08:13:40 h UTC
The Istituto Nazionale di Geofisica e Vulcanologia, Osservatorio Etneo reports at 09:13 local time that the monitoring networks have revealed a lava overflow from Stromboli's crater terrace.
Starting at about 07:20 UTC (08:20 local time), with the aid of the surveillance cameras, a small lava overflow is observed, which is occurring from the northern portion of the crater terrace of Stromboli, and currently remains confined to the summit area. The lava flow front disintegrates on the steep slope, sending rock material rolling down the Sciara del Fuoco.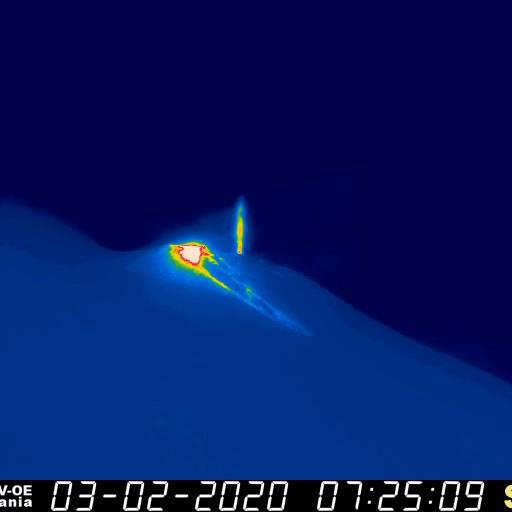 The volcanic tremor amplitude shows no significant variations associated with the lava overflow.
The image above is captured from video recorded by the new thermal camera installed at 190 m elevation on the north rim of the Sciara del Fuoco, at 07:25 and 08:06 h UTC on 3 February 2020
Source : INGV Vulcani .
Philippines , Taal :
TAAL VOLCANO BULLETIN 04 February 2020 8:00 A.M.
Activity in the Main Crater in the past 24 hours has been characterized by weak emission of steam-laden plumes 50 to 500 meters tall that drifted southwest. Sulfur dioxide (SO2) emission was measured at an average of 231 tonnes/day on February 3, 2020.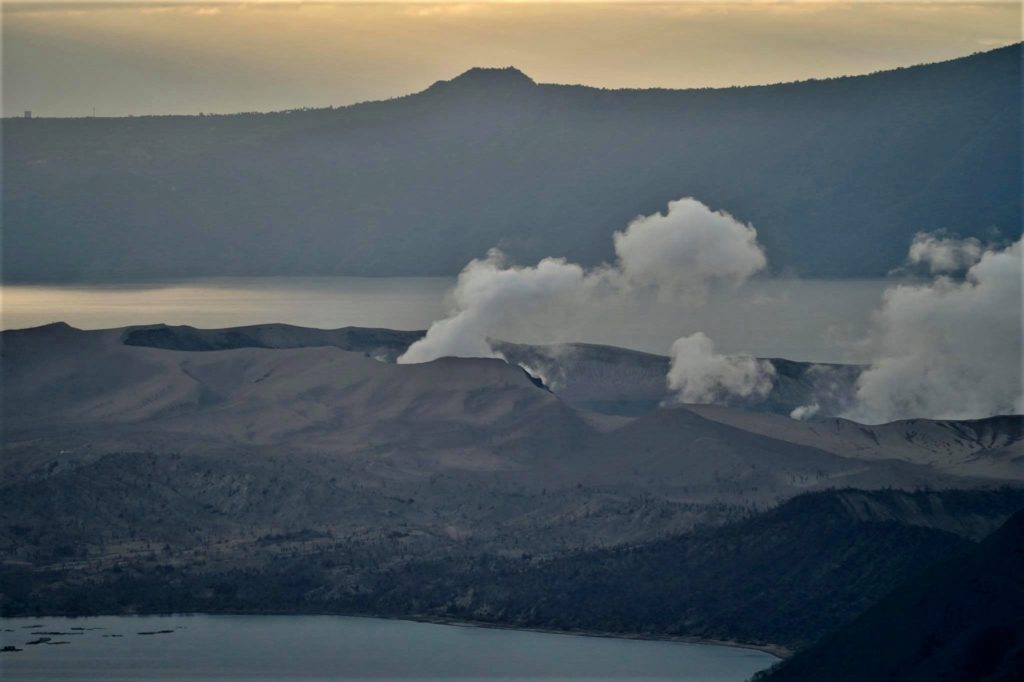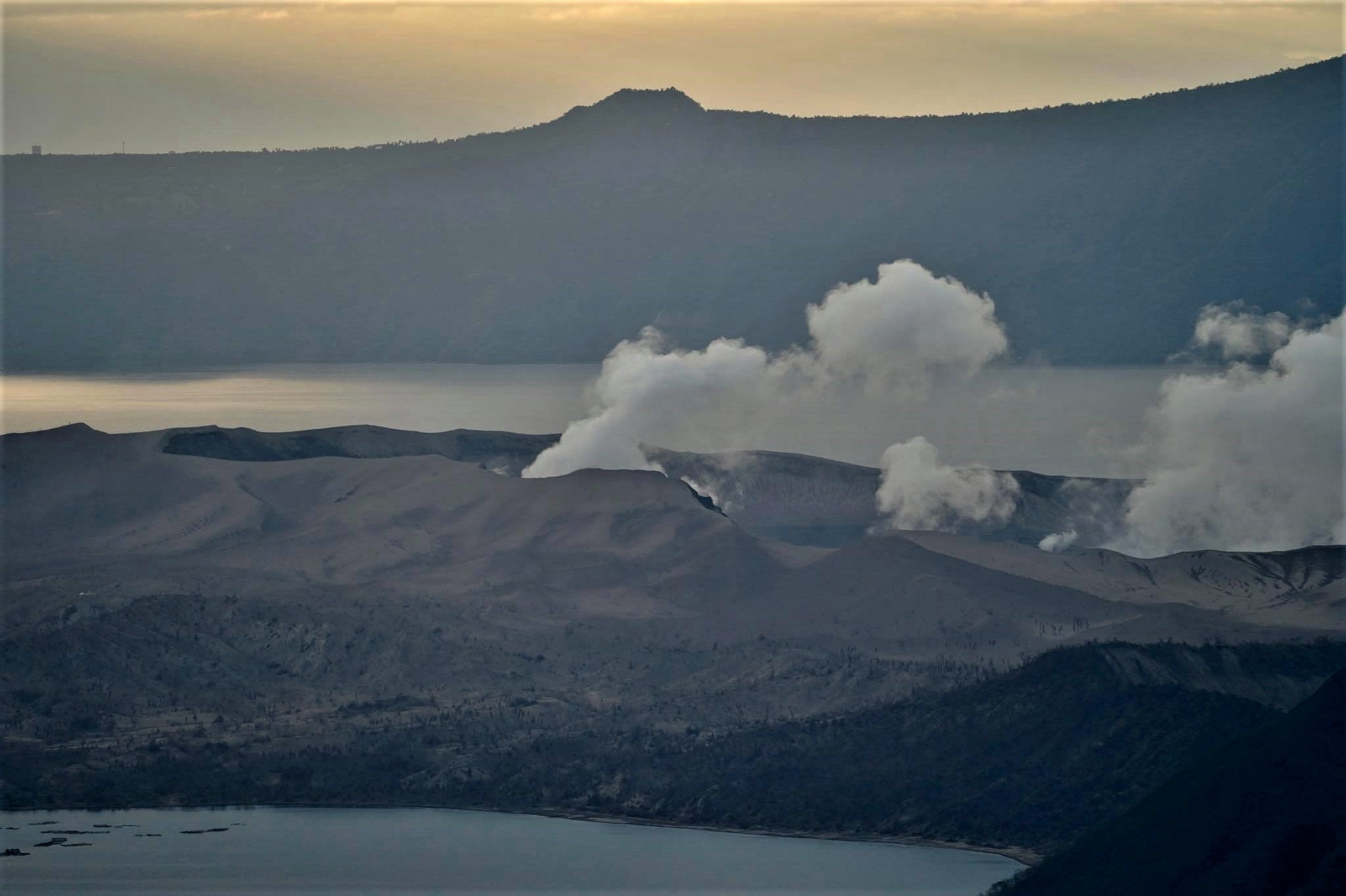 The Taal Volcano Network recorded two hundred twenty-three (223) volcanic earthquakes including eight (8) low-frequency events and one (1) harmonic tremor that lasted nearly three minutes long. These earthquakes signify magmatic activity beneath the Taal edifice that could lead to eruptive activity at the Main Crater.
Source : Phivolcs.
Photo : Raffy Tima .
New Zealand , White Island :
Volcanic Alert BulletinWI – 2020/04 . Tue Feb 4 2020 9:00 AM; White Island Volcano
Volcanic Alert Level remains at 2
Aviation Colour Code remains at Yellow
Whakaari/White Island remains in an elevated state of unrest. No further extrusion of lava has occurred. Our assessment is that further explosive eruptions remain very unlikely on any given day. The Volcanic Alert Level remains at Level 2 and the Aviation Colour Code remains at Yellow.
We undertook visual observation and gas flights last week and confirm no further extrusions of lava has occurred. Gas fluxes are lower than two weeks ago but remain elevated. Apart from minor ash emissions on 23 and 26 December 2019, no explosive eruptive activity has been detected or observed since the 9 December 2019 eruption.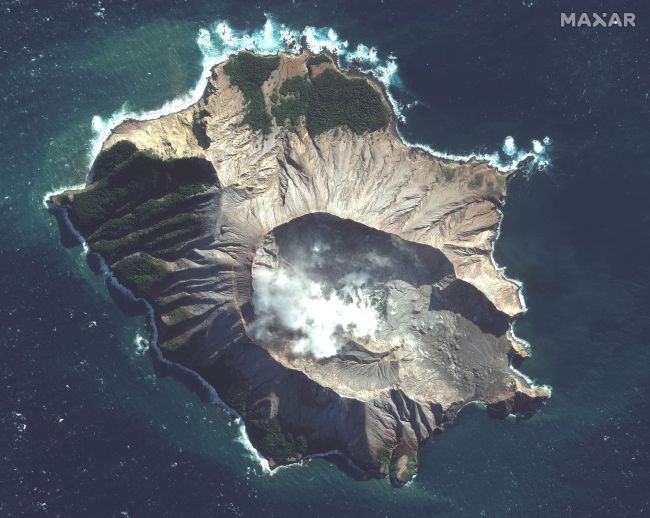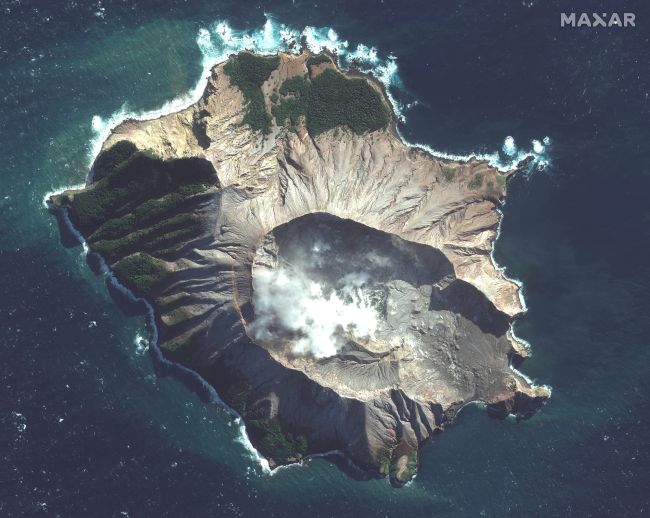 Airborne measurements of gas on Wednesday 30 January 2020 show gas outputs have decreased but remain at high levels, as expected after an eruption and the extrusion of fresh magma. The temperatures associated with the lava extrusions remain very hot (greater than 550-570°C). Aerial observations confirm no changes to the crater vent area, the receding lake, or lava extrusion.
In mid-January our team of experts evaluated that the eruption likelihood, based on recent data and observations, is very unlikely (1%) in any 24-hour period. We will reassess in mid-February, or earlier if the situation warrants it.
Although very unlikely, an explosive eruption from the active vent area remains possible and could occur with no precursory activity. This style of eruption could be driven by the collapse of unstable material around the vents, or by a marked decrease in gas emissions allowing water from geothermal system to enter the active hot gas vents. There is very little water in the former lake basin at present.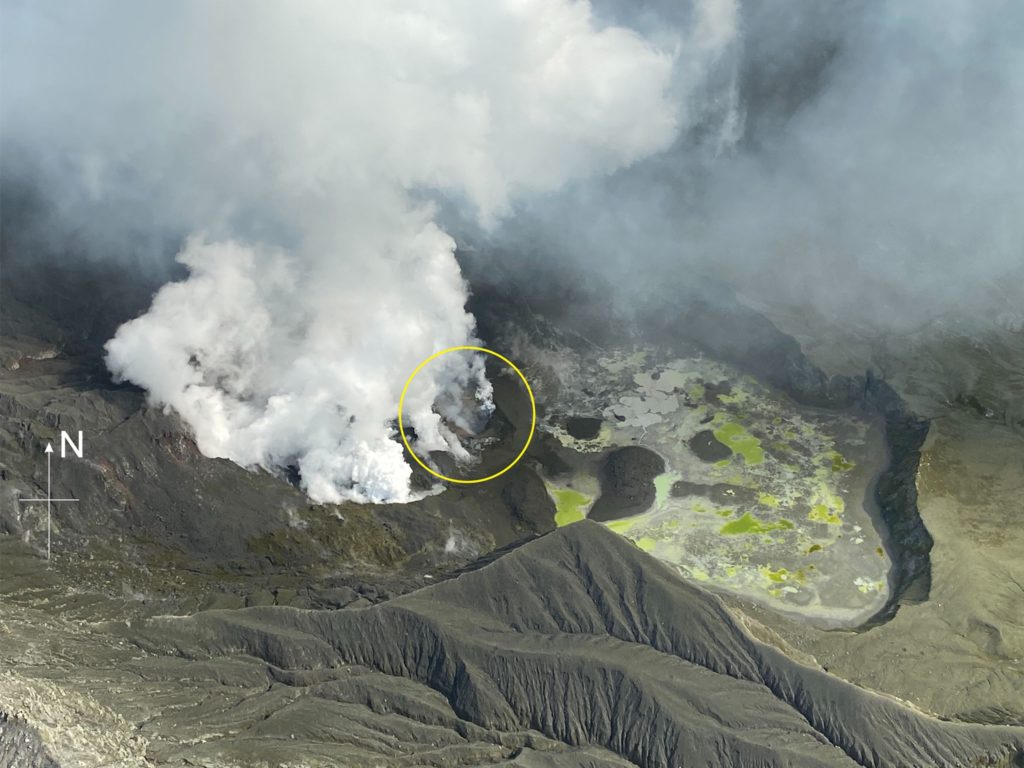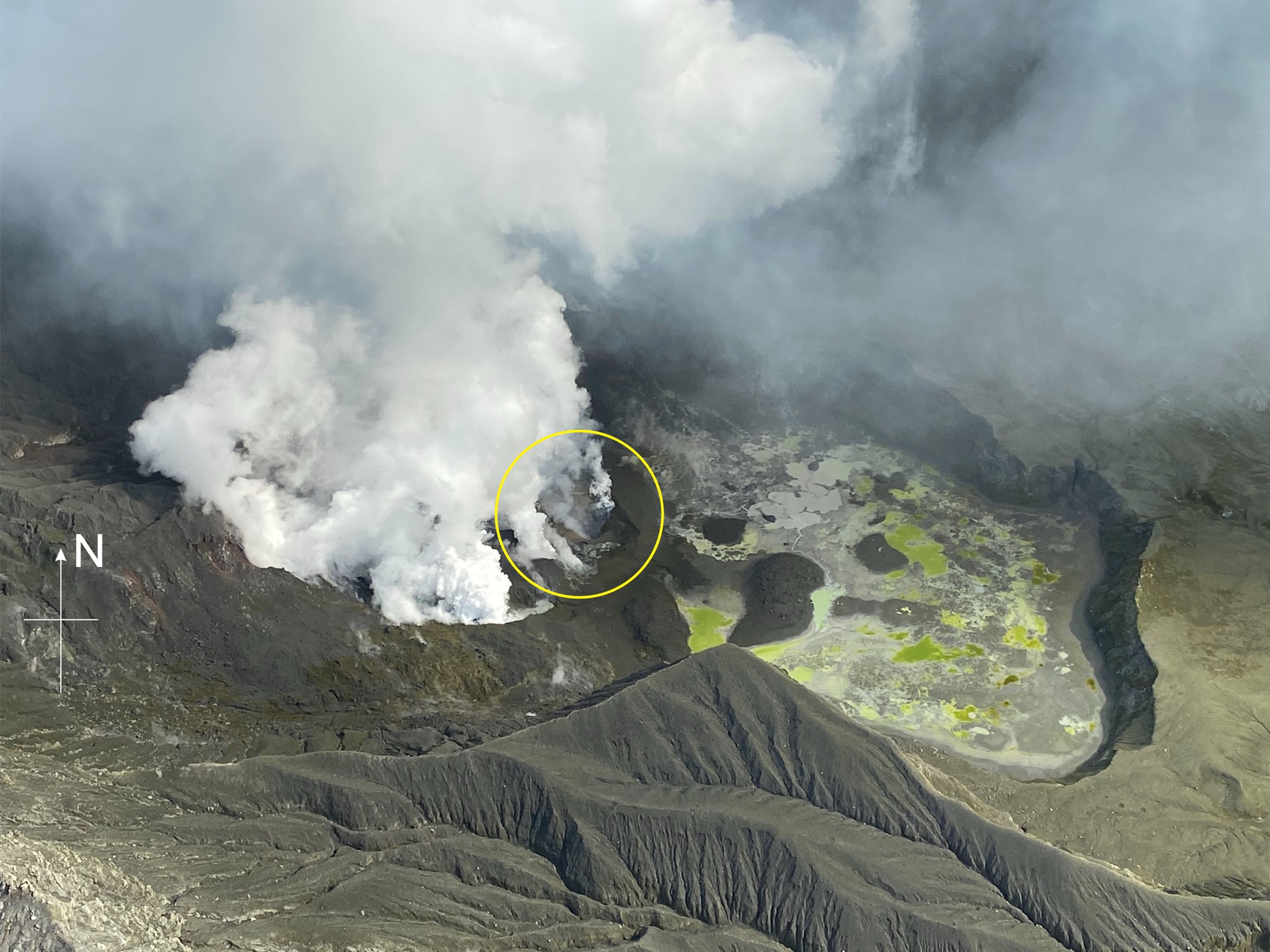 Should any explosive activity produce an ash cloud, the likelihood of ash affecting the mainland remains low. Under suitable climatic conditions the gas and steam plume may be noticed on the mainland as weak acid rain.
Satellite data shows continued land movement of the west wall of the Main Crater and the 1914 landslide scarp. We continue to monitor the rate of movement, which has not changed in displacement rate, nor were changes noted on the latest observation flight (30 January). GNS Science landslide experts are assessing the likelihood of future landslides into the active vent area.
All our monitoring equipment on the island is operating and the camera feeds have been re-established on the GeoNet web pages.
GNS Science and our National Geohazards Monitoring Centre continue to closely monitor Whakaari/White Island for further signs of activity. Further updates will be provided as the situation evolves.
Source : Geonet / Natalia Deligne , Volcanologue de garde.
Read the article : https://www.geonet.org.nz/vabs/6xEddhi368d7XvAn6DX4xk
Photos : Satellite image ©2019 Maxar Technologies , Geonet.
Peru , Sabancaya :
Analysis period: January 27 to February 2, 2020, Arequipa, February 3, 2020.
Alert level: ORANGE
The Peruvian Geophysical Institute (IGP) reports that the eruptive activity of the Sabancaya volcano has been maintained at moderate levels; that is, with the continuous recording of moderate explosions and the resulting ash emissions. Consequently, for the following days, no significant change in activity is expected.
During the period from January 27 to February 2, 2020, the IGP recorded and analyzed the presence of approximately 1,240 earthquakes of volcanic origin, associated with the circulation of fluids (magma, gas, etc.) at the l inside the volcano. During this period, 8 daily explosions of medium to low intensity were recorded.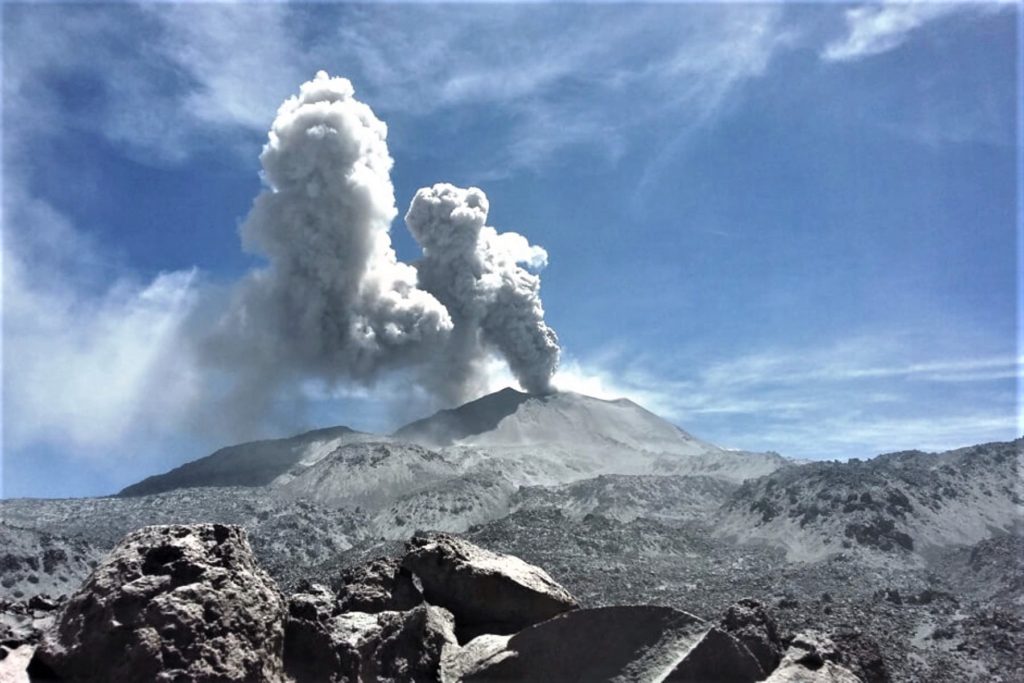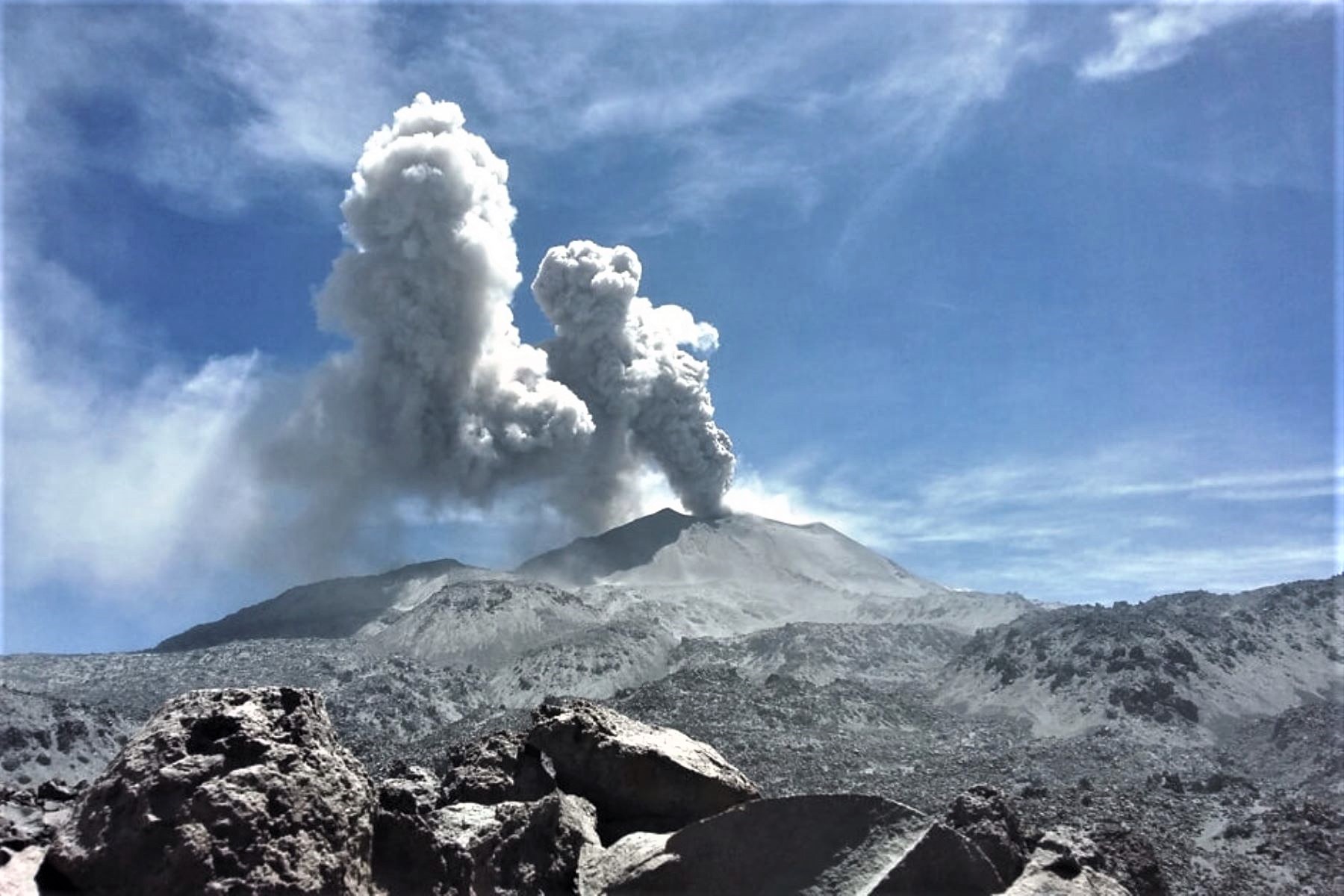 The monitoring of the deformation of the volcanic structure, using GNSS data (processed with fast orbits), does not record any significant anomalies. Visual surveillance, using surveillance cameras, allowed us to identify the presence of columns of gas and ash up to 1.7 km high at the top of the volcano, which were scattered towards the Southeast, the North-East, the North-West and the West of Sabancaya. Satellite surveillance has made it possible to identify the presence of 4 thermal anomalies of values between 3 MW and 4 MW, associated with the presence of a lava dome in the crater of the volcano about 280 m in diameter. It should be noted that the number of anomalies has been reduced due to the high cloudiness in the region.
Source : Cenvul.
Photo : Ingemmet
Kamchatka , Klyuchevskoy :
VOLCANO OBSERVATORY NOTICE FOR AVIATION (VONA).
Issued: 20200204/0650Z
Volcano: Klyuchevskoy (CAVW #300260)
Current aviation colour code: ORANGE
Previous aviation colour code: orange
Source: KVERT
Notice Number: 2020-21
Volcano Location: N 56 deg 3 min E 160 deg 38 min
Area: Kamchatka, Russia
Summit Elevation: 15580 ft (4750 m)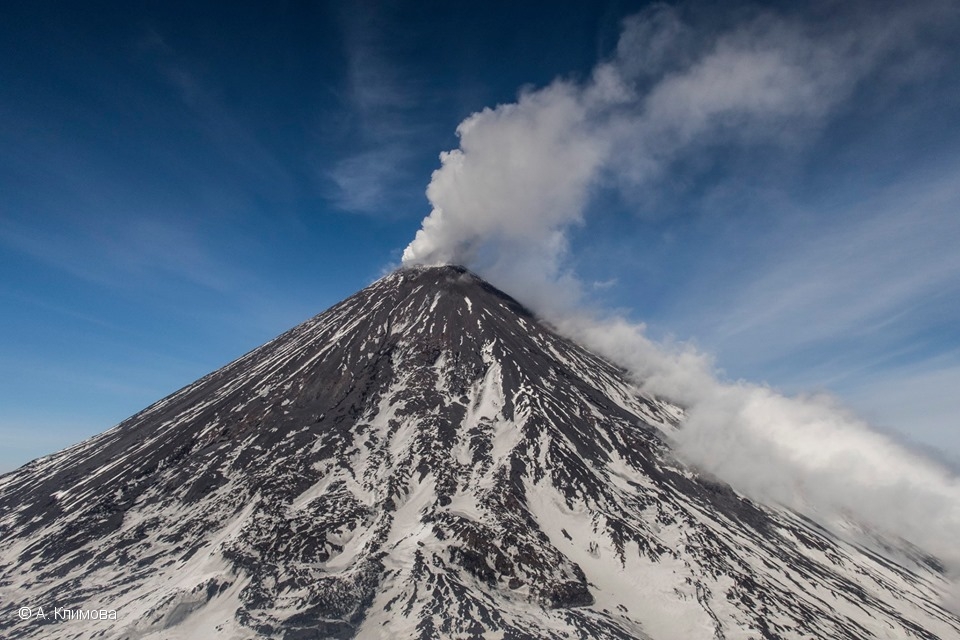 Volcanic Activity Summary:
A moderate eruptive activity of the volcano continues. Explosions send ash up to 5.0-5.5 km a.s.l., and gas-steam plume containing some amount of ash is extending for 20 km to the east of the volcano.
A moderate eruptive activity of the volcano continues. Ash explosions up to 16,400-23,000 ft (5-7 km) a.s.l. could occur at any time. Ongoing activity could affect low-flying aircraft.
Volcanic cloud height:
16400-18040 ft (5000-5500 m) AMSL Time and method of ash plume/cloud height determination: 20200204/0646Z – Video data
Other volcanic cloud information:
Distance of ash plume/cloud of the volcano: 12 mi (20 km)
Direction of drift of ash plume/cloud of the volcano: E
Time and method of ash plume/cloud determination: 20200204/0646Z – Video data
Source : Kvert.
Photo : A. Klimova