February 20 , 2020 .
Russia/ Kuriles Islands , Ebeko :
VOLCANO OBSERVATORY NOTICE FOR AVIATION (VONA).
Issued: February 19 ,2020
Volcano: Ebeko (CAVW #290380)
Current aviation colour code: ORANGE
Previous aviation colour code: orange
Source: KVERT
Notice Number: 2020-23
Volcano Location: N 50 deg 41 min E 156 deg 0 min
Area: Northern Kuriles, Russia
Summit Elevation: 3791.68 ft (1156 m)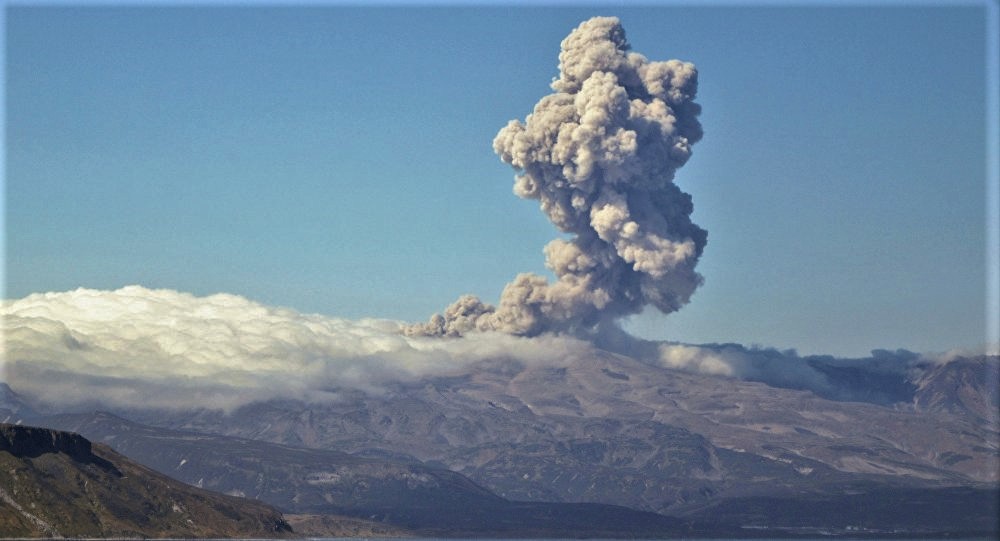 Volcanic Activity Summary:
A moderate eruptive activity of the volcano continues. According to visual data by volcanologists from Severo-Kurilsk, explosion sent ash up to 2.0 km a.s.l., an ash cloud is drifting to the south-east of the volcano.
A moderate eruptive activity of the volcano continues. Ash explosions up to 19,700 ft (6 km) a.s.l. could occur at any time. Ongoing activity could affect low-flying aircraft and airport of Severo-Kurilsk.
Volcanic cloud height:
6560-6560 ft (2000-2000 m) AMSL Time and method of ash plume/cloud height determination: 20200219/0610Z – Visual data
Other volcanic cloud information:
Distance of ash plume/cloud of the volcano: 3 mi (5 km)
Direction of drift of ash plume/cloud of the volcano: SE
Time and method of ash plume/cloud determination: 20200219/0610Z – Visual data
Source : Kvert.
Photo : Amanda / Sputniknews.
Mexico , Popocatepetl :
February 19, 11:00 a.m. (February 19, 5:00 p.m. GMT)
According to the Popocatepetl volcano monitoring systems, 257 exhalations have been identified. Seven minor explosions were recorded yesterday at 09:00, 09:07, 09:14, 15:04, 15:30 and 21:48 h, the last today at 07:20 h, which was accompanied by 'gas emissions and small amounts of ash that have dispersed to the northwest. Two additional moderate explosions were recorded yesterday at 11:31 a.m. and the second today at 1:47 a.m.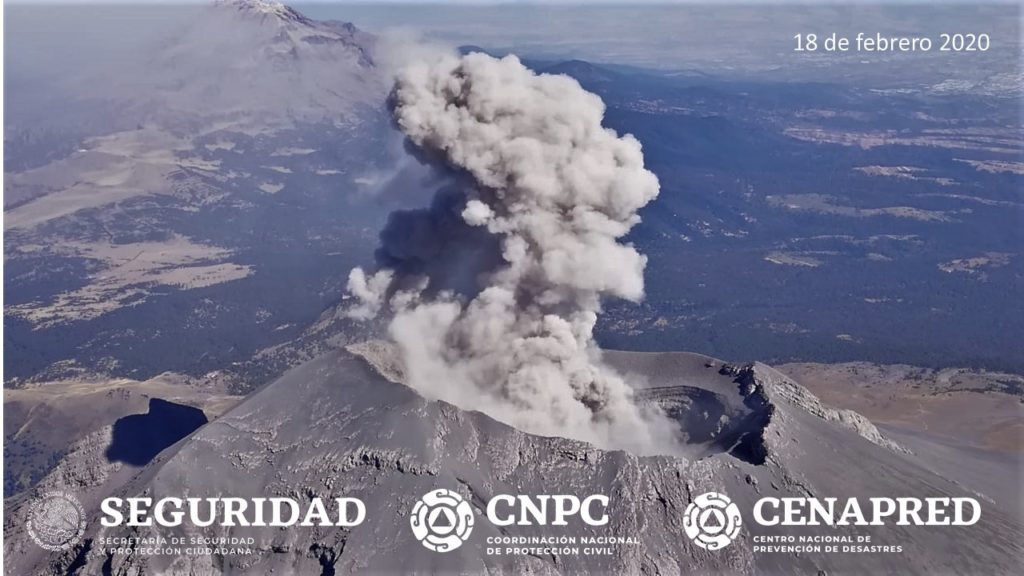 There were also 389 minutes of tremors and a volcano-tectonic earthquake yesterday at 6:06 pm with an estimated magnitude of M1.8.
At the time of this report, the volcano presents a continuous emission of gas with small amounts of ash in a predominant direction towards the Northwest.
CENAPRED urges NOT to APPROACH the volcano and especially the crater, because of the danger of falling ballistic fragments (, and in case of heavy rain stay away from the bottom of the ravines because of the danger of mudslides and debris.
The Popocatépetl volcanic signaling light is in YELLOW PHASE 2.
On February 18, with the support of the National Guard, a reconnaissance overflight was carried out towards the crater of the Popocatepetl volcano. During this overview, specialists from the National Center for Disaster Prevention (CENAPRED) of the National Coordination for Civil Protection and researchers from the Geophysics Institute of UNAM were able to observe the morphological conditions of the volcano. The internal crater maintains a diameter of 350 m and its approximate depth is 100 to 150 m, which is covered with tephra. In general, no substantial change is observed.
Source / Photo et vidéo : Cenapred .
Japan , Nishinoshima :
27.247°N, 140.874°E
Elevation : 25 m
Based on satellite images and a pilot observation, the Tokyo VAAC reported that on 15 February an ash plume from Nishinoshima rose to 3 km (10,000 ft) a.s.l. and drifted E.
In the afternoon of January 18, the Japanese Coast Guard announced the results of an observation of Nishinoshima in the Ogasawara Islands, in Tokyo, from the air in the afternoon of March 17, where the eruption continues . The plume was light gray and reached a height of about 600 m. The lava flowed north and east from the crater in the center of the island, into the sea, from where the steam rose.
Source : GVP , Kyodonews .
Vidéo : Kyodonews via Sherine France .
Indonesia , Ibu :
VOLCANO OBSERVATORY NOTICE FOR AVIATION – VONA.
Issued: February 20 , 2020 .
Volcano: Ibu (268030)
Current Aviation Colour Code: ORANGE
Previous Aviation Colour Code: orange
Source: Ibu Volcano Observatory
Notice Number: 2020IBU03
Volcano Location: N 01 deg 29 min 17 sec E 127 deg 37 min 48 sec
Area: North Maluku, Indonesia
Summit Elevation: 4240 FT (1325 M)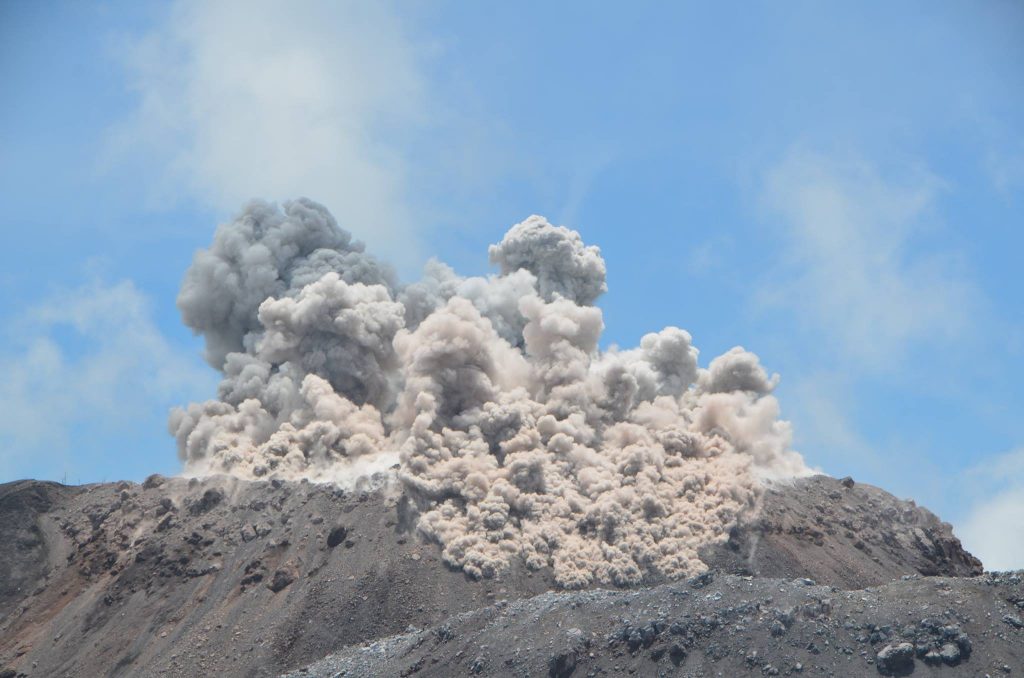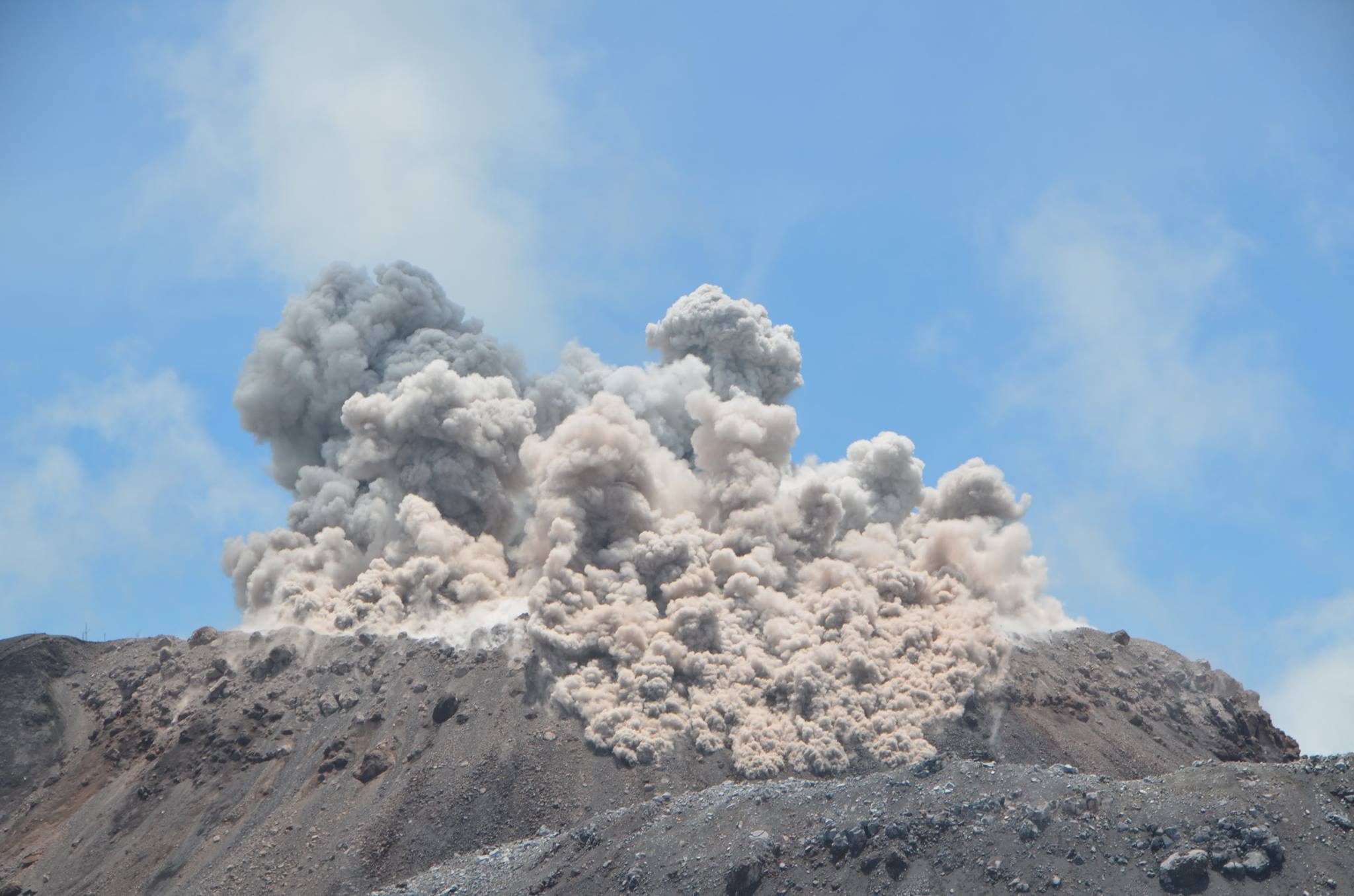 Volcanic Activity Summary:
Eruption with volcanic ash cloud at 02h13 UTC (11h13 local)
Volcanic Cloud Height:
Best estimate of ash-cloud top is around 5520 FT (1725 M) above sea level, may be higher than what can be observed clearly. Source of height data: ground observer.
Other Volcanic Cloud Information:
White to grey ash-cloud moving to southeast
Remarks:
Eruption and ash emission is continuing.
PVMBG reported that on 16 February an ash plume from Ibu rose at least 800 m above the summit (6,800 ft a.s.l.) and drifted W. The Darwin VAAC stated that on 17 February an ash plume rose to 2.1 km (7,000 ft) a.s.l. and drifted SE. The Alert Level remained at 2 (on a scale of 1-4), and the public was warned to stay at least 2 km away from the active crater, and 3.5 km away on the N side.
Source : Magma Indonésie , GVP .
Photo : S Chermette / 80 Jours voyages .
Ecuador , Tungurahua :
CLARIFICATION TO THE COMMUNITY – Tungurahua Volcano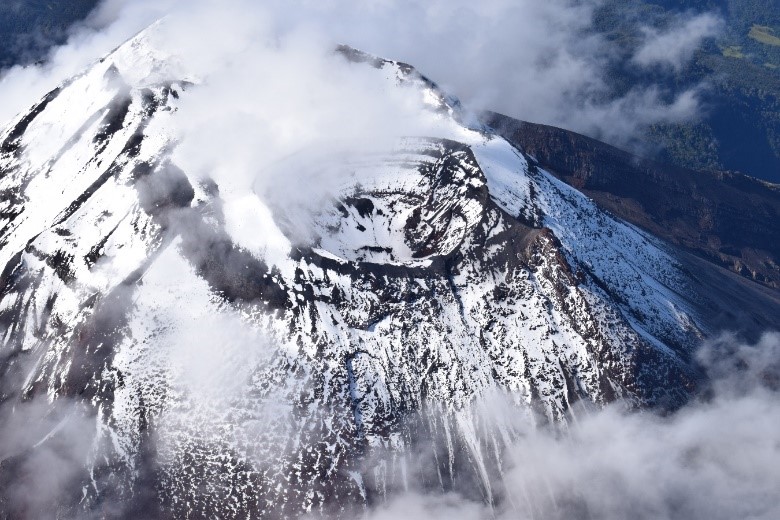 Aerial view of Tungurahua volcano in May 2019
With regard to the news generated by the work of Hickey et al., published in January 2020, which is based on an episode of deformation that occurred in November 2015 at Tungurahua volcano, the Geophysical Institute clarifies that this episode of deformation has not been recorded again and, up to today, the monitoring parameters from the volcano do not show any change in its activity or stability. Therefore:
THE GEOPHYSICAL INSTITUTE ADVISES THAT THERE IS NO EVIDENCE FOR THE GENERATION OF A POTENTIAL COLAPSE OF THE FLANK OF TUNGURAHUA VOLCANO.
ALSO, THERE IS A CALL FOR CALM AND TO VERIFY ANY INFORMATION THAT IS NOT EMITTED BY OFFICIAL SOURCES.
Complementary technical information:
In 2015, one of the most important eruptions occurred at Tungurahua in terms of ash production. This volcano had an eruptive period that lasted 17 years, from October 1999 to March 2016. After March 2016, the volcano has remained in a period of calm, which is evident in the different monitoring parameters. Currently, its seismic activity is characterized by having less than 10 seismic events per day and no deformation or surface activity is observed.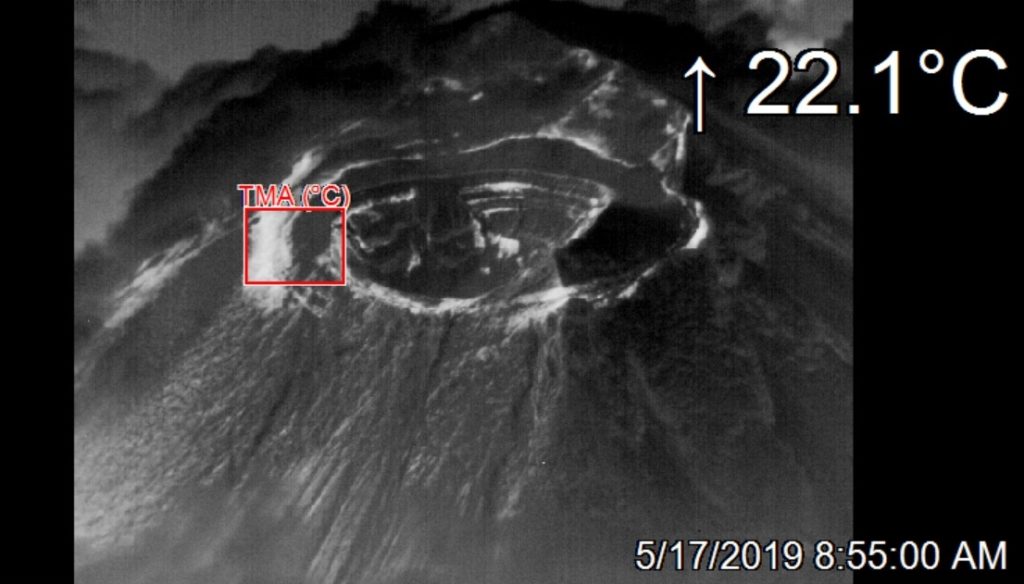 Figure 1. Infrared aerial view of the Tungurahua volcano with thermal camera (OPTRIS PI640) from the West. The white areas show the volcano's fumarole fields, the thermal image shows no sign of fracture that could be associated with a recent deformation on the western flank of the volcano. IR: Marco Almeida – IG EPN, 17-05-2019.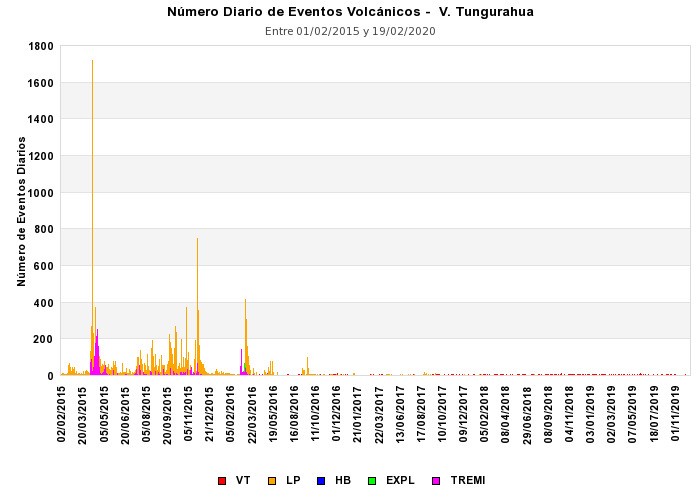 Figure 2. Number of seismic events of the Tungurahua volcano from January 2015 to February 2020. Since 2016, the seismic activity has been low.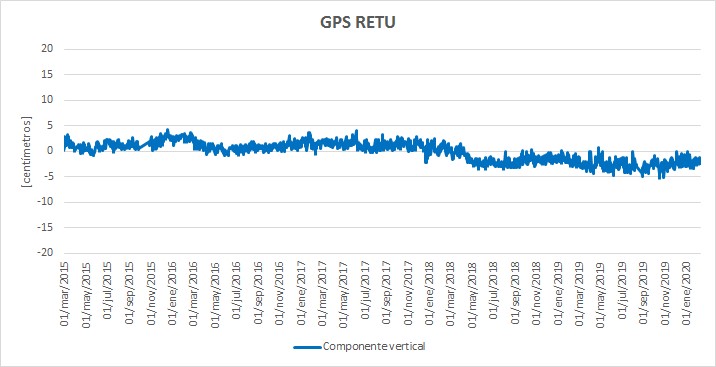 Figure 3. Trend observed in the RETU GPS station, located on the Tungurahua volcano between March 2015 and February 2020. No deformation has been observed in the volcano since its last eruptive phase in 2016.
Source : IGEPN.
Read the whole article : https://www.igepn.edu.ec/images/portal/documentos/anexos/Clarification-to-the-Community.pdf