February 03 , 2020 .
Japan , Shindake :
The volcano on the southwestern Japan island erupted early in the morning on Feb. 3, the Japan Meteorological Agency (JMA) said.
A pyroclastic flow extending some 900 meters was observed on the southwestern side of 626-meter-high Mount Shindake on Kuchinoerabu Island in Kagoshima Prefecture. However, it did not reach residential areas and no injuries or damage to residences have been confirmed, according to the Yakushima Municipal Government.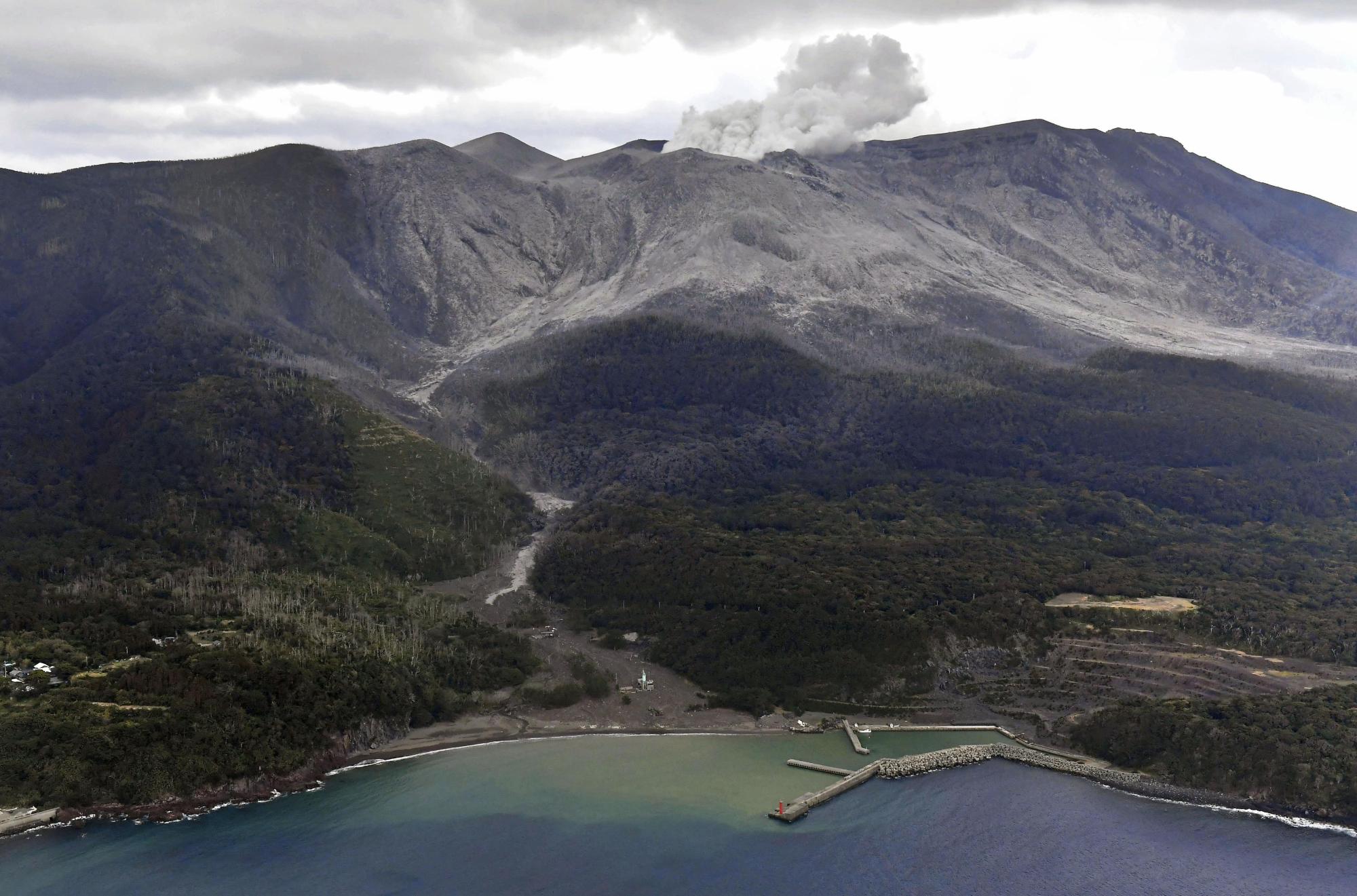 According to the JMA, the eruption, which occurred at around 5:30 a.m., emitted volcanic fumes that reached a height of about 7,000 meters above the crater. Large ash deposits were found scattered in areas some 600 meters from the crater.
It is the first time since Jan. 29, 2019 that a pyroclastic flow has occurred on Mount Shindake.
The JMA has maintained its 5-point volcanic alert level for Mount Shindake at 3 (do not approach the volcano), and warned that large ash deposits could be scattered and pyroclastic flows could occur in areas as far as 2 kilometers from the crater.
Source : Ken Nakazato, Kyushu News Department , https://mainichi.jp/english/articles/20200203/p2a/00m/0na/002000c?fbclid=IwAR2XkmcuTtdiDCKkp3vM1sp_woKUf7qaCKhtA6U-9w-zh5wg1gSeov_6_cs
Photo : Japantimes.
Philippines , Taal :
TAAL VOLCANO BULLETIN 03 February 2020 8:00 A.M.
Activity in the Main Crater in the past 24 hours has been characterized by moderate to voluminous emission of dirty-white to white steam-laden plumes rising 800 meters high before drifting southwest. Sulfur dioxide (SO2) emission was measured at an average of 97 tonnes/day on February 1, 2020.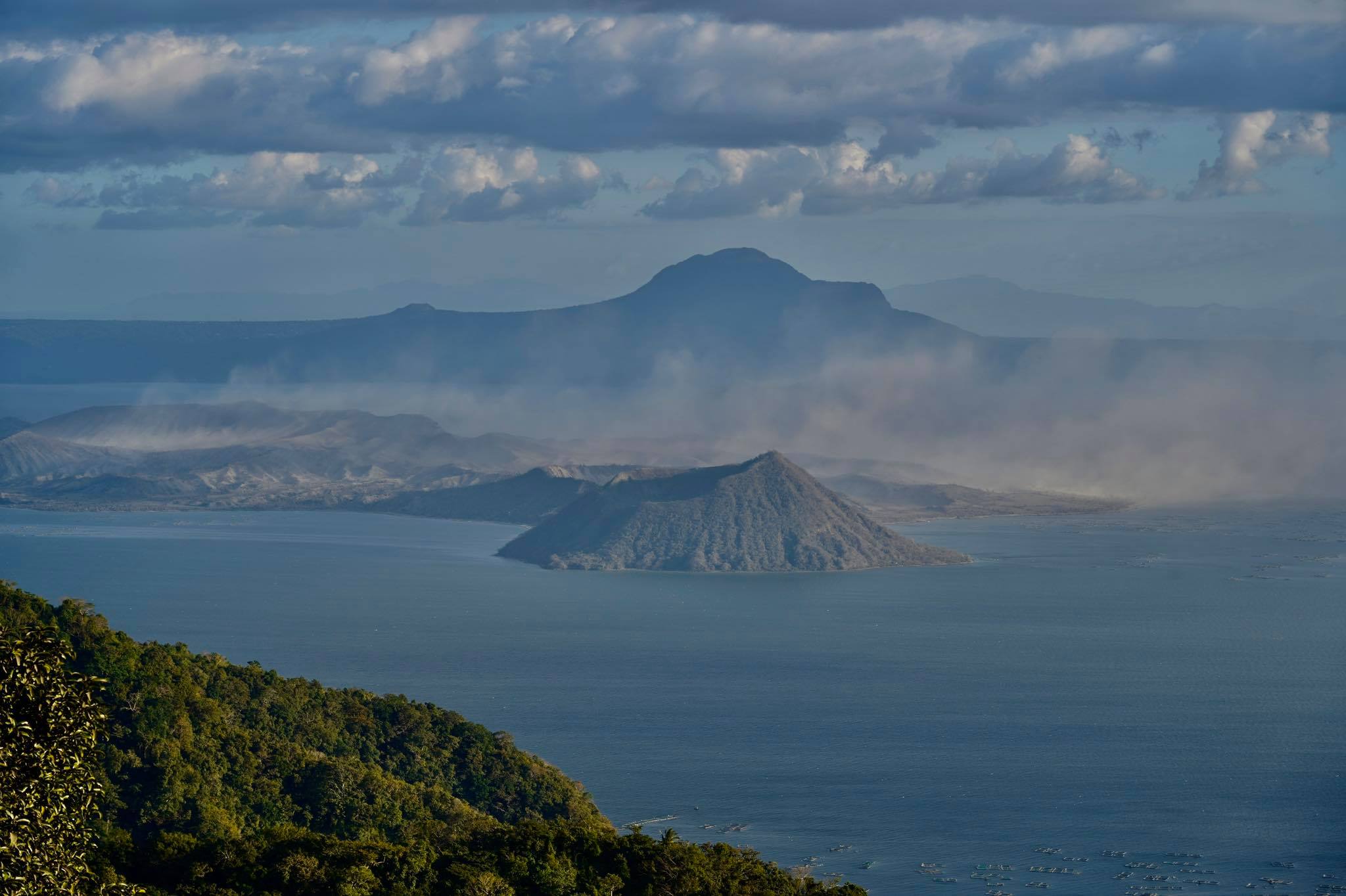 Taal Volcano's seismic monitoring network recorded one hundred thirty-four (134) volcanic earthquakes during the 24-hour observation period including one (1) low-frequency event. Two of these events at 4:20am and 5:42am registered respectively at magnitude M3.2 and M2.3, the first having been felt at Intensity IV in Laurel and Agoncillo, Intensity III in Lemery, Batangas and Intensity II in Tagaytay City. These earthquakes signify magmatic activity beneath the Taal edifice that could lead to eruptive activity at the Main Crater.
Alert Level 3 is maintained over Taal Volcano. DOST-PHIVOLCS reminds the public that sudden steam-driven and even weak phreatomagmatic explosions, volcanic earthquakes, ashfall, and lethal volcanic gas expulsions can still occur and threaten areas within Taal Volcano Island and nearby lakeshores.
Source : Phivolcs.
Photo : Raffy Tima.
Russia / Kuriles Islands , Ebeko :
VOLCANO OBSERVATORY NOTICE FOR AVIATION (VONA).
Issued: February 03 , 2020 .
Volcano: Ebeko (CAVW #290380)
Current aviation colour code: ORANGE
Previous aviation colour code: orange
Source: KVERT
Notice Number: 2020-19
Volcano Location: N 50 deg 41 min E 156 deg 0 min
Area: Northern Kuriles, Russia
Summit Elevation: 3791.68 ft (1156 m)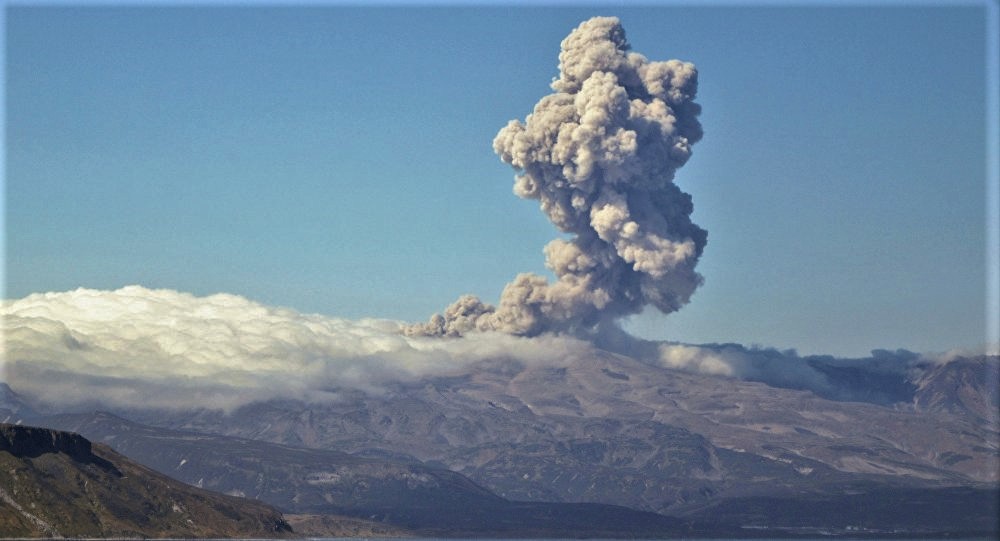 Volcanic Activity Summary:
A moderate eruptive activity of the volcano continues. According to visual data by volcanologists from Severo-Kurilsk, explosion sent ash up to 2.5-2.7 km a.s.l., an ash cloud is drifting to the south-east of the volcano.
A moderate eruptive activity of the volcano continues. Ash explosions up to 19,700 ft (6 km) a.s.l. could occur at any time. Ongoing activity could affect low-flying aircraft and airport of Severo-Kurilsk.
Volcanic cloud height:
8200-8856 ft (2500-2700 m) AMSL Time and method of ash plume/cloud height determination: 20200203/0256Z – Visual data
Other volcanic cloud information:
Distance of ash plume/cloud of the volcano: 3 mi (5 km)
Direction of drift of ash plume/cloud of the volcano: SE
Time and method of ash plume/cloud determination: 20200203/0256Z – Visual data
Source : Kvert.
Photo : Amanda / Sputniknews.
Vanuatu , Yasur :
19°32'0"S 169°26'30"E
Summit 1184ft (361m)
Current Vanuatu Volcano Alert Level: Level 2
Yasur volcano is continuing in the major unrest state. The Volcanic Alert Level remains at Level 2 .
The Yasur volcanic activity is continuing at the high unrest level, consistent with the Volcanic Alert Level 2. New scientific analyses suggest that the Yasur volcano activity is likely to continue at this level of major unrest. Volcanic hazards remain at the summit area (e.g. volcanic projectile or bomb, volcanic gases and ash). These are related to its ongoing explosive activity and the presence of weak layers of volcanic ash at the summit crater (e.g. landslide observed in October 2019). The danger zone for life safety remains limited in the Permanent Exclusion Zone (See Yasur caldera safety map below). This danger zone (Permanent Exclusion Zone) is about 395 m around the eruptive vents.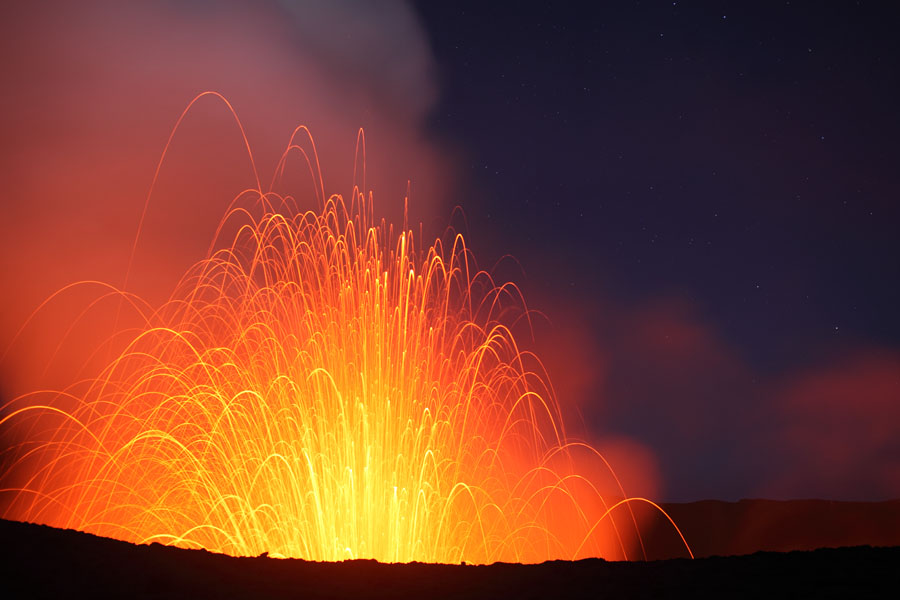 Latest observations and daily analysis of the Yasur seismic data from the volcano monitoring system confirm a continuous explosive volcanic activity at Yasur. The activity consists of ongoing explosions and eruptive vents may emit volcanic gases and/or ash clouds. Some explosions have intensified and volcanic projectiles or bombs may fall in and/or around the crater rim. Gas smell will continue while approaching the caldera and summit crater.
The Yasur Volcanic Alert Level (VAL) has been at the Level 2 since 18th October 2016.
Source : Geohazard .
Photo : Auteur inconnu .
Chile , Nevados of Chillan :
Volcanic Activity Report (RAV) Volcanological Observatory of the Southern Andes – Ovdas, Nevados de Chillán Volcanic Complex (CVNCh), February 1 (3:00 p.m. PT).
Seismic activity: Over the past 24 hours, the instrumental monitoring network of the Volcanic Complex has continued to record volcano-tectonic (VT) type seismicity, long period (LP) and tremor (TR) type events, by maintaining seismic energy at low levels.
Observations: The VT earthquake with the highest energy was located 1.4 km east-south-east of the active crater, with an approximate depth of 3 km.
When weather conditions permitted, an average degassing of low height and preferably whitish in color was observed.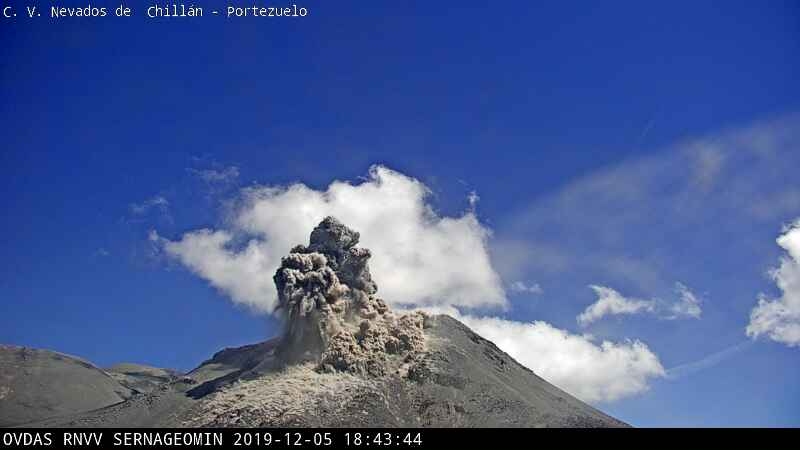 Other comments:
The infrasound sensors did not record signals associated with volcanic activity.
The MIROVA group (3) did not report any thermal anomalies.
The network of GNSS stations used to measure the deformation of the Nevados de Chillán volcanic complex continues to register an inflationary process, as evidenced by the lengthening of the control lines crossing the active crater and the elevation of the 5 monitoring stations. The highest vertical rise was recorded at the station located 1.5 km west of the active crater, the maximum value of which reached approximately 12.5 cm, the rate of vertical deformation reaches 1.79 ± 0, 28 cm / month for the last 30 days The elongation rates of the control lines show a maximum value of 1.33 ± 0.06 cm / month for the last 30 days. The maximum elongation was approximately 7.6 cm.
Source : Sernageomin.