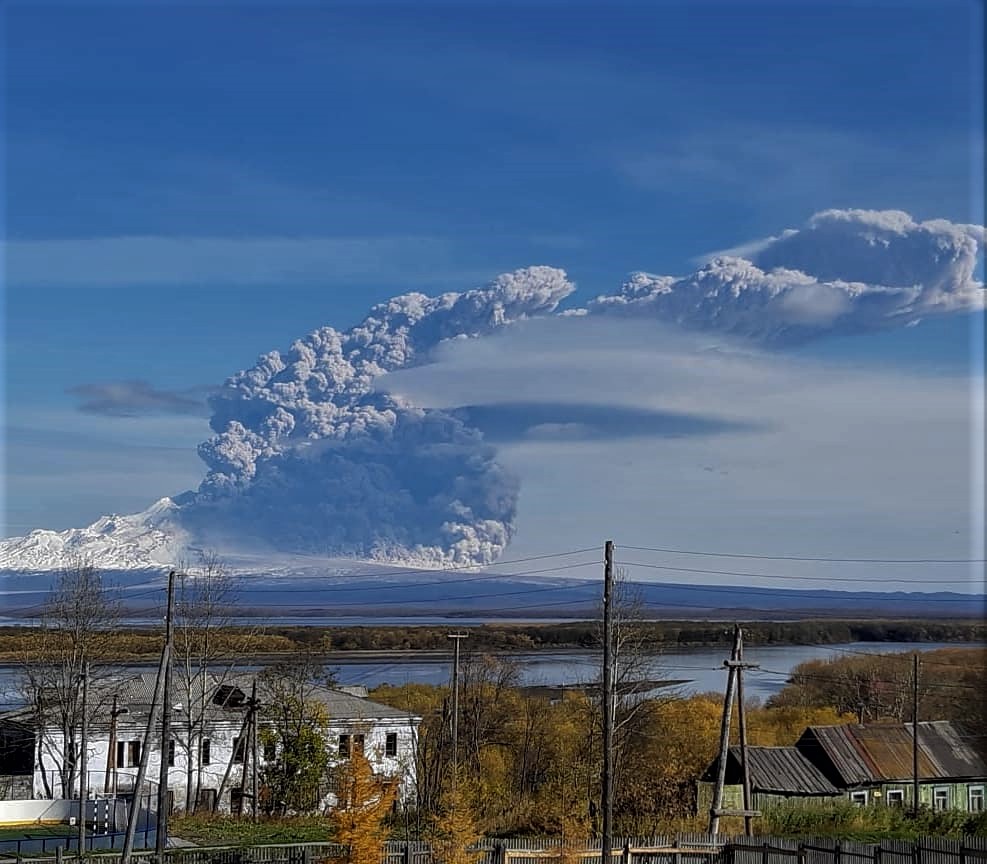 October 03 , 2019. EN. Kamchatka : Sheveluch , Papua New Guinea : Ulawun , Colombia : Chiles / Cerro Negro , United States : Yellowstone , Mexico : Popocatepetl .
October 03 , 2019.
Kamchatka , Sheveluch :
A moderately large explosive eruption occurred on Shiveluch volcano earlier this morning, producing an ash plume that rose to 30,000 ft (10 km) altitude and a pyroclastic flow that traveled several km to the west from the active dome.
The eruption was likely a combination of explosion at the lava dome and a partial collapse of fresh material from the active part of the dome in its upper NE sector.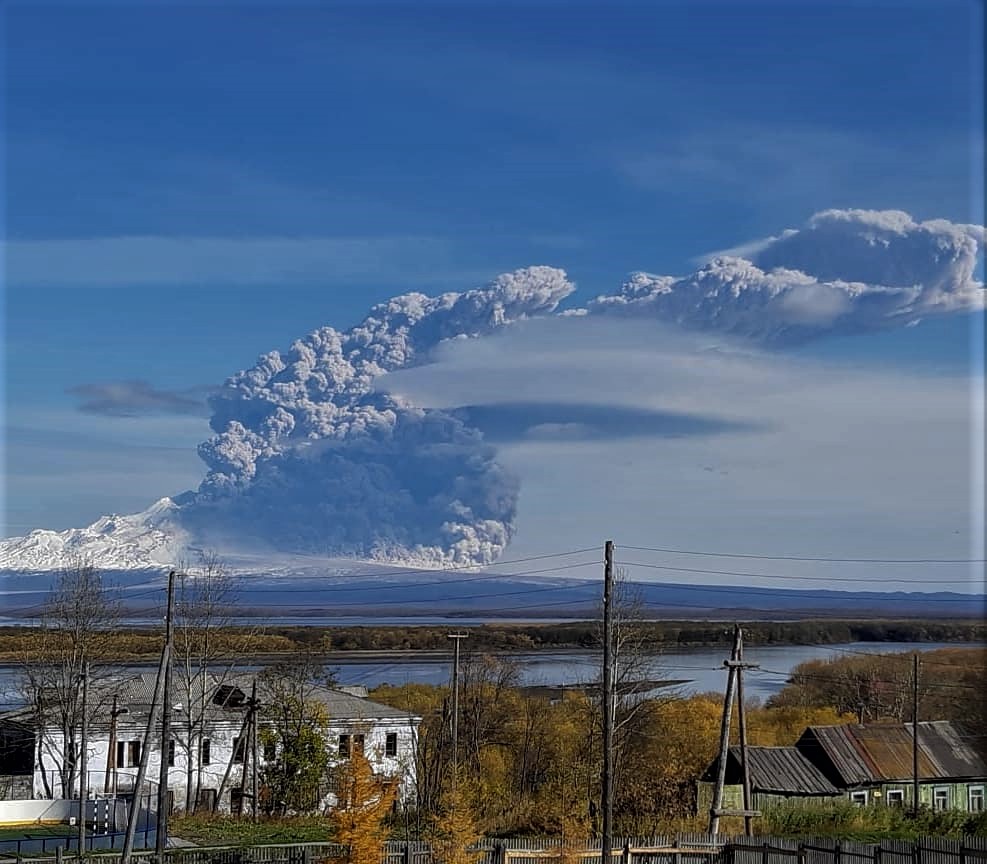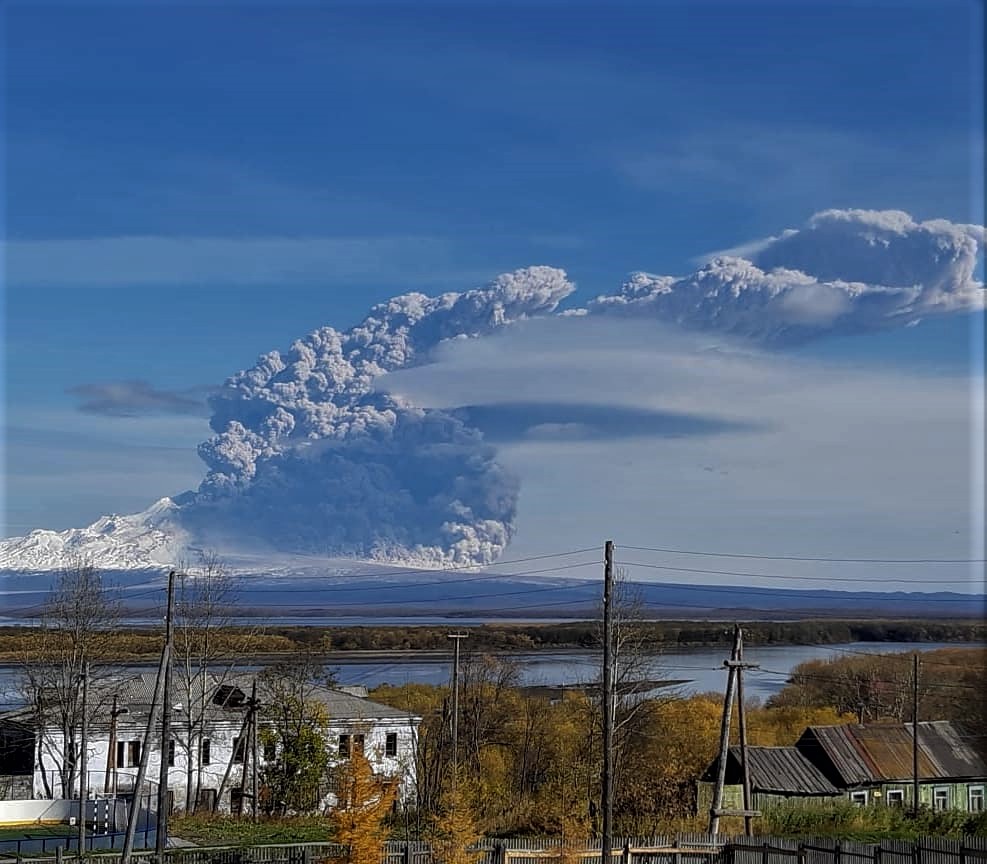 VOLCANO OBSERVATORY NOTICE FOR AVIATION (VONA).
Issued: October 02 , 2019
Volcano: Sheveluch (CAVW #300270)
Current aviation colour code: ORANGE
Previous aviation colour code: orange
Source: KVERT
Notice Number: 2019-148
Volcano Location: N 56 deg 38 min E 161 deg 18 min
Area: Kamchatka, Russia
Summit Elevation: 10768.24 ft (3283 m), the dome elevation ~8200 ft (2500 m)
Volcanic Activity Summary:
According to satellite data, an ash plume up to 6.5-7.5 km a.s.l. continues to drift to the east from the volcano. Рrobably ash fallout on the Komandorskie Islands (Commander Islands)
Explosive-extrusive eruption of the volcano continues. Ash explosions up to 32,800-49,200 ft (10-15 km) a.s.l. could occur at any time. Ongoing activity could affect international and low-flying aircraft.
Volcanic cloud height:
21320-24600 ft (6500-7500 m) AMSL Time and method of ash plume/cloud height determination: 20191002/0252Z – JPSS-1 (14m15)
Other volcanic cloud information:
Distance of ash plume/cloud of the volcano: 301 mi (485 km)
Direction of drift of ash plume/cloud of the volcano: ESE / azimuth 109 deg
Time and method of ash plume/cloud determination: 20191002/0252Z – JPSS-1 (14m15)
Start time of explosion and how determined: 20191002/2339Z – Video data
Source : Volcanodiscovery , Kvert.
Video : Dmitry Melnikov.
Photo : Кирилл Баканов
Papua New Guinea , Ulawun :
5.05°S, 151.33°E
Elevation 2334 m
RVO reported that small, discrete, volcano-tectonic earthquakes at Ulawun began occurring more regularly around 1000 on 30 September; by 1130 they were frequent and by 1220 they were characterized as a swarm. The magnitude of the events overall increased with time and some were felt by residents and accompanied by booming sounds. Events were less frequent and intense during 1730-1930. Sometime afterwards RSAM values erratically increased, reaching a high of 10,000 units between 0130 and 0200 on 1 October. The Alert Level was raised to Stage 2 (the second lowest level on a four-stage scale).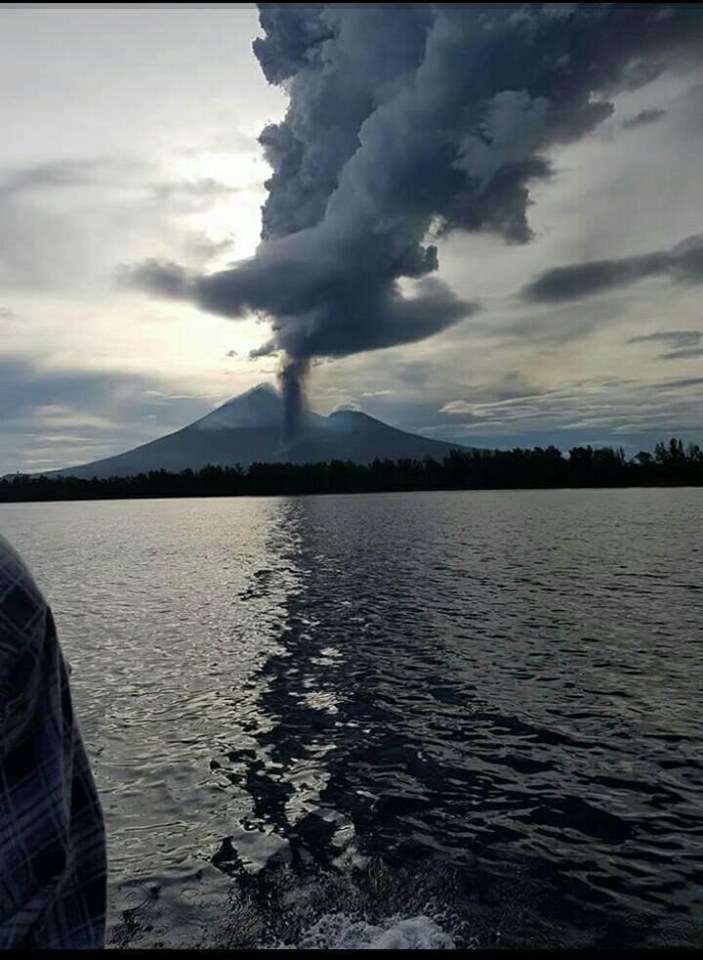 Periods of volcano-tectonic earthquakes slowly transformed into continuous tremor with distinct bursts of high-frequency signals marking discrete volcano-tectonic events during 0430-0500 on 1 October. During this time a new vent opened in a deep valley on the SSW flank at 700 m elevation. The eruption was described as a distinct incandescent glow formed from ejecting material rising less than 100 m above the vent. By dawn light-gray ash plumes were visible rising several hundred meters and drifting NW. Lava fountaining continued throughout the day, and gray ash plumes rose several kilometers above the vent and drifted W. RVO recommended that the Alert Level be raised to Stage 3. On 2 October lava fountains rose several hundred meters and ash-and-steam plumes rose to variable heights between 2 and 5 km, causing ashfall in Navo (W). A lava flow which emerged during the night traveled 1-2 km NW, though visibility was hindered due to weather conditions. Loud rumbling and roaring was noted. Seismicity remained high with RSAM values passing 12,000 units.
Sources : Rabaul Volcano Observatory (RVO) , GVP.
Colomba , Chiles / Cerro Negro :
Weekly activity bulletin of Chiles and Cerro Negro volcanoes
The activity level of volcanoes continues at the level: YELLOW LEVEL ■ (III): CHANGES IN THE BEHAVIOR OF THE VOLCANIC ACTIVITY.
Following the activity of VOLCANS CHILES AND CERRO NEGRO, the COLOMBIAN GEOLOGICAL SERVICE (SGC) reports that:
For the period evaluated between September 24 and September 30, 2019, seismic activity in the Chiles – Cerro Negro volcanoes region increased in frequency and energy compared to the previous week, from 853 to 1292 earthquakes classified in the category. volcano-tectonics, which are associated with fractures of cortical material in the volcanic building. The earthquakes were located in two epicentral areas, one towards the southern sector of the Chiles volcano, less than 3 km from the volcanic center and the second near the Cerro Negro volcano, less than 1.5 km from its summit.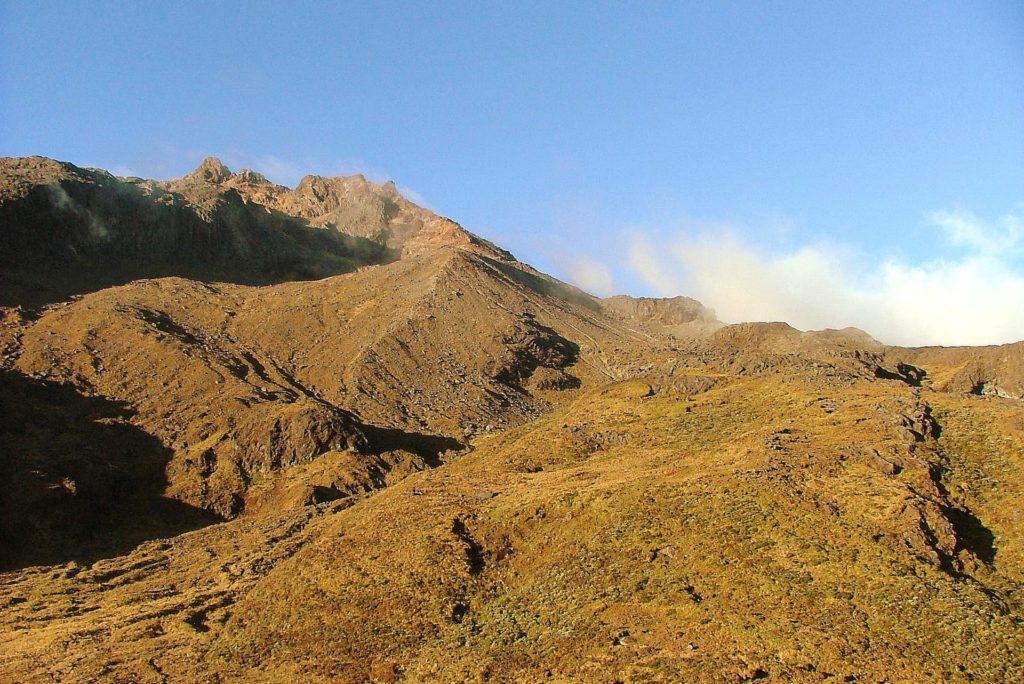 The depths of the earthquakes were between 3 and 5 km below the summit of Chiles volcano (4700 m altitude). The earthquake recorded on September 27th at 8:44 am is remarkable, with a magnitude of 4.2 and would have been felt by the inhabitants of the indigenous reserves of Chiles, Panán and Mayasquer. It is also pointed out that the events located on the Cerro Negro volcano correspond to a new source, establishing a well-defined group of earthquakes that has not been observed since the beginning of the seismic monitoring of Chiles and Cerro Negro volcanoes.
The Colombian Geological Service and the Institute of Geophysics of the National Polytechnic School of Ecuador are attentive to the evolution of the volcanic phenomenon and inform in a timely manner the observed changes.
Source : SGC.
Photo : Boriss Andean summit post.
United-States , Yellowstone :
44°25'48 » N 110°40'12 » W,
Summit Elevation 9203 ft (2805 m)
Current Volcano Alert Level: NORMAL
Current Aviation Color Code: GREEN
Recent work and news
Steamboat geyser continued it's record-setting year with 4 water eruptions in September, on September 3, 11, 17, and 25, bringing the total number of eruptions in 2019 to 37.
Field work in Yellowstone National Park during the month of September included maintenance on GPS stations in the park. This involved replacing some GPS antennas, which in a few places resulted in an offset in the station position. Geologists and geochemists also visited the park to study hot spring activity and to collect gas and water samples for later analysis.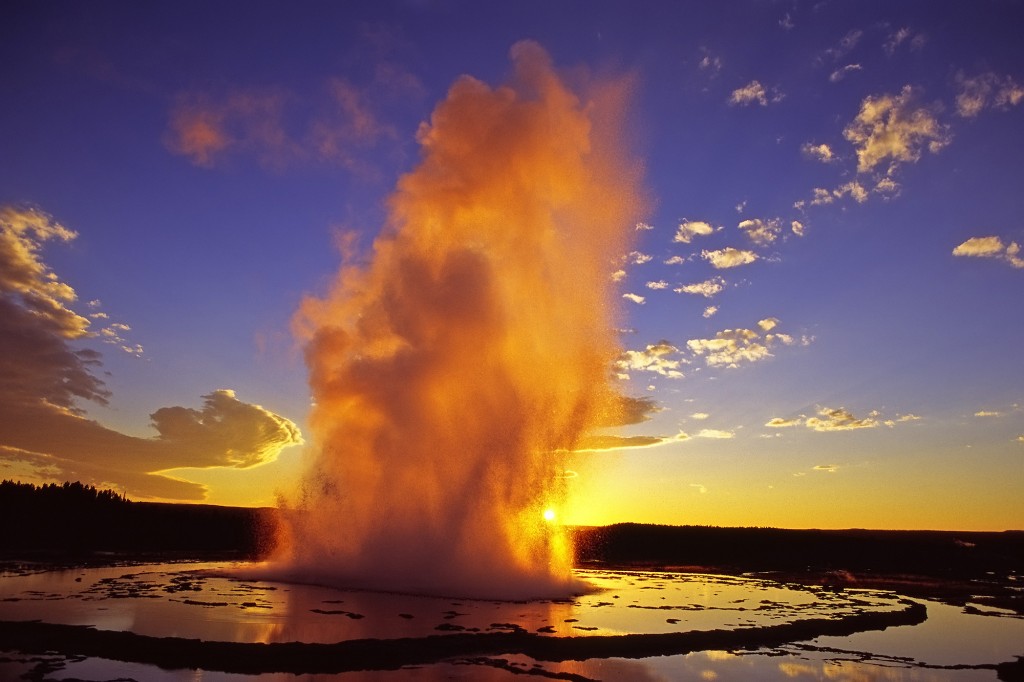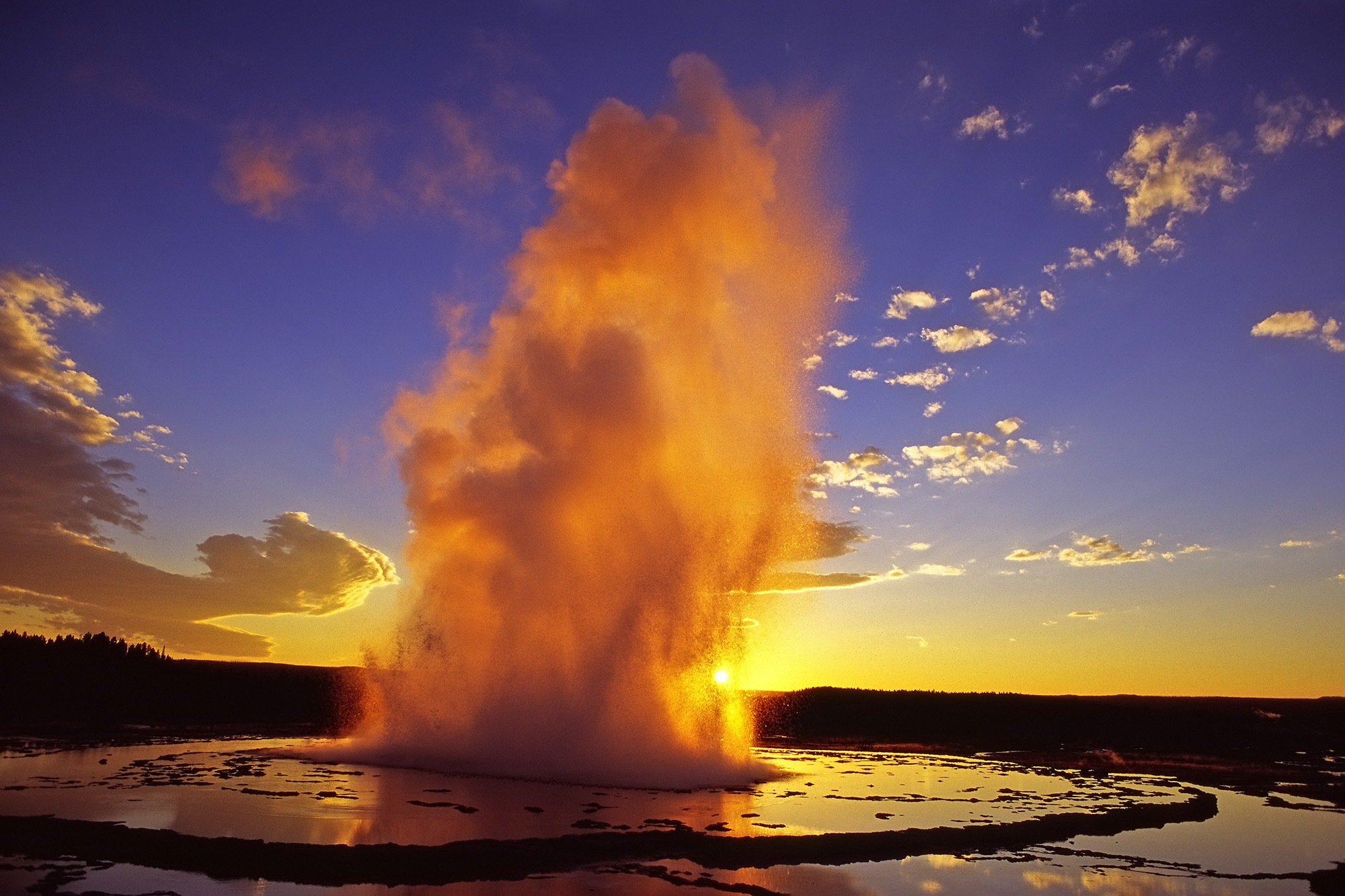 Seismicity
During September 2019, the University of Utah Seismograph Stations, responsible for the operation and analysis of the Yellowstone Seismic Network, located 71 earthquakes in the Yellowstone National Park region. The largest event was a micro earthquake of magnitude 2.4 located 11 miles south of West Yellowstone, MT, on September 8 at 1:59 PM MDT.
No swarm activity was observed during September.
Yellowstone earthquake activity remains at background levels.
Ground deformation
GPS stations scattered throughout the region indicate that ground subsidence of Yellowstone caldera has probably resumed. That subsidence, ongoing since 2015, appears to have been interrupted during the summer, possibly due to seasonal changes, but since early September subsidence has again dominated. In the area of Norris Geyser Basin, GPS data show no significant changes over the past year. That area had been uplifting since 2015, but uplift ceased in October 2018.
Source : YVO.
Photo : Parc National.
Mexico , Popocatepetl :
October 02, 11:00 am (October 02, 16:00 GMT)
According to the surveillance systems of the Popocatépetl volcano, 215 exhalations have been identified, accompanied by gas and light amounts of ash. In addition, 14 explosions were recorded this 02 October, the last generated a column about 2 kilometers in altitude and emitted fragments on the eastern slope. In addition, 483 minutes of tremor and two volcano-tectonic earthquakes were recorded today at 16:53 and 00:19 with a calculated magnitude of 1.5 and 2.5, respectively.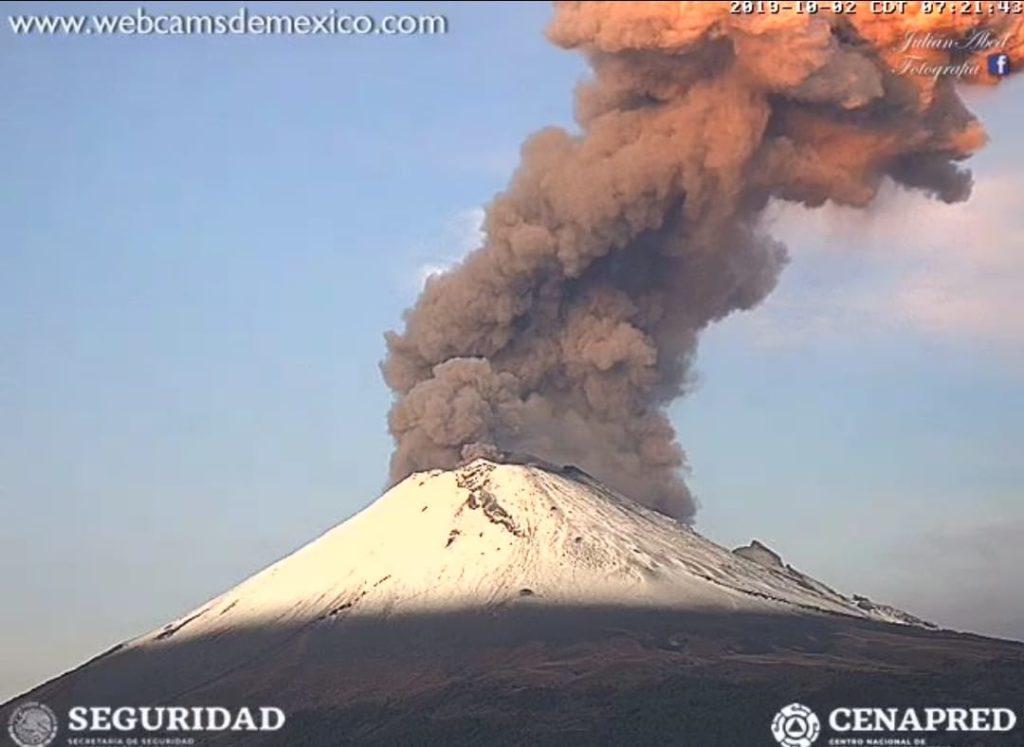 At the time of writing this report, there is visibility on the volcano and any show will be scattered to the southwest.
Ash falls are reported in the municipalities of Atlautla Ozumba, Ayapango and Ecatzingo, in the State of Mexico. CENAPRED urges NOT to approach the volcano and in particular the crater, because of the risk of falling ballistic fragments, and in case of heavy rains, to stay far from the bottom of the ravines because of the risk of mudslides and debris.
The warning light of Popocatépetl is in YELLOW PHASE 2.
Source : Cenapred.