October 7 , 2019.
Italy / Sicily , Etna :
COMMUNICATION on volcanic activity from 06 October 2019 to 16:42:08 (UTC) – ETNA.
The National Institute of Geophysics and Volcanology, Osservatorio Etneo, announces that during the brief moments of visibility of the summit area, which characterized the day, the images of the video surveillance cameras showed that the Northeast crater did not was more affected by ash emissions. , while the crater of Voragine was affected by a modest, intermittent, pulsating emission of ashes that violent winds dispersed rapidly in the region of the summit.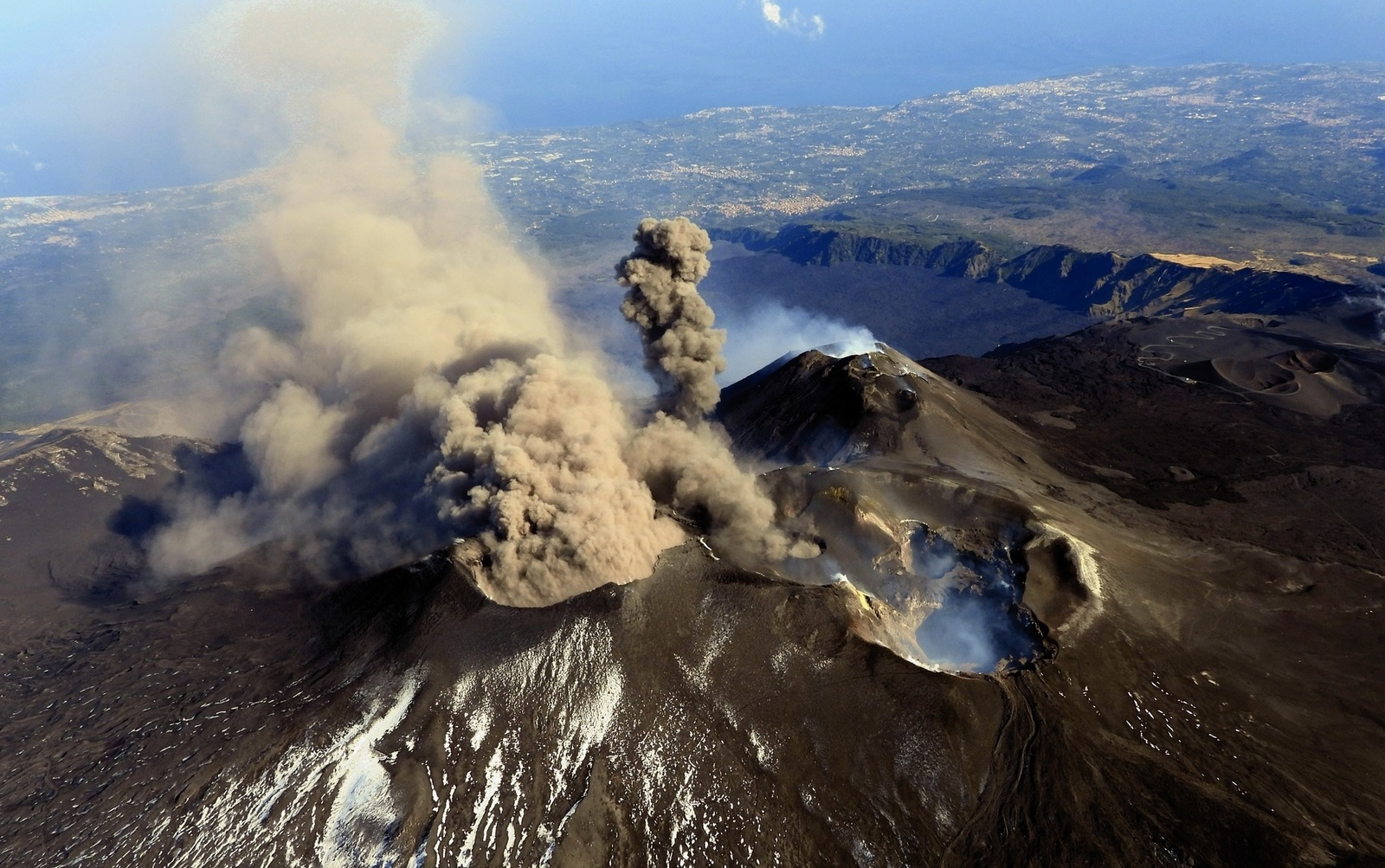 The average amplitude of volcanic tremor has remained at average values, without showing any significant changes.
The craters of the summit of Etna seen from a helicopter on the afternoon of October 5, 2019. On the left, we observe the continuous emission of gray ash from the crater Northeast. At 00:30, an explosion begins with an emission of dark gray ash from the Voragine. The Bocca Nuova Great Depression with its two internal vents (BN-1 and BN-2) is on the right, while the South-East Crater Complex / New Southeast Crater is visible behind the other craters. Video recorded by Boris Behncke (INGV-Osservatorio Etneo) during a helicopter flight by Butterfly Helicopters
Source : INGV Vulcani.
Video : INGV Vulcani.
Photo : Boris Behncke / Joseph Nasi .
Chile , Nevados de Chillan ,
Special Report of Volcanic Activity (REAV) of the Ñuble Region, Nevados de Chillán Volcanic Complex 06 October 2019, 08:05 local time (Continental Chile)
The National Geological and Mining Service of Chile (Sernageomin) discloses the following PRELIMINARY information, obtained through monitoring equipment of the National Volcanic Monitoring Network (NVRN), processed and analyzed at the Volcanological Observatory of the South Andes (OVDAS) ):
Yesterday, Sunday, October 6, at 07:47 local time (10:47 UTC), the control stations installed near the Nevados Volcanic Complex of Chillán recorded an explosion related to the dynamics of the fluids inside the volcanic system with emission of gas and of particles.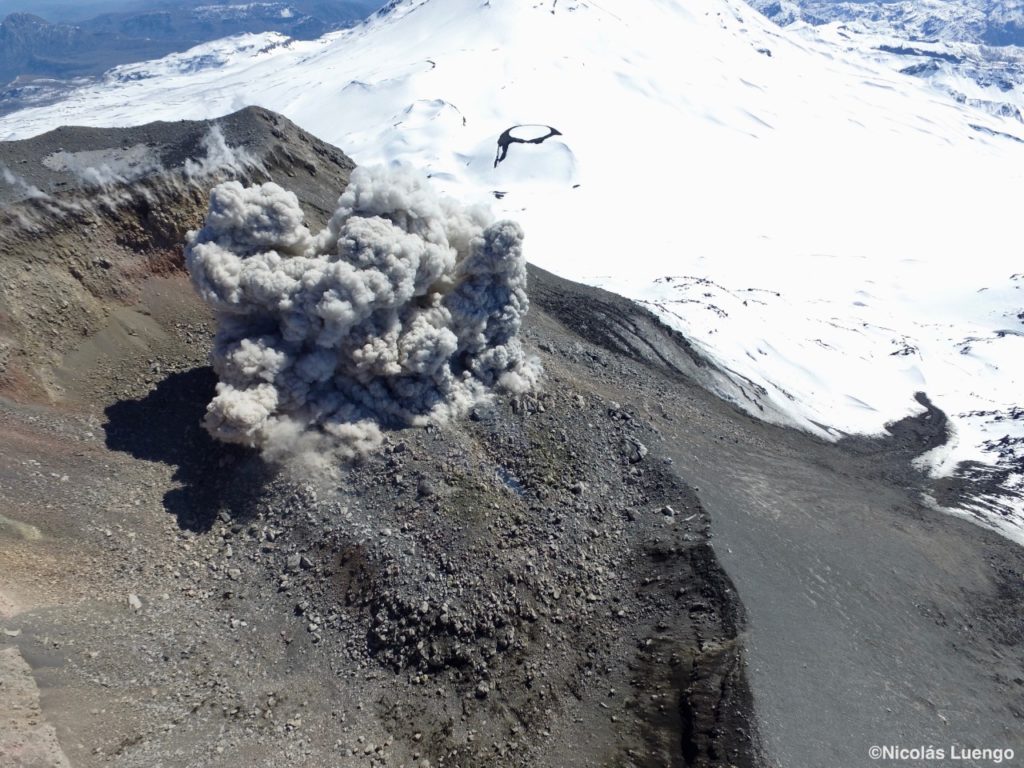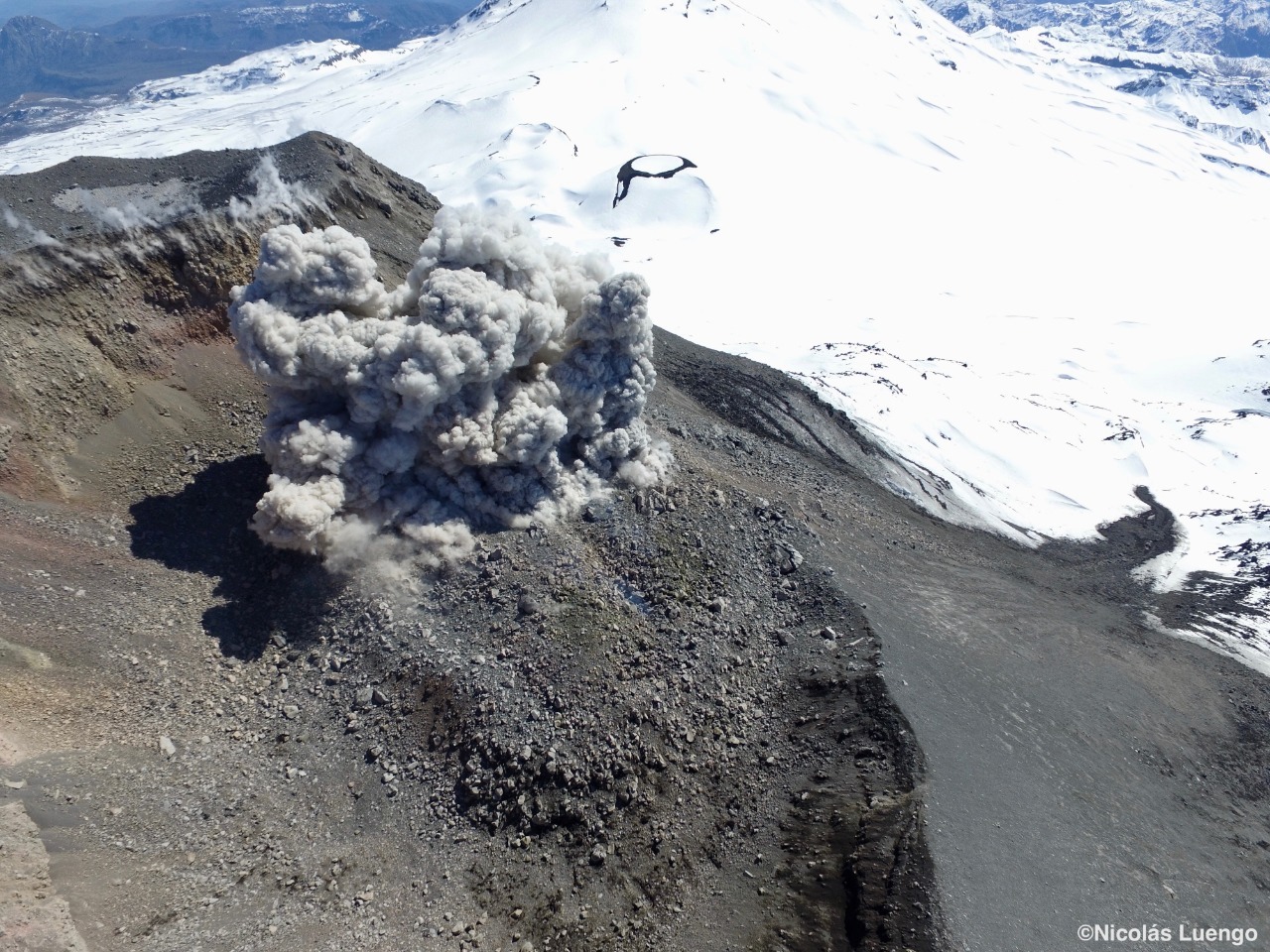 The characteristics of the earthquake are as follows:
TIME OF ORIGIN: 07:47 local time (10:47 UTC)
LATITUDE: 36,867 ° S
LONGITUDE: 71,377 ° W
DEPTH: 1.5 km
REDUCED TRAVEL: 1,723 cm2
ACOUSTIC SIGNAL: 65 [Reduced Pascals]
OBSERVATIONS:
The volcanic technical alert is maintained at level: Orange level.
Sernageomin monitors online and informs about possible changes in a timely manner.
Source : Sernageomin.
Photo : Nicolas Luengo.
Ecuador , Reventador :
DAILY REPORT OF THE STATE OF THE REVENTADOR VOLCANO, SUNDAY, OCTOBER 6, 2019
Information Geophysical Institute – EPN.
Superficial Activity Level: High, Surface Trend: No change.
Internal activity level: High, Internal trend: No change.
Seismicity (events): From 05 October 2019, 11:00 to 06 October 2019, 11:00:
Long Period Type (LP): 58 events
Explosions (EXP): 20 events
Tremors of emission: (TE): 19.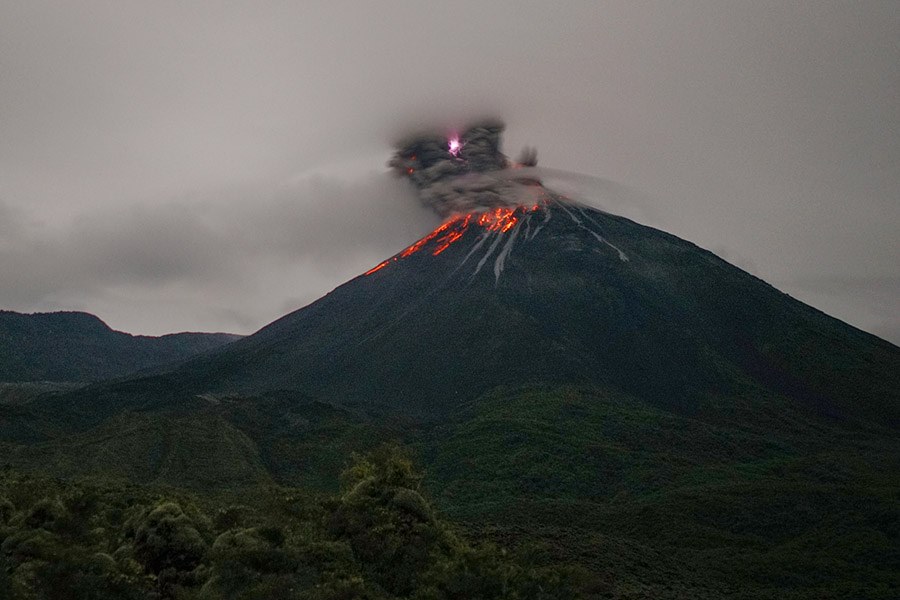 Rain / lahars: Not registered.
Ash Emission / Column: During the last 24 hours, several emissions of steam and ash exceeding 1,000 meters above the summit have been recorded, their direction of dispersion being that of the West.
Other monitoring parameters: No change.
Observations:
In the night, the descent of incandescent materials was observed on all sides up to 800 meters below the summit. Gas flow (SO2) could not be calculated due to problems in wind data provided by NOAA.
Niveau d'alerte: orange.
Source : IGEPN.
Photo : Martin Rietze.
Philippines , Taal :
TAAL VOLCANO BULLETIN: 7 October 2019 8:00 A.M
Taal Volcano's seismic monitoring network recorded eighty-seven (87) volcanic earthquakes during the 24-hour observation period. One of these earthquakes, which occurred at 07:54 AM yesterday, was felt at Intensity I at Tibag and Alas-as, northern and southwestern sector of the Volcano Island, respectively. Field measurements on 3 October 2019 at the western sector of the Main Crater Lake yielded an increase in water temperature from 32.6°C to 33.0°C, no change in water level of 0.49 meter, and a decrease in acidity from a pH of 2.82 to 2.83. Ground deformation measurements through precise leveling surveys from 19 – 26 September 2019 indicated inflation of the edifice consistent with recent results from continuous GPS data.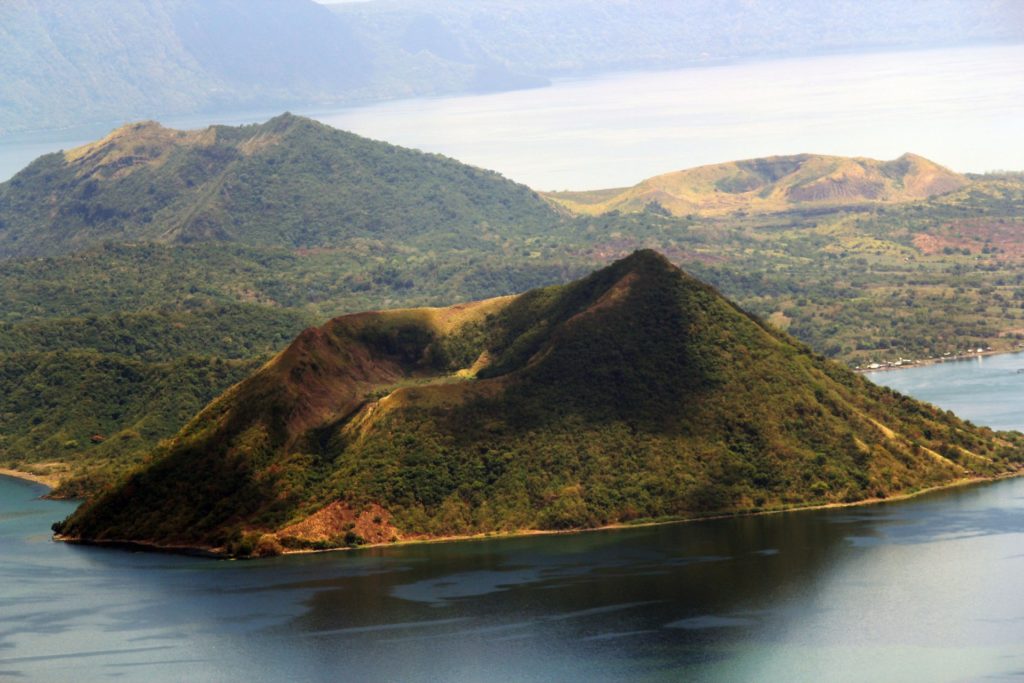 Alert Level 1 remains in effect over Taal Volcano. This means that hazardous eruption is not imminent. The public, however, is reminded that the Main Crater should be strictly off-limits because sudden steam explosions may occur and high concentrations of toxic gases may accumulate. The northern portion of the Main Crater rim, in the vicinity of Daang Kastila Trail, may also become hazardous when steam emission along existing fissures suddenly increases. Furthermore, the public is also reminded that the entire Volcano Island is a Permanent Danger Zone (PDZ), and permanent settlement in the island is strongly not recommended.
Source : Phivolcs.
Photo : publicdomaine.
Indonesia , Kerinci :
VOLCANO OBSERVATORY NOTICE FOR AVIATION – VONA.
Issued: October 06 , 2019
Volcano: Kerinci (261170)
Current Aviation Colour Code: YELLOW
Previous Aviation Colour Code: orange
Source: Kerinci Volcano Observatory
Notice Number: 2019KER23
Volcano Location: S 01 deg 41 min 49 sec E 101 deg 15 min 50 sec
Area: Jambi, West Sumatra, Indonesia
Summit Elevation: 12176 FT (3805 M)
Volcanic Activity Summary:
Observed brown ash emission at 05:53 UTC (12:53 local time )
Volcanic Cloud Height:
Best estimate of ash-cloud top is around 14096 FT (4405 M) above sea level, may be higher than what can be observed clearly. Source of height data: ground observer.
Other Volcanic Cloud Information:
ash plume moving to west-southwest
Remarks:
Seismic activity is dominated by gas emission and continuous volcanic tremor with amplitude of 0,5-2mm (dominan 1 mm)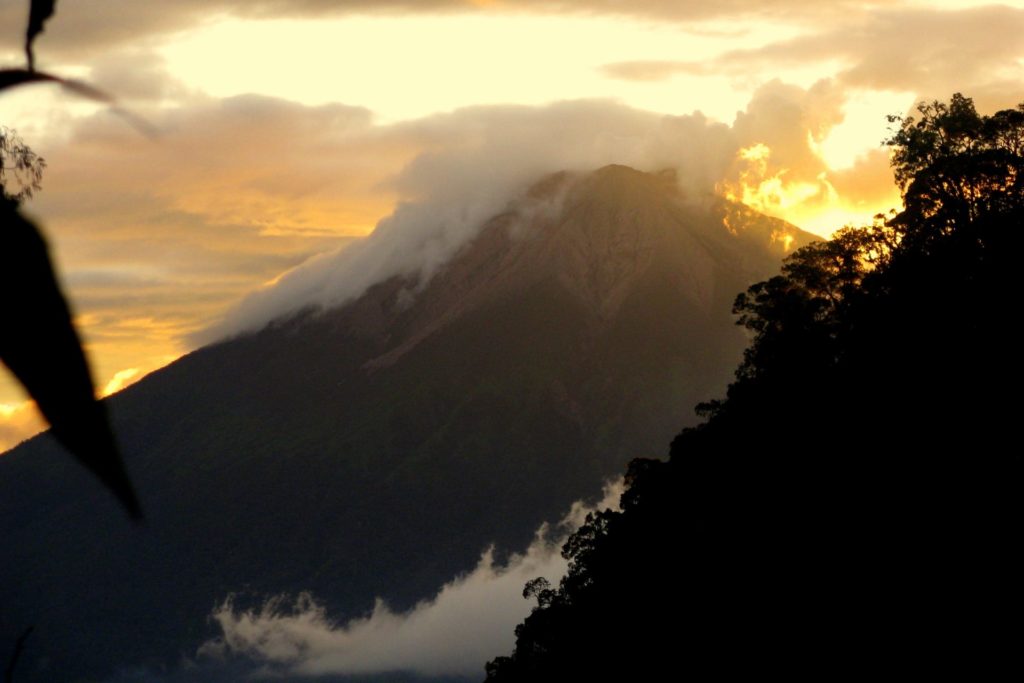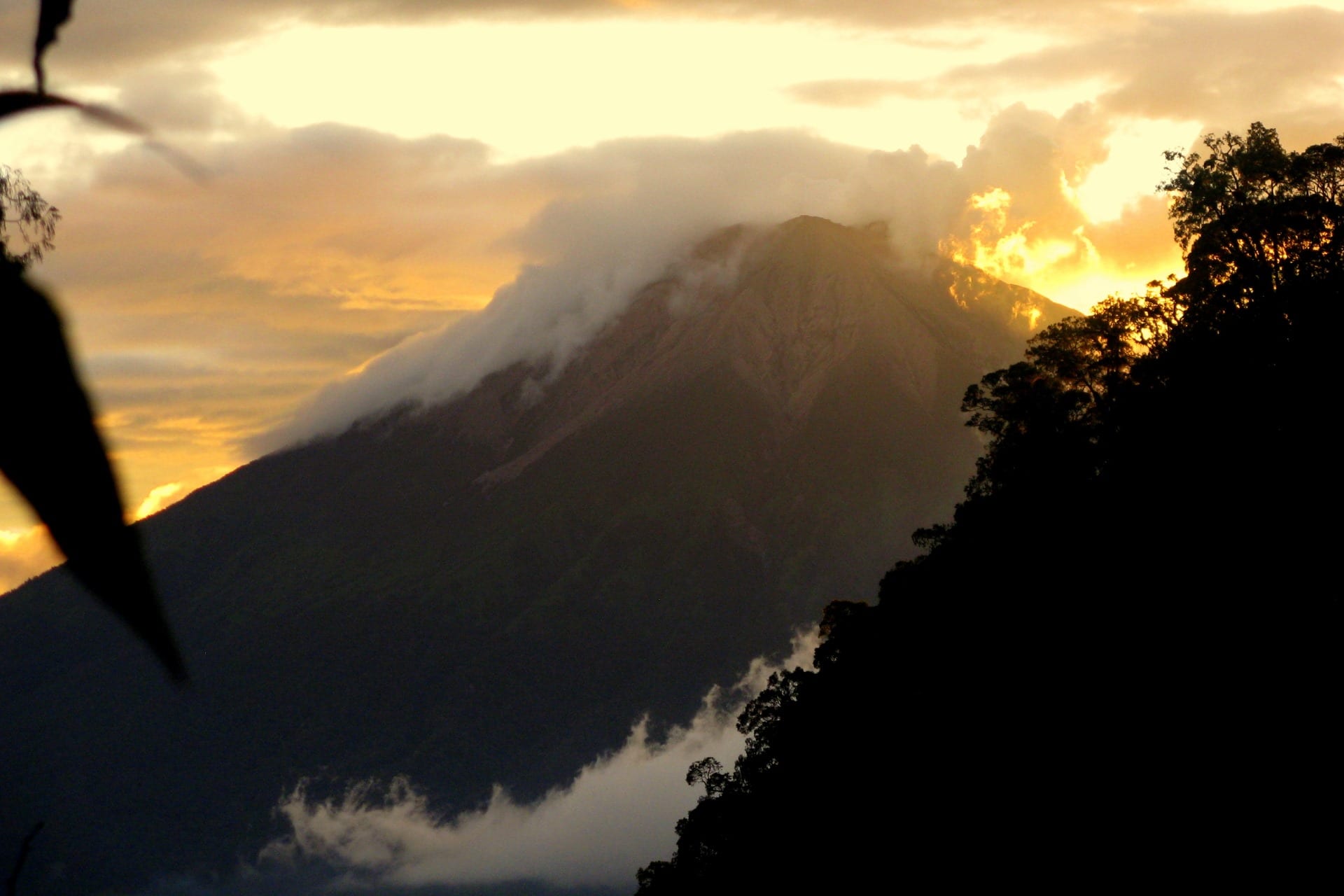 Leve of Activity at Level II (WASPADA). G. Kerinci (3,805 m) is experiencing a continuous eruption.
Clear, moderate to heavy winds west. The temperature is around 21 – 25 ° C. The volcano is clearly visible until it is covered with fog. Smoke from the main crater is brown with moderate to thick intensity about 600 meters above the summit.
The seismograph, on October 6, 2019, recorded:
233 explosive earthquakes.
2 harmonic earthquakes
1 distant tectonic earthquake.
Continuous tremor with an amplitude of 0.5-2 mm, dominant value of 1 mm
Recommendation:
Communities around Mount Kerinci and visitors / tourists should not be active within 3 km of the summit crater.
During the rainy season, people living around the rivers descending from Mount Kerinci should be aware of the potential risk of secondary dangers in the form of lahars.
Source : Magma Indonésie.
Photo : Wild Sumatra