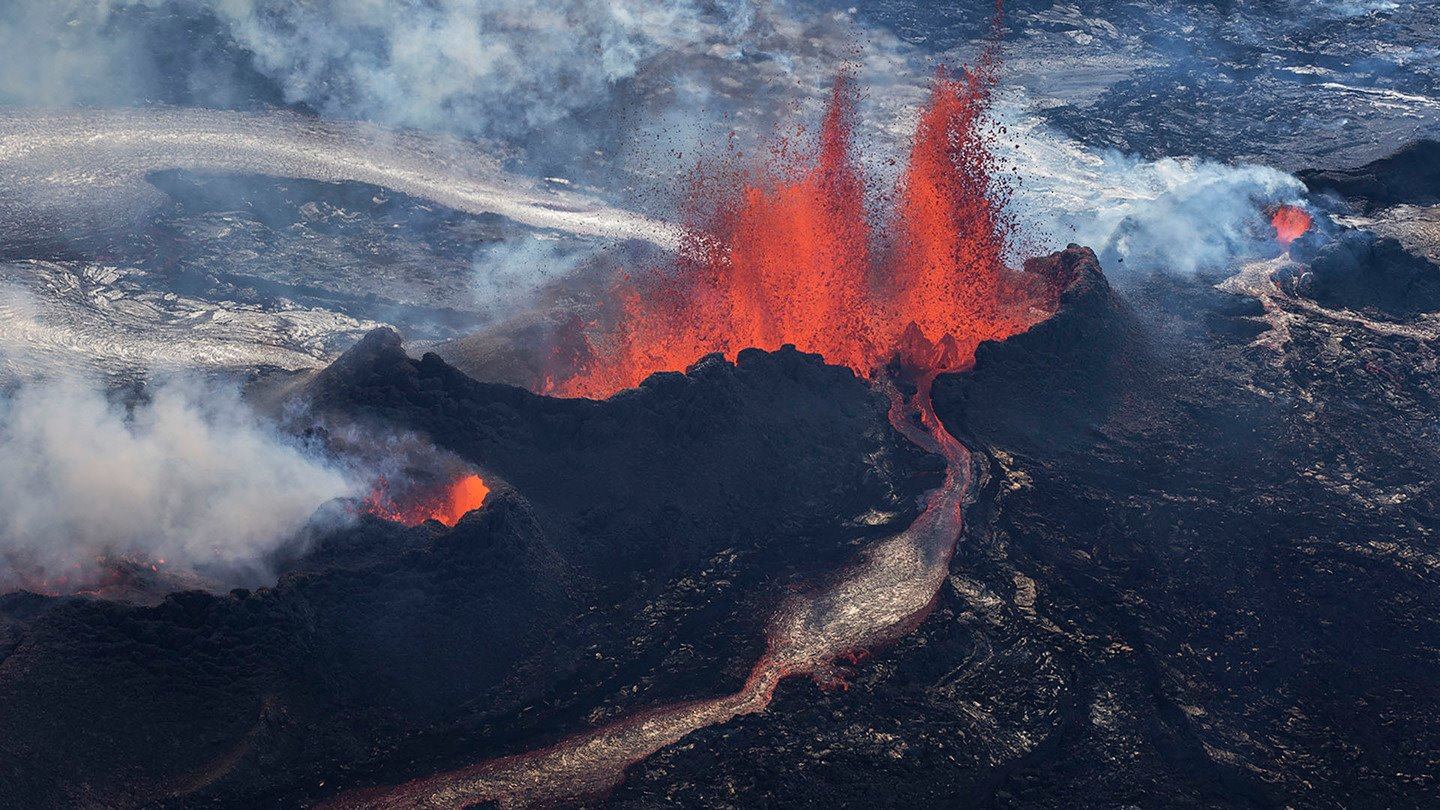 May 22 , 2018. EN. Pu'u 'Ō'ō / Kilauea , Merapi , Sabancaya , Piton de la Fournaise .
May 22 , 2018.
Pu'u 'Ō'ō / Kilauea , Hawai :
Monday, May 21, 2018, 1:57 AM HST (Monday, May 21, 2018, 11:57 UTC)
19°25'16 » N 155°17'13 » W,
Summit Elevation 4091 ft (1247 m)
Current Volcano Alert Level: WARNING
Current Aviation Color Code: RED
Kīlauea Volcano Summit
A small explosion occurred at 12:55 AM at Halema'uma'u crater at Kilauea's summit. It produced an ash plume that reached about 7,000 ft asl and was carried by the wind to the southwest.
Additional explosive events that could produce minor amounts of ashfall downwind are possible at any time.
Monday, May 21, 2018, 4:11 PM HST (Tuesday, May 22, 2018, 02:11 UTC)
LOWER EAST RIFT ZONE
Moderate-level eruption of lava continues from multiple points along the northeast end of the active fissure system. Residents in lower Puna should remain informed and heed Hawaii County Civil Defense closures, warnings, and messages (http://www.hawaiicounty.gov/active-alerts)
Fissure 22 is erupting a short line of low lava fountains that feed a channelized flow that reaches the coast just north of MacKenzie State Park. Spattering continues from a reactivated Fissures 6 that intermittently feeds a short lava flow. Fissures 17 and 19 continue weak spattering.
HVO field crews are on site tracking the lava flows and spattering from multiple fissures as conditions allow and reporting information to Hawaii County Civil Defense.
Volcanic gas emissions have tripled as a result of the voluminous eruptions from Fissure 20 so SO2 concentrations are likely elevated to higher levels throughout the area downwind of the vents. Moderate trade winds today means that areas downwind of Kilauea gas emission sources may experience varying levels of vog. This eruption is still evolving and additional outbreaks of lava are possible. Ground deformation has slowed and seismicity levels have decrease in the area.
Future outbreaks could occur both uprift (southwest) and downrift (northeast) of the existing fissures, or, existing fissures can be reactivated. Communities downslope of these fissures could be at risk from lava inundation. Activity can change rapidly.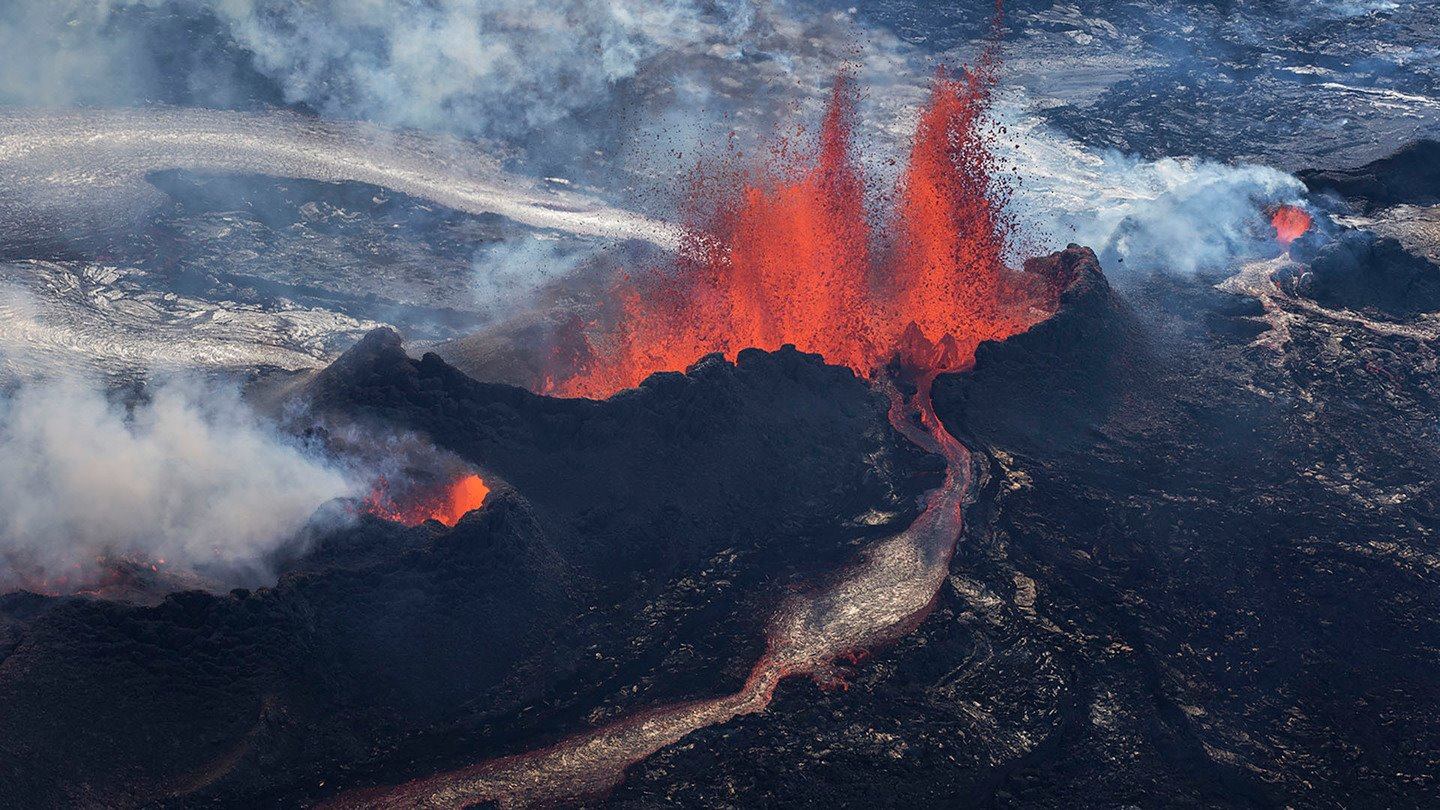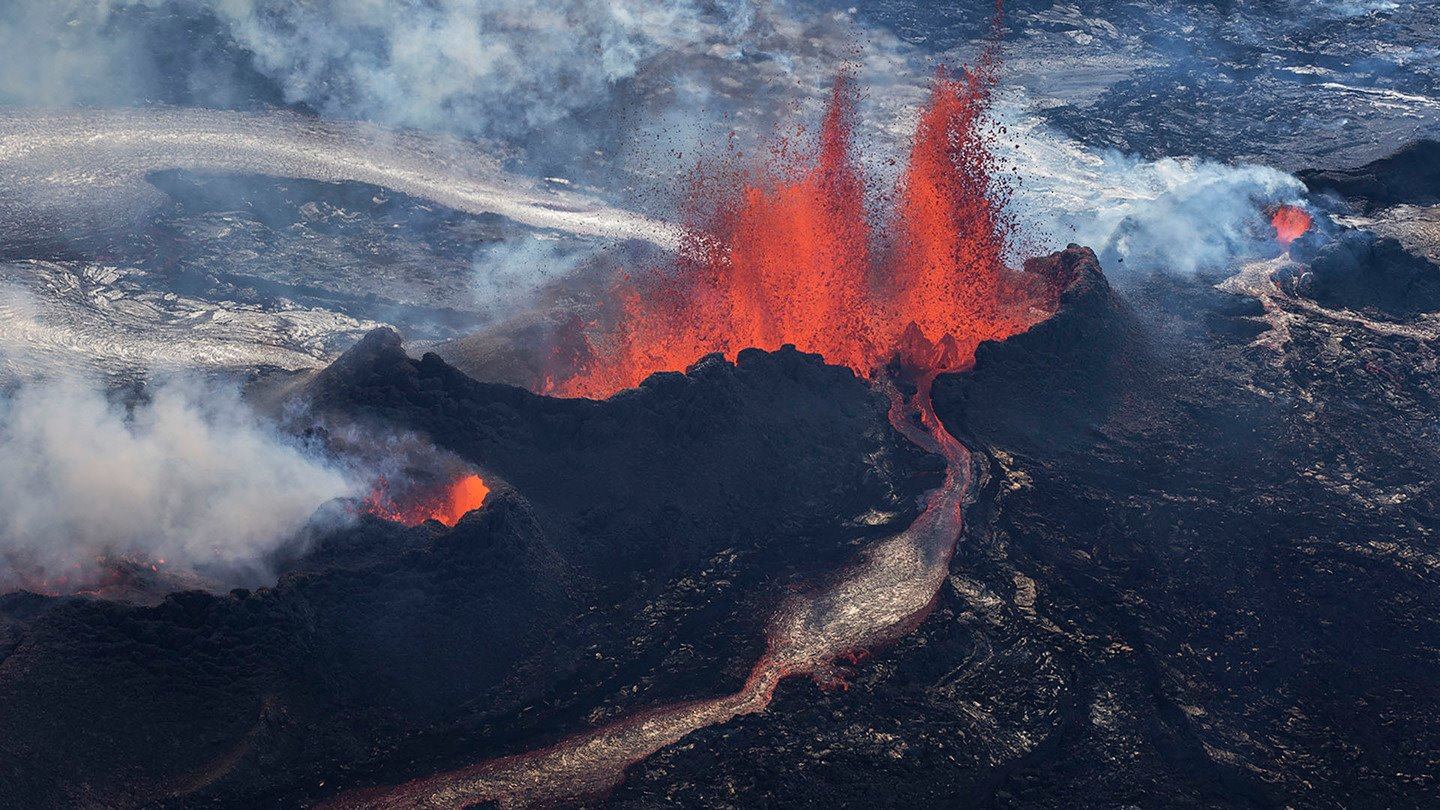 KILAUEA SUMMIT
One explosive eruption of ash occurred at about 1 am this morning. Several smaller ash emissions have also taken place and produced abundant ash. Additional explosions possible at any time.
Seismic levels, which abruptly decreased after the recent explosive eruptions, are again slowly increasing.
At this time, based on HVO web cameras, a robust plume of gas and steam is billowing out of the Overlook vent and drifting generally southwest.
At any time, activity may again become more explosive, increasing the intensity of ash production and producing ballistic projectiles very near the vent. Communities downwind should be prepared for ashfall as long as this activity continues.
Seismicity and deformation continue at the Kilauea summit. Deflation is ongoing. Additional earthquakes in the Kilauea summit area are expected as long as the summit continues to deflate.
REMARKS
USGS/HVO continues to monitor the situation at the Kilauea summit and the lower East Rift Zone 24/7 in coordination with Hawaii County Civil Defense and other emergency authorities. HVO geologists are onsite in the area this morning conducting overflights, examining the fissure vent activity for significant changes, and searching for any signs of new or resumed activity.
Source : HVO
Photos : Hvo , CJ Kale , Zsuzsa Antal .
Vidéos : USGS
Mérapi , Indonesia :
Observation results:
The activity of May 19, 2018 detected two multiphase earthquakes (MP), four avalanche earthquakes and one tectonic earthquake.
On May 20, an avalanche earthquake and a tectonic earthquake were detected. The earthquake at 21:29 was moderate and reportedly felt by a resident of Srunen.
On May 21, from 00:00 to 12:00, 2 earthquakes were detected, at 1:25 and 9:38, as well as three multiphase earthquakes (MP), 3 avalanche earthquakes, and 2 tectonic earthquakes.
There was no increase in crater temperature before the water eruption.
The deformation of G. Merapi that was instrumentally monitored using Tiltmeter, EDM and GPS showed no significant change.
The phreatic eruption of the Merapi volcano occurred on May 21 at 1:25 pm for 19 minutes. The height of the eruption column is 700 m above the summit. The rain of ash would have spread to 15 km to the West.
The phreatic eruption of the Merapi volcano again occurred at 9:38 pm for 6 minutes. The height of the eruption column reaches 1200 m above the summit. The rain of ash would have spread to 15 km to the West.
After the eruption, recorded seismicity did not increase significantly and the temperature of the crater decreased.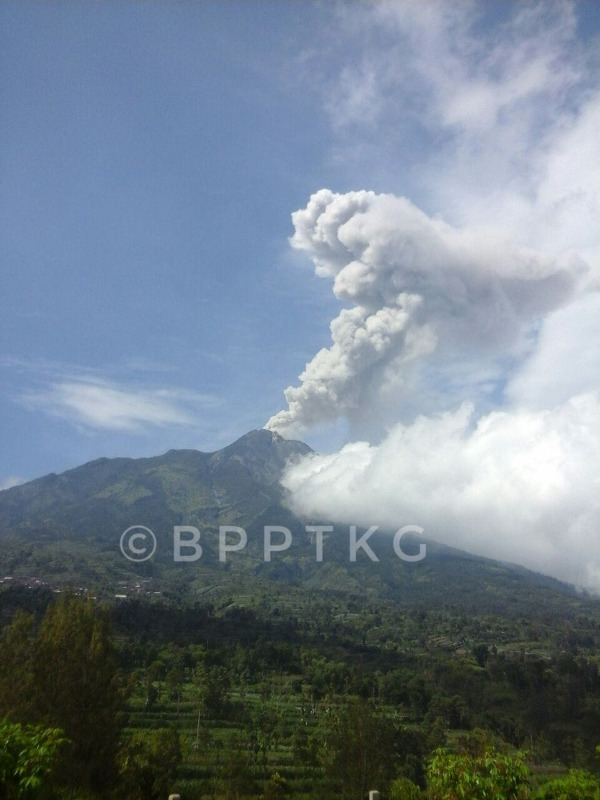 Conclusions:
The eruption that occurred today is an eruption triggered by the accumulation of volcanic gases.
The activity status of Mount Merapi is always at the NORMAL level.
recommendations:
So far, Merapi activity has calmed down, people are encouraged to stay calm.
Due to the presence of ash falls in some places, communities and the local government must overcome the dangers of volcanic ash.
Climbing activities of G. Merapi are recommended only in Pasarbubar, except for the interest of investigation and research related to disaster mitigation efforts. The morphological state of G. Merapi is currently subject to landslides, so it is very dangerous for the safety of climbers.
If there is a significant change in the activity of G. Merapi, the activity level of Mount Merapi will soon be reviewed.
Observation results:
On the basis of visual observations from the observation post and CCTV, sunny weather occurs during the day, in the morning and afternoon, until the evening, mostly foggy, with windy rains. The fumes emitted are usually white, thick, with a low gas pressure and a maximum height of 25 m, observed from the Post Kaliurang.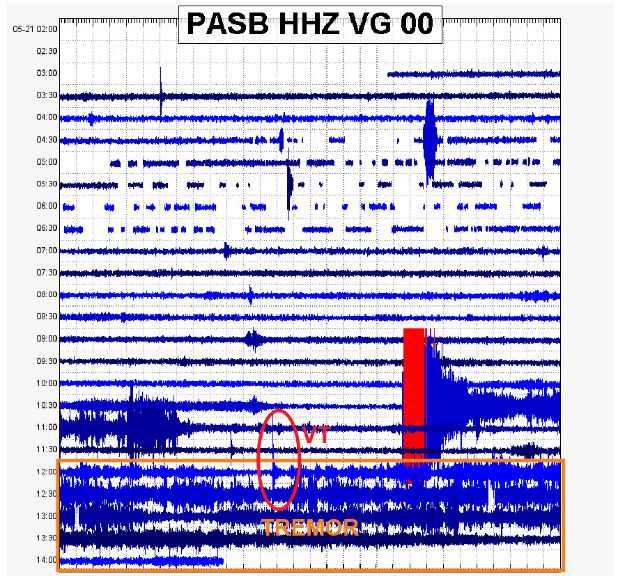 Monitoring stations reported a rumble in conjunction with groundwater eruption up to three (3) times on May 21, 2018, respectively at 13:25, lasting 19 min, height of the eruption column of 700 m, at 21:38, with a duration of 6 min height of the eruption column of 1200 m, and at 17.50, with a duration of 3 minutes, the height of the eruption column n ' is not observed. The phreatic eruption that occurred on May 21, 2018 was intense. The previous phreatic eruption took place on May 11, 2018 after about 4 years without a phreatic eruption.
This week, the recorded volcanic and seismic tremor of the Merapi were 12 multiphase (MP) earthquakes, 1 earthquake, 12 avalanche (RF) earthquakes, three earthquakes, and 5 earthquakes. tectonic (TT). The earthquake that occurred on May 20, 2018 at 9:30 pm is quite important and was felt by the residents.
On May 21, 2018, the recorded seismicity was 1 VT earthquake, 1 earthquake, 2 avalanche earthquake (RF), three earthquake eruptions, and 3 tectonic earthquakes (TT). A volcanic tremor was recorded at about 0.2 Hz with an average amplitude of 5 to 10 mm.
The central temperature of the crater is about 85 ° C, increased by normal conditions (<50 ° C).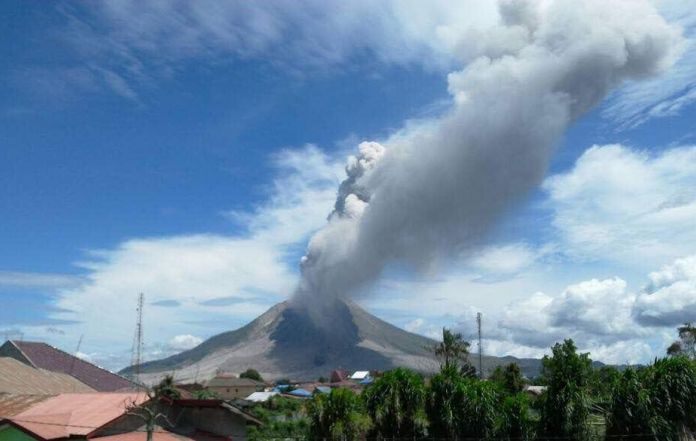 Conclusions
Due to the increase in groundwater eruption activity and the occurrence of the VT and Tremor earthquakes, it is concluded that the volcanic activity of G. Merapi has increased.
With the increased activity, from May 21, 2018 to 23:00, the activity status of G. Merapi moves from NORMAL to WASPADA.
Recommendations:
With the increased activity status of G. Merapi from NORMAL to WASPADA, it is recommended:
1. G. Merapi's climbing activities are temporarily not recommended, except for the benefit of investigation and research related to disaster mitigation efforts.
2. A radius of 3 km around the summit is forbidden.
3. People living in the area should increase awareness of G. Merapi's activities.
4. If there is a significant change in activity of the Merapi Volcano, the activity status of Mount Merapi will be immediately reviewed.
Source: KESDM, Agence géologique, Centre de recherche PVMBG et Développement de la technologie des catastrophes géologiques
Sabancaya , Peru :
Explosive activity did not show significant changes from the previous week, averaging 30 explosions / day. The predominance of events associated with fluid movements (Long Period type) and events associated with ash emissions (Tremor type) continues. The earthquakes that indicate the rise of the magma (type Hybrids) remain weak in number and energy. 
The eruptive columns of gas and ash reached a maximum height of 1900 m above the crater, with a dispersal direction mainly to the north and north-west. No ash drop has been reported in neighboring villages.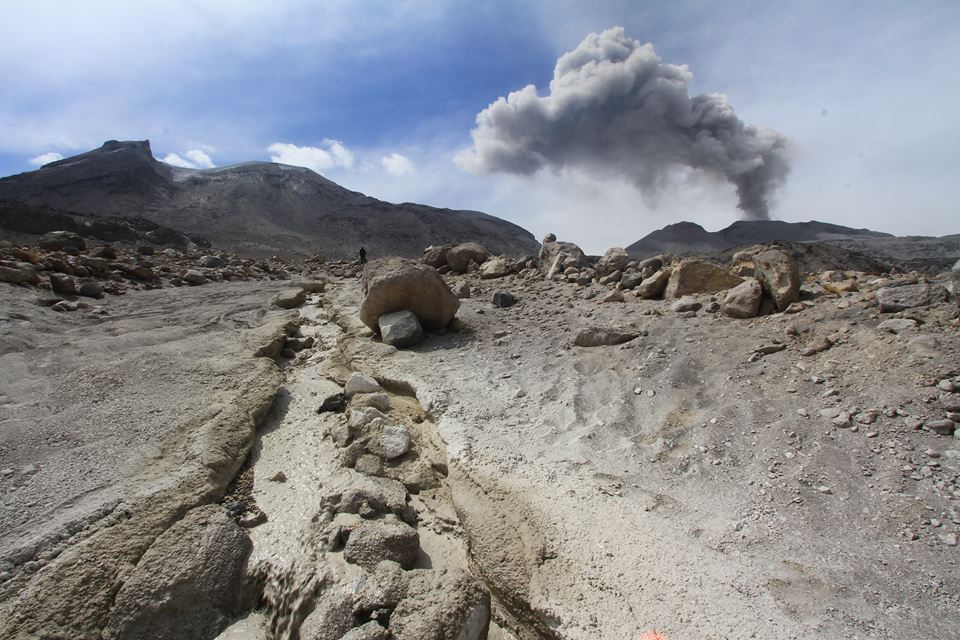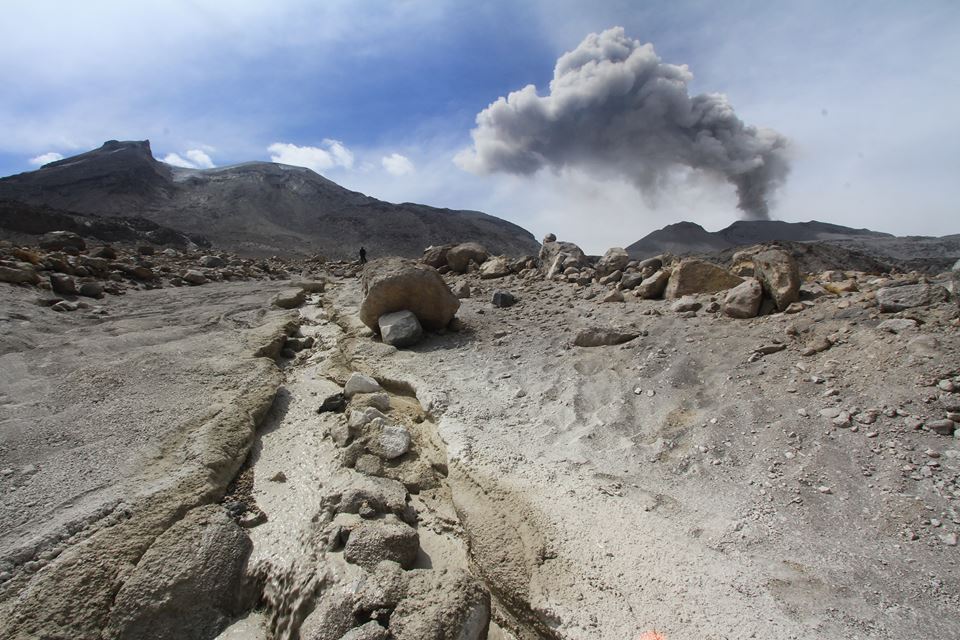 The volcanic gas (SO2) flow recorded on May 19 has a maximum value of 3147 tonnes / day, a value considered large. 
The deformation does not show significant variations. 
There were 9 thermal anomalies recorded according to the MIROVA system, with values between 3 MW and 16 MW VRP (Radiated Volcano Power).
In general, eruptive activity maintains moderate levels. No significant changes are expected for the following days.
Source : IGP
Piton de la Fournaise , La Réunion :
Activity Bulletin Monday, May 21, 2018 at 16:00 (local time)
The eruption started on April 27, 2018 at 23:50 local time continues. The intensity of the volcanic tremor (indicator of surface eruptive intensity) continued the decline started four days ago to reach values equivalent to those recorded last week.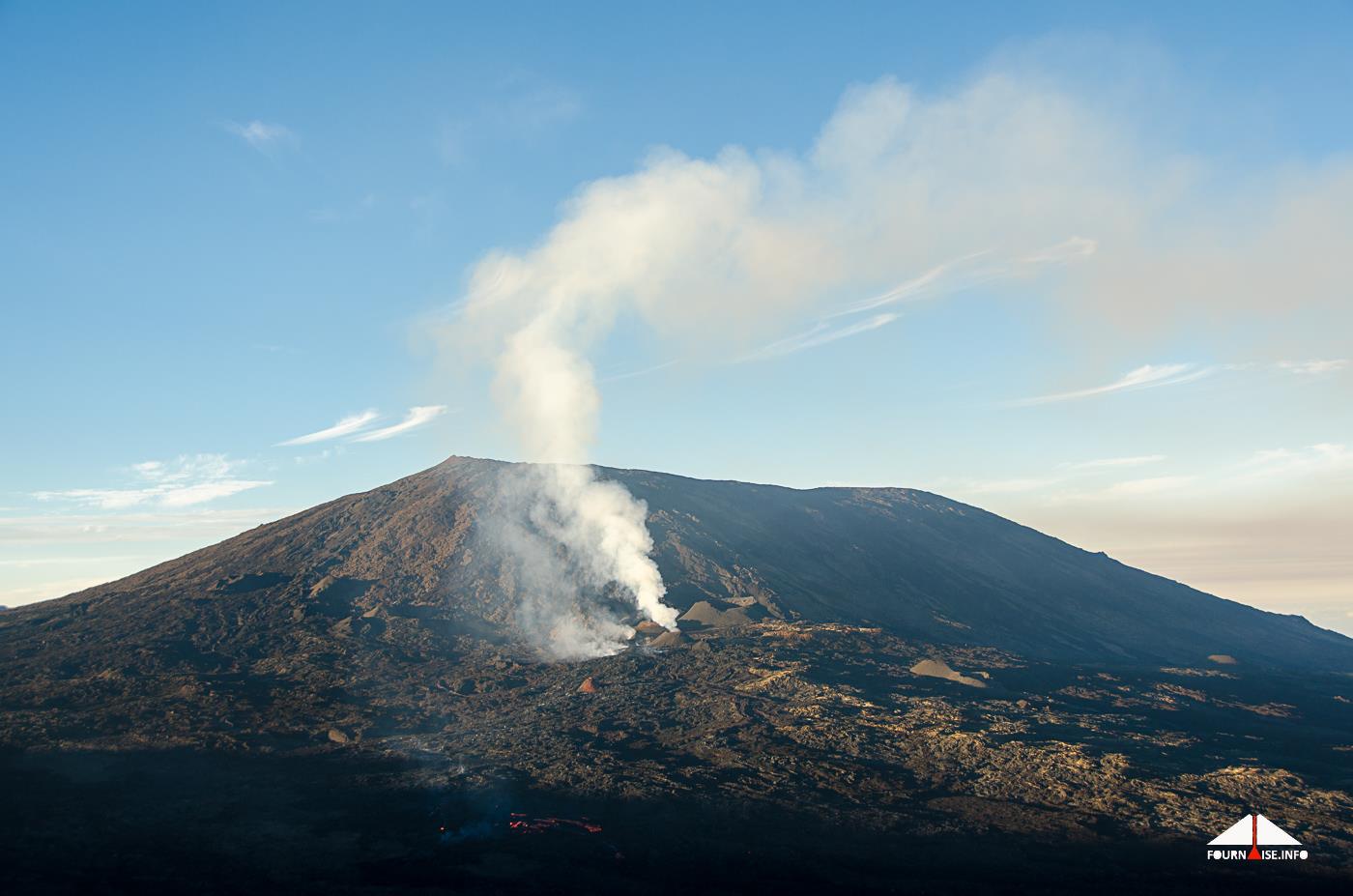 – Flux activity is still mainly in the lava tunnels.
– No observations on the site were made today.
– Surface discharges could not be estimated from satellite data over the past 24 hours due to cloud cover on the volcano.
– The inflation of the building continues.
– No volcano-tectonic earthquake has been recorded during the last 24 hours under the Piton de la Fournaise volcano .
Source : OVPF
Photo : Fournaise Info