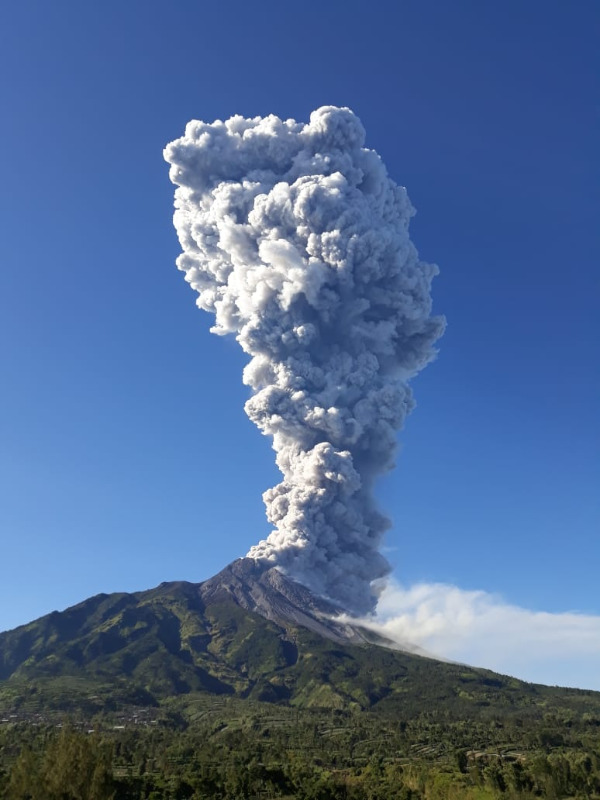 May 11 , 2018. EN. Pu'u 'Ō'ō / Kilauea , Piton de la Fournaise , Lascar , Merapi , Santiaguito .
May 11 , 2018.
Pu'u 'Ō'ō / Kilauea , Hawai :
1051018 6:00am County of Hawaii Civil Defense update:
A message from COUNTY OF HAWAII

This is a Civil Defense Message for Thursday, May 10, 2018 at 6:00 AM
Eruption update:

Hawaiian Volcano Observatory (HVO) confirms fissure 15 in Lanipuna Subdivision has paused. Hazardous fumes continue to be released.

15 FISSURES EMERGED
116.57 ACRES COVERED BY LAVA
36 STRUCTURES DESTROYED

Evacuation Update:
Conditions permitting, Leilani Estates residents will be allowed to check on their property from 7 AM to 6 PM each day until further notice. Be prepared to evacuate at a moment's notice.

19°25'16 » N 155°17'13 » W,
Summit Elevation 4091 ft (1247 m)
Current Volcano Alert Level: WARNING
Current Aviation Color Code: ORANGE
Summary:
As of 8:00 am, active eruption of spatter and lava along Kīlauea Volcano's lower East Rift Zone within the Leilani Estates subdivision remains paused. However, earthquake activity and ground deformation continue and additional outbreaks in the general area of Leilani Estates are expected. High levels of sulfur dioxide continue to be released from the fissure system.
Deflationary tilt at the summit of the volcano continues and the lava lake level continues to drop. Aftershocks from Friday's magnitude-6.9 earthquake continue at a declining rare and more are expected. Rockfalls into the Overlook vent within Halemaʻumaʻu crater are producing intermittent, low-level ash emissions. Seismicity at Kīlauea's summit remains elevated. More energetic ash emissions are possible.
USGS/HVO continues to monitor the situation 24/7 in coordination with Hawaii County Civil Defense and other authorities. Field crews are onsite in the Leilani Estates area this morning examining the fissure vents and searching for any signs of new or resumed activity.
Lower East Rift Zone Observations
Lava emission from fissures was minimal overnight. Strong degassing continues from existing fissures and high levels of sulphur dioxide have been measured downwind. There was no active lava flowing as of 8:00 am this morning.
Deformation of the ground in the area continues and seismicity remains elevated. Overnight, earthquake activity was concentrated on the downrift (east) side of the existing Leilani fissures.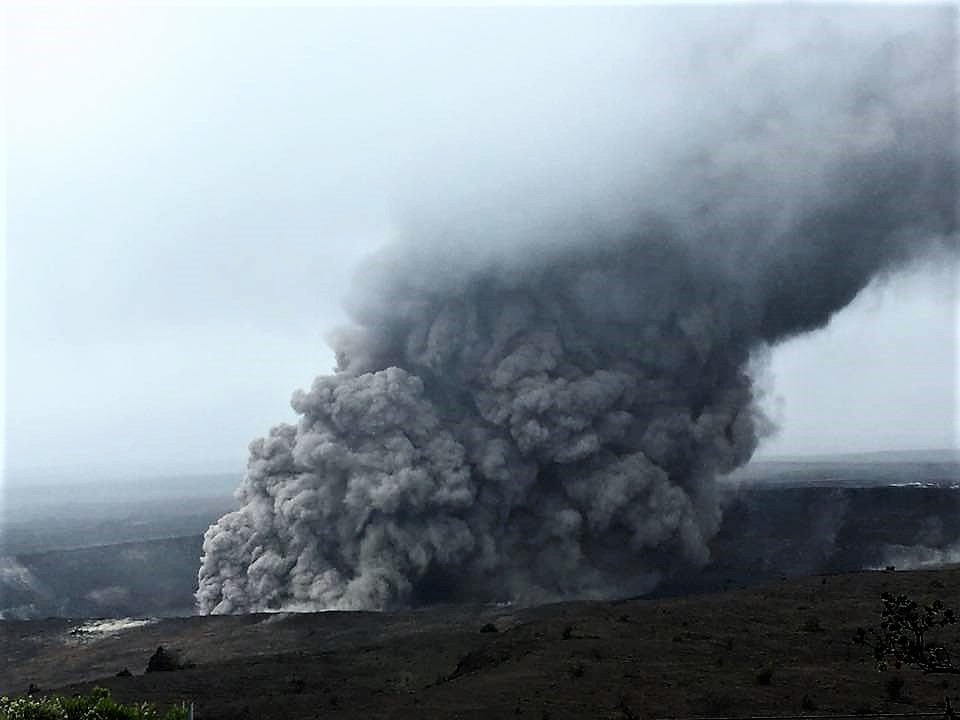 Summit Observations:
Tiltmeters at the summit continue to record a deflationary trend of the past week and the summit lava lake level continues to drop. Elevated summit sulfur dioxide emission rates persist. Ash emission is expected following larger rockfalls. Depending on wind conditions, dustings of ash may occur in the Kilauea summit area and downwind.
Elevated earthquake activity in the summit area continues largely as a consequence of ongoing summit deflation.
Puʻu ʻŌʻō Observations:
A tiltmeter on the Puʻu ʻŌʻō cone continues to record the deflationary pattern that followed collapse of the crater floor on April 30. Rockfalls from the steep crater walls will likely continue to collapse intermittently, producing small ashy plumes. The 61g lava flow is no longer active.
Hazard Analysis:
Continued eruptive activity (fluctuating and intermittent) in the lower East Rift Zone is likely. New outbreaks or resumption of lava production at existing vents can occur at any time.
Areas downslope of erupting fissures are at risk of lava inundation. The general area of Leilani Estates remains at the greatest risk. However, as the eruption progresses, other areas of the lower East Rift Zone may also be at risk.
High levels of volcanic gas including sulphur dioxide are being emitted from the fissure vents. In addition, smoke from burning houses and burning asphalt is a health concern and should be avoided.
As the lava lake level inside Halemaʻumaʻu continues to drop, rockfalls from the enclosing walls may increase in frequency prompting explosions of spatter from the lake onto the nearby crater rim and lofting plumes of ash. Dustings of ash from these events can occur downwind.
Source : HVO
Photos : Bruce Omori ,
Videos : Big Island Video News.
Piton de la Fournaise , La Réunion :
Activity bulletin from Thursday, May 10, 2018 at 18:30 (local time).
The eruption started on April 27, 2018 at 23:50 local time continues. The intensity of the volcanic tremor (an indicator of surface eruptive intensity) has remained relatively stable over the last 24 hours (Figure 1).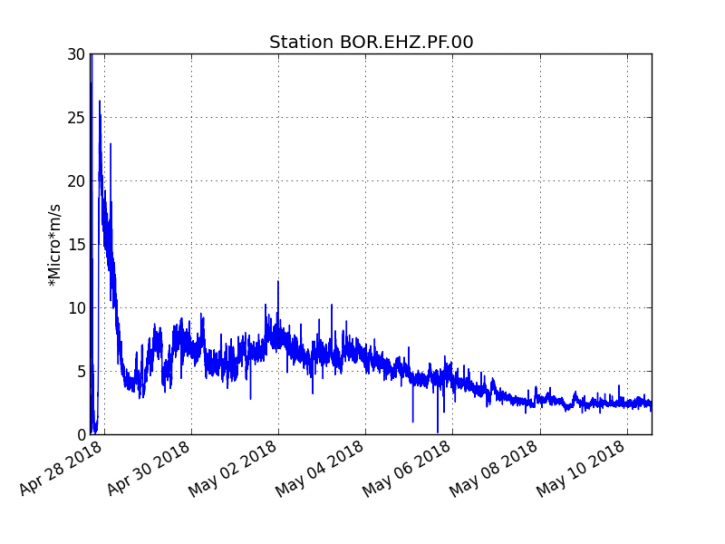 Figure 1: Evolution of RSAM (Indicator of Volcanic Tremor and Eruption Intensity) between 20:00 (16:00 UTC) on 27 April and 17:30 (11:30 UTC) on 10 May at the BOR seismic station (at the top) . (© OVPF / IPGP)
The field reconnaissance performed today still reports activity focused on a main cone whose mouth continues to close (Figure 2). The second cone slightly further upstream showed today a more sustained activity than in recent days, with regular lava projections of 10-20m high.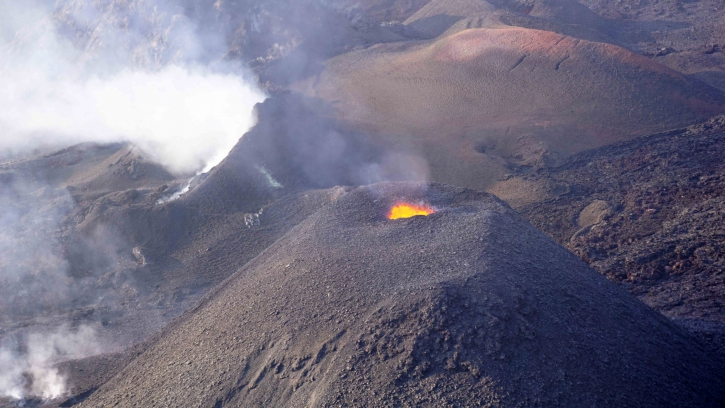 Figure 2: Shooting of the eruptive site on May 10th (14h00 local time). (© OVPF / IPGP)
Most of the flow is still in lava tunnels with the majority of the resurgences and therefore visible flows at the level of the slope below the Piton de Bert (Figures 3 and 4).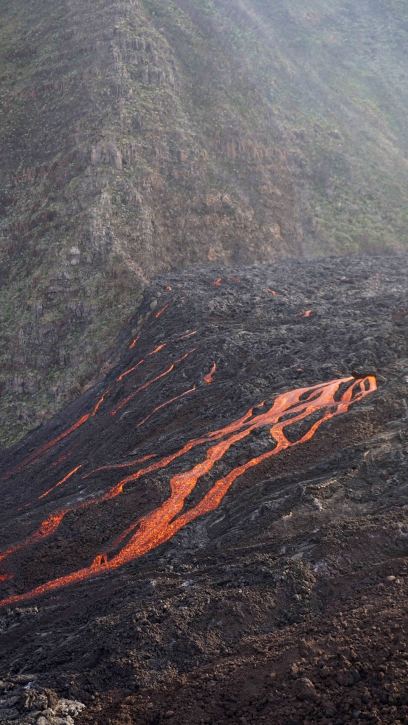 Figure 3: Shot of the lava flows in the slope break below Piton Bert on May 10 (16h20 local time). (© OVPF / IPGP)
Figure 4: Thermal image of the lava flows in the Piton de Bert downhill slope break on May 10 (16:20 local time). (© OVPF / IPGP)
Thanks to the overflight of the site , the flow front could be precisely located (Figure 5), it is located downstream of the Piton Bert, 3 km away as the crow flies from the eruptive site.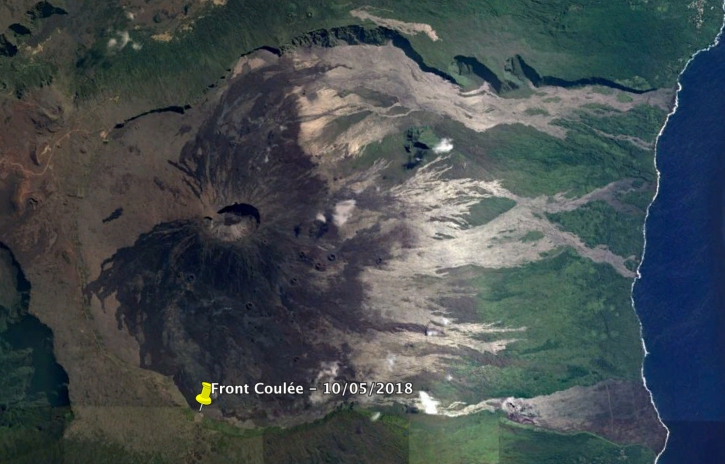 Figure 5: Location of the flow front at 10 May (16h00 local time, GoogleEarth background image). (© OVPF / IPGP)
It should be noted that many fires were observed this day at the foot of the rampart and in the rampart, particularly against the bottom of the Piton de Bert (Figure 6).
Figure 6: Shooting of a fire departure at the flow front on May 10 (4:00 pm local time). (© OVPF / IPGP)
– The surface flows estimated from the satellite data, via the HOTVOLC platform (OPGC – Clermont Ferrand) and MIROVA (University of Turin), recorded today were less than 2 m3 / s.
– No significant deformation is recorded.
– A volcano-tectonic earthquake has been recorded in the past 24 hours under the Piton de la Fournaise building.
Alert level: Alert 2-2 – Eruption in the Enclos.
Source : OVPF
Lascar , Chile :
During the period a total of ninety-five (95) seismic events, of which forty-eight (48) of them classified as volcano-tectonic earthquakes (VT), associated with rock fracturing processes were recorded. The higher energy earthquake had a local magnitude (ML) equal to M 1.2 and was located 1.1 km north-northwest (NNE) of the active crater at a depth of 1.9 km .
Similarly, a long period type (LP) earthquake was recorded in relation to fluid dynamics within the volcanic edifice, with a reduced displacement value (DRC) of less than 3 cm2. In addition, 44 long-lived earthquakes, called « Tornillos » (TO) associated with the resonance of magmatic and / or hydrothermal fluids in magmatic conduits, were recorded with a maximum displacement value (DRC) of 75 cm2 . Finally, two tremos (TR) events were recorded, the largest of which had a duration of approximately 96 seconds and a reduced displacement value (DRC) of 1.3 cm2.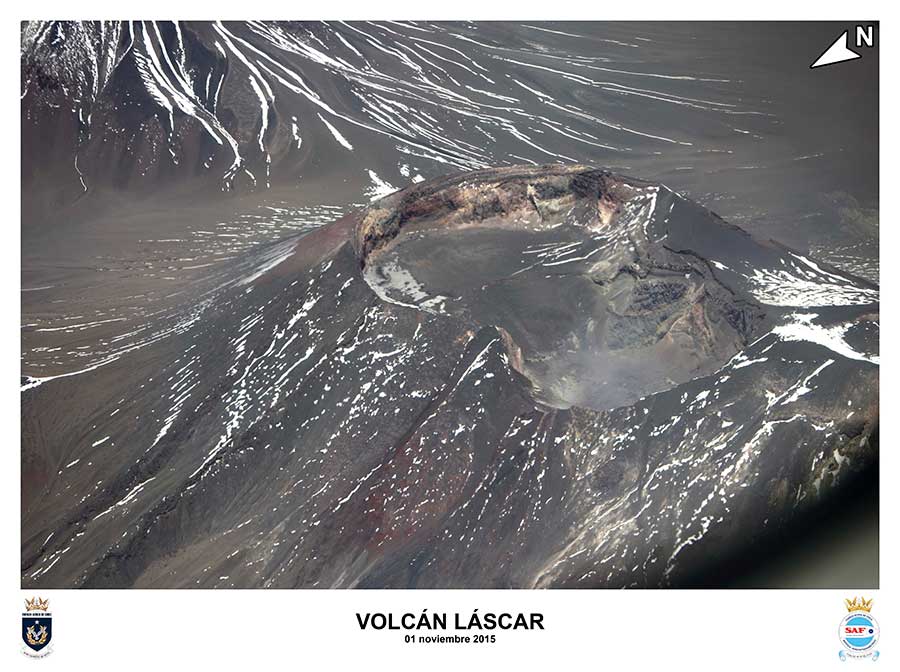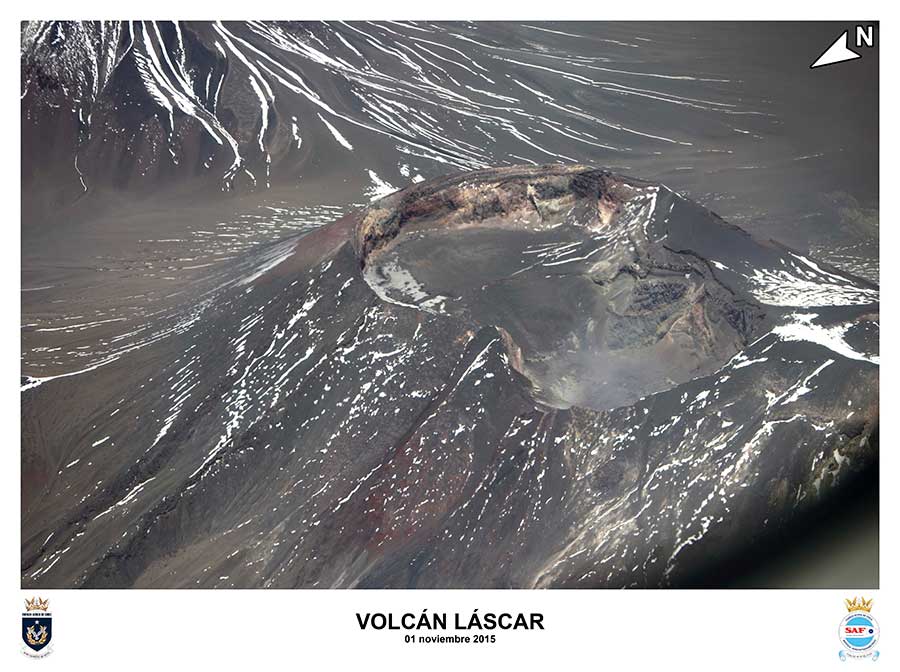 The images obtained by the IP camera, demonstrated recurrent degassing of the main crater, reaching a maximum height of nearly 600 m above the active crater.
From the data of three (3) GNSS stations located on the volcano, a deformation was observed at the PUNA station of about 1 cm between the 1st and 11th of April in the North (N) component, and an altimetric variation of approximately 0.85 cm, which later exhibited stable behavior until the end of the evaluated period.
The sulfur dioxide (SO 2) emissions recorded by the Differential Absorption Spectrometry Equipment (DOAS) show an average value, in the last fortnight, of 478 ± 62 t / day and a maximum daily value of 755 t / day, reported on April 22. S02 emissions are at moderate levels for this volcano, showing a similar trend compared to previous periods.
A thermal anomaly of less than 1 MW of radiated volcanic thermal power (VPR) was recorded on April 28, according to the data processed by the infrared observation means of volcanic activity (Mirova) (http: // www. mirovaweb, he /).
A superficial seismic activity that has been associated in earlier periods with weak phreatic explosions, particularly in 2013 and 2015, is still associated with the simultaneous occurrence of VT and Tornillos type earthquakes. with no incandescence it is normally observed, suggesting small obstructions of the magma column located at a shallow level. Although seismicity persists with energy levels considered low, it is considered that this current level of activity increases the probability of low explosions.
As a result, the level of activity is maintained at:
YELLOW LEVEL: Changes in the behavior of volcanic activity – likely time for an eruption: weeks / months.
Observation: An area of 2 kilometers around the active crater is considered at risk.
Source : Sernageomin.
Mérapi , Indonesia :
VOLCANO OBSERVATORY NOTICE FOR AVIATION – VONA.
Issued: May 11 , 2018.
Volcano: Merapi (263250)
Current Aviation Colour Code: RED
Previous Aviation Colour Code: unassigned
Source: Merapi Volcano Observatory
Notice Number: 2018MER01
Volcano Location: S 07 deg 32 min 31 sec E 110 deg 26 min 31 sec
Area: Special Region of Yogyakarta, Indonesia
Summit Elevation: 9498 FT (2968 M)
Volcanic Activity Summary:
Eruption with volcanic ash cloud at 00h40 UTC (07h40 local).
Volcanic Cloud Height:
Best estimate of ash-cloud top is around 36595 FT (11436 M) above sea level, may be higher than what can be observed clearly. Source of height data: ground observer.
Other Volcanic Cloud Information:
Ash-cloud moving from south to east. Grey color.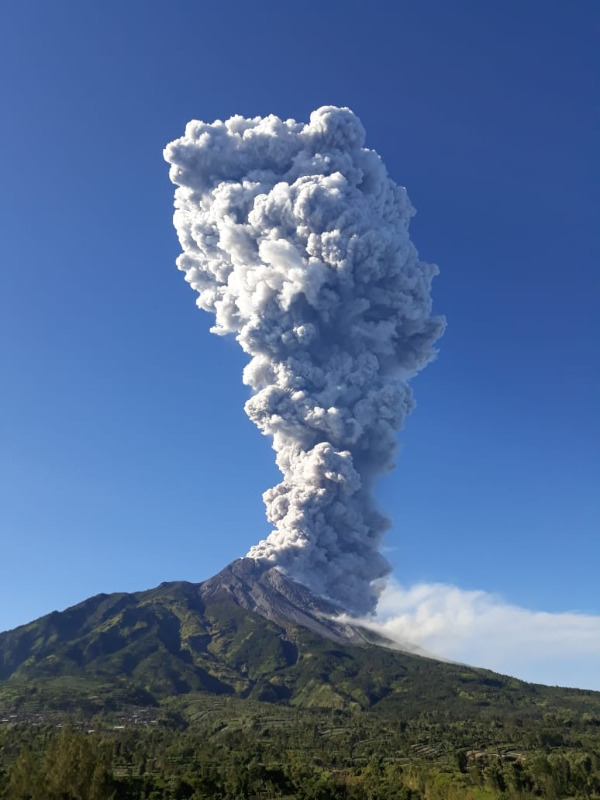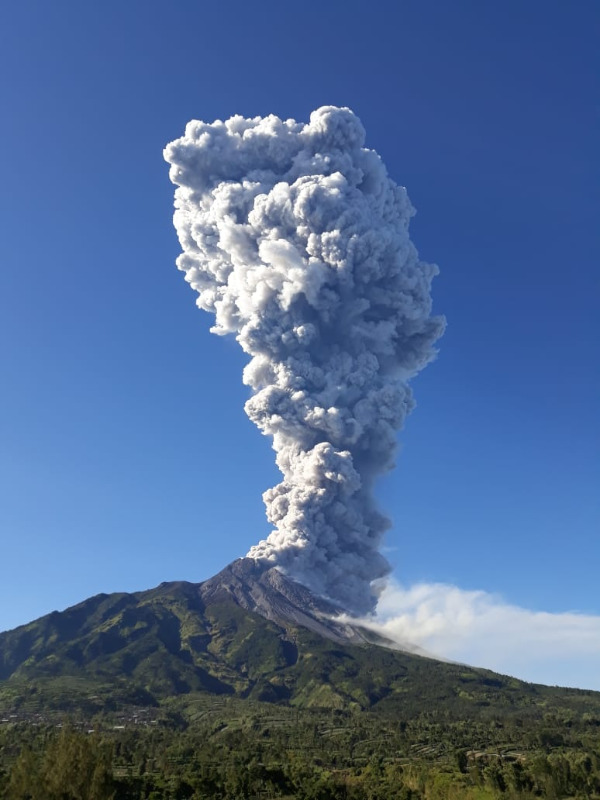 An eruption of the Merapi volcano occurred on May 11, 2018 at 19:40 with 5 minutes of seismic duration. The height of the eruption column reached 5500 m above the summit. The eruption is phreatic (dominance of the water vapor). The rash occurred once and was not followed by another rash behind. Before this phreatic eruption, G. Merapi's seismic network recorded no increase in seismicity. However, a rapid increase in the seismicity rate in the crater was observed at 18:00 (approximately 2 hours before the eruption). After the eruption, recorded seismicity did not change and the temperature of the crater decreased. The status of G. Merapi is always at Level I (Normal). People are encouraged to stay calm.
Source : Magma , VSI .
Santiaguito , Guatemala :
SPECIAL VULCANOLOGICAL BULLETIN BEFGO # 23-2018 Guatemala 10 MAY 2018, 14:05 (Local time)
LAHAR MODERATE IN THE NIMA I RIVER AFFECTS THE SAMALA RIVER.
Because of the rains in the volcanic area of Santiaguito, the first lahar of the year is generated, with a moderate category in the Cabello River of Angel-Nimá I, with an abundance of fine material, accompanied by branches and blocks up to 'one meter in diameter, emitting a smell of sulfur on its way.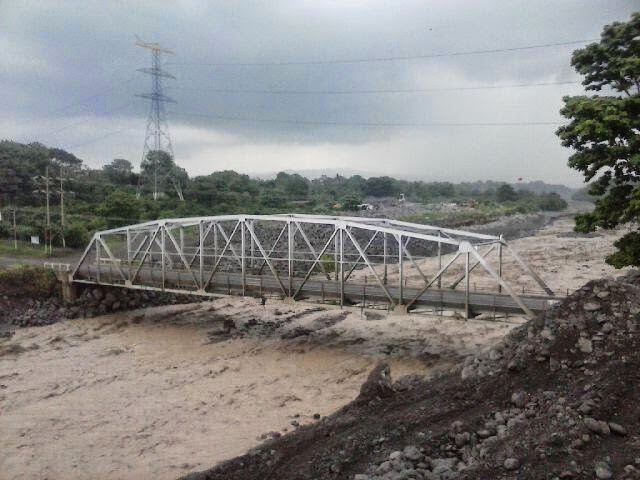 The lahar is 15 meters wide, with a height of 1.2 meters. Due to the abundance of rain, there is the probability of generation of lahars in the San Isidro-Tambor River.
These rivers are tributaries of the Samala River, so precautions should be taken with vehicles on the Castillo Armas Bridge and flood areas such as El Niño and others. Similar or larger events will continue to be generated, generating the same effects in the Nimá I, Tambor and Nimá II tributaries of the Samala River.
Source : Insivumeh.