July 14, 2020. EN . Guatemala : Pacaya , Peru : Sabancaya , Kamchatka : Klyuchevskoy , Iceland : Seismic Swarms , Italy / Sicily : Etna .
July 14 , 2020 .
Guatemala , Pacaya :
Type of activity: Strombolian
Morphology: composite stratovolcano
Location: 14 ° 22'50˝ Latitude N; 90 ° 36'00˝ Longitude W.
Height: 2,552 m above sea level.
Atmospheric conditions: Cloudy
Wind: North 7 km / h
Precipitation: 0.0 mm
Intensa actividad del volcán Pacaya esta noche en Guatemala VIA:El Express

Publiée par Escenario Final sur Dimanche 12 juillet 2020
Activity:
The Mackenney crater is observed, with an emission of white fumaroles, that the wind moves towards the South and the Southwest of its slopes. At night and early in the morning, Strombolian explosions with projections of volcanic materials at 50, 75 and 100 meters high were observed. The PCG and PCG5 seismic stations record tremors associated with the rise of magma and gases. Two active lava flows heading southwest and northwest. (The recommendations of the special bulletin of the Pacaya volcano n ° 42-2020 are still in force).
Source : Insivumeh.
Vidéo : El Express via Escenario final .
Peru , Sabancaya :
Analysis period: July 6 to 12, 2020, Arequipa, July 13, 2020.
Alert level: ORANGE
The Peruvian Geophysical Institute (IGP) reports that the eruptive activity of the Sabancaya volcano remains at moderate levels; that is to say with the continuous recording of explosions with the formation of columns of ash and gas up to 2.5 km altitude on the summit of the volcano. Therefore, for the following days, no significant change is expected regarding its eruptive activity.
The IGP recorded and analyzed the occurrence of approximately 596 earthquakes of volcanic origin, associated with the circulation of fluids (magma, gas, etc.) inside the Sabancaya volcano (Arequipa region), with , in addition, an average of 17 daily explosions of low to medium intensity.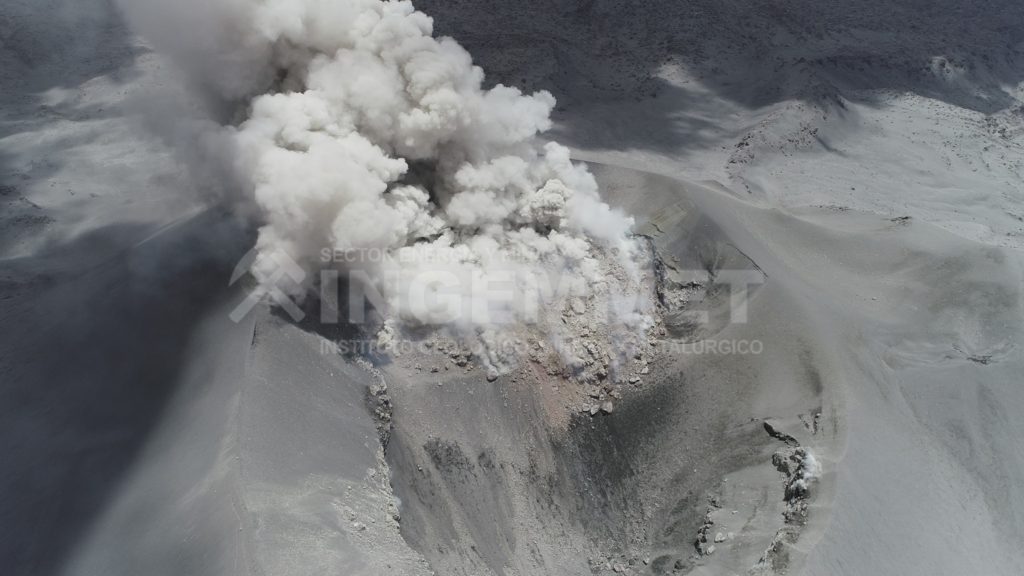 Deformation monitoring, using GNSS data (processed with fast orbits), does not present any significant anomalies; however, slight inflation was recorded in the North and Southeast sector of the Sabancaya. Visual surveillance helped identify columns of gas and ash up to 2.5 km high on the top of the volcano, which were scattered towards
the South-East, East and North-East sectors of Sabancaya.
Satellite surveillance has identified the presence of 6 thermal anomalies of values ​​between 4 MW and 10 MW, associated with the presence of a body of lava on the surface of the crater of the volcano. On July 8, an ash scattering alert was issued for the districts of Lari, Maca, Achoma, Ichupampa, Yanque, Chivay, Coporaque and Tuti, addressed to the authorities and residents of the districts mentioned.
RECOMMENDATIONS:
• Maintain the volcanic alert level in orange.
• Do not approach within a radius of less than 12 km from the crater.
• In the event of ash fall, cover your nose and mouth with rags or wet masks. Keep the doors and windows of the apartment closed.
Source : IGP.
Photo : Ingemmet .
Kamchatka , Klyuchevskoy
:
VOLCANO OBSERVATORY NOTICE FOR AVIATION (VONA).
Issued: July 13 , 2020 .
Volcano: Klyuchevskoy (CAVW #300260)
Current aviation colour code: YELLOW
Previous aviation colour code: orange
Source: KVERT
Notice Number: 2020-157
Volcano Location: N 56 deg 3 min E 160 deg 38 min
Area: Kamchatka, Russia
Summit Elevation: 15580 ft (4750 m)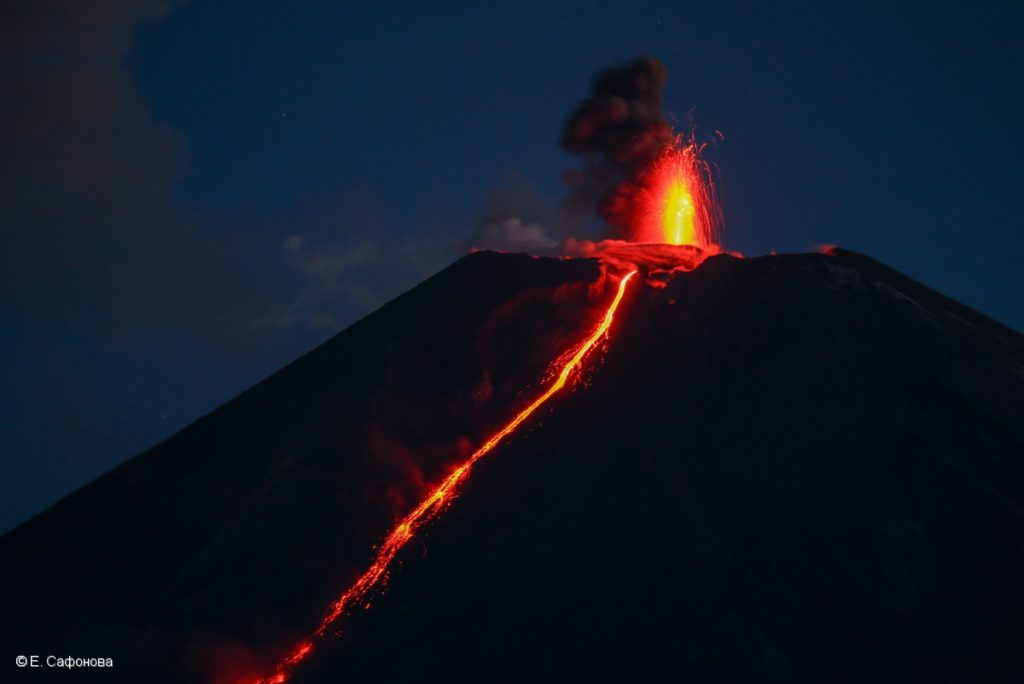 Strombolian activity of Klyuchevskoy volcano and an effuse of a lava flow into Apakhonchich chute on 10 June, 2020.
Volcanic Activity Summary:
The explosive-effusive eruption of the volcano is over. Temperature of the thermal anomaly of the volcano dropped sharply on 03 July, and continues to decline. On this and subsequent days only weak fumarole activity of the volcano was noted. Probably 03 July can be considered the end of the eruption. Activity of the volcano continues, and the danger of ash explosions remains. KVERT continues to monitor Klyuchevskoy volcano.
A moderate activity of the volcano continues. The danger of ash explosions up to 19,700-23,000 ft (6-7 km) a.s.l. remains. Ongoing activity could affect low-flying aircraft.
Volcanic cloud height: NO ASH CLOUD PRODUSED
Other volcanic cloud information: NO ASH CLOUD PRODUSED
Source : Kvert .
Photo : E. Saphonova , 10/06/2020 .
Iceland , Seismic Swarms :
Yesterday evening at 23:41 an M3.0 earthquake occurred in SE-ern Bárðarbunga caldera and about an hour later an M3.3 earthquake occurred in similar location. Last time an M3.0 or larger earthquake occurred there was about a month ago. Earthquakes of this magnitude are common in the area and ten earthquakes equal to or larger than M3.0 have been detected there this year.
Earthquake activity around Grindavík has been ongoing there during the last months due to deformation in the area.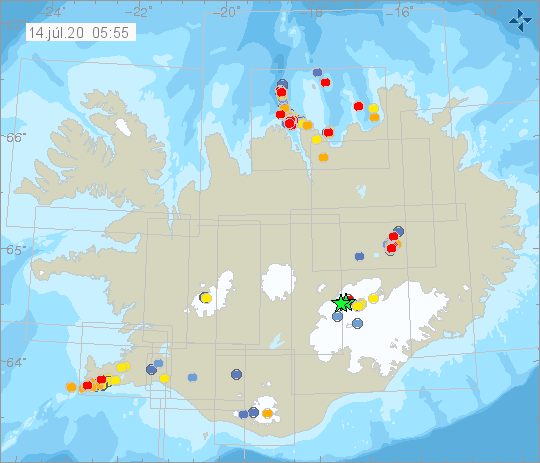 The earthquake swarm NE of Siglufjörður is still ongoing. The earthquake swarm began on 19th of June. Over 13.000 earthquakes have been detected, three of which measured greater than magnitude 5. The largest one was M5.8 on 21. June, around 30 km NNE of Siglufjörður. Other earthquakes above M5.0 were M5.6 and M5.4 on 20. June and were located around 20 km NE of Siglufjörður.
Seismic activity if still ongoing and there are chances of more earthquakes of this magnitude occurring in the area.
Source : Vedur IS.
Italy / Sicily , Etna :
Date: July 13, 2020, 13 4:02 p.m. (2:02 p.m. UTC)
ETNA PRESS RELEASE [UPDATE n. 59]
The National Institute of Geophysics and Volcanology, Etneo Observatory, announces that since the observations provided by the surveillance cameras and the INGV-OE personnel on the ground, it is emphasized that an explosive intra-crater activity persists in the New Crater South East, characterized by variable intensity coupled with modest ash emissions that disperse quickly at high altitudes. In addition, ash emissions from the Voragine crater were observed.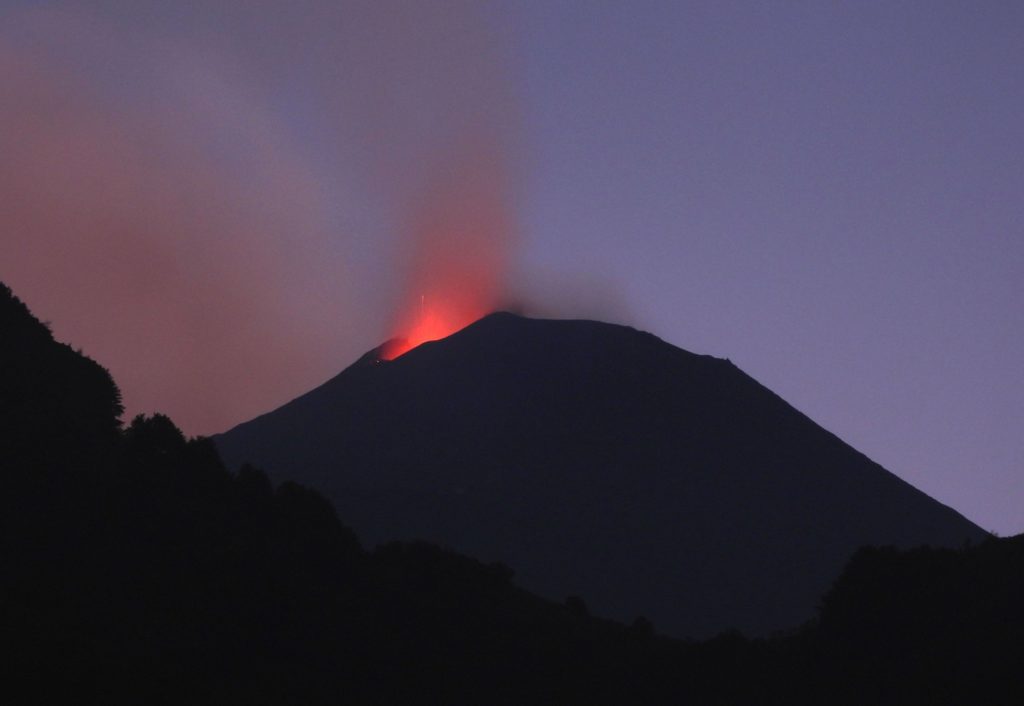 The amplitude of the volcanic tremor did not show significant variations compared to what is reported in press release n. 58. Currently, the amplitude of the tremor shows fluctuations around the average values. The location of the source of the tremor seems to be confined to the area of the New Southeast Crater (NSEC), at an altitude of 2900-3000 m above sea level.
As for infrasonic activity, it is mainly located in the New Southeast Crater (NSEC) area.
Regarding the Etna soil deformation monitoring networks (GNSS and inclinometric), they did not show any significant variation.
Other updates will be communicated shortly.
Source : INGV.
Read the article : http://www.ct.ingv.it/Dati/informative/vulcanico/ComunicatoETNA20200713140157.pdf
Photo : INGV Vulcani .