March 10, 2020. EN. Italy : Stromboli , Peru : Sabancaya , New Zealand : White Island , Kamchatka : Klyuchevskoy , Indonesia : Ibu .
March 10 , 2020.
Italy , Stromboli :
Fake news on the resumption of eruptive activity on Stromboli, Publication: March 9, 2020.
Sunday March 8, 2020, the news of an alleged resumption of eruptive activity in Stromboli circulated online. With regard to this point, the National Institute of Geophysics and Volcanology specifies that the Stromboli volcano is characterized by persistent eruptive activity, which has never stopped and therefore cannot have restarted.
The networks and monitoring and surveillance systems of the National Institute of Geophysics and Volcanology (INGV) have not shown in recent hours any abnormal eruptive event compared to the ordinary strombolian activity observed in recent weeks.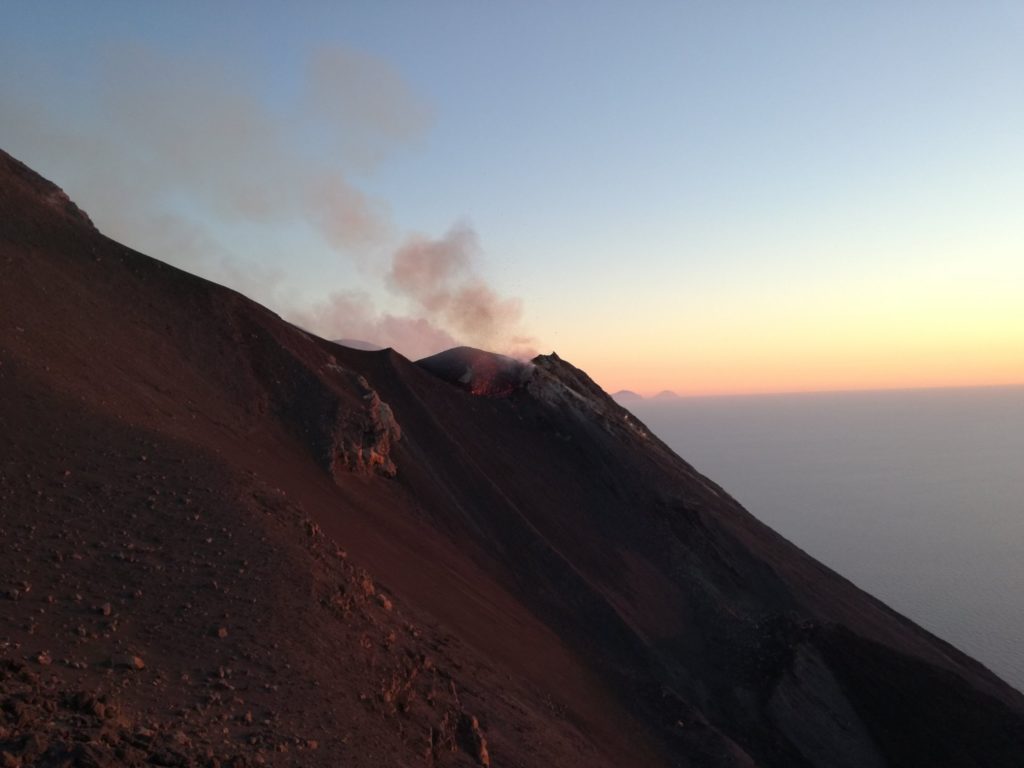 In particular, it is denied that a new eruptive phase of the Stromboli volcano that can be assimilated to the events of summer 2019 has taken place or is in progress. Any article reporting a resumption of eruptive activity, especially if accompanied by photos of unusually large eruptions, is misleading and can trigger alarms not justified by the current real situation.  »
The INGV continues to monitor the behavior of the volcano with the greatest attention. Please note that the INGV surveillance bulletins from Stromboli are available on the links:http://www.ct.ingv.it/index.php/monitoraggio-e-sorociazione/prodotti-del-monitoraggio/bollettini-settimanali-multidisciplinariari.
Source et photo : INGV.
Peru , Sabancaya :
Analysis period: March 2 to 8, 2020. Arequipa, March 9, 2020.
Alert level: ORANGE
The Peruvian Geophysical Institute (IGP) reports that the eruptive activity of the Sabancaya volcano has been maintained at moderate levels; that is to say with the continuous recording of moderate explosions and consequent emissions of ash and gas. Therefore, for the following days, no significant change is expected regarding the activity of the volcano.
During the above-mentioned period, the IGP recorded and analyzed the occurrence of approximately 748 earthquakes of volcanic origin, associated with the circulation of fluids (magma, gas, etc.) inside the volcano. In addition, there were an average of 17 explosions per day of medium to low intensity.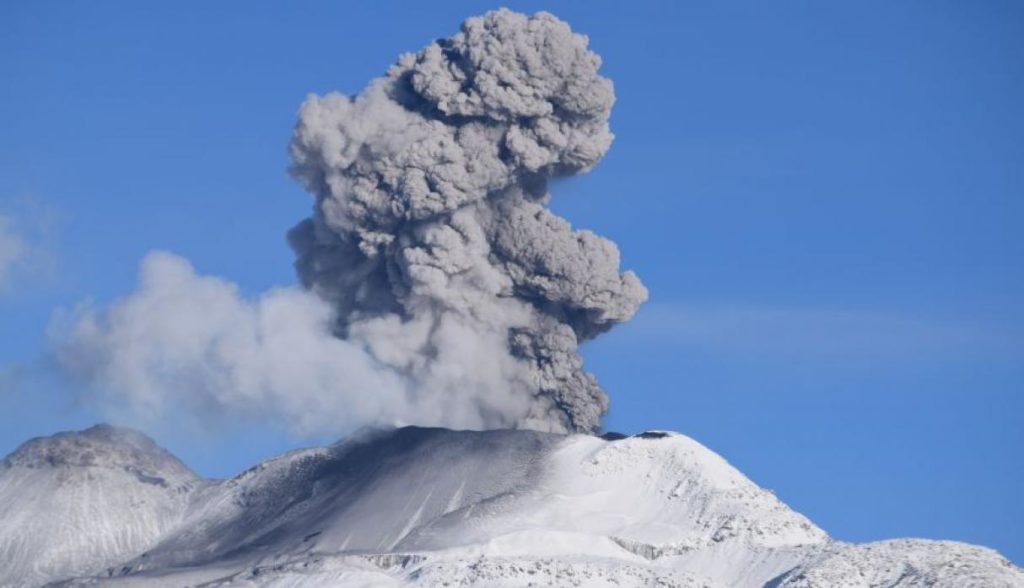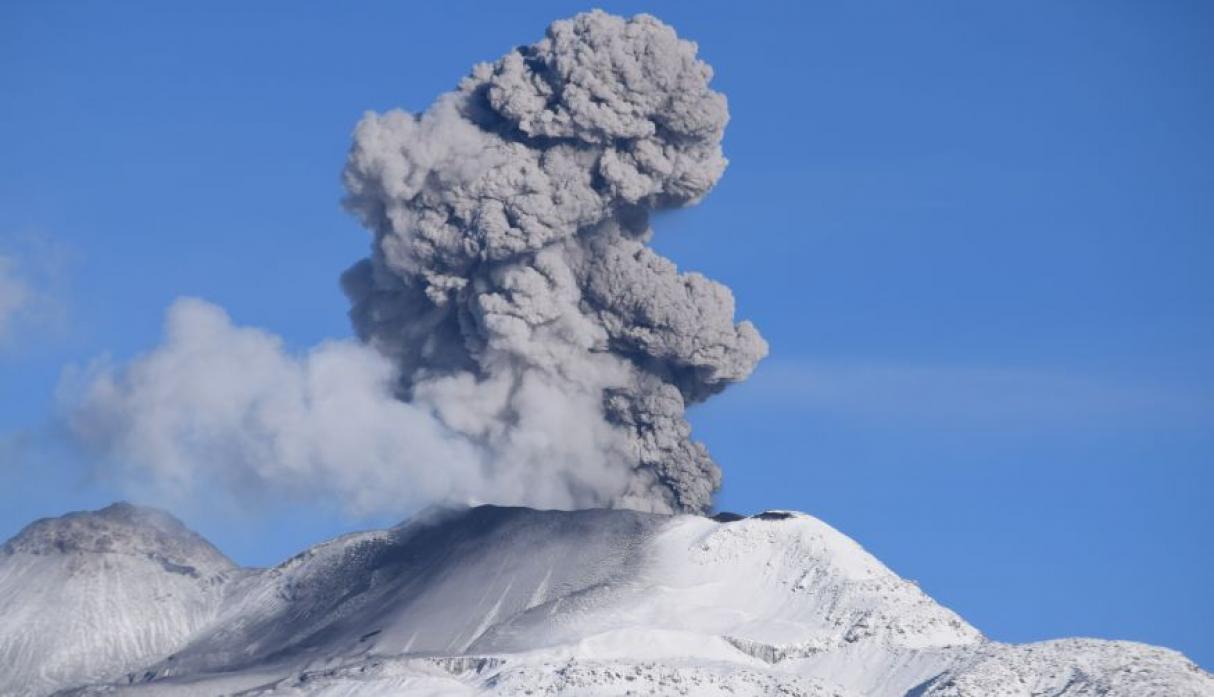 Monitoring the deformation of the volcanic structure does not record any significant anomalies. Visual surveillance identified columns of gas and ash up to 3.7 km high above the summit of the volcano, which were scattered in the western, northern and northwestern sectors of the Sabancaya. Satellite surveillance has identified the presence of 5 thermal anomalies of values between 1 MW and 15 MW, associated with the presence of a body of lava on the surface of the crater of the volcano.
Probability :
On March 9, the ash dispersed towards the South and Southeast sectors of the volcano. Between March 10 and March 15, the ash will be dispersed towards the South sector; before recording volcanic explosions, the ashes will also be dispersed to the south of the volcano with speeds of up to 60 km / h.
Between March 10 and 13, 2020, precipitation should generate lahars near the Sabancaya volcano.
Source : IGP Peru.
Photo : Ingemmet.
New Zealand , White Island :
Whakaari/White Island: Recent observations confirm continued elevated volcanic unrest .Published: Tue Mar 10 2020 9:30 AM
Volcanic Alert BulletinWI – 2020/06
Volcanic Alert Level remains at 2
Aviation Colour Code remains at Yellow
• Whakaari/White Island remains in an elevated state of unrest
• Amount of volcanic gas has increased slightly compared to recent measurements but remains overall on the decline
• Aerial observations confirm presence of high temperature fumaroles
• The Volcanic Alert Level remains at Level 2; Aviation Colour Code remains at Yellow
As a continuation of our monitoring of Whakaari/White Island, we have conducted further aerial-based measurements and observations of the volcano in the past two weeks.
The most recent gas flight confirms the overall decline in both CO2 and SO2 output since the 9 December 2019 eruption, although latest data shows slightly elevated amounts of gas compared to recent measurements.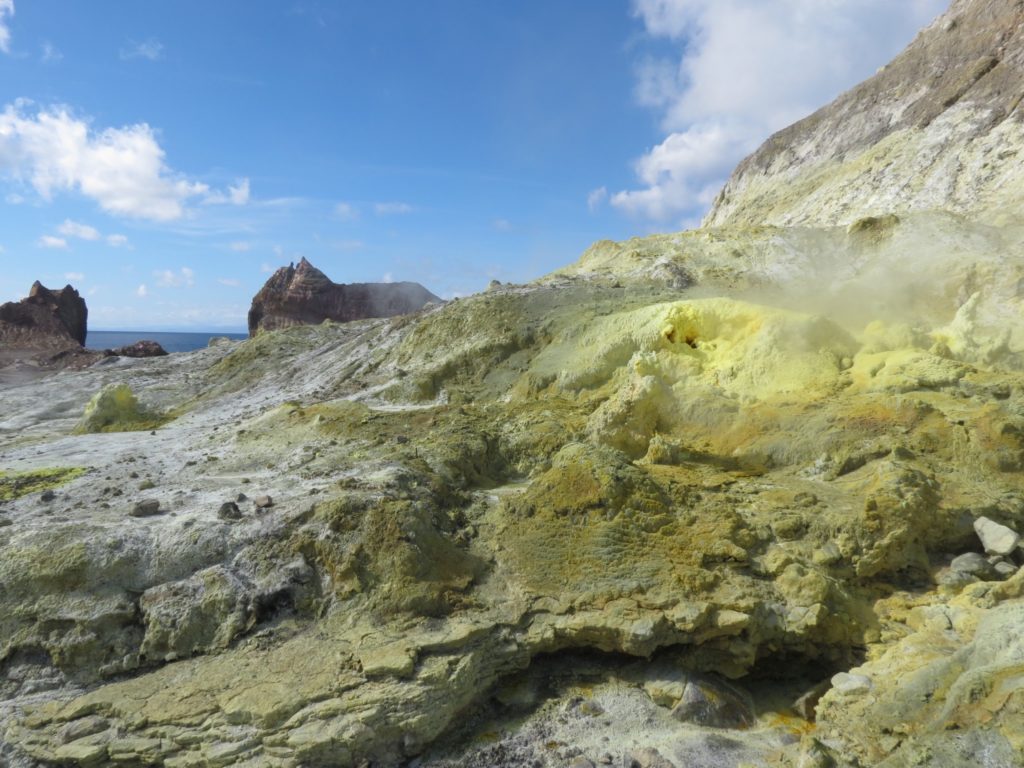 A helicopter-based thermal infrared survey recorded a temperature of 746 °C. This was measured on one of the lava lobes and is the hottest temperature measured to date. Despite these high fumarole temperatures, a small pond of water is present in the Primary Crater formed on 9 December 2019. Small-scale jetting of this pond water is continuing to occur, like the activity seen in September-December 2019.
High temperatures and large amounts of gas are consistent with the continued presence of shallow magma beneath the primary vent area and are within the expected range of fluctuations for post-eruptive processes. There are currently no indications for fresh magma arriving from greater depths.
The active vent area remains a rapidly changing environment and an eruption could occur with limited precursory activity. Plausible triggers for an eruption include the collapse of unstable material around the vents, sudden release of gas from the magma, and the rapid ingress of water onto the shallow magma body.
Should any explosive activity produce an ash cloud, the likelihood of ash affecting the mainland remains very low. Under suitable weather conditions, the gas and steam plume may be noticed on the mainland as weak acid rain.
Volcanic Alert Level 2 indicates moderate to heightened unrest with potential for eruption hazards, including unpredictable and life-threatening steam driven eruptions.
The Volcanic Alert Level reflects the current level of volcanic activity and is not a forecast of future activity.
GNS Science and our National Geohazards Monitoring Centre continue to closely monitor Whakaari/White Island for further signs of activity. Further updates will be provided as the situation evolves.
Source : Geonet / Yannik Behr / Duty Volcanologist.
Photos : D.Rouwet, 25 mars 2019 , The Next California Earthquake .
Kamchatka , Klyuchevskoy :
VOLCANO OBSERVATORY NOTICE FOR AVIATION (VONA).
Issued: March 09 , 2020
Volcano: Klyuchevskoy (CAVW #300260)
Current aviation colour code: ORANGE
Previous aviation colour code: orange
Source: KVERT
Notice Number: 2020-29
Volcano Location: N 56 deg 3 min E 160 deg 38 min
Area: Kamchatka, Russia
Summit Elevation: 15580 ft (4750 m)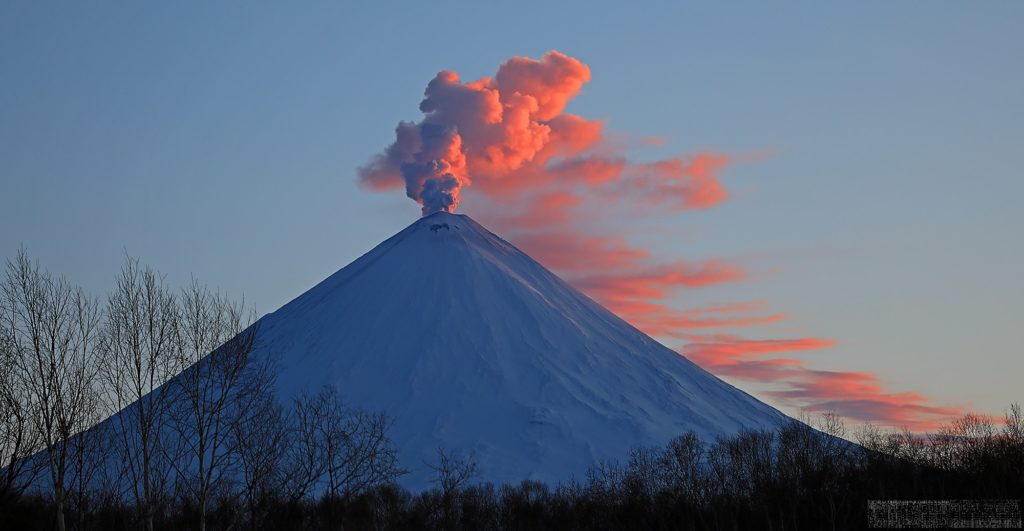 Volcanic Activity Summary:
A moderate explosive eruption of the volcano continues, the Strombolian activity is noting. According to satellite data, a gas-steam plume containing some amount of ash is extending for 123 km to the north-east of the volcano.
A moderate explosive eruption of the volcano continues. Ash explosions up to 16,400-23,000 ft (5-7 km) a.s.l. could occur at any time. Ongoing activity could affect low-flying aircraft.
Volcanic cloud height:
18040 ft (5500 m) AMSL Time and method of ash plume/cloud height determination: 20200309/0655Z – Video data
Other volcanic cloud information:
Distance of ash plume/cloud of the volcano: 78 mi (125 km)
Direction of drift of ash plume/cloud of the volcano: ENE / azimuth 72 deg
Time and method of ash plume/cloud determination: 20200309/0312Z – JPSS-1 (14m15)
Source : Kvert.
Photo : Yu. Demyanchuck.
Indonesia , Ibu :
VOLCANO OBSERVATORY NOTICE FOR AVIATION – VONA.
Issued: March 10 , 2020
Volcano: Ibu (268030)
Current Aviation Colour Code: ORANGE
Previous Aviation Colour Code: orange
Source: Ibu Volcano Observatory
Notice Number: 2020IBU04
Volcano Location: N 01 deg 29 min 17 sec E 127 deg 37 min 48 sec
Area: North Maluku, Indonesia
Summit Elevation: 4240 FT (1325 M)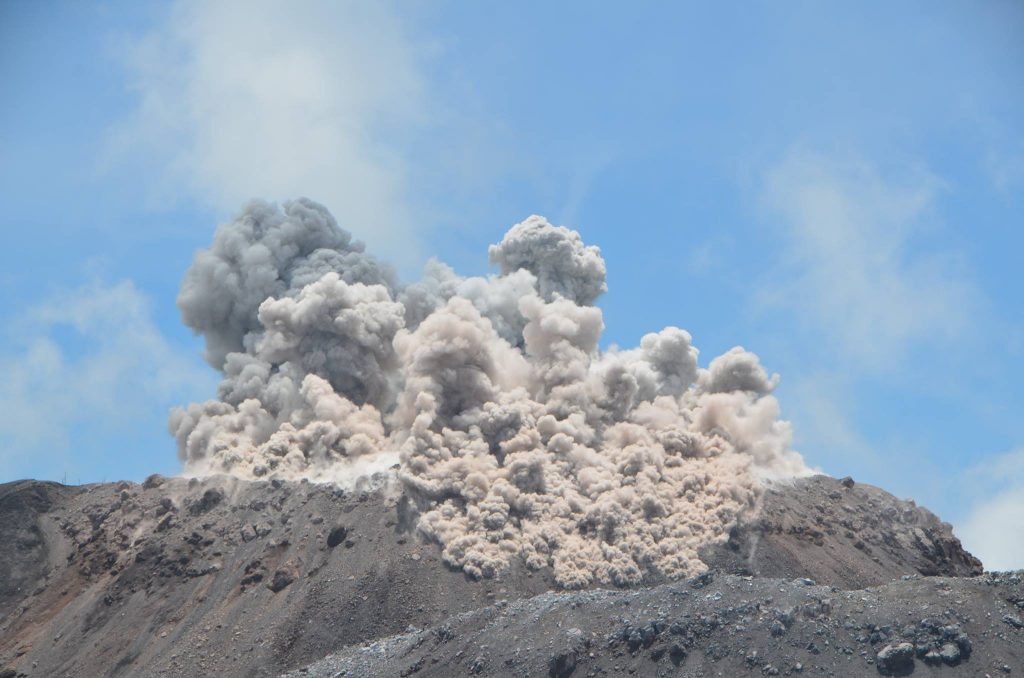 Volcanic Activity Summary:
Eruption with volcanic ash cloud at 01h44 UTC (10h44 local).
Volcanic Cloud Height:
Best estimate of ash-cloud top is around 5520 FT (1725 M) above sea level, may be higher than what can be observed clearly. Source of height data: ground observer.
Other Volcanic Cloud Information:
White to grey ash-cloud moving to east.
Remarks:
Eruption and ash emission is continuing.
Source : Magma Indonésie.
Photo : 80 Jours voyages / S. Chermette.