November 04 , 2019. EN . Alaska : Shishaldin , Kamchatka : Ebeko , Chile : Copahue , Philippines : Taal , Mexico : Popocatepetl .
November 04 , 2019.
Alaska , Shishaldin :
54°45'19 » N 163°58'16 » W,
Summit Elevation 9373 ft (2857 m)
Current Volcano Alert Level: WATCH
Current Aviation Color Code: ORANGE
A low-level eruption continues at Shishaldin. Seismicity remains elevated with periods of high-amplitude tremor recorded on the local seismic network. Lava is overflowing the summit crater and a lava flow extends at least 400 meters (0.25 miles) down the northwest flank of the volcano as observed by satellite imagery and photos from local aircraft.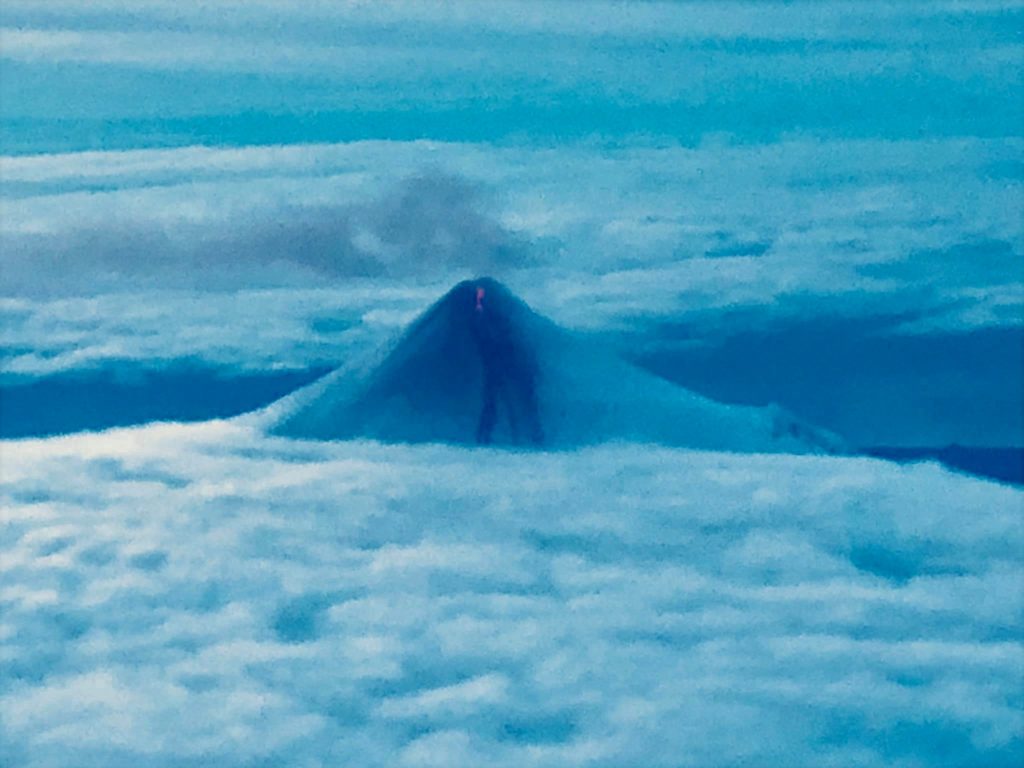 Additionally, a small flow extends 300 m (0.2 miles) southeast from the summit. Sporadic incandescence was observed in overnight webcam images, which suggests minor explosive activity and/or lava fountaining may be occurring at the summit. Small explosions have also been observed on local seismic stations and detected in regional infrasound data.
Shishaldin is monitored by local seismic and infrasound sensors, satellite data, a web camera, a telemetered geodetic network, and distant infrasound and lightning networks.
Source : AVO.
Photo : Bernadette Oller Namasivayam via Sherine France.
Kamchatka , Ebeko :
VOLCANO OBSERVATORY NOTICE FOR AVIATION (VONA).
Issued: November 04 , 2019
Volcano: Ebeko (CAVW #290380)
Current aviation colour code: ORANGE
Previous aviation colour code: orange
Source: KVERT
Notice Number: 2019-169
Volcano Location: N 50 deg 41 min E 156 deg 0 min
Area: Northern Kuriles, Russia
Summit Elevation: 3791.68 ft (1156 m)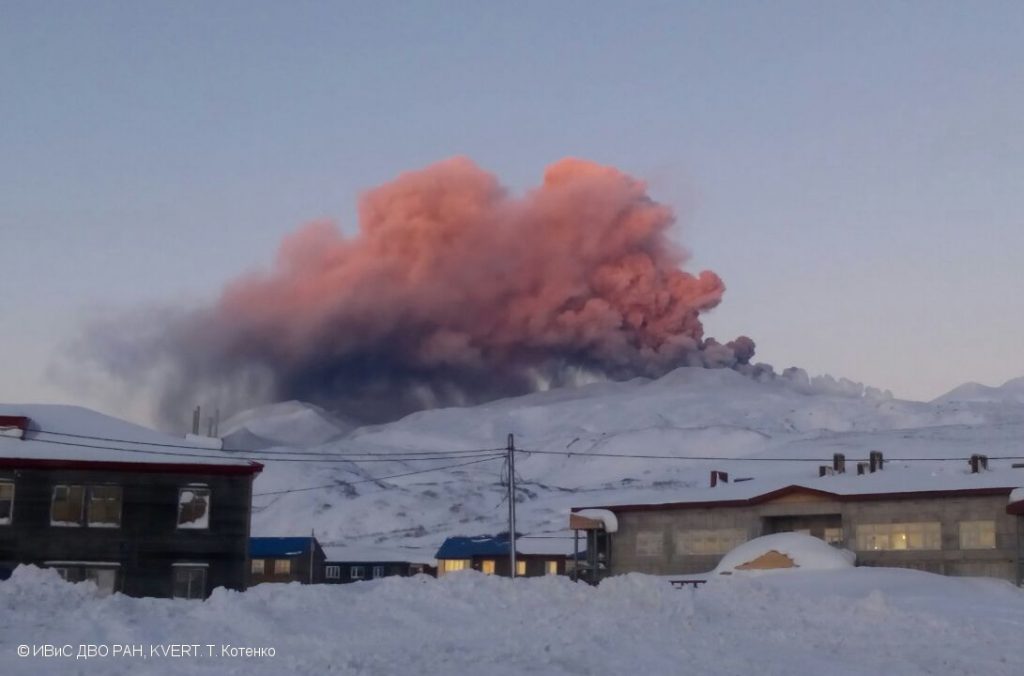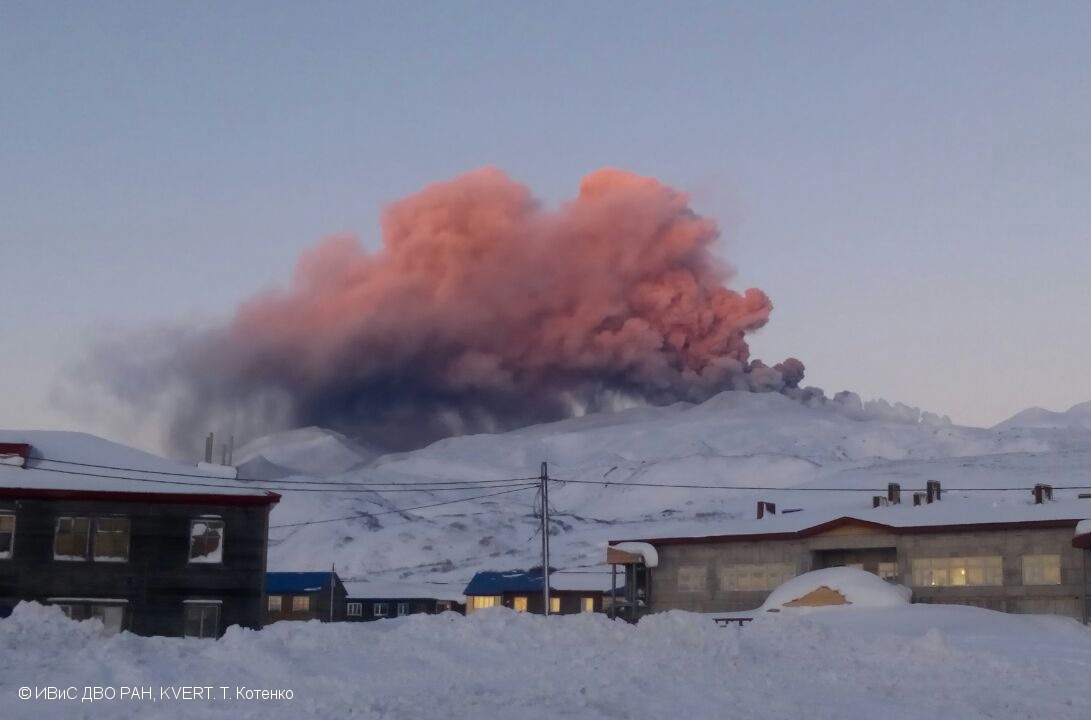 Volcanic Activity Summary:
A moderate eruptive activity of the volcano continues. According to visual data by volcanologists from Severo-Kurilsk, explosions send ash up to 3.5 km a.s.l., an ash cloud is drifting to the north-east of the volcano.
A moderate eruptive activity of the volcano continues. Ash explosions up to 19,700 ft (6 km) a.s.l. could occur at any time. Ongoing activity could affect low-flying aircraft and airport of Severo-Kurilsk.
Volcanic cloud height:
9840-11480 ft (3000-3500 m) AMSL Time and method of ash plume/cloud height determination: 20191104/0324Z – Visual data
Other volcanic cloud information:
Distance of ash plume/cloud of the volcano: 6 mi (10 km)
Direction of drift of ash plume/cloud of the volcano: NE
Time and method of ash plume/cloud determination: 20191104/0324Z – Visual data
Source : Kvert.
Photo : T. Kotenko, IVS FEB RAS, KVERT ( 01/2017 ) .
Chile , Copahue :
With regard to surface activity, pulsatile explosions were detected at the active crater, of low magnitude, with eruptive columns of moderate height whose products had a preferential dispersion in the East. To date, the total area affected by the fall of the pyroclasts is 24.39 km2, with a maximum range of 6 km east and 5 km west. Due to the aforementioned emission of material from the Agrio crater during the last period, the construction of a pyroclastic cone in the same crater has been identified. Its diameter to date is 130 m. The process of construction of this volcanic morphology has been recognized during previous episodes of activity on the Copahue volcano.
VOLCÁN COPAHUE! Durante las últimas horas, se observa en el volcán #Copahue emisión contínua de gases y cenizas alcanzando una mayor altura de columna, cercana a los 1300 m. La sismicidad se mantiene con niveles de energía considerados bajos. Alerta técnica #Amarilla. pic.twitter.com/Yi0GqGmYkZ

— Sernageomin (@Sernageomin) November 2, 2019
In recent months, volcanic activity has fluctuated, causing the yellow technical warning to change in April of this year (Biobío RAV Region No. 4). During the last two weeks of September, this activity increased slightly, both in seismic activity (TR) and in surface activity from the crater El Agrio. After the earthquake of September 29 (MW 6.6) with an epicenter near the city of Constitución, an abundant seismicity began to occur with epicentres preferably located 6 km north-east of the crater El Agrio. , and the exceptional presence of 3 LP earthquakes of very high energy, accompanied by a seismicity of type VT.
Source : Sernageomin .
Philippines , Taal :
TAAL VOLCANO BULLETIN 04 November 2019 8:00 A.M.
Taal Volcano's seismic monitoring network recorded eighty-nine (89) volcanic earthquakes during the 24-hour observation period. Two (2) of these events, which occurred at 03:17 AM and 4:07 AM today, were felt at Intensity I in Alas-as, San Nicolas and Tibag, Pira-piraso, Talisay, Batangas and at Intensity II in Tibag, Pira-piraso, Talisay, Batangas, respectively. Field measurements on 31 October 2019 at the western sector of the Main Crater Lake yielded a decrease in water temperature from 32.9°C to 32.5°C, a decrease in water level from 0.50 meters to 0.47 meters and an increase in acidity from a pH of 2.94 to 2.79. Ground deformation measurements through precise leveling surveys from 19 – 26 September 2019 indicated inflation of the edifice consistent with recent results from continuous GPS data.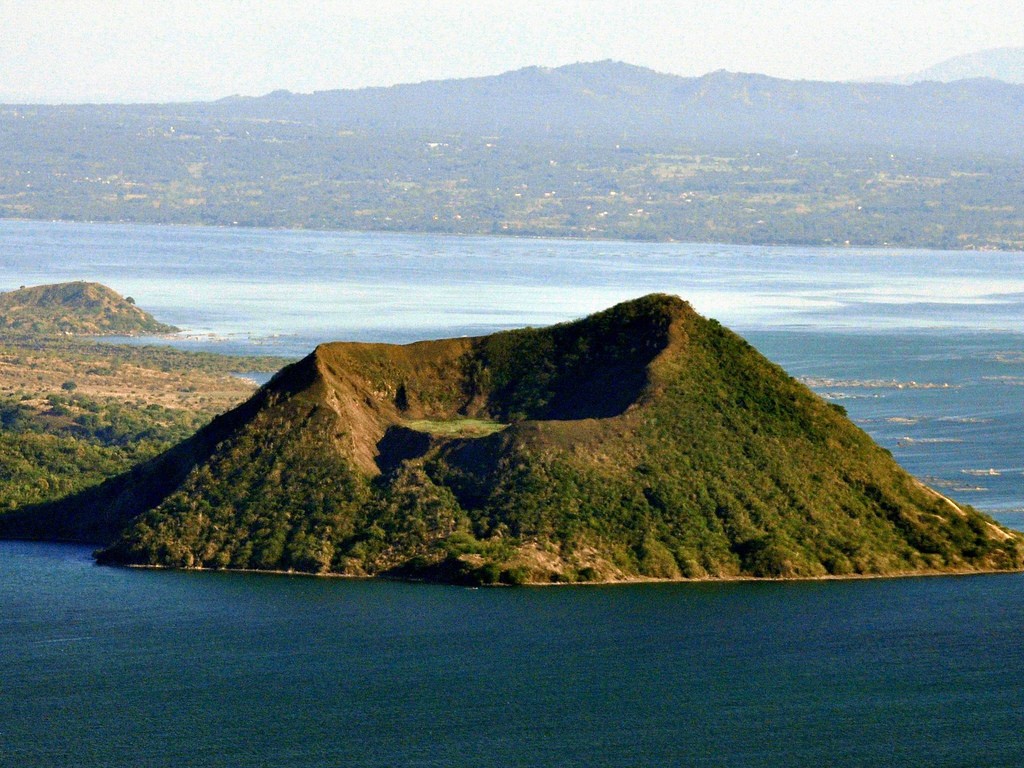 Alert Level 1 remains in effect over Taal Volcano. This means that hazardous eruption is not imminent. The public, however, is reminded that the Main Crater should be strictly off-limits because sudden steam explosions may occur and high concentrations of toxic gases may accumulate. The northern portion of the Main Crater rim, in the vicinity of Daang Kastila Trail, may also become hazardous when steam emission along existing fissures suddenly increases. Furthermore, the public is also reminded that the entire Volcano Island is a Permanent Danger Zone (PDZ), and permanent settlement in the island is strongly not recommended.
Source : Phivolcs .
Photo : Wikipedia.
Mexico , Popocatepetl :
November 03, 2019 at 11:00 am (November 03 at 17:00 GMT).
With Popocatepetl volcano monitoring systems, 28 exhalations and two explosions were identified (occurred at 1:38 and 3:19), but visibility was zero due to cloud conditions in the area.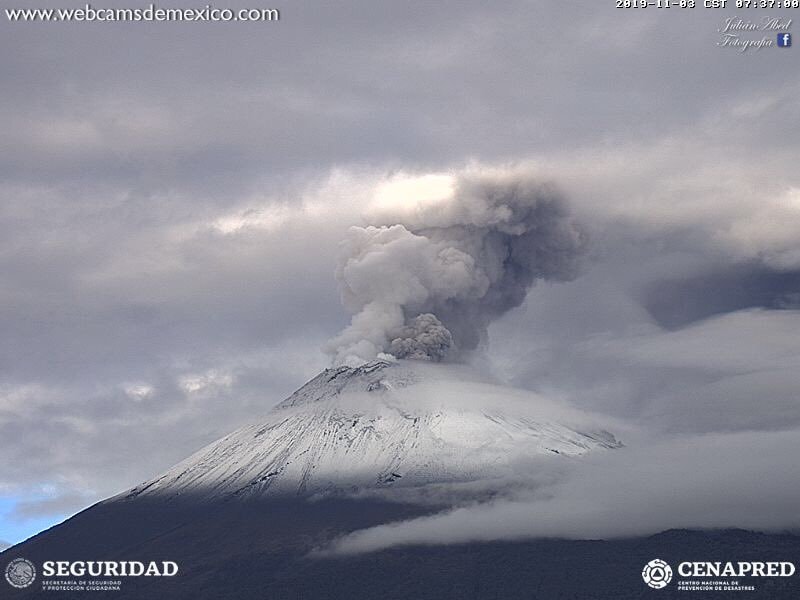 In addition, 780 minutes of tremor were detected, in four episodes. The first began at 11:06 am and continued until 9:30 pm, accompanied by ash emissions that the wind dispersed to the west and northwest. Ash falls have been reported from Amecameca, Juchitepec, Ozumba, Tepetlixpa and Atlautla, State of Mexico, Ayapango and Cuautla, Morelos and the municipalities of Tlahuac, Tlalpan and Xochimilco in Mexico City.
Two other episodes of tremor occurred from 1:38 to 03:04 and 4:31 to 17:15. Finally, another from 9:15 to 9:45, accompanied by an emission of water vapor and volcanic gases.
At the time of writing, there was no visibility to the volcano. However, in the early hours of the morning, it was observed with the emission of water vapor and volcanic gases dispersed in a direction West – North-West.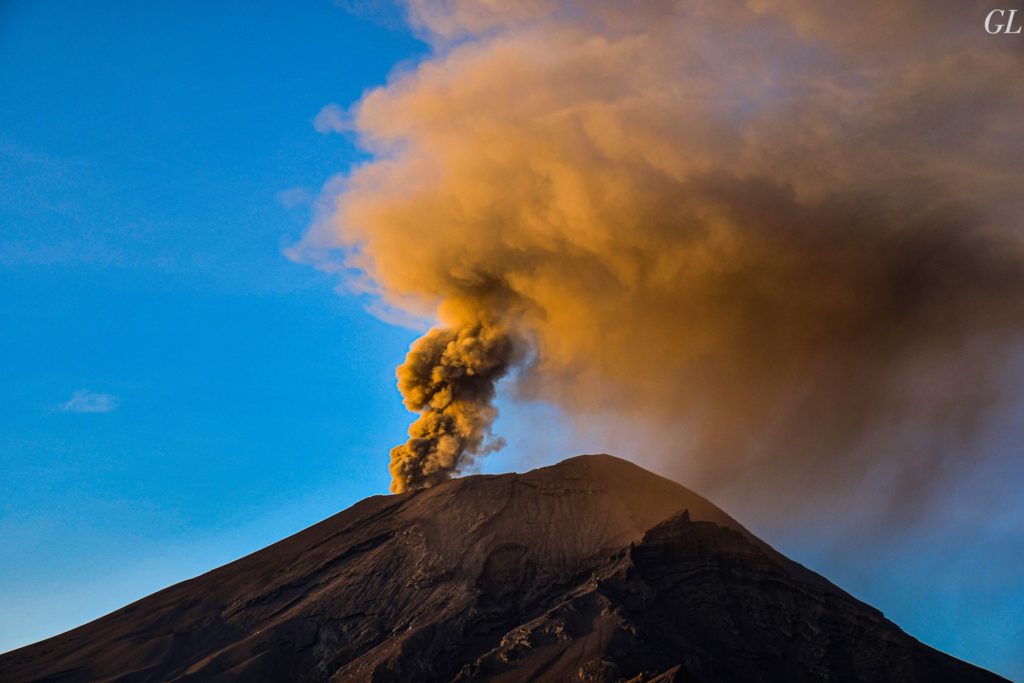 November 03 at 14:30 (November 03 at 20:30 GMT)
Today, the scientific advisory committee of the Popocatepetl volcano met to analyze recent activities. It has been determined that they have not exceeded the levels observed in recent years. The most likely scenario is that ash emissions reaching communities near the volcano and farther away, such as Mexico City, continue. Eventually, some explosions can occur without exceeding the magnitude of those already observed. These scenarios are considered at Yellow Phase 2 of the Volcanic Warning Light.
CENAPRED urges NOT to approach the volcano and in particular the crater, because of the risk of falling ballistic fragments, and in case of heavy rains, to stay far from the bottom of the ravines because of the risk of mudslides and debris.
The warning light of Popocatépetl is in YELLOW PHASE 2.
Source : Cenapred.
Photos : WecamdeMexico , GL Volcán Popocatépetl .