September 03 2018. EN. Ecuador : Reventador , Alaska : Cleveland , Hawai : Kilauea , Indonesia : Merapi .
September 03 2018.
Ecuador , Reventador :
Report on Incandescence and Ash Emissions on the Reventador Volcano.
SEPTEMBER 3, 2018. The Reventador volcano emitted ash columns in the last hours and the Institute of Geophysics (IG) observed an incandescence in its crater.
According to a report by the IG, ash emissions reached heights of 500 meters above the crater level.
The volcano, located 90 kilometers from Quito, maintains a « high » activity, says the Institute.
In 2002, an eruption of this 3560-meter high volcano produced a cloud of ash that reached Quito.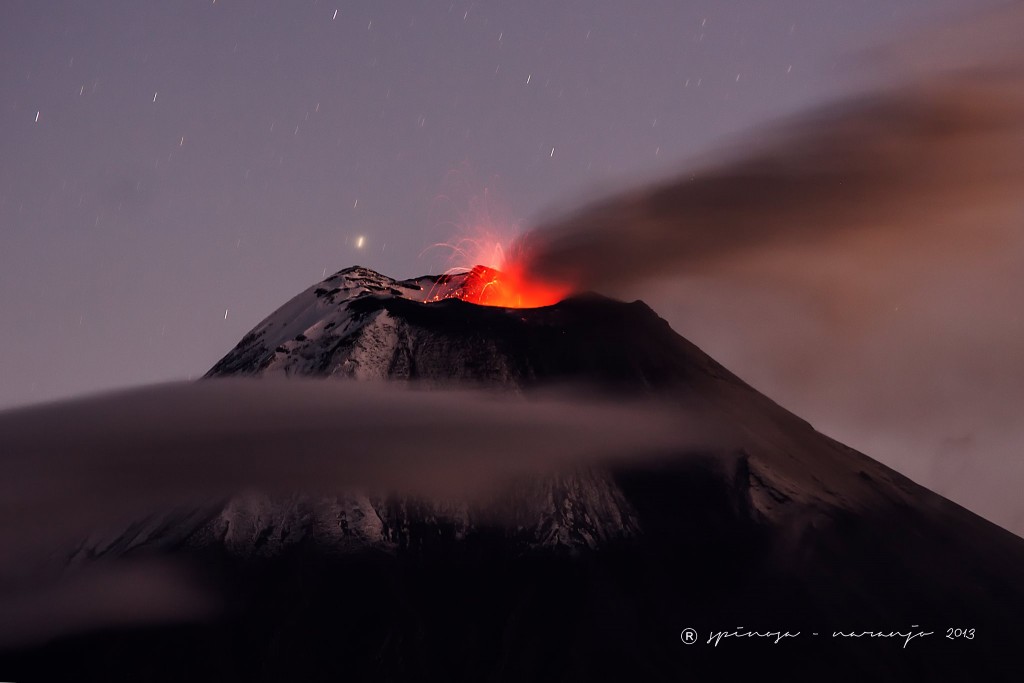 Seismicity:
Long Period Type (LP): 19 events.
Explosions (EXP): 5 events.
Transmission Tremor (TE): 4 events.
Emission / ash columns:
At night and early in the morning, the area was clear and several emissions of gas and ash were observed, accompanied by an incandescence in the crater, the largest reaching 500 meters and directed towards the west. Image 20180901 20h44 (TL)
observations:
At this time, the sector is cloudy but between the clouds there is an emission of gas, steam with a moderate ash load
Alert level: Orange
Source : – Ecuavisa / J. Curtis , IGEPN .
Photo : J.L. Espinosa Naranjo.
Alaska , Cleveland :
52°49'20 » N 169°56'42 » W,
Summit Elevation 5676 ft (1730 m)
Current Volcano Alert Level: ADVISORY
Current Aviation Color Code: YELLOW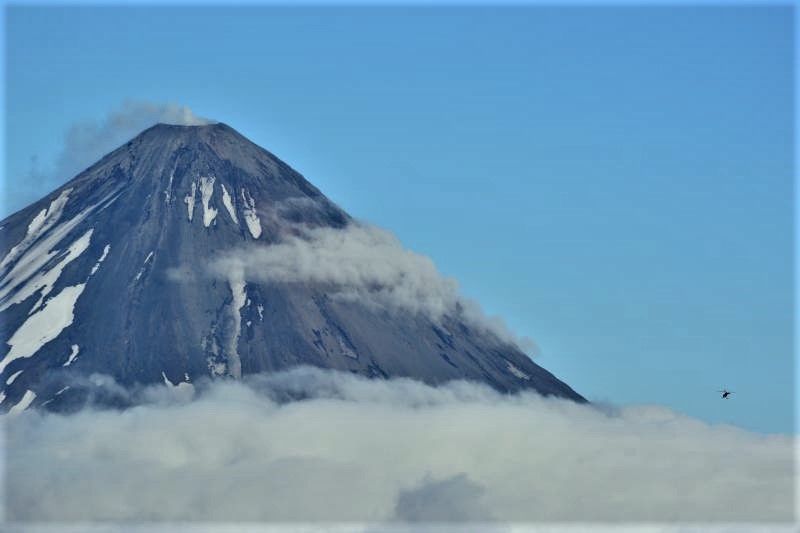 Low-level unrest continues. Slightly elevated surface temperatures were observed in satellite images from the past day. These slightly elevated temperatures are thought to be from hot gas emissions from the summit crater and are normal for Cleveland volcano during periods of low level unrest. Webcam views of the volcano were obscured by clouds. No significant activity was detected in seismic or pressure sensor (infrasound) data over the past day.
Cleveland volcano is monitored by only two seismic stations, which restricts AVO's ability to detect precursory unrest that may lead to an explosive eruption. Rapid detection of an ash-producing eruption may be possible using a combination of seismic, infrasound, lightning, and satellite data.
Source : AVO
Photo : Lyons, John ( 2015)
Hawaï , Kilauea :
19°25'16 » N 155°17'13 » W,
Summit Elevation 4091 ft (1247 m)
Current Volcano Alert Level: WATCH
Current Aviation Color Code: ORANGE
Kīlauea summit and lower East Rift Zone
Seismicity remains low and ground deformation is negligible at the summit of Kīlauea Volcano. Earthquakes, probably aftershocks of the magnitude-6.9 earthquake in early May, continue on South Flank faults.
On the volcano's lower East Rift Zone (LERZ), incandescence was observed in the fissure 8 cone yesterday afternoon (09/01) with reports of activity extending into early evening. In addition to a persistent spot of spattering, lava slowly covered the 65-by-15 m (210-by-45 ft) crater floor by evening. Webcam views showed weak incandescence occasionally reflected on the eastern spillway wall from the crater overnight suggesting that the lava in the crater remained active. This morning, ground crews have no view of the crater inside the fissure 8 cone, but report the fissure 8 cone is quiet when viewed from a safe distance with no visible fume. Sulfur dioxide emission rates at the summit, Puʻu ʻŌʻō, and LERZ are drastically reduced; the combined rate (< 1,000 t/d) is lower than at any time since late 2007. Friday (08/31), LERZ emission rates were still too low to measure.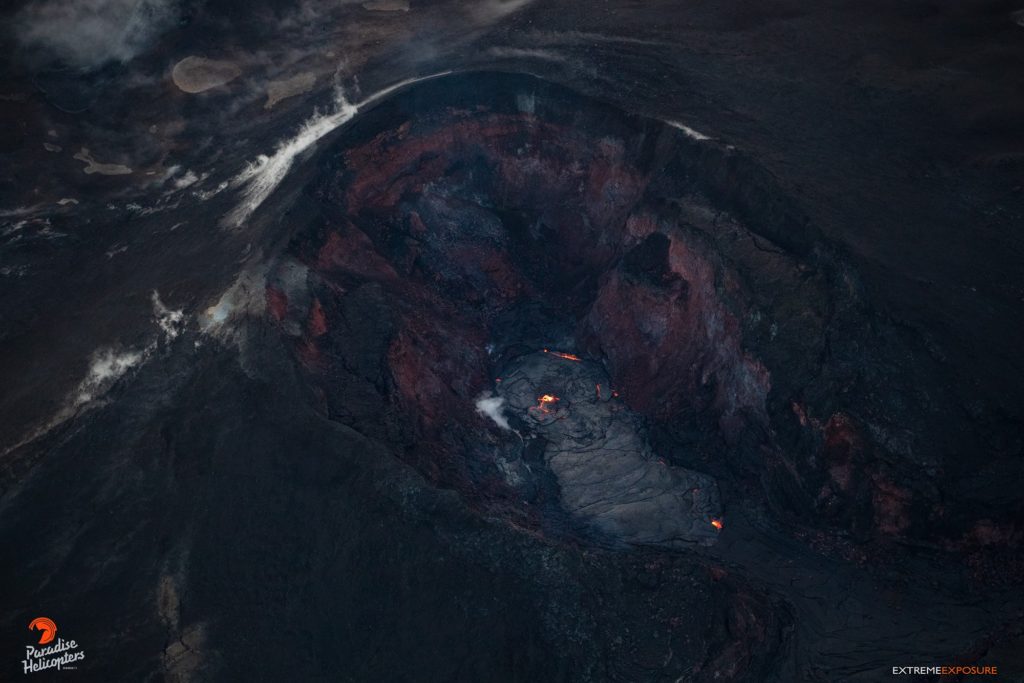 Summit tiltmeter UWE was repaired and reinstalled late last week and, after it settles from the disruption, it will be returned to the Kilauea monitoring webpage. HVO crews continue to restore communication with several monitoring stations on the east side of the island that was disrupted by the passage of Hurricane/Tropical Storm Lane but the losses do not significantly reduce our ability to assess volcanic conditions. Whiteout conditions could occur on the new lava field due due to steam produced by heavy rainfall on still-hot lava flows.
The Hawaiian Volcano Observatory (HVO) will continue to closely monitor Kīlauea's seismicity, deformation, and gas emissions for any sign of reactivation, and maintain visual surveillance of the summit and LERZ as best we can. Ground and drone crews are in the field today but continue to be hampered by weather conditions.
HVO will continue to issue daily updates and additional messages as needed. The next update will be issued tomorrow morning unless significant changes occur.
Source : HVO
Photo : Bruce Omori .
Indonesia , Merapi :
Level of Activity at Level II (WASPADA). The Merapi (2968 m above sea level) does not show a continuous eruption.
Since yesterday and until this morning, the volcano visually was covered with fog. Smoke from the crater has been observed to be white and reaches 25 m above the peak. The wind is blowing weakly to the East and the North.
The seismographic recording of September 2, 2018 noted:
39 avalanche earthquakes
31 earthquakes emission.
6 low frequency earthquakes
9 hybrid earthquakes
1 shallow volcanic earthquake
2 deep volcanic earthquakes
1 distant tectonic earthquake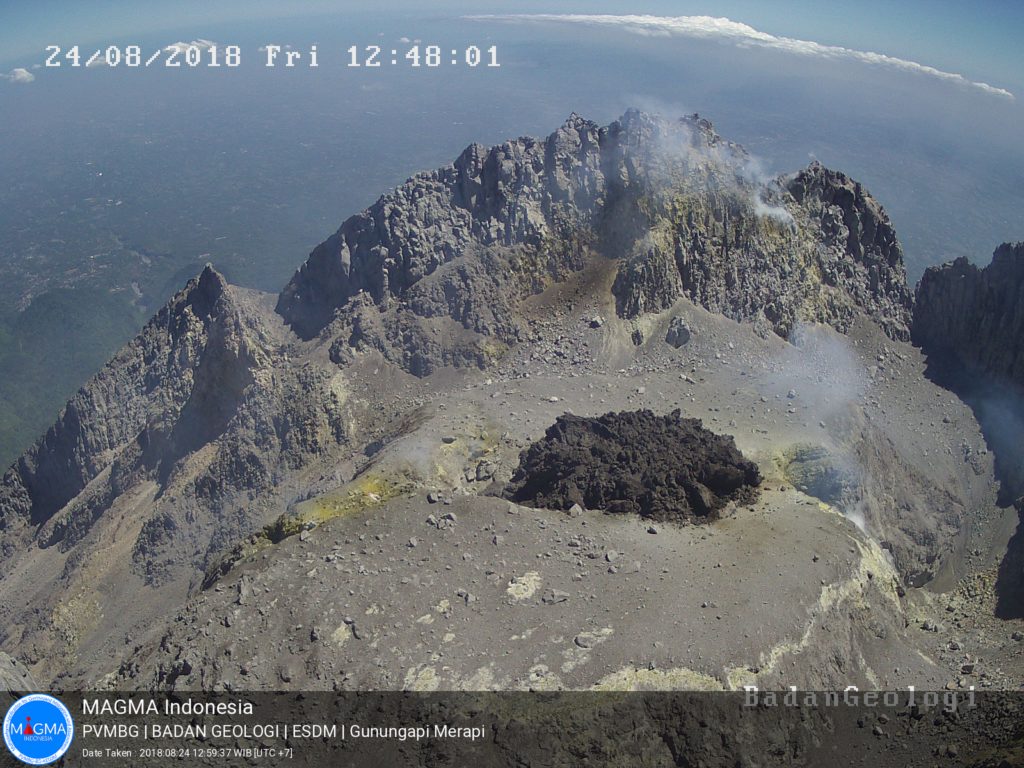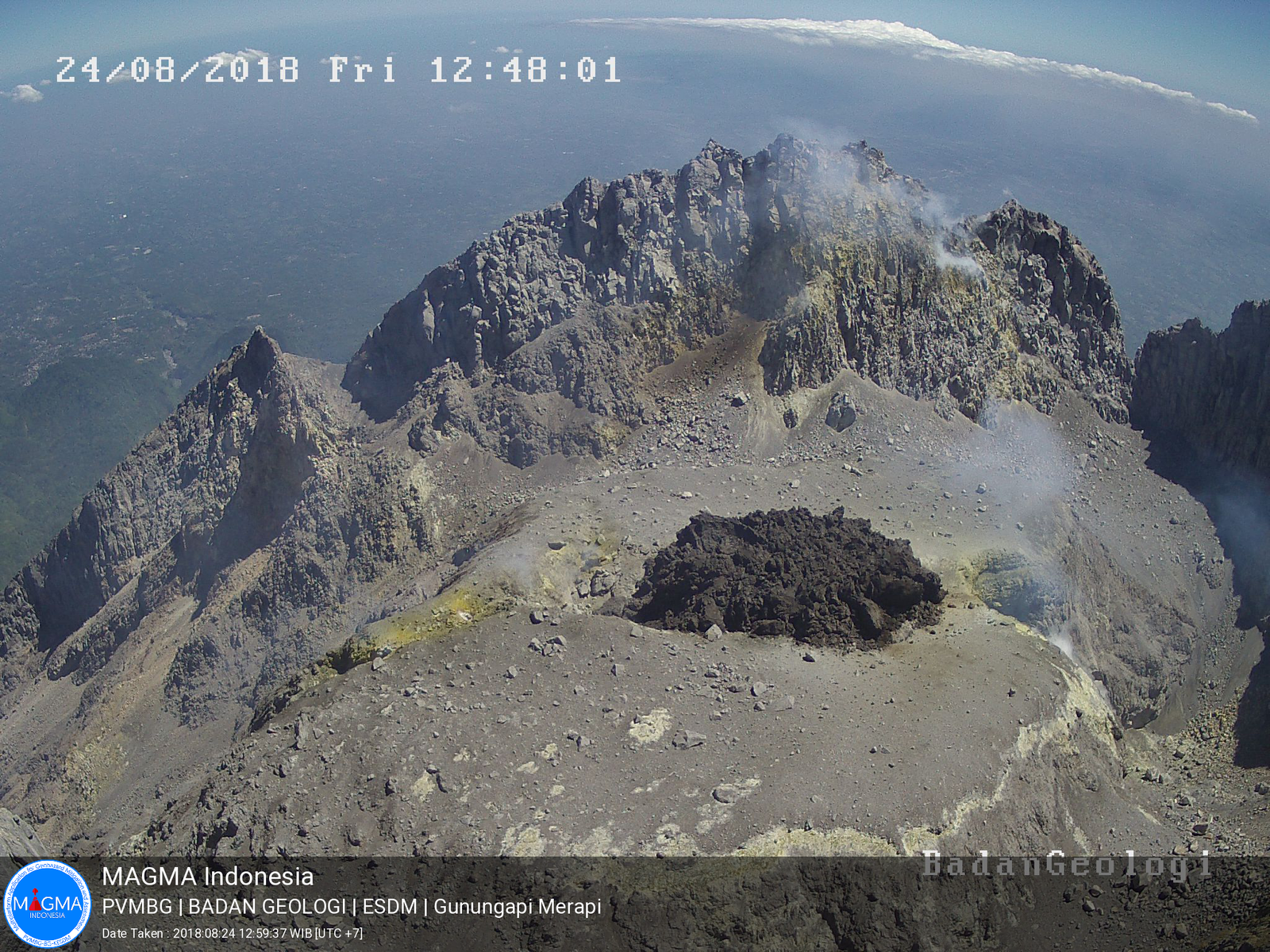 Recommendations:
Climbing activities on Mount Merapi are temporarily not recommended, except for investigation and research related to disaster mitigation efforts.
An area of radius 3 km from the summit is prohibited for the activities of the population.
If there is a significant change in the activity of Mount Merapi, the status of Mount Merapi activity will be reviewed immediately
Local governments are invited to socialize the current state of Mount Merapi to the public.
Source : PVMBG