May 26 , 2018. EN. Pu'u 'Ō'ō / Kilauea , Fuego , Merapi , Piton de la Fournaise , Cleveland .
May 26 , 2018.
Pu'u 'Ō'ō / Kilauea , Hawai :
Thursday, May 24, 2018, 11:04 PM HST (Friday, May 25, 2018, 09:04 UTC)
19°25'16 » N 155°17'13 » W,
Summit Elevation 4091 ft (1247 m)
Current Volcano Alert Level: WARNING
Current Aviation Color Code: RED
Kīlauea Volcano Lower East Rift Zone
Eruption of lava continues in the area of Leilani Estates and Lanipuna Gardens.
Fissure 22 continues to erupt lava that is flowing southeast to the coast and the lava ocean entry. Fountains at Fissures 6 and 13 feed lava into a channel that reached the coast yesterday forming a second ocean entry.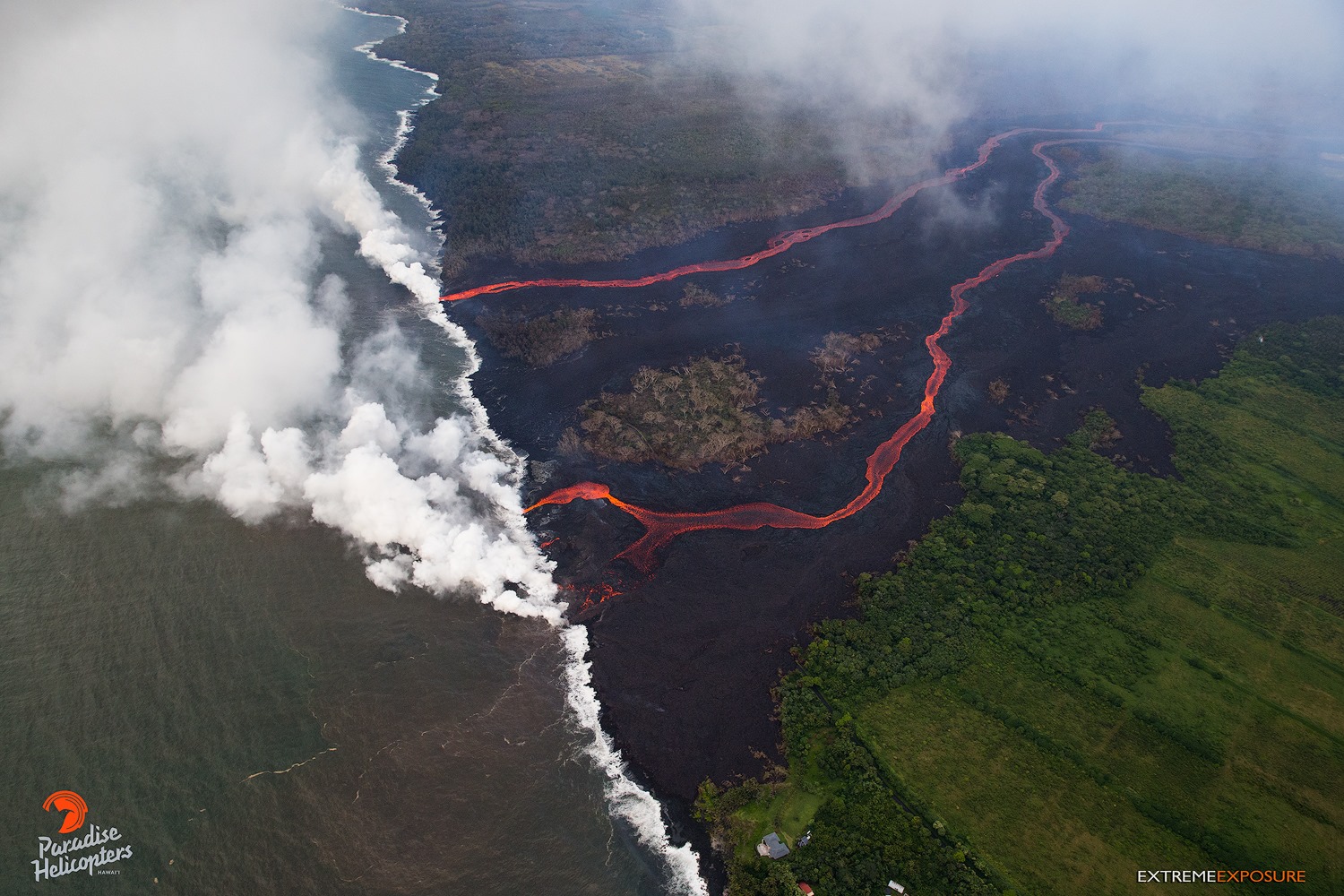 Fissures 7 and 21 are feeding a perched lava pond and pāhoehoe flow that has advanced eastward covering most of the area bounded by Leilani Blvd, Mohala St., and the fissure line. Fissure 17 continues weak spattering, while Fissures 19 and 23 are no longer active.
HVO field crews are on site tracking the fountains, lava flows, and spattering from multiple fissures as conditions allow and reporting information to Hawaii County Civil Defense.
Volcanic gas emissions remain very high from the fissure eruptions.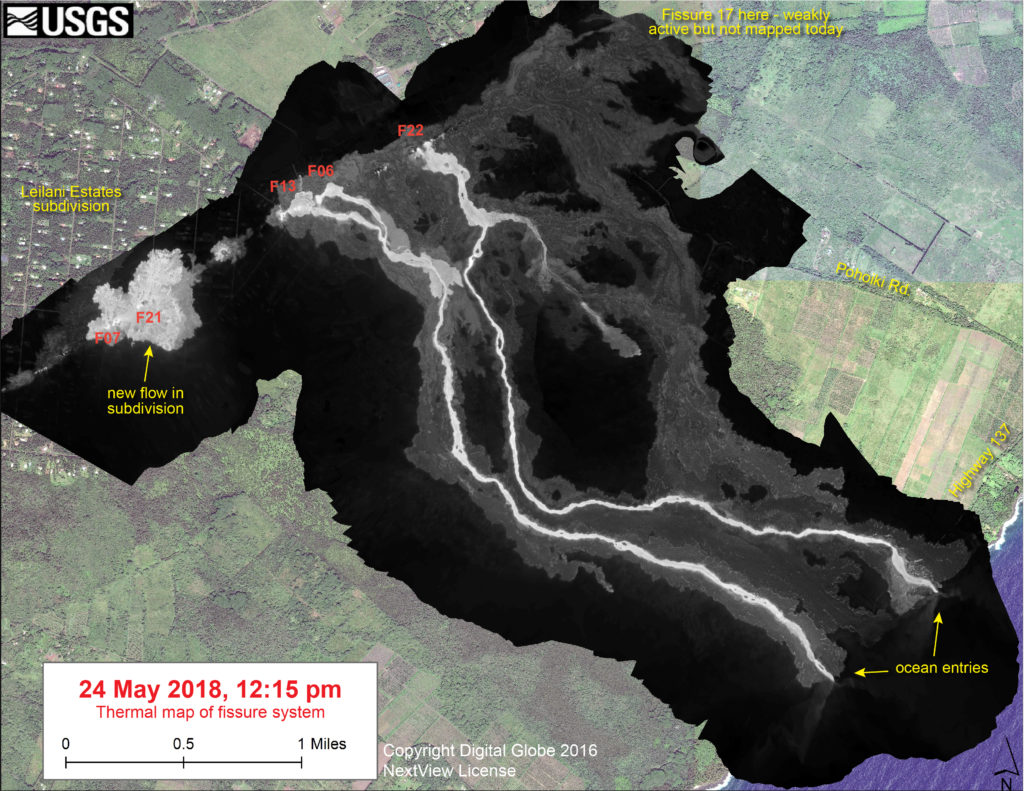 This thermal map shows the fissure system and lava flows as of 12:15 pm on Thursday, May 24. Two channelized lava flows are reaching the ocean. In addition, a new lava flow is active in Leilani Estates subdivision, near Fissure 7. The black and white area is the extent of the thermal map. Temperature in the thermal image is displayed as gray-scale values, with the brightest pixels indicating the hottest areas. The thermal map was constructed by stitching many overlapping oblique thermal images collected by a handheld thermal camera during a helicopter overflight of the flow field. The base is a copyrighted color satellite image (used with permission) provided by Digital Globe
Magma continues to be supplied to the lower East Rift Zone. Earthquake activity continues, but earthquake locations have not moved farther downrift in the past few days and the number of located earthquakes remains low.
Additional ground cracking and outbreaks of lava in the area of the active fissures are possible. Residents downslope of the region of fissures should heed all Hawaii County Civil Defense messages and warnings.
USGS/HVO continues to monitor the lower East Rift Zone activity 24/7 in coordination with Hawaii County Civil Defense.
Kīlauea Volcano Summit
An explosion was detected from the summit Overlook Crater just after 6:00 pm that produced an ash cloud that rose to 10,000 feet above sea level and carried slightly more ash than most recent explosions. The National Weather Service Nexrad radar tracked the cloud for 15-20 minutes. Moderate trade winds were blowing to the southwest and light ash fall likely occurred in downwind locations.
Earthquakes in the summit area continue at a moderate rate, as does deflation of the summit region. The earthquakes and ash explosions are occurring as the summit area subsides and adjusts to the withdrawal of magma from the summit.
Additional explosive events that could produce minor amounts of ashfall downwind are possible at any time. Volcanic gas emissions at the summit remain high.
Friday, May 25, 2018, 4:55 PM HST (Saturday, May 26, 2018, 02:55 UTC)
LOWER EAST RIFT ZONE
Moderate-level eruption of lava continues from multiple points along the active fissure system.
Fissure 22 continues to erupt lava that is flowing southeast to the coast where lava is entering the ocean. Fountains at Fissures 6 and 13 feed lava into a channel that also reaches the coast, making a second ocean entry.
Fissure 7 and 21 are feeding a lava flow that has advanced northeastward crossing Kahukai St. at about 3:30 pm this afternoon and continuing to the northeast at a slow pace.
Fissure 17 is barely active.
HVO field crews are on site tracking the lava flows and spattering from multiple fissures as conditions allow and reporting information to Hawaii County Civil Defense.
Volcanic gas emissions have tripled as a result of the voluminous eruptions from the erupting fissures so SO2 concentrations are likely elevated to higher levels throughout the area downwind of the vents. Moderate trade winds today means that areas downwind of Kilauea gas emission sources may experience varying levels of vog.
This eruption is still evolving and additional outbreaks of lava are possible. Ground deformation has slowed and seismicity levels have decreased in the area.
Future outbreaks could occur both uprift (southwest) and downrift (northeast) of the existing fissures, or, existing fissures can be reactivated. Communities downslope of the fissure system could be at risk from lava inundation. Activity can change rapidly.
Conditions around the erupting fissures can change very quickly. Residents in lower Puna should remain informed and heed Hawaii County Civil Defense closures, warnings, and messages (http://www.hawaiicounty.gov/active-alerts).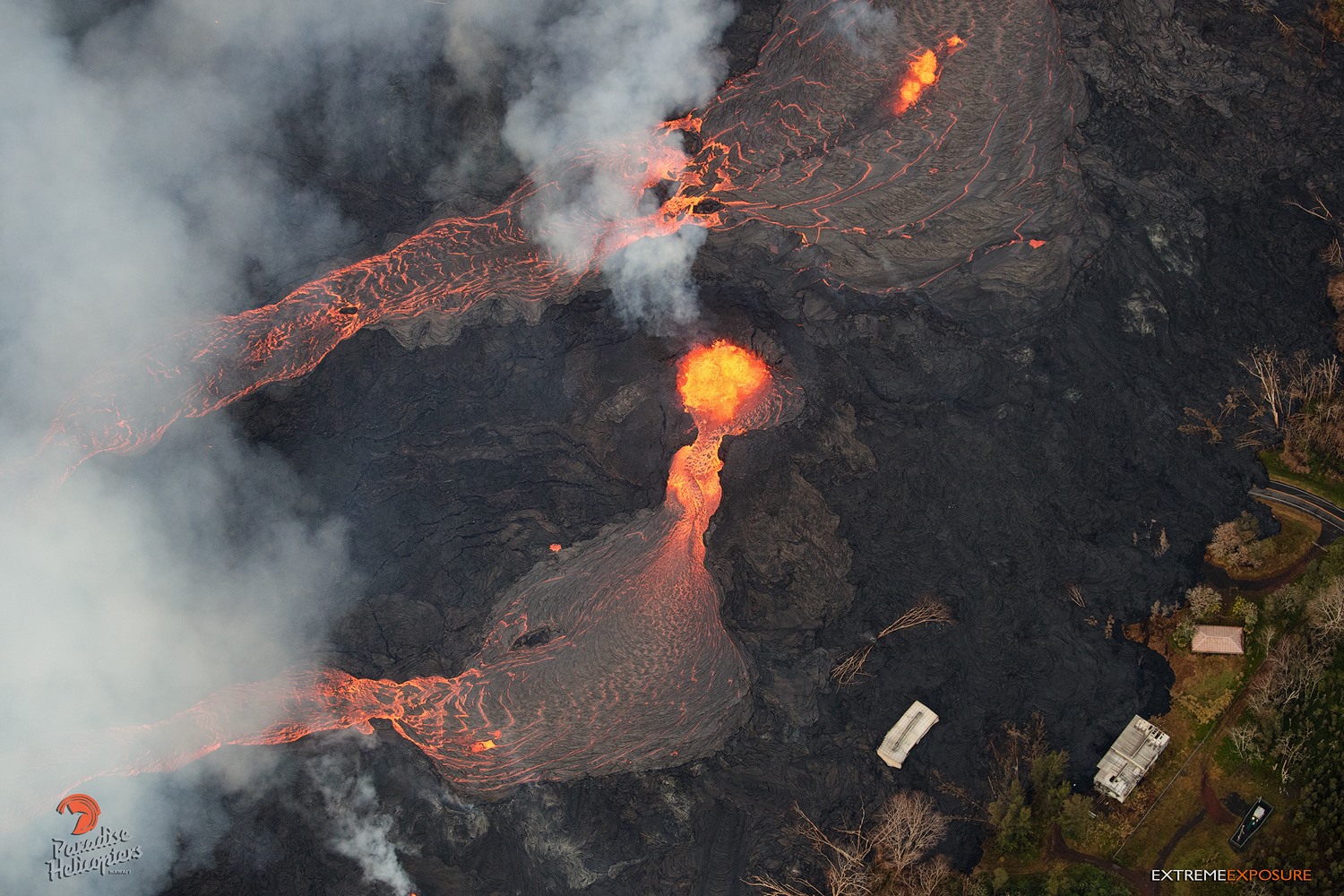 The ocean entry is a hazardous area. Hazards include walking on uneven, glassy lava flow surfaces and around unstable, vertical sea cliffs. Venturing too close to an ocean entry on land or the ocean exposes you to flying debris from sudden explosive interaction between lava and water. Also, the lava delta is unstable because it is built on unconsolidated lava fragments and sand. This loose material can easily be eroded away by surf, causing the new land to become unsupported and slide into the sea. In several instances, such collapses have also incorporated parts of the older sea cliff. Additionally, the interaction of lava with the ocean creates « laze », a corrosive seawater plume laden with hydrochloric acid and fine volcanic particles that can irritate the skin, eyes, and lungs.
KILAUEA SUMMIT
Multiple small eruptions of ash occurred over the past day, all ejecting ash to under 10,000 ft above sea level. One of the largest occurred about 4:17 pm sending ash as high as 12,000 feet above sea level. Additional explosions are possible at any time.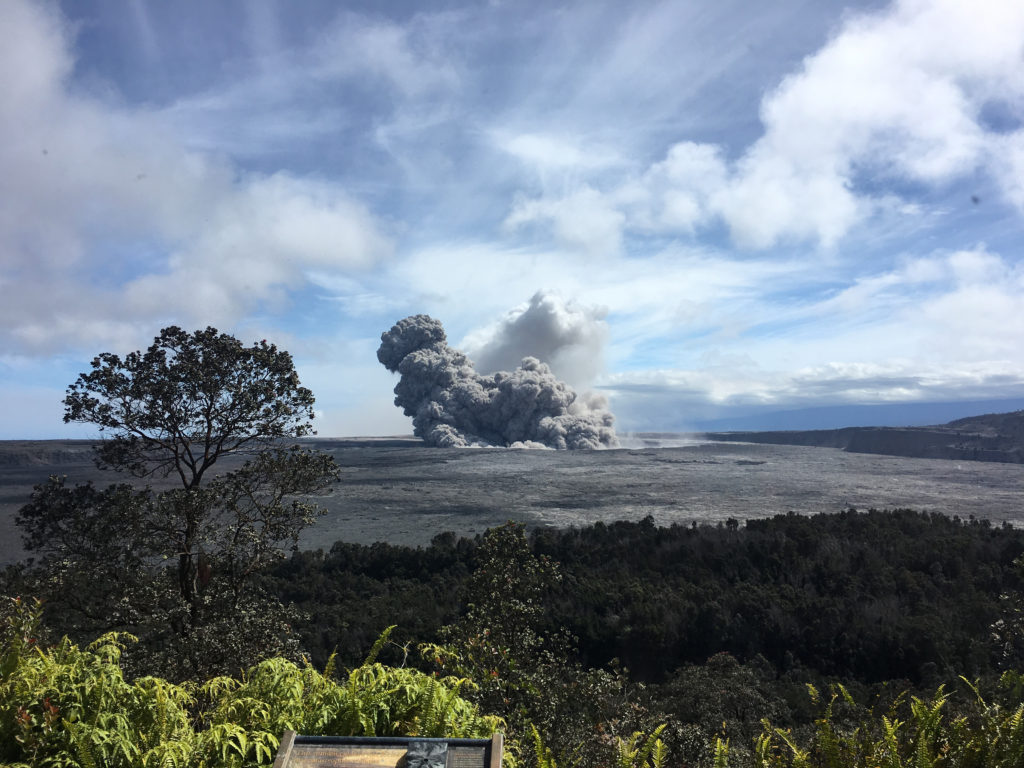 View of a rising ash plume from Halema'uma'u, a crater at the summit of Kīlauea, late yesterday (May 24, 2018), as seen from the caldera rim near Volcano House. USGS scientists are stationed at this vantage point to track the ongoing summit explosions.
Seismic levels, which abruptly decreased after the recent explosive eruptions, are again slowly increasing. As of 2:30 pm, there have been 90 autolocated earthquakes at the summit in the last 6 hours. Thirteen of these were M>3 in the caldera area. The largest was a magnitude-4.0 located just north of Halema`uma`u crater.
At this time, based on HVO web cameras, a robust plume of gas and steam is billowing out of the Overlook vent and drifting generally southwest.
At any time, activity may again become more explosive, increasing the intensity of ash production and producing ballistic projectiles very near the vent. Communities downwind should be prepared for ashfall as long as this activity continues.
Source : HVO
Fuego , Guatemala :
SPECIAL VOLCANOLOGICAL BULLETIN BEFGO # 28-2018 GUATEMALA 25 MAY 2018, 21:10 (Local time)
Moderate lahars in the Seca and Mineral ravines.
Type of activity: Vulcanienne
Morphology: Composite Stratovolcan
Location: 14 ° 28'54˝ Latitude N; 90 ° 52'54˝ Longitude W.
Height: 3,763msnm.
The constant rains of the Fuego Volcano region produce moderate lahars in the Seca and Mineral ravines, which are tributaries of the Pantaleón River. These lahars cause vibrations on their trajectory due to the amount of blocks they entail. OVFGO reports indicate that they are 35 meters wide and 1.5 meters high, with abundant volcanic material.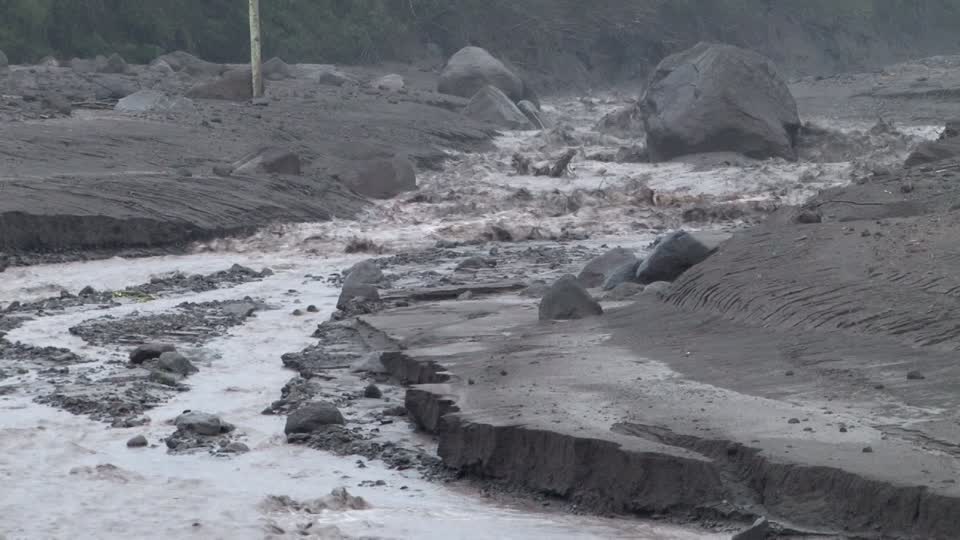 These lahars cut the access road between Yepocapa and the communities of Morelia, Santa Sofia and others on the west flank of the volcano. Therefore, it is necessary to take the necessary precautions.
Lahar events like these will be generated in the other ravines such as the Ceniza, El Jute and Las Lajas ravines, because of the amount of rain that rushes daily in the volcanic area, mainly in the afternoon and the afternoon. evening.
Source : Insivumeh
Merapi , Indonesia :
VOLCANO OBSERVATORY NOTICE FOR AVIATION – VONA.
Issued: May 25 , 2018 .
Volcano: Merapi (263250)
Current Aviation Colour Code: GREEN
Previous Aviation Colour Code: orange
Source: Merapi Volcano Observatory
Notice Number: 2018MER09
Volcano Location: S 07 deg 32 min 31 sec E 110 deg 26 min 31 sec
Area: Special Region of Yogyakarta, Indonesia
Summit Elevation: 9498 FT (2968 M)
Volcanic Activity Summary:
No eruption occurred after the last eruption on 24 May 2018 at 03h48 UTC
Volcanic Cloud Height:
Best estimate of ash-cloud top is around 9578 FT (2993 M) above sea level, may be higher than what can be observed clearly. Source of height data: ground observer.
Other Volcanic Cloud Information:
White volcanic plume with low pressure and intensity
Remarks:
Low seismicity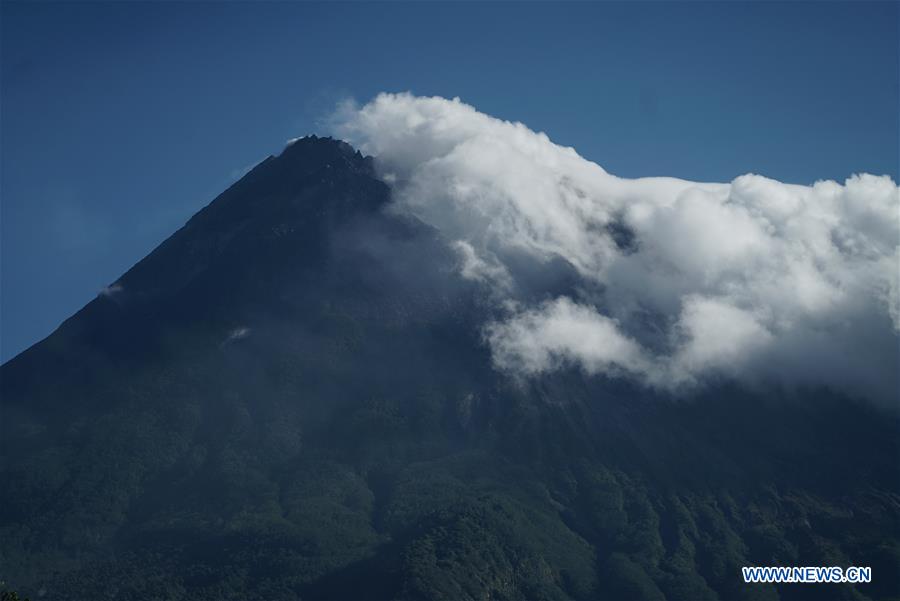 Press release of May 24, 2018 At 08:00 WIB
An eruption was followed on 24 May 2018 at 14:56 from seismic recordings of maximum amplitude (amak) 60 mm, with a length of 4 minutes, high columns (smoke explosion) at 6000 m. A roaring noise was heard from all observation posts on Mount Merapi. Based on monitoring until 08:00, the BPPTKG indicates that the level of activity of Mount Merapi is still at level II or WASPADA.
At the time of the incident, CCTV visual monitoring of the crater temperature was blocked by heavy fog. Referring to Mount Merapi's surveillance officer (PGM) and Magelang's BPBDs, the eruption directed his ashes towards the West Village areas: Tegalrandu, Sumber, Dukun, Ngadipiro, Banyubiru, Muntilan, Mungkid, Menayu, Kalibening, Salaman.
Seismic data of May 24, 2018 from 00h00 to 06h00:
Eruption: 1 time, amplitude: 60 mm, duration: 3.5 minutes.
Avalanche: 1, amplitude: 2 mm, duration: 9 seconds.
Emission: 1, amplitudes: 3 m, duration: 16 seconds.
Multiphase: 1, amplitude: 2mm, duration: 11 seconds.
Conclusion
Seeing the current state of Mount Merapi, the activity level is still in WASPADA condition (level II).
A radius of 3 km around the summit of Mount Merapi is not allowed for the activities of the population.
To reduce the impact of ash, communities with outdoor activities should use masks.
People living around Mount Merapi are expected to be better prepared and anticipate the impact of volcanic ash risk.
Source : Magma Indonésie , VSI.
Photo :Xinhua/Oka Hamied
Piton de la Fournaise , La Réunion :
Activity Bulletin from Friday, May 25, 2018 at 3:00 pm (local time)
The eruption started on April 27, 2018 at 23:50 local time continues. The intensity of the volcanic tremor (indicator of surface eruptive intensity) has stabilized at the relatively low level already recorded in the last 2 days (Figure 1).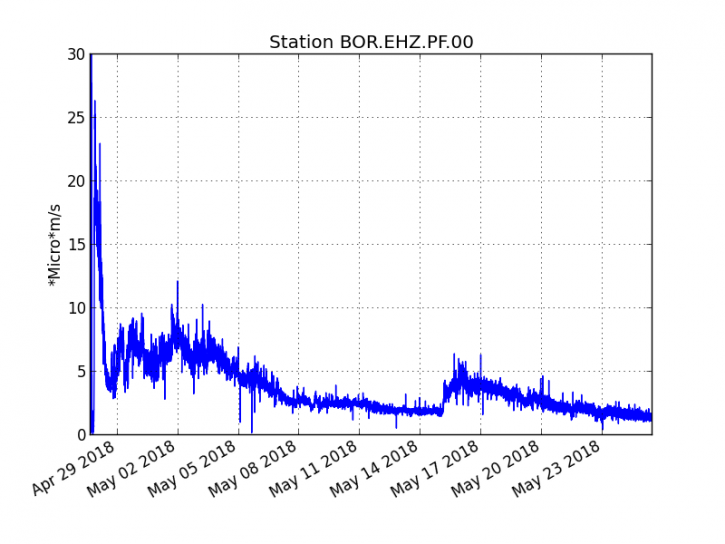 Figure 1: Evolution of RSAM (Indicator of Volcanic Tremor and Eruption Intensity) between 20:00 (16:00 UTC) April 27 and 15:00 (11:00 UTC) May 25 at BOR Seismic Station (at the top) .
– Field observations made late yesterday afternoon by the Volcano City, confirm the weak activity in progress. The flows are almost exclusively in tunnels and at dusk, a single incandescent zone in the lava field at proximity to the vent could be observed. A strong, almost continuous degassing continues . (Figure 2).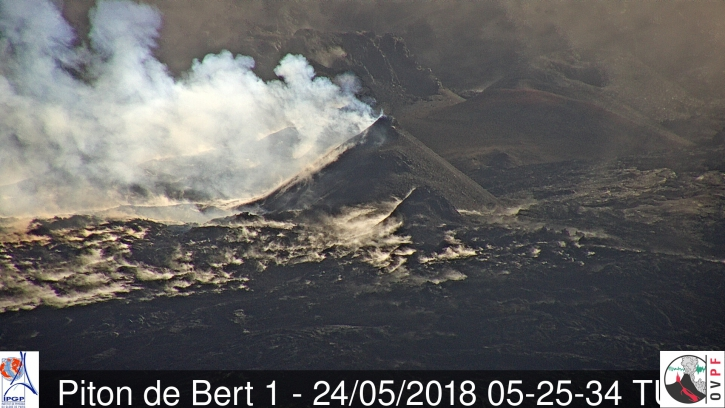 Figure 2: Eruptive site late afternoon on May 24, 2018 (Photo Cité du Volcan) (Cité du Volcan)
– Extremely low surface flows (<0.03 m3 / s) were estimated yesterday during the short period of weather improvement from the MODIS satellite data (Figure 3)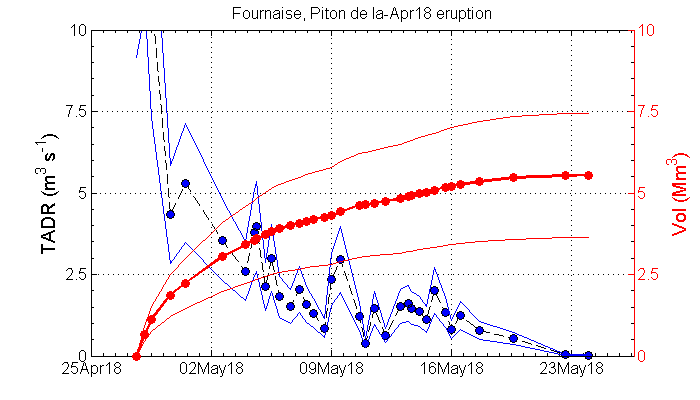 Figure 3: Estimation of the rate of production and volumes of lava emitted from Piton de la Fournaise by Diego Coppola of the University of Turin using MODIS satellite data. (Diego Coppola from the University of Turin based on MODIS satellite data)
– The inflation of the building seems to have stopped.
– No volcano-tectonic earthquakes have been recorded in the last 24 hours under the Piton de la Fournaise volcano .
Alert level: Alert 2-2 – Eruption in the Enclos .
Source : OVPF
Cleveland , Alaska :
52°49'20 » N 169°56'42 » W,
Summit Elevation 5676 ft (1730 m)
Current Volcano Alert Level: ADVISORY
Current Aviation Color Code: YELLOW
Low-level unrest continues at Cleveland Volcano. Weakly elevated surface temperatures at the summit were observed on two days during the past week. A possible steam plume was also seen in satellite data on one occasion. These observations are consistent with an open degassing vent. Data streams from the local seismic and infrasound (pressure) sensor stations at Cleveland were restored on May 19 following a network outage. No significant activity was detected on the seismic and pressure sensors throughout the week.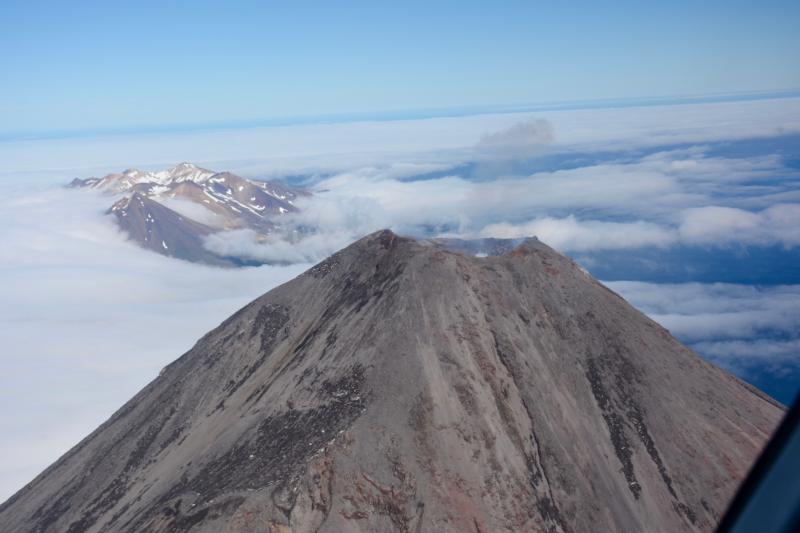 Volcanic gases rise from the crater of Mount Cleveland, with the snowy peaks of Tana Volcano in the background.
Future explosive activity is likely and is expected to occur without warning. Previous explosions have produced hazardous conditions primarily near the summit crater, but occasionally they have been large enough to produce a drifting ash cloud.
Cleveland volcano is monitored by only two seismic stations, which restricts AVO's ability to detect precursory unrest that may lead to an explosive eruption. Rapid detection of an ash-producing eruption may be possible using a combination of seismic, infrasound, lightning, and satellite data.
Source : AVO
Photo : Power, John, 25 Juillet 2016